After firing more than 600 rounds to allow the new Kimber pistol to settle in, the magazine was loaded with 10 rounds of my handloads. The first five rounds were fired off target for me to properly settle myself and the pistol into the sandbags, but the next five rounds were fired in slow-fire mode at the 25-yard target. I tried not to notice the group size after each shot; rather I concentrated on proper breathing and duplicating the sight picture, grip pressure, hand position and trigger control. I already knew the gun was accurate, but this part of the shooting was necessary to produce hard copy confirmation. The first group fired on paper measured slightly less than .75 inch, which is a level of accuracy seldom seen with the myriad of personal protection, high-capacity pistols that are so widely popular.
Kimber first began producing 100 percent U.S.-manufactured Model 1911 pistols in 1997, which became a huge success due to their high quality, many out-of-box custom features, tight tolerances, reliability, outstanding accuracy and moderate price (when compared to custom pistols with the same features). While that product line has continued to evolve and expand with nearly countless model variations and remains widely popular, Kimber has continued to offer additional pistol designs, revolvers and rifles. Recently, they introduced the KDS9c, which is a single-action pistol based on the 1911, chambered in 9mm Luger, has a 15+1 round capacity, 4.09-inch barrel, weighs 25.4 ounces (without magazine) and shares a similar size to the popular Glock 19. Throughout testing, the gun performed flawlessly with quality ammunition and was a pleasure to shoot and evaluate. (Note: Soon, Kimber will be offering a high-capacity 18-round magazine and a 10-round "compliant" magazine.)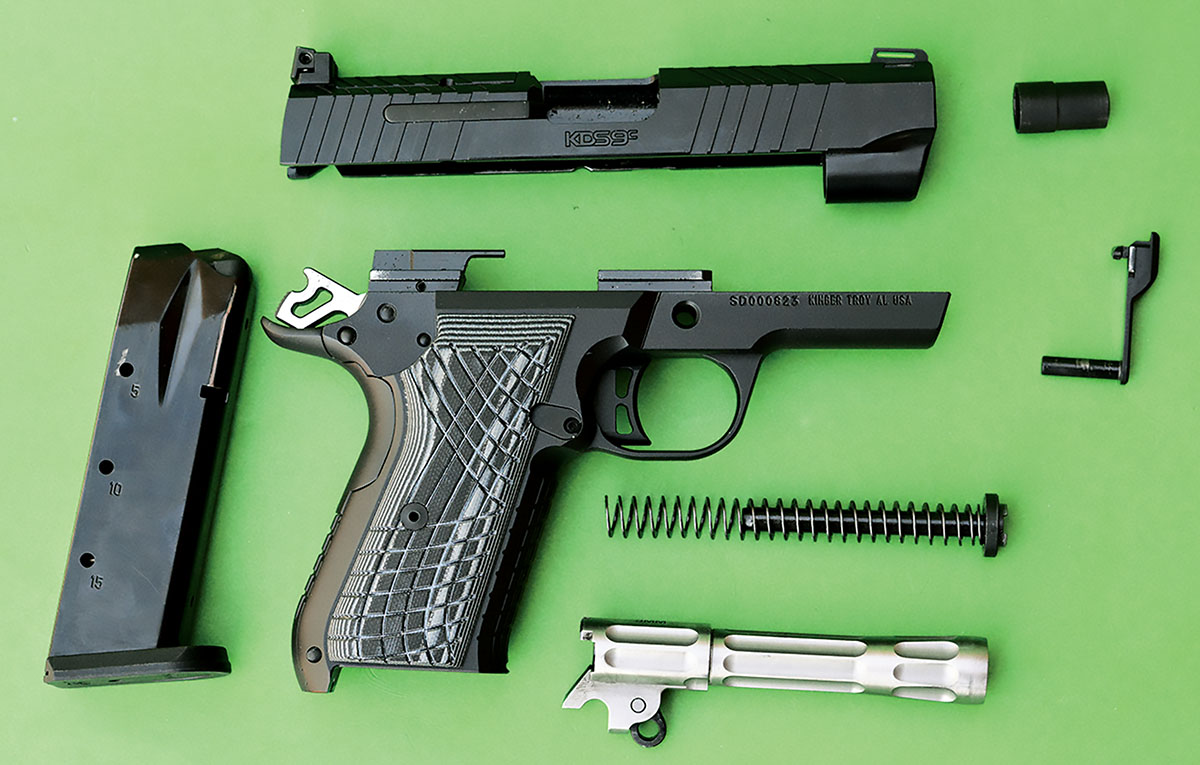 As indicated, the KDS9c is based on the 1911 with the same basic operation and layout. However, the frame is constructed of 7075 aerospace aluminum and accepts a double-stack magazine. It is contoured and rounded with the G10 gray/black grips that results in no sharp edges or corners and even has a rounded butt. Rather, it is smooth and void of sharp edges for extreme comfort but features cross slots in the front strap, mainspring housing and on the grips to prevent slippage during recoil. Incidentally, it measures 53⁄8 inches around the grip frame measured just below the trigger guard, which should fit a variety of hand sizes (and is actually smaller than the Glock 19). The high position, beavertail-style grip safety is fixed, or non-functioning, which should put critics to rest who have concerns about an improperly held grip safety causing a gun to stop firing during a critical moment. While the slide and barrel are stainless steel, the slide and aluminum frame are black matte with KimPro finish. For those who prefer the looks of stainless steel, the KDS9c is also available without the black finish.
The slide is serrated in front of and behind the ejection port to accommodate different grasping methods to cycle the slide. The adjustable rear sight is proprietary, but is robust and can be used to cycle the slide if necessary – a feature appreciated by combat veterans. The extractor is external, rather than the traditional internal version found on the original pattern 1911s, which is robust, strong and durable. The slide is also optic-ready with removable cover plate to accept RMSC/Holosun-K mounting plates.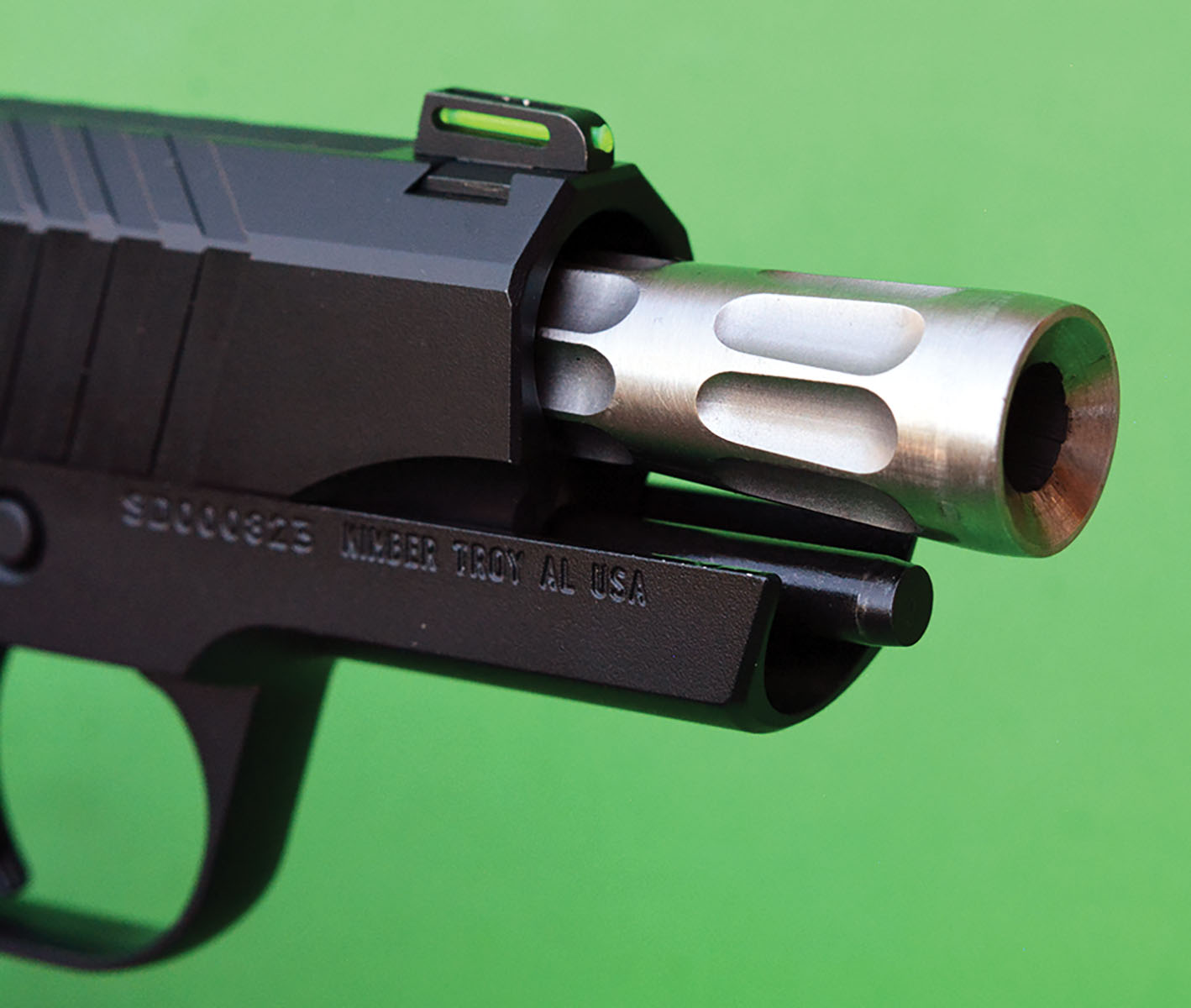 The stainless steel barrel is match-grade and features four flutes around the chamber, but also has an additional eight flutes around the center of the barrel and eight near the muzzle (see photos). This results in a distinguished appearance, but also serves to lighten the gun and probably results in faster barrel cooling.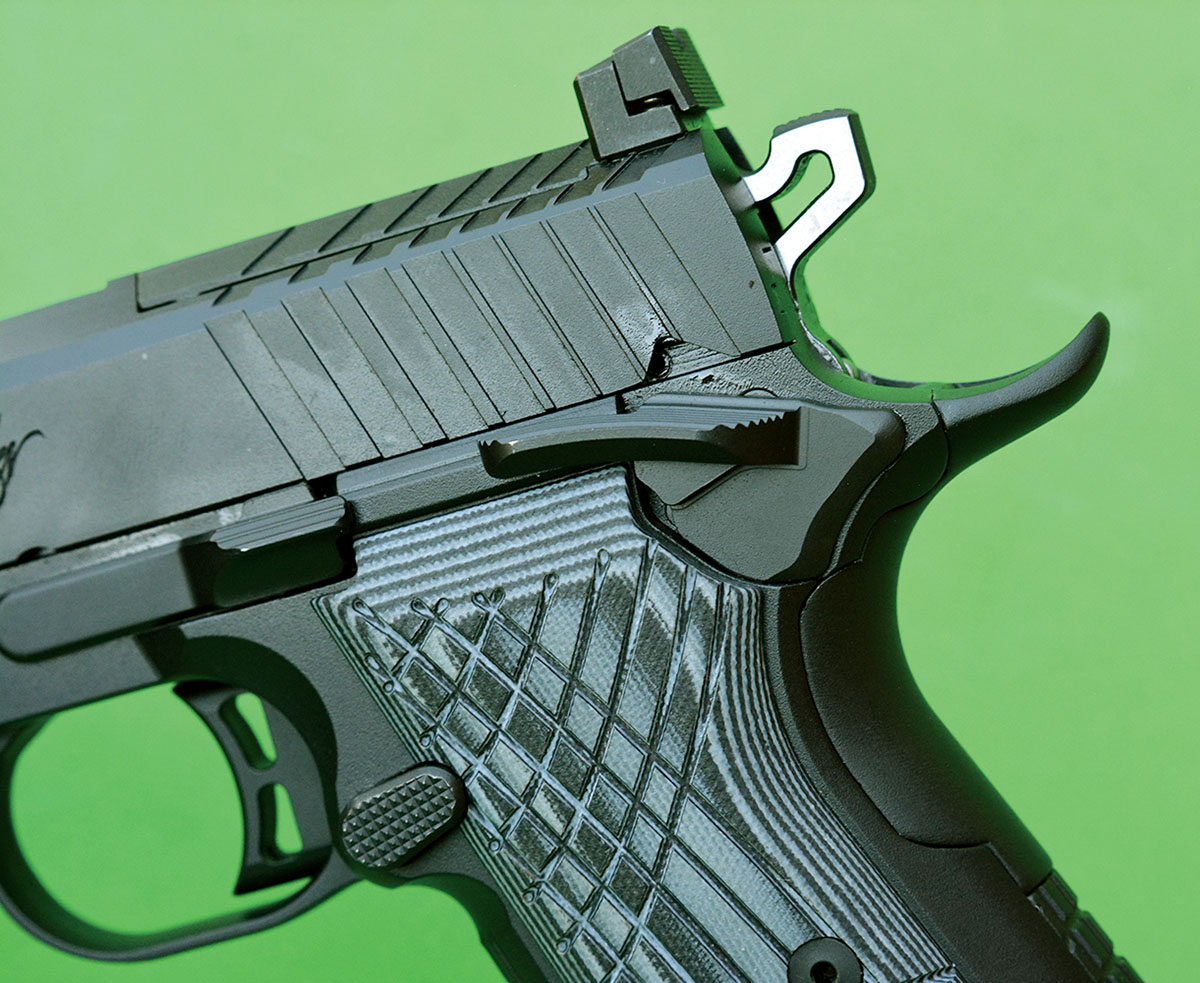 The lightweight trigger is slotted and according to Kimber, is factory-tuned for a crisp 3.5 to 4.5 pound pull weight; however, the test pistol broke crisp at just 3.4 pounds! This wonderful pull makes hitting targets easier and faster and definitely helps the shooter maximize accuracy. Plus, the short trigger reset of the 1911 is a huge advantage for quick follow-up shots.
A few other notable features included a green fiber-optic front sight that is dovetail mounted into the slide, the magazine release is reversible for right- or left-hand operation, but is also extended and oval-shaped for easy operation. The safety is extended and swept, while the slide release is slightly extended, but is still concealed carry friendly. The hammer is skeletonized for lightweight and fast lock time and is serrated for easy cocking. Its unique shape corresponds with the beavertail profiled non-functioning grip safety for a high hand position and less felt recoil.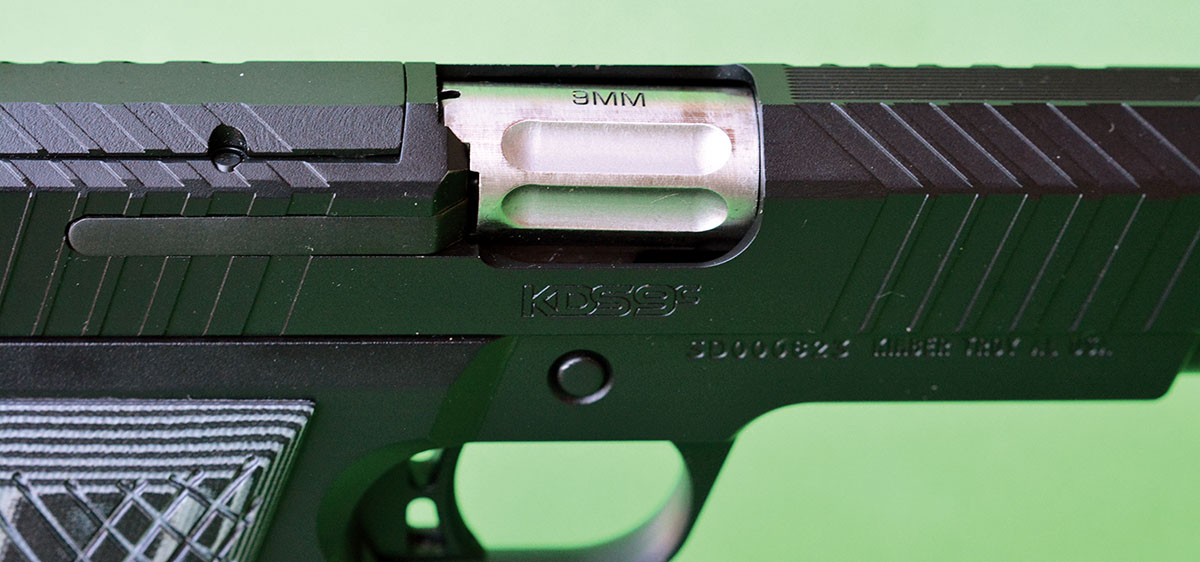 As indicated, the KDS9c was fired with approximately 500 rounds with a variety of factory produced 115- and 124-grain full metal jacket (FMJ) loads. As the 500-round figure was getting close, one cartridge failed to fully chamber, however, that load was a rather poor quality import cartridge that was loaded with a rather dirty burning powder. Soon thereafter, the gun was cleaned and continued to run like a Swiss watch with quality ammunition, including several hundred rounds of U.S.-manufactured factory loads from Federal and Winchester containing FMJ bullets. Next, the gun was fired with premium self-defense-style factory loads and handloads. Again, the pistol functioned flawlessly with bullet weights of 90, 115 and 124 grains and from several different manufacturers.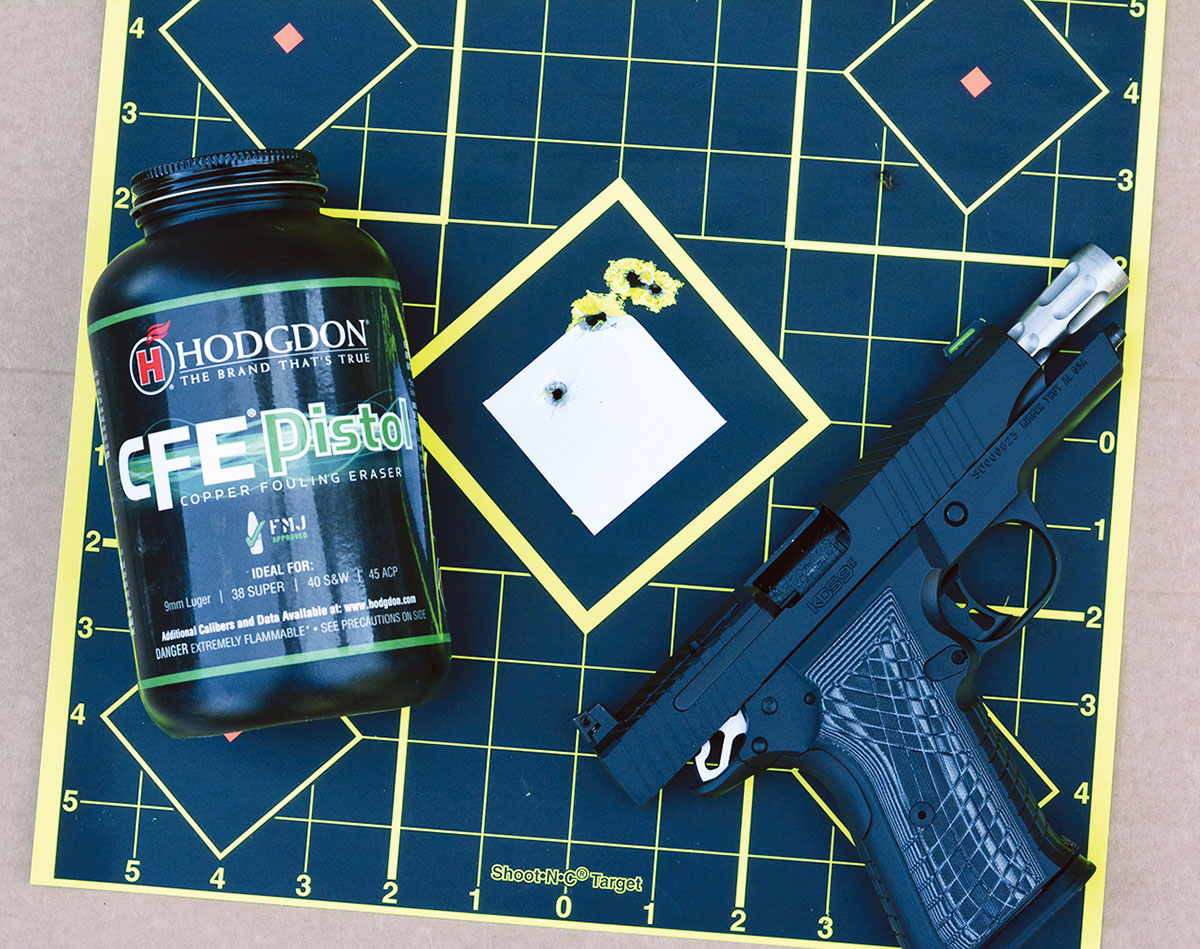 As previously indicated, from a benchrest with sandbags, the first group on paper contained a handload consisting of the Nosler 124-grain Sporting Handgun jacketed hollowpoint (JHP) bullet pushed to 1,258 fps using 5.7 grains of Hodgdon CFE Pistol powder and the CCI No. 500 primer that clustered five shots into around .75 inch at 25 yards. This kind of accuracy was not isolated, as the Hornady 115-grain XTP bullet was pushed to 1,331 fps using 6.4 grains of Alliant BE-86 powder that produced a three-group average (five shots for each group) into 1.10 inches. This type of accuracy is indeed rare from a combat, personal defense-style pistol. (Note: All handloads were assembled in new Starline cases that were full-length sized using a Lyman carbide sizing die. After neck expanding the cases and seating CCI No. 500 primers, powder charges were thrown using a Redding Competition 10X powder measure. Bullets were seated to their correct overall cartridge length and then a taper crimp was applied as a separate step that measured .372 inch at the case mouth.)
Moving on to factory loads, seven were tried that all functioned flawlessly and delivered outstanding accuracy. For example, the worst averaged 1.50 inches, while the most accurate load was the Hornady 124-grain Critical Duty FlexLock +P that averaged just under .80 inch. The Black Hills Ammunition 124-grain JHP +P load was a close second at .90 inch and there is the human error factor, which means that the gun has the potential to give even better accuracy than I was able to obtain.
The Kimber KDS9c is easy to like. It is fun, reliable, comfortable, lightweight, offers outstanding accuracy and is easy to shoot well.