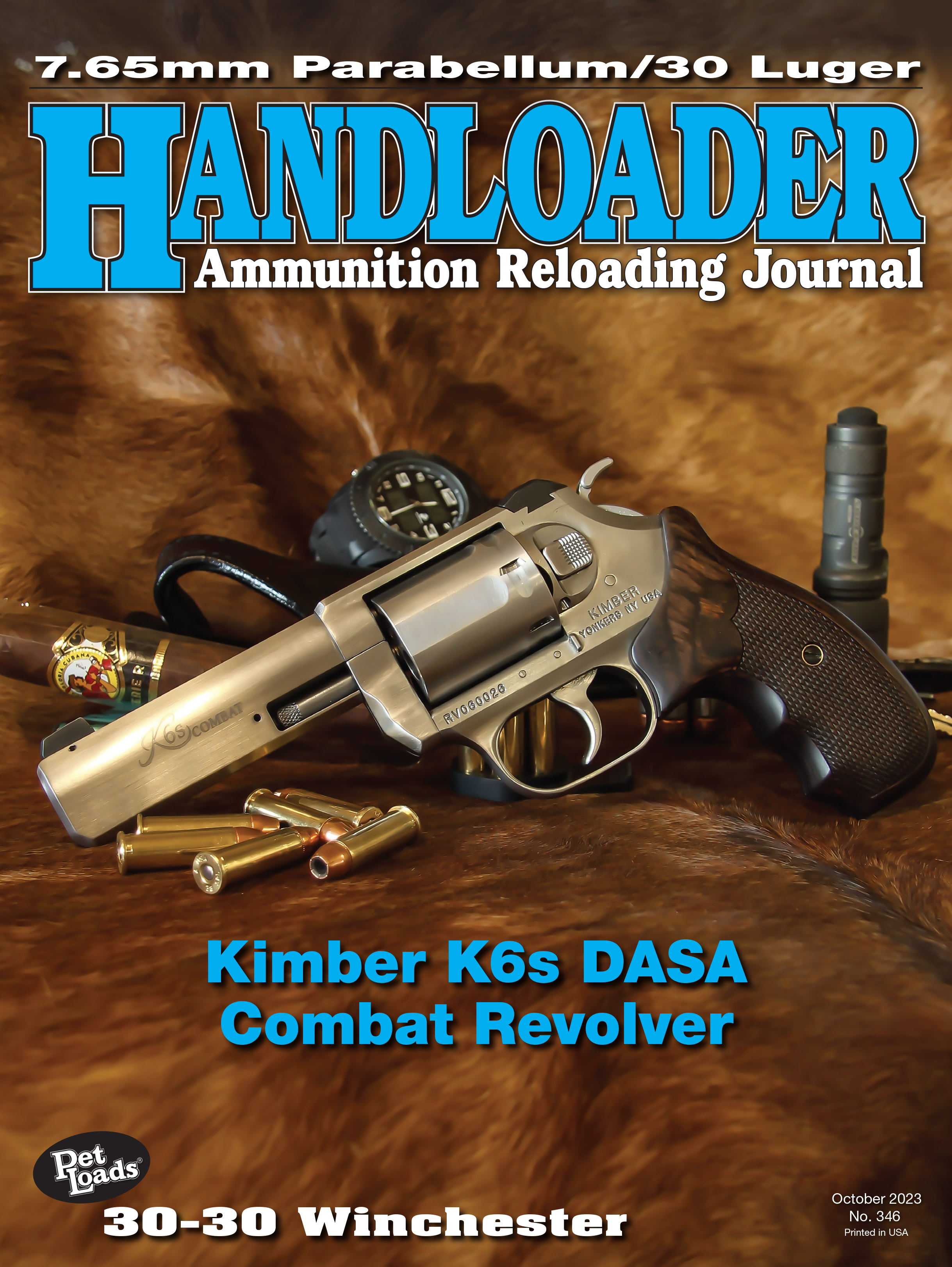 Latest Issue
Handloader October-November 2023
This issue features Kimber K6s DASA 4-inch Combat Revolver, 38 Super & 9mm Largo, 7x61mm Sharpe & Hart, 30-30 Winchester (Pet Loads), Annealing Made Perfect, and much more.
Online Exclusive Content
Inline Fab Case Ejector System
Jeremiah Polacek
We review the Inline Fabrication Case Ejector System. A handy tool to help move things along a li... ...Read More >
Creedmoor Sports Enhanced and Adaptive Press Heads
Jeremiah Polacek
This video shows you how to install and use the Creedmoor Sports Enhanced and Adaptive Press Head... ...Read More >
Basic Reloading Bench Setup
Jeremiah Polacek
In this episode of Handloader TV, we walk you through one of our many reloading bench setups. ... ...Read More >
---
Sign up for our Email Notifications
---
In This Issue
Reloader's Press
A Varmint Hunter's Favorite: 22-250 Remington
column

by: Jeremiah Polacek
When it comes to cartridges for varmint hunting, there are many great cartridges out there. However, it seems that inevitably, the 22-250 Remington will come up in conversations among varmint and predator hunters. This is for good reason as many big names in the firearms industry tinkered with this cartridge while it was cutting its teeth as a wildcat. Interestingly enough, the 22-250 was offered by Browning Arms Company in a factory rifle prior to it getting its official Sporting Arms and Ammunition Manufacturers' Institute (SAAMI) approval. It wasn't until 1963, when Remington made the jump and got the cartridge SAAMI approved, thus adding its name behind the 22-250. The history of this cartridge is quite storied, from how it earned its reputation for accuracy in competitive environments to the success of hunters in the field with the cartridge. ...Read More >
Propellant Profiles
Vihtavuori N565
column

by: R.H. VanDenberg, Jr.
Vihtavuori, the Finnish propellant manufacturer, was a brand known to very few reloaders a decade ago. With the advent of the Precision Rifle Series (PRS) matches, the development of cartridges optimized for the PRS game, and the F-Class International and other long-range matches, Vihtavuori has come to the forefront of propellant suppliers challenging Alliant, Hodgdon, IMR and Winchester. Of course, it does not hurt that Vihtavuori is part of the product line portfolio of Capstone Precision Group, which also includes well-known and respected Lapua ammunition, Berger bullets and SK rimfire ammunition. ...Read More >
Bullets & Brass
45-70 Government Deep Seating Bullet Issues
column

by: Brian Pearce
Q: I completely enjoy Handloader magazine and learn something from each issue. With your obvious love of sixguns, I recently added two 357 Magnums and a 44 Magnum to my collection and am in the process of developing handloads and have questions, but will save those for another day. Most of my handloading has been for rifle cartridges such as the 6.5 Creedmoor, 30-06 and 223 Remington. But I recently added a new Ruger-manufactured Marlin Model 1895SBL to my collection. I obtained a quantity of 420-grain cast bullets from a local dealer and used 38 grains of IMR-4198 powder in Starline cases that were primed with CCI No. 200 primers. I crimp the bullets for an overall cartridge length of 2.535 inches. ...Read More >
Cartridge Board
7.65mm Parabellum/30 Luger
column

by: Gil Sengel
Daniel Wesson is credited with designing the first totally self-contained metallic cartridge in the U.S. It was a 22 caliber, first called the No. 1 and later, the 22 Short. A small seven-shot revolver was available to fire it in 1857. ...Read More >