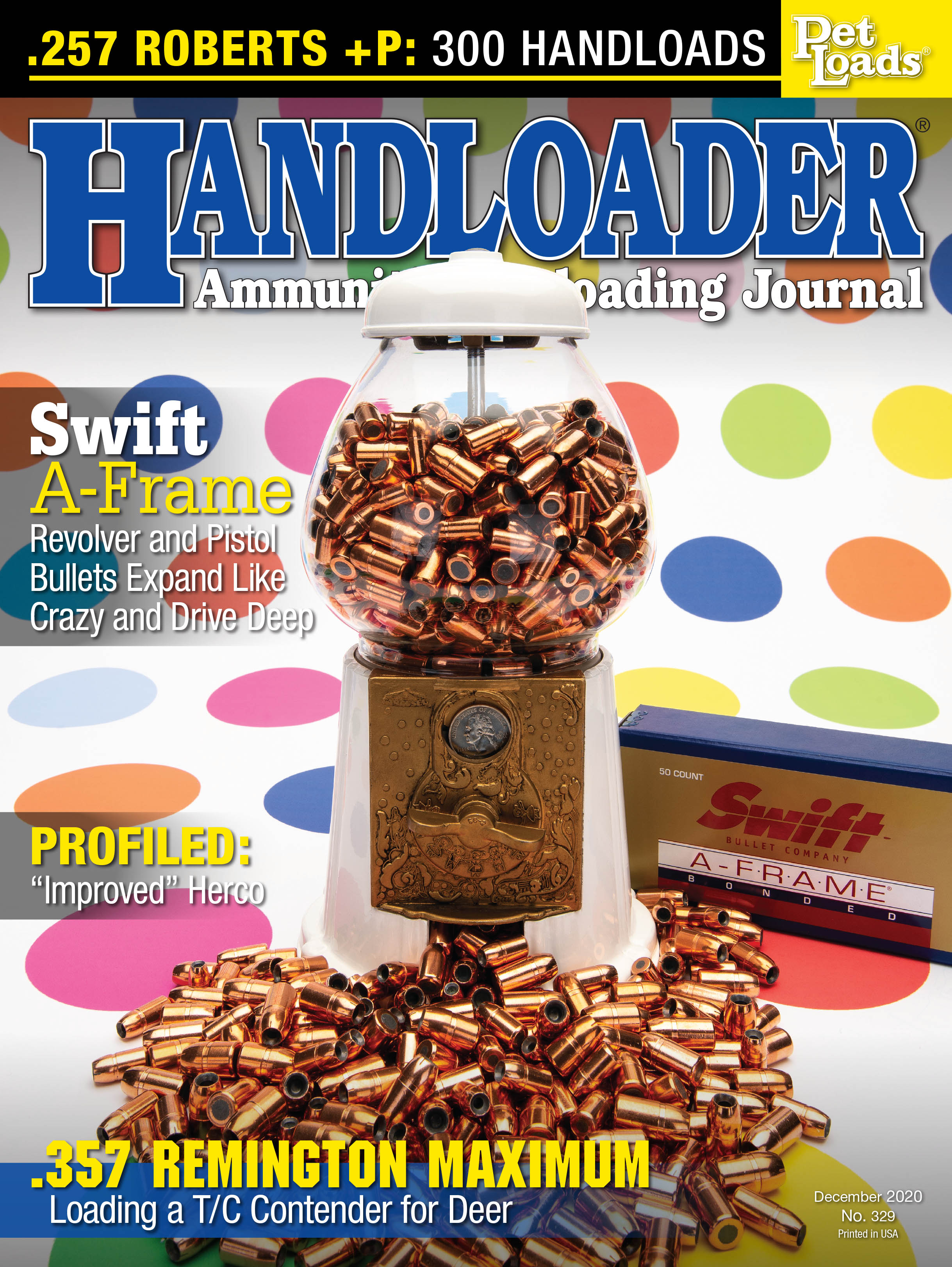 Latest Issue
Handloader (December/January 2020)
This issue features Swift A-Frame Revolver and Pistol Bullets, .357 Remington Maximum, .257 Roberts +P, In the Black, .22-250 Remington, and much more.
Online Exclusive Content
Zero Precision Reloading Press
Jeremiah Polacek
Jeremiah talks with Craig from Area 419 regarding their Zero Precision Reloading Press. They expl... ...Read More >
Hornady Auto Change Pro
Jeremiah Polacek
Handloader TV reviews the Hornady Auto Change Pro precision powder measure. We use several powder... ...Read More >
The .300 Blackout Suppressed
Jeremiah Polacek
Jeremiah loads for the .300 Blackout in two rifles. First is an AR built by Jeremiah. This is the... ...Read More >
---
Sign up for our Email Notifications
---
In This Issue
Reloader's Press
Elite Sixguns Have Fixed Sights
column

by: Dave Scovill
It has been nearly 20 years since I was sitting on the porch at a hunting cabin in South Texas cussing and discussing various topics related to hunting with a well-known handgun editor from another magazine. Glancing down at my holstered Colt he asked, "You hunt with that?" as if it was some sort of disgusting vermin, or some such. ...Read More >
Practical Handloading
Bullet Seating - Get the Ring Out
column

by: Rick Jamison
There is nothing like the feeling of gazing on a new box of shining bullets that are perfectly formed with polished surfaces unblemished by human touch. Handloaders are almost giddy with anticipation of how the exquisite gems will perform, and can hardly wait to pull a loaded round out of a seating die to admire the full cartridge. Suddenly, the future is marred by the sight of an ugly scratch or indent plowed around the tip! ...Read More >
Bullets & Brass
.243 Winchester Dual-Purpose Powder?
column

by: Brian Pearce
First, let me say how much I enjoy Handloader magazine. There is no other publication that contains so much information for shooters like me. My main question is: I have several rifles chambered in .243 Winchester. My favorite is a Savage Model 110 with a 24-inch Shilen custom barrel that is used for varmints. I have been using the 58-grain Hornady V-MAX bullet with Hodgdon Varget powder for around 3,700 fps. It is devastating to prairie dogs and other varmints and is very accurate. ...Read More >
Cartridge Board
.300 Weatherby Magnum
column

by: Gil Sengel
When Roy Weatherby quit a good-paying job to open a California sporting goods store to sell his ultra-high velocity rifles and cartridges in late 1945, success was not assured. He went ahead because he believed high velocity provided greater shock (sometimes called hydrostatic shock), thus producing quicker kills and preventing the loss of animals not hit in exactly the right spot. The introduction of slower burning DuPont IMR-4350 powder in 1940 made this possible. ...Read More >