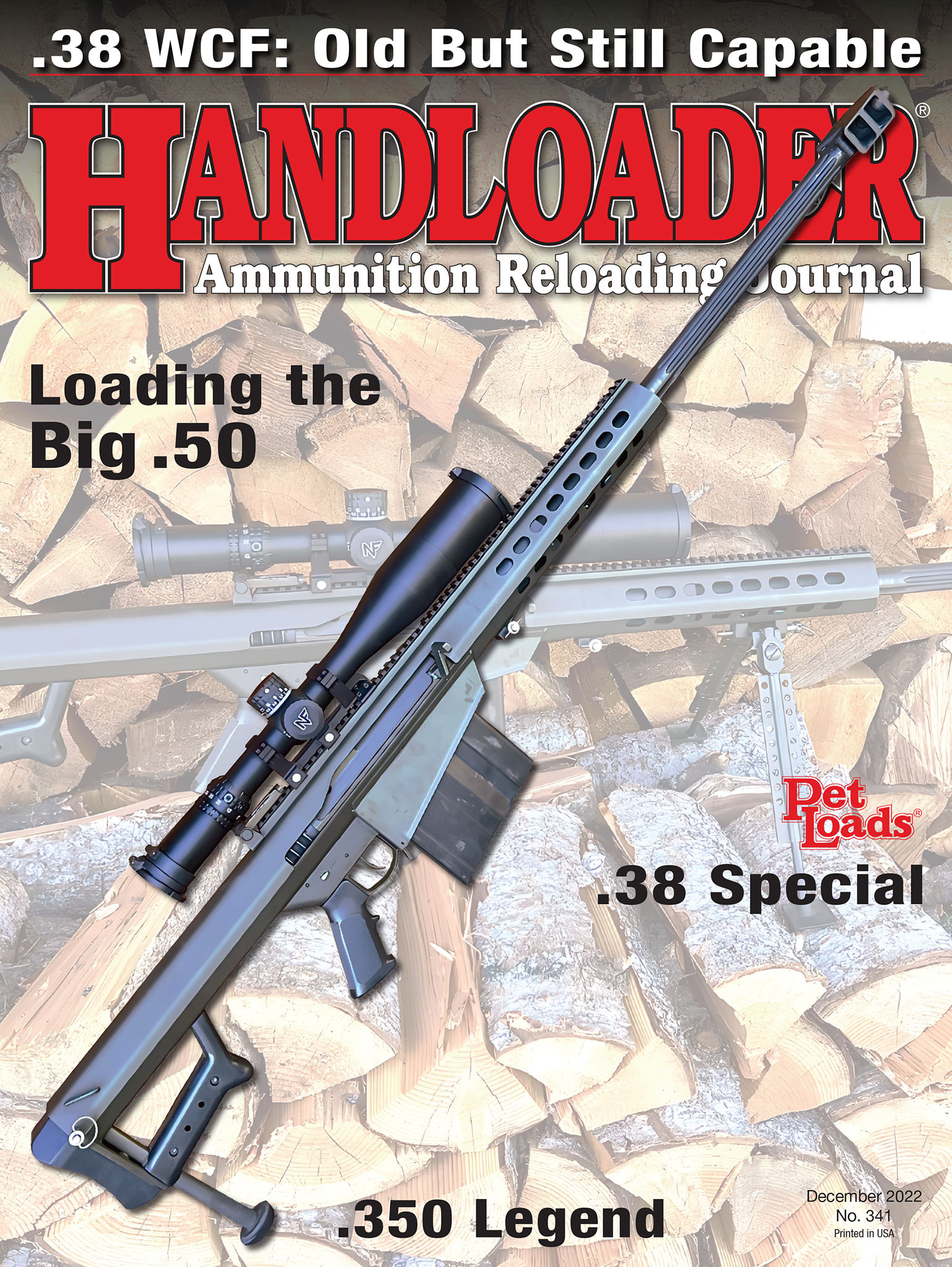 Latest Issue
Handloader December/January 2022
On the cover: A .50 BMG Barret M107A1. This issue features .350 Legend, Loading the Big .50, .38 WCF, .38 Special (Pet Loads), Colt U.S. Model 1917, and much more.
Online Exclusive Content
Propellant Profiles Accurate No 7
Jeremiah Polacek
In this video we are reviewing Accurate No 7 by Hodgdon Powder Company. Taking our popular Propel... ...Read More >
WWII Small Arms Series Soviet M38 & M44
Jeremiah Polacek & Mike Venturino
We continue our WWII Small Arms Series. Jeremiah and Mike Venturino discuss the history, care, lo... ...Read More >
Beretta M9 VS Sig Sauer M17
Jeremiah Polacek & Mike Canfield
Handloader TV teamed up with Ransom International to test the Beretta M9 Vs. the Sig M17 for accu... ...Read More >
---
Sign up for our Email Notifications
---
In This Issue
Reloader's Press
Go-To Handloads: The Right Load for a Good Tme.
column

by: Jeremiah Polacek
Every handloader should keep good notes as it's a hard and fast rule that each of us should follow. Once we find a load that we like, whether for velocity, accuracy, or combination of attributes desired, it must be recorded. While my library is not as large as some, when it comes to "pet loads," it is something to constantly improve upon. This is a good attitude to have with life in general as there is always more to learn and to quote Jerry Miculek, "You can't fossilize." We truly never stop learning. As handloaders, we are constantly trying to find the best possible load for a given rifle or even set of circumstances. Always trying to improve our handloading through learning, education and good, old-fashioned tinkering. ...Read More >
Propellant Profile
Hodgdon H-110 - Winchester 296
column

by: Randy Bimson
In the world of hunting rifles and cartridges, there has been little in decades that has stirred up as much interest as the opening of many, mostly Midwest states, to allow hunters the option of using centerfire rifles chambered for straight-walled cartridges for deer hunting in areas where the use of centerfire rifles were previously prohibited and/or allowing these rifles and cartridges to be used in areas previously restricted to muzzleloading firearms or shotguns. ...Read More >
Bullets & Brass
Heavyweight Bullet Loads for the .357 Magnum
column

by: Brian Pearce
Q: With ammunition shortages over the past couple of years, within the last year I have taken up an addictive habit…handloading! I have been shooting and collecting guns for more than 30 years, but this new venture has taught me so much more about my guns and especially ammunition. I am invigorated and am greatly enjoying it. I have been steadily adding dies and new equipment to advance my new hobby. One of the forums was discussing some of your handload recipes for .357 Magnum, .32 Magnum and .44 Special, which in turn introduced me to Handloader magazine and your fine articles. I anxiously await each new issue. ...Read More >
Cartridge Board
.30 WCF Smokeless or .30-30 Winchester (Part I)
column

by: Gil Sengel
My tenure with this column is now something over 30 years, so regular readers will wonder why I haven't already covered a popular round like the .30-30 Winchester? It was listed before my time, but the column was then shorter in length so information had to be left out. This will be included now, plus more that has been learned about this fascinating old round. One solid fact is that the .30-30 is far from dead or obsolete. It is perhaps more useful today than during its first 20 years of existence! ...Read More >