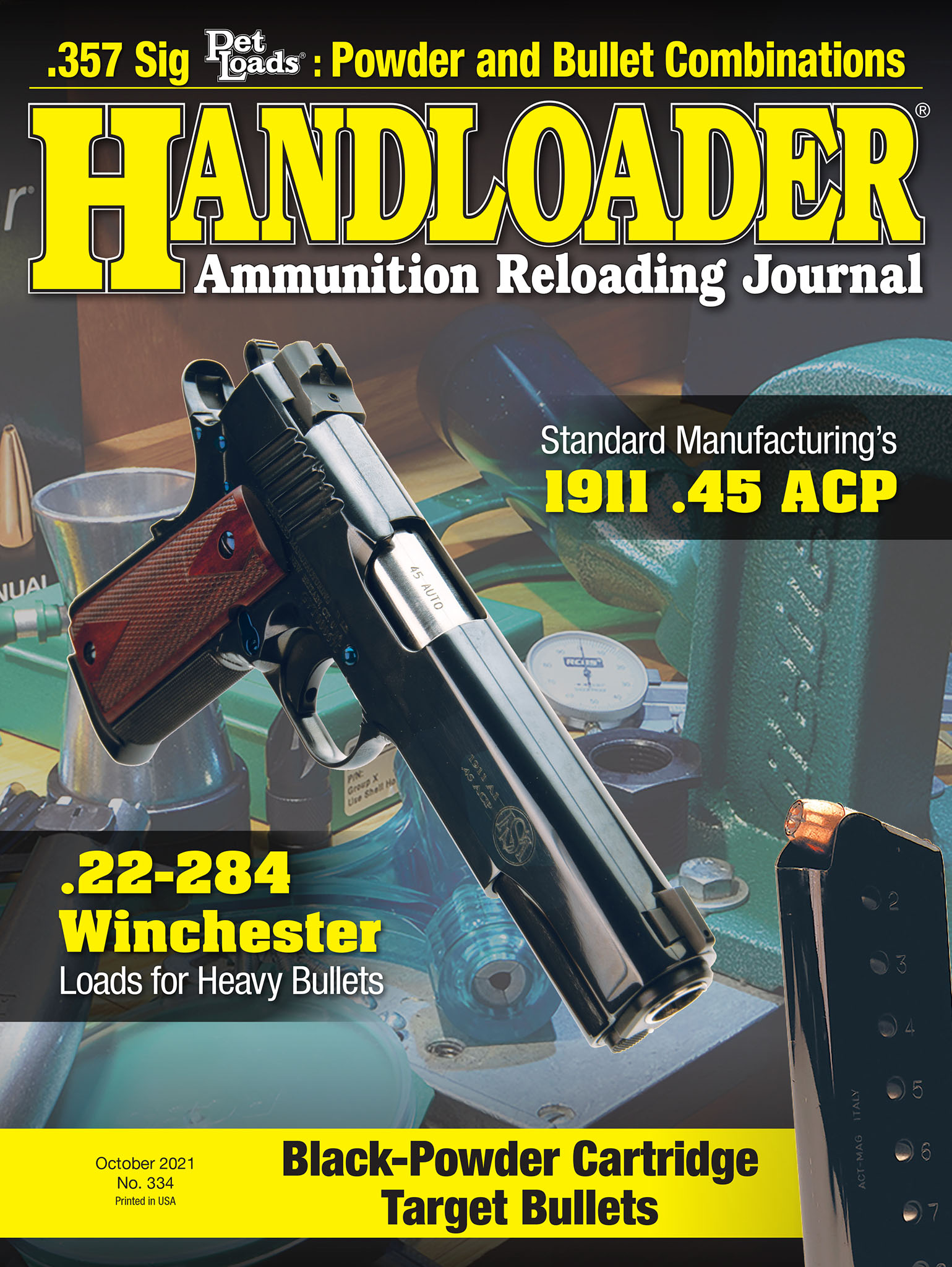 Latest Issue
Handloader October/November 2021
This issue features .357 Sig, Black-Powder Cartridge Target Bullets, Handloading in Kit Form, The 6.5 Grendel in a Bolt Action, .22-284 Winchester, and much more.
Online Exclusive Content
Powders & Loads
Brian Pearce
Before choosing a powder for that favorite varmint cartridge, some insight might help. The two mo... ...Read More >
Wad a Lot of Fun!
Stan Trzoniec
Like the popular 1955 Chevrolet Impala, the wadcutter bullet has seemed to drift into obscurity w... ...Read More >
7mm Remington Magnum VS The 28 Nosler
Jeremiah Polacek
We take the best load from our video on the .28 Nosler, and the best load from our 7mm Remingto... ...Read More >
---
Sign up for our Email Notifications
---
In This Issue
Propellant Profiles
Ramshot True Blue
column

by: Randy Bimson
In October 2020, Hodgdon Powder Company purchased the exclusive rights to Western Powders' Blackhorn 209, a black-powder substitute, and the Accurate family of smokeless propellants. In this edition, our focus is on what I have found to be a superb powder from the Accurate Ramshot line – True Blue. ...Read More >
Bullets & Brass
Hunting Loads for a .45-70 Levergun
column

by: Brian Pearce
Q: Back in the 1990s, I was regularly competing at cowboy action events. During that time, I acquired a new Marlin Model 1895CB Cowboy rifle chambered in .45-70 Government with a 26-inch octagonal barrel. It was purchased for side match events, however, my job soon forced me to move and I never really had a chance to shoot the gun or develop handloads. Lately, I have been shooting it some and have been very impressed with its accuracy. I would like to try it on Alabama whitetail deer this fall. I just installed a Skinner Sights aperture rear and black post front. Using the old Remington 405-grain JSP factory loads, I am consistently getting 1.5-inch groups, which is better accuracy than my 1970's vintage Winchester Model 70 .30-06. ...Read More >
Cartridge Board
.38 Special Target Wadcutter
column

by: Gil Sengel
The first target match using revolvers appears to have taken place in 1886, during the annual rifle competition at the Creedmoor Rifle Range. The Standard American Target for 200-yard rifle shooting was tacked up 25 yards from the firing line. This target may seem a bit large by today's standards, but it was in keeping with the dismal accuracy of percussion revolvers that carried over into early cartridge guns. ...Read More >
From the Hip
Standard Manufacturing's Model 1911 .45 ACP
column

by: Brian Pearce
Back in the 1970s, a leading magazine conducted a straw ballot vote as to what was the "All-Time Classic Handgun." The competition was stiff and included the fine old Colt Single Action Army, Smith & Wesson Model 29, the famous Luger and others. However, when the results were tallied, the clear winner was Colt's Model 1911 .45 ACP. In addition to serving as the U.S. military's official standard issue sidearm for 74 years (1911-1985), it continues to serve admirably within elite combat units. ...Read More >