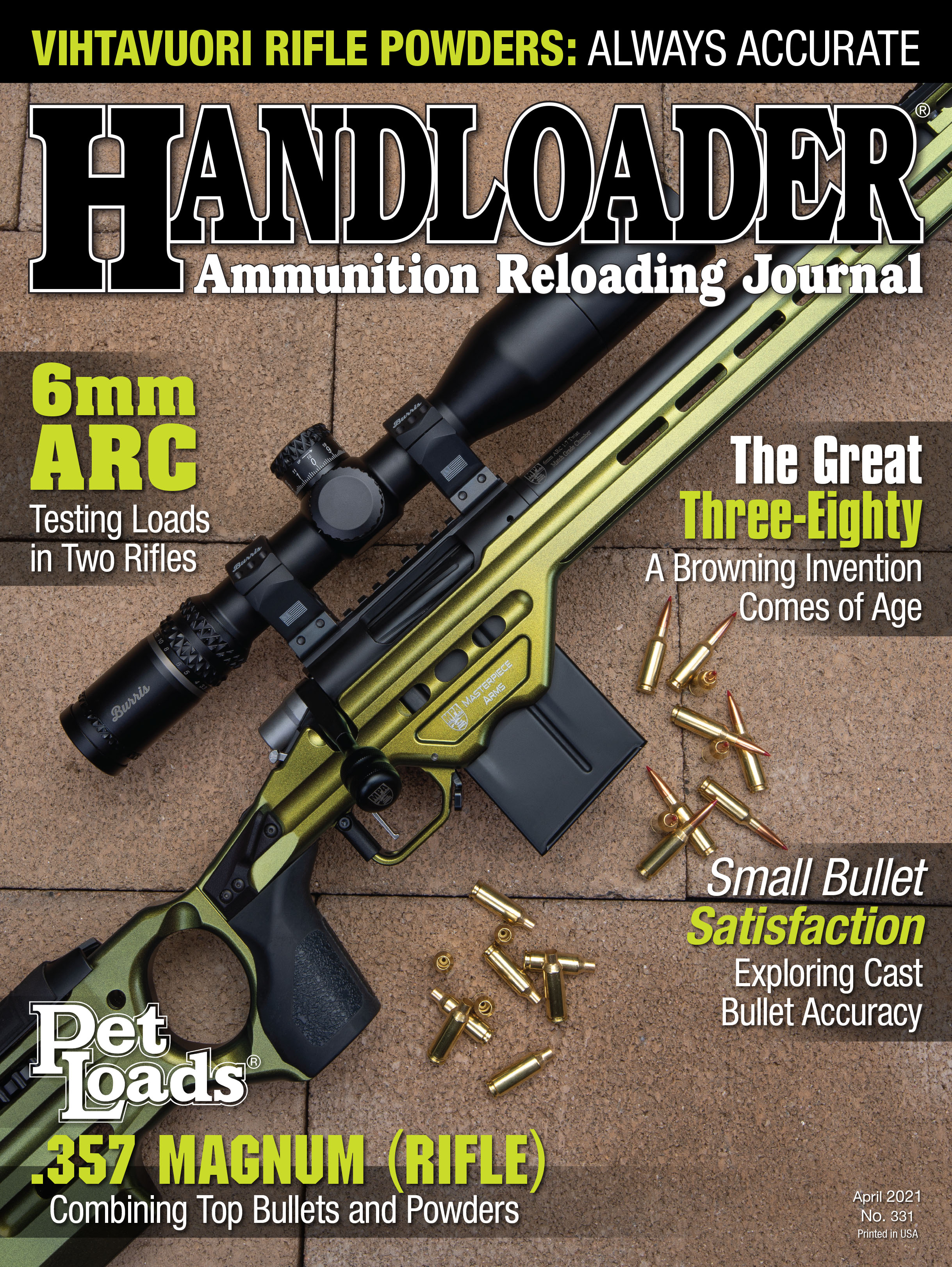 Latest Issue
Handloader April/May 2021
This issue features 6mm ARC, .357 Magnum (Rifle), Vihtavuori Rifle Powders, The Great Three-Eighty, Small Cast Bullet Satisfaction, and much more.
Online Exclusive Content
Handloading for the FN 509 Tactical
Jeremiah Polacek
Here we discuss the FN 509 tactical pistol, handloads that were developed and how they performed.... ...Read More >
The .22 Creedmoor
Jeremiah Polacek
We cover some tips on handloading the .22 Creedmoor. Then we take the rifle to the range to see h... ...Read More >
.22 Hornet
Ross Seyfried
The .22 Hornet is a wonderful little cartridge with a whole lot going for it, but it is not witho... ...Read More >
---
Sign up for our Email Notifications
---
In This Issue
Reloader's Press
Handloading 2021
column

by: Dave Scovill
How time flies. I've written 196 of these columns since 1989, just short of 400 for both Handloader and Rifle. The late Al Miller, the editor at the time, was adamant in his belief that as the new editor in chief I would not have time to write them. Like Al, I had been in the military prior to taking up freelance writing while still employed at a "real" paying job. When responsibilities in the U.S. Navy became increasingly demanding, I enrolled in an advanced reading and comprehension course. It helped tremendously in preflight school and freed up time to take a course in Uniform Code of Military Justice (UCMJ), aka JAG Corps, which turned out to be a bonus when administration opportunities arose later in the Navy and civilian life. ...Read More >
Practical Handloading
Bullet Seating - Where Are the Lands?
column

by: Rick Jamison
So how do you decide on bullet seating depth for a new rifle or a specific bullet? There are a lot of different reasons for making that decision, but whatever your preference, the round must fit into the action, magazine box and chamber without resistance. These requirements point at a too-long overall cartridge length (OAL), but there is more to this story. ...Read More >
Bullets & Brass
Magnum Primers in the .45 ACP
column

by: Brian Pearce
I have been reading Handloader magazine for about 15 years and very much enjoy it. I especially enjoy your articles and the technical information that is not contained in any competing magazines. Now for my question: When COVID-19 hit, followed by the political unrest, I was a bit unprepared to see the empty shelves at various gun shops in my area. Handloading components are especially hard to find. I needed standard large pistol primers for my .45 ACP, but have not been able to find any without paying over $200 per 1,000. I do have some CCI 350 Large Pistol Magnum primers and a few hundred Federal 155s on hand, but am worried that they will cause pressures to jump. ...Read More >
Propellant Profiles
Shooters World Buffalo RIfle
column

by: Randy Bimson
In the modern world of high tech rifles and cartridges that have pushed the prior Sporting Arms and Ammunition Manufacturers' Institute (SAAMI) maximum pressure limit of 65,000 psi to a new high of 80,000 psi, there is still a steady demand for propellants specifically tailored to shooting sizeable lead projectiles at middling velocities out of medium- to big-bore cartridges. Cartridges the likes of those used in Schuetzen- and Creedmoor-type shoots and by buffalo hunters of days gone by. Why you might ask? Shooting rifles chambered for these pumpkin-rolling cartridges is just too much fun! ...Read More >