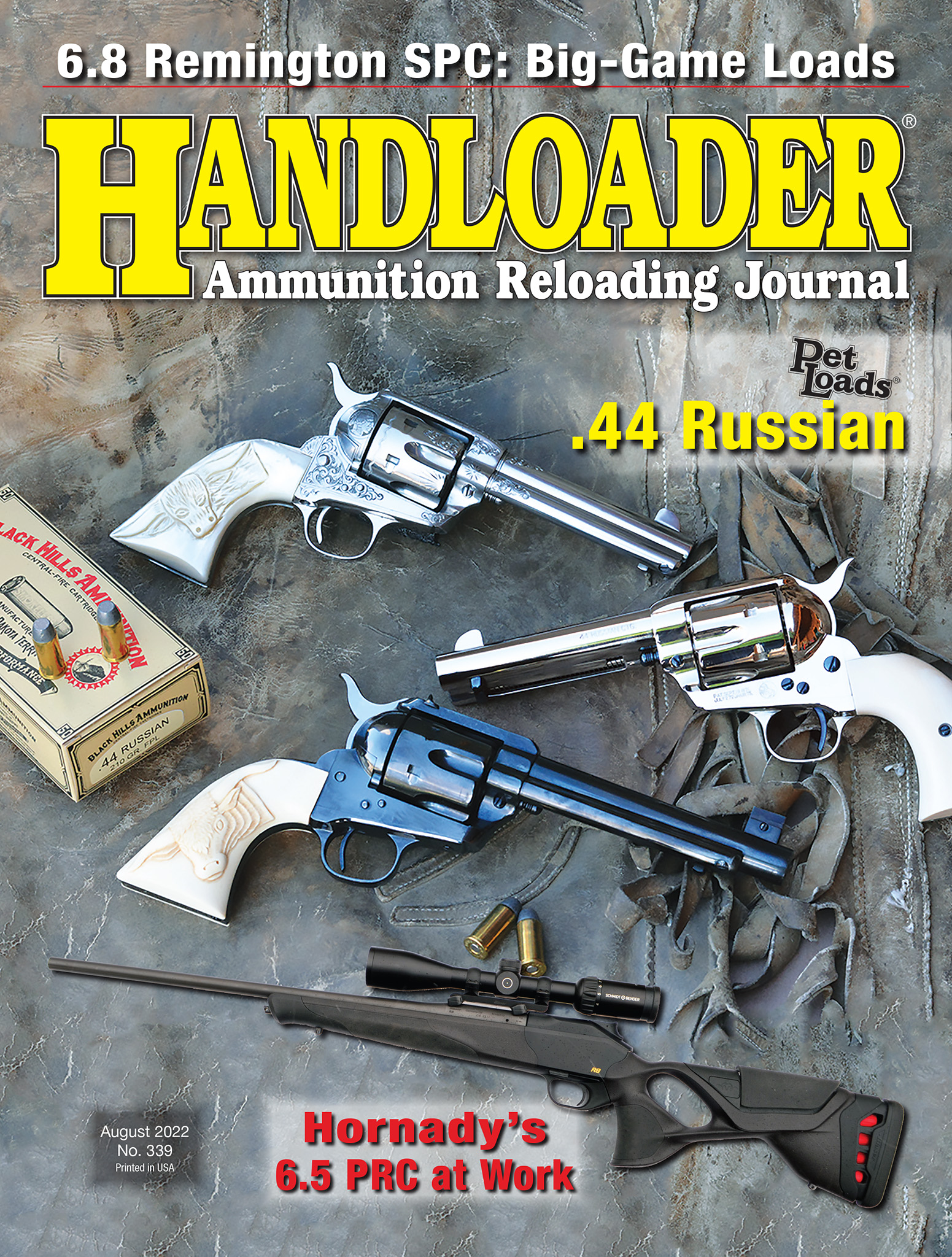 Latest Issue
Handloader August/September 2022
This issue features 6.8 Remington SPC; .44 Russian; .257 Weatherby Magnum; Precision, and Then Some; A Duo of Colt Frontier Six Shooters; and much more.
Online Exclusive Content
Vista Outdoor Spur Ranch Media Event Wyoming
Jeremiah Polacek
Vista Outdoors recently held a media event at the Spur Ranch just outside of Encampment, Wyoming.... ...Read More >
WWII Small Arms Series German 9mm's
Jeremiah Polacek & Mike Venturino
We continue our WWII Small Arms Series. Jeremiah and Mike Venturino discuss the history, care, lo... ...Read More >
.308 Winchester Handloads in the Nosler Model 21
Jeremiah Polacek
In this episode we run a full load development on the .308 Winchester and shoot the new Nosler Mo... ...Read More >
---
Sign up for our Email Notifications
---
In This Issue
Reloader's Press
Loading the .300 Blackout/Whisper
column

by: Jeremiah Polacek
The .300 Whisper/Blackout is an interesting cartridge because of its history, military interest and versatility. The concept for the cartridge must be credited to J.D. Jones of SSK Industries and dates back to the 1990s when the .300 Whisper was born by shortening and necking up .221 Remington Fireball cases to accept .308-inch diameter bullets. If I look back to 2011, the .300 Whisper was essentially reintroduced by Advanced Armament Corporation as the .300 AAC Blackout, which was approved by the Sporting Arms and Ammunition Manufacturers' Institute (SAAMI) while the .300 Whisper remained a wildcat cartridge. The .300 Whisper is essentially survived by the .300 Blackout and many barrelmakers are chambering the cartridge. ...Read More >
Propellant Profiles
IMR-4198
column

by: R.H. VanDenberg, Jr.
To say the very least, we live in interesting times. As I write this column, it is well into May, and spring should have arrived in the West. With truck and travel trailer, rifles, reloading tools, and the required Canadian paperwork, Cathy and I ventured north to Saskatchewan, Canada, to visit family and get in a spring gopher shoot. The trip up was eventful as we dodged the tail of the spring blizzard that hammered Montana, North Dakota and southern Saskatchewan, while trying to miss being caught up in the second blizzard that was in hot pursuit of the first blizzard. The campgrounds that we had planned to overnight in on our trip north where all closed because they just physically did not have any place to push the snow to open the campground roads and campsites. ...Read More >
Bullets & Brass
The Sweet Spot with Hornady GMX Bullets
column

by: Brian Pearce
Q: I am a big fan of your "Pet Loads" feature in each issue. Just prior to the current powder and primer shortage, I started working up a new big-game load for my wife's rifle chambered in 7mm-08 Remington using the Hornady 139-grain GMX. In your "Pet Loads" articles you generally include a load with a GMX bullet. I am curious how far off the lands you normally start when developing a new load with GMX bullets? And is there a sweet spot where you find the best accuracy? With powder and primers in short supply, I'm loath to do much in the way of experimentation. I appreciate your help! A.M., email ...Read More >
Cartridge Board
.38 Long Colt
column

by: Gil Sengel
American cartridge handguns of .38 caliber have always been very popular. If we note that the 9mm Luger bullet is only .003 inch smaller in diameter than a .38 Special, .38 caliber becomes the most used size today as well. ...Read More >