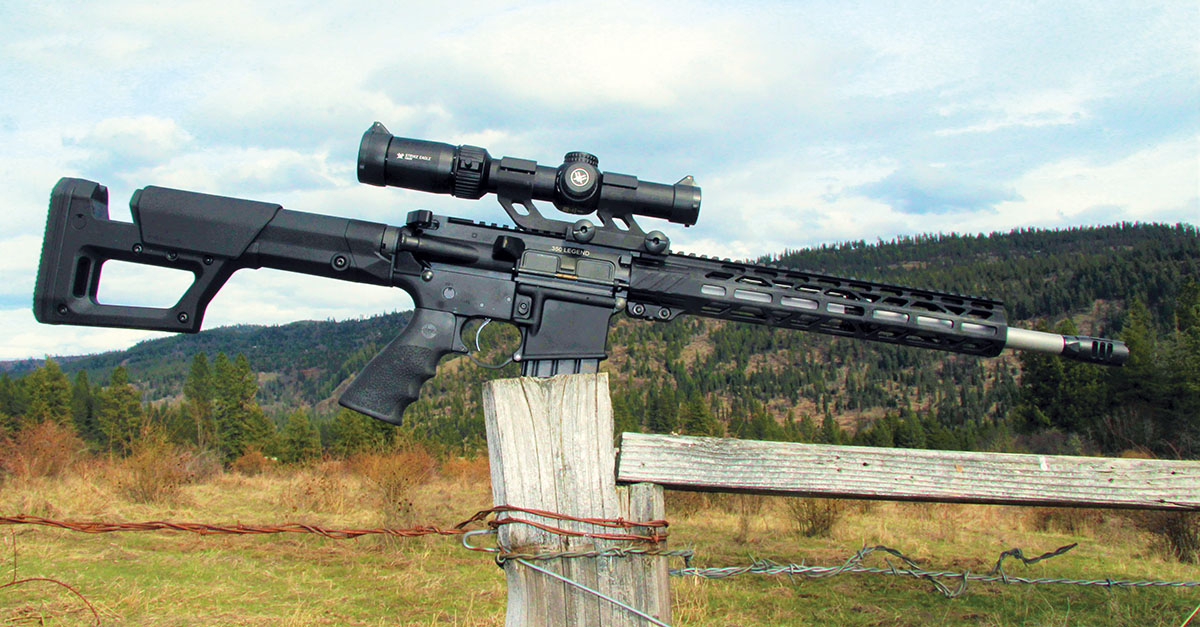 In June 2014, Michigan's Natural Resources Commission drafted rules to allow .35-caliber or larger straight-walled cartridges measuring a minimum of 1.16 inches and a maximum of 1.80-inches long to be used for deer hunting in southern regions. This was done on the premise of maintaining safety in highly-populated areas. This made the 450 Bushmaster and 460 S&W Magnum go-to cartridges but excluded the 2.105-inch long 45-70 Government. It was not long before states like Iowa, Indiana, Pennsylvania and Ohio (where the 45-70 is legal) followed suit. Seeing sales of 450 Bushmaster ammunition soar due to these laws, Winchester set out to design a more shooter-friendly and economical cartridge.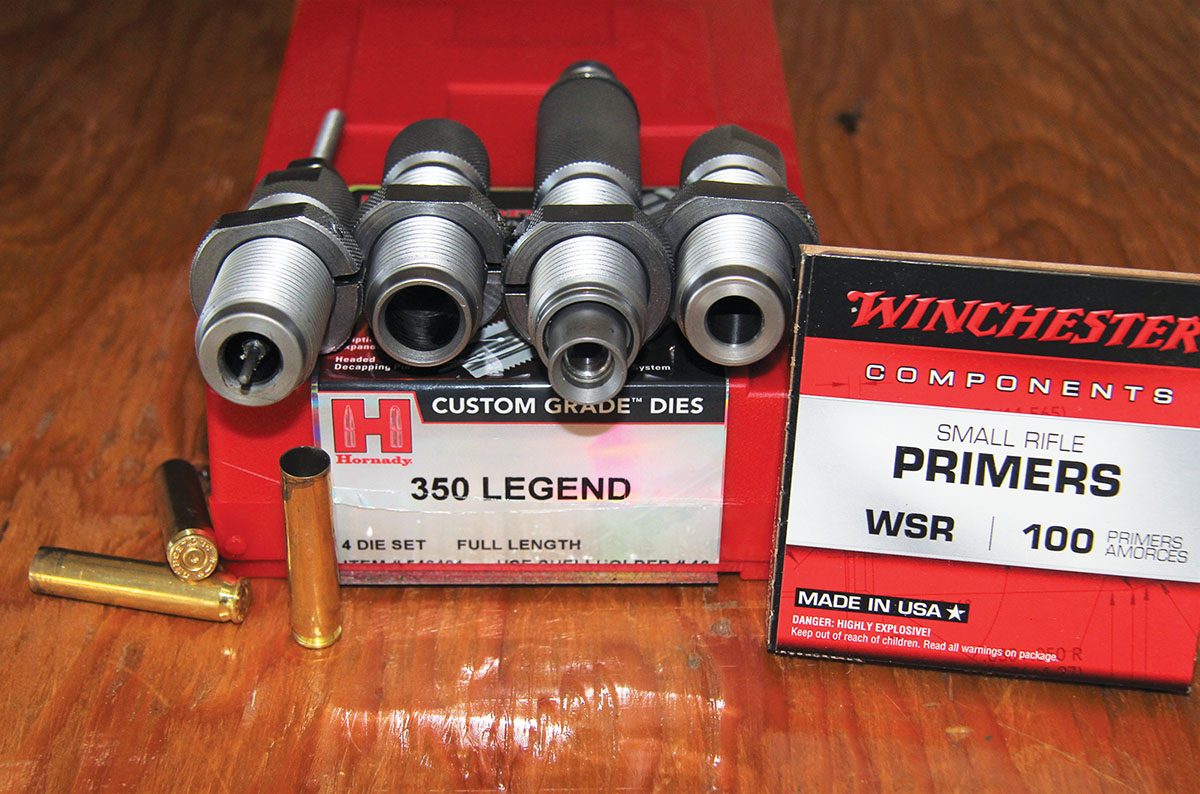 The result was the 350 Legend, a cartridge relinquishing mild recoil (producing about 10.05 foot-pounds of free recoil energy) and affordable ammunition ($35 versus $50 average per 20 rounds, Legend versus Bushmaster). The cartridge also generated 250 percent less muzzle blast than the 450 Bushmaster. The Sporting Arms and Ammunition Manufacturers' Institute (SAAMI) gave the cartridge its seal of approval in 2019.
The 350 Legend was launched in a variety of Winchester factory ammunitions, introducing a cartridge propelling much lighter- and flatter-shooting bullets than any existing straight-walled round. Factory ammunition has since been added by Browning, Federal, Hornady, Browning and many others. Though originally introduced in a Winchester bolt-action rifle, the Legend quickly became an AR-15 staple, loaded to the same maximum chamber pressures as the 223 Remington at 55,000 psi.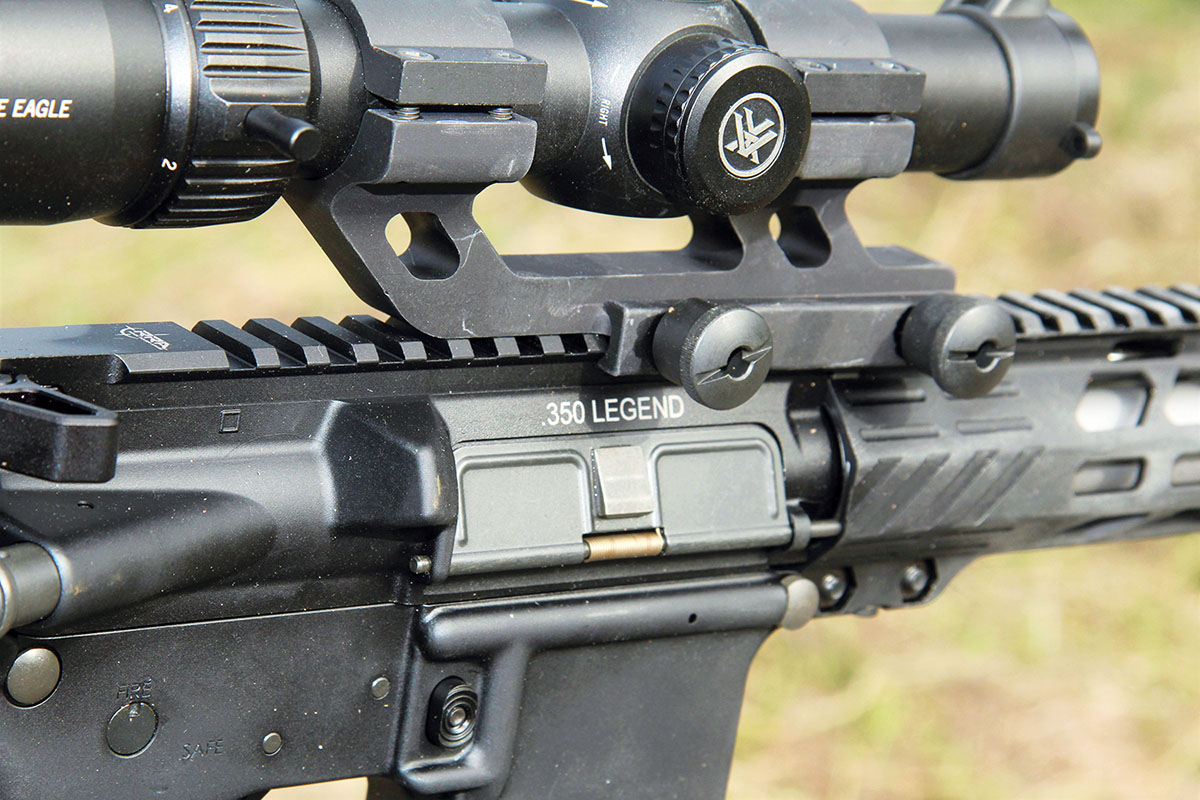 The 350 Legend is well suited to the AR platform, including the same .378-inch rebated rim of the 223 Remington to provide identical magazine capacities. I had always thought of the 350 Legend as a 223 Remington with its shoulders blown out to create a straight-walled case and given a slight taper to ensure smooth operation. Closer inspection shows subtle differences in the base area. The case is 1.71 inches long (trim-to length of 1.70 inches), with a .390-inch base tapering to a .378-inch neck. Factory ammunition on hand included an overall length (OAL) of 2.245 to 2.255 inches.
The 350 Legend fires .355-inch 9mm bullets (357 Magnum and 35 Remington using .357-inch, 35-caliber rifles, like the 35 Whelen firing .358-inch bullets) and delivers energy on par with the ancient 35 Remington or 30-30 Winchester. More companies have begun offering 350 Legend bullets designed for big-game duties, while many properly dimensioned pistol bullets also suffice on smaller hogs and deer. Velocities are relatively sedate at 2,600 feet per second (fps) (125-grain bullet) to 2,200 fps (180-grain) velocities and G1 ballistic coefficients (BC) in the high .180s to mid-.200s limit the round's effectiveness to about 200 yards. Wind drift in a 10 mph crosswind while firing 150-grain bullets comes to around 2 inches at 100 yards and more than 8.5 inches at 200.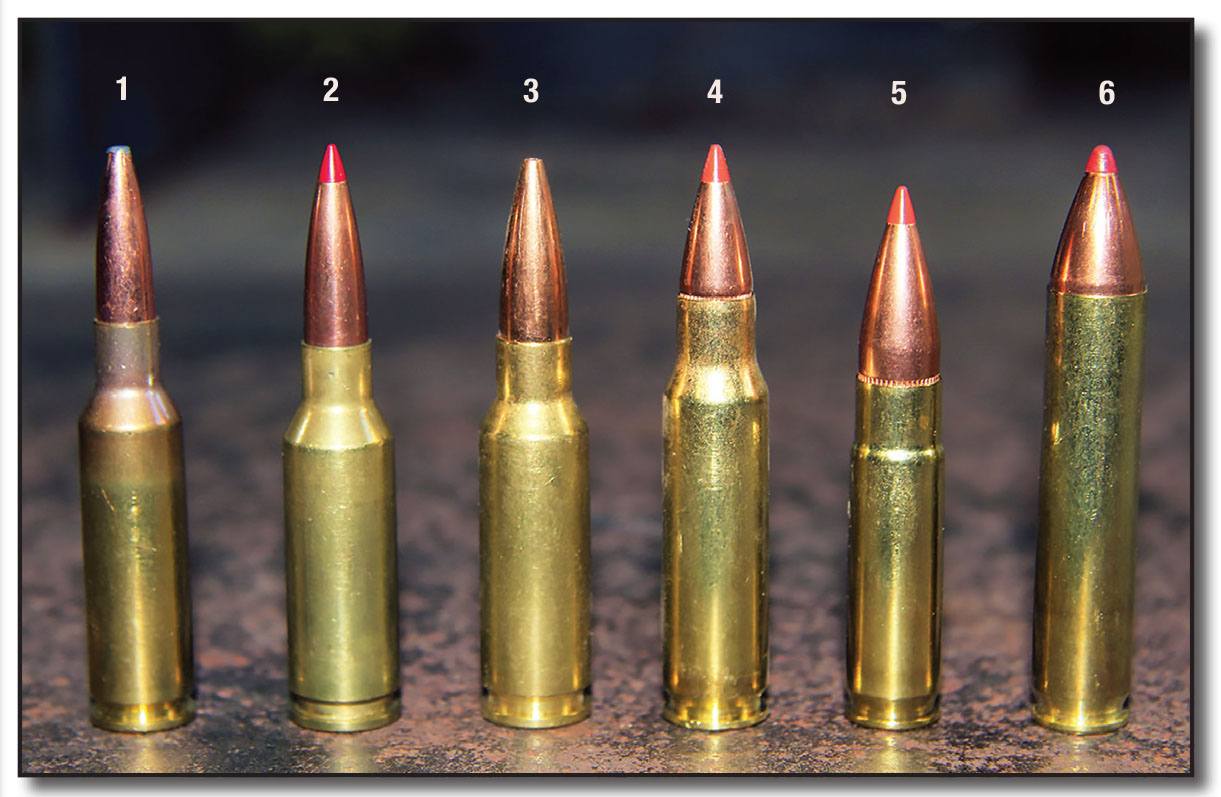 The test rifle was Rock River Arms' (RRA) new LAR-15 Ascendant ATH. The Ascendant ATH is assembled from premium RRA LAR-15 components, including forged 7075 T6 upper and lower and RRA low-profile gas block. The 16-inch barrel (1:16 twist) is made from premium 416R stainless steel, cryogenically treated for stability and accuracy, and media-blasted to create a matte finish. The threaded tube held a serrated RRA Operator Muzzle Brake, in case I needed to engage a hog up close and personal. Unfortunately, none of my suppressors are compatible with .35-caliber bullets.
The 13-inch RRA handguard was heavily skeletonized to shave weight and included a full-length flat-top Picatinny rail and side and bottom M-LOK slots. The TriggerTech Diamond Single-Stage AR-15 trigger included zero-creep, extremely short overtravel and an adjustable 1.5- to 4-pound pull. Magpul's new PRS Lite stock allowed adjustments for length-of-pull and comb height, with light mass that made the rifle well balanced and easy to handle. The pistol grip is an ergonomic RRA Hogue with a rubber overmold, the ambidextrous Radian Raptor charging handle offers a great combination of retention and easy manipulation. All controls are standard AR-15, with a forward assist case deflector and dust cover included. In addition to the 350 Legend tested here, 223 Wylde and 450 Bushmaster versions are offered.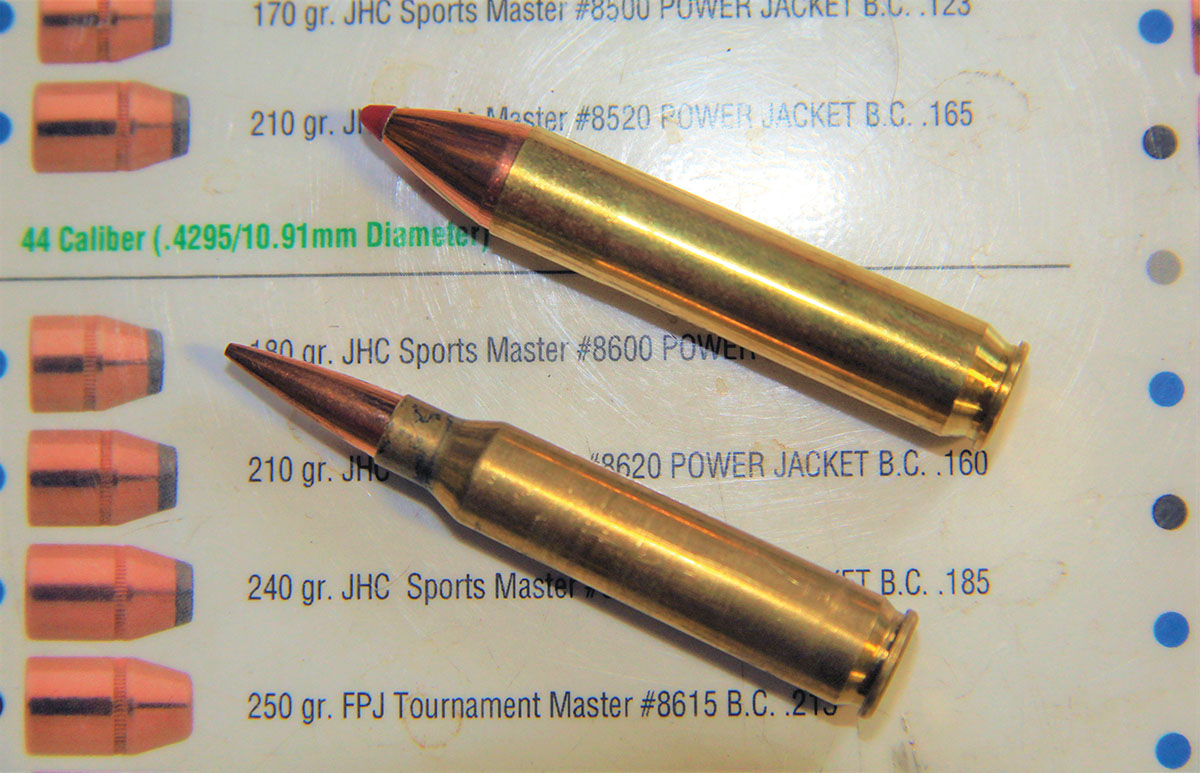 The Ascendant ATH came with a Vortex Strike Eagle 1-6x 24mm optic (a Viper HS 4-16x 44mm package also available) and a RRA 30mm Hi-Rise Cantilever mount. The Strike Eagle makes for an ideal pairing to any AR and includes spring-loaded lens covers and side-knob/11-position red illumination of the center aiming dot and upper target centering half-ring. Simple correction grids, top and bottom, are part of the reticle. The rifle weighed 9.1 pounds complete and comes with RRA's 1-MOA accuracy guarantee while shooting premium ammunition – though the 6x scope's low magnification would make that a challenge. A 10-round steel magazine and quality soft case were also part of the package.
If you load for the 22 Hornet, you likely have suitable powders available for the Legend. The list of Legend-ready .355-inch bullets is fairly truncated, including lightweights from 115 to 125 grains (monolithic Lehigh Defense and Barnes), to middleweights from 140 to 150 grains (monolithic and lead-core Barnes, Lehigh Defense, Speer and Hornady) to heavyweights in the 160 to 180 range (lead core Speer, Federal, Winchester and Hornady). Some of these are sturdier pistol bullets, like Hornady's XTP or Speer's Gold Dot, as examples. The Starline cases used for testing held small rifle primers with Winchester WSR primers used in all rounds. Cases are also offered by Winchester and Hornady, and to the best of my knowledge, dies are currently available from Hornady (used here) and Redding, though others have likely come on board. Unlike many straight-walled pistol cartridges loaded with carbide dies, the Legend requires lube during sizing.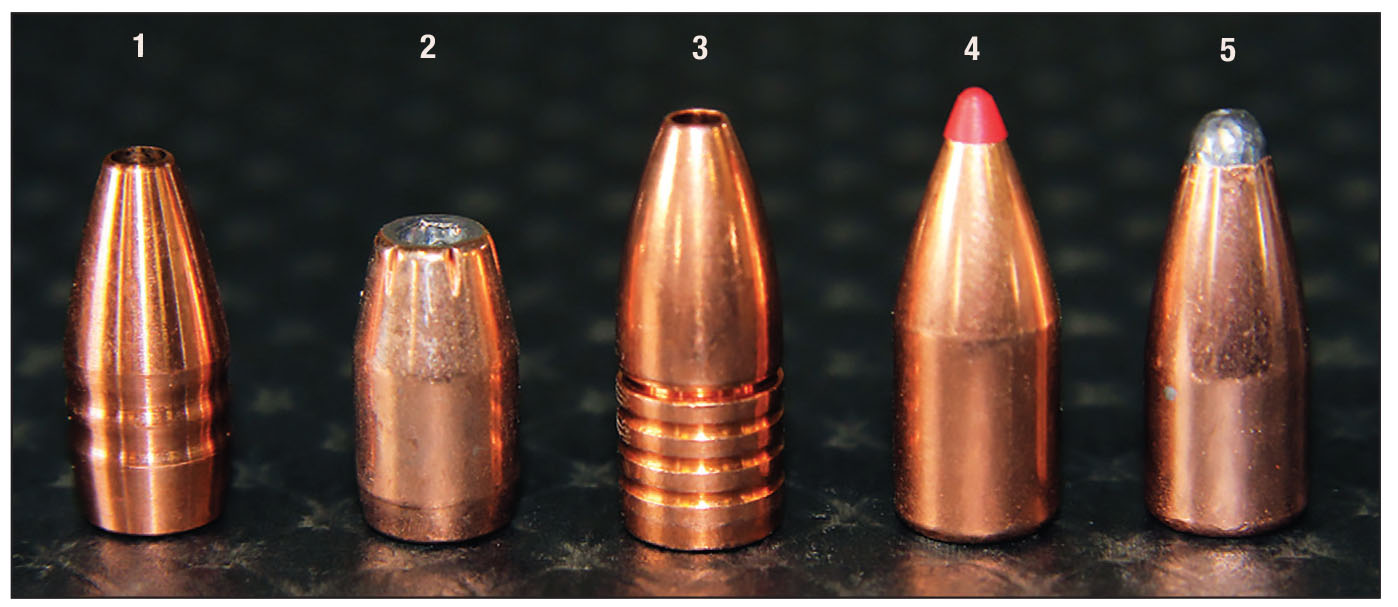 Load data proved somewhat scanty, at this time showing up in Hodgdon and Hornady load data. Lehigh Defense also offers Legend load data on its website specific to several of the company's bullets. Bullets tested were chosen to span the cartridge's 125- to 170-grain capabilities.
The 350 Legend has often been deemed a challenge to handloaders. The cartridge headspaces on the case mouth, and like straight-walled automatic pistol rounds, it requires a taper crimp. The cartridge requires trimming to a uniform length for even performance and case mouths must be carefully belled before seating bullets to avoid crumpled cases. The four-piece Hornady Custom Grade Dies set included a sizing, belling, seating and separate crimping die. That said, I wouldn't call the Legend challenging so much as simply more time consuming via these extra steps. If you've loaded a good deal of handgun ammunition, you'll encounter nothing out of the ordinary.
Hammer Bullets' 125-grain Shock Hammer was designed specifically for the Legend and deer hunting to 200 yards, a monolithic copper design measured a squat .81-inch long and included a .189 G1 BC. The design provides massive energy delivery via the frontal break-off petals, and deep penetration through a solid base, the monolithic design meaning it will likely perform like a bullet 20 percent heavier. This bullet was paired with Hodgdon Lil'Gun, Accurate No. 11 FS, and Ramshot Enforcer and fed flawlessly with all loads when seated to an OAL of 2.245 inches. All powders assembled some sub-MOA groups, and all broke 2,500 fps. Accurate No. 11 FS did best when it hit the maximum load of 28 grains, printing .85 inch at 2,565 fps. Ramshot Enforcer's tightest group involved 24.5 grains of powder, that group measuring .78 inch at 2,519 fps. Bumping up to a maximum load of 25.5 grains resulted in a sub-MOA group with just 46 fps additional velocity. Hodgdon's Lil'Gun proved the right stuff in terms of both velocity and accuracy – at least after hitting the maximum load of 27.5 grains. That group measured .37 inch center-to-center and was pushing 2,654 fps to produce a thumping 1,956 foot-pounds of kinetic energy off the muzzle.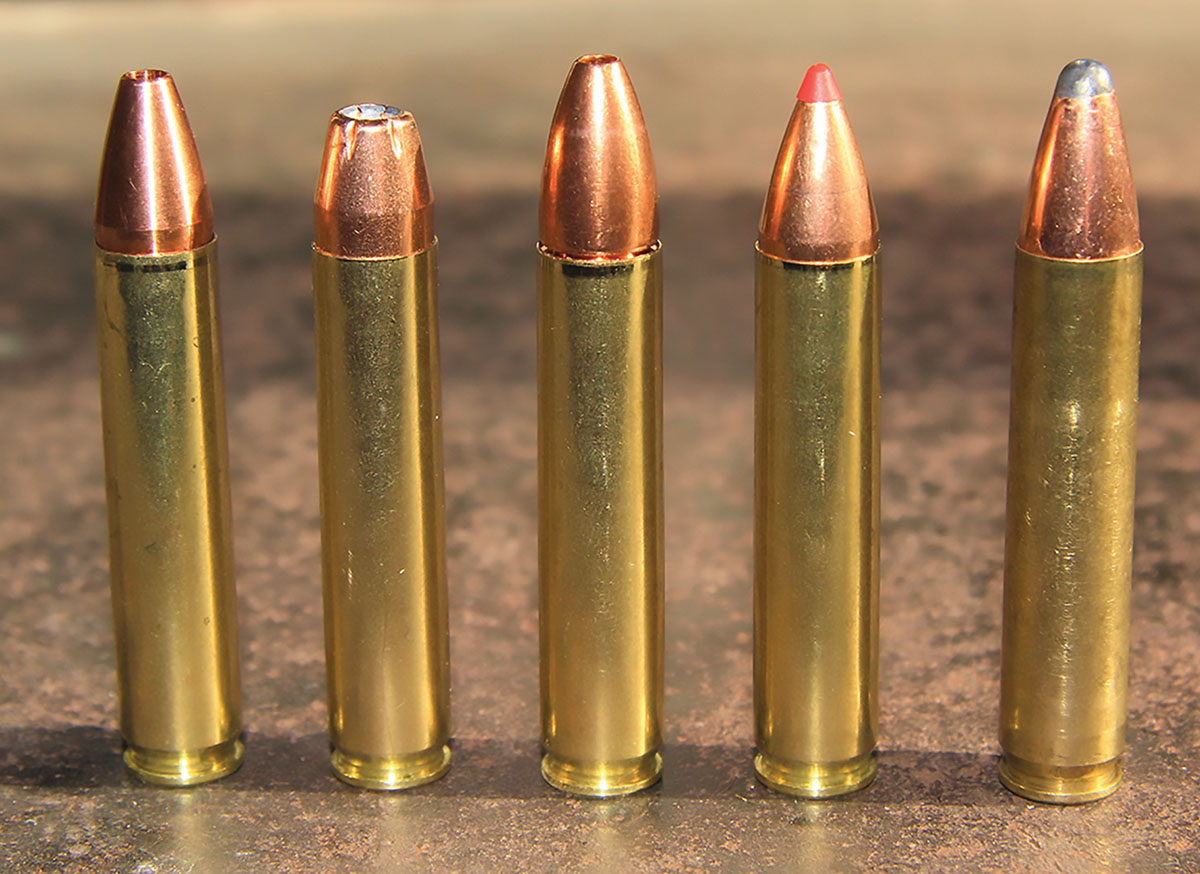 Hornady's 147-grain XTP hollowpoint was an experiment in an appropriate-weight handgun bullet including a .212 G1 BC. The XTP is a rugged design combining excellent expansion and weight retention at higher velocities, though I'd still be reluctant to shoot anything larger than a 150-pound hog with this bullet. The fat Columbia ground squirrel that made the mistake of pausing on my shooting range was gutted by this bullet at 100 yards, so expansion at 2,250 fps is aggressive. The flat hollowpoint resulted in the occasional stoppage when loading off the magazine but seemed to feed fine after firing the first round. It was matched with Accurate A-4100, Vihtavuori N110, and Shooters World SBR-SOCOM, and proved surprisingly accurate at 100 yards. Accurate 4100 proved the obvious accuracy winner, while also producing top velocities. The best group with A-4100, and with this bullet, measured .63 inch at 2,277 fps. This was one of the few powders that had conspicuous velocity gains by increasing the charge, the 24.5-grain start load clocked 2,277 fps, the maximum (which produced a .83-inch group) 2,469 fps. Vihtavuori N110 broke an inch with a maximum load of 25.5 grains at 2,255 fps, while Shooters World SBR-SOCOM also produced its best group of 1.13 inches with a maximum load, this one 28.5 grains pushing 2,403 fps.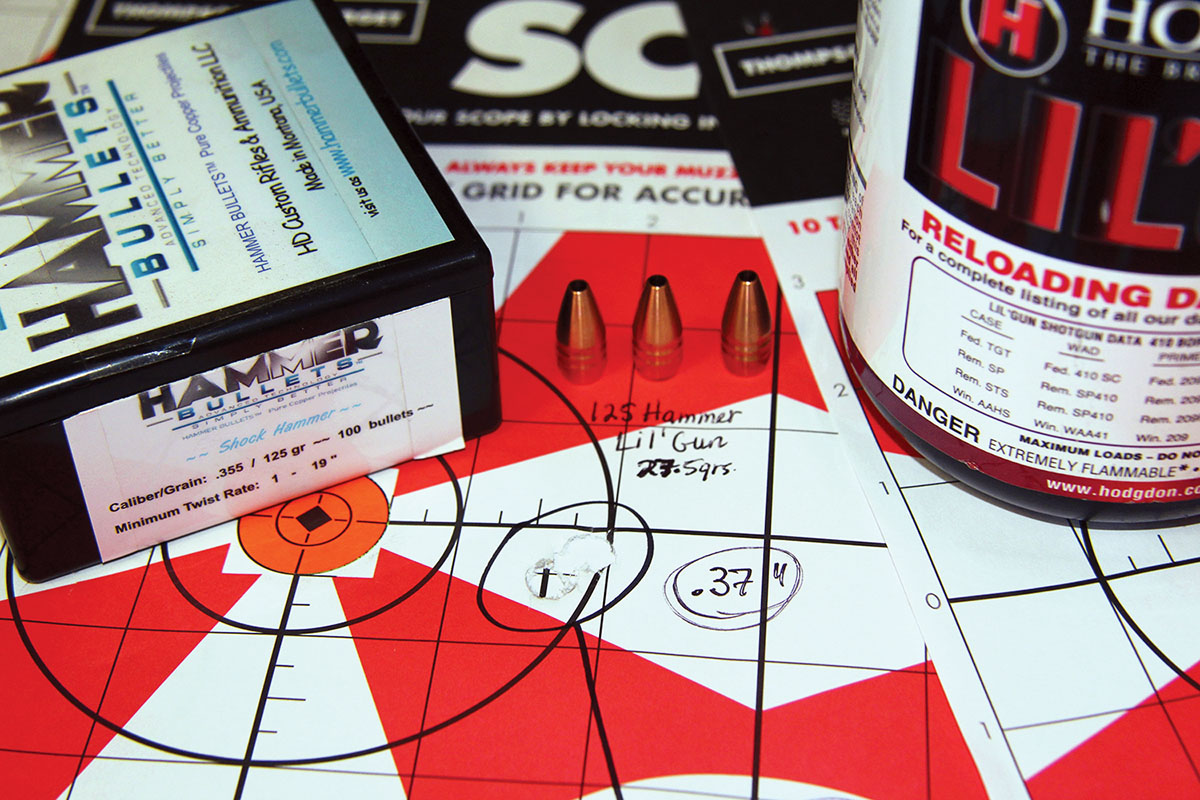 Lehigh Defense's Controlled Chaos bullets are mono-copper designs known for aggressive expansion combined with deep penetration. The 150-grain .355-inch version is a .905-inch-long bullet including a .179 G1 BC. It requires just 1,500 fps to initiate expansion. Hodgdon H-110, Accurate 5744 and No. 11 FS were paired with this bullet, all loads feeding flawlessly with an OAL of 2.245 inches. H-110 did well at 2,344 fps fueled by 26.5 grains of powder, assembling a .76-inch group. Start and maximum loads hovered right at an inch. Accurate No. 11 FS performed poorly with this bullet, though certainly good enough for close-quarters big-game work. That leaves Accurate 5744. A-5744 did produce the best group with this bullet, and very low extreme velocity spreads, but the pace was slow. The .60-inch best group was created by a maximum load of 26 grains but hit only 2,066 fps. That's still 1,422 foot-pounds of energy and suitable for close-range work on hogs or deer.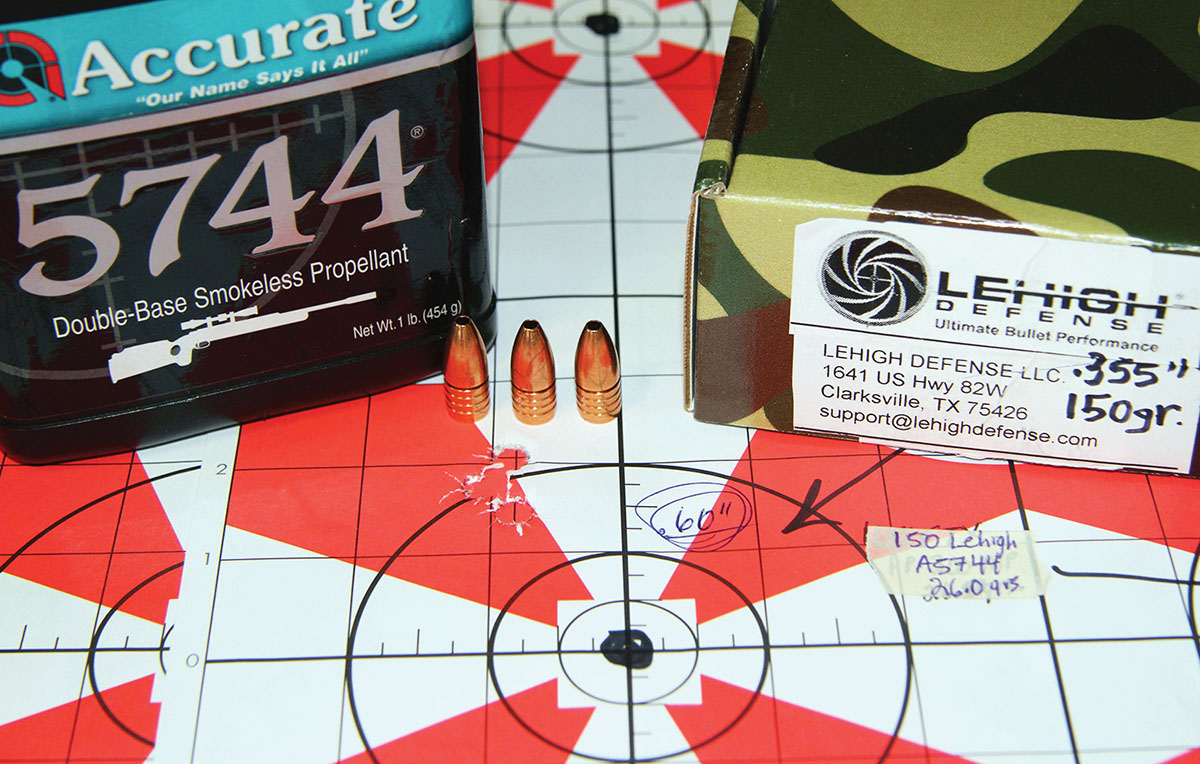 The levergun-inspired Hornady 165-grain FTX included the best BC of this test, a polymer Flex Tip and secant ogive giving it a .250 G1 BC. A tough jacket and internal InterLock ring ensure the bullet holds together at higher velocities. Alliant Power Pro 300-MP, Hodgdon Lil'Gun, and Ramshot Enforcer were chosen for top velocities. The 2.245-inch OAL was copied from Hornady's factory ammunition. Power Pro 300-MP produced impressive velocity, topping out at 2,457 fps with a maximum load of 27.4 grains, with the best groups measuring 1.15 inches (25.5 grains) and 1.10 inches (maximum 27.5 grains). Ramshot Enforcer produced a sub-MOA group at a slower 2,128 fps, maxed out at 2,202 fps. Lil'Gun shot the smallest group, measuring .77-inch at 2,299 fps using a maximum load of 28 grains.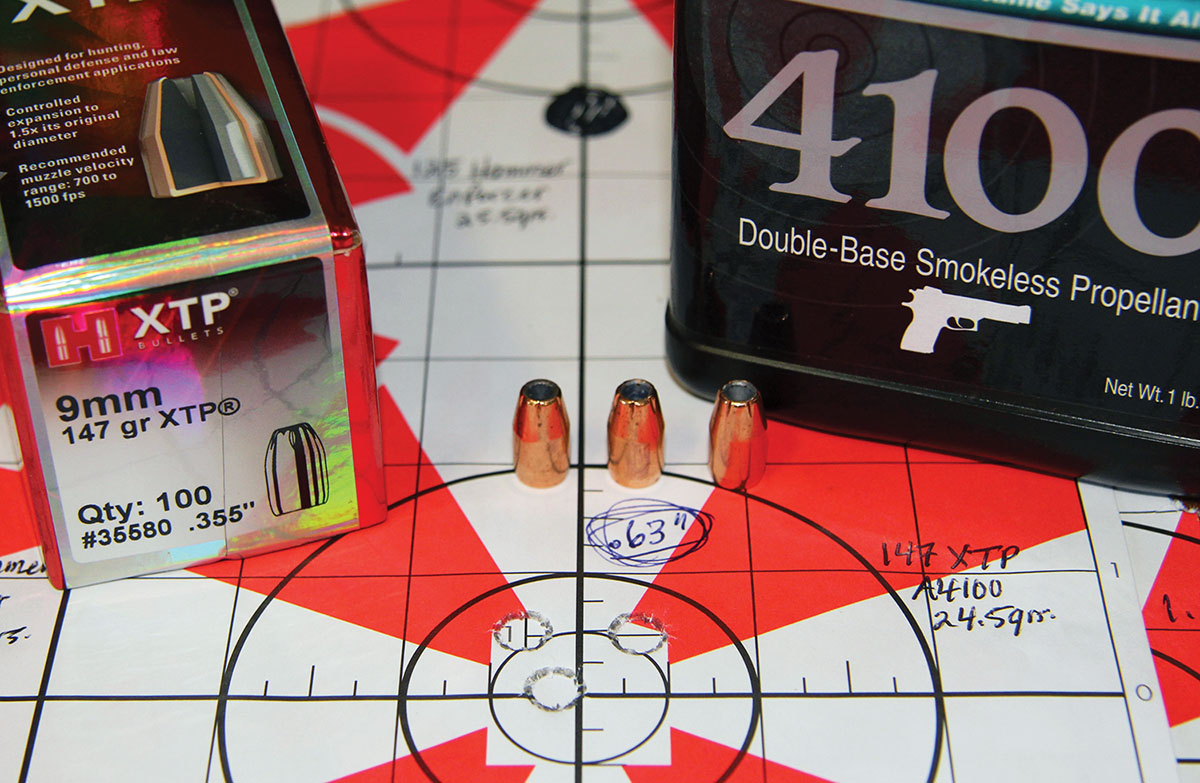 The heaviest bullet in this test was Hornady's 170-grain InterLock, a classic softpoint design including a secant ogive that created a .215 G1 BC and InterLock ring to lock the jacket and core together during punishing hits. Shooter's World SBR-SOCOM, Hodgdon CFE BLK, and Shooters World Blackout were paired with this example, and Hornady's factory ammunition OAL of 2.245 inches was mirrored. CFE BLK proved a poor choice, providing lackluster accuracy and velocities. Blackout proved a touch better in both departments, but the most accurate load did not break 2,000 fps. These "Blackout" powders were obviously a touch slow burning for this straight-walled cartridge. SBR-SOCOM proved the winner of the powders tried with this bullet, gaining marked velocity jumps with each grain of powder added. Twenty-four grains produced a .79-inch group at 2,052 fps, the maximum load of 25 grains producing a sub-1-inch group at an amazing 2,462 fps. This is the clear winner, produced a walloping 2,289 foot-pounds of energy to put down the biggest hogs or a black bear down with authority.
These experiences have sparked a serious interest in the 350 Legend and this Rock River Arms rifle in particular. I just can't help but think this would be the ideal cartridge and vehicle for nighttime thermal hogs during my periodic forays to Texas. Now, I just need a suppressor with a 35-caliber passageway…