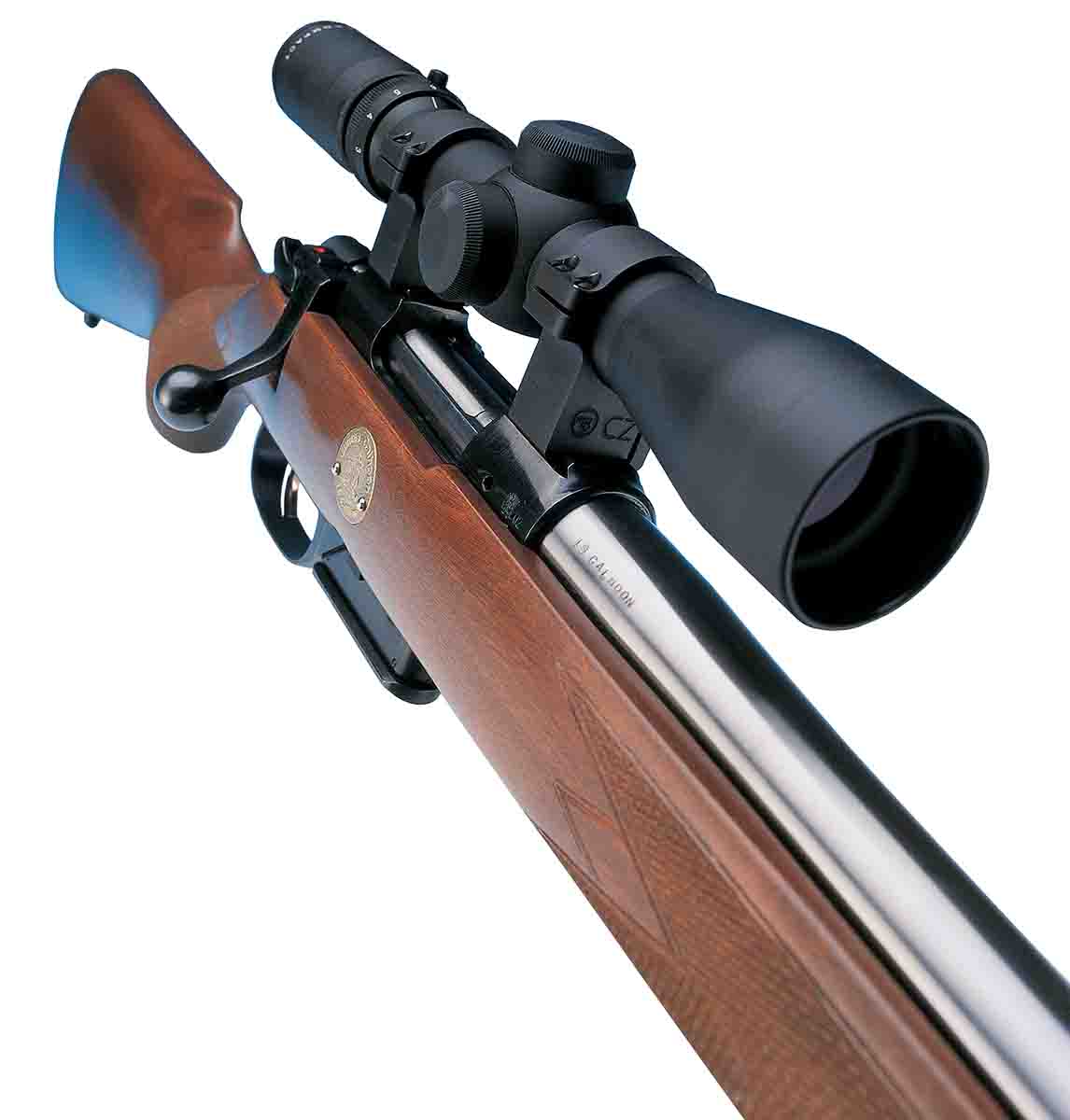 Maybe I'm missing something here, but for the likes of me, I can't find anything on the .19 caliber for the upcoming varmint season. I've looked high and low, and even in the tome
Cartridges of the World
, there is the 18 gauge (nope, that's not it; that's a shotgun shell) and from there the index jumps to the 2.7mm Kolibri Auto, which is nothing but a mousy handgun bullet that checks in at only 3 grains. For dispatching varmints at longer ranges, that one is certainly out.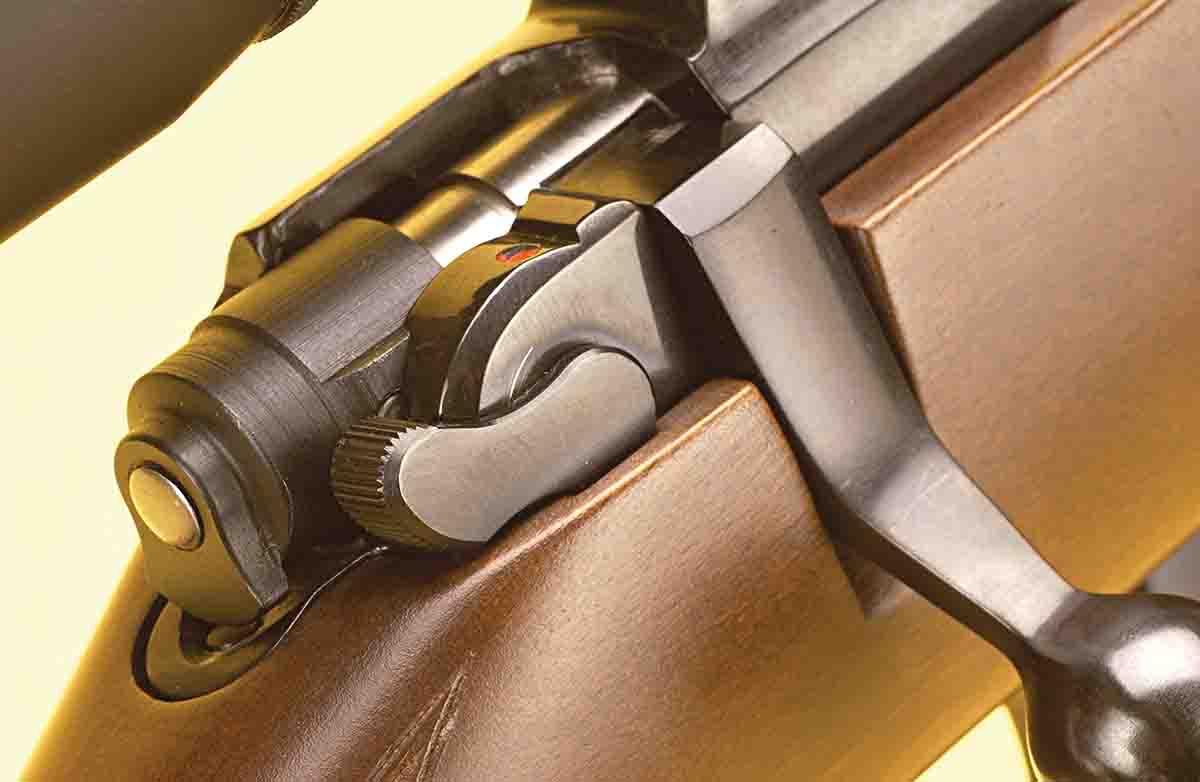 So where does the .19 caliber come in? According to James Calhoon, the British were considering it in the 1970s for military applications, and he got interested in it. Seems they were trying to beat out the present-day 5.56 or 7.62 rounds now in use by most armed forces. They were impressed by its ability to churn up some neat velocity figures as well as impressive penetration numbers. While all this was food for thought, Calhoon decided to go on his own with some other ideas he had on adapting this sub-.22 caliber to sporting rifles.
For now he has two versions of the .19 Calhoon. One is the .19-223 Calhoon, which for all practical purposes is nothing more than a .223 Remington case squeezed down to .19 caliber. With velocities approaching 4,100 fps with Calhoon's own custom 32-grain bullets, it may be the choice for you. If you're interested, Jim does make a Re-Barrel Kit that includes a target-grade barrel contoured and chambered, twin .19-caliber Dewey cleaning rods, a set of Bonanza BR reloading dies, 100 Calhoon bullets of your choice and complete instructions and loading data. If you want to go this route, it will cost you $341.40 for a kit in either a Ruger or CZ configuration in chrome moly or $366.25 in stainless. Now all you need to get started is to turn your rifle over to a qualified gunsmith, then run the cases through the die and start shooting to get fireformed brass.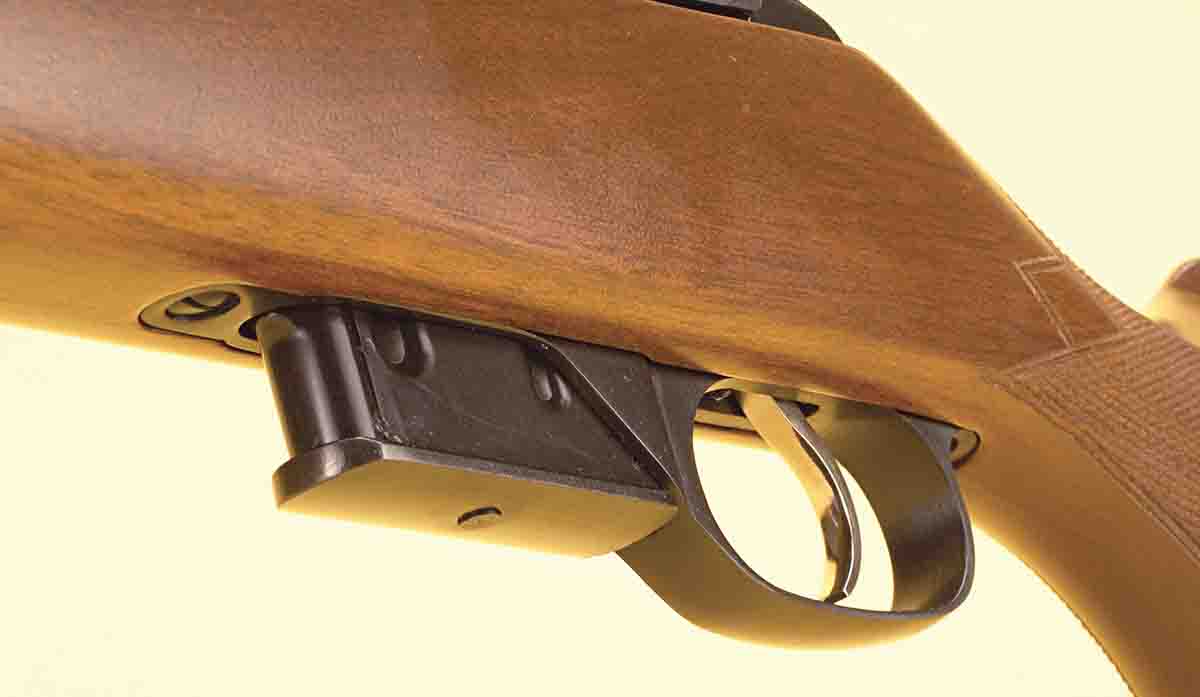 The other caliber is the .19 Calhoon Hornet. I favor the .22 K-Hornet over the popular .22 Hornet simply because if one is going to start wildcatting, all you do is fire off some Hornet ammunition in a K-Hornet rifle and you've got instant brass. The same follows here, but this time you need to run the cases through the Bonanza dies to squeeze the neck down to .19 caliber so it will fit into the rifle. Again, Jim's rebarrel kits (same price as the .19-223) will fit the more common rifles like the Ruger 77-H actions, Remington 540, 580 and even the 590 (5mm) rifles. Add the Contenders, a BRNO CZ 527 and throw in an Anschutz or two and now there are no excuses for not owning a .19 Calhoon rifle.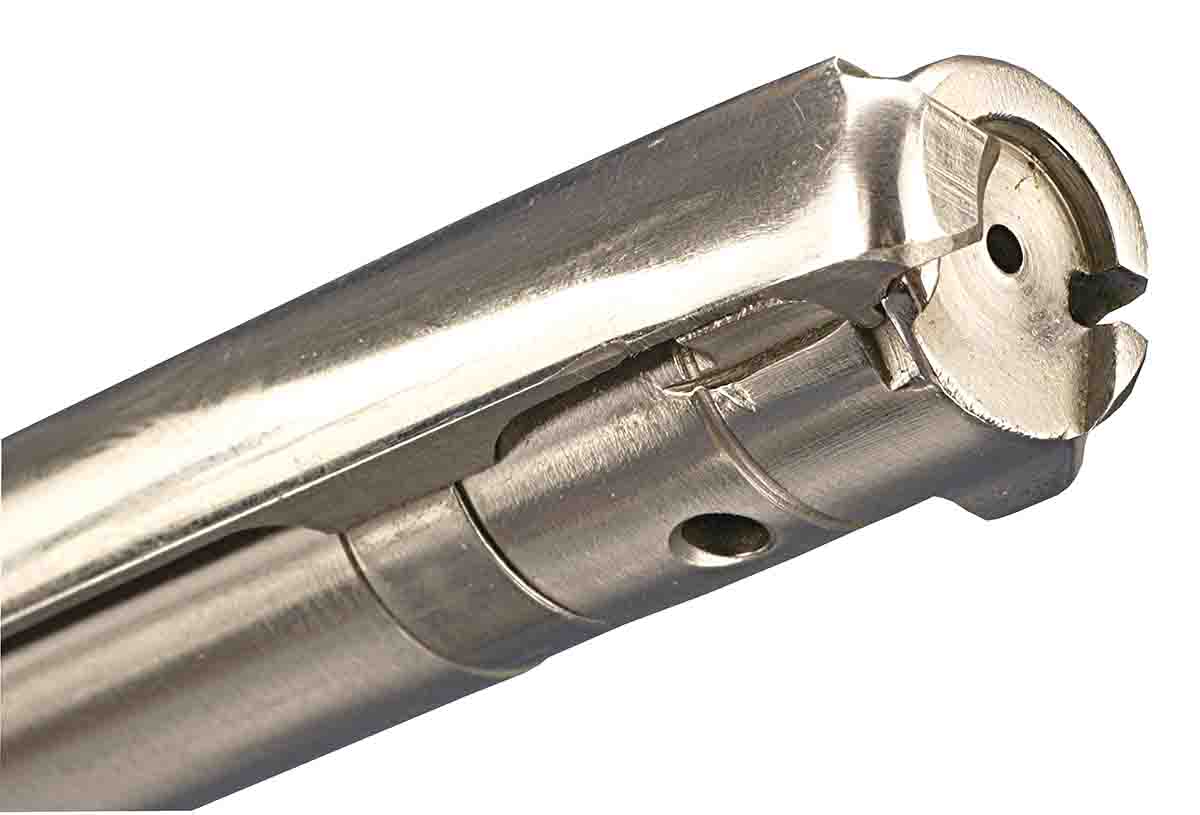 There is yet another alternative. If you don't want to go through the bother of rechambering another rifle, Calhoon will build one for you in the .19 Calhoon Hornet. He can use a Ruger 77VHZ that is based on the M77/22 and is chambered in the Hornet at the factory. Or, if you like, the CZ 527 is also chambered for the Hornet. Either rifle makes use of as little modification as possible, and both use a magazine (the Ruger is rotary, the CZ is the traditional drop-down magazine), so all that is necessary is for Calhoon to mount a new barrel and do a few other things to make these production rifles ready for target or varmint shooting. This is how I got interested in the .19 caliber, and after a few phone calls, a CZ Model 527 appeared at my door.
As it comes from the factory, the Model 527 is quite a little rifle. I say "little" simply because the action has been shortened, the hammer-forged barrel is 22 inches long, and it checks in at around 61⁄2 pounds without a scope or rings all laid out in a select walnut stock. Right out of the box, it's chambered for the .22 Hornet and .223 Remington – perfect for James Calhoon and his .19 caliber.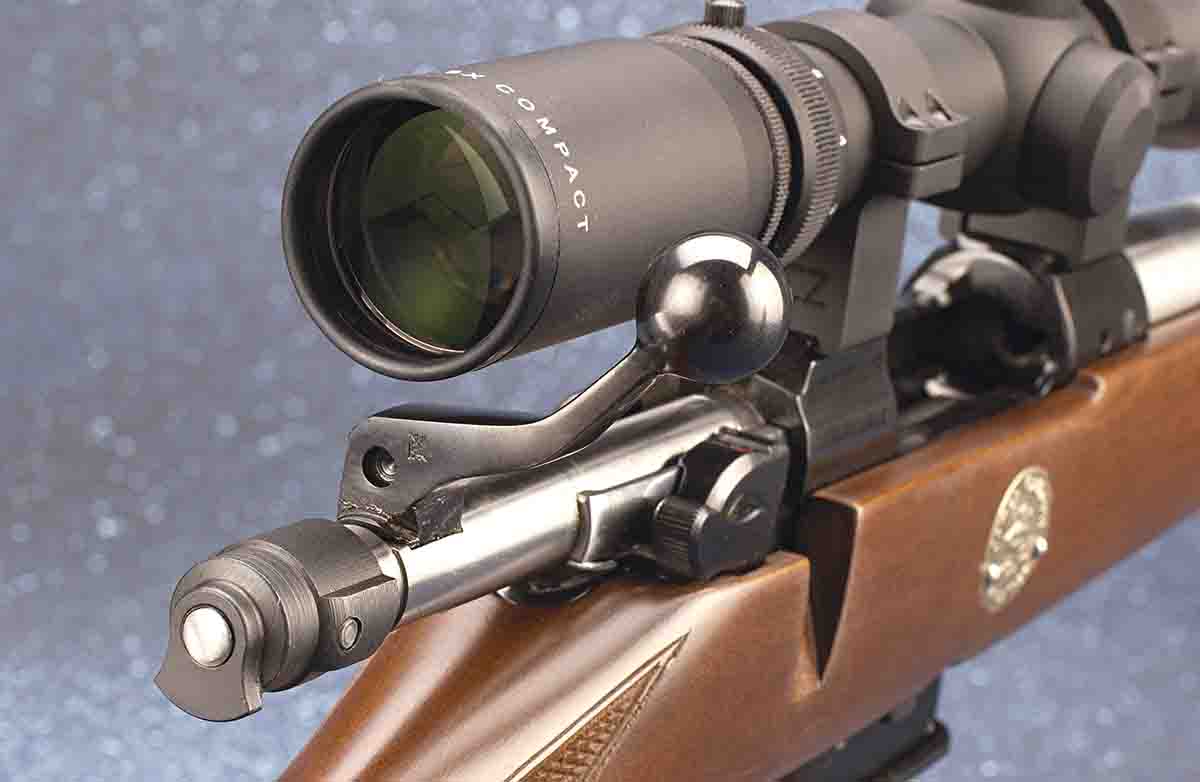 The action has been shortened quite a bit over what we've been used to in the larger, heavier hunting calibers like the .270 Winchester or even the .30-06. The bolt has twin locking lugs up front and is rigged for controlled round feeding. A long extractor rides along the right side of the bolt, and the whole bolt is finished brightly and flawlessly. Those who like extended varmint shooting sessions in the field will come to appreciate the workmanship that is included in this rifle. The safety lever is mounted to the rear of the bolt handle and rocks up to secure the rifle, down for firing.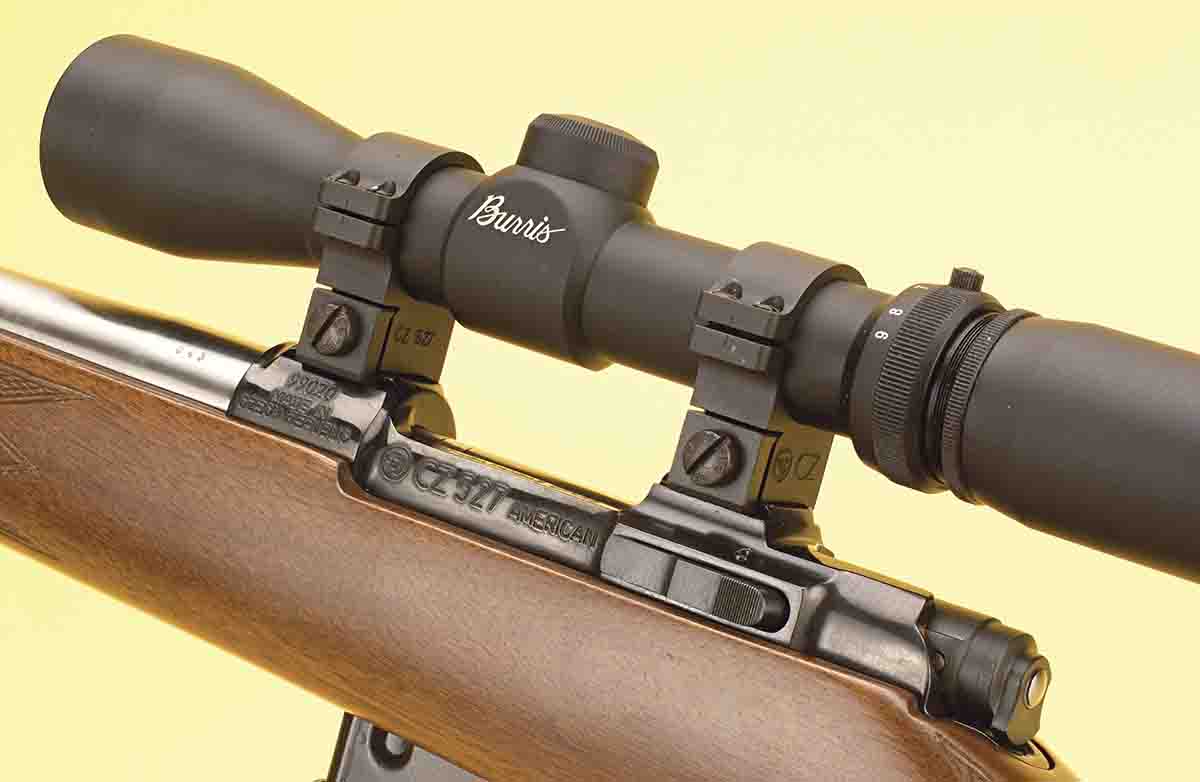 Standard equipment includes a walnut stock that is smooth to the touch and finished in a satin hue. Checkering is included and is well thought out in a traditional point pattern complete with a few extra outside borders to add a custom touch to the rifle. There is no cheekpiece, nor is there a Monte Carlo comb on this rifle; to do so would in effect ruin the lines. A standard recoil pad and swing swivel studs complete the rig.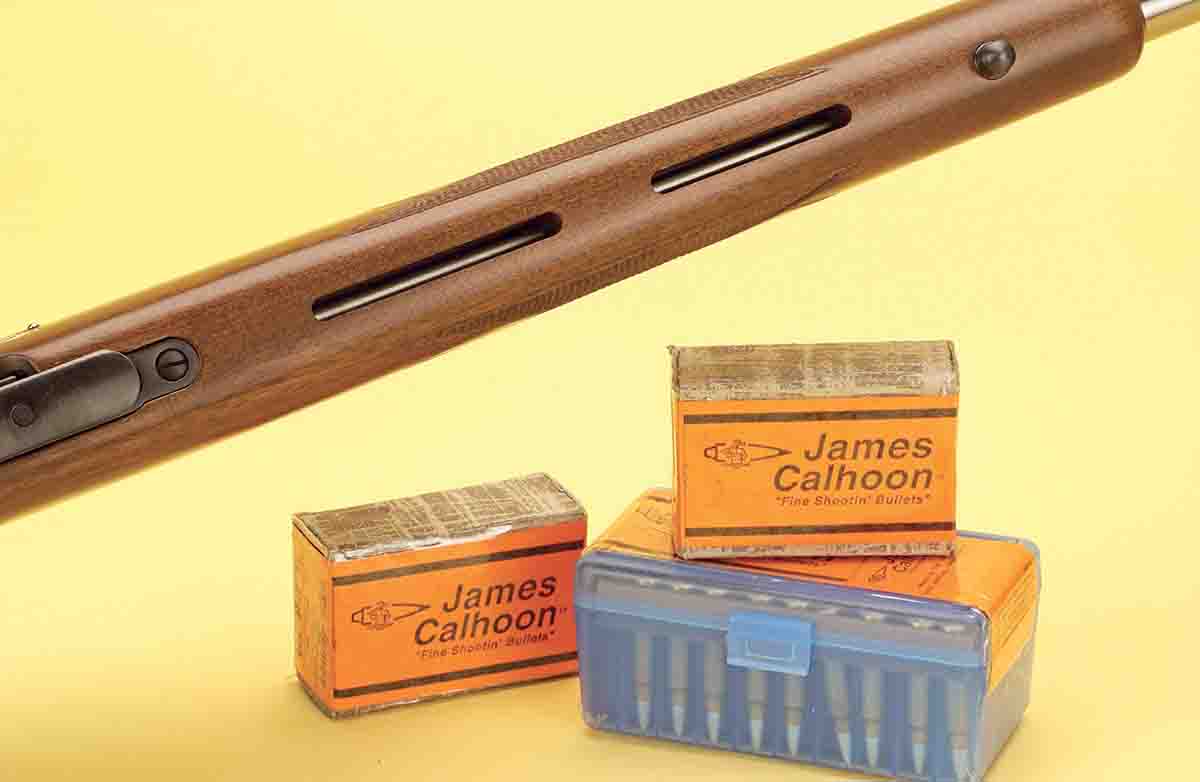 That's how it comes from CZ-USA in Kansas City. When Calhoon takes your $825, he supplies the rifle. Jim will take the CZ 527 and install a Pac-Nor Super Match stainless steel 24-inch barrel, hand lap it and supply it to you installed in either a sporter (.550 inch) or varmint (.650 inch) contour. He includes a bedded receiver with a free-floating barrel, target-vented stock, special collector markings and a trigger pull of only 2 pounds. The scope is your department, but he supplies the rings as part of the package. I placed a Burris Compact 3-9x scope on this rifle for range testing but intend to install a scope more fitting to the task at hand.
You can buy "factory" ammunition from James Calhoon in bullet weights from 27 to 32 grains in 50-round boxes, but for all intents and purposes, the .19 Calhoon is a reloader's cartridge. There is no ammunition made for it commercially nor are there any bullets available except from Calhoon himself. Powders are pretty standard, Hornet cases can be purchased from major sources, and this .19 cartridge uses over-the-counter small rifle primers like CCI 400. Don't use handgun or "bench­rest" primers.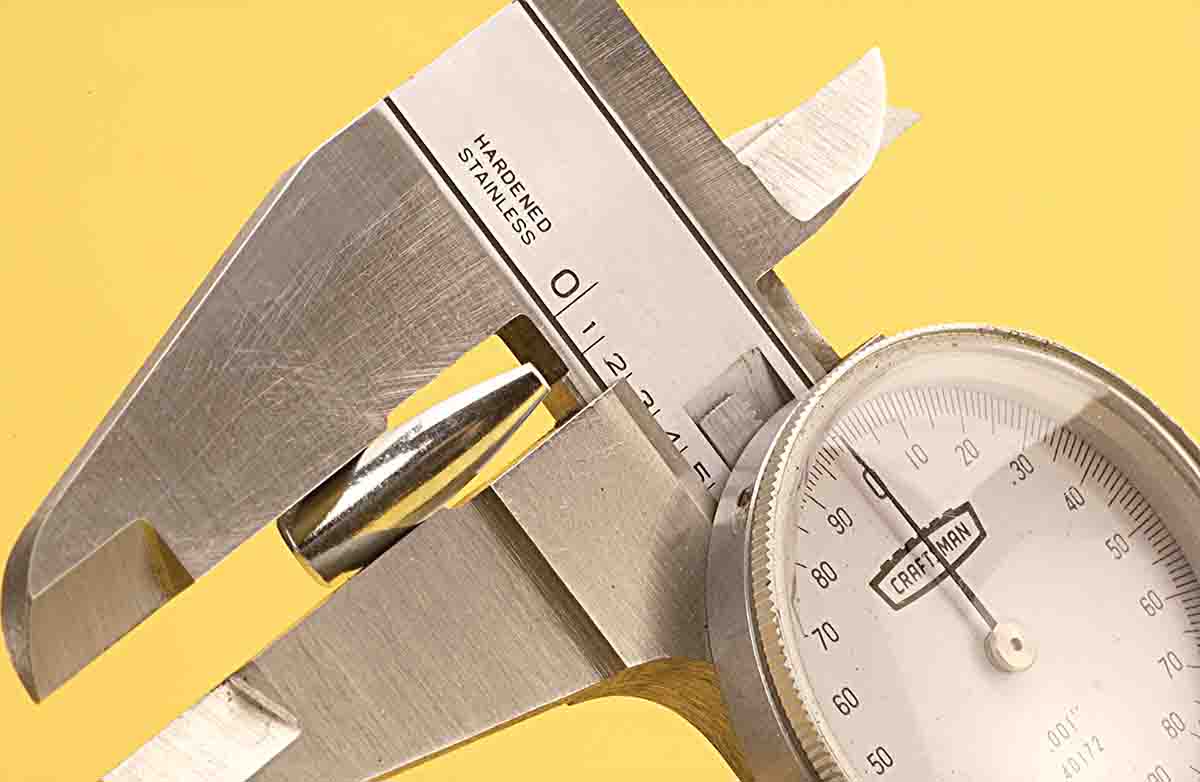 These, according to Jim, are recommended (benchrest primers) only in cases that operate at higher pressures than the Hornet.
Nineteen-caliber dies are a necessity, and you can get them from Calhoon. They are custom made BR (Benchrest) dies, and if you order a rifle from Calhoon, the Accessory Kit is available as a separate item. This includes the Bonanza die with a full-length and neck-size die plus a target quality seating die, a cleaning rod and jag, cleaning brushes, 250 Calhoon bullets of your choice and loading data. Retail on this kit is $132.40 plus freight.
According to Calhoon all that's necessary to get going is to purchase a decent quantity of .22 Hornet brass. Remington, Winchester or RWS make the brass, and at the present time you'll have to purchase them from mail-order unless your dealer is packing them in plastic bags. Remington brass (according to Jim) will hold about 0.5 grain more powder. As usual with all reloading, inspect all new brass for dents and vertical scratches, especially on the neck, which could lead to mouth splits later. Lubricate the brass, set up the full-length die and go to it. Don't oversize the cases even on the first round; make a dummy round and try it in your rifle. The bolt should close with just the slightest resistance.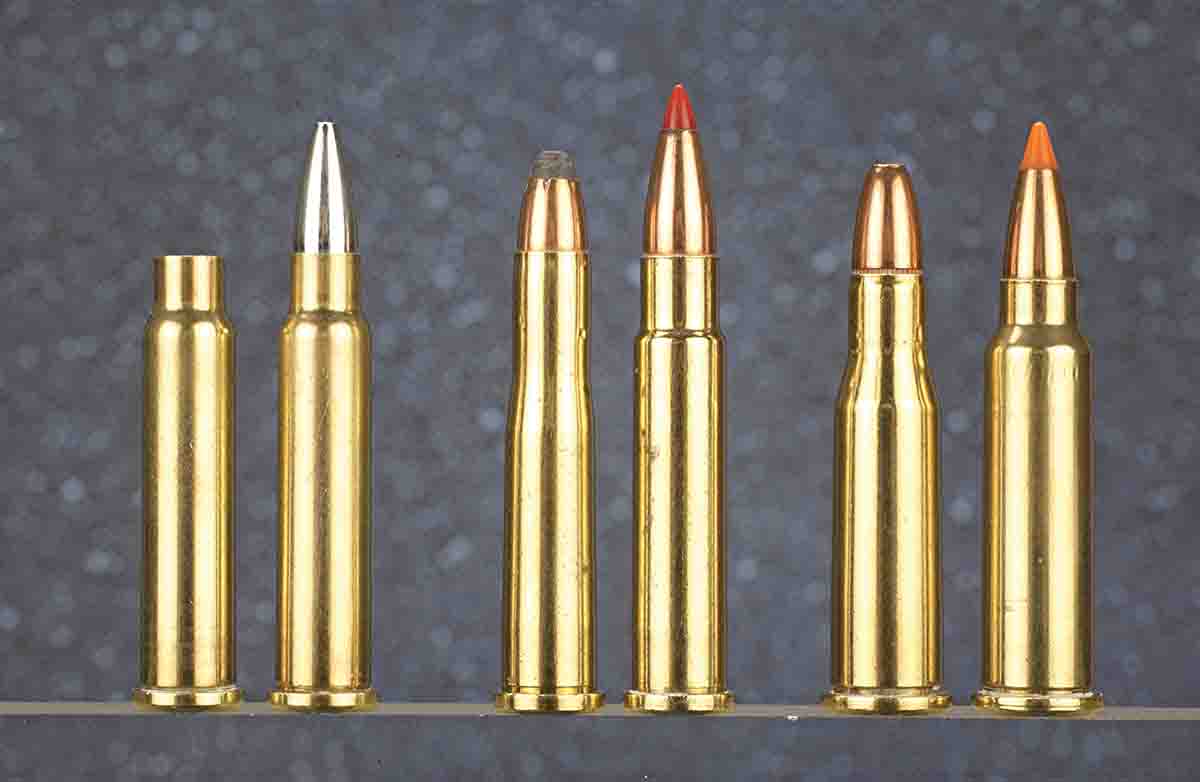 The best advice I can give is to slowly turn the full-length sizer down as you progress with new brass. Too much – like the old practice of letting the shellholder bump the die to ensure a "full-length" sizing – will collapse the case neck the first go around. Just turn the die down a little at a time until you are comfortable with the neck. Keep placing it in the rifle until the bolt closes with the slightest effort. If it's not right, turn the die only a quarter-turn at a time and try again. The action on this rifle is so smooth, it's easy to tell right from wrong, especially when it comes to this part of the operation.
Overall length of cases before forming should not exceed 1.410 inches, and the final trim length before loading and bullet seating should be 1.390 to 1.400 inches. The nice thing is no preform die is necessary. Loading to fireform brass should use the charge weights listed in the table but reduced by at least 10 percent. Once you have fireformed the brass, use the neck sizer to keep the integrity of the chamber and brass in close tolerances, so they work together without case splitting later. After fireforming, trim all cases to 1.390 inches, deburr the cases and clean them for the next phase.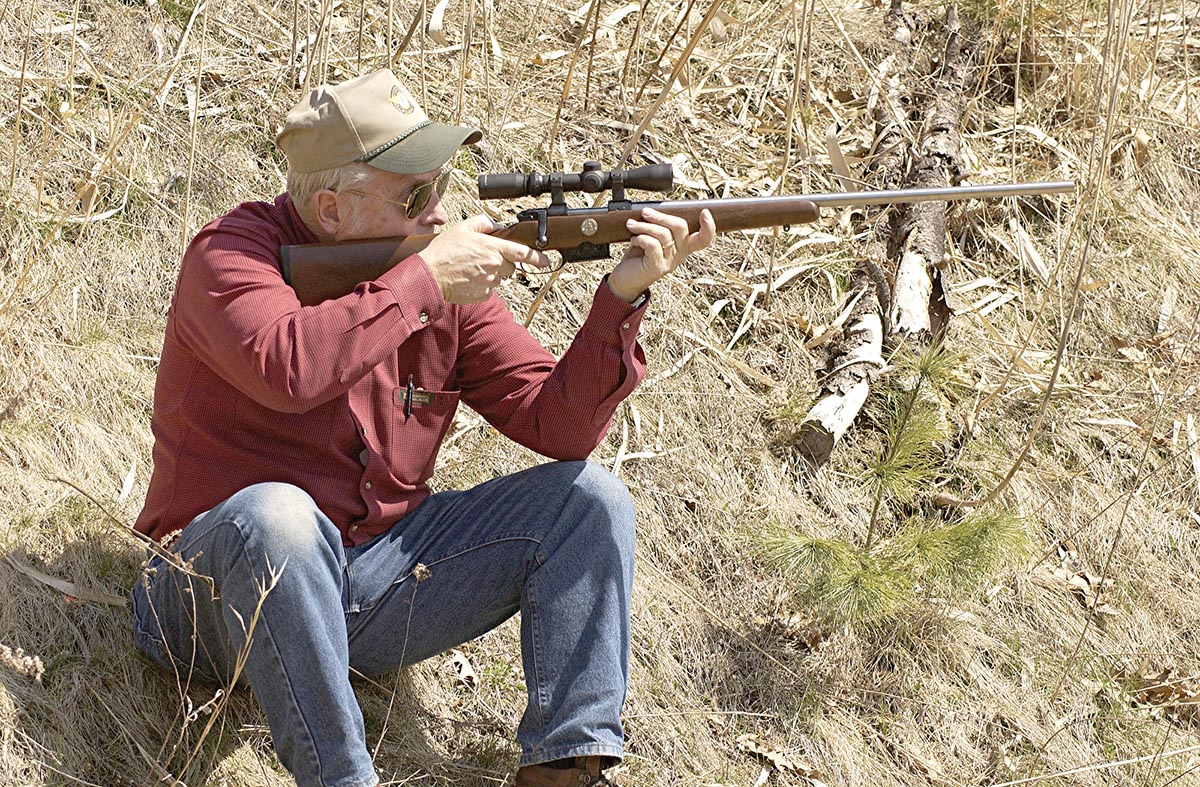 Even though the .19 Calhoon is considered a wildcat, loading is a real pleasure. Jim had forwarded a pile of once-fired brass, but I did start from the beginning with the full-length die, filling the cases with 13.5 grains of AA-1680 (10 percent below his loads for a 27-grain bullet). All the new brass filled the chamber after the initial firing, and I had no problems with mouth or case splits throughout the entire shooting and reloading sessions.
Bullets for the .19 Calhoon are available only from Calhoon's store and come in 27, 32, 36, 40 and 44 grains. Most are what he calls his "Double HP," which triggers explosion expansion even at lower velocities. This also guards against ricochets, a strong consideration especially around farm animals or livestock. They are all coated with "Slick-Silver," which makes bore cleaning just that much easier; 1,000 of his little gems will cost around $98 plus freight.
Handling the .19 is just like any other cartridge. Nineteen-caliber bullets are easy to handle, and with Calhoon's slick coating glide right into the prepared cases. Powders like Accurate's AA-1680 give the best velocity, and you can see in the table how each powder affects velocity over the screens. It was interesting to note that the velocities Jim gives are accurate. Over my screens I was within 5 to 10 fps of those listed in his brochure. It's nice to see some people just tell it like it is.
AA-1680 not only gave the best velocity overall, but it also metered like a dream. I set the scale and checked each drop before charging any case. Each one was right on the money. For the volume loader in the .19 Calhoon, this could be the best propellant for this particular cartridge, as it also gave the best volume-to-case fill.
The old standby, Alliant 2400, was also in the running. And why not; it's probably one of the best powders in any Hornet variant. In the unaltered .22 Hornet, I have great luck with this powder with bullet weights right up to 55 grains. When I ventured into .22 K-Hornet territory, 2400 made the transition without any problems. While it's not the fastest kid on the block, it is readily available in all sporting goods stores and meters very consistently charge after charge. The .19 Calhoon was no exception and gave velocities up around 3,600 fps with outstanding groups.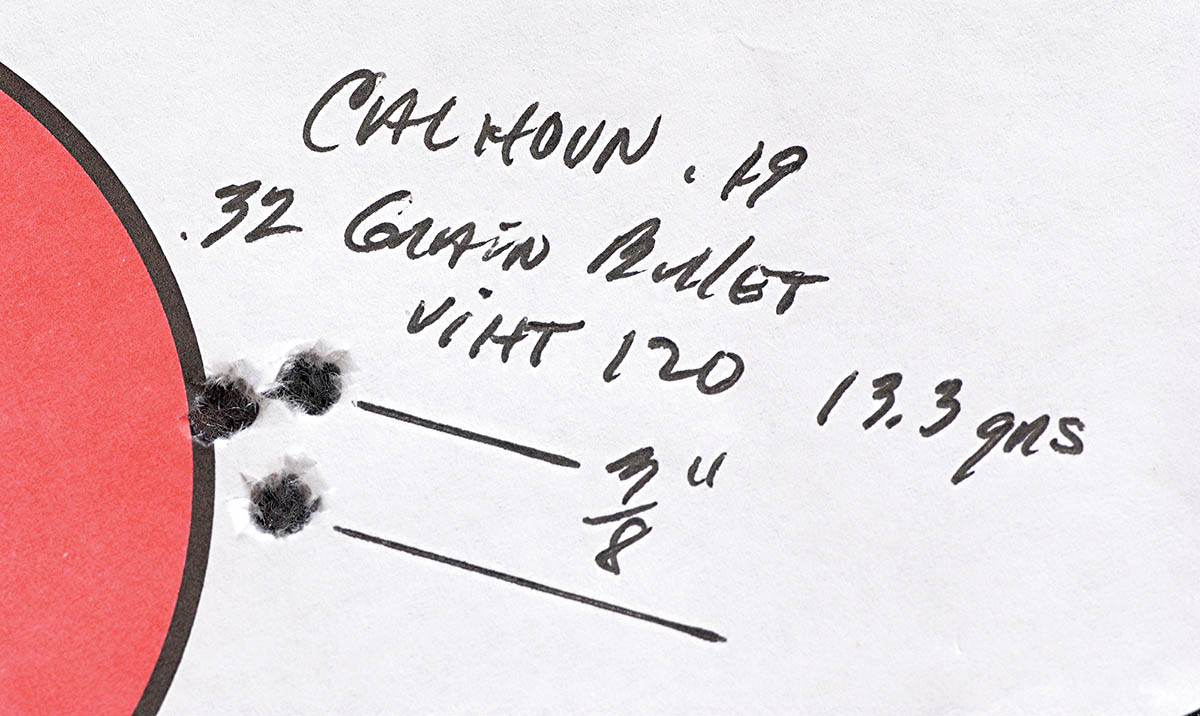 Others that made the cut included Winchester 296. Although it did not make the group of the day, velocities were around 3,500 fps with decent one-inch clusters. Vihtavuori N120 looks like it has great promise in the .19 Calhoon. It burned a little slower than H-110 (another great powder for the Hornet), gave a little less velocity but when it came to groups was my pick for all-around performance with sparkling .375-inch groups at the 100-yard marker.
Accurate 2200 was another good bet and with a slightly compressed load gave under minute-of-angle groups with the Calhoon 36-grain bullet. Bullseye was used for a reduced load and, surprisingly, gave .75-inch groups at 50 yards. With hardly a trace of recoil or report this would be my choice for a great small game load in the woods. Acting like a .22 rimfire, this could make you a one-rifle man for small critters if you adjust the loads for the size of the game.
The big event of the day was when, just for fun now, I shot groups with just formed brass right out of the full-length die. With 13.5 grains of AA-1680 velocity was 3,344 fps, but groups were an incredible 0.5 inch. Could we be onto something here? Finally, with the Calhoon "factory" loads, I saw 3,231 fps on the Oehler screen with groups rivaling my own handloads at .375 inch. It can't get much better than this.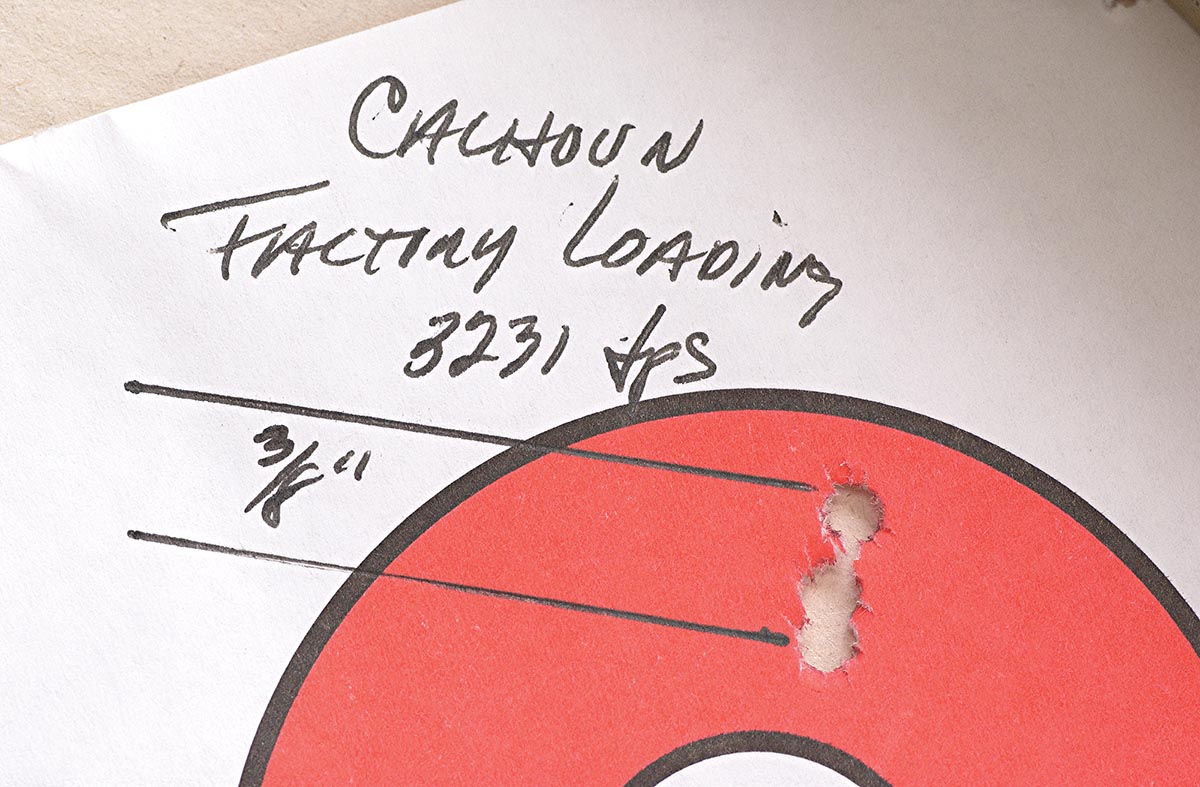 So how can we compare it to the .17- or .22-caliber rifles within its peer group? At this point in time, I don't know if I'd like to pigeonhole it as the in-between cartridge. It does fill a void between the .17 and .22 caliber, as the .19 Calhoon starts out in bullet weights where the .17s leave off and ends where the popular .22s begin. In reference to placing it within other "Hornet" variants, the .22 Hornet will give handloaded velocities with a 40-grain bullet of around 2,580 fps, the .22 K-Hornet around 2,918, and the .19 Calhoon places its money on the same bullet weight at 3,060 fps. All shoot under a minute of angle, and considering bullet weight and downrange stats, it might be a hard choice.
To me, the .19 Calhoon is very unique, and it will find a niche among shooters who consider the .17 Remington "too dirty" to shoot with reference to barrel fouling and constant cleaning. On the other hand, keeping it in perspective with the lower-end .22s, like the Bee, Hornet and maybe the .222 Remington, might be a better idea.
Still another advantage to this cartridge is that Calhoon has made the transition easy with all the components available from him directly; he sweated the details for us with the rifle, cartridge, bullets, supplies and handloading data. For those looking for something really different, I'd go for it. Contact Jim Calhoon at 4343 U.S. Hwy. 87, Havre MT 59501.
Both the rifle and cartridge performed without a hitch – both extraction and ejection. The bar-rel remained cool to the touch throughout the testing. I shot three-shot groups and allowed about 5 minutes between groups. The only trouble I had was getting those rounds to feed through the straight-line magazine. Maybe it was the shooter, the way I loaded it, or both. In any event, it did get smoother as the day wore on, so maybe I was finally getting the hang of it all.
Spring is in the air, and I'm getting ready for a few days in the country, and I'm looking forward to using this rig. The best way to sum it all up is to say you're using a sub-.22 caliber bore without all the problems of the smaller .17s.