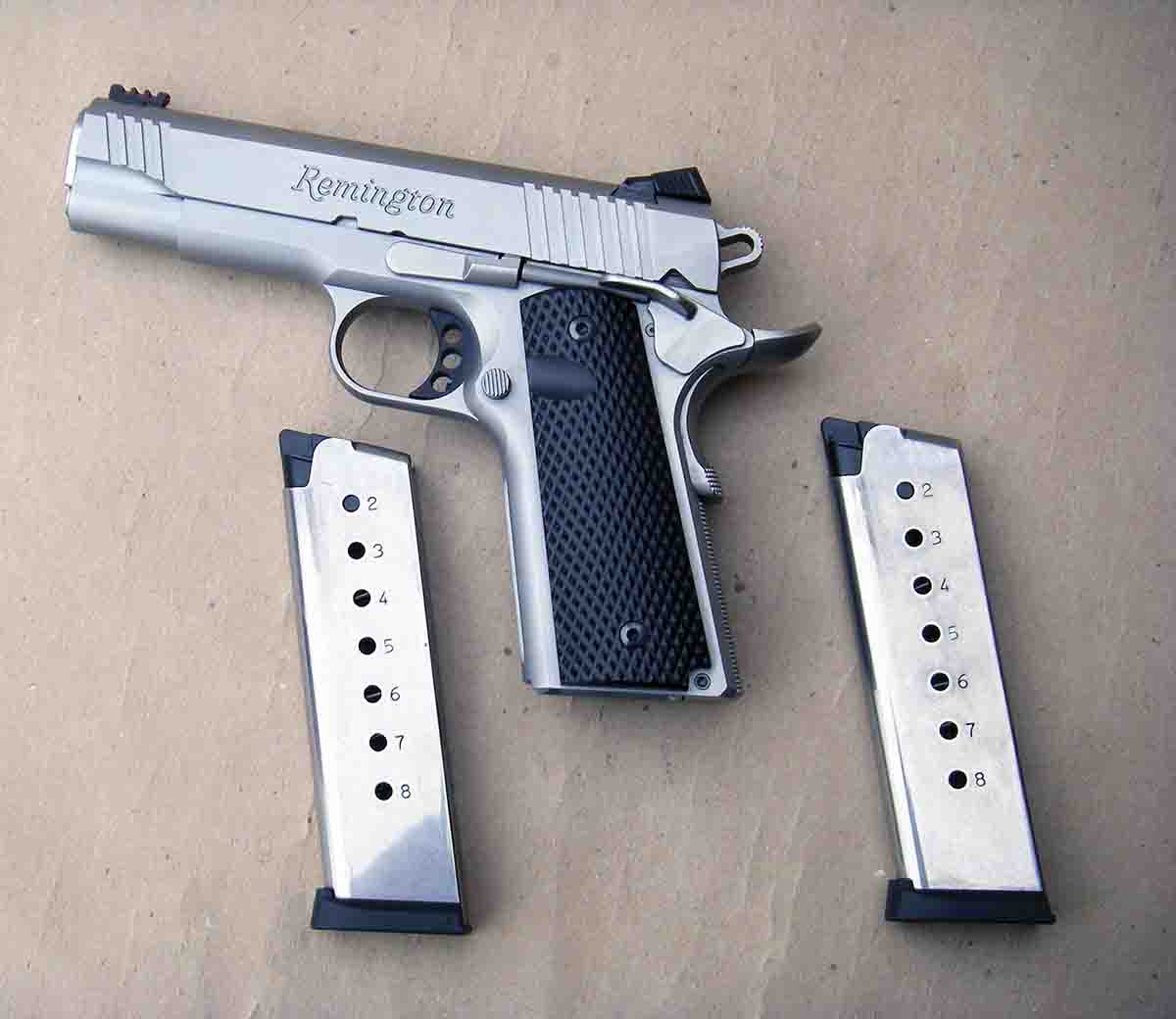 In 2011, the 100th anniversary of the Colt Model 1911 pistol, Remington Arms began producing a modern version of that legendary gun. It has proven to be accurate and reliable, is modestly priced and sold very well.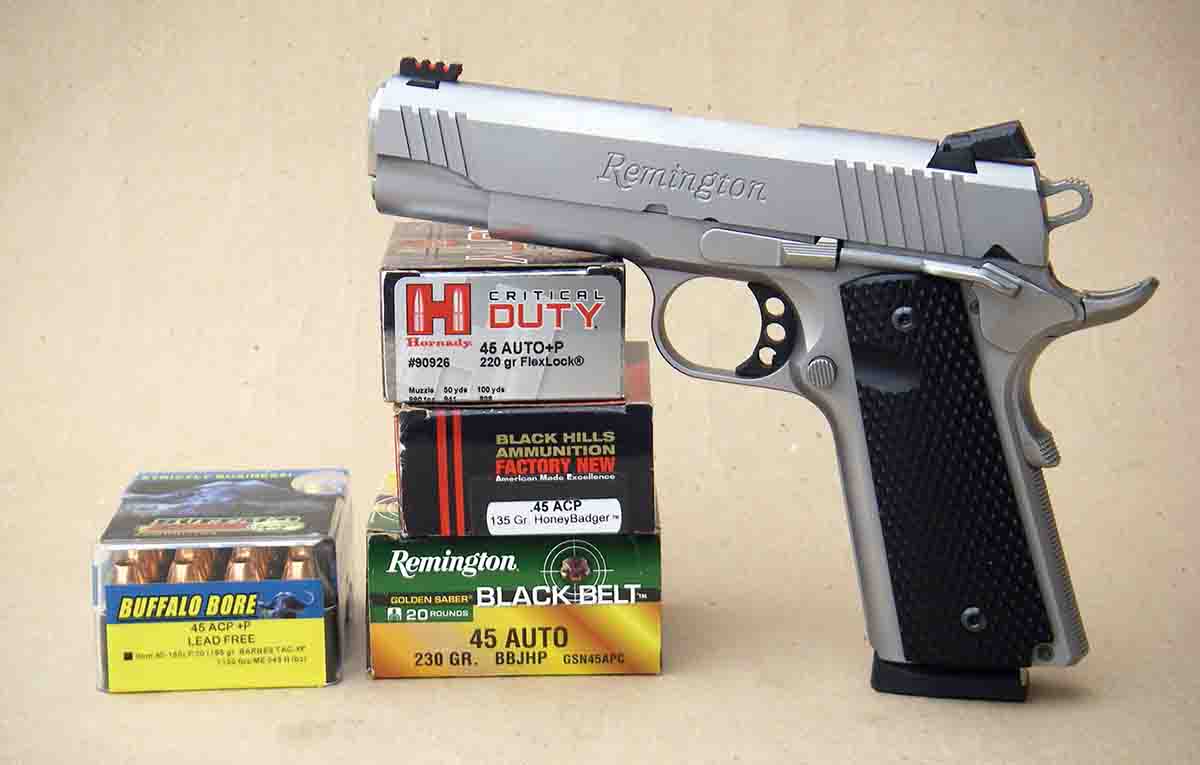 While the first Remington Model 1911R1 offered many modern features, the initial version was patterned after the original design with a spur-type hammer, narrow grip safety (a combination that results in a low hand position), standard thumb safety, etc. While visiting the Remington plant two years prior to its introduction, I became aware of Remington's plans to introduce the above version first, but was also privy to an Enhanced version that would be offered approximately one year later, which I personally held out for when purchasing one for myself.
The Model 1911R1 Enhanced (in either blue or stainless) features a slotted high-speed lightweight hammer, a high grip-style beaver-tail grip safety with a knurled memory pad and a flat, solid-steel mainspring housing. The front of the frame is serrated to offer additional traction and limit slipping in the hand. The slide features deep-cut front and rear cocking serrations and a lowered and angled ejection port. The barrel is match-grade stainless steel. The sights are mounted into the slide via dovetails, while the front is outfitted with a red fiber optic that is interchangeable. The Remington- manufactured rear sight is a snagless type, but is still adjustable for elevation and is an excellent design for general use on a Model 1911.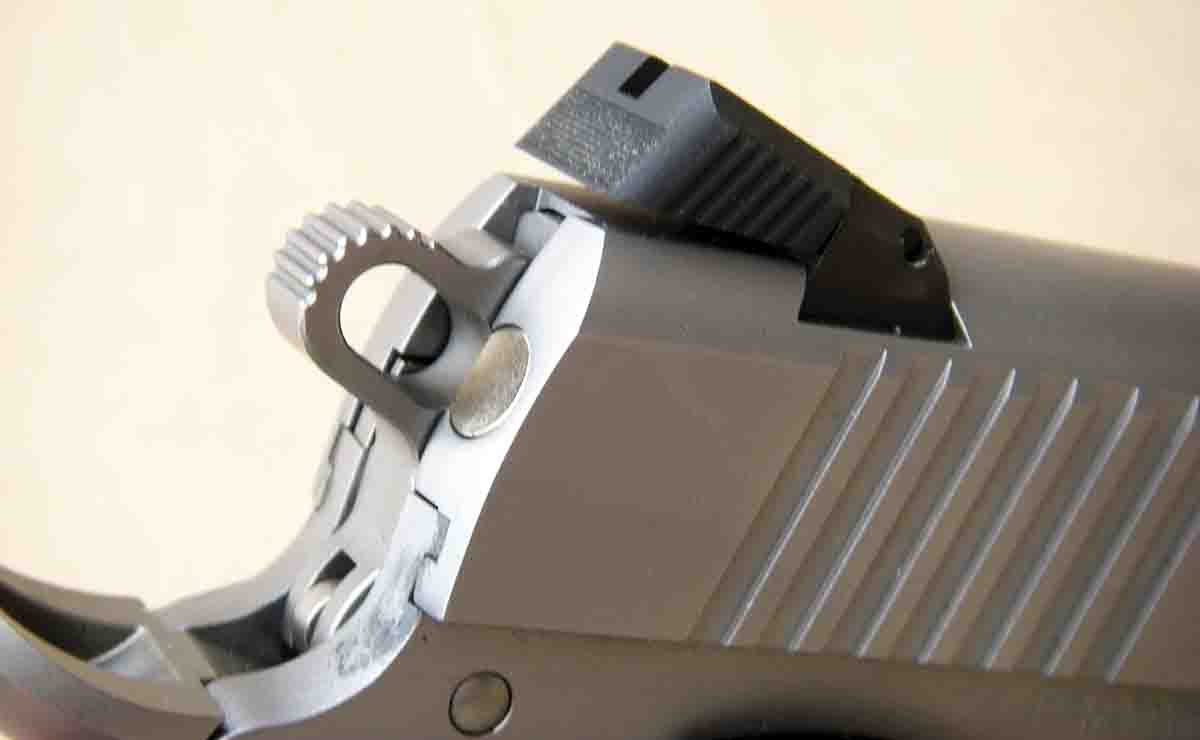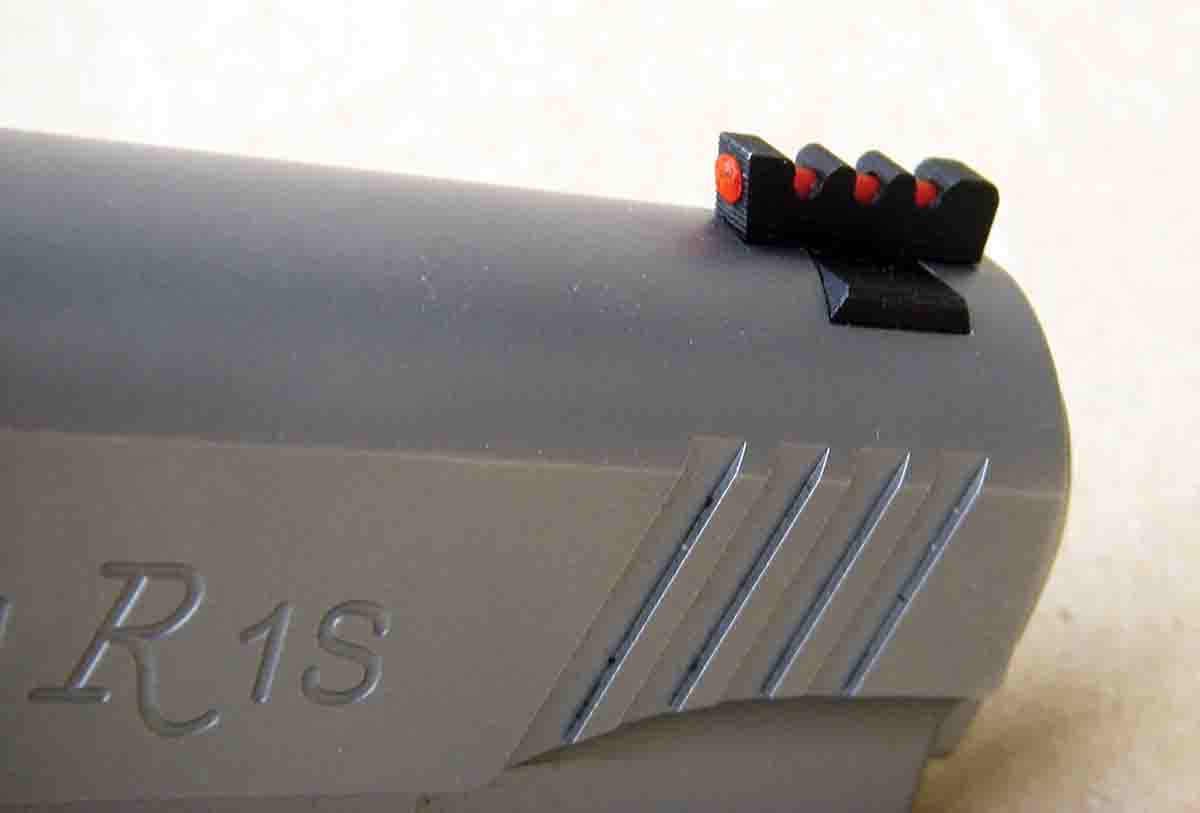 The lightweight aluminum trigger is extended, drilled with three holes and features an overtravel stop screw. The right-hand-only thumb safety is extended and shaped properly to be held in the "off" position while shooting (as is so commonly taught with self-defense instructors). The magazine release is moderately extended and measures around .160 inch off the frame. The extractor is internal, just as Browning originally designed the Model 1911.
Like virtually all other modern Model 1911 pistols, the 1911R1 Enhanced features an internal, slide-mounted safety block that helps to prevent the gun from firing if it is dropped on its muzzle on a hard surface. The recoil spring system is of the proven military specification and is void of a guide rod, etc. Having fired many Model 1911R1s, the trigger pulls have generally broke cleanly around 4 to 4.5 pounds. Overall machining has been good, while the slide, barrel and frame fit relationship has also been up to modern standards. Out-of-the-box accuracy has been good.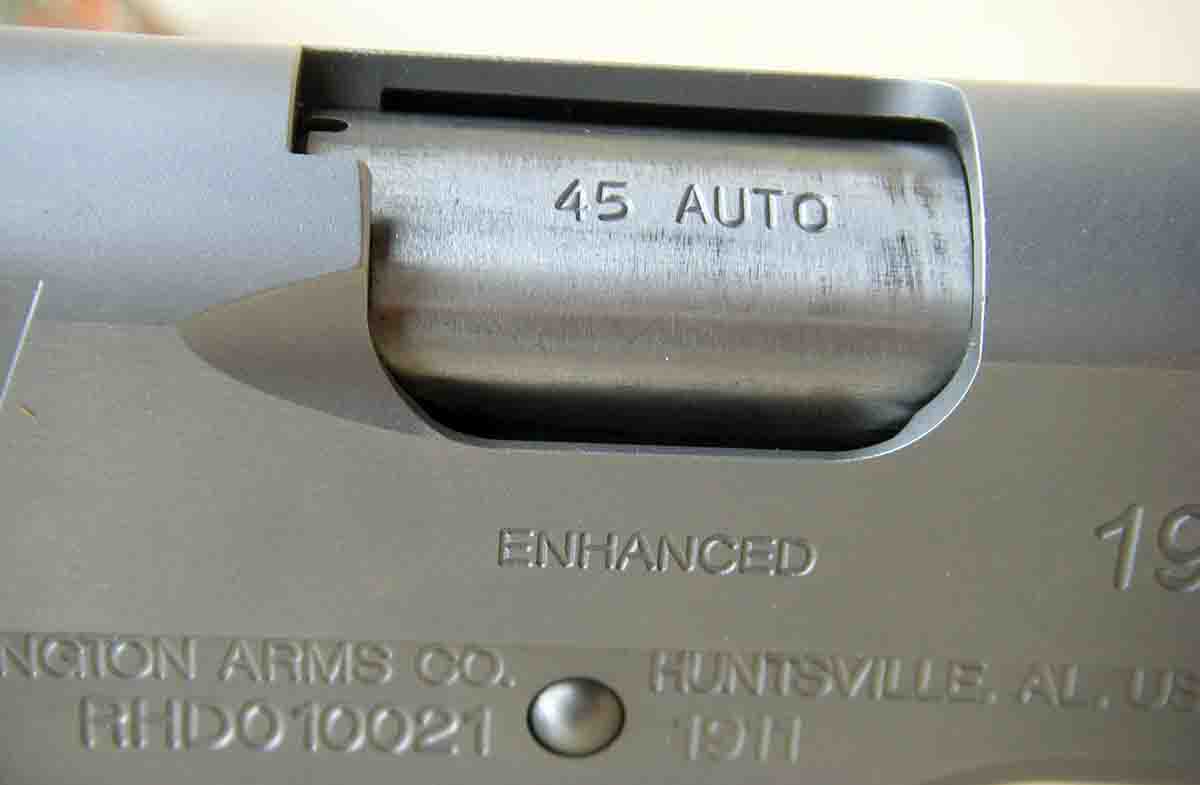 A Model 1911R1S Enhanced Commander .45 ACP was selected for review, which features the traditional Commander length 4.25-inch barrel. It is constructed of stainless steel and offers all of the same features as mentioned above. The grips are of an unknown black material that is cut deeply (and rather sharply) with a diamond pattern. They are slip resistant and functional. However, when shooting with +P loads in cold weather, they tend to sting the hand and are perhaps too much of a good thing. I would prefer a more traditional cut-diamond pattern constructed of figured walnut. While these grips are likewise functional, they would also serve to enhance the pistol's looks. These are readily available from Herrett's Stocks (herrettstocks.com) and can be obtained in a variety of traditional and fancy, high-figured wood.
In spite of it being nearly 10 years since Remington introduced the Model 1911R1, my sample remains a quality pistol. The trigger pull broke cleanly at 4.4 pounds; fit and finish remain very good, etc.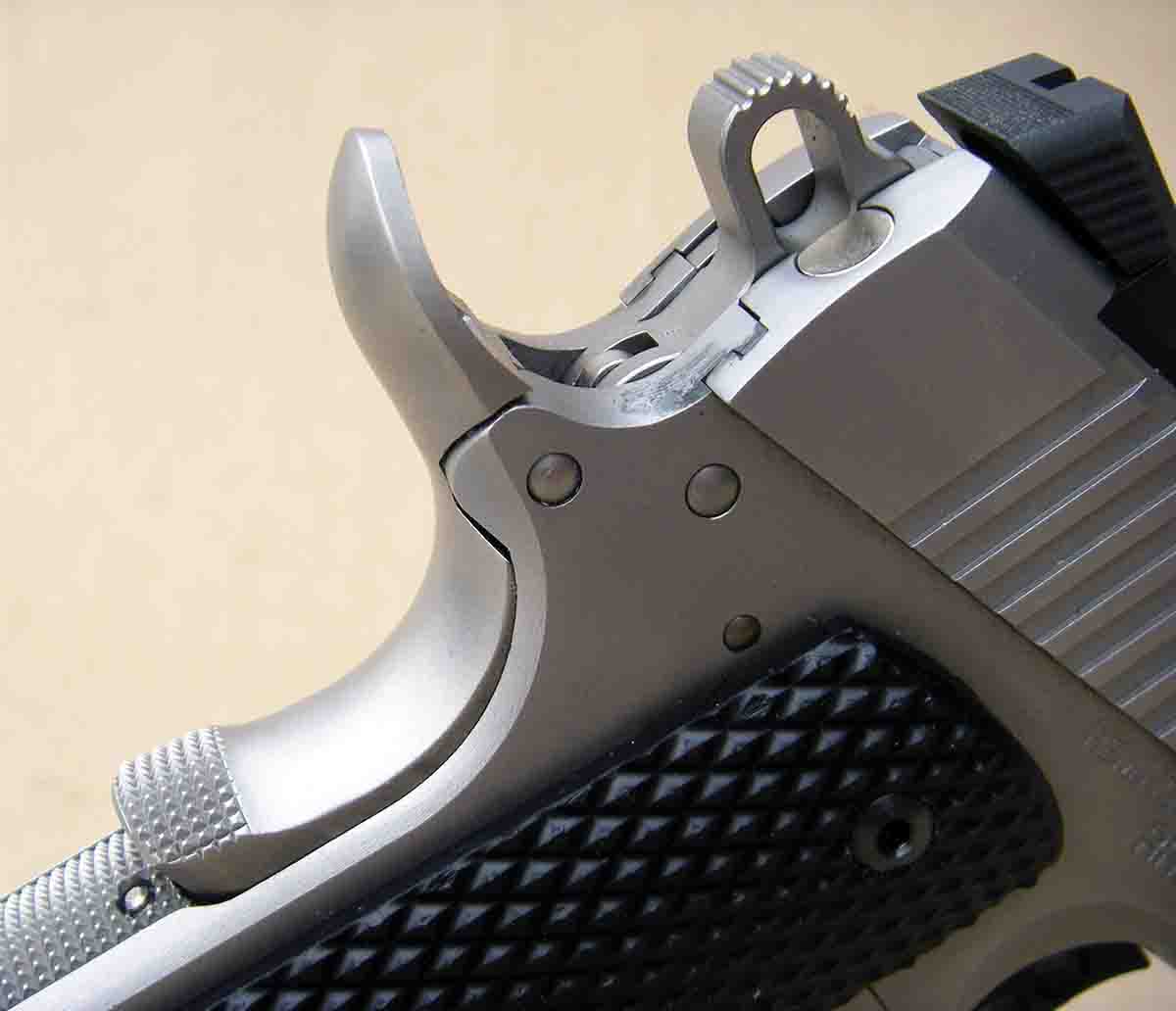 One noteworthy feature that appears to be changed from earlier 1911R1's includes the length of the ejector. It is shorter than many modern 1911's and effectively closer to the Colt design. This permits a loaded cartridge that is being extracted from the chamber to be properly ejected out of the ejection port. Pistols with the longer ejector usually eject the loaded cartridge prematurely when the slide is being pulled back. In short, the nose of the bullet hits the inside of the slide and causes the cartridge to fail to eject properly. As a result, it either stays in the action resting on top of the magazine, or it drops out the bottom of the frame through the magazine well (if the magazine has been removed), either of which is rather annoying but can also be a problem in a defensive-type pistol.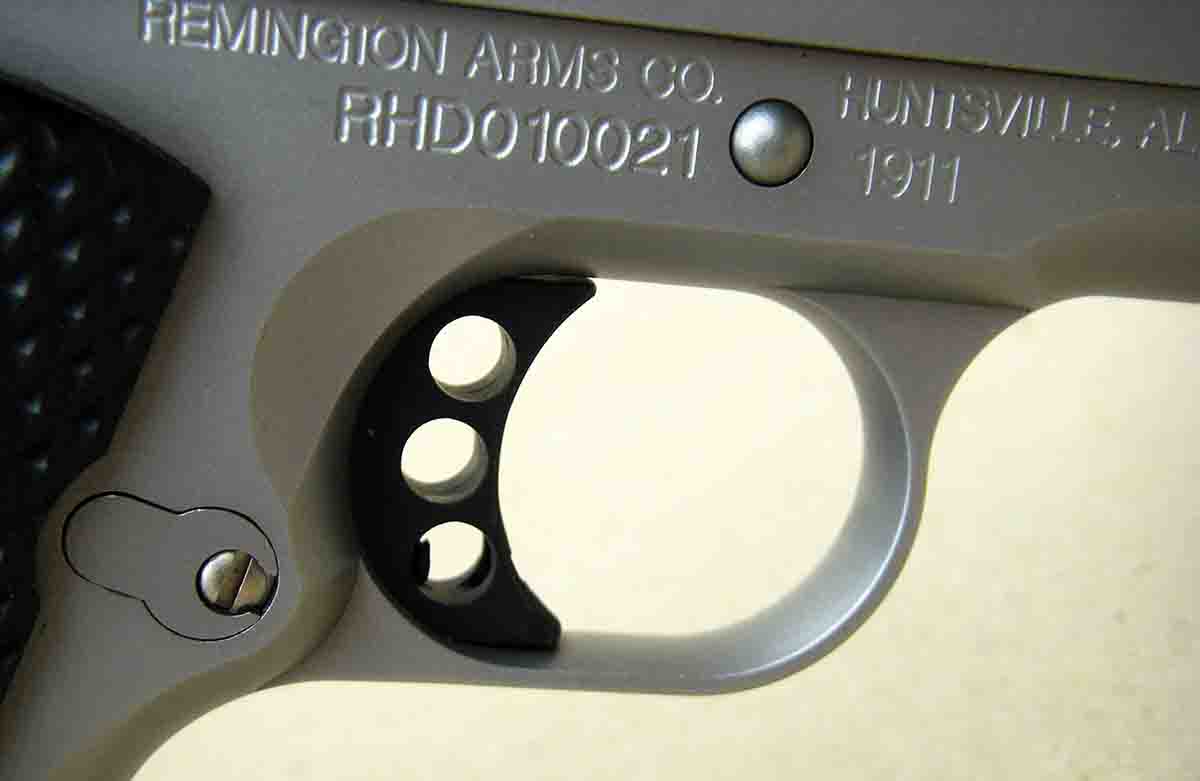 As these words are written, there is an unprecedented demand for guns and ammunition in the U.S. As a result, sample factory loads are nearly worth their weight in gold, with samples being used very sparingly here! Rather than using a given factory load to break the gun in before evaluating accuracy, reliability, etc., 250 handloads containing the 230-grain Speer TMJ roundnose bullet pushed with 7.0 grains of Alliant BE-86 powder were assembled in Starline cases and capped with CCI 300 primers. Muzzle velocity was 862 fps from the 4.25-inch barrel.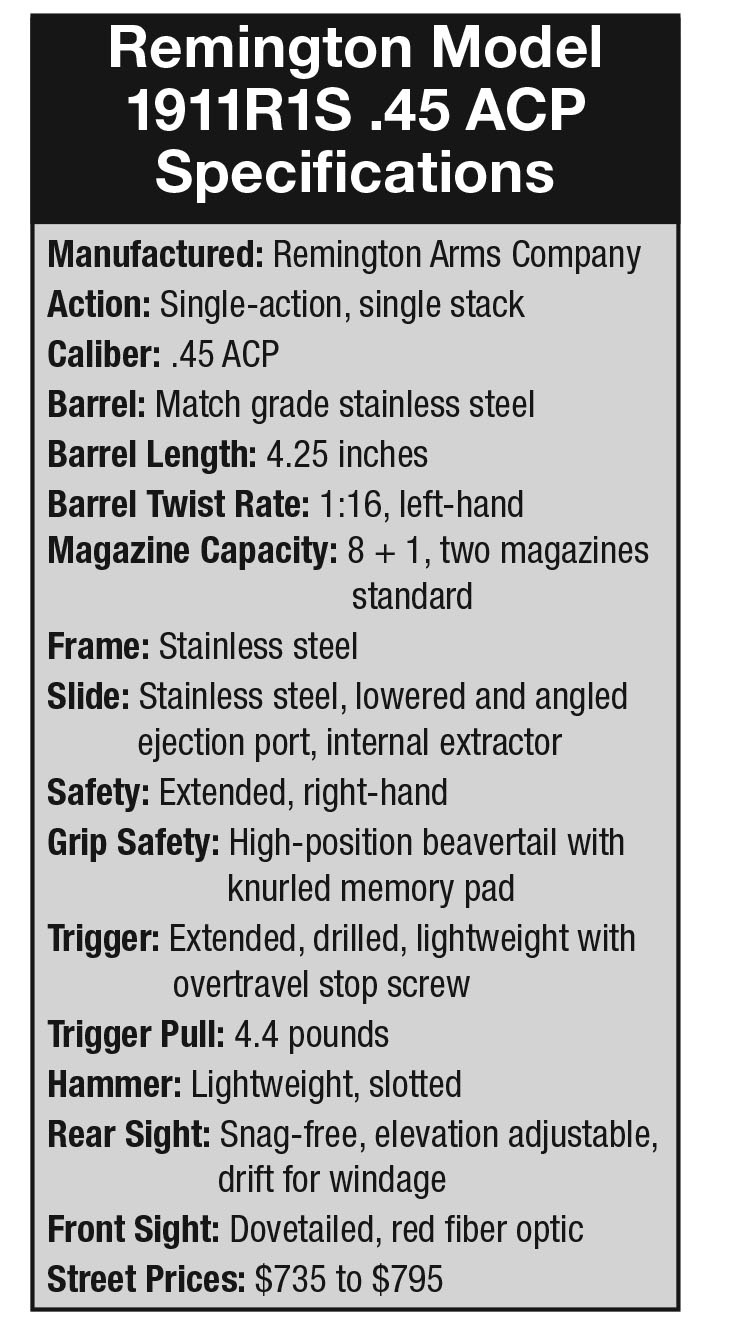 For the first 10 shots, the barrel was cleaned after each shot and a light coat of synthetic oil was wiped in the bore before firing the next shot. The remaining 240 rounds were fired without any additional cleaning. Next, the gun was fully cleaned before any other loads (factory loads and handloads) were tried. It was noted that after the first 50 rounds, the gun began to settle in and accuracy didn't really seem to change after that. There were no failures to feed, fire or eject cases.
The first factory load tried was Black Hills Ammunition's 135-grain HoneyBadger that clocked 1,218 fps and grouped into 2 inches at 20 yards. Next was Buffalo Bore's .45 ACP +P Lead Free containing the 185-grain Barnes TAC-XP that recorded 1,144 fps average velocity and grouped into 2.20 inches at the same distance. Hornady's Critical Duty +P load that contains a 220-grain FlexLock bullet reached 964 fps and grouped into 1.85 inches. Last was Remington's 230-grain Golden Saber Black Belt that clocked 788 fps and grouped into 2.55 inches. While the above factory loads were only fired in a modest quantity, there were no failures to feed, fire or eject.
The above mentioned handload containing the Speer 230-grain TMJ RN bullet at 862 fps grouped into 2.10 inches, which is good for a ball load. Another noted handload included the 230-grain Hornady XTP bullet pushed with 8.2 grains of Alliant Power Pistol powder for 1,023 fps, which is a +P load (with a maximum average pressure not to exceed 23,000 psi). At 20 yards, this load grouped into 1.65 inches for a five-shot string. All handloads were assembled in Starline cases, capped with a CCI 300 primer and taper crimped to .470 inch at the case mouth. Again, there were no failures to feed, fire or eject.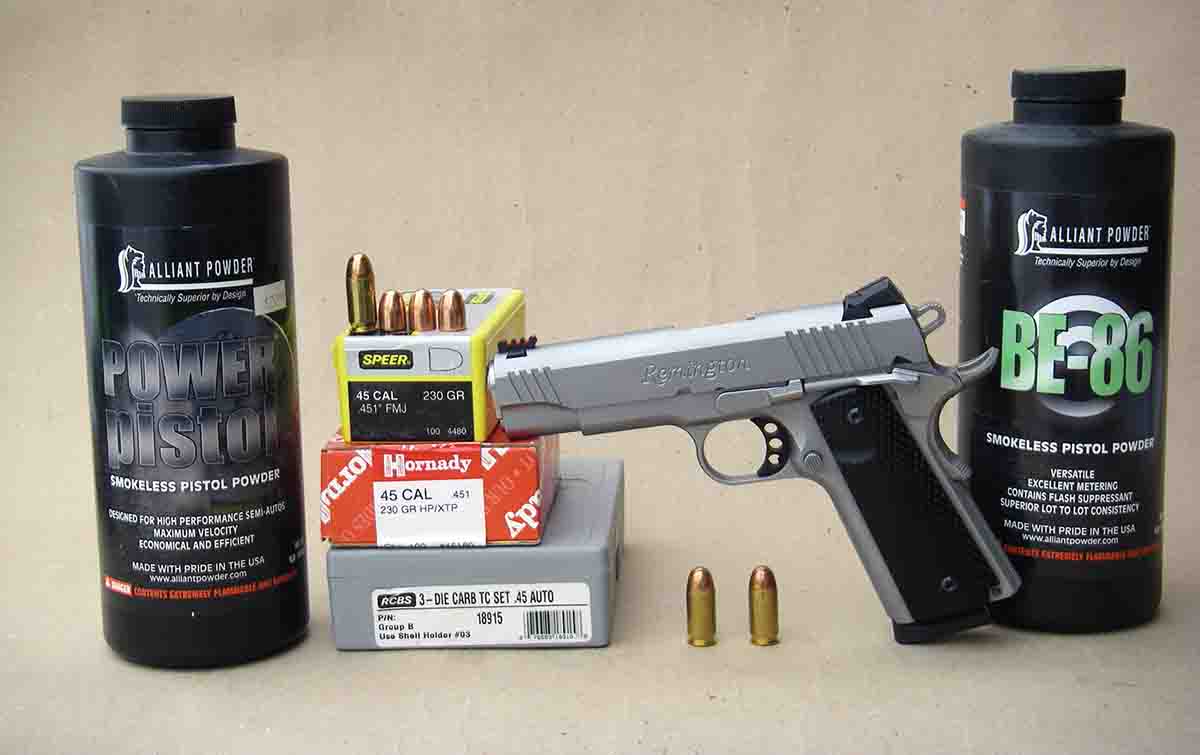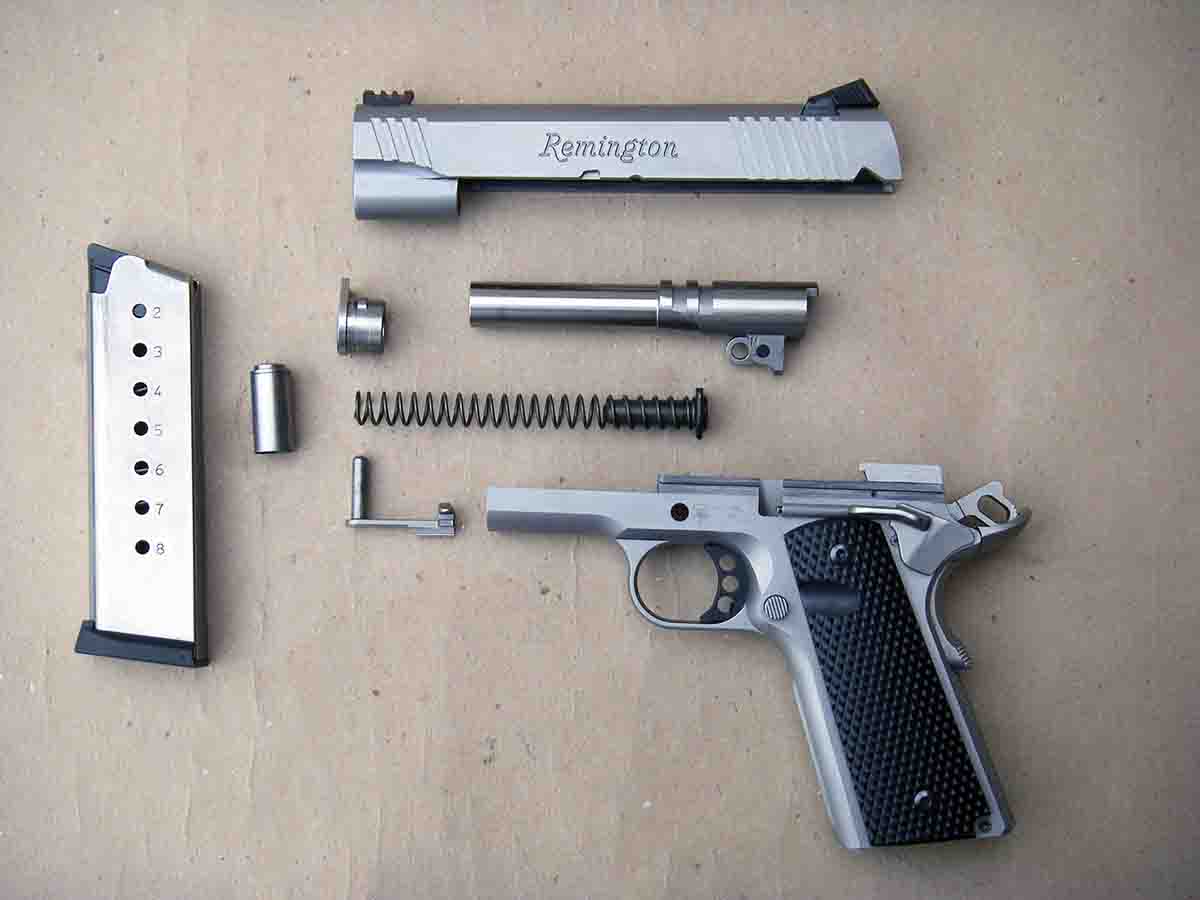 The Remington Model 1911R1S Enhanced Commander is a reliable and accurate pistol that offers many of the desirable features modern shooters have come to expect. As of this writing, the manufacturer's suggested retail price is not available, however, street prices are running around $735 to $795, which is competitive with other U.S. companies that offer a similar pistol. It is incredible that an autoloading pistol that was designed 110 years ago, then immediately torture tested by the U.S. government (with no failures), then officially adopted for service in the military and remains in service by various Special Forces, is still a top choice today.