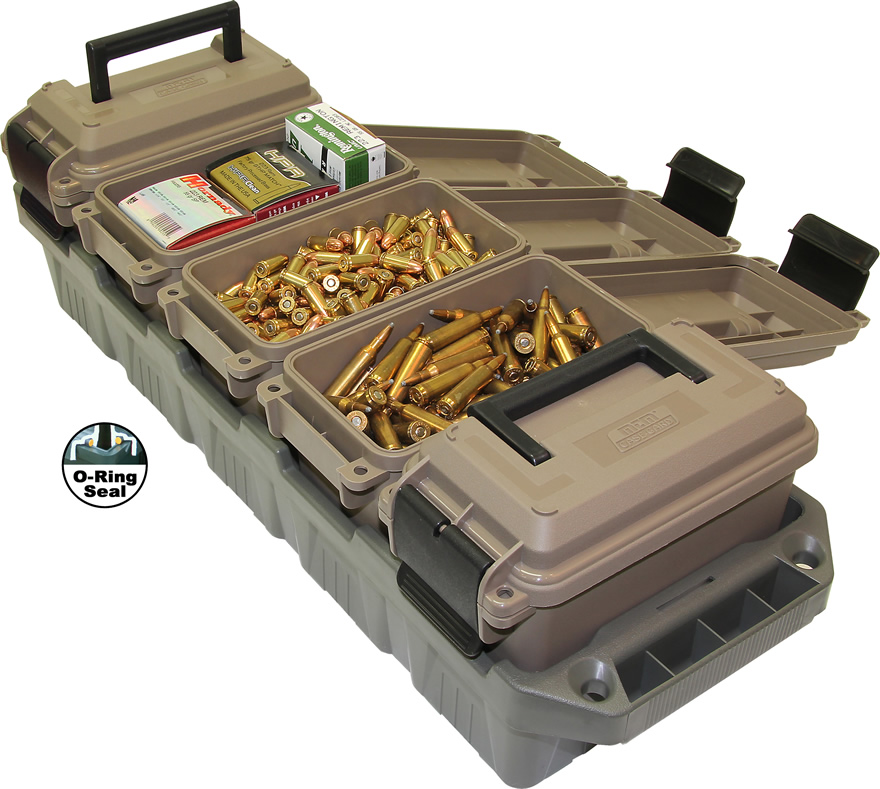 Since 1968, MTM has continued to design and produce products for the shooting enthusiast. From ammo boxes to gun rests to clay target throwers, MTM offers a huge variety of products essential to the sportsman. MTM recognizes the need for functional storage solutions and crate transportation. The new USA made 5-Can Ammo Crate Mini is designed to hold five MTM Ammo Mini Cans for storing and organizing ammunition.
The 5-Can Ammo Crate Mini includes five MTM Ammo Mini Cans that fit securely within the rugged polymer crate to form a compact storage space for ammunition and/or accessories. As versatile as it is sturdy, this ammo carrier is stackable and features an extend carrying handle on both ends allowing users to comfortably carry to and from the range. This new crate also includes multiple tie-down points for numerous transportation options. The multi-caliber storage system is a package deal, including five MTM Mini Ammo Cans, each one capable of holding up to 700 loose rounds of 9mm, 400 rounds of 45 ACP or 223 bulk ammunition.
Includes five, water-resistant O-ring sealed MTM mini Ammo cans

Easier carrying, transporting and storage methods

Stackable

Four tie-down points for quick

attachment to ATV or vehicles

Made in the USA

Multi-caliber storage system

Can be used as a dry storage option for accessories

Outside dimensions: 24.6" x 8.3" x 7.0(H)

MSRP: $40.11
The 5-Can Ammo Crate Mini is a great way to store or carry your ammunition to an from the range. For more information visit MTM Case-Gard.