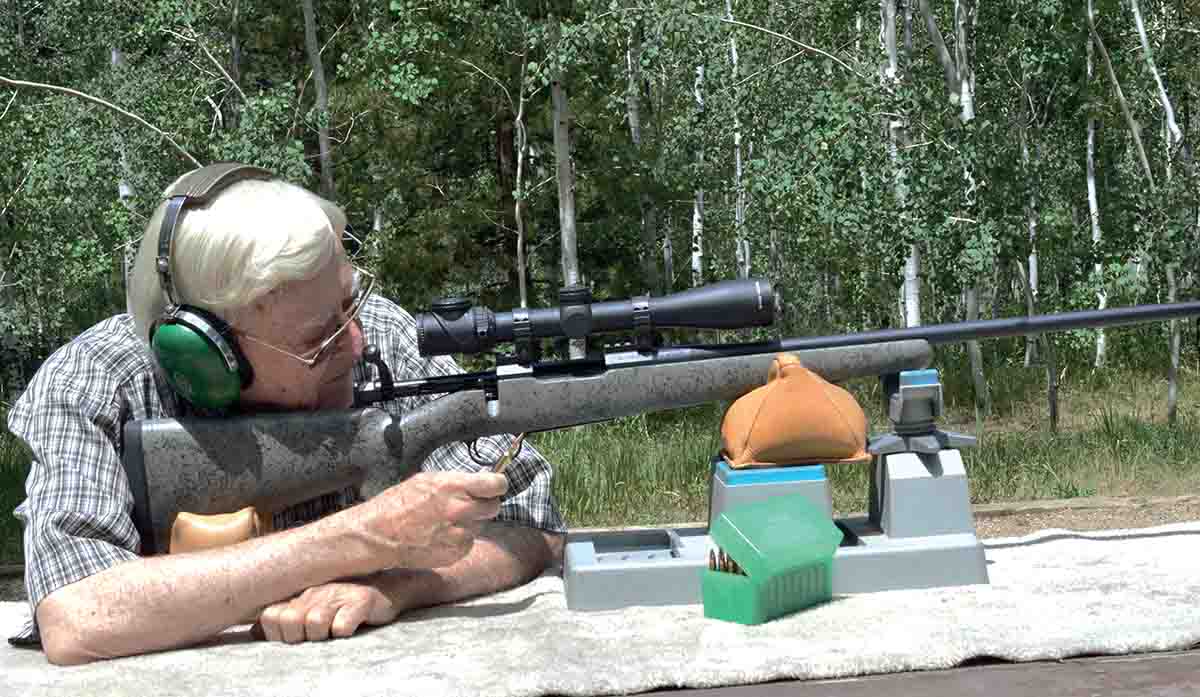 Nosler, Inc. has been busy of late; not only with its ever-expanding line of bullets, but with the company's home-grown rifles and a proprietary line of cartridges.
Beginning with the .26 Nosler in 2014, new cartridges have included the .28 Nosler (2015) and the .30 Nosler in 2016. In 2017 the company added the .33 Nosler and, to the surprise of many, the .22 Nosler. This latter cartridge was developed for use in an AR-15 but was also made available in the Nosler Model 48 bolt action. My report on the .22 Nosler in a bolt action appeared in the spring 2018 issue of this magazine (wolfeoutdoorsports.com). For 2018 I was expecting something else – a .35 Nosler perhaps – but was once again taken aback to find a 6mm cartridge, the .24 Nosler.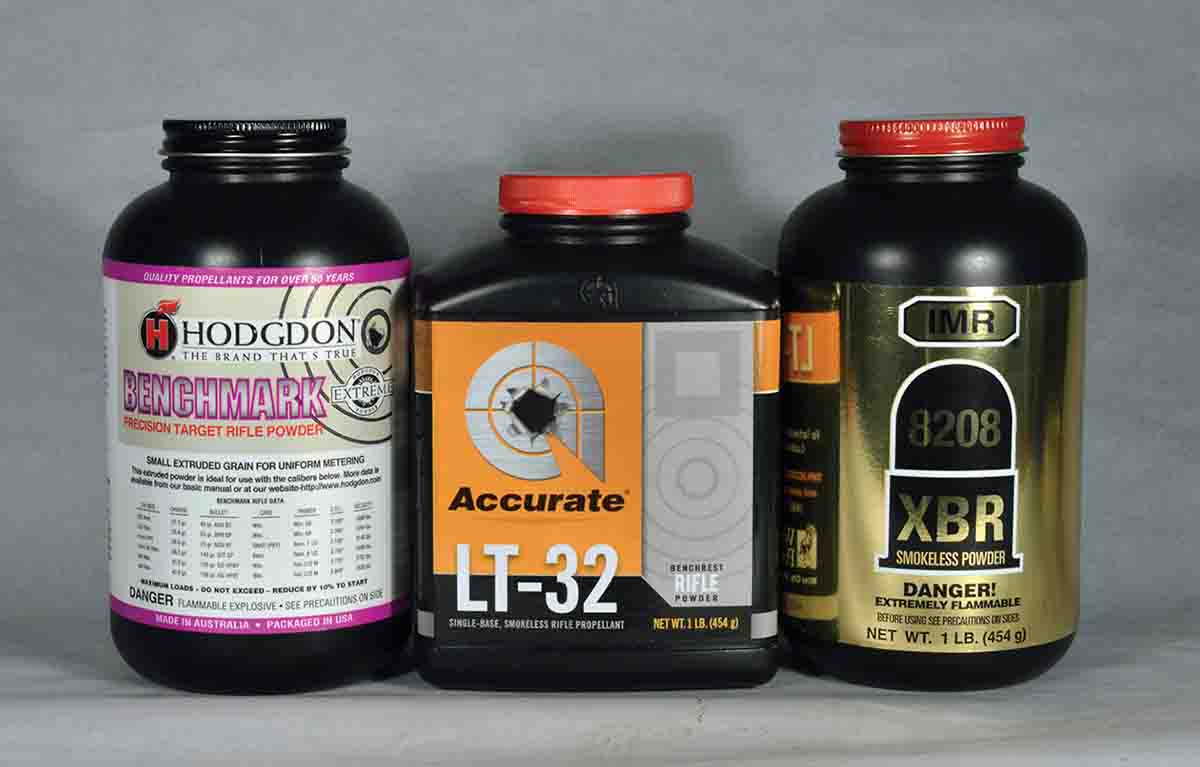 All of the larger Nosler cartridges were designed to provide exceptional velocities. The .22 Nosler, on the other hand, was more narrowly focused to produce increased velocity over the standard .223 Remington when fired in an AR-15. It will not match .22-250 Remington velocities in a bolt action but is a very accurate cartridge.
The .24 Nosler, so far as I know, is available only in Nosler's bolt-action rifles. It is made by necking up the .22 Nosler case, setting the shoulder back and shortening the overall case length from 1.750 inches to 1.600 inches. The shoulder angle remains the same at 30 degrees, as does the cartridge overall length at 2.260 inches. Whether there is an AR in the .24 Nosler's future or not, we have a fine new 6mm cartridge, but one that needs a bit of explanation.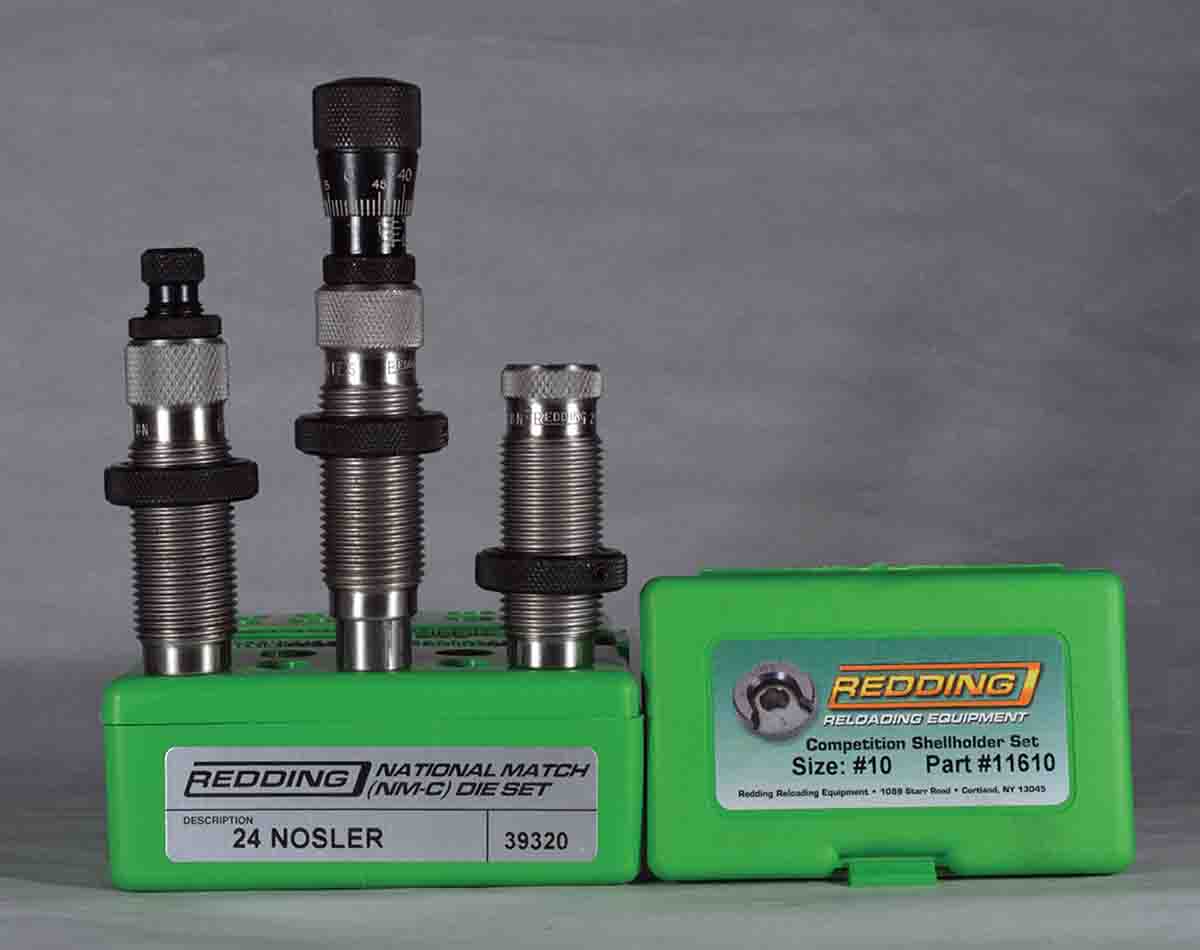 As with the .22 Nosler, the .24 Nosler has a rebated rim. Body diameter in front of the extractor groove is .420 inch; head diameter is .378 inch, the same as the .223 Remington. All three use small rifle primers. In an AR all this makes sense; in a bolt action it matters less. There are several interesting facets regarding the .24 Nosler. Most importantly, the 1:8 rifling twist rate identifies the cartridge as one that heavy-for-caliber bullets will find a home.
If considering the .24 Nosler as an "across the course" cartridge for NRA High Power competition, comparisons with such cartridges as David Tubbs' 6XC, the 6x47 Lapua or the 6mm Dasher become unavoidable. All were designed to operate at higher pressures, have larger internal capacities and can attain higher velocities. The .24 Nosler, with its fast twist, certainly handles heavy bullets well but it does so at slower velocities. We can easily push 105-grain bullets to 3,000 fps or more with the other cartridges; 2,600 fps or so is about it for the Nosler. On the other hand, the Nosler cartridge produces less recoil.
A second interesting fact about the .24 Nosler is that its case capacity is actually less than that of the 6mm PPC by about a grain, depending on the bullet. If one's thoughts drift to a new benchrest cartridge, the comparison must be with the PPC. The latter has a shorter, fatter powder chamber that benefits from a 1:14 rifling twist and has a higher operating pressure. This makes the .24 Nosler, once again, slightly more efficient, but less well suited to handle bullets of the weights typically found in benchrest competition and restricted by its maximum pressure limits.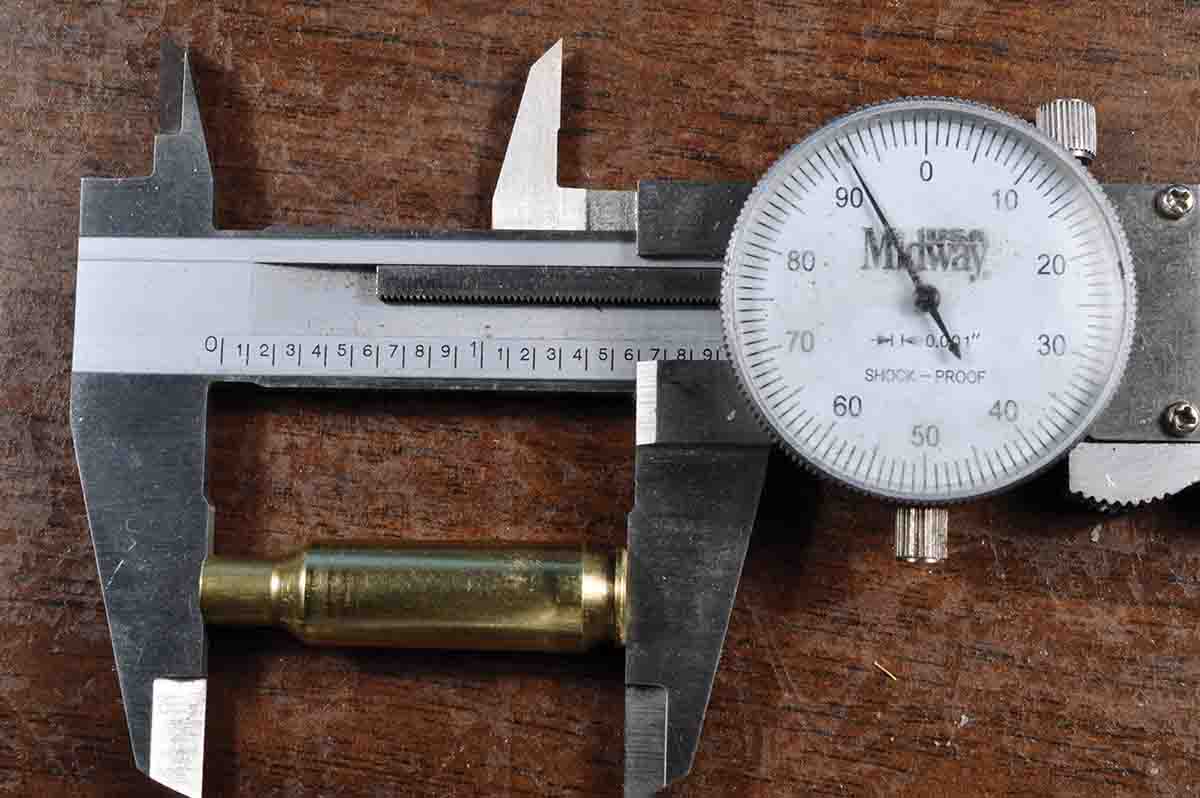 This brings us to a hunting cartridge. Ideally suited for the heavier range of bullets most used in pursuing big game such as deer and pronghorn and providing good to excellent accuracy with most varmint-weight bullets, this may be the .24 Nosler's niche.
In preparing for this review I obtained a Model 48 Liberty rifle from Nosler. It was shipped "used" so I did not go through Nosler's recommended break-in protocol. The Liberty model is the same basic Model 48 but with a composite stock. All models are glass and aluminum pillar bedded and have a CERAKOTE finish. Barrel length is 24 inches. The scope used was a Trijicon 2.5-12.5x 42mm AccuPoint with MOA-Dot reticle.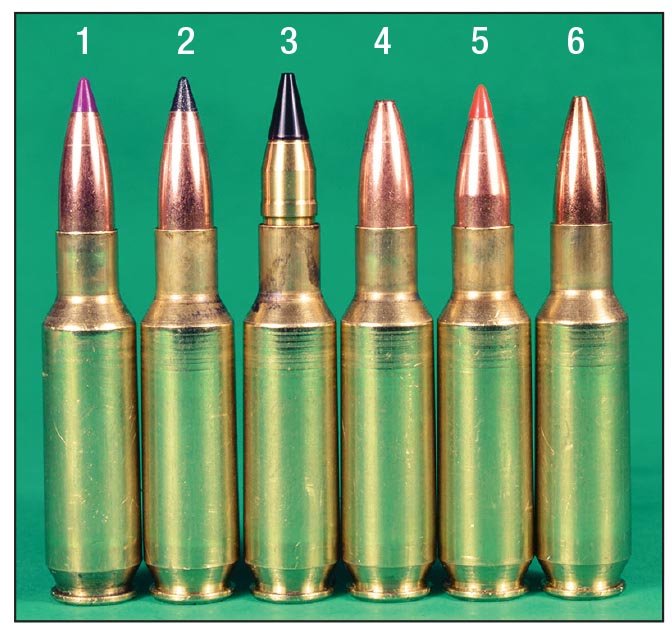 Since my charge was to wring out the cartridge from a varmint hunter's perspective, I ignored most heavyweight bullets and concentrated on those most suitable for use on varmints such as marmots, woodchucks and prairie dogs, or even coyotes. Two exceptions were made. One was the Berger 88-grain LD target bullet; the other, Hornady's 95-grain SST. I have found the Berger bullet to be exceptionally accurate and ideal for establishing a rifle's potential. The Hornady bullet has been my choice for deer and pronghorn for some time now, albeit done mostly from a .243 Winchester.
As a very large number of 6mm bullets were reduced to a slightly more manageable number, I still ended up with 16 weighings from 55 to 95 grains. Getting the powder selection down to nine wasn't easy either, but the relatively small case capacity helped to point the right direction.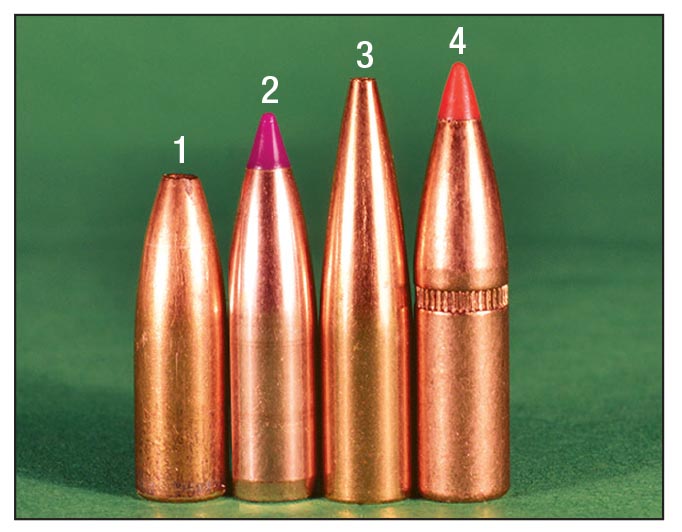 Nosler states its rifles will shoot into a minute of angle with suitable ammunition. With the .22 Nosler I benefited from having factory ammunition available as a guide in determining the pressure, velocity, and accuracy of my handloads. Nosler had not produced any factory ammunition for the .24 Nosler, but the company website carries load data for 55-, 85- and 105-grain bullets. Clearly this was the place to start. Also, the only available cases were Nosler bulk brass that needed to be chamfered and deburred and full-length sized before loading.
Sensing an opportunity, I picked 10 .24 Nosler cases at random, weighed them and measured them for length. I did the same with 10 cases from my remaining cache of unused .22 Nosler fully prepped brass. The prepped cases showed less extreme weight spread (.9 grains to 1.8 grains for the unprepped .24 Nosler cases) and an extreme spread in length half that of the unprepped cases (.002 inch vs. .004 inch), suggesting Nosler's prepped brass is demonstrably better. That said, the company's unprepped brass is better than some brands I have encountered. With a trim-to length of 1.590 inches for the .24 Nosler, 60 cases were trimmed to start. I did not sort the cases by weight, as the weight spread was easily within acceptable limits. Each was chamfered, deburred and full-length sized. A Redding National Match Die Set was used and included a full-length sizing die with decapping stem, a micrometer-adjustable Competition bullet seating die and a taper crimp die. This latter die was not necessary because the ammunition was shot in a bolt action.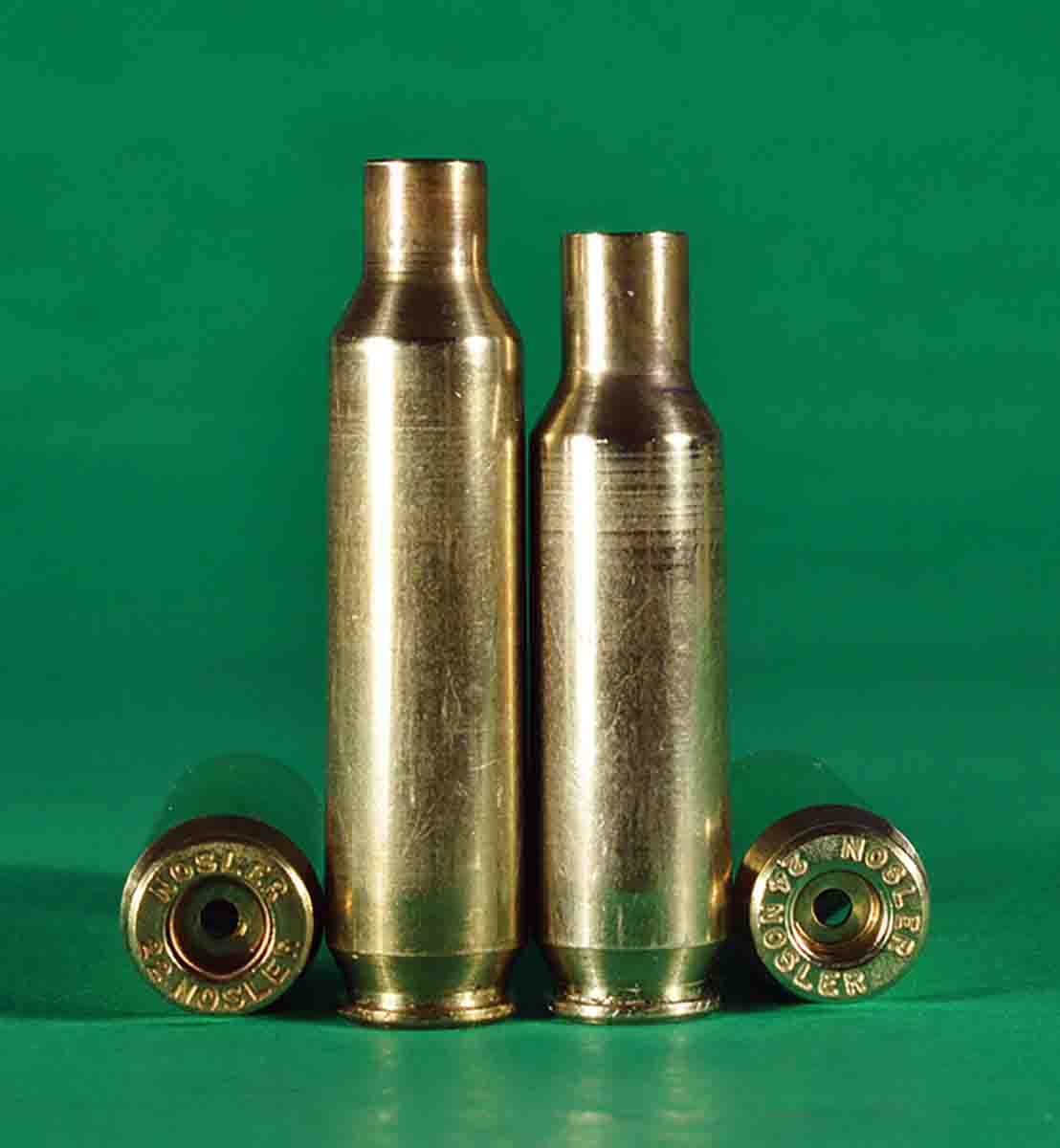 Also on hand was a Redding Competition Shellholder Set for the .223 Remington/.22 and .24 Nosler cartridges. These shellholders are made to custom heights of +.002, +.004, +.006, +.008 and +.010 inch taller than standard shellholders. The intent is to be able to set the sizing die against the shellholder without unknowingly setting the shoulder back unnecessarily and overworking the brass. Nosler's new cases were obviously made to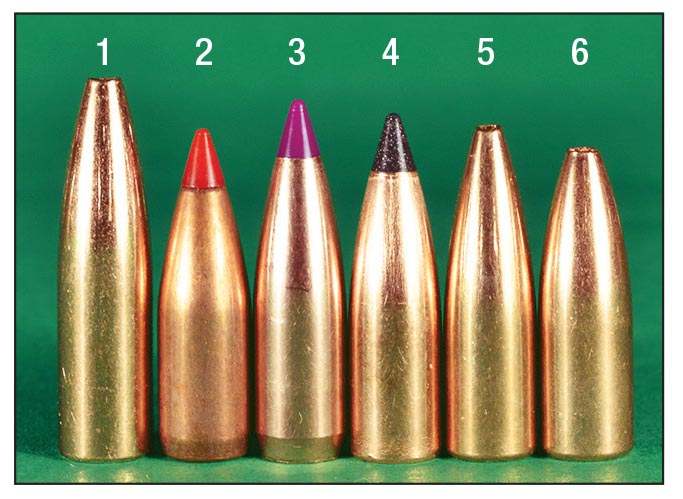 minimum SAAMI dimensions, and I found I could full-length size the cases using the +.010 shellholder. This was true through three loadings of each case, after which I switched to the +.008-inch shellholder for smoother bolt closing. After that fourth reload, I switched to the +.006 shellholder. The key is that the .24 Nosler is held to the same pressure as the .223 and .22 Nosler, 55,000 psi. Were the limit 60,000 or 65,000 psi, I'm sure my shellholder selection would have been different.
Also due to the relatively lower chamber pressure and the 30-degree shoulder angle, case stretching was minimal. It varied depending on powder, charge and bullet, but even after four reloads cases seldom exceeded 1.593 inches. Some combinations did induce stretching, however, and all cases were trimmed after the fifth firing. The lower powder charges for each powder seemed to seldom cause stretching.
Because Nosler load data was limited to Nosler bullets, my broader approach to bullet selection often found me with bullets of a different overall length or a different bearing surface. Seating a bullet more deeply in the case increased pressure, as could placing the bullet ogive too close to the rifling. In some instances I had to reduce my maximum powder charge from that published for similar weight bullets. Best accuracy usually came from an ogive-to-lands distance of .030 to .040 inch. I also tried to make certain the bullet seating depth equalled or exceeded the bullet diameter. Sometimes reaching both goals at the same time was not possible. In such cases, I opted for a proper seating depth. In a couple of instances I was further limited by the overall length of 2.260 inches.
Careful attention to pressure signs became important. Working up from a starting load or from 10 percent under the listed maximum became standard. While the maximum diameter of the cartridge in front of the extractor groove is listed as .420 inch, my best loads typically measured .4192 to .4193 inch. My maximum became .4195 inch. Venturing beyond this produced loose primer pockets, a likely sign I was exceeding SAAMI pressure limits.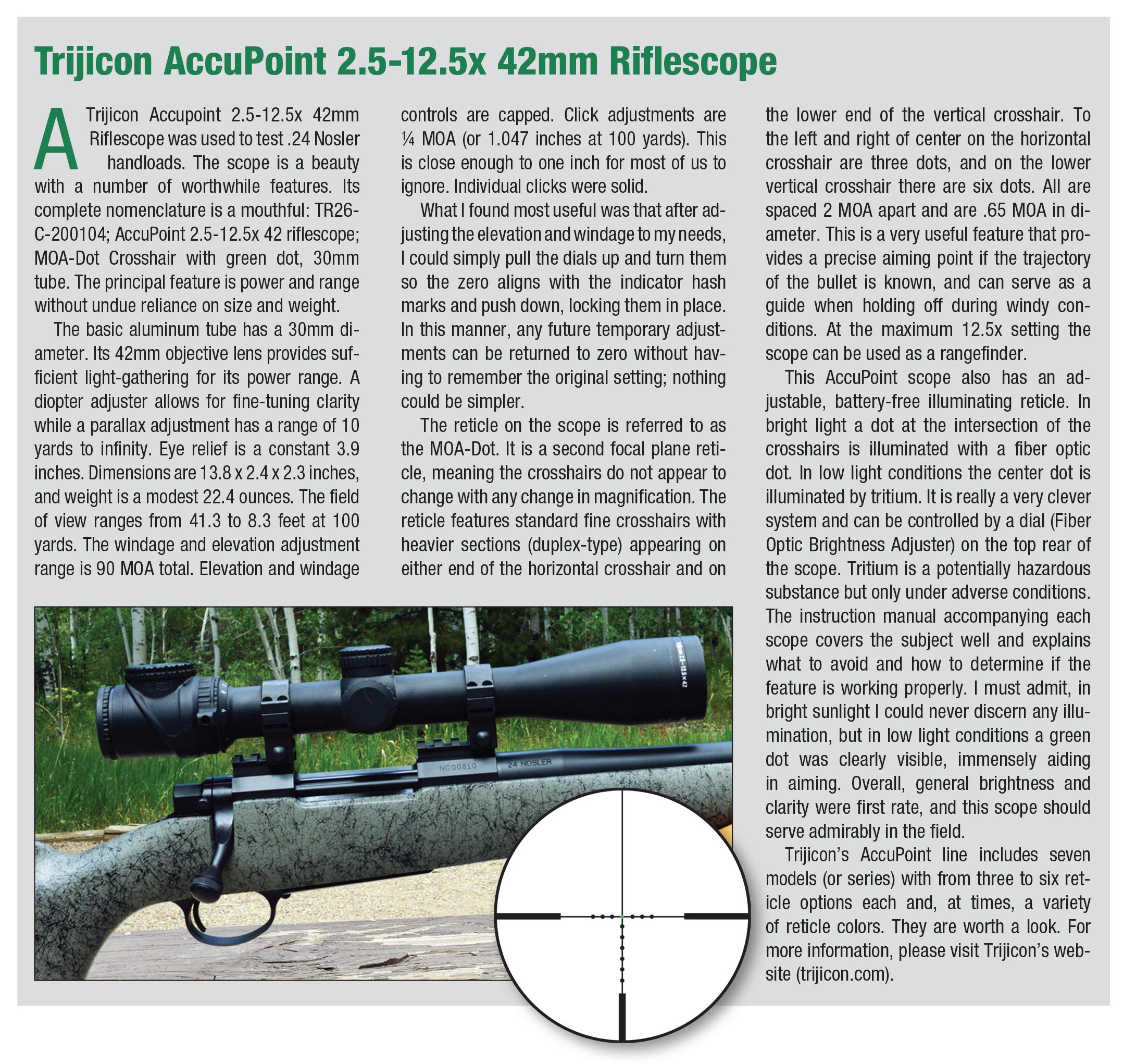 Throughout the tests I can't say any particular bullet stood out. I did not expect much from the 55-grain bullets, given the fast twist rate of the barrel, but even their performance was frequently very good. I was surprised to find things picking up as early as the 58-grain bullets but expected – and found – accuracy improving across the board as bullet weight increased. Although a great many powders could have been used, selected were those that were likely to produce the highest velocity and properly fill the case. Here there was a standout: Accurate's LT-32.
With 55- to 75-grain bullets no other powder produced such consistent accuracy. IMR's 8208 XBR and Hodgdon's Varget also excelled as bullet weights increased. Actually, each powder used seemed to excel with at least one bullet. There were five or six combinations that produced extremely small groups that probably should be considered aberrations. Still, overall, this .24 Nosler is a very accurate cartridge.
I think shooters who want an accurate, efficient cartridge with mild recoil and enough powder for our smaller big game while serving double duty keeping the local varmint population in check, or simply having fun at the range, will find this .24 Nosler works quite nicely.