Starline Brass has added another rifle caliber, the .350 Legend to their growing line-up of high-quality rifle brass. Starline's new .350 Legend rifle brass is produced with the same demanding quality control standards for which Starline has become known.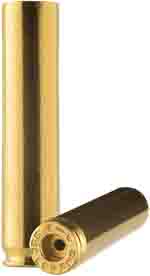 Introduced by Winchester and approved by SAAMI in January of 2019, the
.350 Legend
is a brand new cartridge that has no parent case. This tapered case has a rebated rim allowing it to utilize the standard .223 bolt face found on many common rifles including the AR-15. Like many other AR cartridges, the
.350 Legend
only requires changing the barrel and magazine. This cartridge's allure is that it can be used for hunting in several states that allow straightwall rifle cartridges only, but doesn't have near the recoil of other AR cartridges that fill this niche. Utilizing .355" diameter bullets, the
.350 Legend
is capable of impressive ballistics, without a lot of recoil.
At Starline, multiple hand and machine inspections ensure cosmetic and dimensional characteristics meet the highest level of exacting standards. All Starline cases are contained between each step of the manufacturing process to maintain superior quality and consistency.
Starline's high-quality rifle case line now includes .348 Winchester, .375 Winchester, 5.56x45mm, .222 Remington, .243 Winchester, .223 Remington, 6.5 Grendel, 6 Creedmoor and 6.5 Creedmoor (both available with small and large primer pockets), 300 AAC Blackout, 7mm-08 and .260 Remington.

Starline is a family owned business that prides itself on producing the highest quality brass cases available at the best possible price. For more than 40 years, Starline's unique manufacturing process and commitment from their team of employees has distinguished Starline from the competition. Starline is now using that 40 years of experience to build a complete line of premium rifle cases.

For more information on Starline's rifle cases please visit a dealer near you or order factory direct online at https://www.starlinebrass.com/.