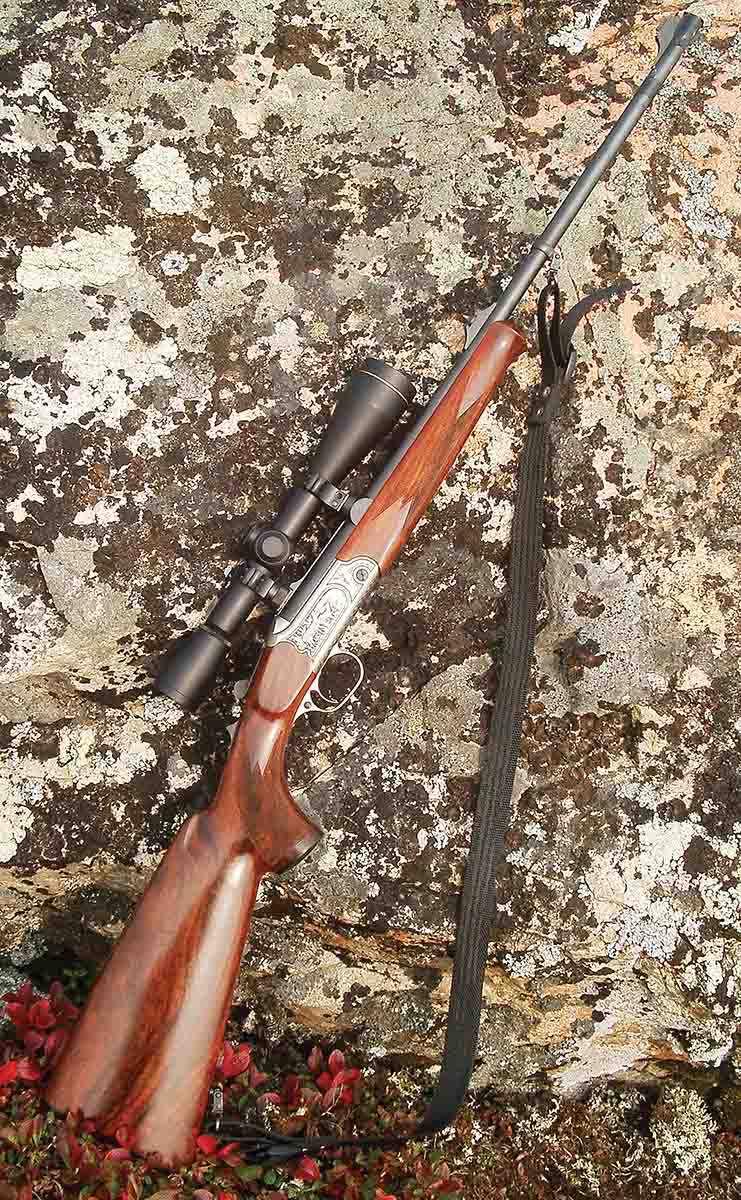 In the first half of the twentieth century, Americans had a tendency to think of break-action single shots as inexpensive rifles. They were the rifles farmers carried in pickups or leaned by the kitchen door just in case they had to shoot a sick pig or egg-stealing skunk. Or they were the rifles we bought young kids to get them started, or older kids bought themselves before they could afford a "better" rifle, a repeater.
As the American economy heated up after World War II, inexpensive single shots became less popular. By 1965 the catalog section of Gun Digest listed only two American break-action rifles, both centerfires. (Well, there's one break-action rimfire listed, the Savage Model 24 combination gun, but in the double-barreled shotgun section.) The centerfires were Harrington & Richardson's and came in .22 Hornet, .22 Remington Jet and .30-30 Winchester. The Topper model cost $35.75, but an upscale version called the Mustang, with a "gold-plated" hammer and trigger, ran another $10.00. Both H&Rs (and the Savage 24) fit the farmer/kid profile perfectly.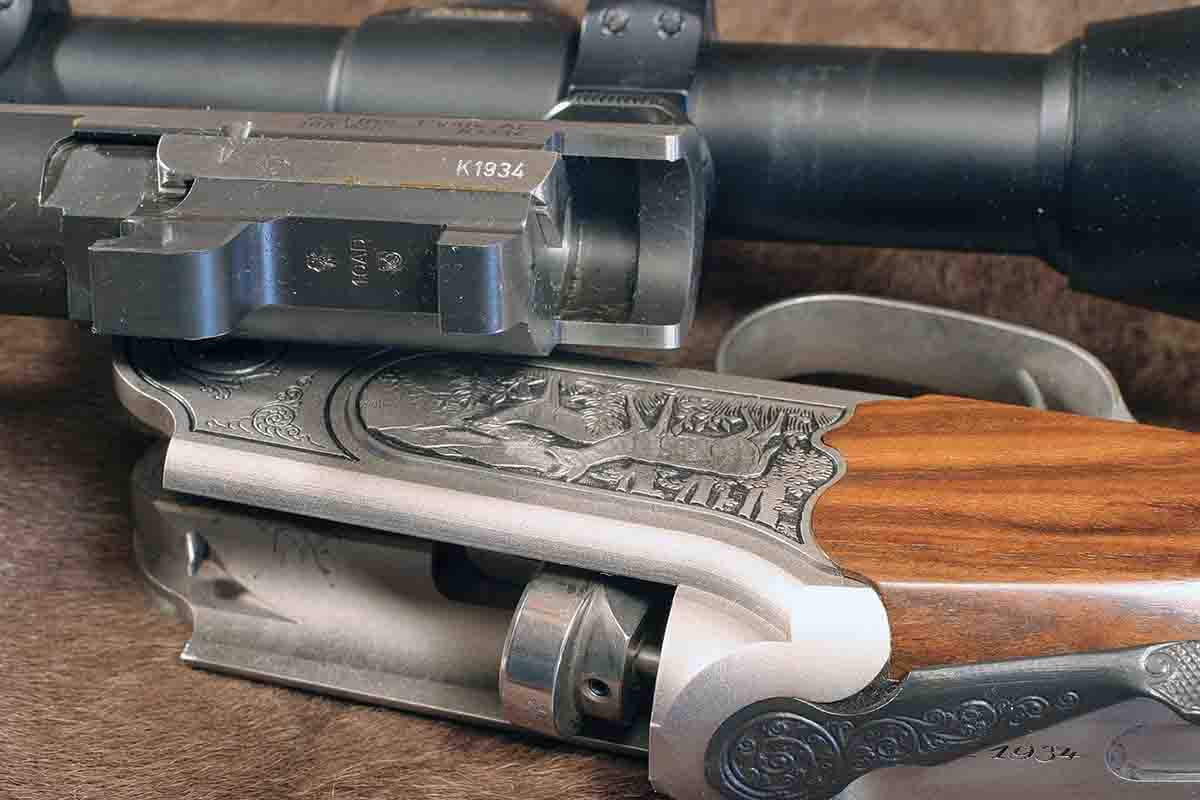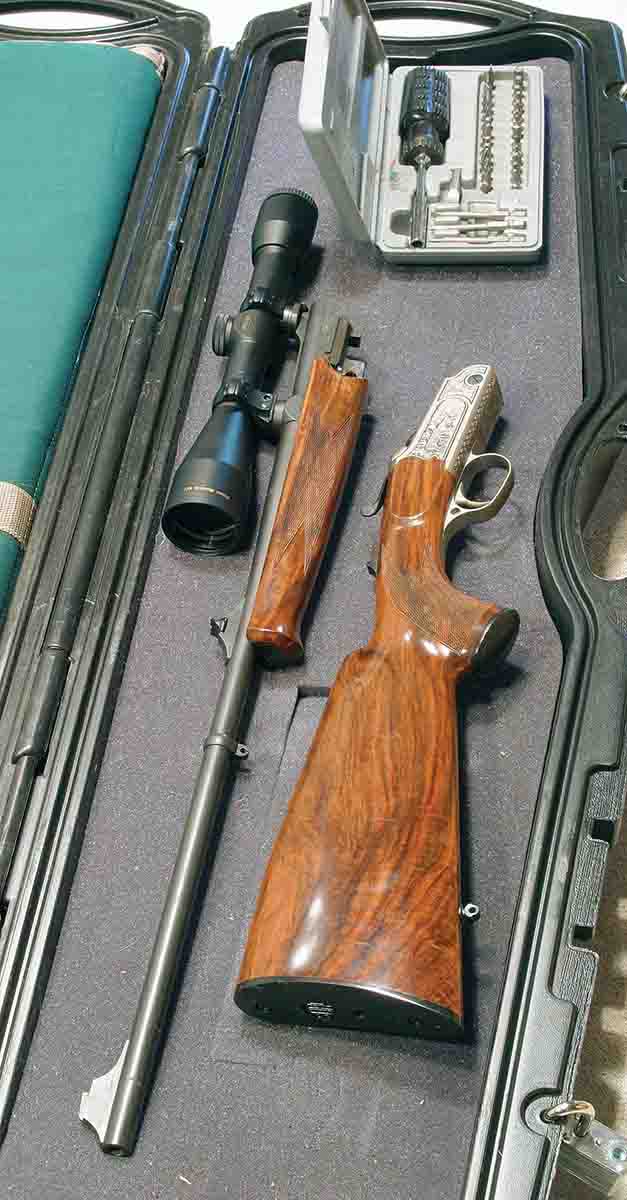 In the decades since, some new American break-action rifles showed up, including buttstocked versions of the Thompson/Center Contender and Encore handguns. I've owned and hunted varmints, small game and big game with several of these rifles, starting with a Savage 24D .22 Magnum and 20 gauge purchased while working as a teen­ager on a Montana farm, fitting both halves of the farmer/kid profile. Eventually I gave up on the rifle versions of Contenders and Encores, because their stock dimensions didn't fit me very well; however, I still have a New England Firearms Handi-Rifle with two barrels, one .243 Winchester and the other a 20-gauge rifled barrel for shooting saboted slugs. The Handi-Rifle is a direct descendant of the Topper, and as a matter of fact is now called the Harrington & Richardson Handi-Rifle.
All have been functional fire­arms but without any frills. Well, except for the Savage 24D. The D stood for Deluxe, which meant impressed checkering and crude engravings of a fox and ruffed grouse on either side of the receiver. There is, however, another kind of break-action rifle, and many existed even in 1965.
Back then Gun Digest's catalog section was divided into U.S. guns and "foreign" guns. In 1965 the total number of foreign break-action single shots was zero, zip, nada, none – and they were definitely being made, since the hunters of Germany and Austria have long held the rifles they call Kipplaufs in high regard. (German is the only language in the world that still capitalizes all nouns.) The answer probably lies in Gun Digest only listing foreign firearms imported in the U.S.
Kipplauf is a compound word, in this application kipp meaning "tilt" and lauf, "barrel." Technically this refers to any break-action firearm, including shotguns, pistols and combination guns, but German hunters primarily apply it to single-­shot rifles. Cheap German fire­arms basically don't exist, so Kipp­laufs have long been of higher quality than most made in America. The usual modern form is much like a break-action shotgun, with an opening lever at the rear of the action and a sliding safety behind the lever.
In most chamberings Kipplaufs are pretty light, considered a special virtue for some hunting, especially after the wild alpine goat called Gemse in German, and chamois in French and English. Like typical break-action shotguns, Kipp-laufs are designed for easy take-down: First the forend is removed by pressing a button or pulling a latch, then the action is opened and the barrel lifted off its hinge. Kipplauf scope mounts are usually quick-detachable, so all the principal parts can be easily disassembled and put in a backpack for climbing mountains or into a small hard case, which is much handier in airports and vehicles than the typical 4-foot-long rifle case.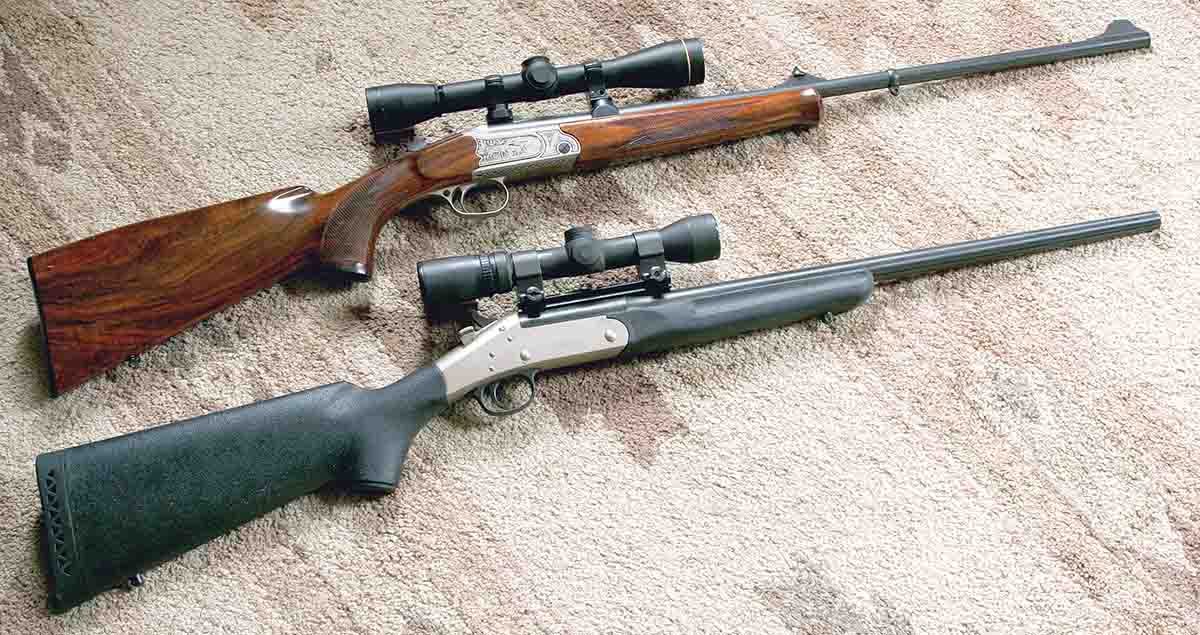 This disassembly only takes a few seconds and is accomplished with nothing more than the hunter's hands, compared to the several tools and minutes required to remove the forend and barrel of a Contender or Encore. (A Handi-Rifle is handier but still requires a screwdriver.) For a while Thompson/Center also offered a more conventional break-action rifle, designed strictly as a rifle, in two grades called the Hunter and Arisotcrat, but apparently it never sold very well.
Like most German hunting rifles, Kipplaufs are very accurate, some­­thing most Americans don't realize, perhaps because our experiences primarily involve military-surplus Mausers of widely varying origin and quality. However, the average German hunter makes more money than the average American hunter so is willing to pay what we'd consider "custom" prices for factory rifles – and expects them to work very well.
I started getting into German rifles around 1990, partly through meeting friend Tim Crawford, who'd long been an enthusiast. I'd already started acquiring a few lightweight "mountain rifles," in the process finding much of the stuff claimed about lightweight rifles wasn't true, especially that they weren't accurate. After experiencing some of Tim's Kipplaufs, I realized lightweight, accurate rifles weren't limited to bolt actions with synthetic stocks.
Two of Tim's favorites are older rifles, a Greifelt 6.5x52R (.25-35 Winchester) and a Sauer 8x57JR. He uses the Greifelt for pronghorn and deer in Montana, and even though it shoots Winchester 117-grain factory loads well, Tim handloads lighter spitzers that shoot flatter and more accurately.

The Sauer is more of a problem to handload, because like most rifles chambered for the rimmed 8x57, the groove diameter is .318 inch, signified by the "J" in the name, rather than the common .323 "S" diameter of most 8x57s. He solves the problem by sizing down 180-grain Nosler Ballistic Tips, one of the heavy-jacket models designed for deeper penetration on big game. The modified Noslers shoot very well, and he's used them not just in North America but on African plains game with fine results.
I was starting to do a lot of trav­eling myself, and eventually research began on a Kipplauf spe­cifically for traveling, but in a more universal chambering than the rimmed German cartridges designed to function in traditional break-action and falling-block fire­arms. The search ended one day in Houston while visiting Briley Manufacturing, well known for its custom shotgun chokes. Briley also deals with many other kinds of firearms, and its big retail showroom held a lineup of one of the rifles my research indicated would be a good choice, the Merkel K1. (The K, of course, stands for Kipp­lauf. Today the same basic rifle is called the K3, due to a change in the scope mount system.)
The Merkel features the breech-block system invented by famous gunmaker Franz Jager of Suhl, with a moving steel insert inside an aluminum receiver, reducing weight while increasing strength, allowing the use of higher-pressure rimless cartridges. In ad­dition, the tang "safety" doesn't merely block the trigger mechanism. Instead, it cocks the firing pin, so when the safety is off, the rifle can't fire, making hunting with a round in the chamber much safer.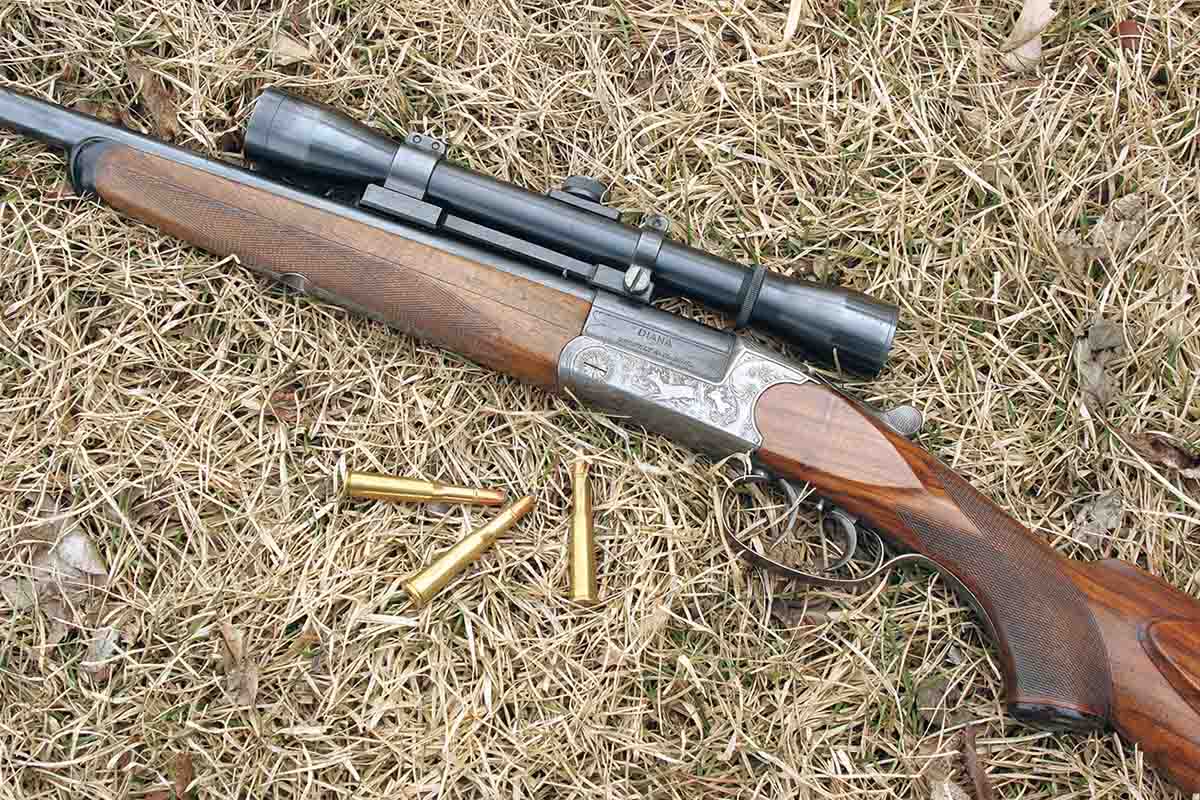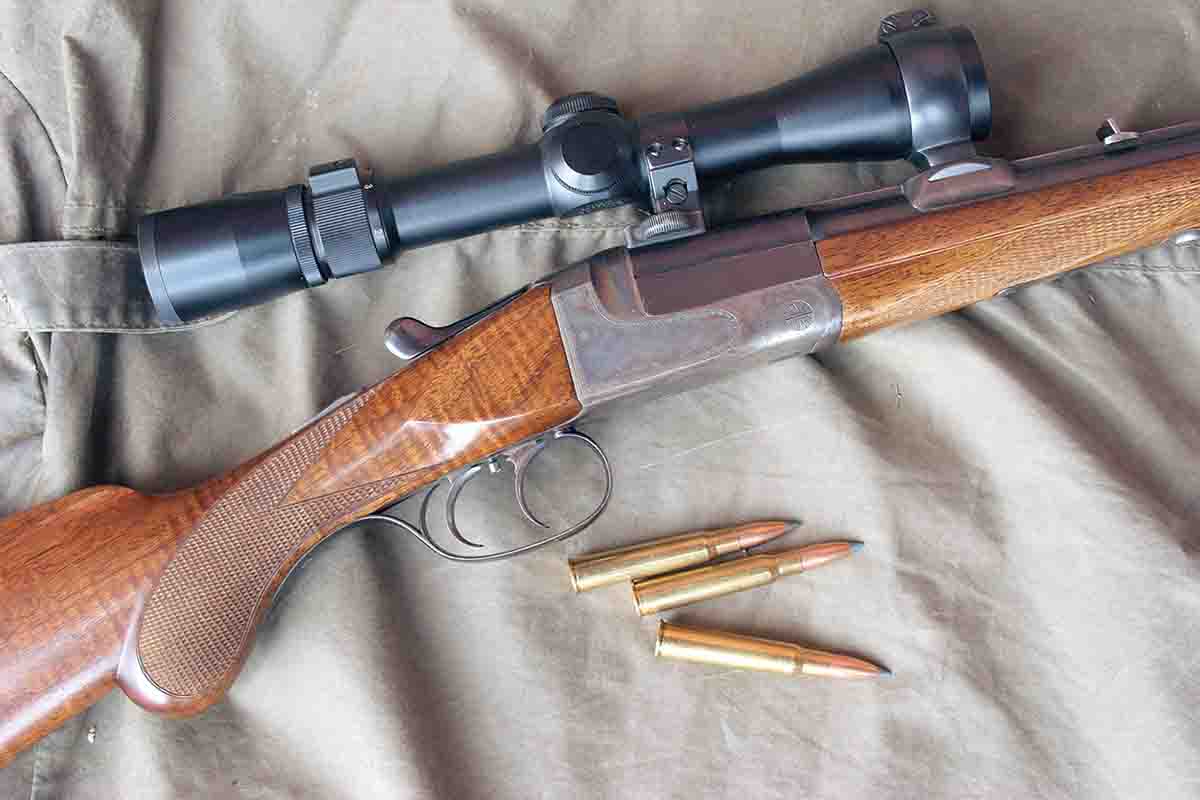 The other modern Kipplauf us­ing the Jager system and cocking safety is Blaser's K95, also an excellent rifle. Crawford also owns a K95 with three barrels, one in .30-06 and two traditional Kipplauf rounds, the 6.5x57R and 7x65R. The Briley showroom only included Merkels, however, and the prices were pretty darn good.
After wandering up and down the lineup for a half-hour, the winner turned out to be a .308 Winchester with perhaps the nicest walnut in the bunch. The .308 doesn't get the respect it should, but a selection of factory ammunition is available almost anywhere, and at .308 velocities even basic 150- to 180-grain bullets hold up well on big game. The modest round is also accurate and doesn't recoil much, even in light rifles. (With handloads any cartridge will shoot accurately in a precisely made rifle, but just about any factory .308 Winchester ammunition will shoot well in just about any .308 rifle. If that isn't inherent accuracy, what is?)
The Merkel proved to be everything desired, and more. Load development started and stopped with Hodgdon Varget and Nosler 150-grain AccuBonds at around 2,900 fps. I sighted in 2 inches high at 100 yards then took the rifle apart and put it together again. The second small group overlapped the first small group.
Unlike many German rifles, the Merkel's trigger isn't of the "set" variety, where the pull is reduced considerably by pushing the trigger forward until it clicks or by pulling a second trigger behind the primary trigger. Instead, there's a little three-way switch on the rear of the trigger guard. Each setting results in a different pull weight. The heaviest averages 2.75 pounds and is crisper than the pull on any American "Kipplauf" I've ever fired. I only use this "heavy" setting in cold weather, otherwise leaving the switch on the lightest 2-pound setting.
The Merkel went on its first trip to Canada's Northwest Territories for caribou. After a bunch of us got off the Twin Otter float plane, our gear was distributed among several wall tents, and the camp manager said to bring our rifles to the benchrest at the north end of camp to check zeroes.
It took less than a minute to reassemble the Merkel, and I ended up second in line at the benchrest. After the first shooter finished, I sat down and used my daypack as a rest. The shot landed 2 inches high and very close to dead-center, so I started to stand up, whereupon the camp manager said: "One shot's not enough to make sure." So I sat down and shot again, the second bullet hole almost cutting the first. "Is that enough?" I asked. He didn't have anything to say, and we got along fine after that.
The Merkel also proved to be a lucky rifle, an attribute almost as valuable as reliability. The hunt took place in late August, before the caribou migration, so we had to go look for them. This was fine with me, as unlike some of central Canada, the area around Courageous Lake has hills that almost qualify as mountains. The tundra had started to change to its autumn colors, and it was fun to hike the colorful hills, glassing for bulls.
The Merkel's first game, however, wasn't a caribou. On the third day, guide Larry Mills beached the boat below a low plateau, and we climbed to the top and hiked around, finding a few caribou but none big enough to chase. While heading back toward the boat, I stopped at the edge of the plateau, glassing behind us one last time, having learned from previous hunters that caribou can appear anywhere.
Instead I saw another animal rambling across the plateau, several hundred yards away. At first I thought it might be a small barren-ground grizzly (some were around), but soon saw a long tail and realized it was a wolverine. All of us had purchased wolf and wolverine tags, just in case, and here was just-in-case. As Larry and I watched, the wolverine disappeared into a depression around a glacial pond we'd passed earlier.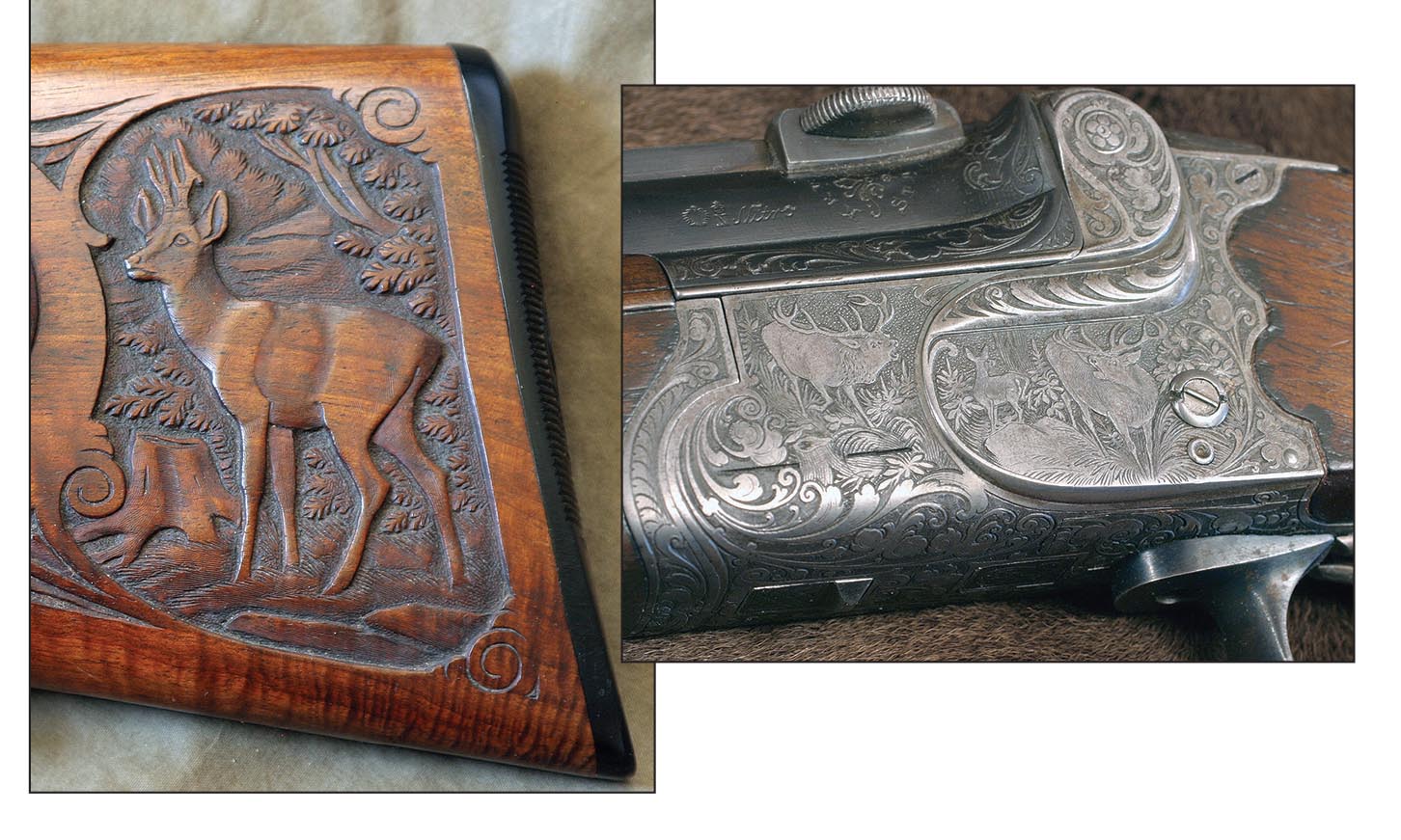 We hiked over as fast as possible, then eased up behind a boulder overlooking the pond. The wolverine stood on the far shore, 200 yards away, but almost instantly spotted the tops of our heads and started running. As the reticle of the Merkel's scope moved past the wolverine's nose, the lit­tle rifle went off, and the bullet landed at the rear of the rib cage. It turned out to be an old male with worn and broken teeth.
The next day we found two good-sized bull caribou across a half-mile wide valley. They wandered up the far side, unaware of us, and after they disappeared over the top we trotted over and climbed the ridge. By then they were disappearing over the next ridge, so we repeated the drill – and did the same thing twice more before giving up. The two bulls by then were more than a mile ahead of us.
As we headed back toward the boat, I stopped on every ridge-line and glassed behind us. From the last ridge above the lake, I found the two bulls again, but one was now trotting back in our direction. I sat down and waited, and soon it crossed the next ridge, and a while later the next. Eventually he disappeared into the stunted spruce and orange-leaved willows in the valley below us, still headed our way. I sat with the Merkel's forend resting on shooting sticks, and five minutes later the bull walked out of the draw. The cross­hairs found its chest, and by the time the bull stopped, realizing a strange-looking lump sat in front of him, the range was only 35 yards. Bang!
I don't travel as much anymore, and most trips are with a rifle company that, naturally, wants me to use one of its rifles, so the Merkel primarily gets hunted here in Montana. I've used a couple of other German single-shot rifles as well, though not single-barrel Kipp­laufs but three-barrel Drillings, mostly a 6.5x57R with ballistics about like the .260 Remington. It takes down and goes together just as precisely as the Merkel. Someday I may take another plane flight with one or the other, but they're also great rifles for hunting near home.