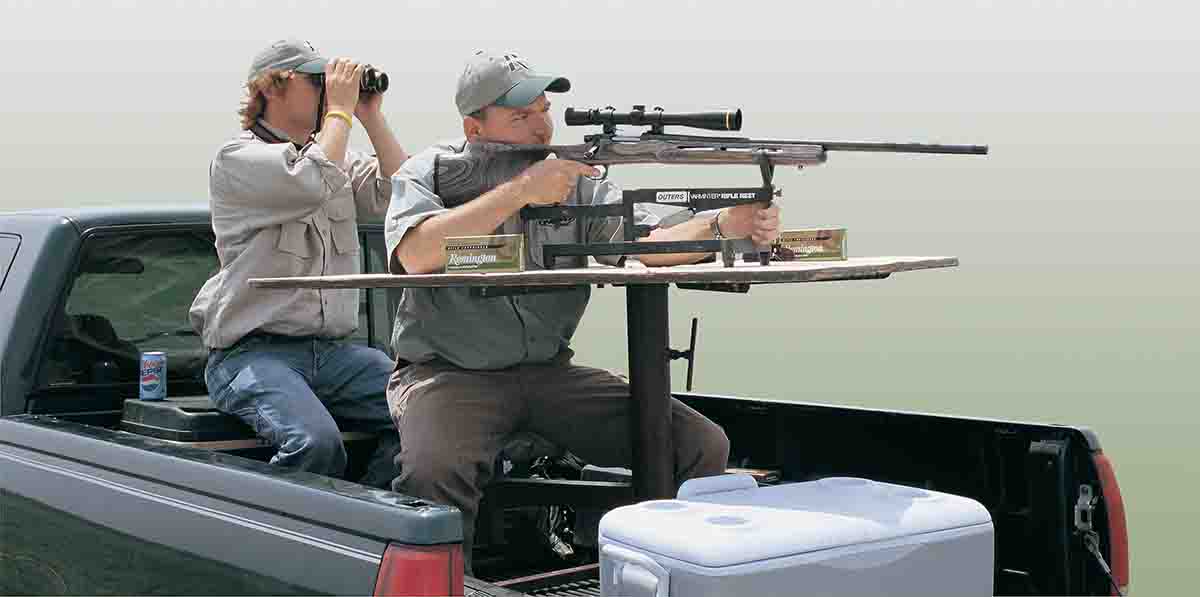 Several years ago, when reporting on the new .204 Ruger cartridge in
Rifle
magazine, I stuck my neck out indicating it was one of the more significant cartridge developments and would probably have a bright future. New cartridges usually sell well, at least in-itially, as dealers stock their shelves with guns and ammunition for the retail shooter. And there are those who must have the latest gun/cartridge, just to show their shooting buddies.
Sometimes, however, new cartridges are just a "flash in the pan," as a few years later they are quietly dropped from production and remaining stock lingers on dealers' shelves. The .204 certainly appears to be different, as the folks at Sturm, Ruger & Co. and Hornady (ammunition) have been pleased with its steady sales. Recognizing just how well it has sold, several rifle companies are now offering guns, and Winchester and Remington have joined Hornady in producing ammunition. All of which adds up to signs of success.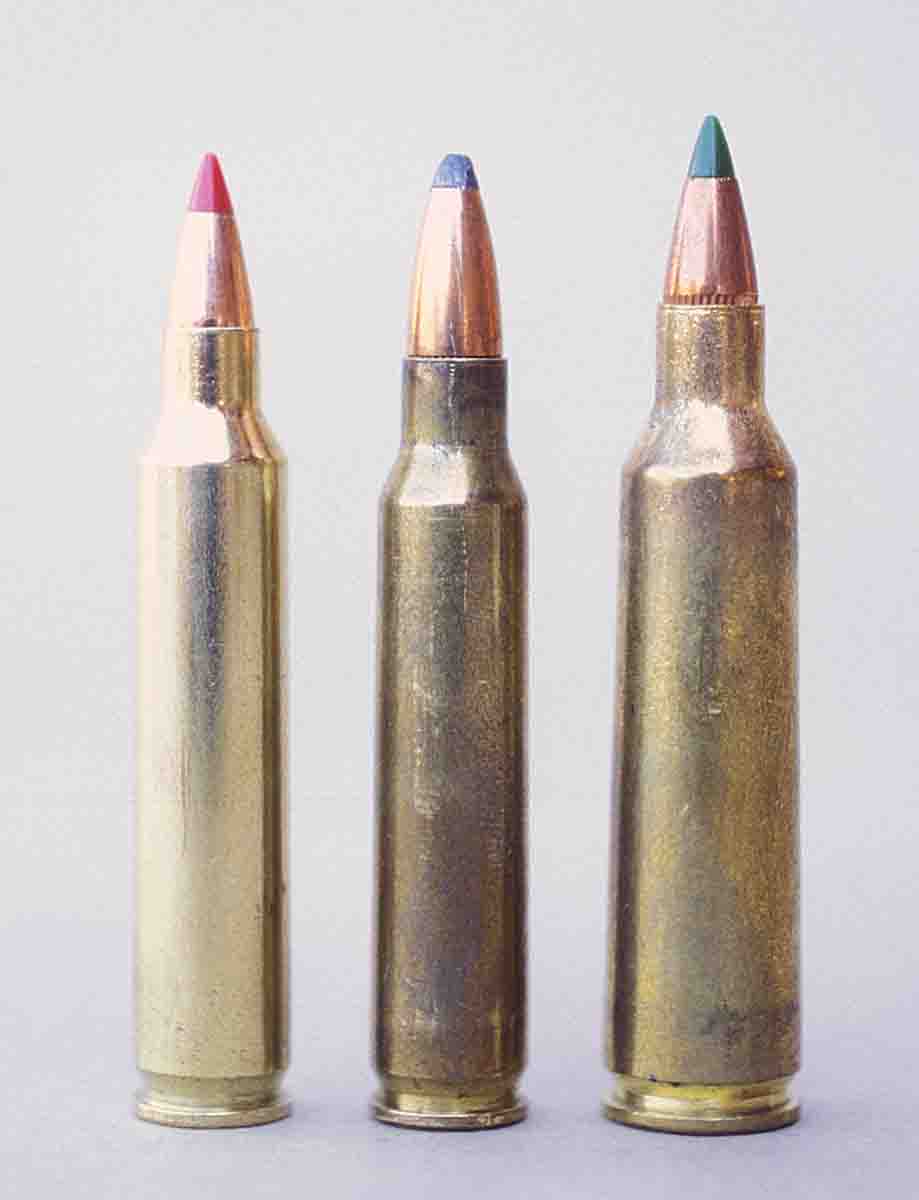 For those who might not be familiar with the .204 Ruger, a brief look seems appropriate. After working together on the .480 Ruger, Hornady Manufacturing and Sturm, Ruger & Co. again teamed up, this time creating a rifle cartridge. The case is basically a .222 Remington Magnum necked to accept .204-inch bullets, with factory loads driving 32- and 40-grain bullets 4,225 and 3,900 fps, respectively. The 32-grain bullet has a ballistic coefficiency (BC) of .210 and with a 200-yard zero drops 4.1 inches at 300 yards or 13.1 inches at 400 yards. The 40-grain V-MAX has a BC of .275 and drops 4.3 inches and 13.2 inches at 300 and 400 yards, respectively (with the same zero). At 500 yards the 40 grainer offers a slightly flatter trajectory than the lighter bullet and, due to its higher BC, bucks the wind noticeably better.
Hornady ammunition produced after June 2004 is loaded with Primex SMP746, a non-canister grade propellant featuring a "de-coppering" agent that helps prevent bullet fouling from developing to any important degree. (This is state-of-the-art technology developed for our military.)
Rapid throat erosion has generally been a concern with cartridges that achieve the above velocities. In the case of the .204, however, powder charges are rather small, and SAAMI maximum average pressures are 57,500 psi, noticeably less than the .22-250 Remington or .220 Swift. According to Hornady engineers, throat erosion should be similar to the .223 Remington; in other words barrel life should be long. (Hornady ammunition is loaded at or below 55,000 psi.)
In the Field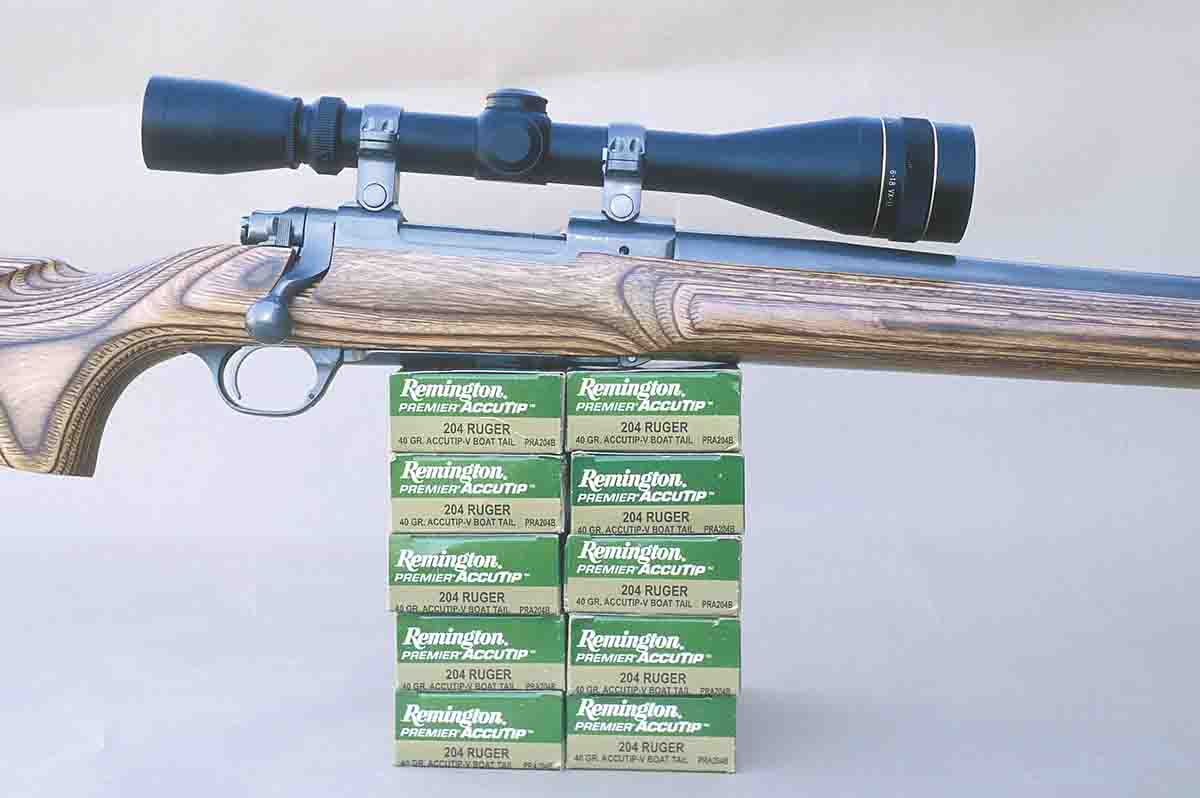 During the past summer months, I had an oppor­tunity to use the latest factory loads and guns in "heated" shooting sessions on over- populated prairie dog towns, so it seems prudent to share obser­vations.
While on a "dog" shoot in Miles City, Montana, I had a chance to work with Winchester Ammunition's new 34-grain hollowpoint advertised to achieve 4,025 fps (but actually produced 4,116 fps from a 26-inch barrel). The test vehicle was the new Dakota Arms "Serious Predator," a single-shot bolt action – one of the first Dakota production guns. This is a top-rate outfit featuring a Lilja barrel, a maker re­nowned for accuracy, and a trigger that can be adjusted down to 2 ounces but comes factory set at one pound. (The rifle I was using was not fitted with this new trigger mechanism, but by the time you read this it will be standard equipment.) Dakota offers three stock options in­cluding synthetic (All-Weather Predator), smooth AAA Claro walnut (Serious Predator) and checkered select Claro walnut with shadow-line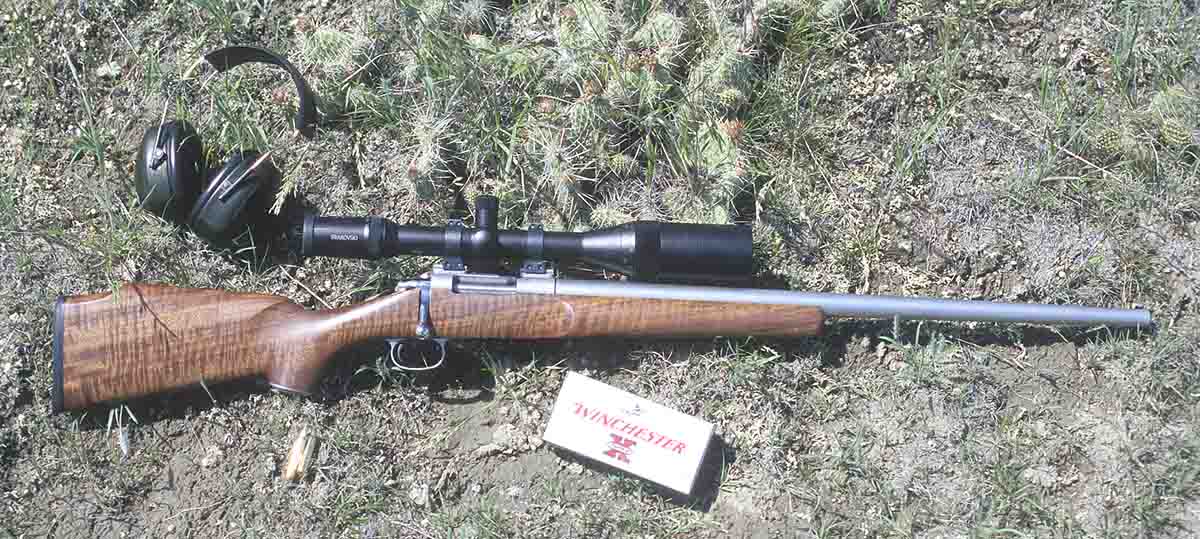 cheekpiece (Classic Predator). In short, the barreled action is identical for each model, just the stocks are different. Suggested retail prices are $1,995, $2,495 and $2,695, respectively. Each stock is pillar and glass bedded, and barrels are free floated.
The Dakota Serious Predator rifles were topped with Swar­ovski 6-24x PH-Series (Professional Hunter) scopes, featuring 30mm tubes and Plex reticles (with a couple featuring the TDS reticle). Swarovski Optik is world re­nowned for its ultra-clear optics, and these scopes proved no exception in the field. This is a serious predator outfit!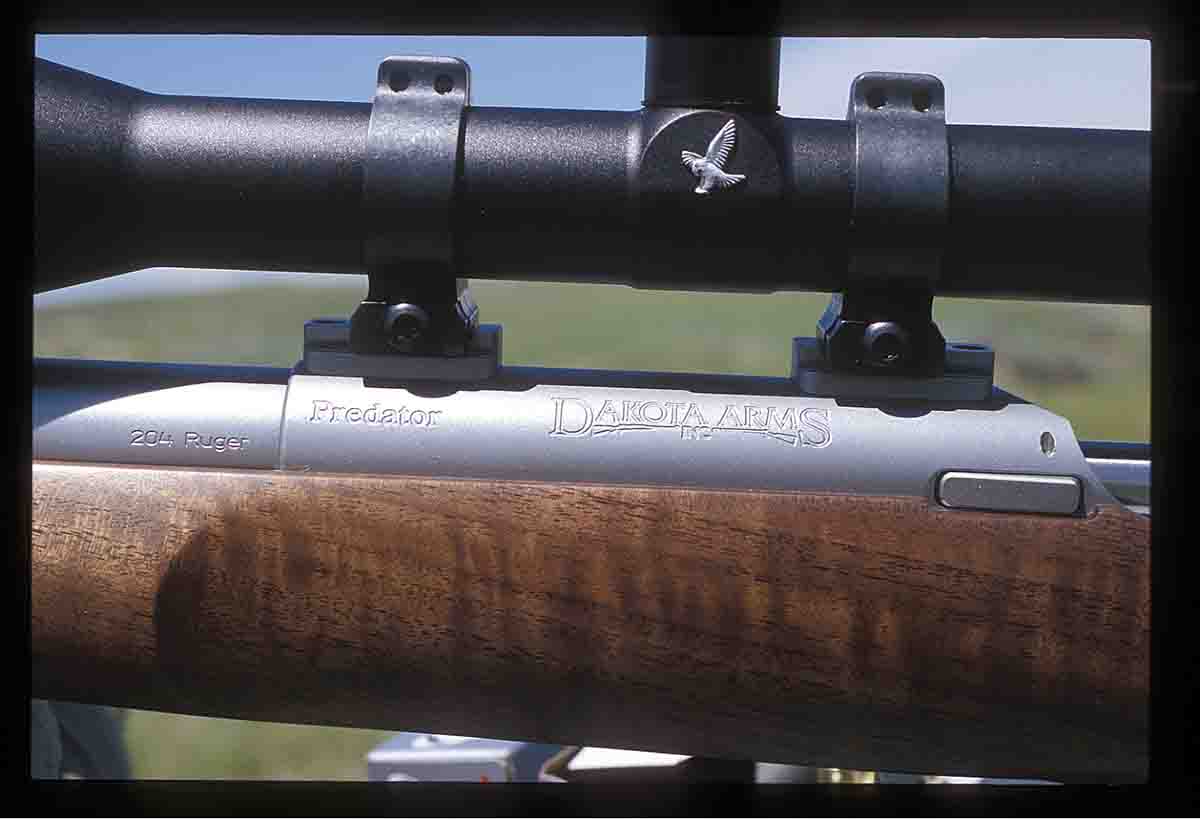 When my turn came to sight in the Dakota rifle, I settled on a sandbag rest at Ramshot/Western Powders' 100-yard range and began firing, while Mike Jordan (formerly of Winchester Ammunition) spotted. After getting the point of impact corrected, three shots were fired consecutively (with a warm barrel) that were touching. Obviously this load and rifle were working well together.
Spring had been wet in eastern Montana with rainfall practically every day for the previous two weeks, so our hosts were concerned about getting stuck on the prairie. We decided to let the claylike soil dry one more day. This gave us a chance to fire the guns from the bench at a variety of ranges on fun targets including eggs at around 200 yards and "paper" prairie dogs at 100 to 250 yards. The 34-grain Winchester load made a good showing, but late in the afternoon, the wind gusts became a real challenge, and like any other cartridge, bullets drifted – some­times erratically.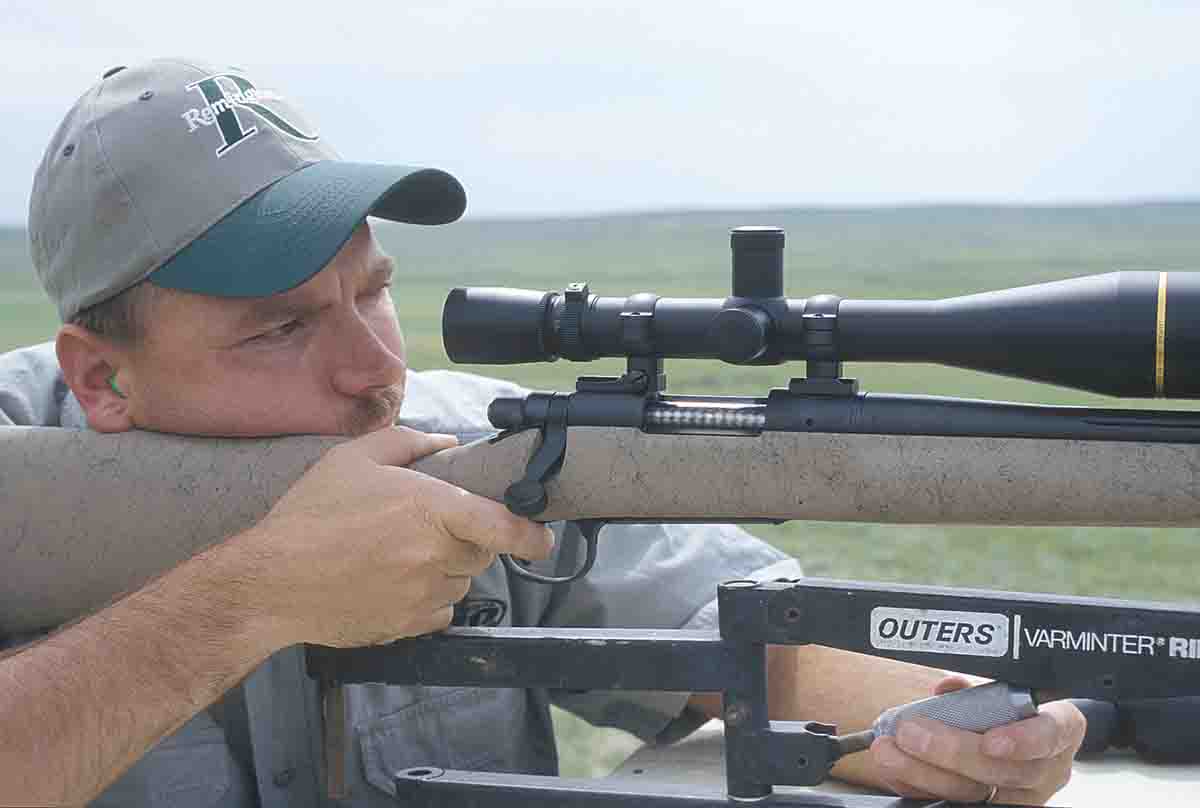 The next day we spent all day shooting prairie dogs, and to say that they were plentiful would be an understatement! Most towns had six or eight dogs standing on each mound, with perhaps hundreds of mounds. The wind was calm, and with an accurate rifle and several cases of ammunition, it seemed I must have been dreaming. But within a few minutes the barrel was smoking hot and the flea-bitten critters had been thinned considerably. The load was working well. The flat trajectory helped in making hits feasible at 500 yards, and bullets were striking hard (if you know what I mean). Examining terminated dogs, the 34-grain Winchester hollowpoint showed rapid expansion even at these longer distances.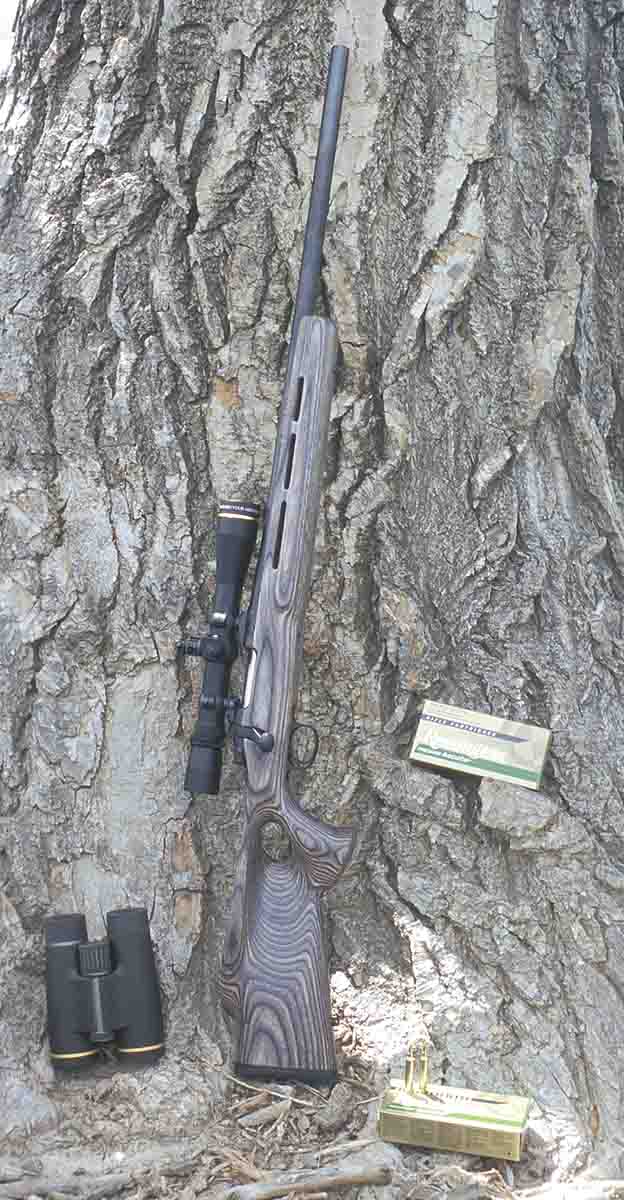 On another recent varmint shoot in eastern Wyoming, I had the opportunity to try new .204 loads and rifles from Remington Arms Company. The rifle I chose was the new Model XR-100 Range­master. The action is based on the XP-100 target pistol with a single-shot solid bottom receiver. The trigger is bor­rowed from the Model 40-XB target rifle with external pull adjustment that ranges from 11⁄2 to 31⁄2 pounds. The thumbhole stock is laminated with a ventilated beaver­tail forearm to help cool the bar­rel (a helpful feature on "heated" varmint shoots). The barrel is 26 inches and contoured to give an overall rifle weight of 91⁄8 pounds. The XR-100 has all the right features to catch the attention of precision shooters and varmint hunters. My compliments to Remington, as the XR-100 Rangemaster carries a suggested retail price of just $905, a remarkable value.
The Remington rifles were top-ped with Leupold VX-III 6.5-20x and 8.5-25x variable scopes. Both feature all the upgrades applied to this line a couple of years ago, including "Index Match" lens coating (offering a 6 percent increase in light transmission over the Vari-X III) and finger-click 1⁄4 MOA adjustments. There is also a focus adjustment mounted on the left side of the turret housing, a real convenience as the rifle can be left at the shoulder and the focus (or parallax) adjusted with the left hand.
The Remington factory load (used on this shoot) is of the "Premier" AccuTip-V line and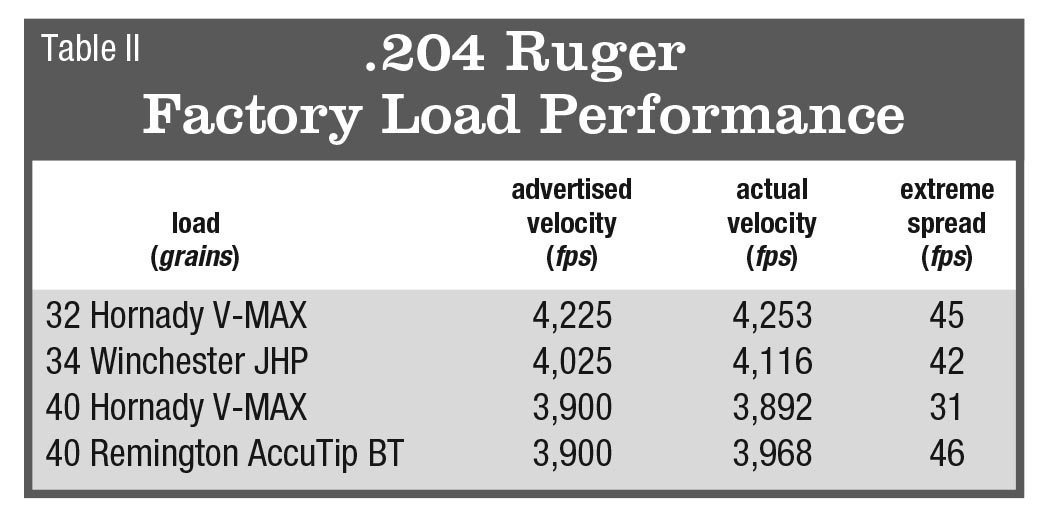 represents the company's best varmint ammunition. The 40-grain bullet features a polymer tip that is designed to offer high ballistic coef­ficiency and rapid expansion. To further enhance its BC, it's a boat-tail. The result is a bullet with greater BC than a .22-caliber spitzer weighing 60 grains. The muzzle velocity is advertised at 3,900 fps, a combination that makes an excellent long-range varmint load. This load clocked 3,968 fps from a 26-inch barrel, so Remington's advertised numbers obtained from a 24-inch barrel are close to the mark. Remington has also introduced a 32-grain AccuTip-V load at 4,225 fps.
We had two days of steady shoot- ing. The wind was mild on the first day, then became strong on the second. I did not have the opportunity to try the Remington Model XR-100 Rangemaster from a sandbag rest and on paper, but it quickly became clear that this was indeed an accurate rifle/ammunition combination. Many dogs were taken consecutively in a "string" of shots at some impressive distances – at least as long as I could do my part.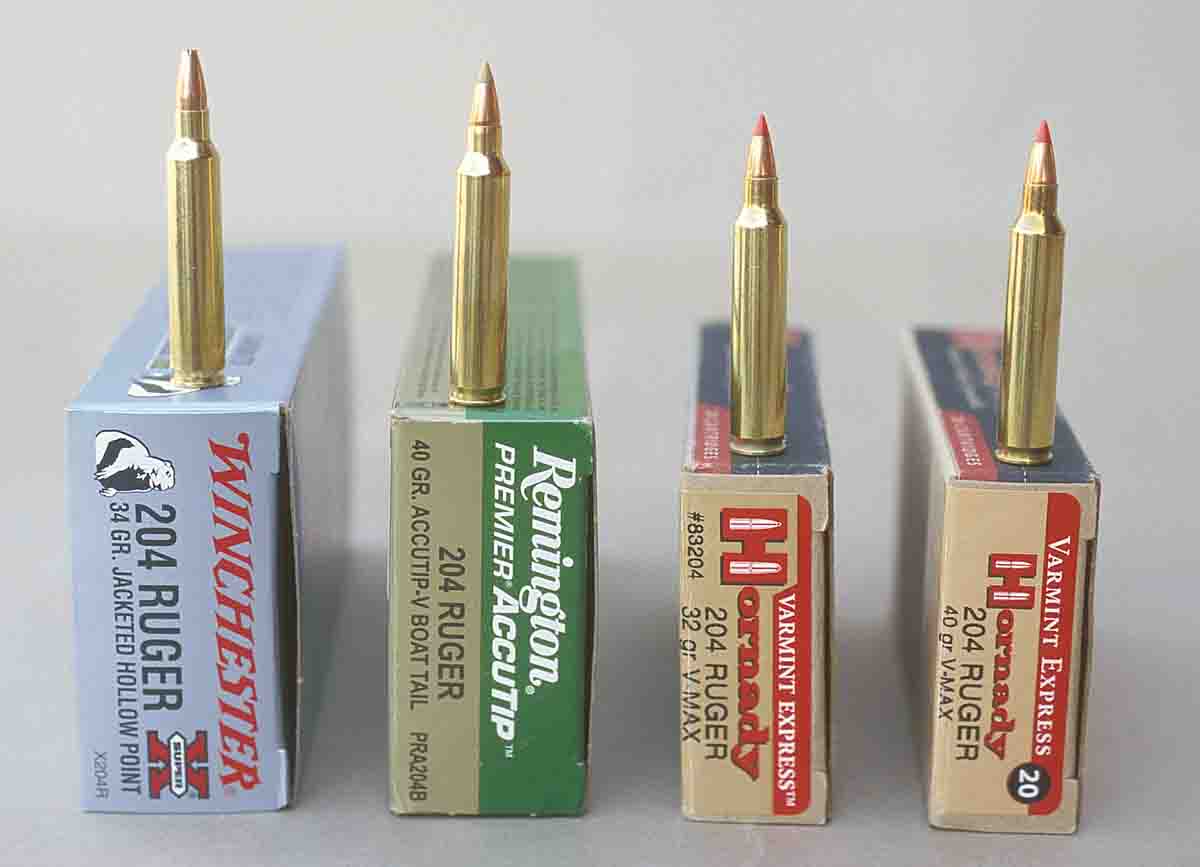 After firing several hundred rounds of .204 ammunition on that first day, we ran out of ammunition (at least until we could make it back to the motel), so I switched to a rifle chambered in .22-250 Remington for the last 40 or 50 rounds of the day. The first thing I noticed was that the muzzle blast was significantly greater (in spite of wearing both ear plugs and muffs), and due to the extra muzzle lift, the "results" could not be seen through the scope after firing. The .22-250 Remington ranks as one of my favorite bottleneck rifle cartridges, especially as a varmint number, but I was missing the .204! I did not comment to my companions regarding this ob­servation, but at the end of the second day, another writer, whom I have great respect for and is an excellent rifleman, also ran low on .204 ammunition and switched to the .22-250. That evening at dinner, he commented to the effect that after using the .204, the .22-250 just seemed to be "right in his face" and was by comparison unpleasant.
In spite of the husky winds, on the second day shooting was great, and we stayed with it all day. Under such circumstances, the 40-grain bullet is definitely a better choice than the lighter weights, as it was less affected by drift. At the longer ranges, it had plenty of wallop for humane kills. I am becoming more impressed with the .204 with each outing.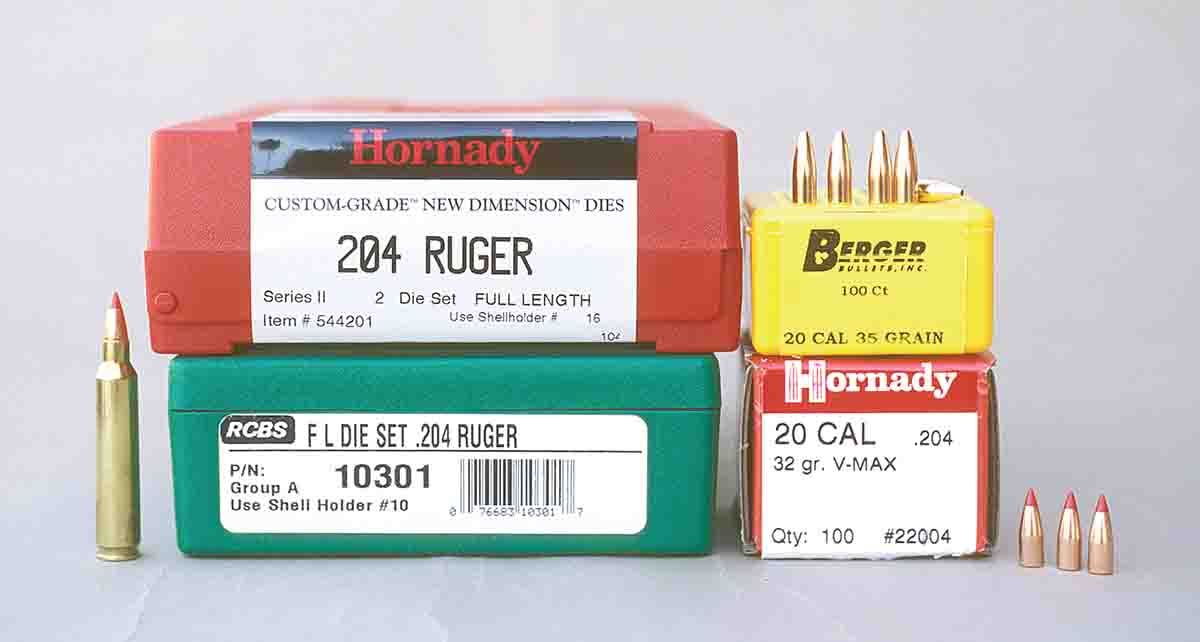 Bullet impact of the .204 can generally be seen through the scope when using a typical varm­int rifle that weighs 91⁄2 to 93⁄4 pounds plus scope. The convenience of this feature cannot be overstated, especially when it is windy. For example, let's say there is a dog at 300 yards with a 20- to 22-mph crosswind (a very real scenario). Knowing that the bullet will drift, we compensate by holding three or four dog widths upwind and squeeze the trigger. If we instantly see the bullet strike 3 inches to one side of the dog, the shooter can correct with the next shot and probably connect. If the next dog is spotted at 350 yards, several more inches of wind drift will take its toll on the bullet, assuming that the wind remains exactly the same, which it never does. This is difficult shooting, but again, seeing the bullet strike so that corrections can be made help the hit ratio improve dramatically. And when a solid connection is made, it is rewarding to see the spectacular results.
The .204 Ruger has been around a couple of years, and considering the new guns and ammunition, with more on the way, it appears it's going to be much more than just a flash in the pan. If you have considered purchasing one, I don't believe you will be disappointed. I just sent a check ordering a second one.