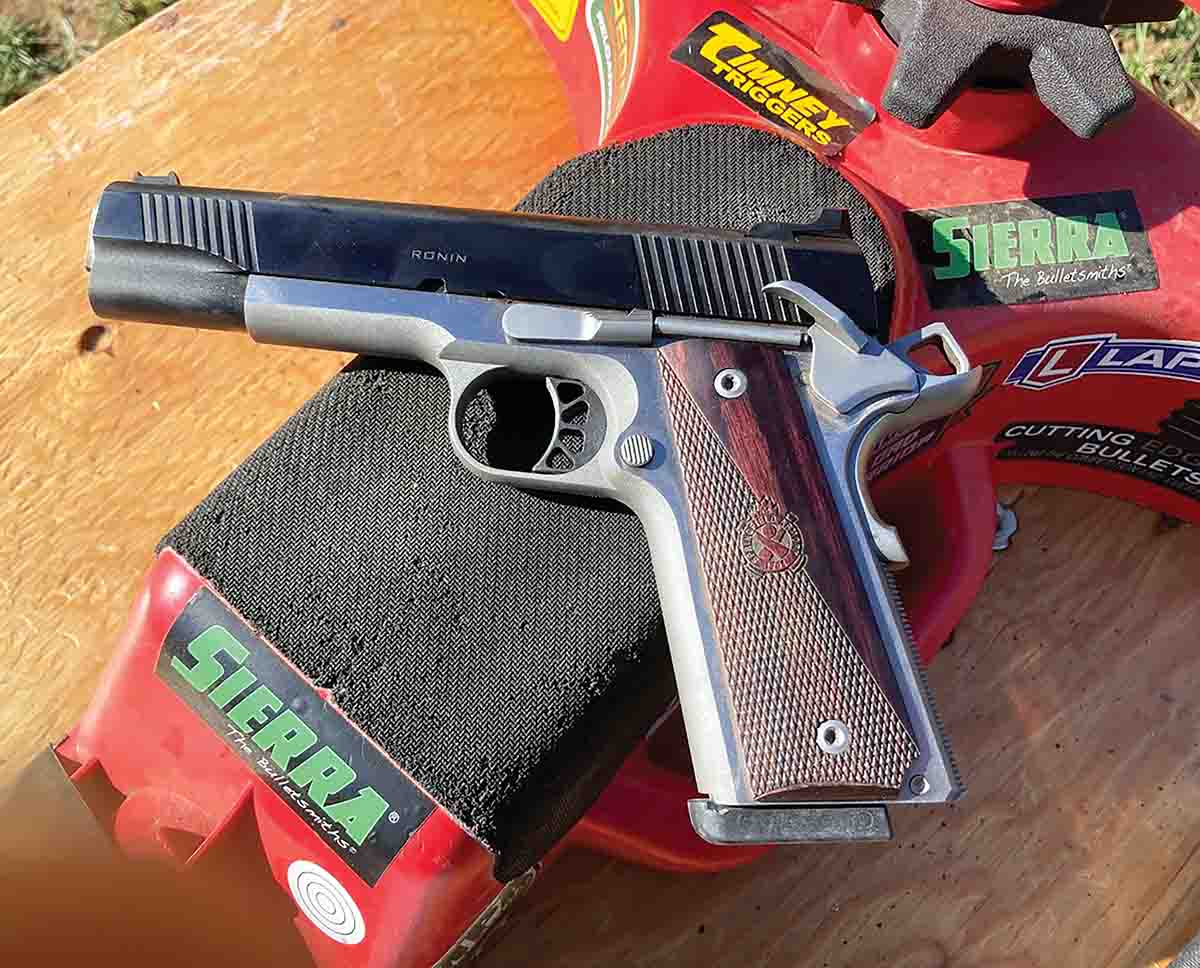 I handled my first 10mm Auto while wild boar hunting behind hounds about 1990. The borrowed 1911 acted as backup during a bow hunt – which, it turned out, I would actually need. Those northern California boars were especially ill-tempered and dogs have a way of turning up the temperature. To make a rather long story mercifully short, at the end of a gruelingly long chase I stopped a full-on charge by pumping three quick 10mm slugs into the point-blank, grunting blob. The boar staggered onto its side only feet away. The 10mm Auto had lived up to its reputation as a serious thumper, on an animal that later pulled a ranch scale to 368 pounds gutted.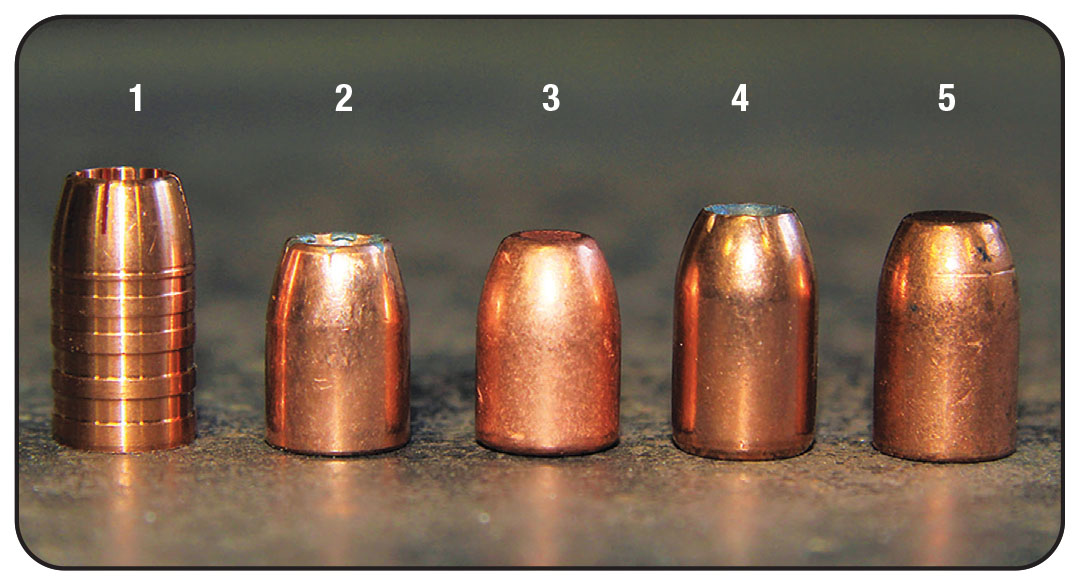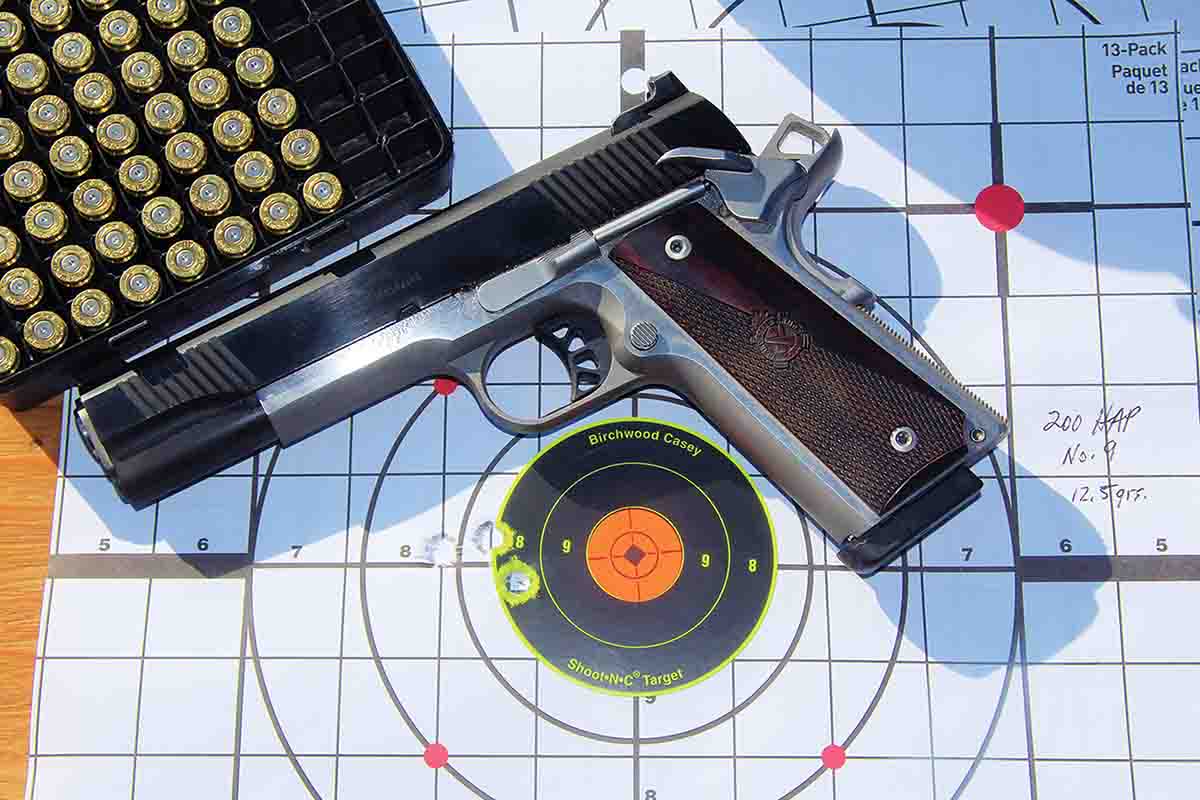 The 10mm Auto was designed by Whit Collins, John Adams and Irving Stone, with input from Jeff Cooper of Gunsite Academy fame. Cases were created by cutting down .30 Remington brass. The pistol was introduced in 1983 by the California company Dornaus & Dixon via the Bren Ten pistol, with Norma producing the factory ammunition. Dornaus & Dixon soon encountered financial problems, with Colt taking the baton in 1987 and introducing the 10mm Delta Elite on a beefed-up 1911 frame. For a short time, the FBI believed the 10mm was the answer to inadequacies demonstrated during the infamous 1986 Miami Florida shootout, where several agents were killed by bank robbers, who inflicted casualties after absorbing several shots from standard-issue handgun cartridges. Yet, it was soon discovered many agents couldn't handle the 10mm Auto's recoil.
The 10mm enjoyed a short period of popularity, which eventually waned, though the cartridge has always maintained a cult-like following with specialized segments of U.S. shooters, namely hunters. The cartridge is capable of cleanly taking deer- and hog-sized animals with well-placed shots. The cartridge seems to be enjoying a resurgence in popularity as of late.
The 10mm Auto handles any currently available .40-caliber bullet, including weights down to 135 grains pushed to nearly 1,600 feet per second (fps). Yet, 180- to 200-grain bullets help the 10mm shine. Two-hundred-grain bullets sent at around 1,200 fps were the original 10mm Auto standard, though more recently 180s have become de rigueur, providing velocities up to 1,200-plus fps and delivering around 650 foot-pounds of muzzle energy – about 150/200 foot-pounds more than the .45 ACP. The 10mm includes 22 percent greater case capacity than the more popular .40 S&W. The 10mm includes a maximum pressure of 37,500 psi – about 7 percent higher than the 9mm Luger and .40 S&W. The high price of factory ammunition makes it a handloader's cartridge.
Auto Prerequisites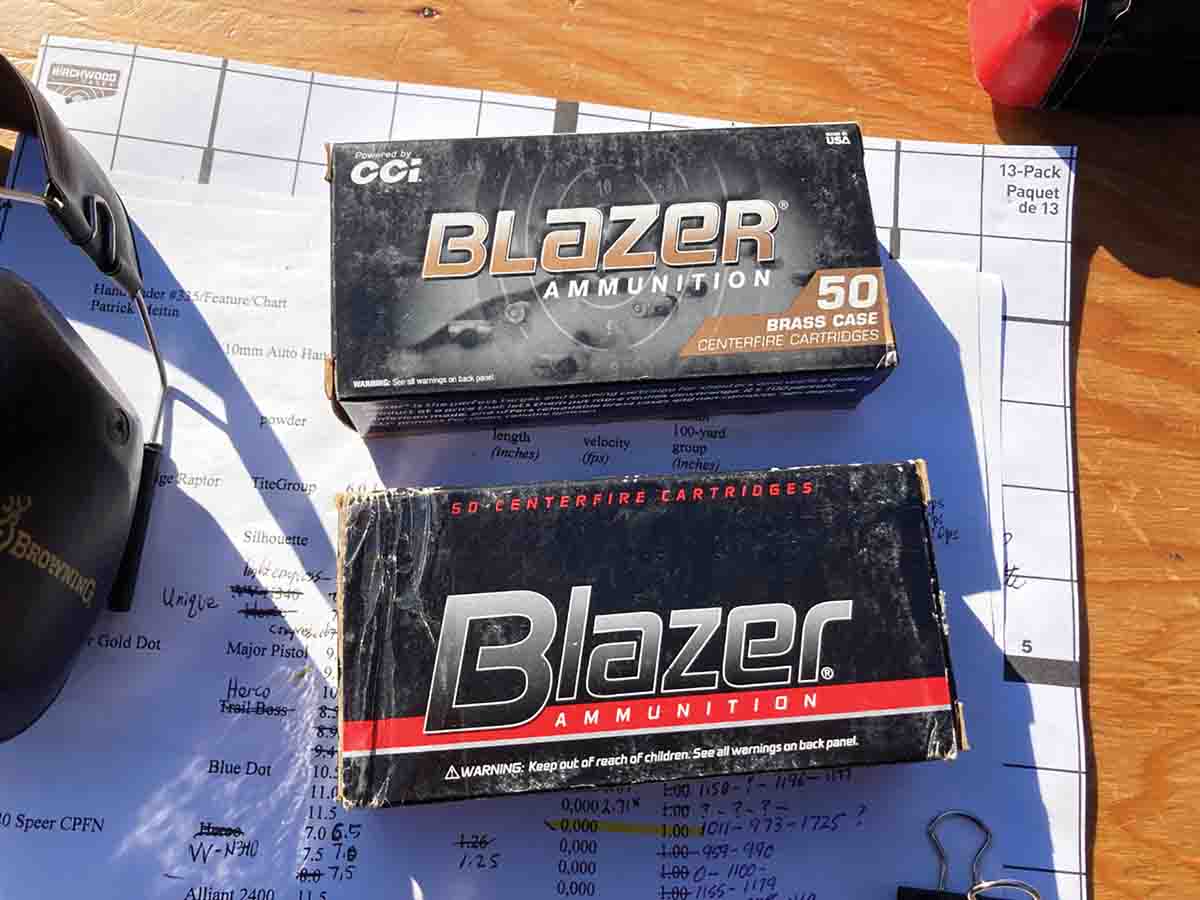 Like other rimless autopistol cartridges, the 10mm headspaces on the case mouth. This requires finishing rounds with a light taper crimp to hold the bullet securely but also provide proper headspacing. Maximum overall loaded length (OAL) is 1.26 to 1.27 inches. Heeding listed seating depths is
vitally important, as seating bullets too deeply can introduce pressure spikes. Maximum case length is .992 inch – an important dimension due to headspace requirements. Trim-to specs are .982 inch, though most 10mm brass will likely require disposal due to wear before trimming becomes necessary.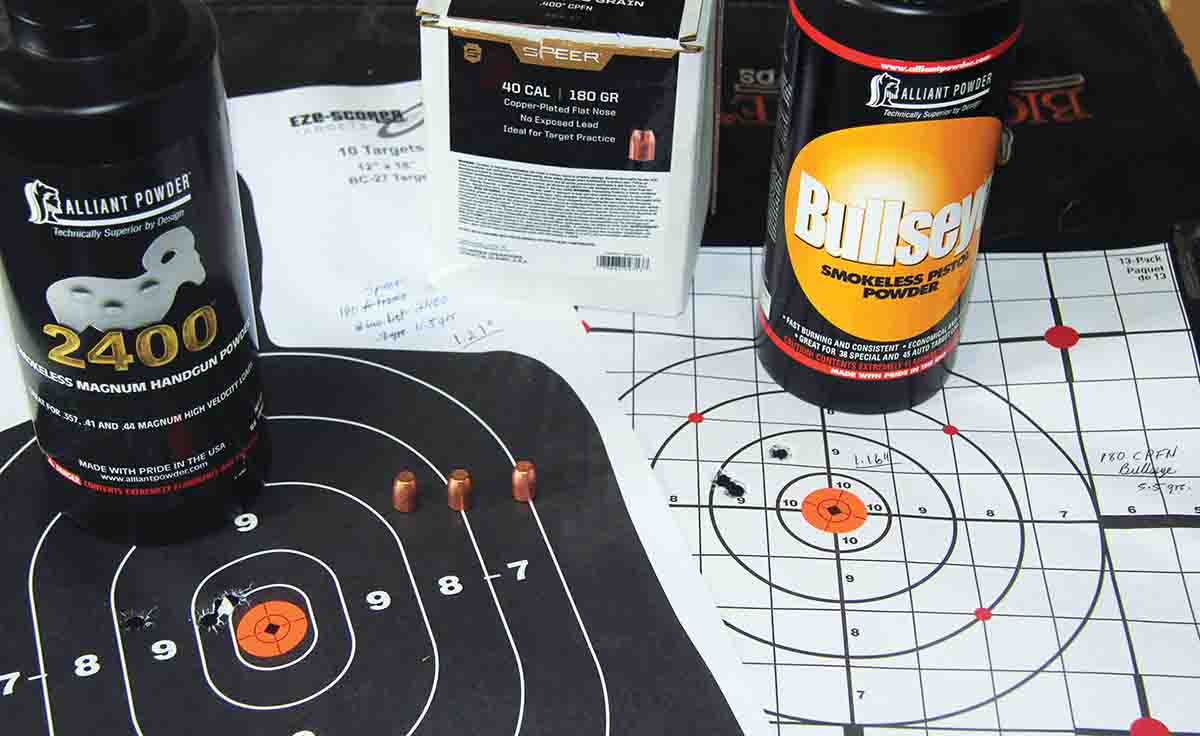 Segregate 10mm brass by length to realize top accuracy.
Some rules of thumb also apply. It is essentially impossible to glean any pressure information from the condition of fired primers, as even light loads eject brass with flattened primers. More importantly, when planning loads, bullet length becomes as important as weight. When seated to the required overall length for proper headspacing, heavier and/or longer bullets occupy more case space and raise pressures from a combination of added bearing surface or extra weight. This also means light-for-weight, lead-free bullets can require reduced load charges, just as with heavier lead bullets.

The Pistol
The test pistol was a 40-ounce Springfield Armory Ronin 1911 with a 5-inch barrel including a balance of classic styling and modern features. The Ronin is a full-size, 5-inch handgun with 8+1 capacity, 1911-style grip safety and comfortable beavertail configuration. It features a match-grade, hammer-forged, stainless steel barrel with 1:16 rifling twist. The Gen 2 Speed Trigger is streamlined and skeletonized, and broke crisply at 4.86 pounds out of the box. The handsome pistol includes a two-tone finish with a stainless steel forged frame and forged
carbon steel hot salt blued slide. The Springfield "Crossed Cannon" laminate wood grips are heavily checkered for a sure grip. The iron sights include a white-dot rear Tactical Rack and fiber-optic front bead. The Ronin isn't cut to accept a dot sight. The pistol is supplied with one extended 8-round magazine with a base pad and includes a very reasonable $849 manufacturer's suggested retail price.
Of note, the Springfield did not experience a single failure to chamber or stoppage during the entire test – with factory ammunition or handloads – while also providing excellent accuracy.
Procedures & Components
All test groups consisted of three shots from 25 yards atop a MTM Predator rest set on a bench. The pistol generally pushed straight back during recoil, making it surprisingly pleasant to shoot. Overall, I found all the talk of the 10mm's spooky recoil hugely overblown, the handgun no less manageable than +P .45 Auto loads in a similar 1911 frame. I also carried the Ronin throughout Idaho's spring bear season, the pistol riding on the hip comfortably and without proving burdensome, even while packing bait and riding ATVs in rough terrain.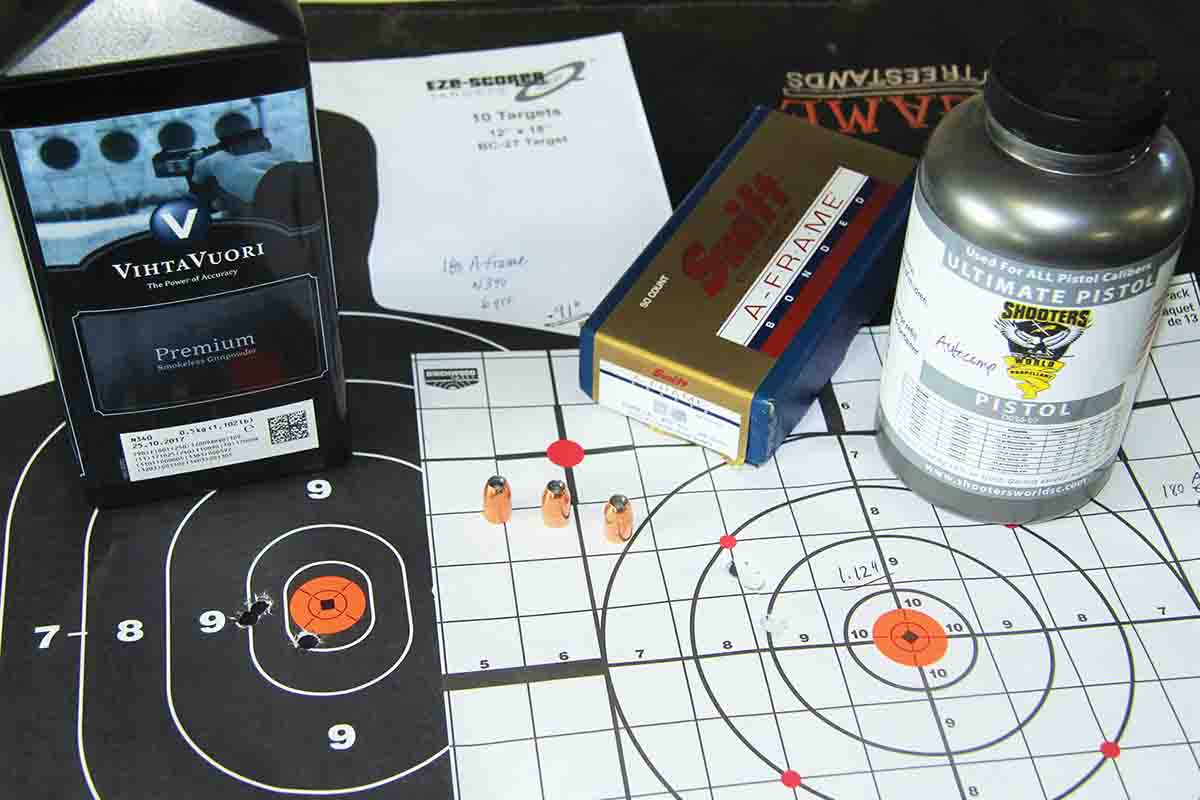 Due to current supply-chain issues and panic hoarding, test bullets weren't chosen so much to represent a thorough cross section of possibilities, but were comprised of what I could actually get my hands on before print deadline. The 10mm thrives on medium burn-rate pistol powders, and again, I collected what examples I could find or trade for. Spherical powders take up less case space, so are generally preferred. The 10mm Auto uses standard large pistol primers.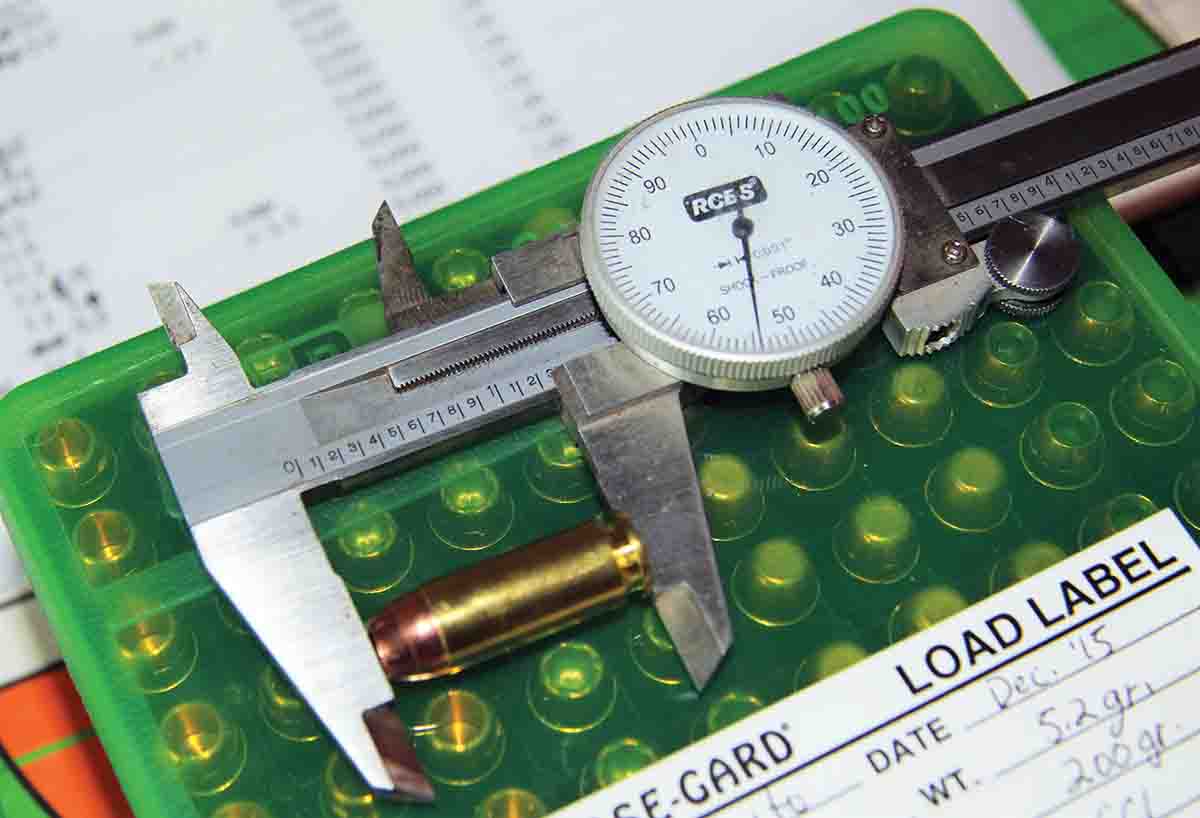 Test bullets consisted of Cutting Edge Bullets' 150-grain all-copper Raptor, Speer's 165-grain Gold Dot, a plated-lead 180-grain Speer (Copper Plated Flatnose), Swift's 180-grain A-Frame and Hornady's affordable 200-grain Hornady Action Pistol. Powders were a mix of older classics and newer formulas, though some 10mm Auto ideals like Accurate No. 5 and No. 7, Alliant Power Pistol, Vihtavuori N350 and VV-3N37, Winchester 231 and Hodgdon Longshot were unavailable during testing. Listed groups are perhaps more indicative of my rusty handgun-shooting skills than true load potential, as many very tight groups were ruined by single fliers.
My first lesson in bullet length verses powder bulk appeared with the Cutting Edge Raptor – a self-defense option. This monolithic copper slug includes a deep, slotted hollowpoint to initiate extreme expansion with a long-for-weight profile of .74 inch (The Hornady 200-grain bullet measured .655 inch by comparison.) despite its light 150-grain weight. Bullets recovered from the moist clay backstop included the solid copper base and four break-off petals.
Hodgdon's Titegroup, with its high power-to-weight ratio, and Ramshot Silhouette, a fine powder, worked perfectly with the Raptor, allowing seating to length without powder compression. I ran into problems with bulky Vihtavuori N340, replacing it with Alliant Herco only to find that flake powder is also too bulky. Good old Alliant Unique solved the problem, the ancient powder slightly compressed with the maximum 7.5-grain charge, though ultimately mild shooting. Loads were reduced up to a full grain below suggested lead-core data maximums to compensate for the increased bearing surface and any inadvertent powder compression. Overall, loads proved so pleasant that even an FBI agent should be able to handle them. Ramshot Silhouette provided top velocities (1,156 to 1,311 fps) with a 2.70-inch group average, with Titegroup producing the best overall accuracy (1.92-inch average, 1.40-inch best group with this bullet) with decent velocity of 1,160 to 1,223 fps. Seven grains of Unique produced the second best group, 1.47 inches at just 1,077, with other groups breaking 3 inches.
Speer's Gold Dot evolved from FBI protocols drafted in response to the Miami incident already referenced. This dependable hollowpoint provides reliable expansion combined with excellent weight retention and consistent penetration through a plated-jacket design. I wouldn't hesitate to hunt wild hogs with this bullet, even at just 165 grains. Shooters World Major Pistol, Alliant's Herco (older formula) and Blue Dot were paired with this bullet. Major Pistol proved a touch pokey, clocking just 1,079 fps with a maximum load and producing a 2.59-inch group average, with the best group measuring 1.94 inches at 1,079 fps. Herco boosted velocity (1,134 to 1,220 fps) and produced a smaller 2.42-inch overall group average, including a standout group of 1.70 inches at 1,151 fps despite a single flier. Blue Dot proved the velocity king with the Gold Dot bullet starting at 1,177 fps with 10.5 grains and finishing at 1,256 fps with 11.5 grains, with an overall group average of 2.08 inches, and the best group of 1.37 inches with the 11.5-grain maximum loads – a definite hunting option.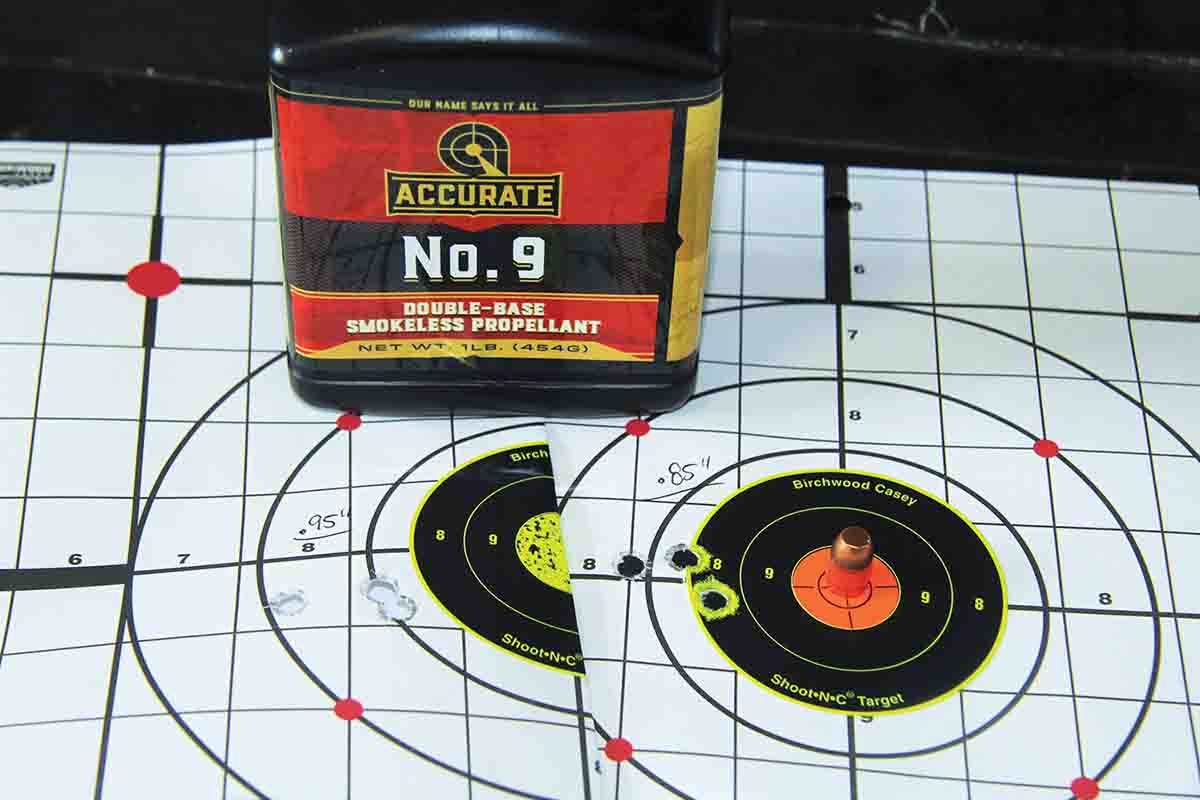 The 180-grain Speer Copper Plated FN is a highly-affordable choice for plinking and general target practice, though I have faith it would work just fine for most hunting applications. The plating is bonded to the lead core to produce reliable penetration. Vihtavuori N340, Alliant 2400 and Bullseye served this bullet. Factory Blazer Brass Case ammunition loaded with this bullet clocked 1,167 fps on average. VV-N340 provided its best accuracy at a slow 975 fps with 6.5 grains of powder, hitting 1,167 fps with a maximum charge of 7.5 grains, but with fairly poor accuracy (average 2.31 inches for all loads). Alliant's 2400 proved a serious winner, not only producing excellent 1,166 to 1,245 fps velocity, but an overall 1.58-inch group average. The best group was with the start load of 11.5 grains, but that load still clocked 1,166 fps, maintaining 1.53 inches at 1,177 fps (12 grains of powder) and opening to 2.01 inches with the 1,245 fps maximum load. Bullseye proved accurate (1.68-inch average) but posting velocities from just 848 to 965 fps. These loads are not without merit though, offering affordable, accurate and light-recoiling target/plinking loads.
Ultimately, Swift's 180-grain A-Frame pistol bullet would be my first choice for serious big-game hunting. An aggressive hollowpoint promises hard-hitting shock and devastating wound channels, while the copper cross strut checks expansion to ensure weight retention and deep penetration. Shooters World Ultimate Pistol, Alliant Blue Dot and Vihtavuori N340 were chosen for this bullet. Ultimate Pistol proved quite accurate, averaging 1.37 inches with all loads, and velocity fair at 1,066 to 1,181 fps. Blue Dot fairly matched Ultimate Pistol velocities, but with a larger 2.02-inch group average. Based strictly on accuracy, VV-N340 was the winner, showing an impressive 1.17-inch group average but with lackluster velocity (832 to 1,045 fps) – offering another excellent target/plinking load.
The 200-grain Hornady Action Pistol bullet (HAP) is an affordable option that packs a heavyweight punch – the bullet I would choose for deep-driving backup in bear country. This 200 grainer was naturally the longest of the lead-core bunch. Finer-grained Accurate Silhouette, Accurate No. 9 and Shooters World Major Pistol powders were chosen to eliminate compression. It would seem Major Pistol is not the best choice for the 10mm Auto in general, having performed poorly velocity-wise with the 165-grain Gold Dot as well. It did not seem to do best with maximum loads regarding accuracy, clustering into 1.53 inches at just 1,037 fps. The best group with the Gold Dot was also a maximum load. With the 200-grain bullet, Silhouette also failed to impress, proving slow and averaging 2.54-inch groups with all loads. The clear winner was Accurate No. 9 with impressive velocities combined with excellent 1.25-inch average accuracy. This powder deserves more experimentation with other bullets.
If I were to purchase this pistol – and I'm seriously considering it – my clear powder choices would include Alliant Bullseye and Vihtavuori N340 for accurate, pleasant-shooting practice/plinking loads, and Alliant Blue Dot and 2400, Shooters World Ultimate Pistol and especially Accurate No. 9 for thumper hunting loads. The 10mm Auto is a fine hunting cartridge, and the Springfield Ronin is ideal.