The Sig Sauer Pro pistol series was developed in 1998 and was the company's first to feature a polymer frame. It was developed jointly by Switzerland based Schweizerische Industrie Gesellschaft (SIG) and J.P. Sauer & Sohn, thus the "SIG Sauer" name. Currently they operate under the title of SIG Arms AG. SIG Sauer has been producing high-quality double-action/single-action semi- automatic pistols for many decades, with a notable example being the P220 that first appeared in 1976.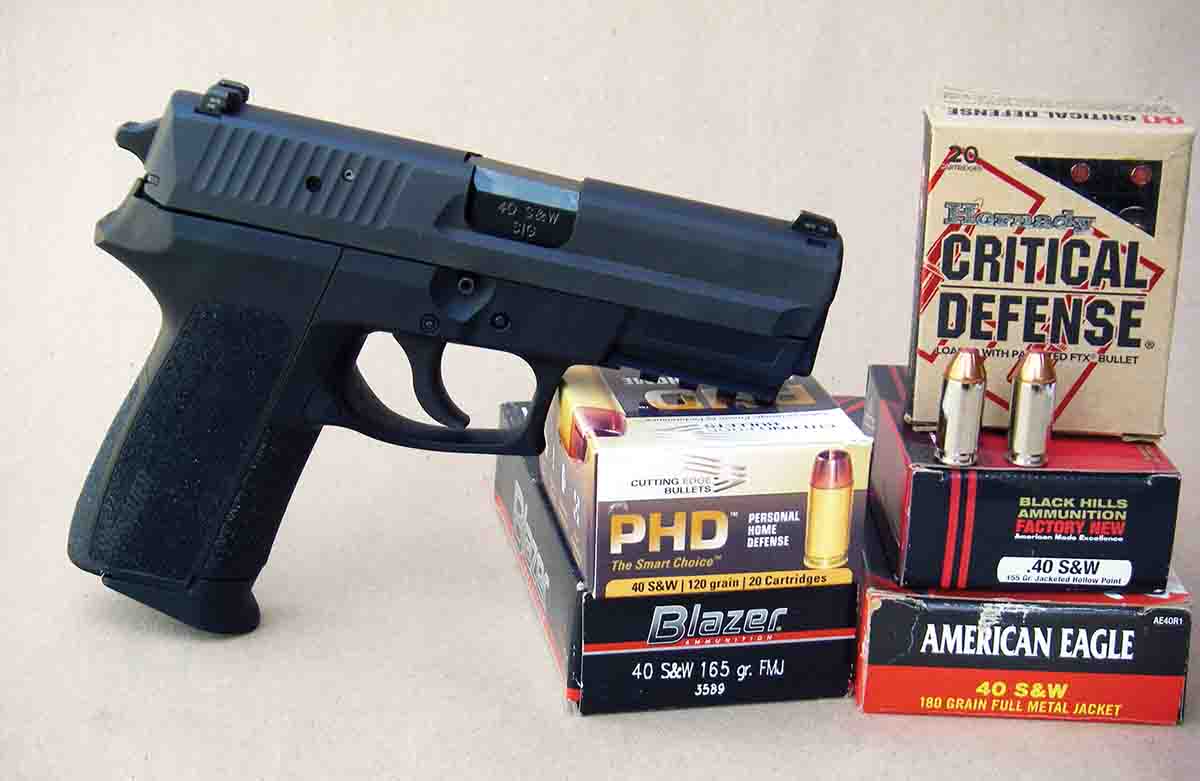 Most of SIG Sauer's competition has come in the form of polymer-frame pistols from Glock, Springfield Armory, Smith & Wesson, Ruger, H&K and many others. These pistols can be produced at a substantial savings, or what is commonly referred to as a "price point." SIG Sauer responded with its Pro series, which has around a half-dozen sub-models with various features. Originally developed for the .40 S&W and then the .357 SIG, it is also offered in the widely popular 9mm Luger (9mm Parabellum).
A SIG Sauer SP2022 .40 S&W produced in Exeter, New Hampshire, was selected for review. A factory source indicated this particular variant chambered in 9mm NATO was designed specifically for French law enforcement and internal security agencies (National Gendarmerie, National Police, French Customs, etc.) to replace their PAMAS G1 service pistol, a variant of the aging Beretta 92.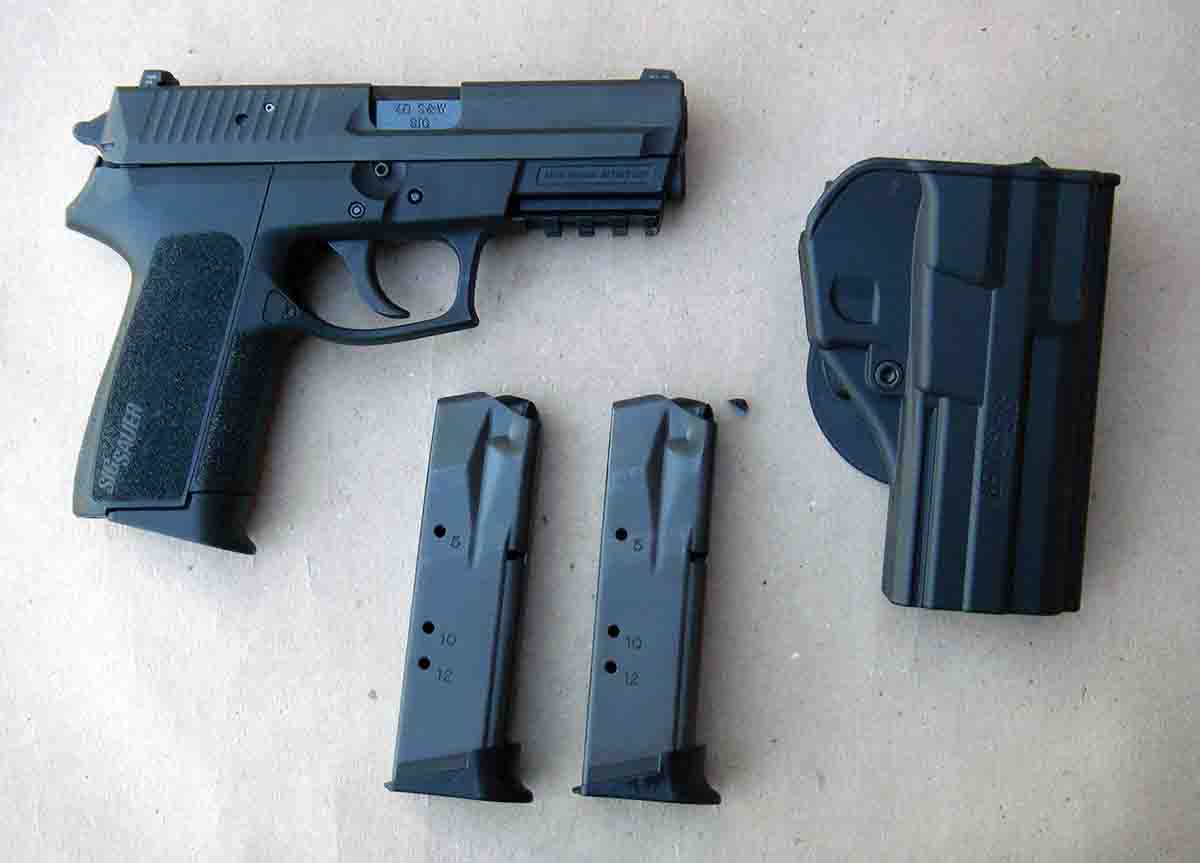 The SP2022 has also been adopted by several other major world militaries, including Iraq. The pistol was tested and purchased by the U.S. then issued to the Multi-National Security Transition Command-Iraq and the Iraqi Army. Endurance and torture tests have proven that the SP2022 is a virtually failproof pistol that offers unusually long service and functions reliably, even when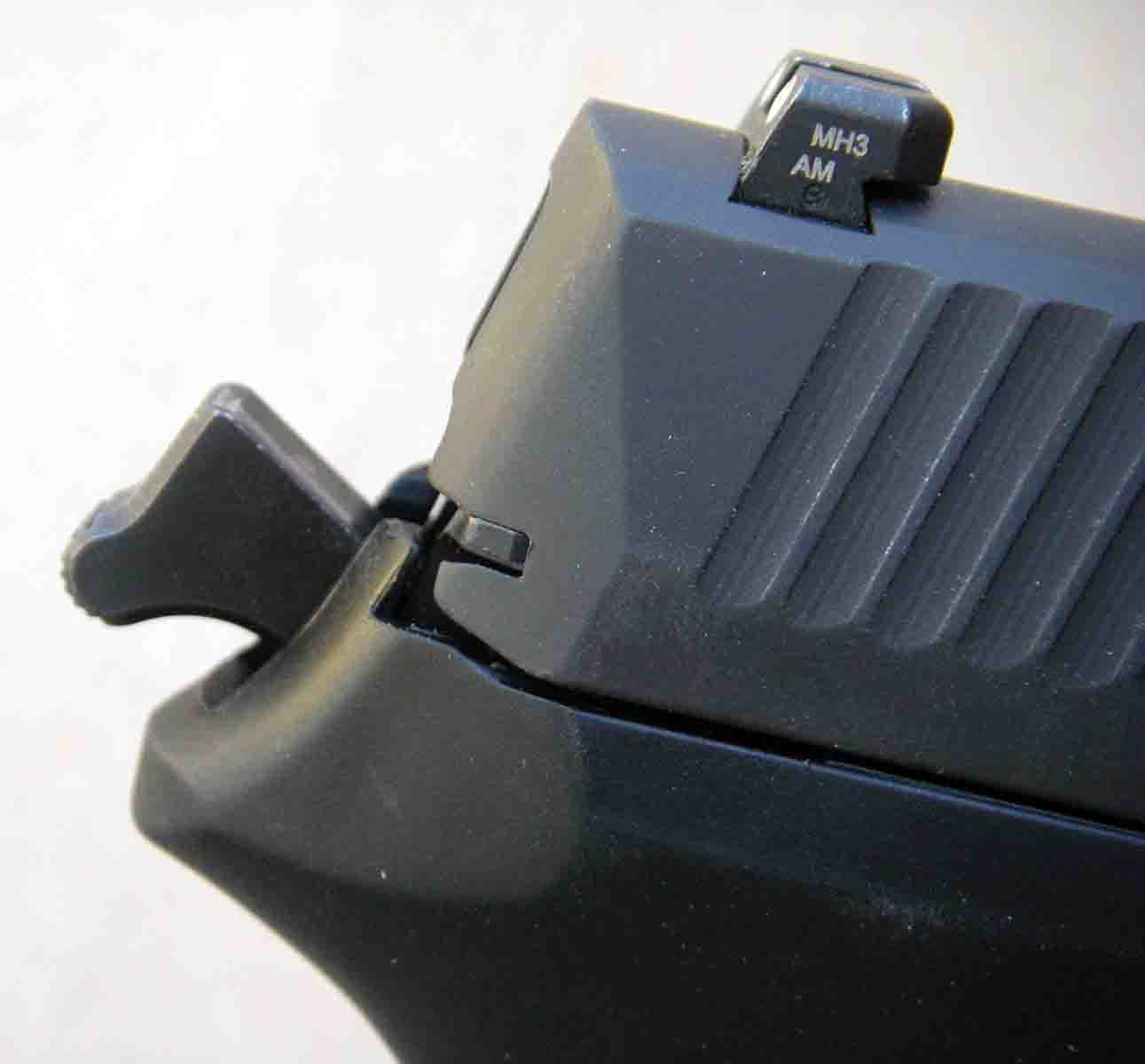 subjected to dirt, sand, etc. Reports list an incredibly high number of cartridges being fired through test guns without failure. That figure is so high that I am hesitant to list it here.
The polymer frame SP2022 is a full-size pistol that weighs a mere 29 ounces, which is notably less than similar steel frame counterparts. With a street price starting at around $450, it can be purchased for roughly half the cost of comparable all-steel SIG Sauer models and is more than competitively priced when compared with the competition featuring polymer frames. What is really interesting is SIG Sauer puts forth very little effort at promoting the SP2022, yet it boasts of robust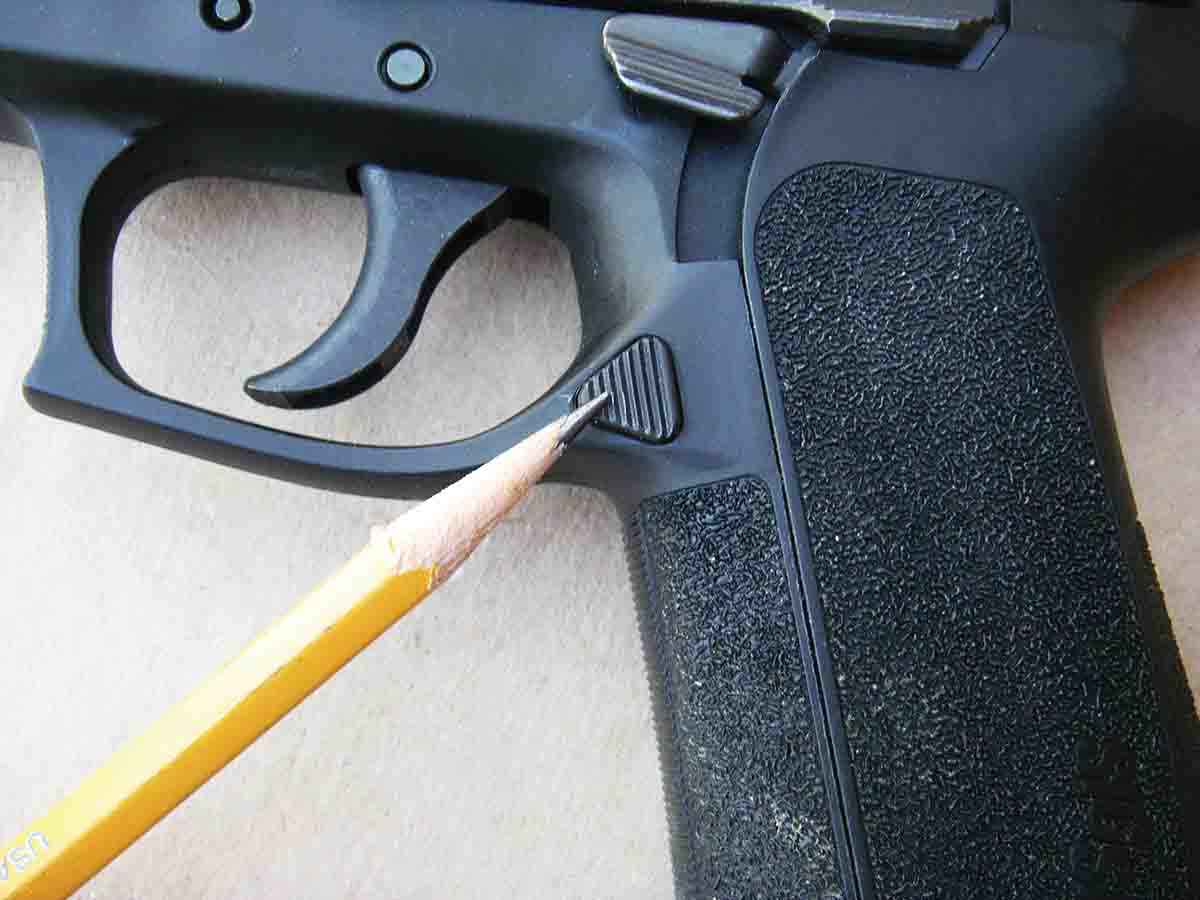 sales and high customer satisfaction.
As indicated, the SP2022 is a double/single-action semiautomatic design with an external hammer. It is short-recoil operated with a locked breech design based on the Browning cam-operated system, with the barrel locking into the slide via the ejection port. It features a decocking lever that requires only minimal travel to engage, and an easy-to-reach magazine catch.
The double-action (DA) pull is around 10 pounds while the single-action (SA) pull broke at just over 4.5 pounds. The DA pull is smooth and fluid all the way through the cycle. The trigger is smooth with rounded edges, which is much preferred for DA shooting. The trigger shape also receives high marks as hundreds of rounds can be fired in a single session without any "wear and tear" to the trigger finger. The SA pull has an ordinary amount of take-up for a double/single action autoloading pistol, with only slight creep and respectable pull. The slide catch lever extends back far enough to allow practically all shooters to maintain their grip and release the slide catch lever with the thumb to drop the slide.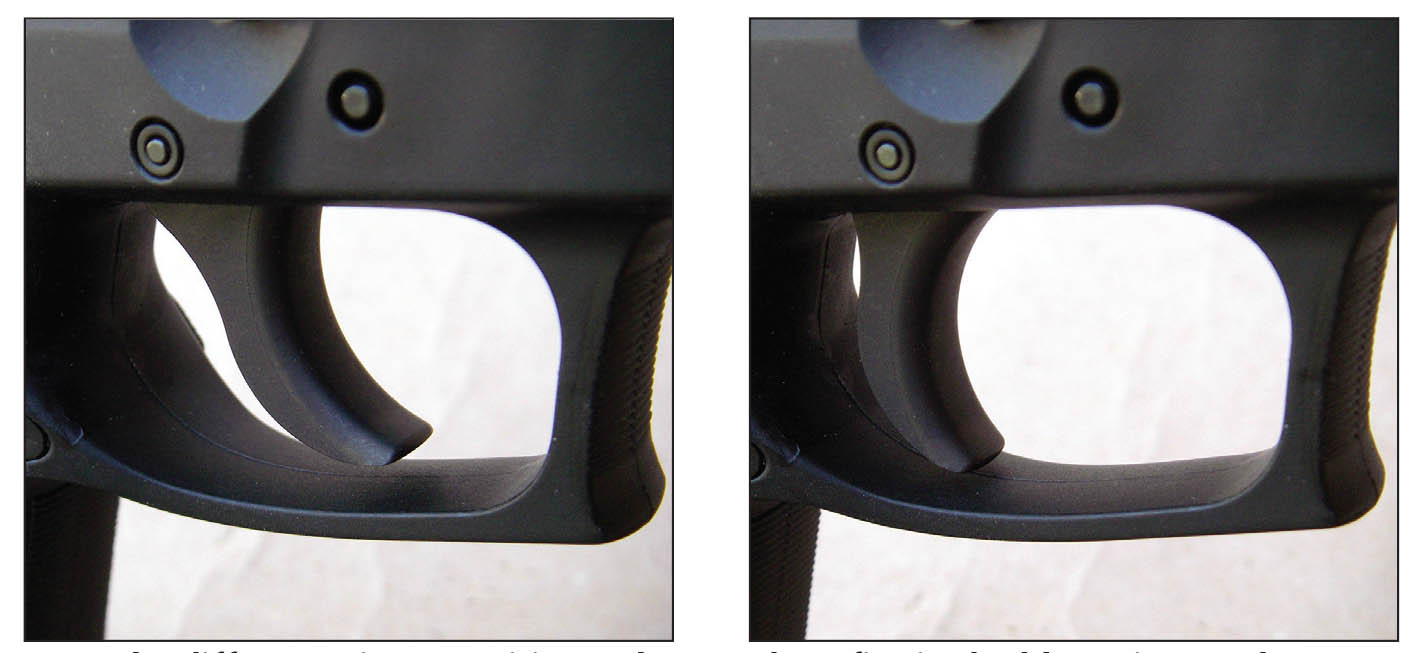 The magazine catch can be reversed to accommodate left-handed shooters, and with just a little practice the hammer can be manually lowered with the thumb, which eliminates the need of using the decocking lever. Left-handed shooters can also use their trigger finger to release the slide catch lever and drop the slide, or if inserting a loaded magazine the slide can be pulled back and released to chamber a round. All of this makes the SP2022 a reasonable choice for left-handed shooters.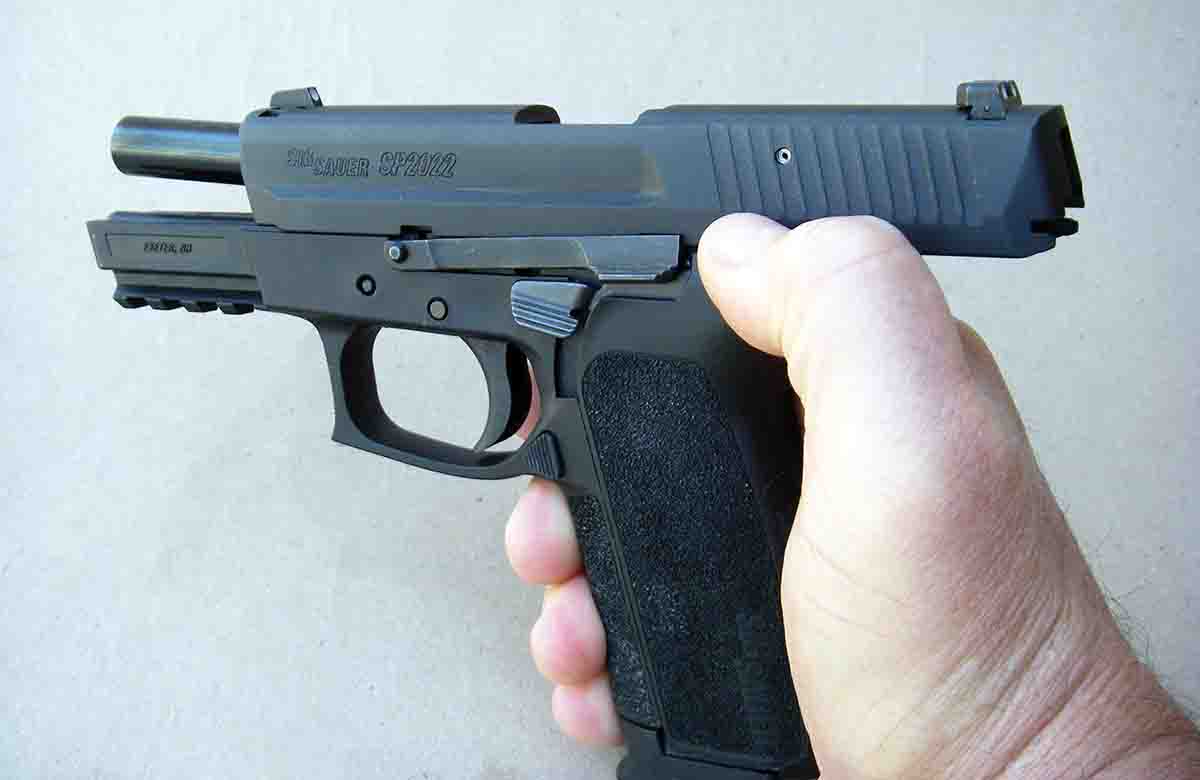 The polymer frame features a detachable grip panel that is available in different shapes and sizes (sold separately) to allow a better fit for a variety of hands. The supplied grip is a "medium" and is shaped very comfortably. For example, it is rounded and features texturing for a positive, comfortable grip. In measuring its circumference, it is only slightly (about 1⁄16 inch) larger than a Model 1911 with standard grip panels. During firing there is literally no area that "bites" or causes any discomfort to the hand.
The slide is constructed of stainless steel and coated with Nitron, which results in a flat-black finish that is tough and wear resistant. The sights are dovetailed into the slide, with the sample gun featuring optional SIGLITE night sights. Disassembly is quick and simple for easy cleaning and maintenance.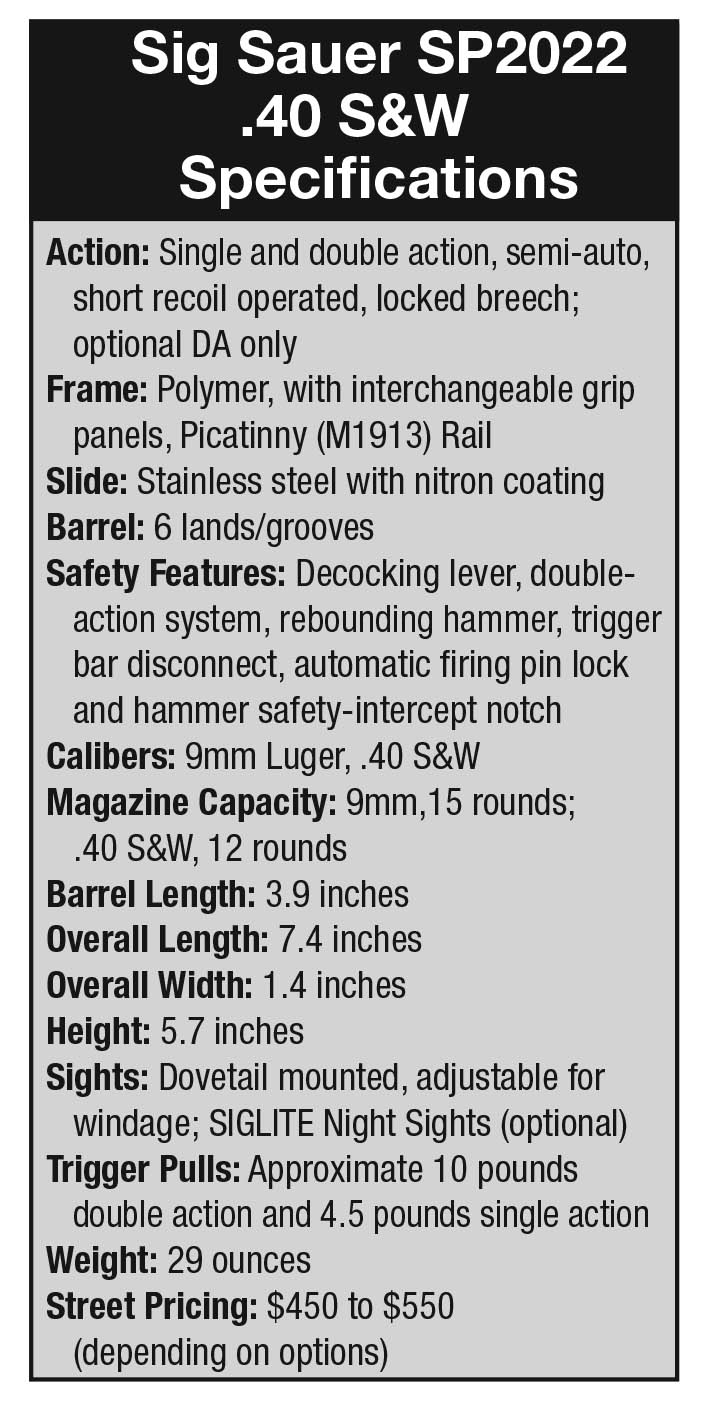 After initial break-in, the SP2022 was checked for function and accuracy with select factory loads and handloads. Throughout various shooting sessions it never hinted at a malfunction or failure to fire; it cycled and functioned exactly as it was designed to do. Factory loads included bullet weights that ranged from 120 to 180 grains and included a variety of bullet profiles from large hollowpoints to FMJ flatpoints. Velocities ranged from 921 fps to 1,220 fps.
The first thing that really stood out was the overall accuracy of the SP2022. For example, using Black Hills' 155-grain JHP load (new manufacture), 25-yard groups clustered into 1.50 to not over 2.00 inches while Hornady's 165-grain Critical Defense load produced virtually identical results. Even economical loads such as Blazer 165-grain FMJ (aluminum case) and Federal American Eagle 180-grain FMJ produced groups that hovered around 1.75 to 2.25 inches.
Moving on to a few select hand-loads, the Hornady 155-grain XTP was pushed to 1,135 fps using 7.0 grains of Winchester AutoComp powder, which produced one group that measured an impressive 1.55 inches at 25 yards. The Speer 165-grain Gold Dot HP bullet was pushed to 1,044 fps using 7.5 grains of Ramshot True Blue powder and produced several groups that had an average of 1.70 inches. For a heavyweight bullet, the Nosler 180-grain JHP was pushed to 1,038 fps using 7.0 grains of Alliant Power Pistol powder. Again, all groups hovered between 1.65 to 2.0 inches. The above loads were assembled using new Starline cases and were capped with CCI 500 primers. Cases were taper crimped to .417 inch. All handloads functioned without a hitch.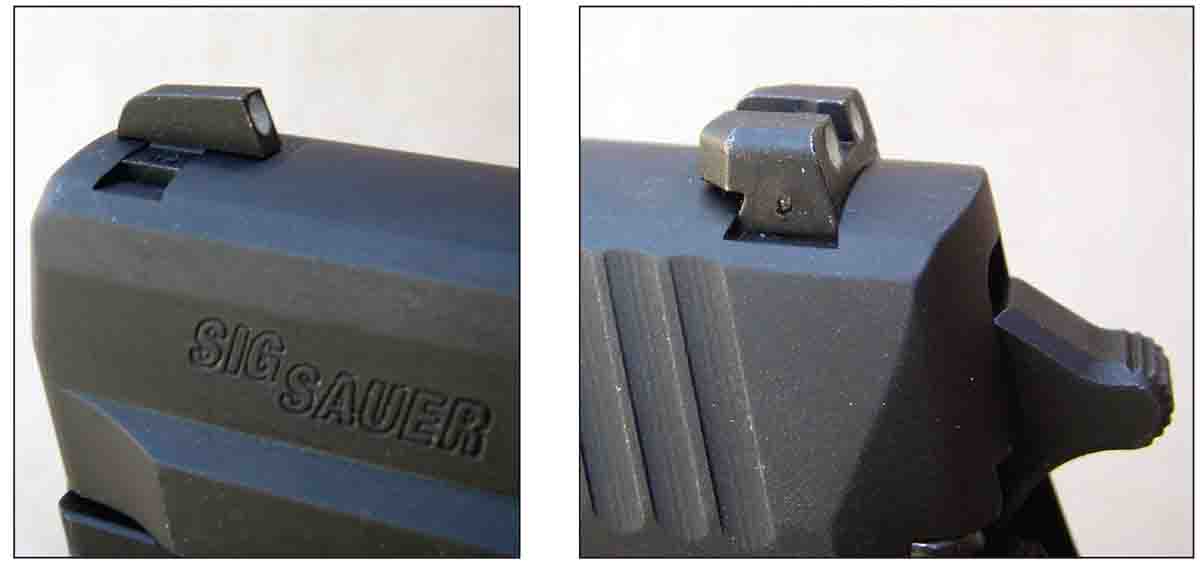 In addition to its high capacity, polymer frame and double-action/single-action operation, the SIG Sauer SP2022 offers reliability with flawless function, accuracy and a comfortable grip with excellent overall ergonomics. With its reasonable street prices, it offers stiff competition for all competitors.