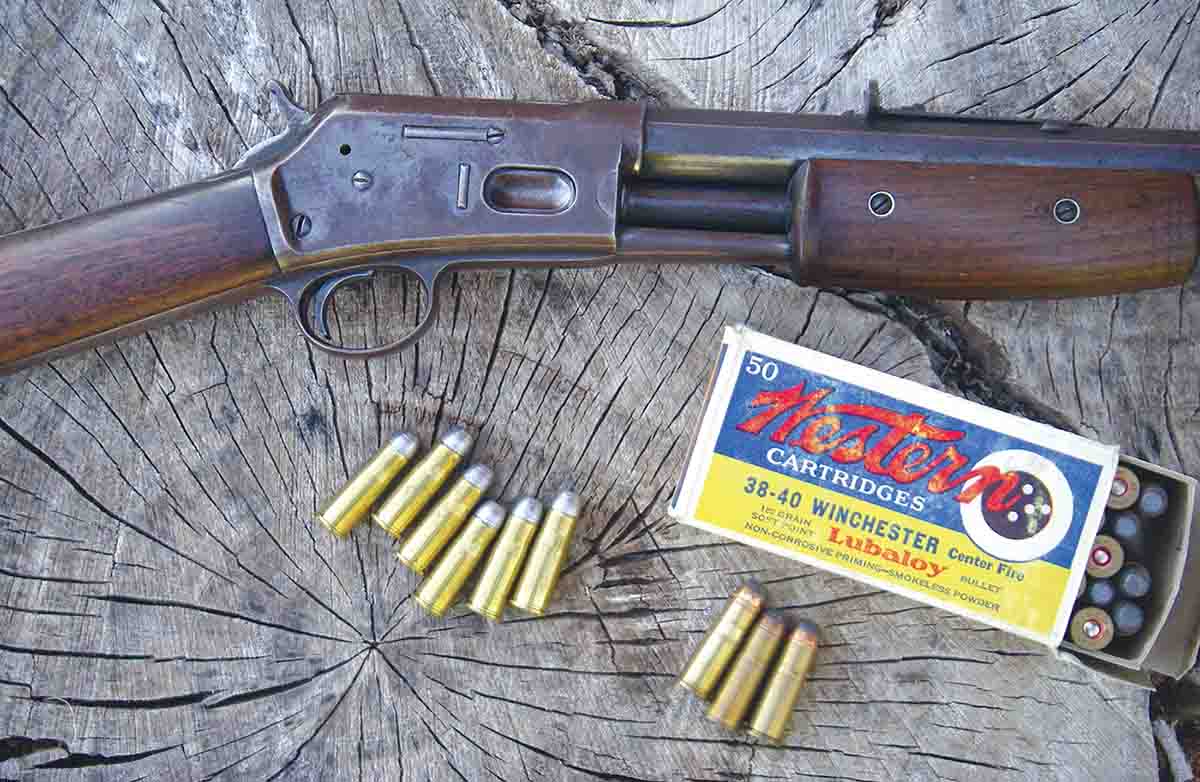 Q:
I have a Colt Lightning rifle chambered in .38-40 that I inherited many years ago. It is actually in very good condition as it retains around 80 percent of its original finish and the bore looks as new. Mechanically it is crisp and functions positively. In referencing its serial number 71XXX, it appears to have been manufactured in 1894.
I have never fired it but would like to. So recently I purchased one box of factory loads and ordered dies and Starline cases and would like to begin handloading.
I have two questions. First, I have read that the .38-40 is factory loaded extremely light, and that through handloading, it can be enhanced considerably. I would like to know your thoughts to see if that is possible. Secondly, the only factory ammo that I could find was Winchester 180-grain JSP, which leads to my next question. What bullets should I use, cast or jacketed?
I very much enjoy Handloader and the knowledge and insight from all of your staff. – T., via e-mail
A: The Colt pump-action Lightning rifle is not an especially ro-bust design, and I strongly suggest to never load it beyond industry pressure guidelines that have traditionally been established at 14,000 CUP. There is considerable "high velocity" data (as well as vintage factory loads) that were intended specifically for the stronger Winchester Model 1892 and Marlin Model 1894 rifles. Furthermore, period steels used in Lightning rifles were rather soft and by today's standards are relatively weak.
Your rifle was designed for cast bullets, which will result in considerably longer barrel life as compared to using jacketed bullets. Due to less friction, or resistance that lead bullets exhibit when propelled down the bore, you will find that they can be pushed to higher velocities when loaded to the same pressures as jacketed bullets. This lessens the possibility of sticking a bullet in the bore, which .38-40 factory loads containing 180-grain jacketed bullets are known to do.
For a general purpose, inexpensive plinking bullet, you might try the Oregon Trail Laser Cast 180-grain RNFP, which can also produce respectable accuracy. Another great bullet is offered by Montana Bullet Works and is listed as the RCBS 180 RFP.
Sounds like you have a great rifle, which you will find fun to shoot and develop loads for.
6.5 Remington Magnum
Q:
Back in the early 1970s, I purchased a Remington Model 600 chambered in 6.5 Remington Magnum. I think that the cartridge was already dead, and the dealer knew it, so he made me a great deal at his cost. I recently had it appraised, and it appears that I did very well on my "investment," as it has increased more than 10 times in value from my original purchase price. For the first few years that I owned it, I shot several mule deer, and in spite of being criticized in the press, it did a nice job.
With all of the new excitement over other up-and-coming 6.5s, I dusted off the old 6.5 Remington Magnum, replaced the old Bausch & Lomb with a Leupold VX-2 3-9x 40mm and decided to develop new loads and go hunting. I would like to try the new Hornady 123-grain SST bullet. Can you suggest a starting load using either IMR-4320 or Hodgdon H-450? Thanks in advance for your help. – F.B., Cottage Grove OR
A: First, Hodgdon H-450 has been obsolete for decades, so I cannot help you with data for that powder. Using the Hornady 123-grain SST bullet, I would suggest starting with 43.0 grains of IMR-4320 powder, then work up to a maximum charge of 46.5 grains, which should reach around 2,800 fps in the 18.5-inch barrel of your rifle.
For whatever it is worth, the 6.5 Remington Magnum was a good cartridge that was ahead of its time. Why Remington initially chambered it in a short barrel "carbine" remains something of a mystery, as this substantially limited its true performance potential and sales. Years later (after it was dead), Remington offered it in long barrel Model 700s, but it was too late to resurrect it. As you indicated, it will still work well on deer. Good luck on your hunt.
.300 H&H Pressure Problems
Q:
I have an old Winchester Model 70 chambered for .300 H&H Magnum that dates back to 1949. Both the rifle and cartridge are old favorites and have taken a lot of game for me, ranging from Alaska to Mexico. When Ruger came out with a limited production of its No. 1 rifle, I decided to purchase one. In using the same handload formula that was developed for my Model 70, primers were flat and occasionally pierced. Extraction seemed slightly sticky. So I double checked my loads that contained 64.0 grains of Hodgdon 4350 with the 180-grain Nosler Partition with CCI
250 Magnum primer. According to more current data sources, this load is above maximum, but it wasn't when I first began using it. I then tried a few rounds through my Model 70, and they too showed signs of being near maximum or maybe slightly in excess of. Has something changed that I am not aware of? – K., via e-mail
A: In our previous correspondence, you indicated that you switched from Winchester/Super-X cases to Federal Cartridge cases. While your load is above most current listed maximums by around 1.0 to 1.5 grains, I believe that changing cases was a significant contributor to the pressure change that you describe. I weighed the water capacity of both Federal and Winchester cases, with the Federal holding 84.8 grains of water as opposed to the Winchester's 87.8 grains, for a 3.0-grain difference. I suggest reducing your load by at least 2.0 grains, based on pressure signs.
Having owned, handloaded and hunted with several pre-64 Winchester Model 70 rifles in this caliber, for several reasons they generally do not show pressure signs as early as other common rifles chambered in this same caliber, including the Remington Model 721, Browning FN Mauser 98 and Ruger No. 1.

Colt Cobra .38 Special +P Loads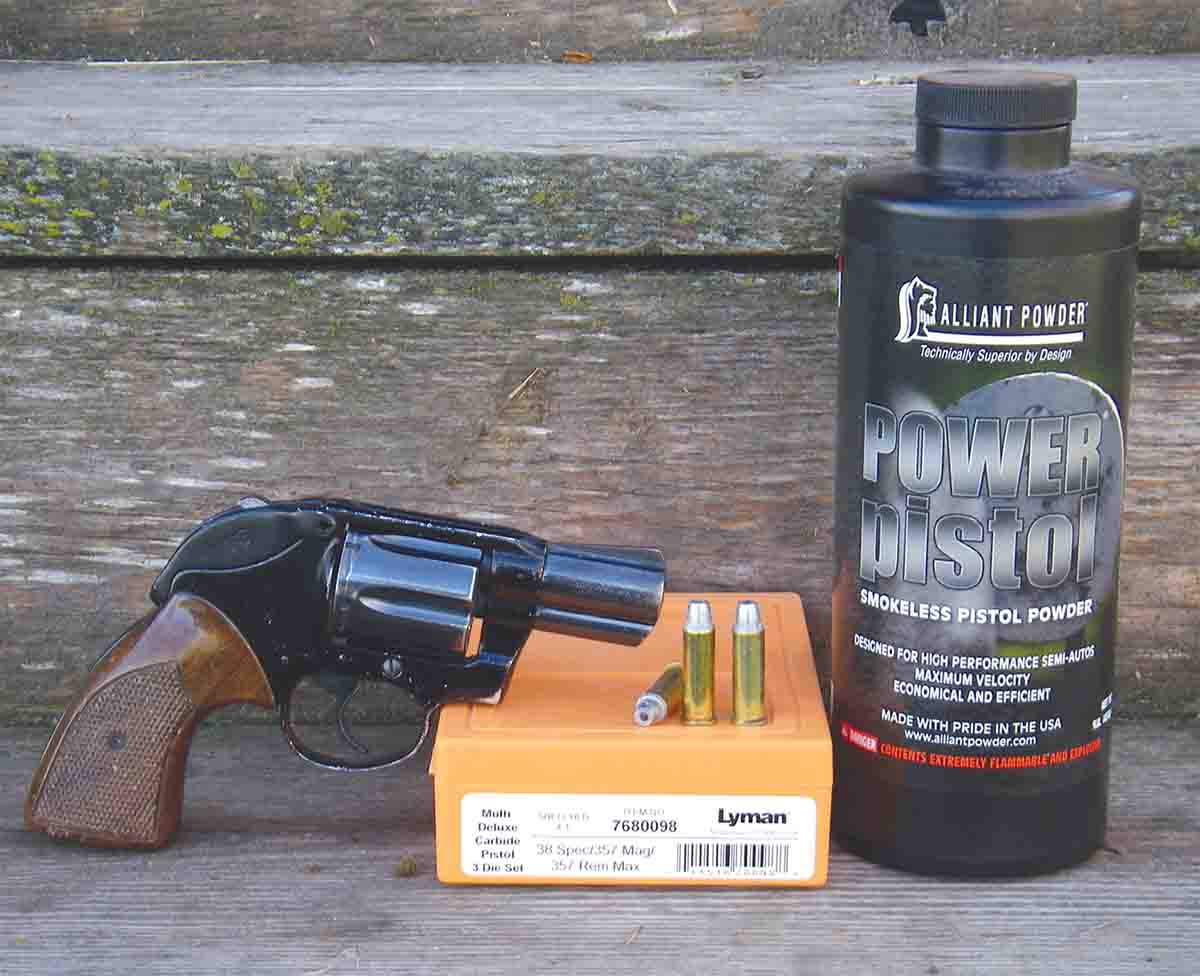 Q:
I am an old (and I emphasize old) Colt handgunner. I have a Colt Cobra .38 Special that was manufactured during the 1970s. I have always carried it loaded with a variety of non +P factory loads for defense, but with the recent ammo shortage I could only find +P loads. My first question is: Is it okay to use +P loads? My local dealer says it is fine, but it seems to me that back in the day this practice was never recommended by Colt, but I am not sure. He is young, and I think that he may have my Cobra confused with the new version that Colt recently introduced. Secondly, can you suggest a load using the 158-grain Rim Rock SWC-HP w/gc bullet for this gun? Handloader is the only magazine worth the read. Thanks for your efforts. – M.K., Billings MT
A: You are correct, Colt never suggested using +P loads in the original Cobra, though the Detective Special was a steel-frame version of the same revolver, and it was recommended for +P loads. In short, the alloy frame of the Cobra could not take a steady diet of +P loads.
A standard pressure (17,000 psi) load that performs as though it is a +P load includes 5.8 grains of Alliant Power Pistol powder loaded in conjunction with the Rim Rock 158-grain SWC-HP w/gc bullet that you mention. In the 2-inch barrel of your Cobra, you should still reach around 900 fps, which is respectable performance from a short-barreled sixgun.