Starline Brass began producing newly manufactured cases in .38 Special and .357 Magnum in 1976, which I began using almost immediately. In the decades since, the company has added all popular handgun calibers, including many less popular and formerly obsolete versions. This has allowed handloaders and ammunition manufacturers to keep vintage guns in service. Starline has also added many straight- and semi-straight-walled rifle cartridges. The latest new cases (which have been anxiously awaited) include bottleneck rifle cartridges based on the .308 Winchester family of cartridges.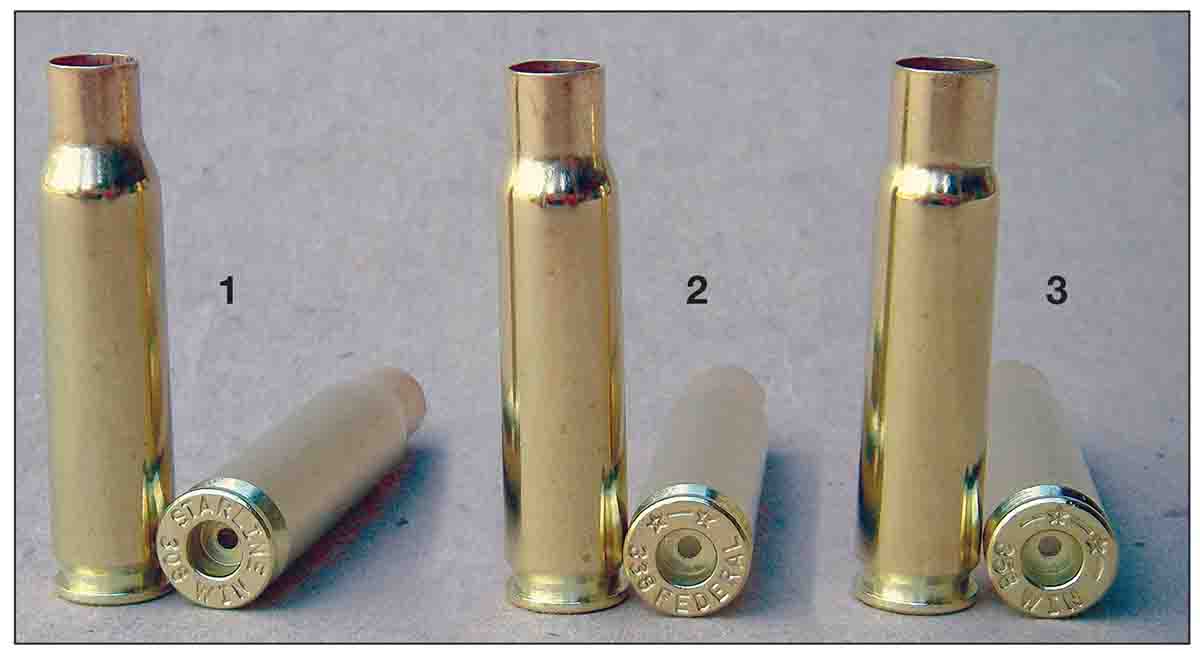 Like most companies, Starline has had a learning curve to manufacture top-quality cases. It took considerable experimenting for the company to adopt ideal combinations of brass type and manufacturing processes that result in strength without the brass being brittle. Cases also had to be annealed to allow the repeated "working" associated with firing, resizing, neck expanding and crimping.
During the early 1990s, I began to take notice of the performance and strength of Starline cases. At that time, I was shooting a considerable amount of +P .45 Colt loads that generated around 32,000 CUP; however, when used in custom-built, five-shot revolvers and Freedom Arms Model 83s, some loads were approaching 50,000 psi. The Starline cases exhibited impressive strength and durability.
At about the same time, I became aware of independent tests conducted by an ammunition manufacturer, as well as a powder lab, using Starline .357 and .44 Magnum cases. The results were interesting; Starline revolver cases often gave higher velocities but produced significantly less pressure than most other cases tested with the same load. As a result, this particular ammunition company began using Starline cases almost exclusively. Rather than loading ammunition to greater velocities that were near SAAMI maximum pressure guidelines, the company chose to load ammunition to industry standard velocities but at considerably lower pressures, even to 10,000 psi below maximum average guidelines. As many ammunition companies will explain, when it comes to pressure, a larger margin of safety is always desirable. Starline has frequently supplied cases for Federal, Remington, Winchester and other large companies, naturally with respective brand headstamps.
Since the 1990s, I have tested many preproduction brass samples for new calibers that were scheduled for introduction. One of the more challenging examples included the .454 Casull. This cartridge has an industry maximum average pressure of 65,000 psi, which is higher than many rifle cartridges. Ordinary manufacturing processes cannot be used, or cases will begin sticking in chambers when full-power loads are used. This situation plagued several manufacturers, dating back to 1983 and earlier. The preproduction samples I tested gave sticky extraction with full-power loads of known pressure. This feedback was passed along to Starline, and it postponed production until the problem was completely resolved. Starline ultimately developed proprietary annealing procedures that not only corrected the problem but also resulted in .454 Casull cases that can be loaded with full-power loads without sticking and offer long case life.

All cases from Starline are constructed of 260 alloy brass that also contains a blend of copper and zinc. The 260 alloy has the highest ductility of all yellow brass and offers a machineability rate of 30, making it suitable for easy, clean trimming, uniforming primer pockets, etc. It anneals at between 800 and 1,100 degrees Fahrenheit, though the proprietary annealing processes Starline uses varies depending on several factors, including pressures that a given cartridge will be loaded to.
Starline has recently introduced its much anticipated .308 Winchester brass, along with other cartridges based on this same case. Examples include the .338 Federal and .358 Winchester, while .243 Winchester brass is due out soon. The .260 Remington and 7mm-08 Remington are scheduled for production, which will be followed by the 6.5 Creedmoor offered with both large and small primer pockets.
I have worked with Starline .308 Winchester and .358 Winchester cases, which handled near maximum pressure loads with ease. In weighing 10 .308 cases, they varied in weight from 176.6 to 180.1 grains, with the majority falling between 177.0 and 178.0 grains. Incidentally, the necks are annealed, but the color change associated with that process has been removed during the cleaning and polishing processes. The high-demand .223 Remington case is in the works and is scheduled for production by June 15, which will soon be followed by the .300 Blackout.
Starline cases have been widely used by many smaller ammunition manufacturers that have appeared in the last couple of decades, not to ignore Starline as an important resource for major ammunition companies. But mostly the company has been a great benefit to handloaders, as caliber selection is huge, cases are of outstanding quality and are available factory direct by calling 1-800-280-6660.