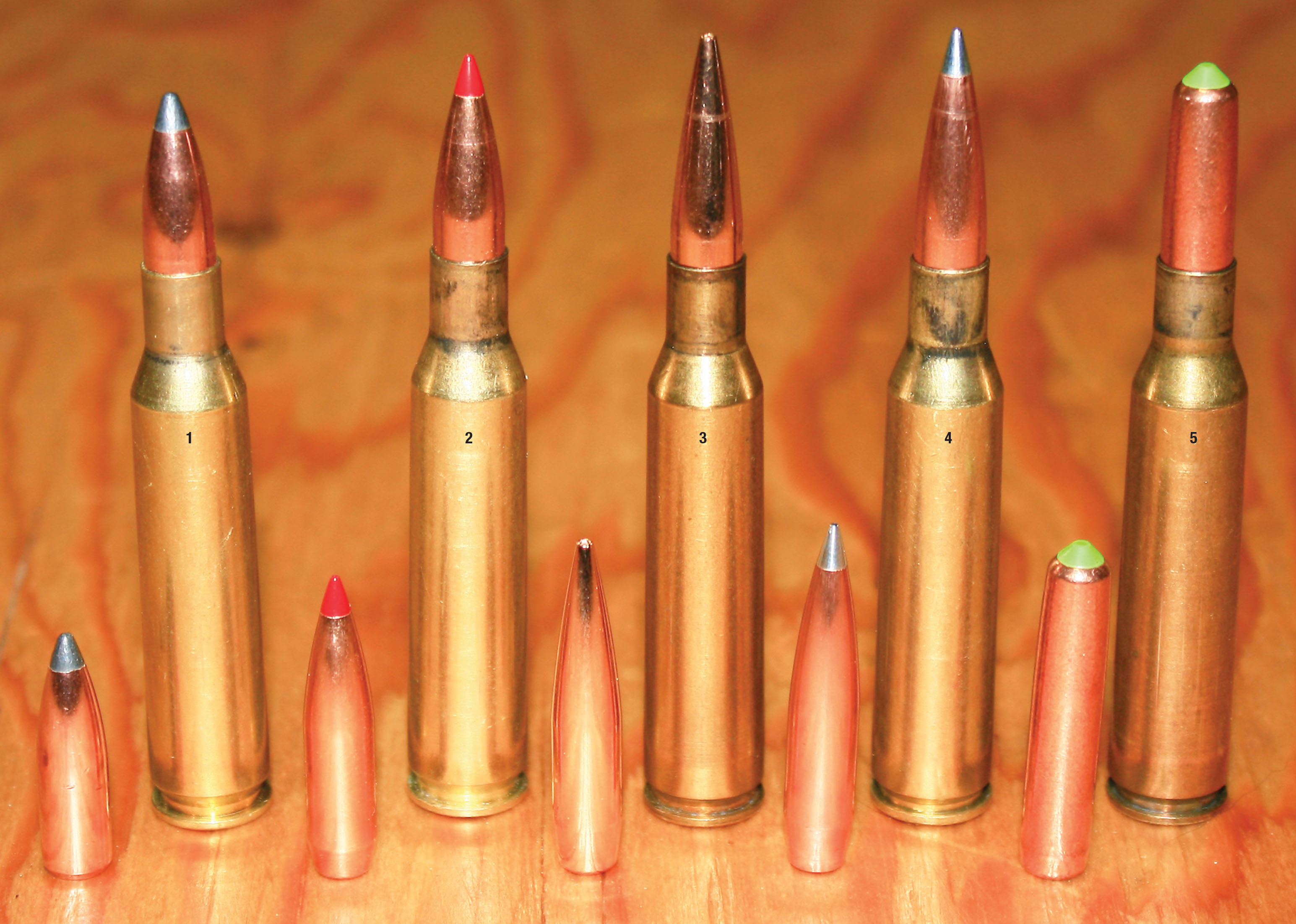 Popular with European hunters, particularly Germans, the 6.5x57mm Mauser is a highly versatile hunting round. Unlike many European 6.5mm cartridges, the 6.5x57mm never served in a military capacity, though it very likely inspired other 6.5mm rounds that certainly were. The 6.5x57mm – not to be confused with the more popular 6.5x55mm Swedish Mauser – is likely unfamiliar to the average American shooter. While the cartridge has a strong following among European shooters and big-game hunters, it has really never gained a firm foothold on American shores.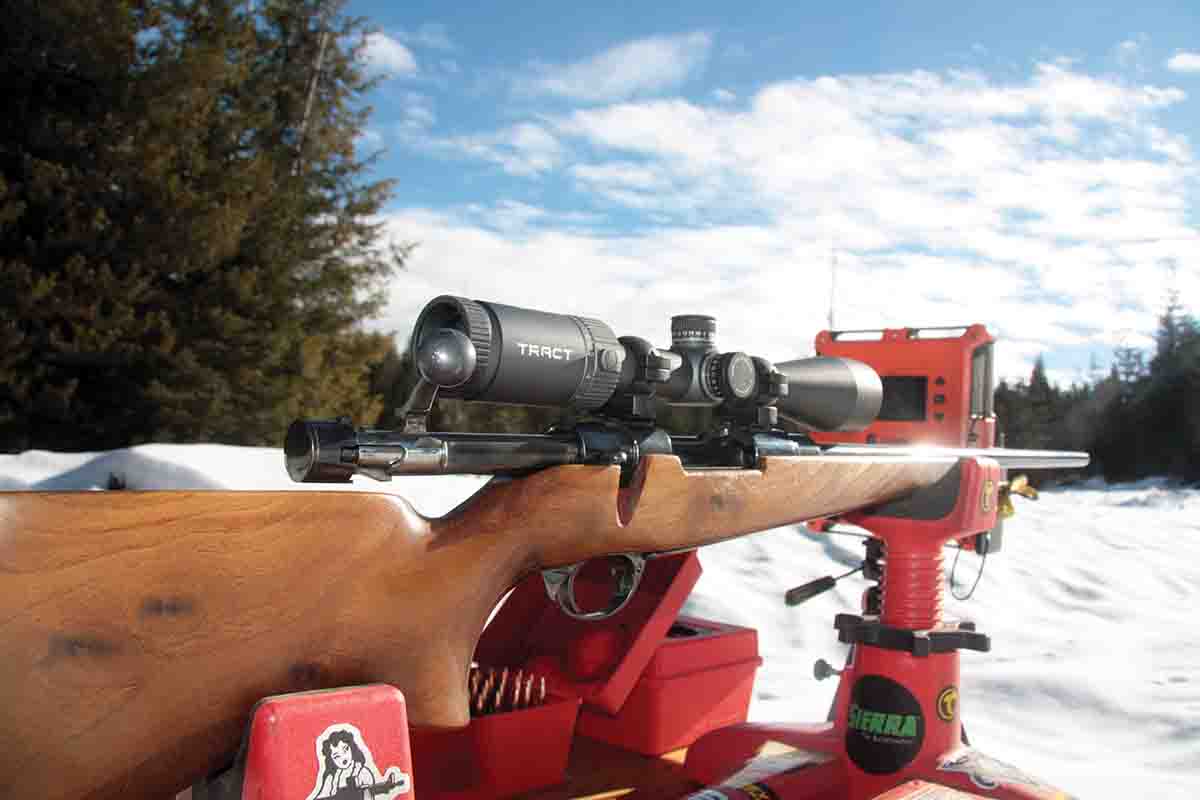 The 6.5x57mm, unsurprisingly, was created by necking down the more familiar 7x57mm Mauser case, followed by fireforming. Remington's 6mm and .257 Roberts also trace their lineage to the 7x57mm Mauser, meaning those cases can easily be necked up to create 6.5x57mm brass. Germany's 8x57mm and the American .30-06 cases can also be necked down, but time-consuming neck reaming or turning will likely be required after sizing to assure ample neck expansion and proper bullet release upon firing to avoid pressure spikes. For that reason, it is normally not recommended. This is not an issue with thinner, American-made 6mm Remington and .257 Roberts brass. Hornady's Handbook of Cartridge Reloading, Tenth Edition, lists trim-to specifications as 2.222 inches and maximum overall case length as 2.232 inches. Unfortunately, it also lists only three older IMR powders as options for the 6.5x57mm Mauser.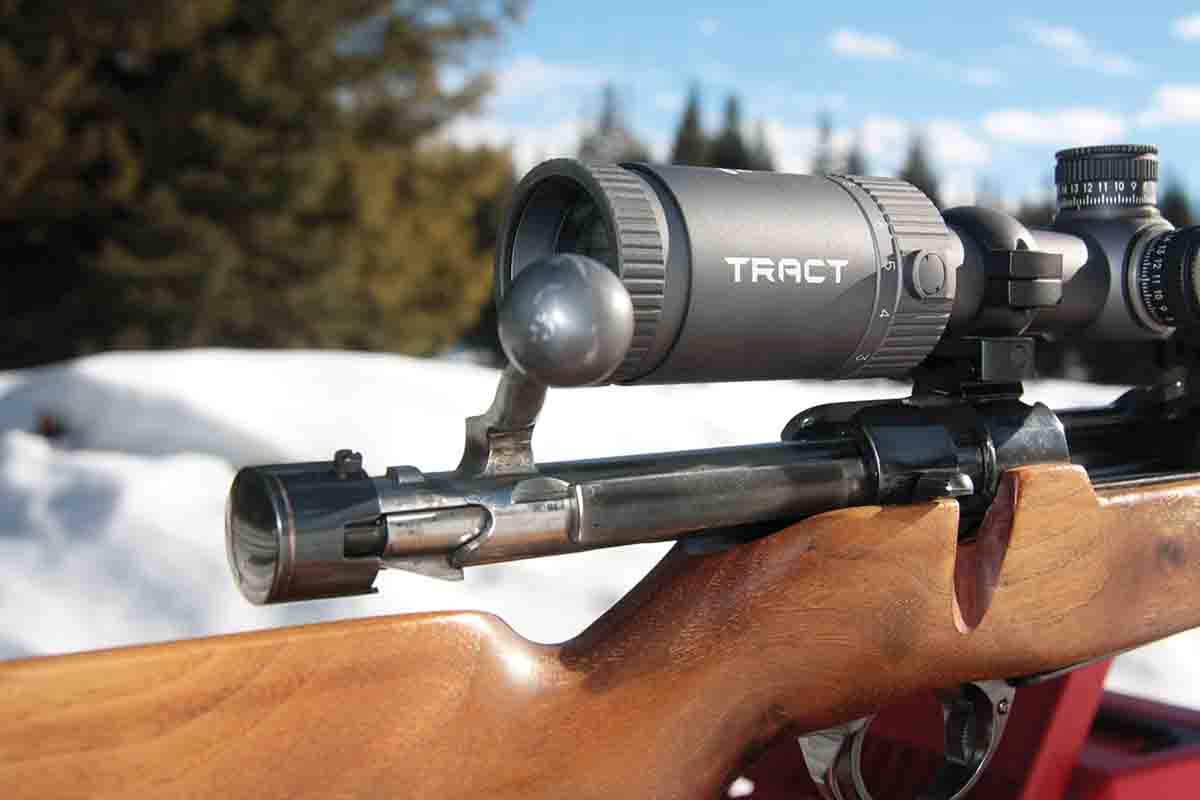 The 6.5x57mm Mauser was introduced by German weapons designer Peter Paul von Mauser around 1893 or 1894 specifically for use as a hunting cartridge. It is fairly common to read vintage reports of famous Dark Continent hunters using the cartridge to down dangerous game, including African elephant. The 6.5x57mm remains a highly popular German deer-stalking cartridge, influenced heavily by German law requiring cartridges used for chamois, fallow deer, wild boar and red deer to be a minimum 6.5mm and deliver a minimum 1,356 foot pounds of energy at 100 meters. This essentially makes the 6.5x57mm the minimum allowable cartridge for such use in that country and for those animals. Another commonly encountered version of the round is the 6.5x57R, a rimmed version designed for European break-action rifles, which
is not
interchangeable with the rimless cartridge under discussion here.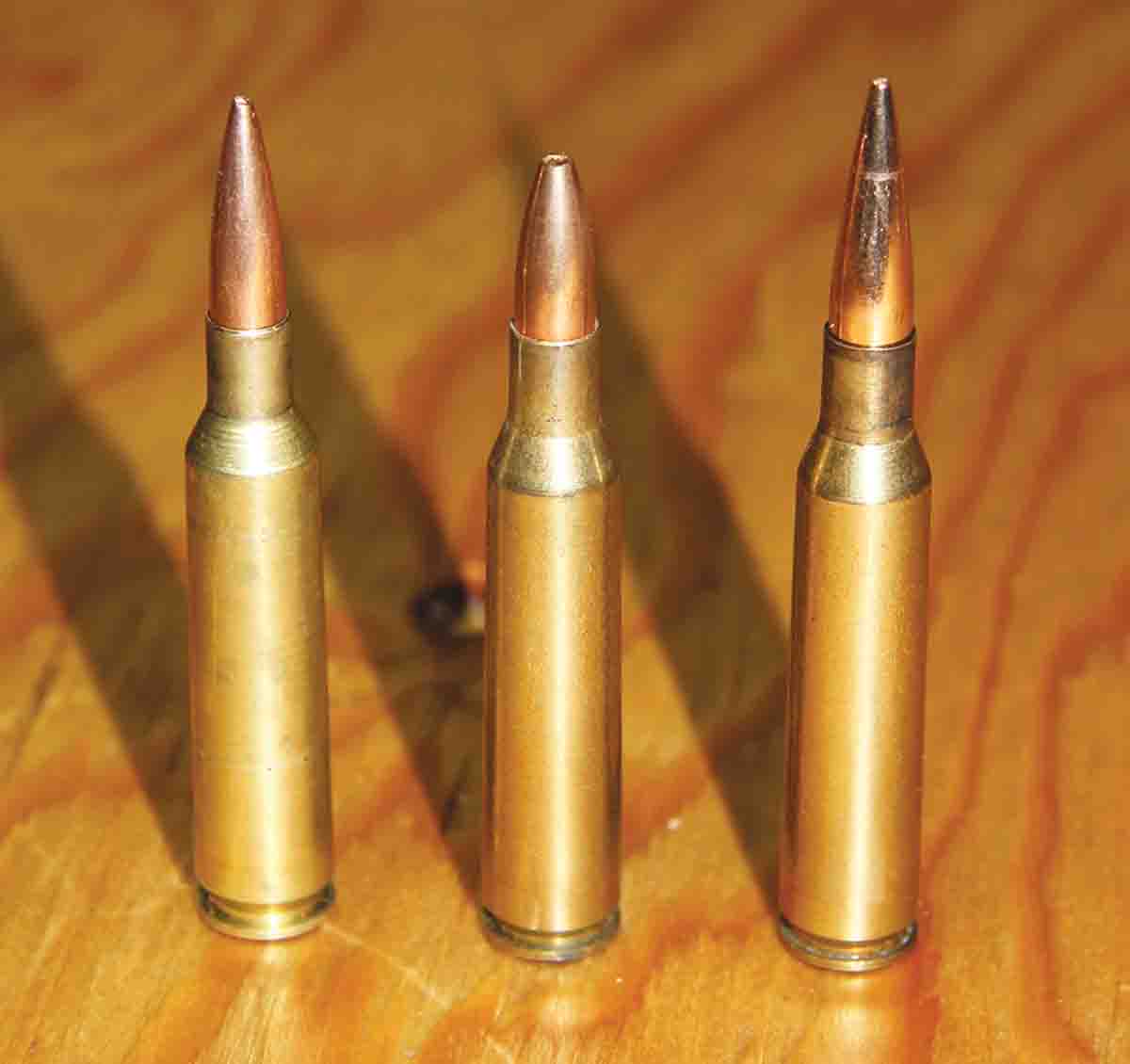 Factory ammunition for the standard 6.5x57mm Mauser is currently manufactured by RWS (Germany), Prvi Partizan/PPU (Serbia) and Sellier & Bellot (Czech Republic) – if you can find it – and loaded with bullet weights from 93 to 140 grains. It is a mystery why the 6.5x57mm is not loaded with heavier bullets, as the similar 6.5x55 Swede commonly is. Even available load data typically stops with 140-grain bullets.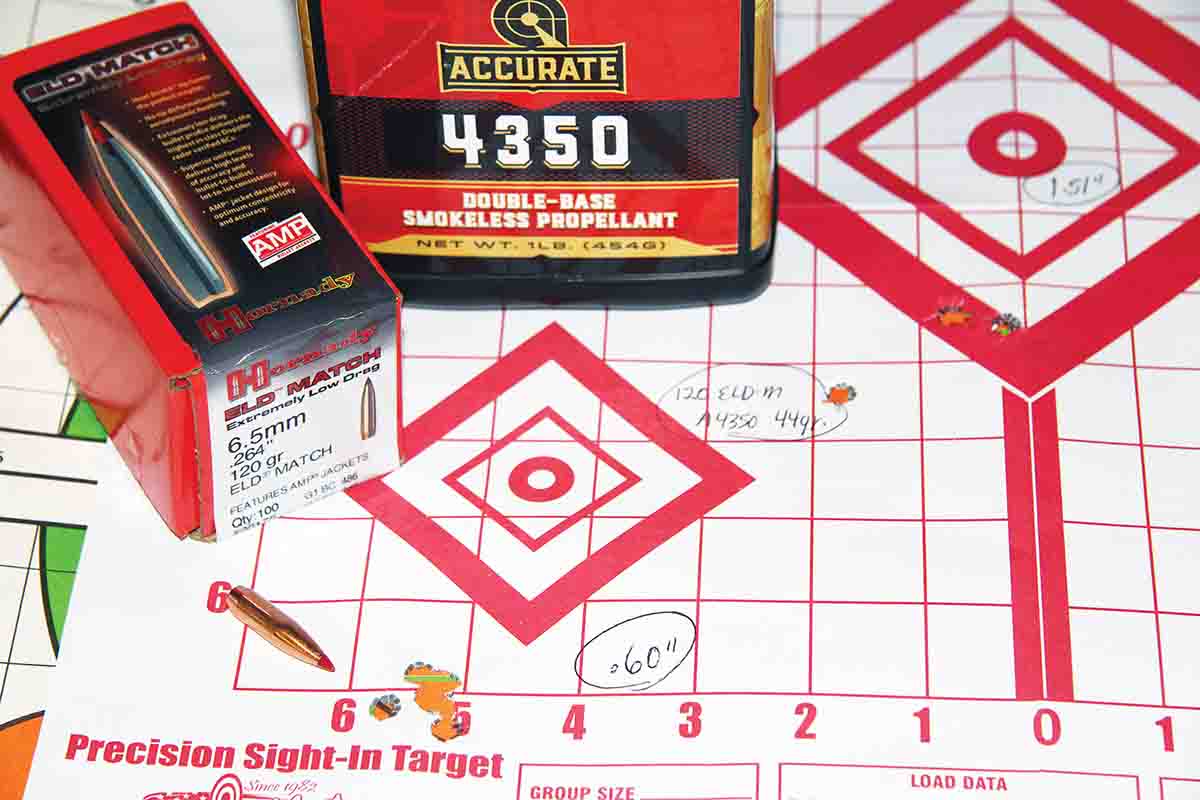 Like the more popular 6.5x55mm Swede, the 6.5x57mm is a versatile and highly-respected hunting round in Europe, handling varmint bullets as light as 85 grains, and hunting or long-range target bullets up to 140 grains (maybe slightly heavier). It is a well-balanced cartridge that provides a high powder-to-performance ratio and relatively mild recoil, low muzzle blast and excellent barrel life. Powder capacity is similar to the 6.5x55mm Swedish Mauser, with the Swede holding about 57 grains of water, the 6.5x57mm 56 grains. This makes the 6.5x55mm Swede start loads a safe bet for getting started with a 6.5x57mm Mauser.
To develop loads for the 6.5x57mm, a heavily customized Japanese Arisaka Type 38, rechambered to 6.5x57mm Mauser and borrowed from my father, was used. The action was bedded into a nice piece of walnut that includes a raised cheek piece, elegant Schnabel forend and Pachmyr recoil pad. The action was converted for use with a streamlined thumb safety switch (originals switched from "safe" to "fire" via the exaggerated bolt head, normally by using the heel of the hand) and the bolt has been turned down to avoid snagging on brush or clothing and to clear scope sights. The action was drilled and tapped for two-piece scope bases.
The action includes a reliable controlled-feed, claw extractor and the bolt cocks by pushing it forward and down during feeding. All identifying marks have been removed, a good indication the newly blued rifle may have been released after World War II. The overall effect is a refined and quick-handling rifle with a step-down sporter-weight, 26-inch barrel with the original 1:8 rifling twist. The custom stock's wrist was just a tad tight for my big mitts, though friends with smaller hands deemed the ergonomics just right. The rifle balances well between the hands and weighs 7.65 pounds without a scope. A top-quality Tract Toric 2-10x 44mm Ultra HD scope was set in Weaver rings mounted on the two-piece bases – a lightweight hunting optic ideal for this rifle's easy-toting characteristics and capabilities.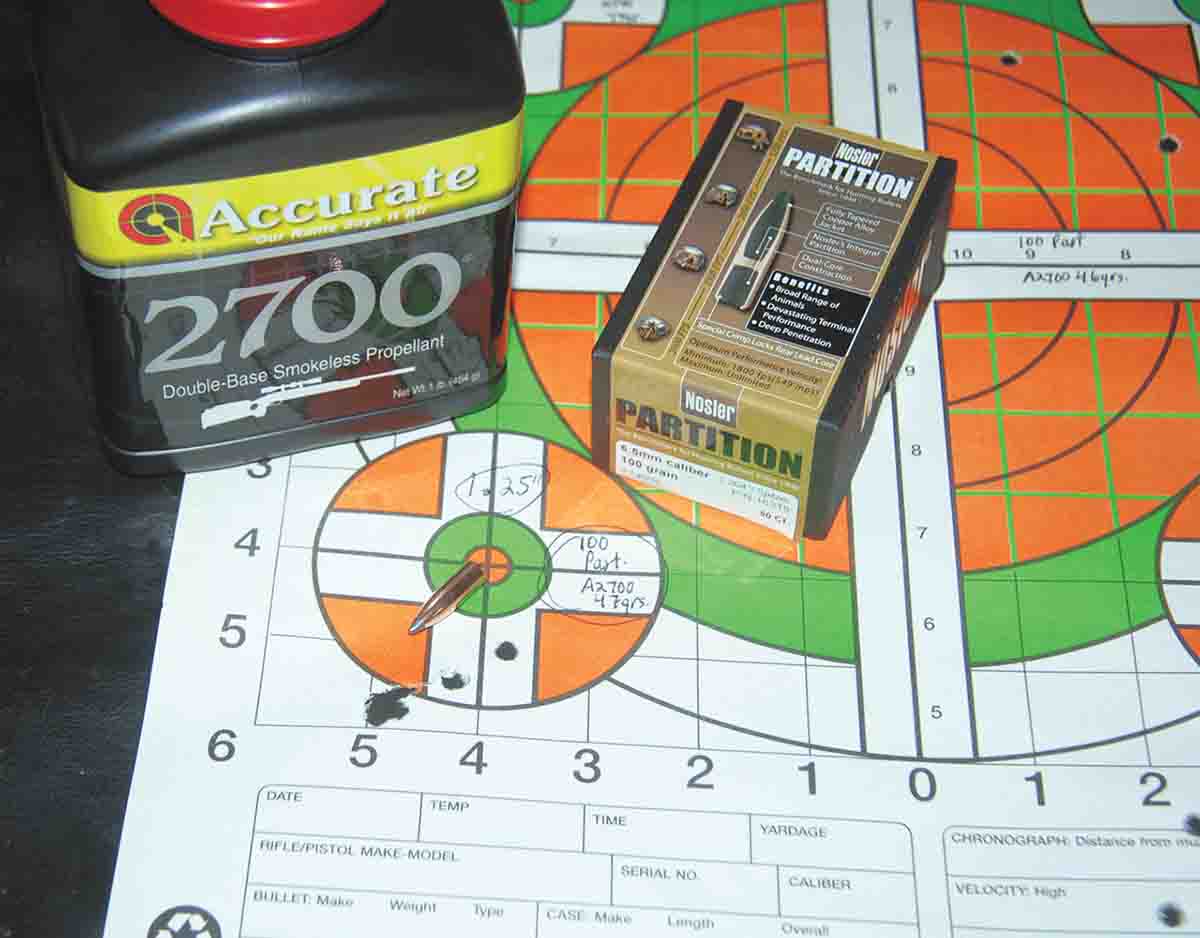 As an interesting aside, during destructive tests conducted by P.O. Ackley following World War II, Arisakas proved stronger than the American M1903 Springfield, British Lee-Enfield and German Mauser rifles. Tested Arisaka rifles did not fail until chamber pressures reached nearly 100,000 psi. This runs counter to common perceptions that Arisaka rifles are cheap junk, likely a result of the ugly stocks they wore, including a spliced design resulting from Japan's shortage of quality stock material. There is also the possibility that some late-war models – which does not include the Type 38 – were made from subpar materials due to Japan's crumbling supply chain and manufacturing infrastructure. Early Arisakas are generally a solid design made from the best materials of the time and well suited to hunting loads such as those listed here. Owners of any older European 6.5x57mm rifle would be advised to have the firearm inspected by a qualified gunsmith before using any of these loads.
Powder choices closely mirrored those for my 1:9 twist 6mm Remington, including medium- to slow-burn propellants used to propel heavy-for-caliber bullets. Chosen powders included Hodgdon's Varget, Benchmark, H-4831sc and H-4350, IMR-4350, Accurate's A-2700 and A-4350, Vihtavuori's N135, N160 and N140, Shooters World 4350 and Alliant's Reloder 19, 22 and 26. Bullets were a mix of hunting and target numbers, including Nosler's 100-grain Partition, Hornady's 120-grain ELD Match, Berger's 130-grain VLD Hunting, Hornady's 135-grain A-Tip Match and Lapua's 140-grain CEX Naturalis. Federal 210 Large Rifle primers and resized Hornady .257 Roberts +P brass were used to assemble all loads. RCBS dies were used for full-length sizing and bullet seating.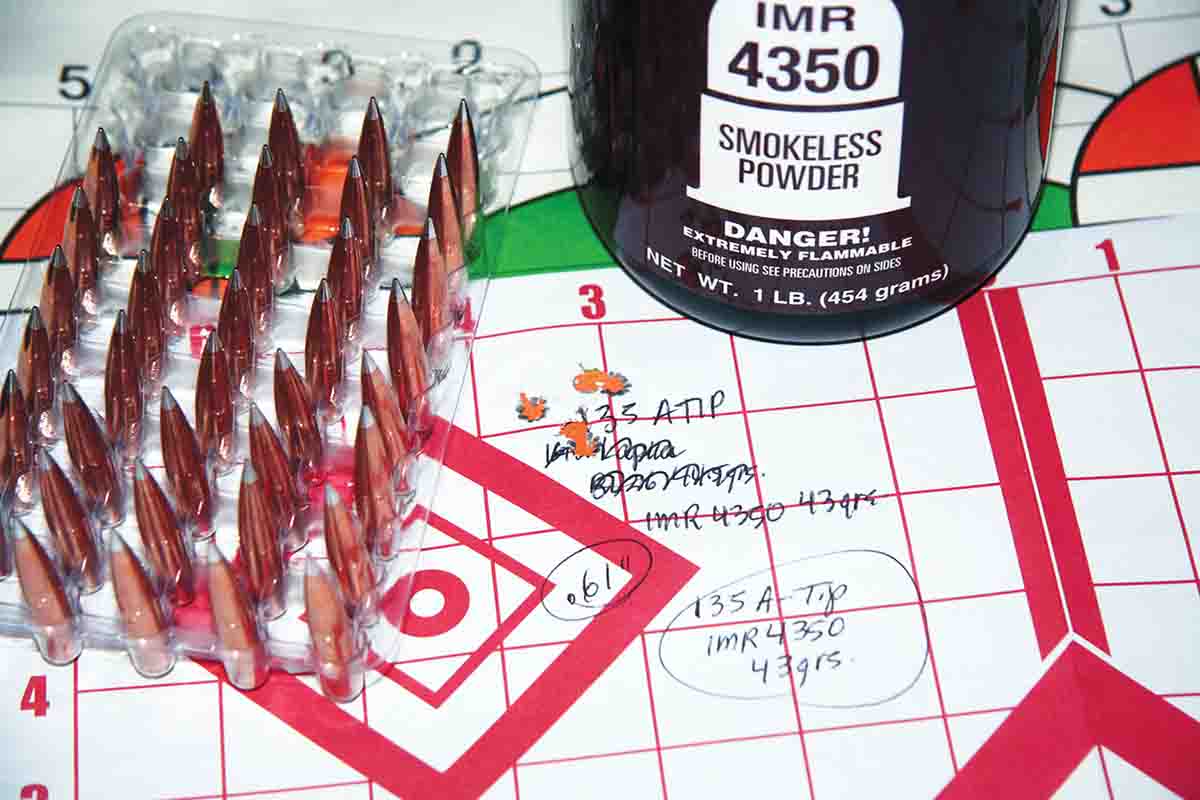 All loads were shot from 100 yards, with five shots fired with each load (three shots fired with SW-4350, as I didn't have enough matching primers for five shots per load when that powder was added as an afterthought). None of the loads tested exhibited any signs of excess pressures, with the bolt lifting easily and primers retaining rounded edges after every shot. In general, big jumps in velocity were not observed, even after full-grain increases in powder charges.
Nosler's original controlled-expansion Partition should require no introduction. The 100-grain, 6.5mm version provides top velocities/flatter trajectories on longer shots and makes an ideal big-game bullet for animals up to the size of chunky mountain mule deer or Midwest whitetails. This bullet, seated to the bottom of the neck, didn't relinquish stellar accuracy from this rifle. I'm guessing this was a result of the rifle's generous freebore and the long jump into the lands these relatively short bullets were required to make. Still, several combinations provided more than enough accuracy for hunting purposes. Hodgdon Varget, Vihtavuori N540 and Accurate A-2700 powders all turned in groups of less than 1.50 inches, with Varget and VV-N540 giving slightly more velocity.
The best group resulted from a maximum load of 47 grains of A-2700 – 1.25 inches at 3,089 feet per second (fps). Varget produced a 1.29-inch group at 2,985 and VV-N540 a 1.29-inch group at 3,067 fps. Overall, A-2700 turned in the best group and velocities very close to the other powders.
The 120-grain Hornady ELD Match makes an ideal target or long-range bullet while providing a great mix of a .486 G1 ballistic coefficient (BC) and flat trajectory. Extensive testing has revealed this bullet will expand on water-filled aluminum cans, so take that for what it's worth. I wouldn't hesitate to use this bullet on wild hogs, for instance. The 120-grain ELD Match resulted in several sub-MOA groups, including one each with Vihtavuori N160, Accurate A-4350 and Alliant Reloder 19. The best group came from 44 grains of A-4350, measuring .60 inch at 2,599 fps. VV-N160 produced a .67-inch group at 2,663 fps with 44.5 grains of powder, and Reloder 19 an .89-inch group at 2,719 fps with a maximum load of 47 grains.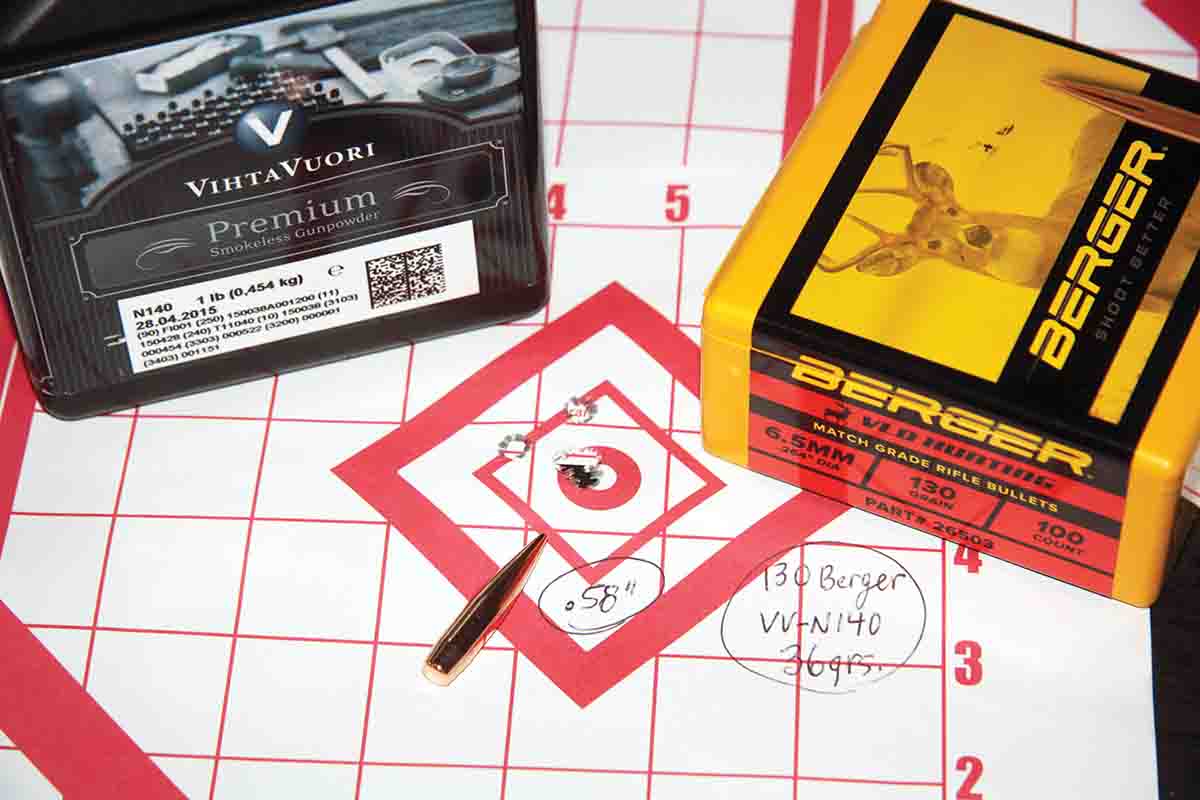 Berger's superb 130-grain VLD (very low drag) Hunter is an ideal long-range hunting bullet with a sleek sharp-tip/boat-tail profile resulting in an impressive .562 G1 BC. This would be my bullet of choice if pursuing prairie pronghorn or Coues' whitetails with this rifle. It has proven capable of extreme accuracy in at least two other 6.5mm rifles, particularly my 6.5-06. The design also resulted in overall impressive accuracy when combined with the right propellent. While Hodgdon Benchmark showed great velocity potential, it did not relinquish exceptional accuracy from this rifle. Its best group measured 1.75 inches at 2,661 fps. Reloder 22 did better, producing a .79-inch group at 2,534 fps with a maximum load of 45 grains at 2,534 fps.
Things really clicked in accuracy-wise with Vihtavuori N140 (a favorite I purchase in 8-pound jugs because it provides top accuracy in a wide variety of cartridges), though velocity came up a bit short of Reloder 22 and Benchmark. All VV-N140 groups measured less than an inch, the best resulting from a load of 36 grains and measuring .58 inch at 2,451 fps.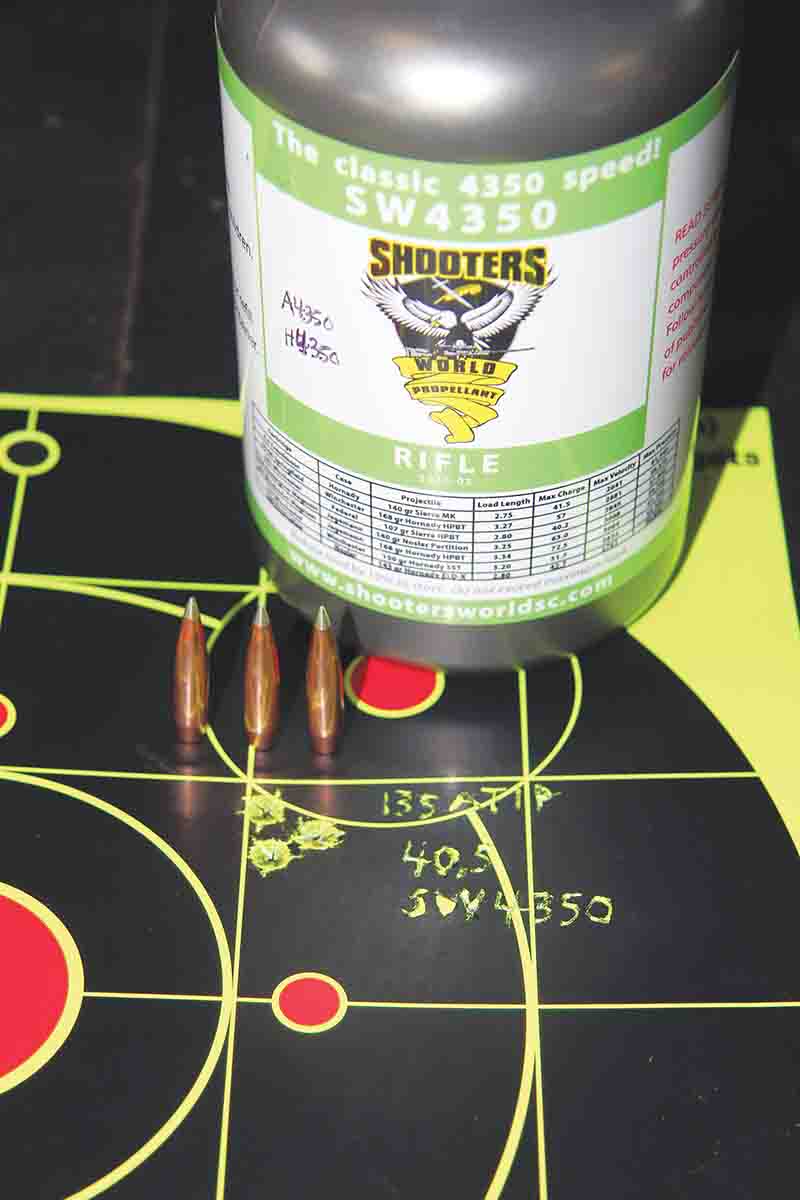 Hornady's 135-grain A-Tip Match offers an exceptional .637 G1 BC that will reliably stabilize in this 6.5x57mm rifle's 1:8 rifling twist. Its relatively light weight and BC offer a nice balance for those looking to shoot distant paper or steel. This bullet also served in the battle of the "4350s": Accurate, Hodgdon, IMR and Shooters World. Accurate produced a sub-MOA group at 2,565 fps with very low extreme velocity spreads, while Hodgdon just missed the mark (1.05-inch) with 38 grains of powder, 2,436 fps velocity and low extreme velocity spreads. As there was no 6.5x57mm load data available for Shooters' 4350, loads were derived by comparing published data from Shooters World and Hornady for the 6mm Creedmoor, .260 Remington and .30-06 and conservatively averaging the difference. Those averages appear to have been a bit too conservative, as velocities of tested loads proved a touch anemic, none breaking 2,200 fps. Listed loads could no doubt be worked up slowly,
using all due caution, obviously
.
That said, a .43-inch, three-shot group did result from 40.5 grains at 2,175 fps. The clear winner, not so surprisingly, was venerable IMR-4350, which gave both top velocities and accuracy – something also true of my .25-06 Remington, despite auditioning many modern powder options. A maximum load of 43 grains of IMR-4350 produced a .61-inch group at 2,622 fps.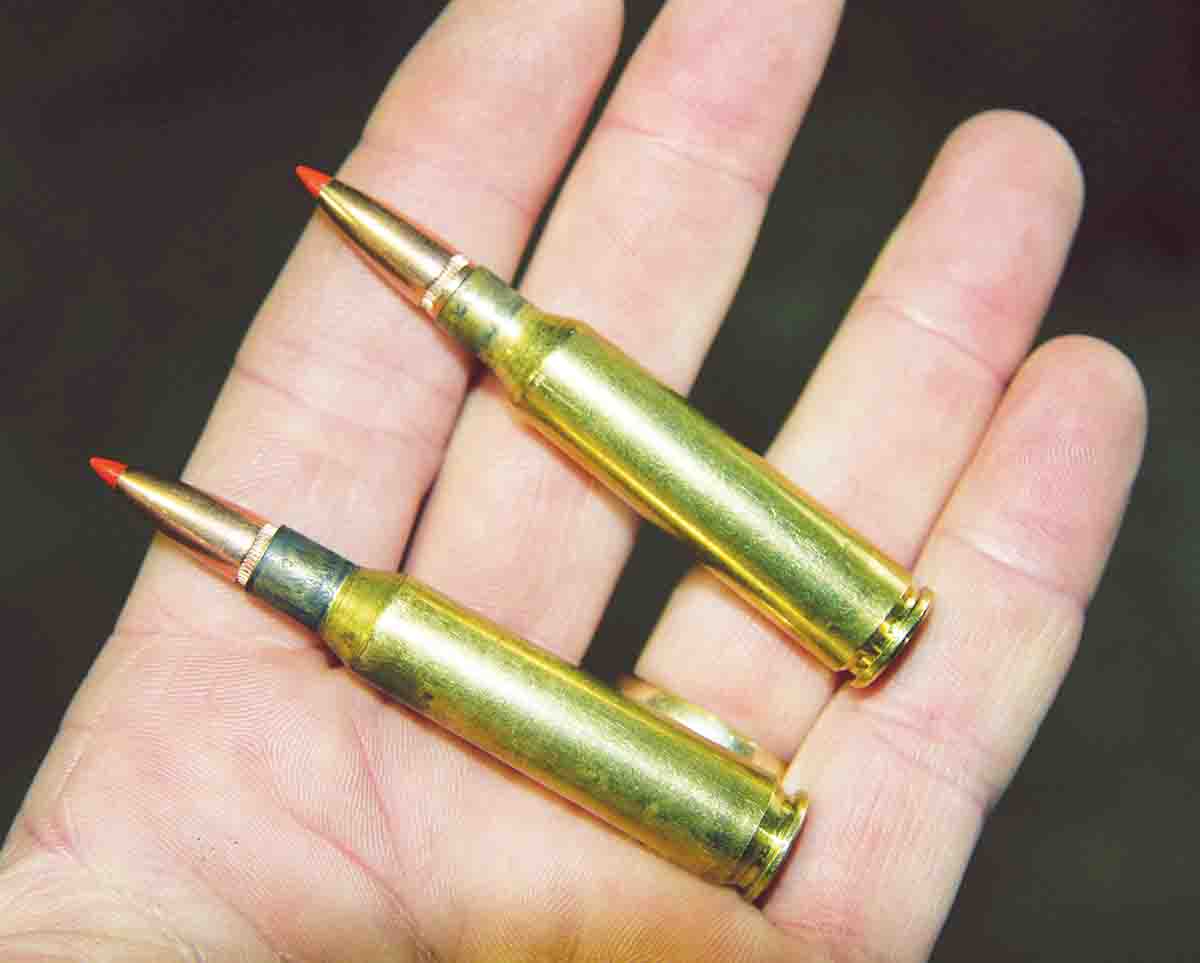 With its ho-hum .201 G1 BC, the Lapua 140-grain CEX Naturalis isn't a long-range ideal, but it's monolithic copper construction and blunted polymer "expansion valve" (Lapua's term) creates beautiful mushrooming combined with near-100 percent weight retention. This is a hard-core hunting bullet that should serve well while stalking whitetails and black bear, still-hunting black timber elk or targeting any of the European game mentioned in conjunction with the German hunting rules already touched on. The 1.335-inch long bullet's high sectional density should serve the same purpose as the classic roundnose 160-grain 6.5mm bullet, but with higher velocities. This bullet assembled sub-1.50-inch groups with Alliant Reloder 26, H-4331sc and Ramshot Hunter. The best group measured 1.05 inches at 2,566 fps, resulting from 43.5 grains of Reloder 26. H-4831sc managed 1.37 inches at 2,421, and Hunter 1.28 inches at 2,321 fps. All are big-game ready.
By modern metrics, the ancient 6.5x57mm Mauser isn't a hot rod by any stretch of the imagination. Nor did this 75-plus-year-old rifle produce the sub 0.5-MOA groups many riflemen seem to take for granted today. What this cartridge and rifle do provide is a solid big-game combination perfectly suitable for the hunting the vast majority of us engage in; white-tailed and mule deer, black bear and feral hogs taken at average ranges with a suitable bullet design.