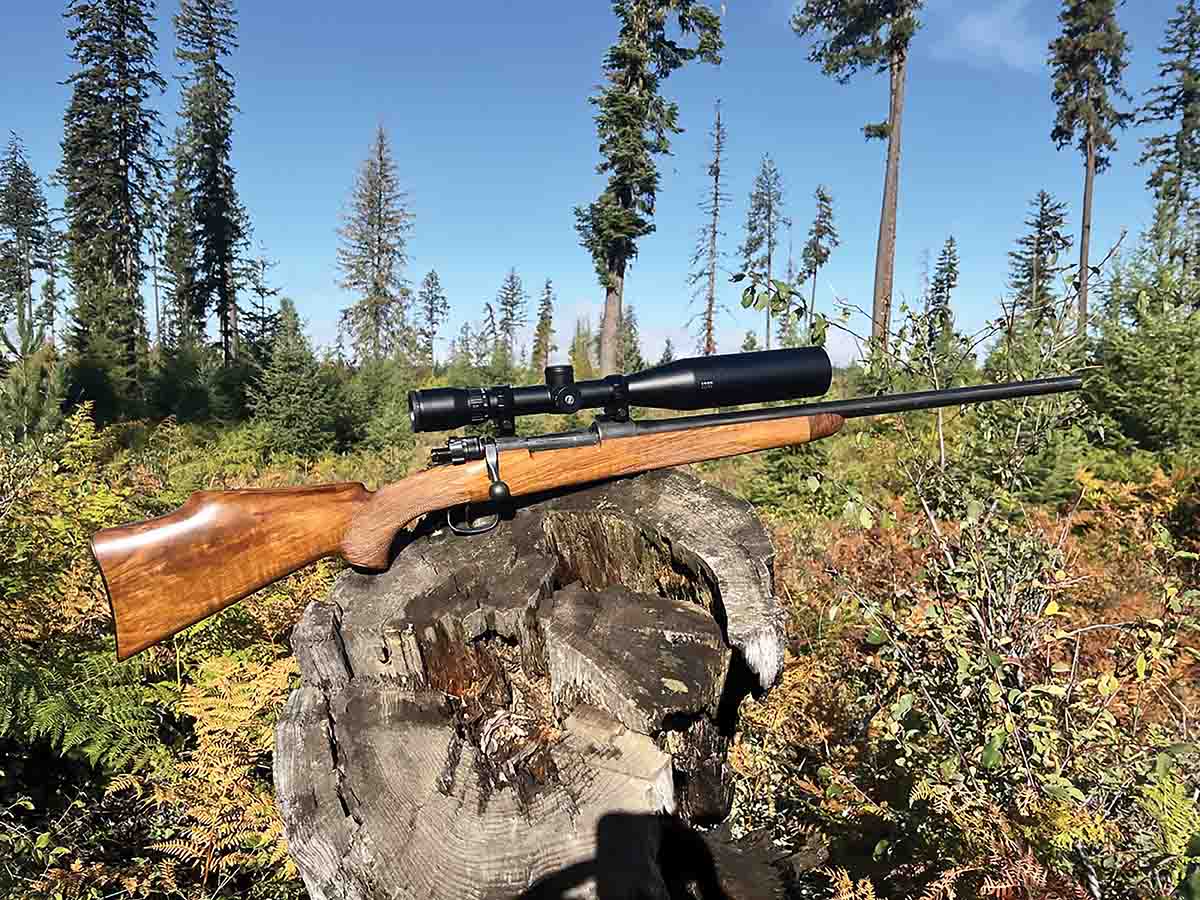 The ever-popular .223 Remington has been the basis for a long list of wildcat cartridges, necked-up and down in the pursuit of various goals, be that increased speed or a boost in knockdown power on larger game. The 6x45mm, or 6mm/.223 Remington, is such a cartridge. The goal with this one to create a more accurate benchrest contender. It is nothing more than the .223 Remington necked-up to accept 6mm/.243-caliber bullets with no other dimensional changes. This produces a cartridge that can handle slightly heavier bullets sent at velocities often rivaling same-weight or slightly lighter .223 Remington bullets, delivering more punch at longer ranges and superior ballistic coefficients, without significantly increasing recoil or muzzle blast.
For a time, the 6x45mm was quite popular with the benchrest set, but was soon replaced by squattier/fatter 6mm rounds like the 6mm PPC and BR Norma. A couple riflemakers have chambered the round – like Kimber and Cooper bolt rifles – but as far as I know, only Black Hills Ammunition has offered factory loads, making the 6x45mm a handloaders' cartridge.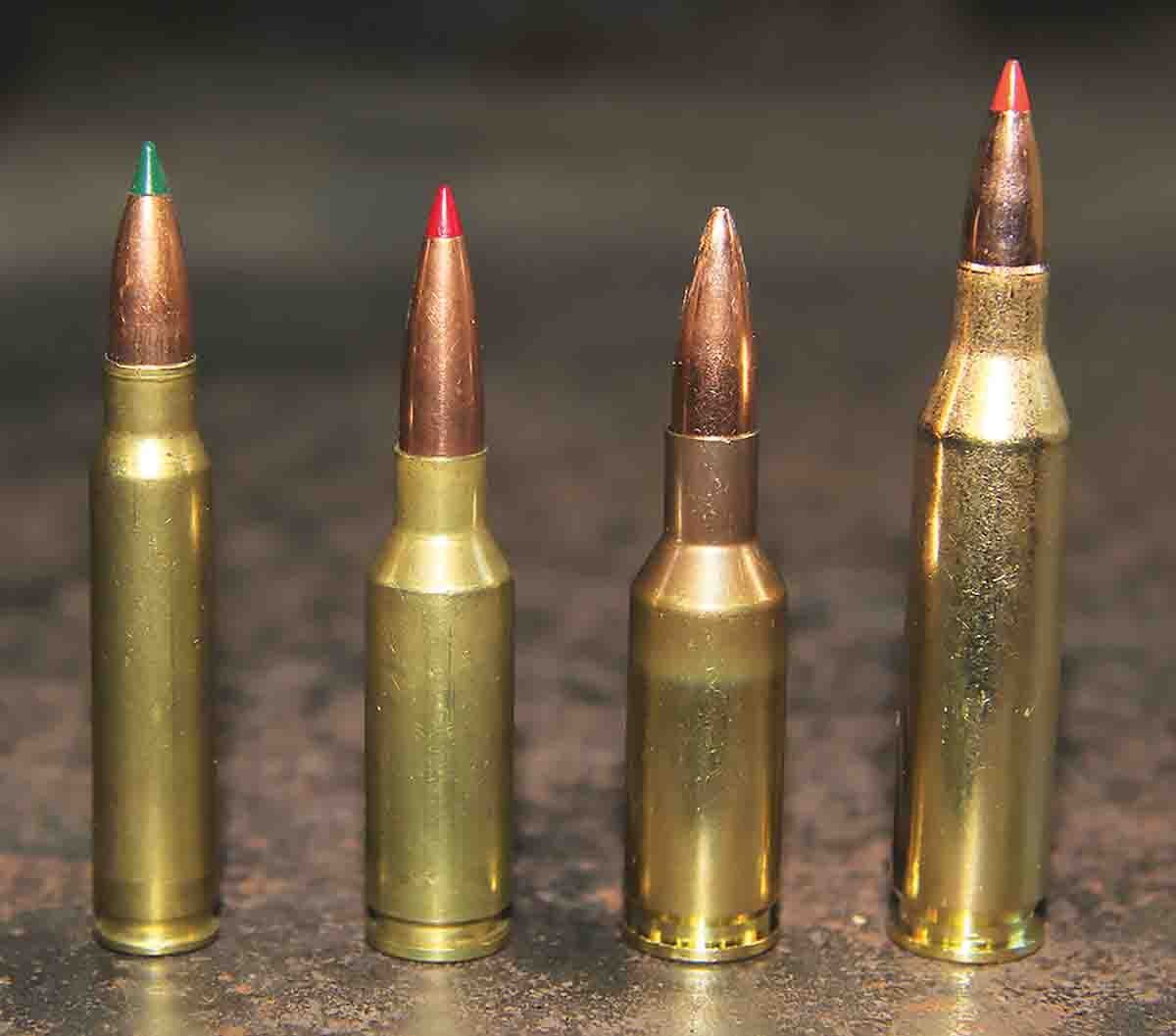 For big-game applications, the 6x45mm meets the .24-caliber minimum imposed by many U.S. states. The 6x45mm accommodates 6mm bullets weighing from 55 to about 100 grains, making it suitable for burrowing varmints and game up to average-sized hogs or deer with carefully placed shots and ruggedly constructed bullets. The cartridge developed a following in South Africa for small antelopes such as duiker, impala and springbok. European hunters have used it on roe deer and chamois in countries where a minimum 6mm bullet producing 980 joules of energy at 100 meters is legally required.
The friend I borrowed this rifle from, like myself, is a serious varmint shooter, so we had less interest in big-game bullets. The accompanying loads were all assembled with burrowing rodents or predators in mind (with one exception), including lighter/speedier, highly-frangible varmint bullets. The 6x45mm will send 55-grain bullets at up to 3,400 feet per second (fps), and 80-grain bullets to 2,900 fps with maximum powder charges. These velocities beat .223 Remington loads shooting same-weight bullets by about 200 fps, the larger bullet base providing more to push against.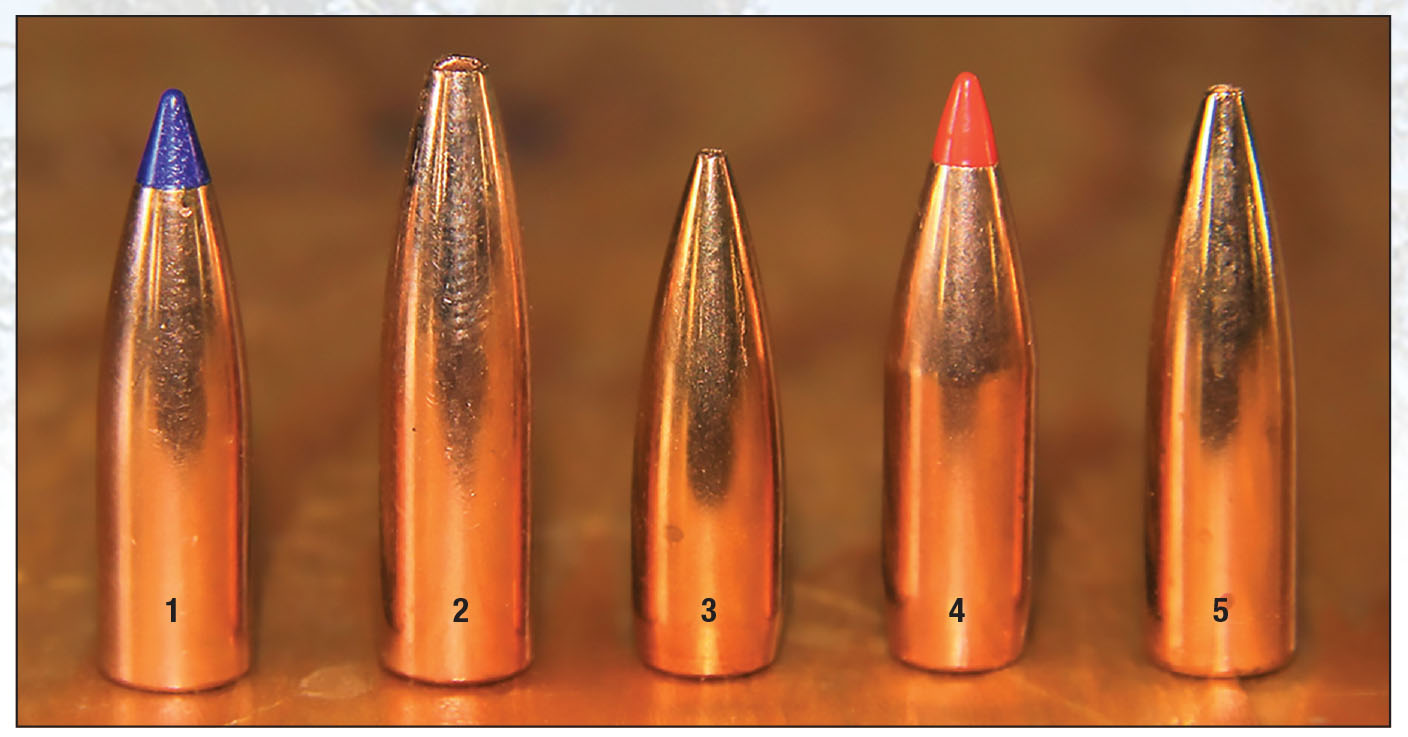 The 6x45mm is an easy wildcat, requiring no more effort than running common .223 Remington cases through standard 6x45mm full-length dies – in this case a Redding Series C die set labeled 6MM/.223 REM. The long taper of the Redding expanding ball allowed resizing .223 Remington necks with minimal resistance.
The 6x45mm is AR-15 compatible, and I'm sure this has generated some interest from that crowd – Les Baer, for one. The rifle used for testing was a bolt action built around a Mauser '98 action including a stripper clip indent in the left receiver wall. The magazine well had been filled with a milled aluminum block to make it a single-feed rifle. It held a heavy 24-inch barrel measuring .775 inch at the muzzle and included a nice target crown. It had a decent trigger that broke at 3.58 pounds without grit or creep. The rifle's owner restocked it in a gorgeous piece of walnut, adding rosewood forend and grip caps, steel buttplate and fine wraparound checkering on the grip and forearm areas. The stock included a 14-inch length of pull that is ideal for my lanky frame. The rollover comb made it quite comfortable off the bench. The rifle held one of my Bushnell Elite 6500 4.5-30x 50mm scopes, ideal for poking holes in paper from a bench, or shooting distant varmints. With scope installed, the rifle finished at a steady 10.78 pounds.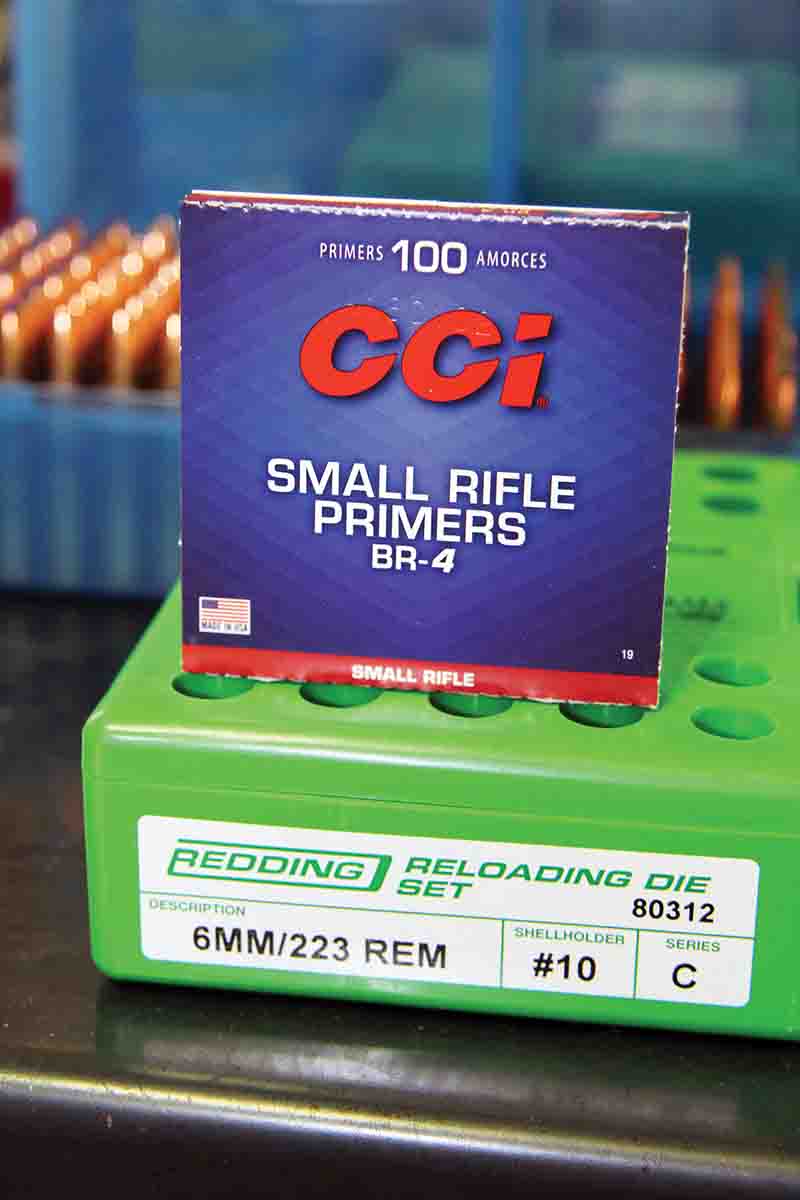 Bullets chosen for testing included Nosler's 55-grain Ballistic Tip Lead-Free Varmint, Barnes' 62-grain Varmint Grenade, Berger's 65-grain Boat Tail Target, Hornady's 75-grain V-MAX and Berger's 80-grain Flat Base Varmint. A Nosler 85-grain Partition was added as an afterthought for use on big game. Powders suitable for the 6x45mm range from Accurate LT-30, Norma 200 and Accurate 2200 at the fast end, to Hodgdon 335, Ramshot X-Terminator and Shooters World Match Rifle at the slower end.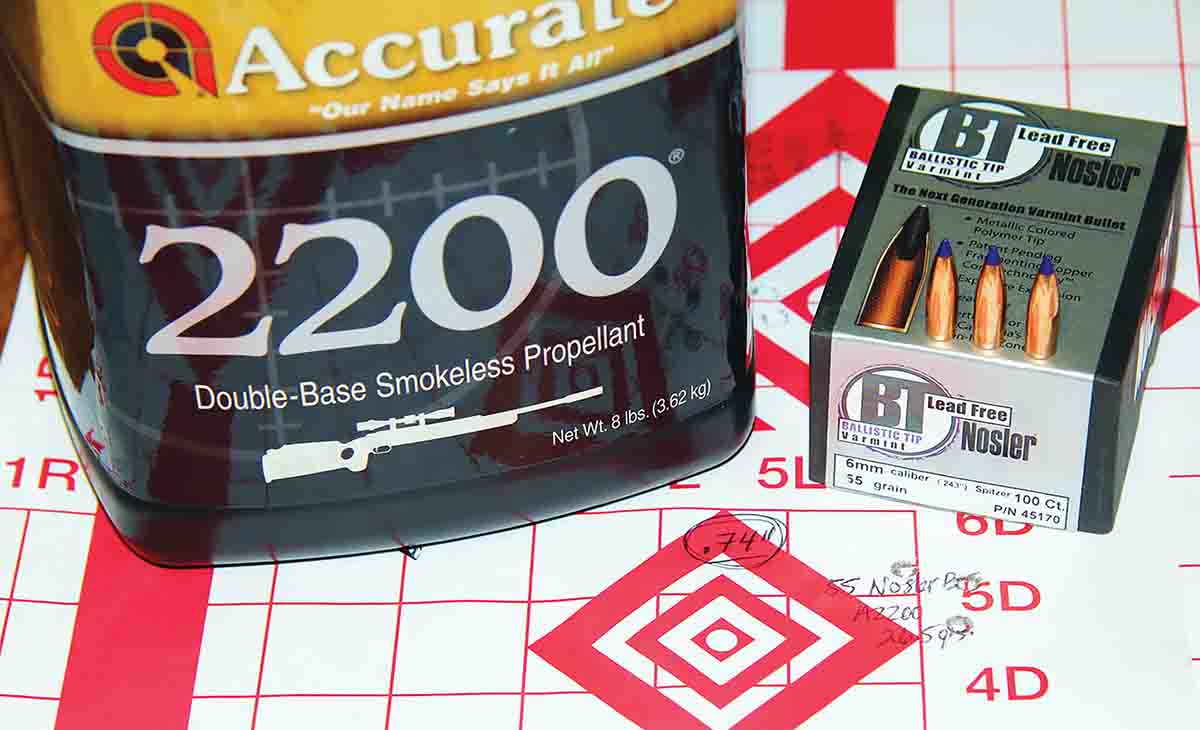 Freshly annealed and resized Federal Cartridge range brass (see accompanying Anneal-Rite sidebar), CCI BR-4 Small Rifle primers, an RCBS hand primer, balance-beam scale and powder trickler, Precision Hardcore Gear funnel and Area 419 Billet Loading Block case/bullet tray and ZERO Reloading Press round out the gear list. Shooting was conducted over a solid portable bench atop MTM Case-Gard's adjustable K-Zone Shooting Rest. A Lab-Radar Doppler unit recorded velocities. Maximum case length is 1.76 inches, with a 1.75 inch trim-to length.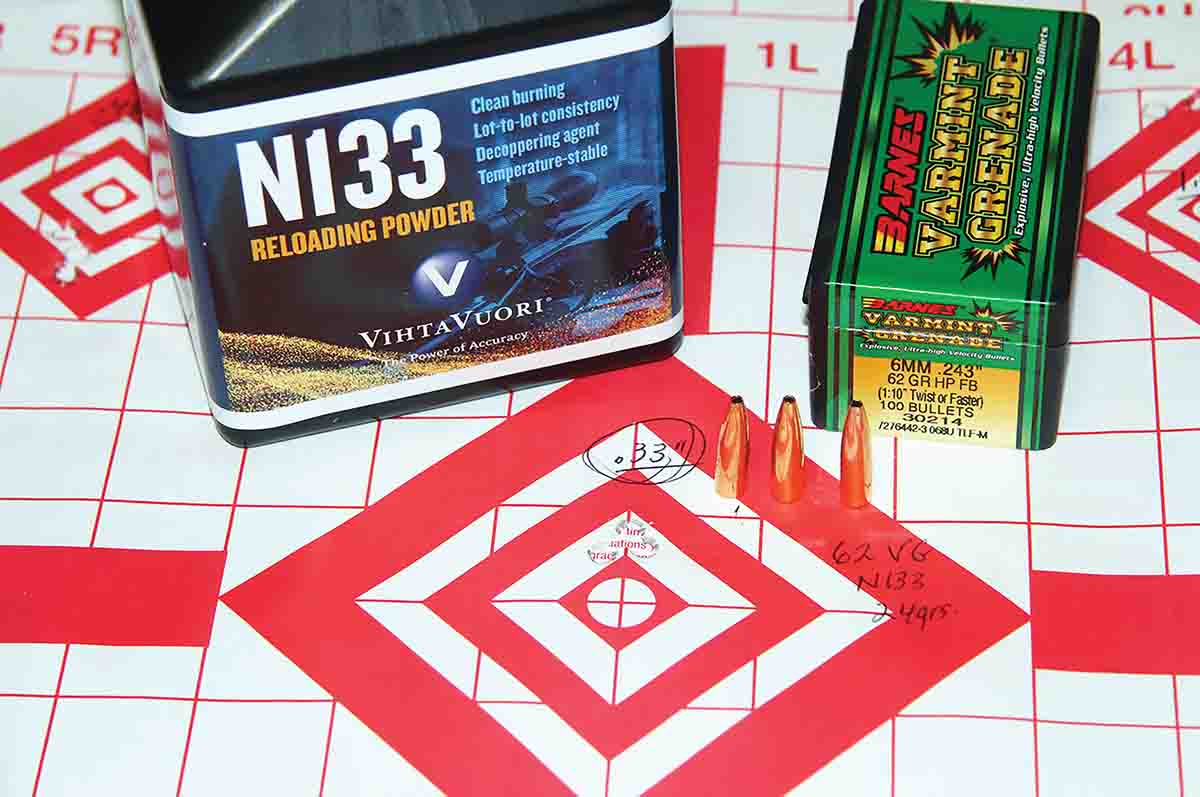 The Nosler 55-grain Ballistic Tip Lead-Free Varmint is a long-for-weight bullet offering a flatbase, purple polymer tip and explosive terminal performance. It includes a gilded copper jacket packed with a tin/copper matrix that proves quite explosive and makes it California legal. Its .288 G1 ballistic coefficient (BC) exceeds .224-caliber ballistics at the same weight. This bullet was paired with Accurate 2200, Ramshot X-Terminator and Winchester 748. Unfortunately, this rifle just didn't care for this bullet with the best group measuring .74 inch, at 3,335 fps using 26.5 grains of A-2200. X-Terminator managed only a 1.10-inch group at 3,315 fps using 28 grains of powder and W-748 was 1.40-inch at 3,192 using 28.5 grains of powder.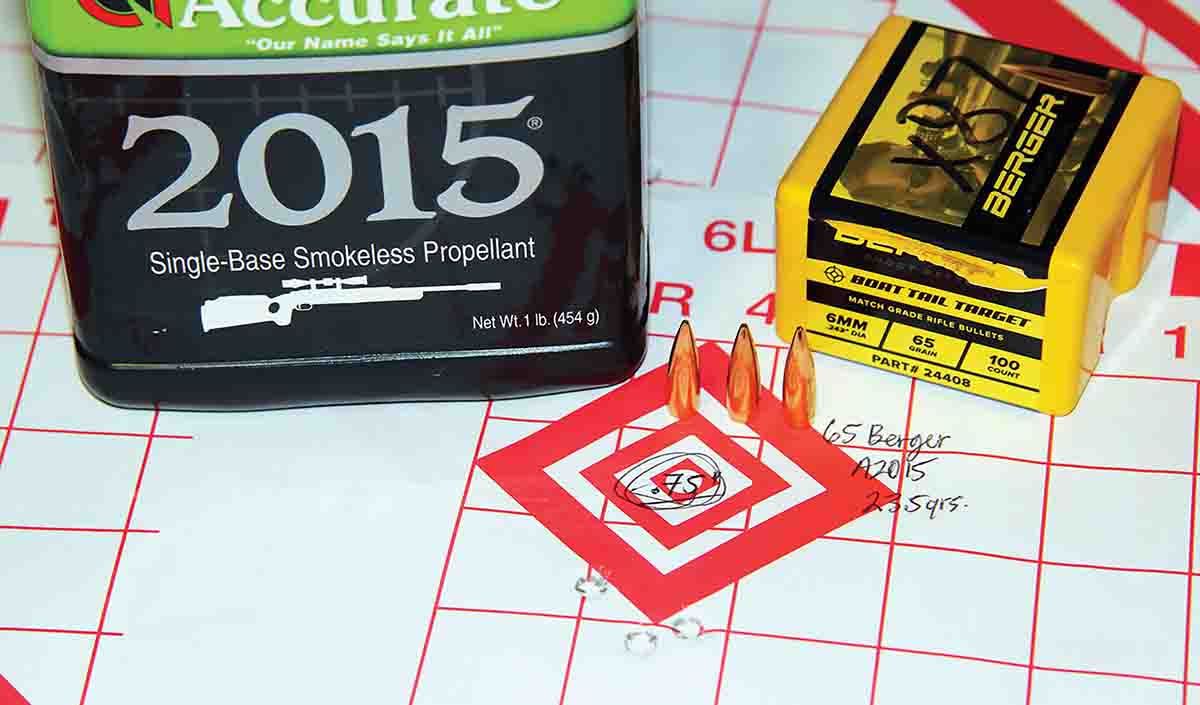 The Barnes' 62-grain Varmint Grenade is another long-for-weight (the longest of this test) lead-free bullet including a copper/tin mixture packed into a gilded hollowpoint jacket. The flatbase bullet includes a .199 G1 BC and provides aggressive expansion renowned for knocking down burrowing rodents. Hodgdon Benchmark, Vihtavuori N133 and Alliant Reloder 10X were used with this bullet and improved accuracy markedly. Benchmark turned in .51- and .48-inch groups at 2,860 and 2,998 fps and using 25 and 26 grains of powder, respectively. The best group appeared using Vihtavuori N133. That was .33 inch at 2,979 fps using 24 grains of powder. Reloder 10X nearly broke an inch with 23 grains of powder while clocking 2,875 fps.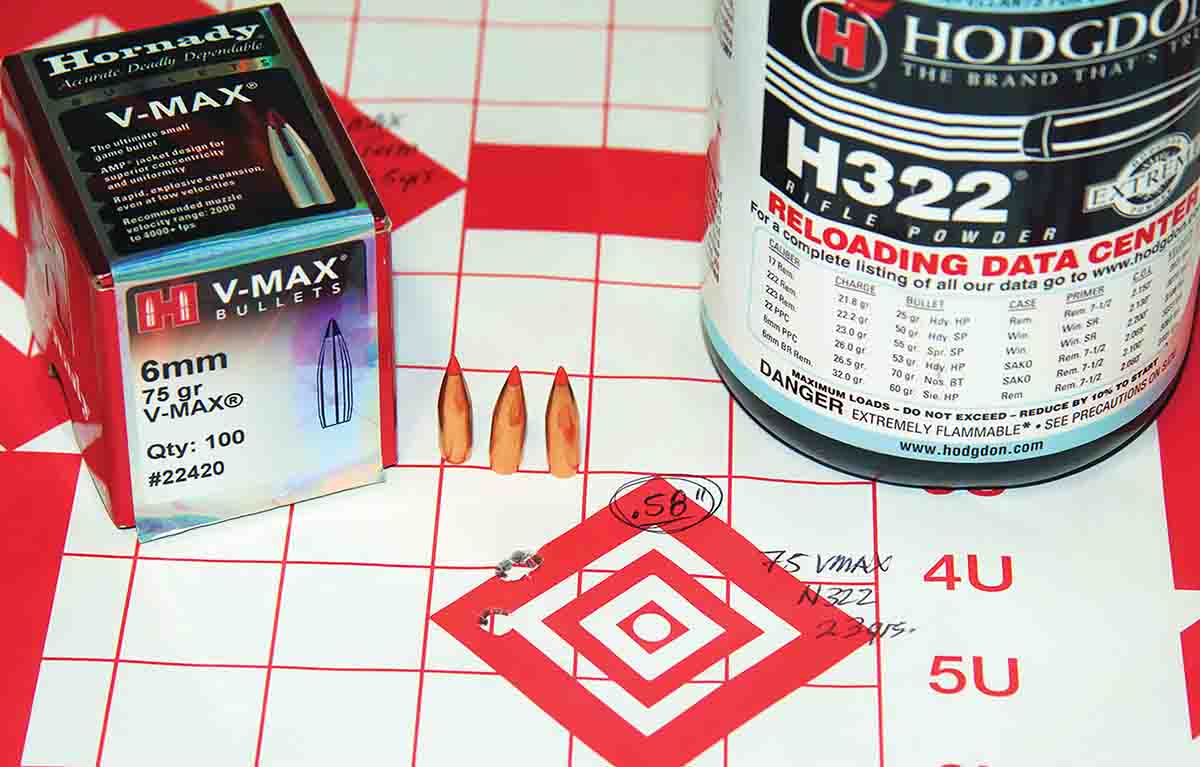 The Berger 65-grain Boat Tail Target, like other target slugs from the company, will expand aggressively on small varmints. These sleek boattail hollowpoint bullets include a .281 G1 BC to buck wind and drop less at longer ranges. This was the shortest bullet tested, though the rifle didn't seem to care for this bullet either – or maybe just the powders chosen to pair it with… Norma 200, Accurate LT-30 and Accurate 2015 served to fuel this bullet. It did manage .75 inch using 23.5 grains of A-2015, the best groups with the other powders just breaking 1.25 inches.
Hornady's V-MAX is the consummate varmint bullet, the 75-grain 6mm version including a streamlined boat-tail and red polymer tip to create a .330 G1 BC – the highest of all bullets tested here. It was paired with Vihtavuori N133, Ramshot X-Terminator and Hodgdon 322. X-Terminator produced a .85-inch group at 2,931 fps using 25.5 grains of powder, Vihtavuori N133 a .63-inch group at 2,837 using 23 grains. The best group resulted from 23 grains of H-322, measuring .58 inch center-to-center and pushing 2,740 fps.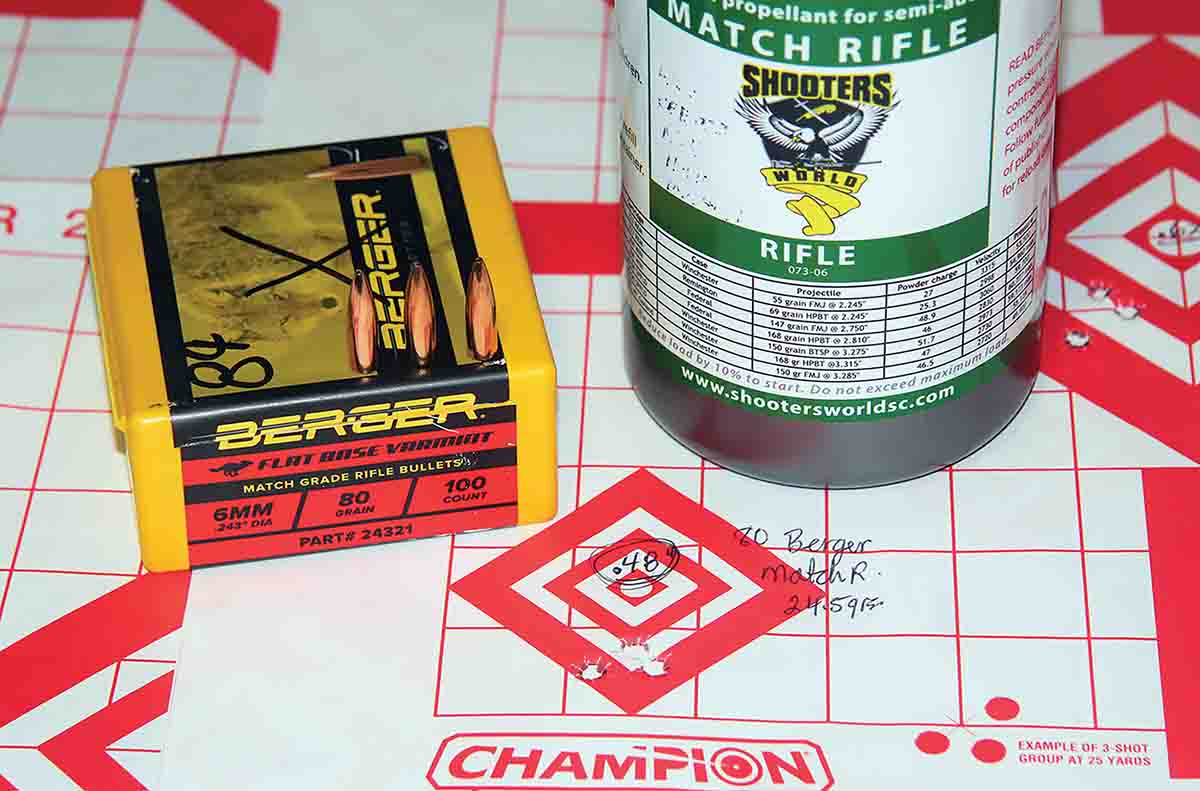 Propelled by Hodgdon H-335 and H-4895, and Shooters World Match Rifle, Berger's 80-grain Flat Base Varmint proved another winner. An accuracy-enhancing flatbase and aggressive hollowpoint give this bullet a .300 G1 BC. This bullet's performance led me to the impression this rifle prefers flatbase bullets. H-4895 produced a .72-inch group at 2,972 fps using 27 grains of powder, while H-335 produced a .54-inch group at 2,815 fps using 26 grains. The best group resulted from 24.4 grains of Match Rifle, that group measuring less than a half-inch, but at a pokey 2,452 fps.
I added Nosler's 85-grain Partition as a bonus for those who might wish to hunt deer or hogs with the 6x45mm, using Accurate LT-32, Shooters World Precision Rifle and Alliant Reloder TS 15.5 to get things moving. I didn't expect stellar accuracy, but the Partition certainly performed well enough for big-game work. Twenty-one and a half grains of LT-32 broke an inch at 2,563 fps, as did 24.5 grains of Reloder TS 15.5, printing .86 inch at 2,501 fps. Precision Rifle edged the other powders out slightly for the tightest group with .84 inch at 2,577 fps using 24.4 grains of powder.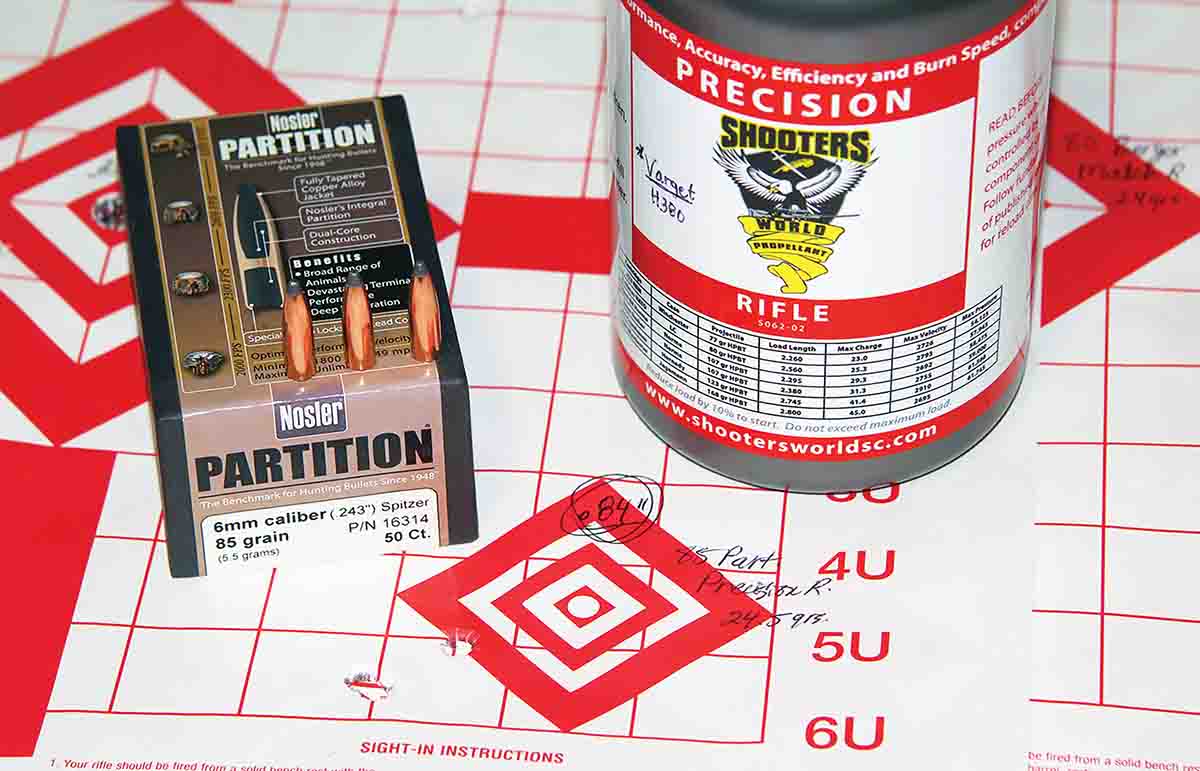 Overall, this rifle proved frustratingly fussy, with no obvious aspect to blame it on such as bullet stabilization in relation to rifling twist. My inclination was to blame the single-feed setup combined with the Mauser's controlled-feed system (a bad idea). It caused some hair-pulling feeding issues, rounds continually jamming on the lip of the barrel receiver, or being pushed into the chamber and the claw extractor refusing to pop over the case rim. The round then had to be pushed out with a ramrod. I can't help but wonder if some concentricity issues resulted from the tips catching on the receiver edges while working the bolt, as I did frequently witness tight two-shot groups opened conspicuously by a single round that had just repeatedly refused to feed.
But that is a rifle problem, not a cartridge problem. The 6x45mm is a fine cartridge, and one that has really grabbed my attention.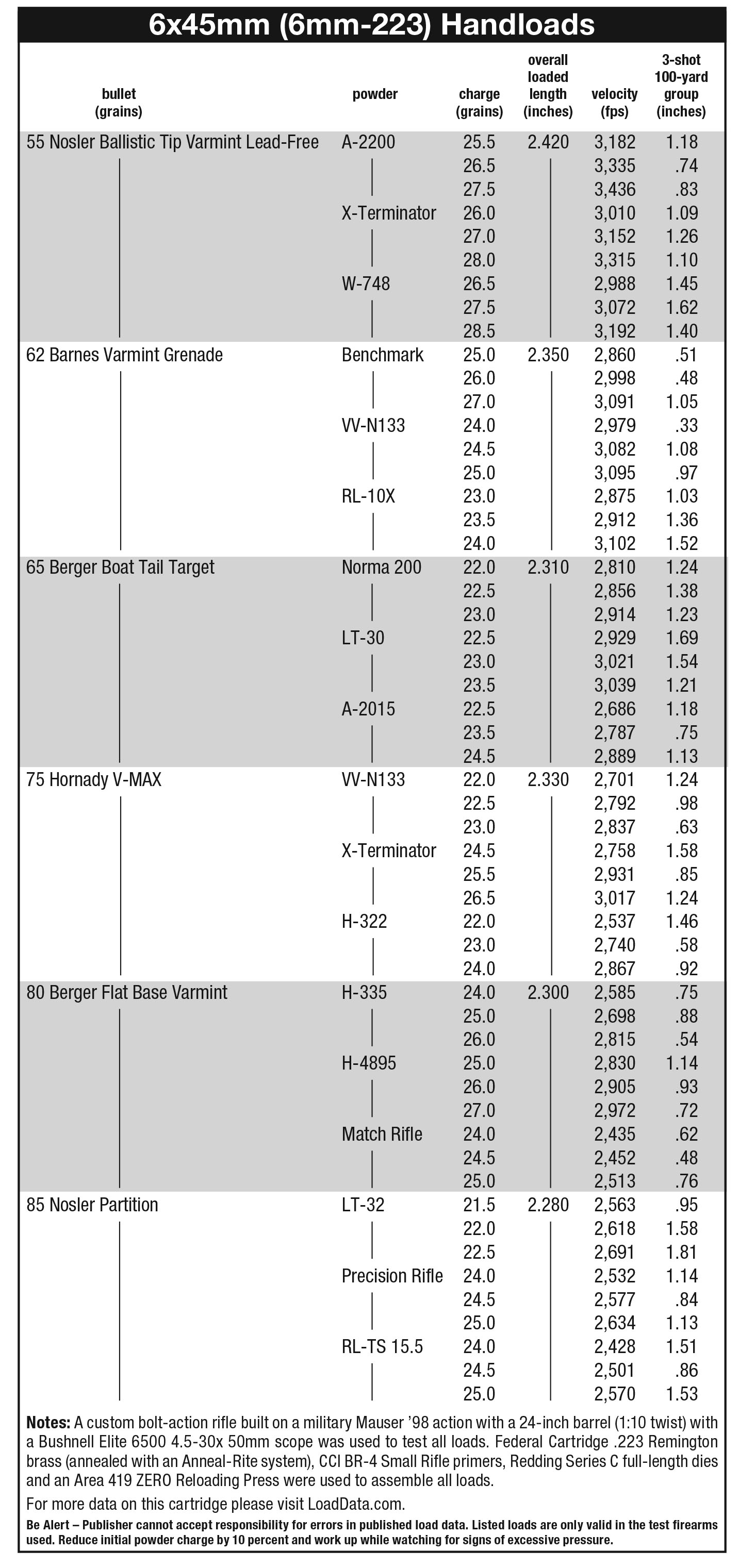 ---
Anneal-Rite Brass Annealing System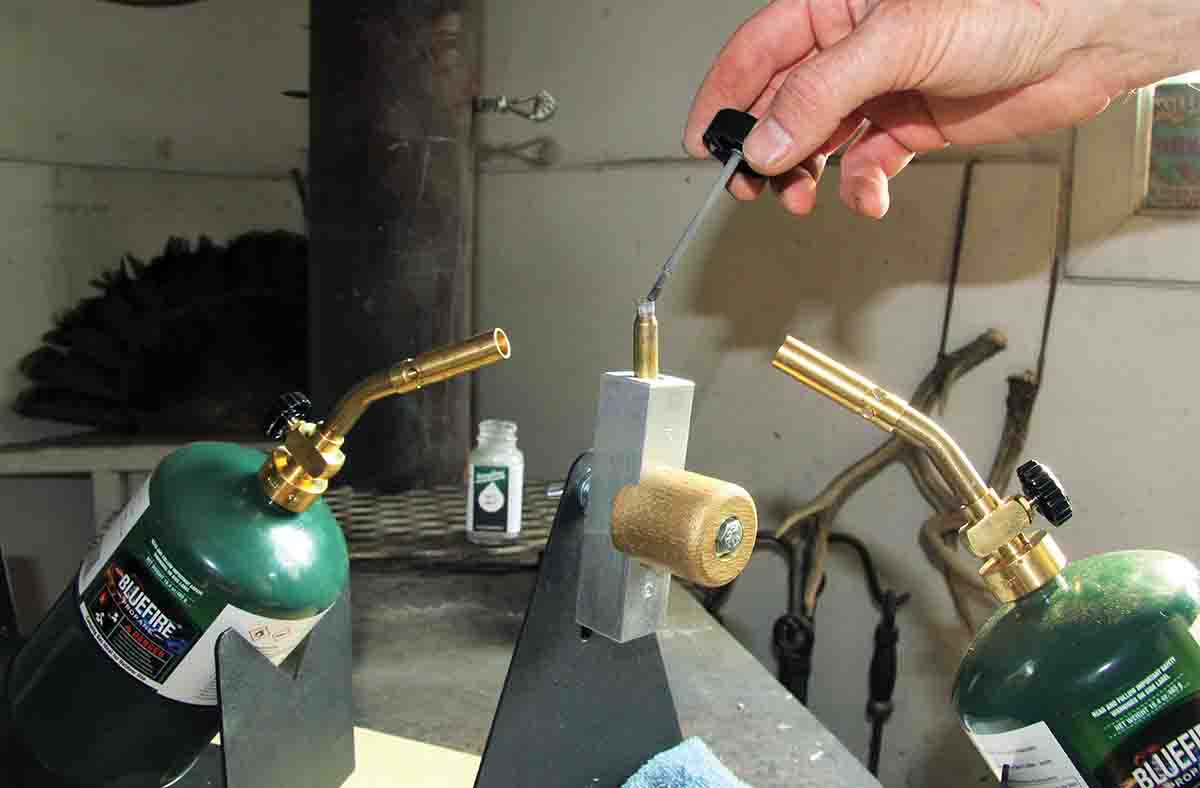 Any wildcat work, including necking cases up or down or fireforming, should start and end with proper neck/shoulder annealing. This ensures fewer split necks/shoulders during forming and longer-lasting brass after. In times such as these, with handloading components becoming increasingly scarce, annealing also breaths additional life into older brass, allowing 10 to 15 firings from a set of brass instead of the typical five to seven before necks and shoulders begin to crack. Annealing also allows me to confidently conduct major resizing, such as creating .221 Remington Fireball brass from common .223 cases – annealing to make sizing more productive; annealing again after cutting to length, turning necks and chamfering to ensure maximum life.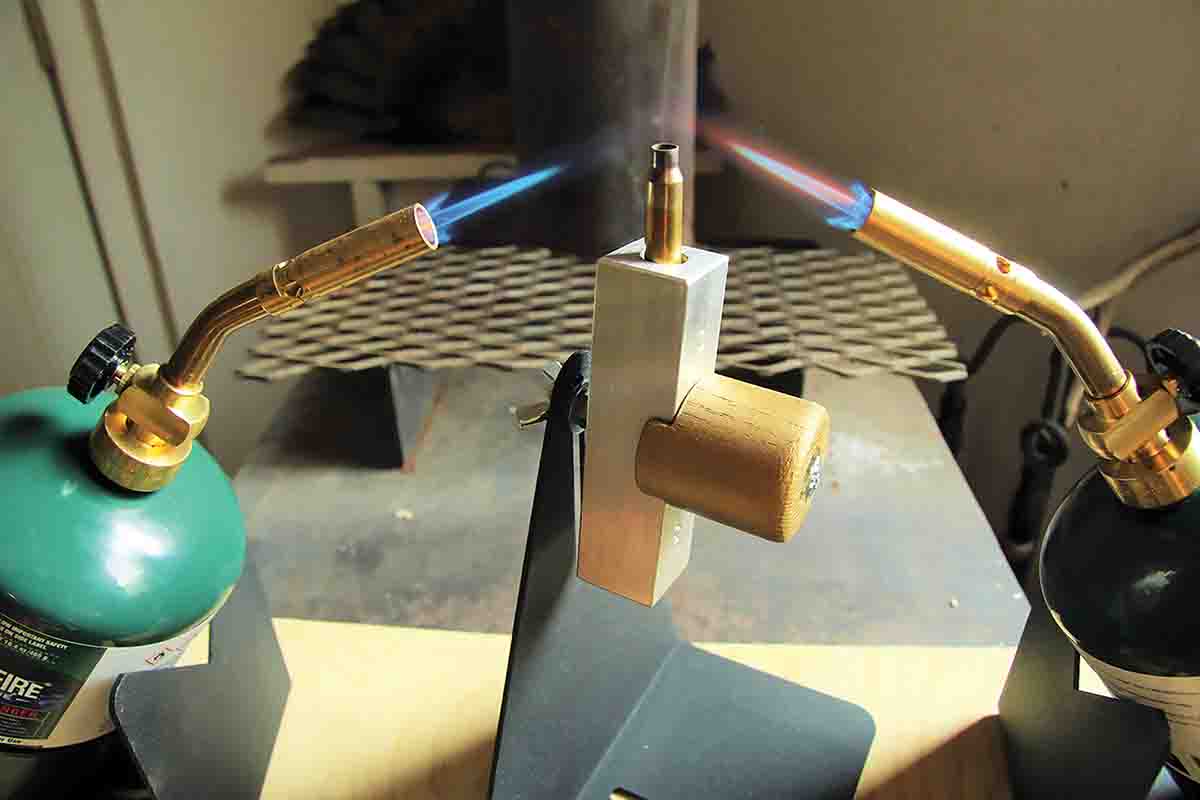 When working with cartridges like the 6x45mm (see accompanying article), especially when starting with fired range brass, annealing is the logical beginning. I started with Federal Cartridge .223 Remington brass scrounged from a popular public lands shooting site, annealing neck/shoulder areas with the Anneal-Rite system before necking up to 6mm. Annealing can also be counted on to improve accuracy through improved consistency.
I once annealed old brass by setting them in a pan of water and applying a torch, turning necks/shoulders cherry-red before tipping them into the water. This process was excruciatingly tedious and less than precise. The Anneal-Rite system makes this task faster and easier, treating 500 to 600 cases per hour while ensuring consistent results.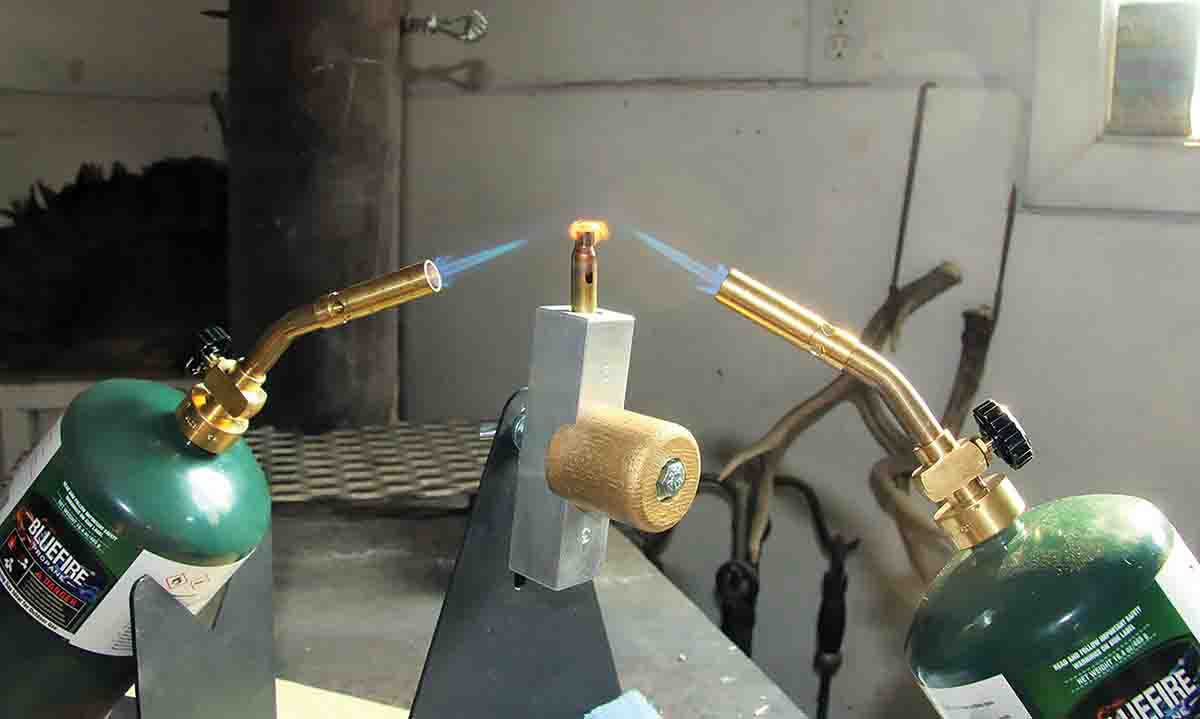 The system includes a center tower holding interchangeable aluminum caseholder blocks set on a height-adjustable swiveling base. A stand set to each side of the center tower holds opposing torches directed on the case neck/shoulder area when held in the case block. The tower and torch stands are made from sturdy 14-guage steel. Standard Coleman-style "fat" propane bottles work best, though long/skinny hardware store bottles can be made to function.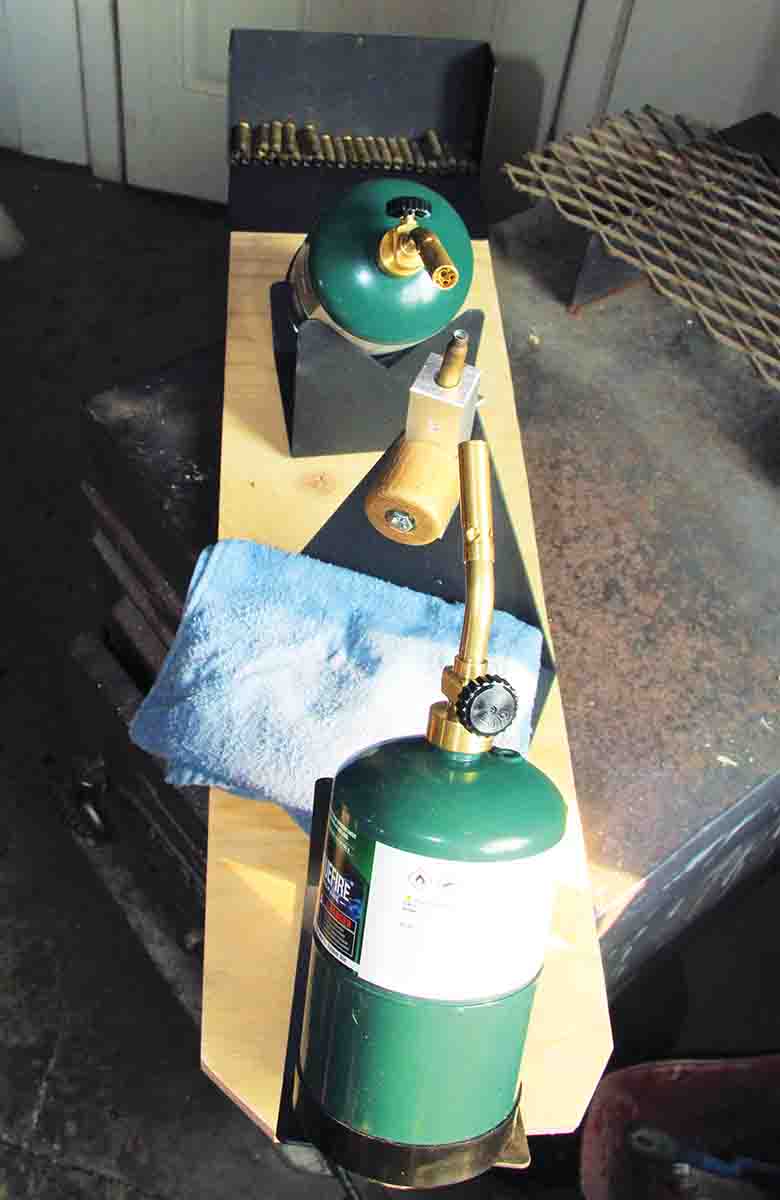 One of the keys to the Anneal-Rite's precision is the use of 750-degree F Tempilaq as a temperature gauge – a bottle included with every unit. Tempilaq liquid is lightly applied to the case neck using the lid brush. When the torches turn the liquid black, the tower knob is swiveled to drop the treated brass onto a moistened towel and allowed to cool. Annealing is complete.
The sturdy system comes with a 15-day trial period and a 100 percent money-back guarantee and costs much less than induction units.

Anneal-Rite also offers a case storage rack, which allows neatly stacking cases to be treated, or finished cases after treatment. To keep everything neat and organized, I mounted the system on a half-inch piece of plywood, placing the case tray on one end and arranging the tower and torch stands to each side. Slots in each base allow for adjusting spacing for various cartridges, so I added wing nuts to the mounting screws to create faster adjustment capabilities. At one end of the board, I bored a 1-inch hole, which allows hanging the works on a nail to save bench space when not in use. Anneal-Rite sells a similar mounting kit.
Check it out at CartridgeAnneal.com.