Upon first viewing
Skinner Sights' Bush Pilot Survival Kit
at a Montana gun show, the various accoutrements such as large knife, coil of nylon rope, fire-starting kit and more were mildly interesting. However, I thought at my age, it's highly unlikely that I'll ever again be in a position to need a survival kit. On the other hand, as a great fan of lever-action carbines, I was impressed by the kit's centerpiece; a
Chiappa Model 1892 .44 Magnum lever-action carbine
. Most likely, I still wouldn't have bought the Bush Pilot kit if not for Yvonne's urging. She thought such a kit would be handy in our vehicles for winter driving in Montana as there are often stories of people trapped in snow drifts with no preparations for surviving.
This Chiappa carbine wasn't just any lever-action carbine. It's a modern version of old Winchester lever-action carbines, which were billed as "trapper models." Those had extra short barrels from 12 to 15 inches. Their purpose was more for handy carrying in woods than for precision shooting. In order to comply with today's laws which dictate a minimum of 1-inch barrel lengths for rifled long guns, Chiappa has gone a quarter-inch extra with its .44 Magnum Bush Pilot carbine. Hybrid is a word bandied about nowadays and this carbine definitely is one. From the action forward, the barrel is octagonal and the forend is rifle-type. That means it has a steel cap but no barrel bands. Conversely, the buttstock is pure Winchester carbine i.e. straight grip and slightly curved steel buttplate.
In order to fit in a survival kit, this little 1892 is a take-down version. A lever at end of magazine tube folds out. Turning it counterclockwise unscrews the magazine tube from receiver. Then, turning barrel and forend a quarter turn frees it for removal – just as was done with original Winchester leverguns.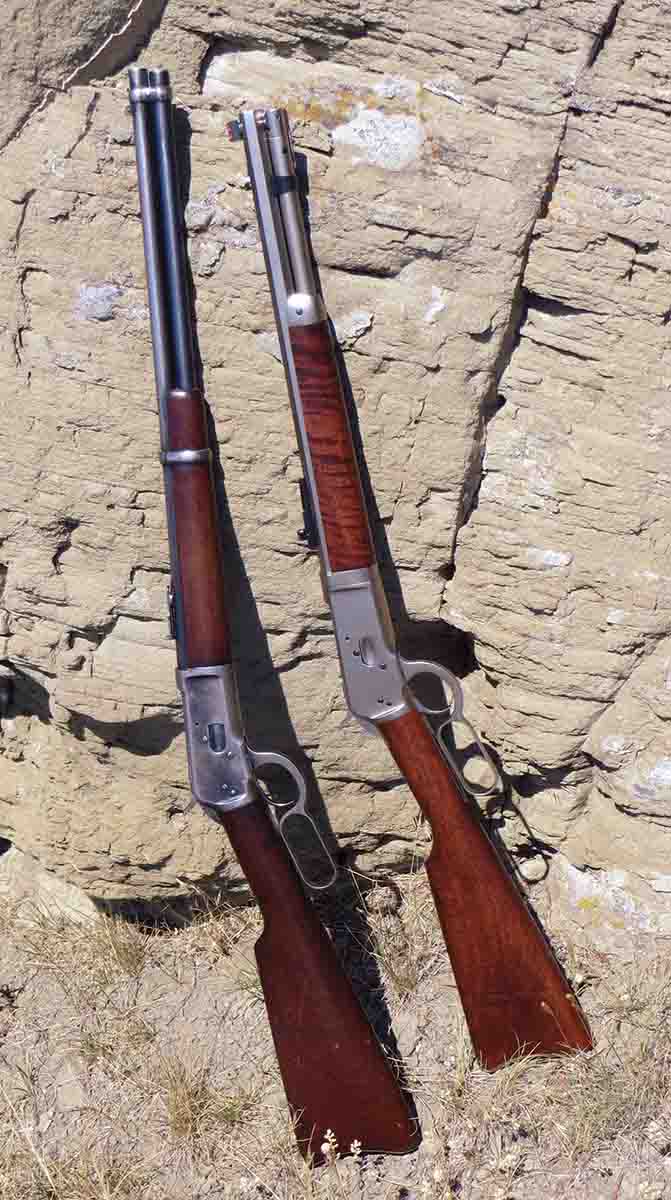 Instead of bluing, they chose to use a hard chrome finish on these 1892s. Its wood is plain grain and appears to be oil-finished American walnut. Altogether, it's a very attractive little firearm with obvious quality of craftsmanship as evidenced by its amazing action smoothness. The only features not of traditional appearance are the sights. Naturally, Skinner Sights mounted its own instead of traditional Winchester open rear with blade front. The rear sight is a barrel mounted peep adjustable for windage and the front sight with red fiber-optic insert is dovetailed to the barrel.
Now, I'm ashamed to admit this. When the Skinner Sight Bush Pilot Kit arrived, Yvonne and I took the little carbine out briefly and fired a few each of .44 Special and .44 Magnum mild cowboy factory loads. It functioned perfectly with both. Then the carbine was set in my rifle racks and neglected. It wasn't sighted-in and neither did I work up a good handload for it. My only excuse was that other affairs took precedence – until now.
Perusing my nearly 60-year-old, hand-jotted list of firearms owned in my lifetime, I was surprised to discover I had never owned a .44 Magnum rifle or carbine previously, although Marlin loaned me a Marlin Model 1894 "Cowboy Limited" with a 24-inch barrel for my Shooting Lever Guns book. It was only fired with cowboy-action level handloads; never any full-power .44 Magnums. To the best of my memory, I'd never fired a .44 Magnum levergun with full power loads. It was time to rectify that with the little Chiappa.
For this column, a batch of full-power .44 Magnum handloads were assembled using Speer 240-grain JSP bullets of .429 inch. Also intended were bullets cast in Lyman mould No. 429667. The latter bullet shot well from the long ago Marlin 1894 but with a loaded overall cartridge length (OAL) of 1.645 inches, they obviously would not work in the Chiappa Model 1892. Its maximum OAL is 1.592 inches. I toyed with the idea of trying some of Elmer Keith's old stout .44 Special loads in this carbine since it certainly is capable of handling higher pressure. However, because there are several very valuable .44 Special revolvers in my gun vault, common sense prevailed lest one of those hot loads found its way into a century-old sixgun.
The 240-grain jacketed softpoints were mated with Shooters World Heavy Pistol, Vihtavuori N110, Alliant 2400 and IMR-4227. Powder charges were on the high end but not at maximum by one or another of my several reloading handbooks or by Shooters World or Hodgdon's websites.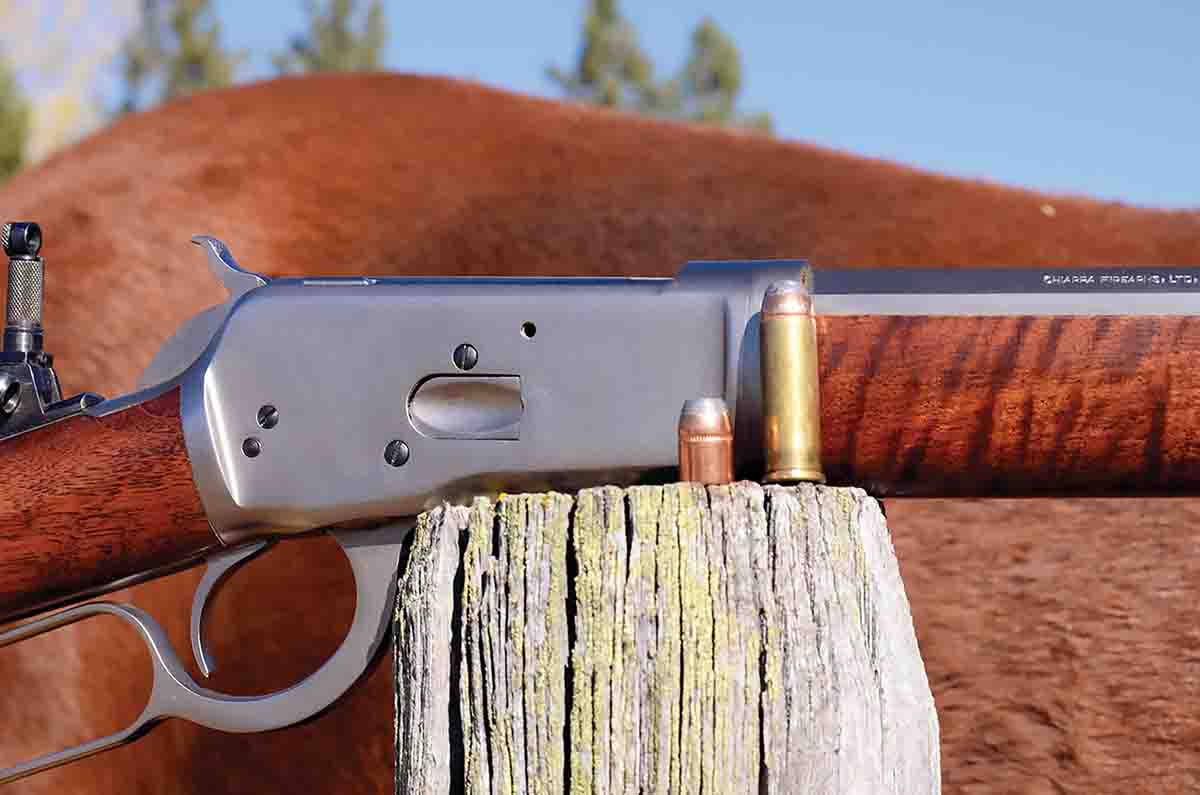 The first thing I'd like to say about shooting this .44 Magnum carbine is my surprise at how high velocities were from such a short barrel. The lowest and highest speeds with Speer 240-grain JSPs were still 1,406 feet per second (fps) to 1,567 fps. The accompanying load table will give exact details.
My range session with the Chiappa 1892 carbine provided a couple of surprises. One was its recoil. With full magnum loads, the little beast kicks like a mule; its forend bounced off the sandbags a couple inches every time the trigger was pulled. My targets' black bullseyes were 8 inches in diameter, so groups weren't impressively tight. Due to its recoil and also contending with factory ammunition and components shortages, only three-shot groups were fired. (Chronographing was done with five-shot strings on a different day.) The best groups ran about 3 inches, but some were far larger.
Finally, I must say that there was one disappointment. The front sight delivered with the Bush Pilot's Model 1892 must be replaced with a shorter one to compensate for the needed elevation change with these loads. Also, I need to search out a mould for a better suited roundnose, flatpoint cast bullet (preferably) of gas check design.