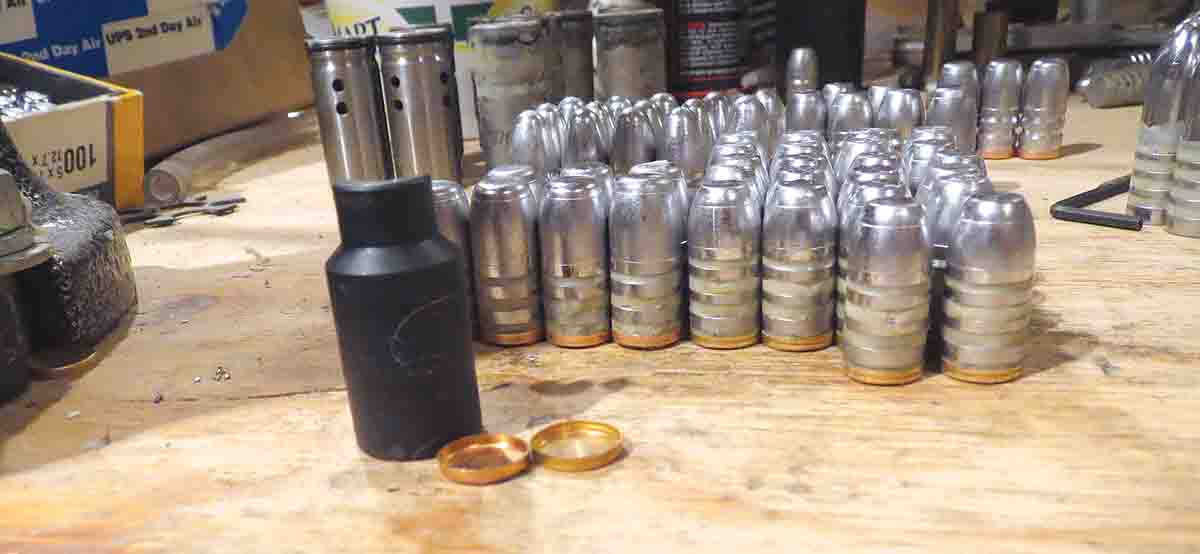 In the first three installments of "Beginning Bullet Casting," the factors involved in producing good bullets – and plenty of them – have been discussed. The last important factor is getting those bullets loaded into finished ammunition without ruining them. Damaging lead alloy projectiles is easy.
Compared to jacketed bullets, cast bullets are fragile, and the level of fragility depends on alloy. Hard bullets, say those cast of straight Linotype, won't even be scratched by your fingernail, but the skirts of pure lead Minié balls can be deformed simply with a squeeze of the fingers. The type of bullet, combined with its purpose, may also be a consideration. I just dump newly cast handgun bullets in boxes, no matter the alloy. Bullets for precision shooting in black powder cartridge rifle (BPCR) silhouette matches are neatly stacked in rows.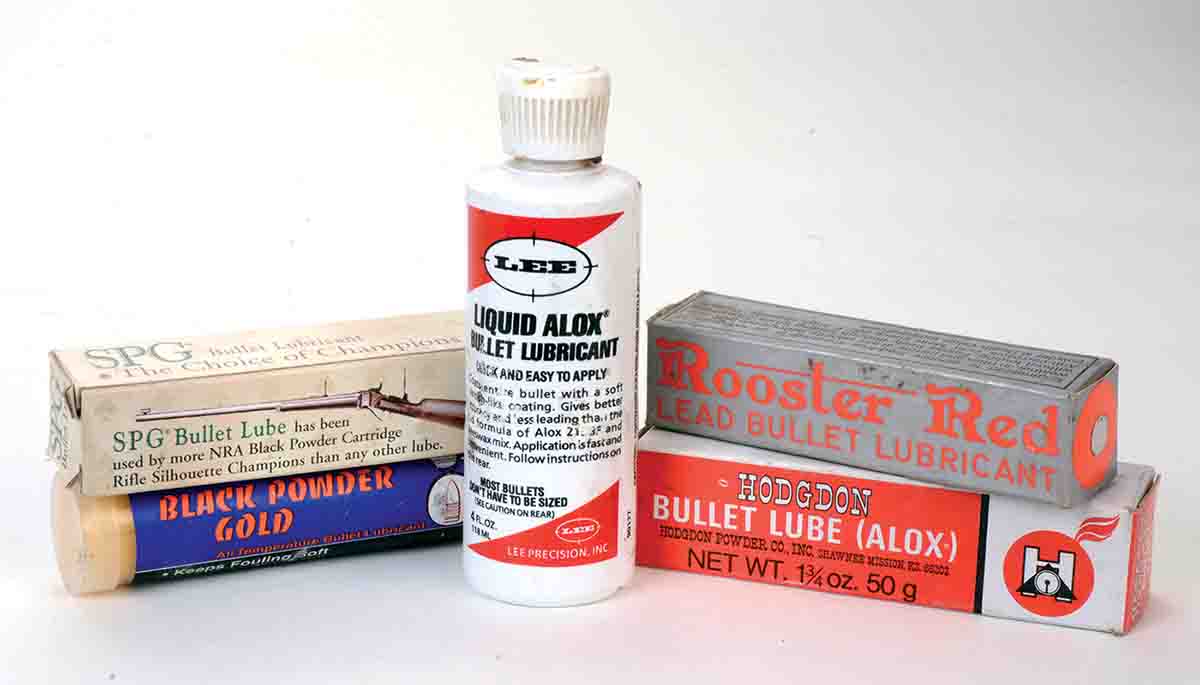 Even before loading, new bullets need lubricant and perhaps sizing. There are two schools of thought on the sizing matter in regard to precision shooting. Some competitors say the best method is no sizing at all – just shoot the bullets as they come from the mould. Taking that path, they pan-lube their bullets. This consists of standing them in a suitable metal pan and pouring melted lube around them to the desired depth. After it cools, the bullets can be cut free with a proper size cutter.
Of course, when not sizing bullets, it is necessary that the mould must be of top-notch quality and drop bullets of the exact dimension needed for a specific rifle. The other school of thought is that bullets should be sized to true-up any imperfections. There are BPCR national champions who prepare their cast bullets both ways, but I would like to relate an incident that convinced me sizing was the proper path: At the 2016 Montana Regional Championship for BPCR silhouette, I briefly became the laughing stock of other competitors. Right at the beginning of the first relay while I lay prone, I opened my cartridge box to discover .40-65 handloads. I had brought a .45-70 rifle. My spotter Ted Tompkins said, "Just stay there, I have .45-70s in the truck." The match included 60 rounds for score; 45 shots from prone and 15 shots offhand. At the end I had hit 42 of the prone targets and had called bad trigger pulls on the three misses. To Ted I said, "I want to buy this mould." He laughed and replied, "Look closely at that bullet." Sure enough, it was visibly out of round. Somehow Ted had damaged the mould block's alignment but just sized the bullets to .458 inch and shot them anyway. I finished second overall in the match that day.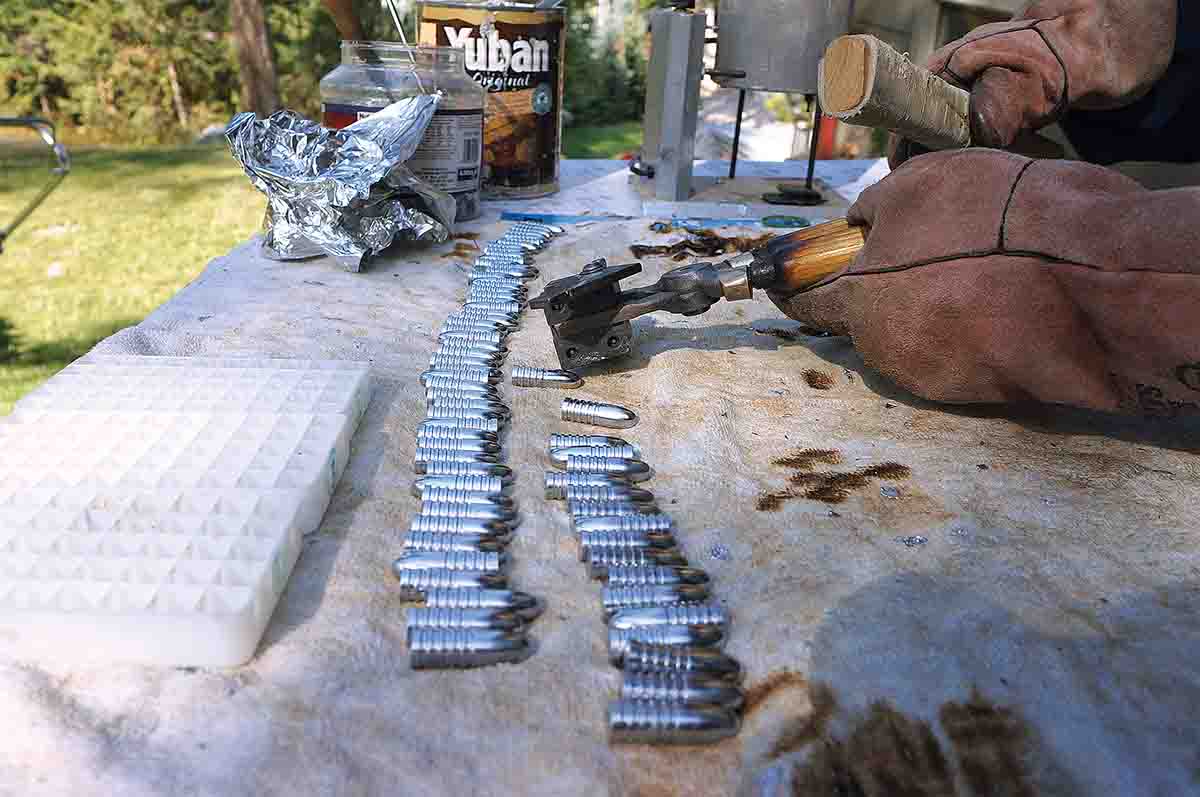 So my method of cast bullet preparation includes sizing but preferably not too much – .001 inch or less at most. Even more important than sizing is making sure the top punch on the sizing press fits the bullet's nose. With so many custom bullet designs on the market now, not all factory-made nose punches fit perfectly. Many custom mould makers will rebore a too-small nose punch with the same cutter used in the mould. That's a nice option. Bullets must be sized straight.
A factor that is often debated among experienced cast bullet shooters is the exact, proper bullet size for a specific rifle or handgun. Some say the bullet should be right at groove diameter; some say over groove diameter. Personally, .001 to .002 inch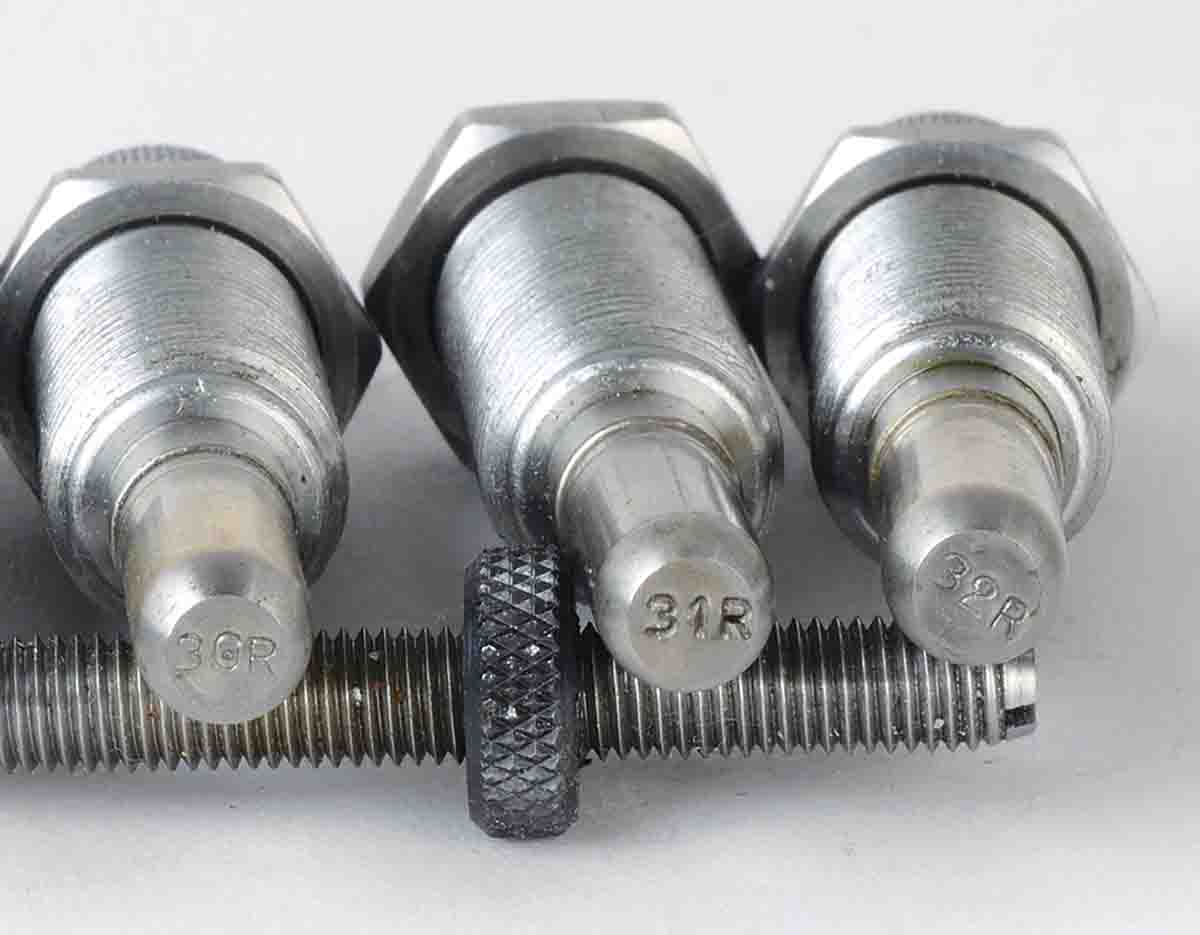 over groove diameter works well across the board. For instance, I've loaded and shot thousands of .30-caliber cast bullets in various .30-06 rifles with .308-inch barrel groove diameters. They have all been sized .309 or .310 inch, and I cannot tell a difference in their performance.
Here's a fact handgun handloaders may find interesting: Smith & Wesson's usual barrel groove diameter for .38 Special and .357 Magnum revolvers has always been .357 inch. Colt's dimension for .38 Special was .354 inch. I was surprised by that dimension when first reading it in a 1922 factory specification chart, and I thought, Surely they didn't carry that size over to .357 Magnums. Slugging the barrel of my 1969 vintage Colt SAA .357 Magnum showed it to be .354 inch across the grooves. For several decades, .358-inch cast bullets were shot in both Smith & Wesson and Colt .38 Special and .357 Magnum revolvers with no problems whatsoever, all the while thinking my bullets were .001 inch over groove diameter.
Lubing bullets is even more complicated. Sizing is a simple mechanical process, but choosing which lube to use is complicated by factors such as bullet velocity, firearm type, propellant, and even whether or not the lubed bullets will be stored for a length of time. Some lubes will dry out. Since soft lube is my preference, bullets are lubed no more than a day or two prior to loading them. With hard lubes requiring a lube/sizer heater to apply, bullets can be stored for years without worry of the lube drying.
Also as part of the lube/sizing operation, one must address the application of a gas check, if one will be used. Again, there must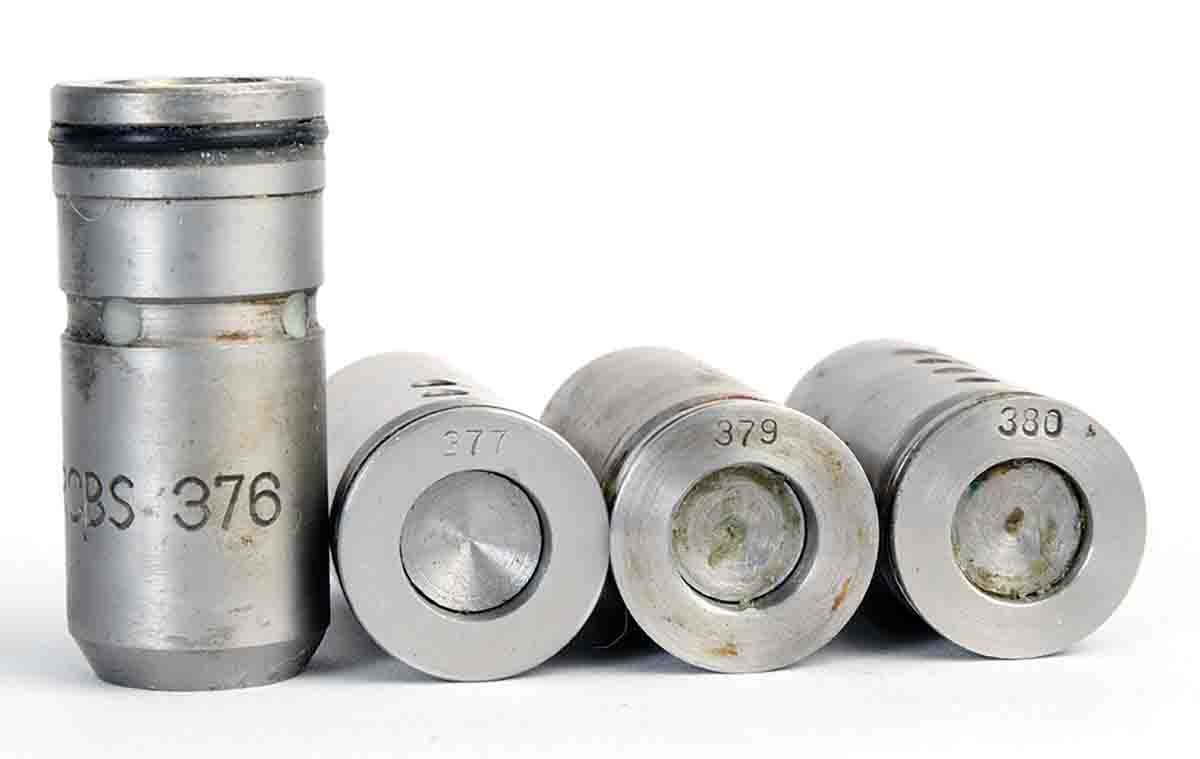 be straightness. The old method taught to me decades back was to press gas checks to the bullet's base and then rap them smartly on a reloading bench. That can obviously get time consuming and hard on the fingers. The old method is one reason I remember vividly when Lyman introduced its little gas check seating tool. One was handed to me in the Lyman booth at the NRA Convention in Philadelphia in 1982, and I still have it. In effect, all it does is stop the lube/sizing press' handle from coming down all the way. Put the seater gizmo under the sizing die, set the gas check in the die, and the bullet's base goes into it. Then bring the handle down until the gas check seater stops moving. The check will then be seated and crimped. (In the past, crimp-on gas checks were available from Hornady, and noncrimp gas checks were sold by Lyman. Now both companies sell crimp-on types.)
One other problem may arise with gas checks if the reduced-diameter shank of the bullet is either too small or too large. If the bullet is too small, the gas check will fall off, even after it's supposedly crimped on. You do not want it falling down atop the powder charge after the bullet is seated. If the bullet's shank is too large, the gas check simply will not stay on. Both problems are rare, but I've encountered them. I've read where other cast bullet shooters have loaded and fired gas check bullet designs without the checks and had experienced good results. That has never happened to me. If you choose a gas check bullet design, my advice is to use the check.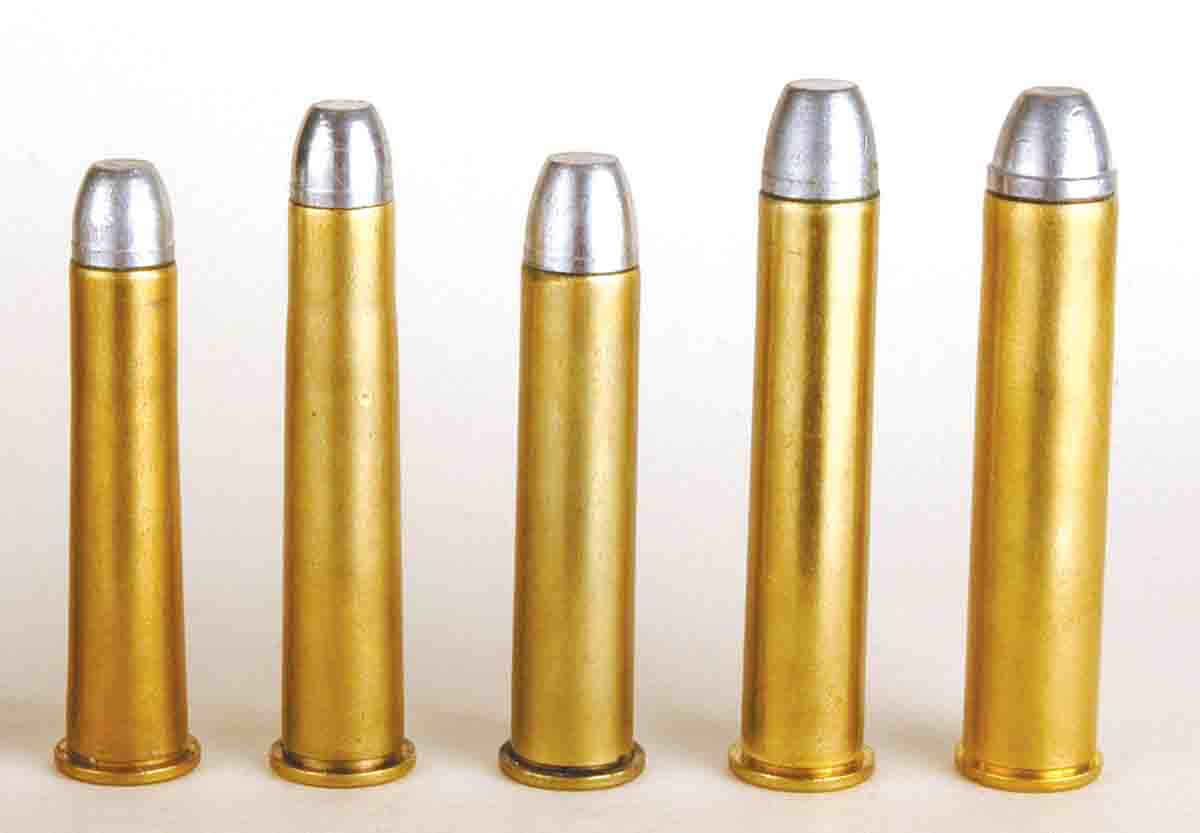 Now let's assume a novice bullet caster has shiny, perfectly formed projectiles all lubed, sized and ready to load. Furthermore, let's assume these new bullets are for a rifle firing a smokeless-powder, bottlenecked cartridge. Reloading die sets for such cartridges come with two basic dies when the intention is to load jacketed bullets. One die resizes as the case goes in then expands its neck back to proper diameter for bullet seating as the case is withdrawn. The second die seats the bullet and crimps it in place if the bullet has a cannelure and the handloader desires crimping. Is a cast bullet seated the same way as a jacketed bullet? Too often I've seen the result of trying that: a hopelessly deformed bullet with a considerable amount of peeled lead slivers around the case mouth.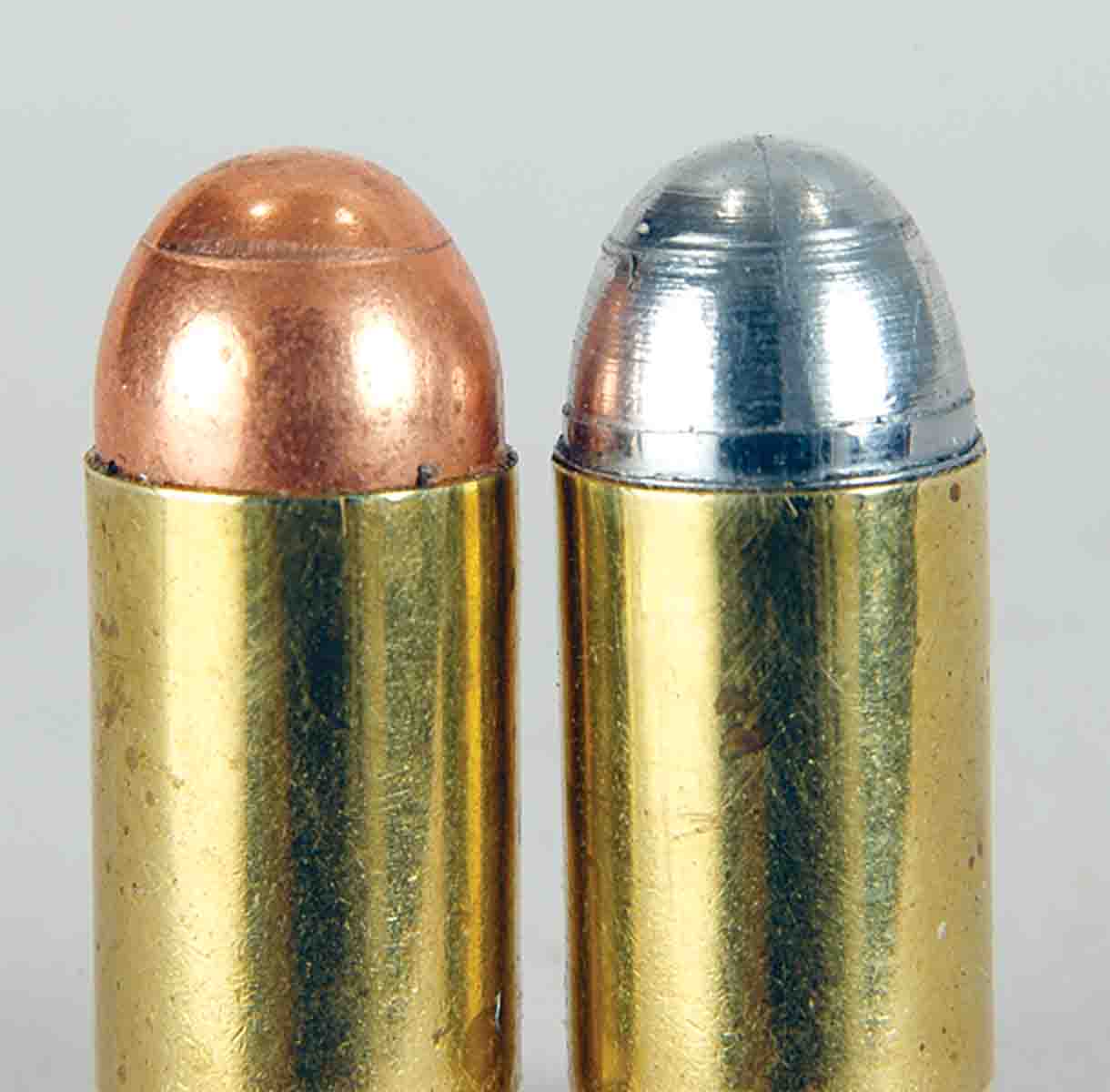 Jacketed bullets can be forced into a bottleneck case's mouth with no ill effects. Cast bullets will be badly deformed if the case mouth and case neck are not properly prepared, so a third die is used between sizing and seating. These dies have two purposes: expanding the case neck and belling the case mouth. Lyman sells these as a neck expanding M-Die, and RCBS calls them neck-expander dies. Both companies offer such dies with a multitude of stem dimensions so they can be mated with bullet diameter.
What's the proper size expander size? To be honest, I never worried about it much when ordering M-Dies in various calibers. When writing this, I measured several. My .25-caliber M-Die measures .254 inch and is used with .258-inch bullets; a .26 measures .260 inch and is used with .266-inch bullets; two .30s (long and short) are .306 inch in diameter and are used with .309/.310-inch bullets, and the .32 is .320 inch and is used with .325-inch bullets. The two RCBS neck expanders in my assortment are labeled .224 and .284 and measure .222 and .282 inch, respectively, and I've used them with .225- and .285-inch bullets.
At first glance, the above expander plug measurements seem a mite tight, especially the .260-inch one used for .266-inch bullets, but collectively thousands of cast bullet handloads have been assembled with them. Their collective performance has never disappointed. It probably helps that all my smokeless-powder, bottleneck-cartridge cast bullet shooting is done with hard bullets made with Linotype alloy.
Sharp-eyed readers have noticed the "long and short" reference to .30 caliber M-Die plugs. The plug must expand a case neck at least to the depth corresponding with the bullet that will be seated. Using .30 caliber as an example, the long plug is for .30-06-type case necks and the short for .308 Winchester lengths. Or the "long" is for 200- to 220-grain cast bullets and the "short" could be used on 110- to perhaps 150-grain, .30-caliber bullets. (Lyman stamps an "R" on the end of plugs meant for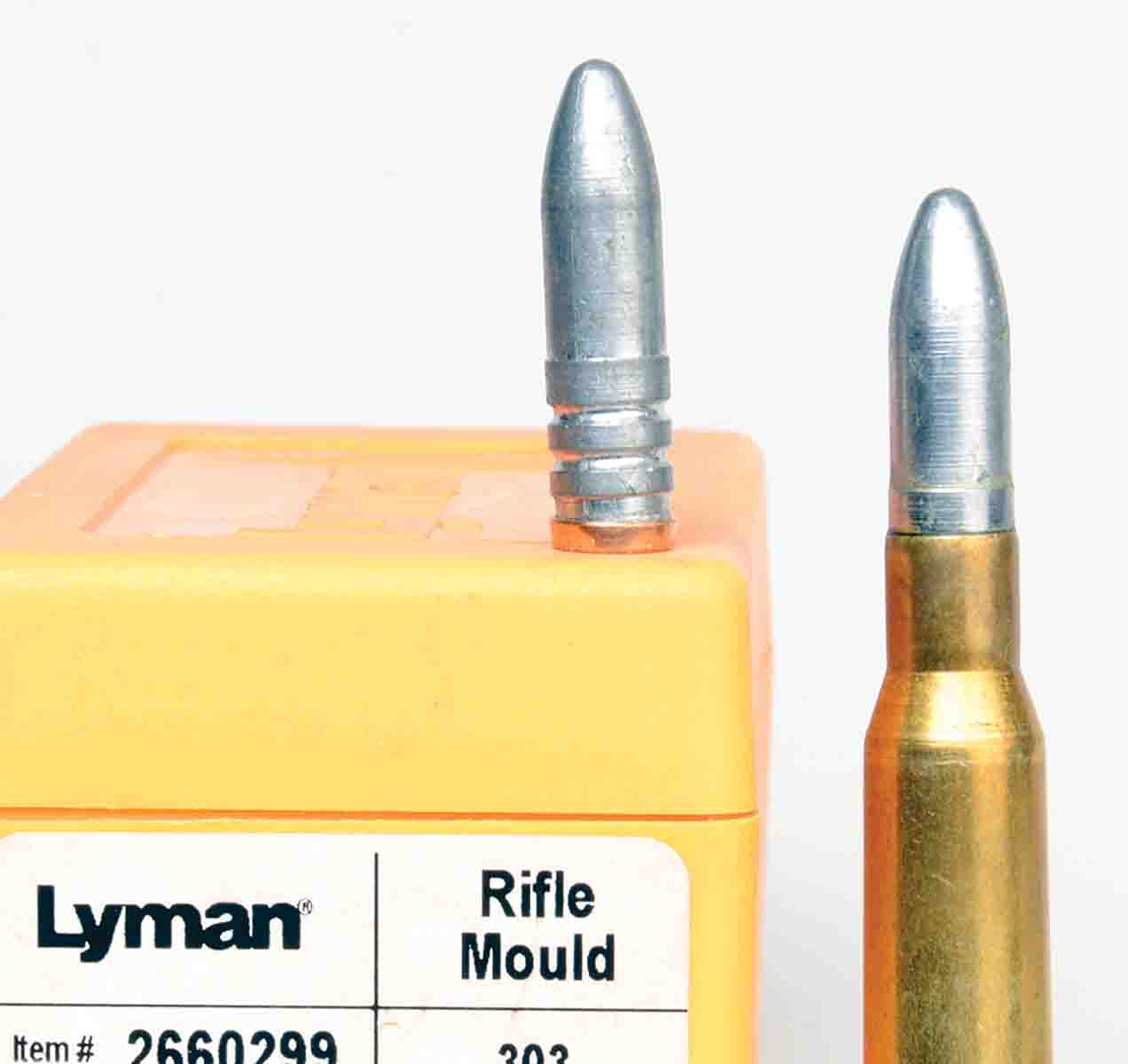 rifle cartridges.
Straight-wall case rifle cartridges from .30 Carbine up to .50-90 Sharps use standard three die sets, as do handgun cartridges. In regard to cast bullet loading, the middle die still expands the cases and, most importantly, bells the case mouth. Again it is interesting to note the expander plug diameters. With RCBS Cowboy die sets – made expressly for lead alloy bullet loading – the .44 Special/Russian plug is .427 inch and intended for .429- and .430-inch bullets; .45 Colt/Schofield dies come with a plug labeled .452 (.449 inch) and one labeled .454 (.451 inch) and are meant for .452- and .454-inch bullets. Worthy of note is that my most accurate .45-70 black-powder handload is assembled with a Lyman M-Die with a .454-inch expander, and bullets are sized .458 inch.
Then there is the question of how much case belling is appropriate. The cast bullet's base just needs to start freely into the case mouth. If speaking of a plain base design, that means about .10 inch of the bullet fitting in the case is appropriate. If gas-checked bullets are used, bell the case enough so that the check is below the case mouth. Finally here is one small but important step: If using new cases, chamfer the case mouths with a deburring tool. Otherwise, the sharp case mouth's interior edge will peel lead slivers during seating. The electric tools now sold for this chore are nice. After chamfering more than 1,000 .30 Carbine cases with a manual tool, my hands hurt for days.
At last we are ready to seat the cast bullet and this should proceed smoothly – in a literal sense. Bullets should just slide into the cases without noticeable bumps or snaps. There is, however, one more consideration: crimping.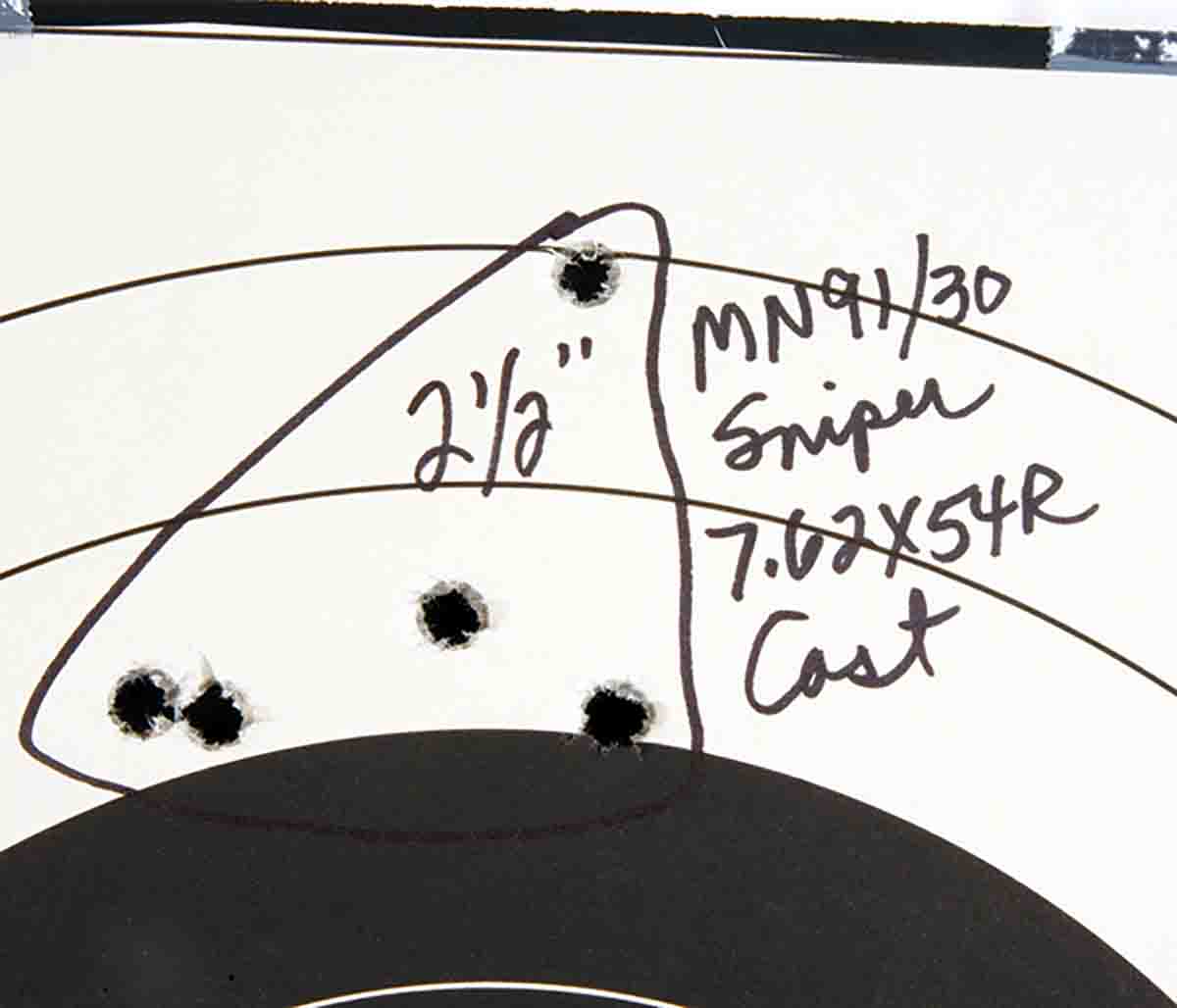 Of course, with loads for revolvers and semiautomatics, all bullets need to be held in place. Revolver recoil can pull noncrimped bullets loose to the point they fall out the chamber mouths. Cast revolver bullets should have a crimping groove, and there should be a roll crimp applied to it. One problem I see with many shooters' cast bullet revolver handloads is that they do not apply enough crimp. A good rule of thumb is that the crimp should leave no case mouth edge. To test this, run a fingernail down the bullet and over the case mouth – it should not hang up on the case mouth.
Cartridges for autoloading pistols are easier as their primary method of crimp is the taper type. Cast bullet loads for autoloaders can be roll crimped, if done carefully, and still function well. Taper crimping is a preference. With the taper crimp, all a handloader must do is seat the cast bullet to a chosen depth and then run the round into the taper crimp die.
In regard to rifle cartridges, I do crimp handloads intended to be shot from large array of bolt-action battle rifles. Bullets must be crimped in to resist moving when rammed from box magazines into chambers. Straight-wall rifle cases can be crimped or not. For instance, my .30 Carbine cast bullet handloads are taper crimped but match quality .45-70 handloads for BPCR competitions are not.
One benefit of a sturdy crimp sometimes not recognized by neophyte cast bullet handloaders is making smokeless powder charges burn more efficiently. Cast bullets will slide through a barrel with far less resistance than jacketed bullets. Powder charges may therefore not ignite properly. Applying a sturdy crimp to cast bullets is a remedy.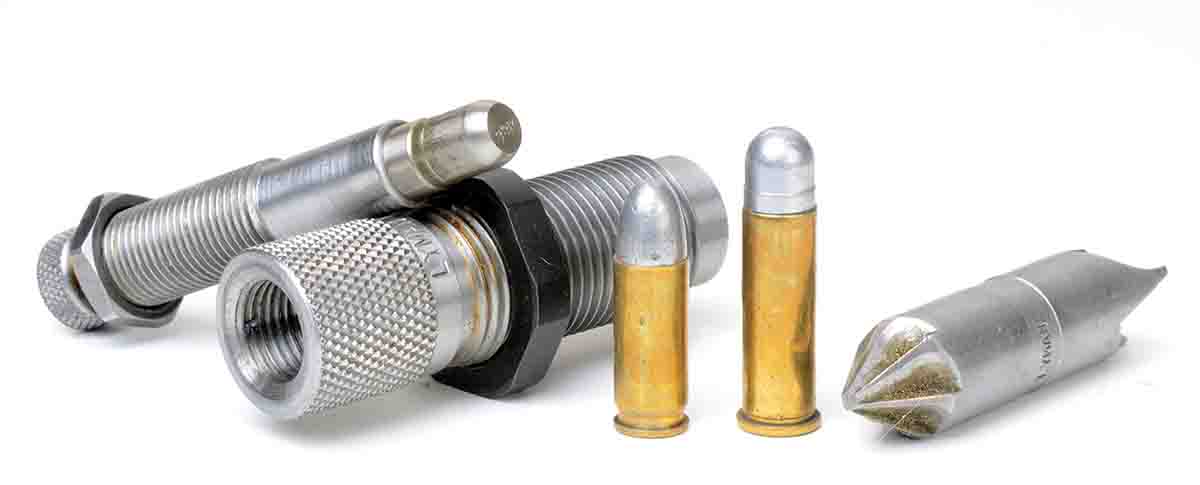 This brings us to the end of practical preparation and loading of good cast bullet loads. Competitors in matches have developed a myriad of ways to make their home-poured projectiles fly even truer. That said, the information in these four installments suffices to give new casters a good start.