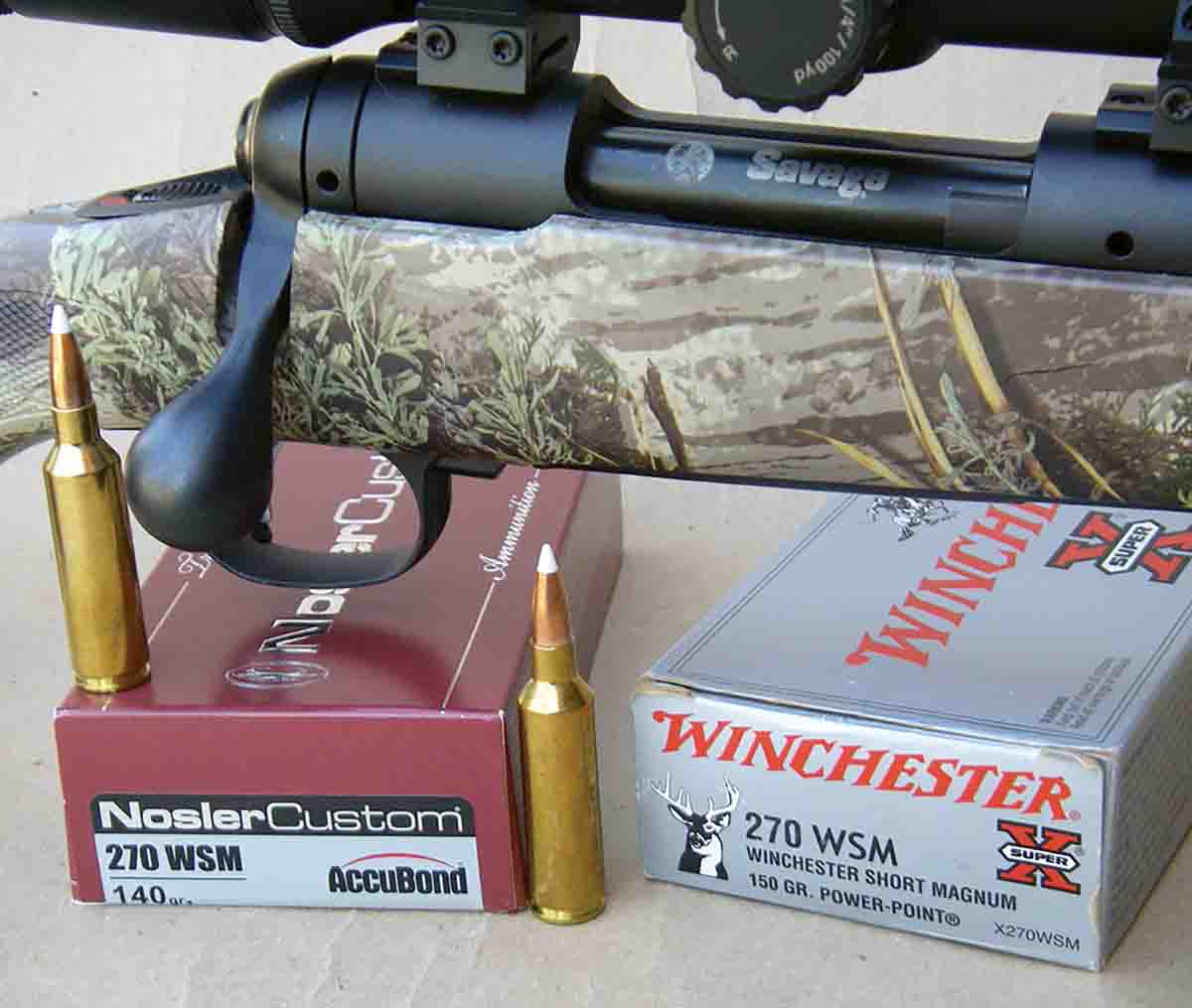 Q:
I have a Savage Model 11GL chambered in .270 WSM that I started shooting non-lead factory ammo through due to regulations here in California. When shooting regular cup and core bullets, I noticed recoil was a little above the .270 Winchester, and velocities were on par or slightly higher than advertised velocities. When shooting lead-free bullets, such as the Barnes Triple-Shock X-Bullet, Nosler E-Tip and Hornady GMX in factory loads, recoil was elevated, primers were blown and very stiff bolt lift was encountered. I immediately stopped and slugged the bore. I discovered bore dimension to be .2745 inch.
I contacted Savage and sent the rifle back, along with a letter explaining the situation and specifically asked them to shoot lead-free ammo to verify my findings.
When the rifle was returned, the letter from Savage indicated that they had inspected the rifle and polished the chamber, but no mention of any dimensions. I again fired the rifle with lead-free ammo, but there was no change. I slugged the barrel again and came up with the same .2745 inch diameter. After several attempts to contact Savage, I was told that the bore was within SAAMI specifications and that they do not have any lead-free ammo on hand for testing, nor do they plan to. I was basically told there was nothing they can do. I have tried to find out what SAAMI bore specifications are for the .270 WSM but have not been able to find that information. I would like to know your thoughts. Do you believe that the bore is too small? I now have a rifle that I cannot use. – G.R., via e-mail
A: If your rifle is indeed measuring .2745-inch in groove diameter (and not bore diameter as you indicate), then it is definitely too small and is probably the reason that the lead-free ammunition is sticking cases and blowing primers. Current SAAMI specifications for the .270 Winchester Short Magnum are a .270-inch bore diameter and a .277-inch groove diameter.
I am not sure of the best way to get Savage to replace your barrel. I would be inclined to contact the customer service manager, describe your problem and hopefully they will take care of you.
Readers please note: The above question was not in regard to handloading, but it is a perfect example as to why handloaders should never begin with maximum load data (except with select spherical powder magnum revolver loads). This reader was using factory ammunition that functioned normally in an out-of-specification rifle; however, when switching to three different brands of ammunition containing bullets of solid copper construction, they each exhibited high pressures. There is a lesson in this story!
.38 Special Black Bear Loads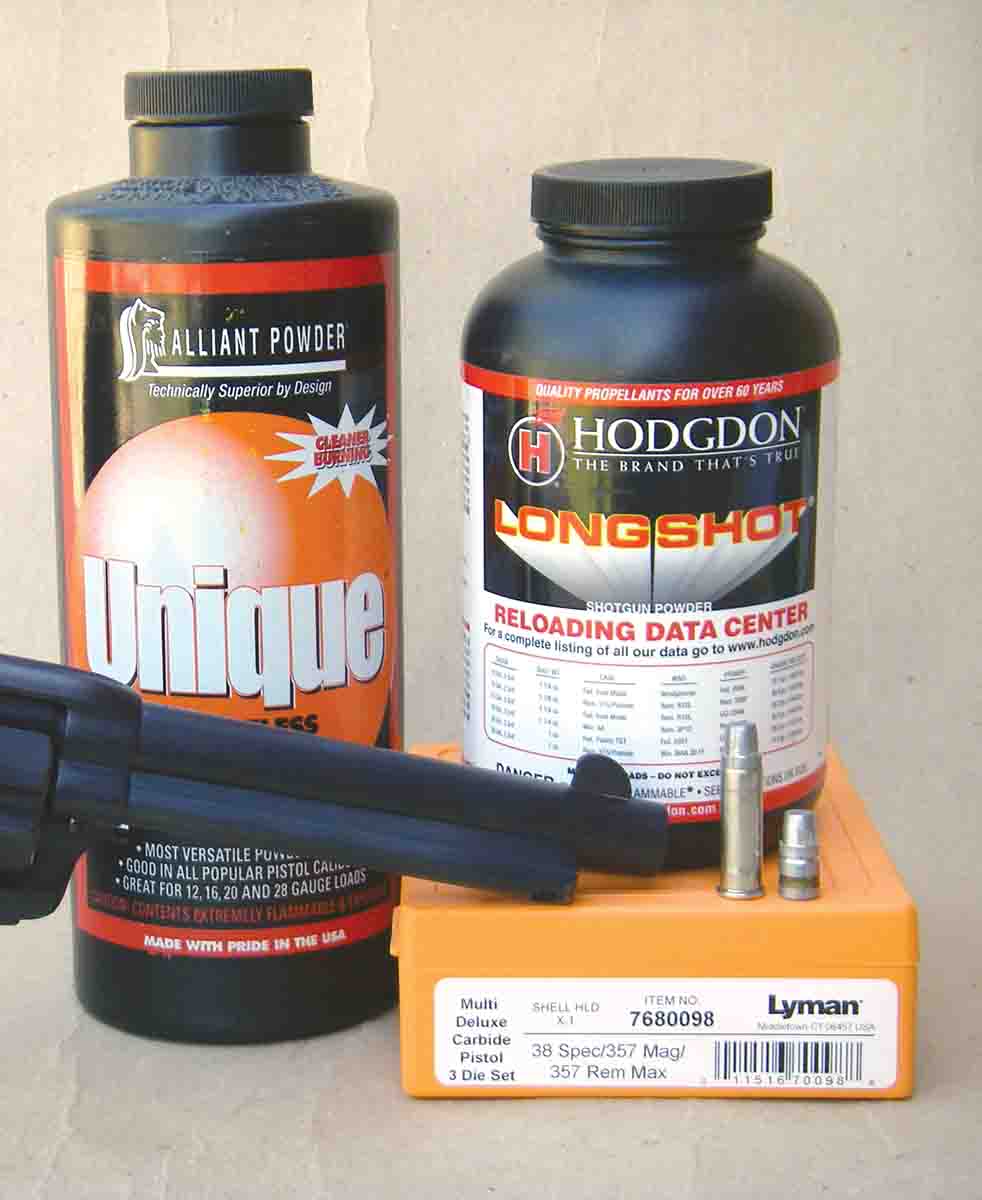 Q:
Can you provide a heavy .38 Special load using 173-grain bullets from Lyman mould #358429? I would like to crimp them in their crimp groove (rather than over the front driving band) and shoot them in my USFA Rodeo. I am impressed with the Buffalo Bore "Outdoorsman" load but would like a heavier bullet. My reading suggests that a hard, cast bullet that is heavy for caliber, and at around 1,000 fps, is a good defensive load for black bear at "conversational" distances, i.e. close enough that it's obvious that spray didn't work. I would like to know your thoughts. I am not looking for a hunting load. As far as powder goes, I have on hand Alliant Unique, Blue Dot and 2400, Hodgdon Longshot and Lil' Gun. Thanks for your advice. – P.D.C., via e-mail
A: Having taken big game with sixguns loaded with heavy-for- caliber, nonexpanding, flatnose cast bullets at modest velocities, I have always been amazed at how well they penetrate and easily reach the vitals, a combination that makes them very effective. To reach your targeted velocity of around 1,000 fps, try 5.5 grains of Unique for 1,023 fps, or 5.9 grains of Hodgdon Longshot for 1,010 fps as shot from a Smith & Wesson .38-44 Outdoorsman with a 6.5-inch barrel. Use standard CCI 500, nonmagnum primers and seat the bullet to an overall cartridge length of 1.532 inches and apply a heavy roll crimp. Use modern cases, preferably those without a cannelure.
.35 WCF Pattern 14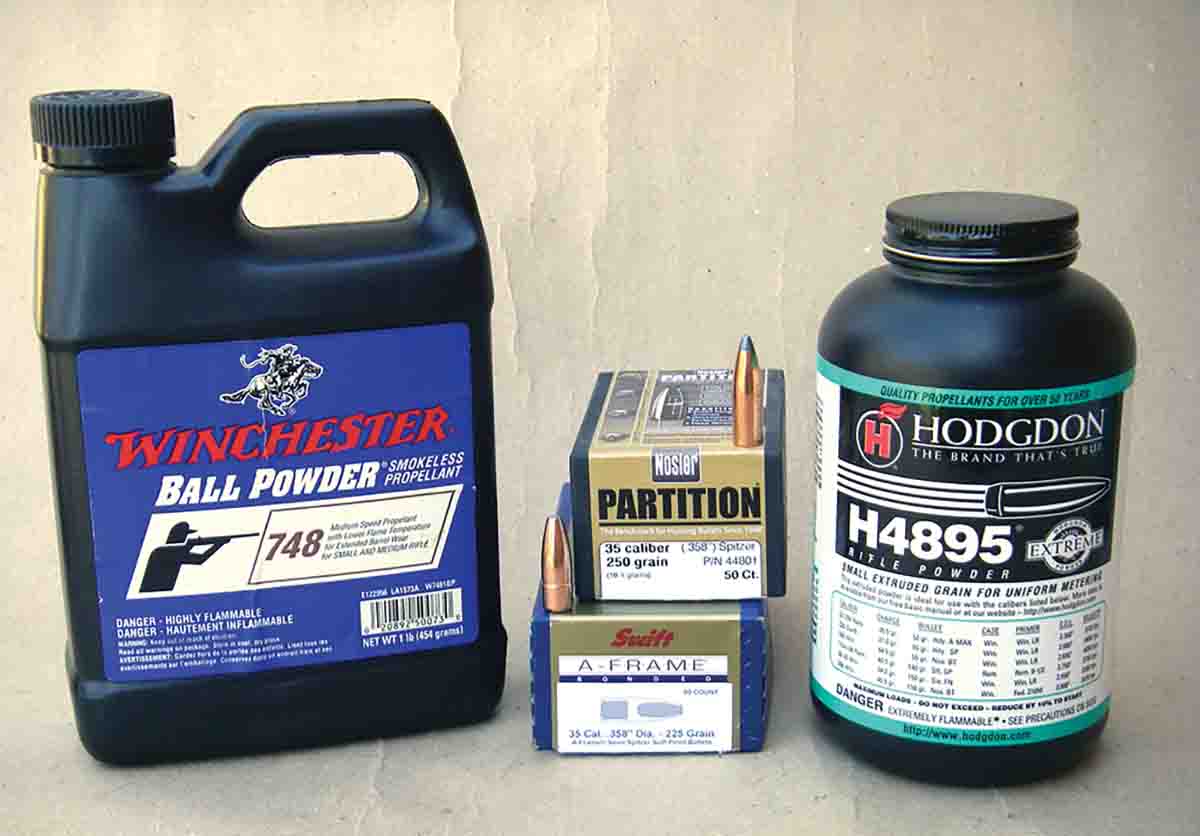 Q:
I am in the process of acquiring a rifle chambered in .35 W.C.F. built on a P14 action. The problem I have is lack of reloading information, compounded by some ambiguous data on the LoadData.com website. Much of the data seems to be drawn from magazine articles and shows considerable variation for the same powder and projectiles (up to 6.0 grain changes with maximum powder charges).
I would like to load the 225- grain Nosler Partition and Woodleigh Protected Point bullets and 250-grain Nosler Partitions. Can you suggest loads using Hodgdon H4895 and Varget powders, as these are readily available? – P.B., Australia
A: Using the Nosler 225-grain Partition, Swift A-Frame or Woodleigh bullets and Hodgdon H-4895 powder, start with 45.0 grains and work up carefully to a maximum charge of 50.0 grains for around 2,350 fps while watching for signs of excess pressure. You might also try 45.0 grains of Winchester 748 for around 2,150 fps and work up to a maximum charge of 47.0 grains for 2,300 fps. Another option includes 46.0 grains of IMR-3031 powder for 2,200 fps while 48.0 grains is maximum at just over 2,300 fps. If you are able to obtain Hodgdon powders, both IMR-3031 and Winchester 748 should also be readily available as they are likewise distributed by Hodgdon.
Regarding the Nosler 250-grain Partition, try a maximum load of 48.0 grains of H-4895 for around 2,200 fps. I hope the above information helps and thanks for taking the time to read our magazines in Australia.
Keith Bullets for the .41 Magnum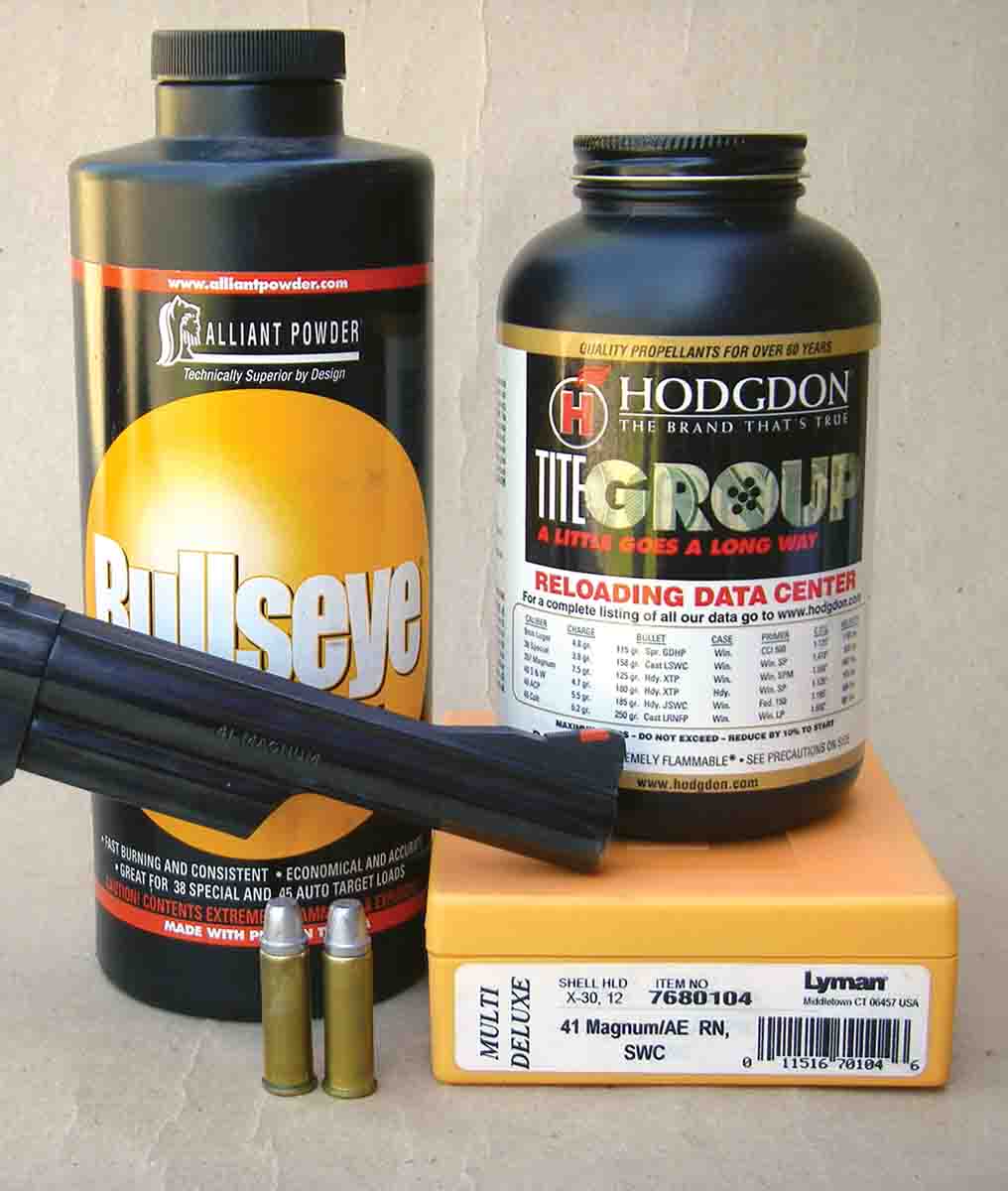 Q:
I very much enjoy your columns and features in Handloader and always learn something from each. For more than 30 years I have owned a Smith & Wesson Model 57 with 6-inch barrel and chambered in .41 Magnum. My questions are, who offers a quality and genuine Keith-style cast bullet? Second, can you suggest a couple of accurate plinking loads that push these bullets to between 700 and 800 fps?
Keep up the great work and thanks for offering such an enjoyable magazine. – M.L., Lewiston ID
A: Thanks for your kind remarks. Soon after the .41 Magnum appeared, Elmer Keith worked with Hensley & Gibbs to design a bullet specifically for the new cartridge, which became H&G mould No. 258. Depending on alloy, my mould usually casts bullets at around 220 to 223 grains. Montana Bullet Works (www.montanabulletworks.com) offers bullets from this mould listed at 215 grains. The company's bullets are ladle poured by hand and are of high quality.
I would try 4.8 grains of Alliant Bullseye, 5.2 grains of Red Dot or 4.9 grains of Hodgdon Titegroup, with each load reaching between 750 and 800 fps from a 6-inch barrel. Use a CCI 300 standard primer. I would like to know how these loads work for you.