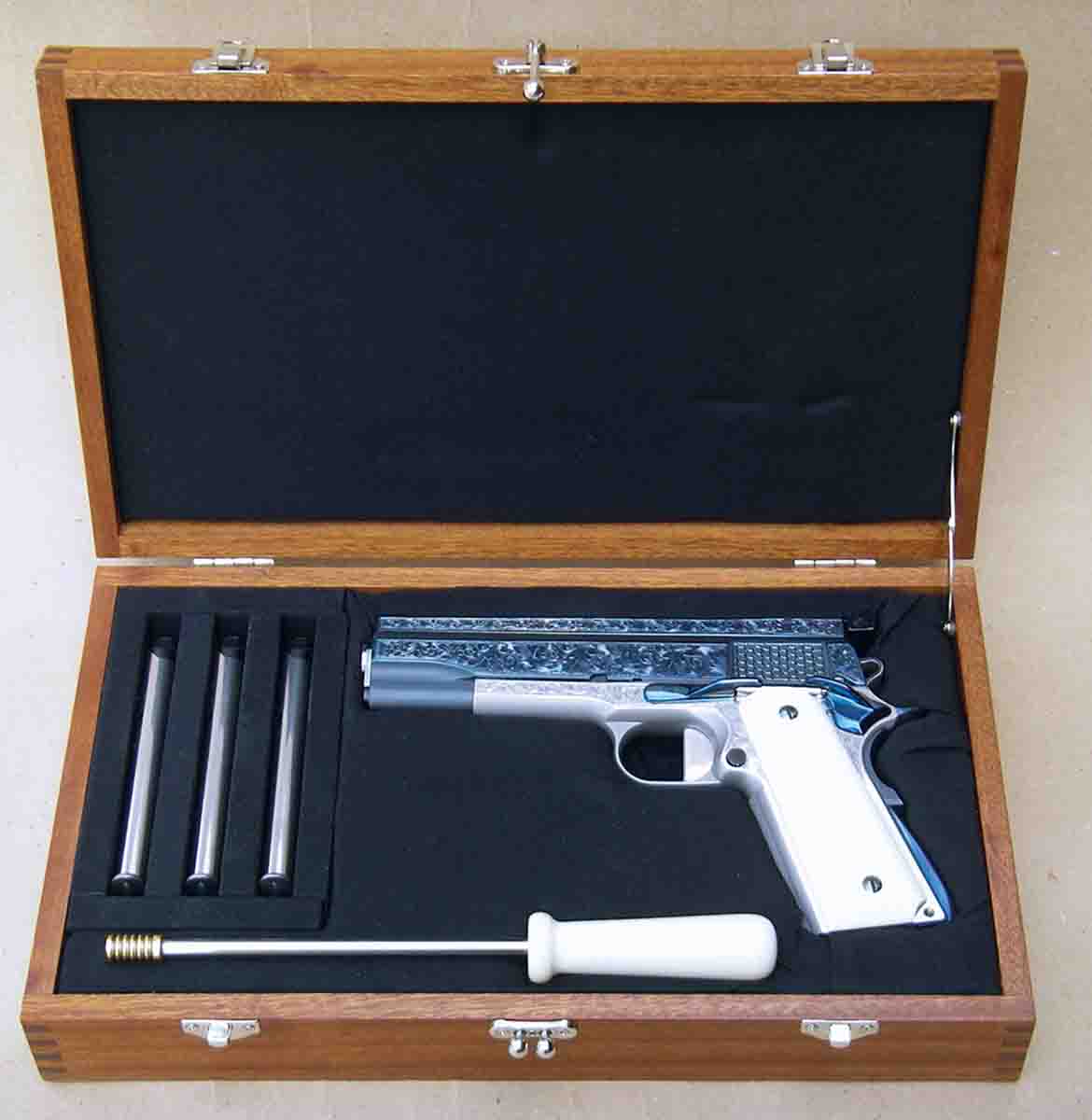 Brothers John and Ted Sitek (
www.sitekarms.com
) have more than 70 years combined experience building custom guns, which they learned from their father. Their focus has typically been toward crafting top-quality firearms to include a variety of custom autoloading pistols, Ruger single-action and Smith & Wesson double-action revolvers, bolt-action rifles and leverguns. Rather than offering only "custom packages," Sitek is willing to tackle any reasonable project built to customer specifications, resulting in true custom guns.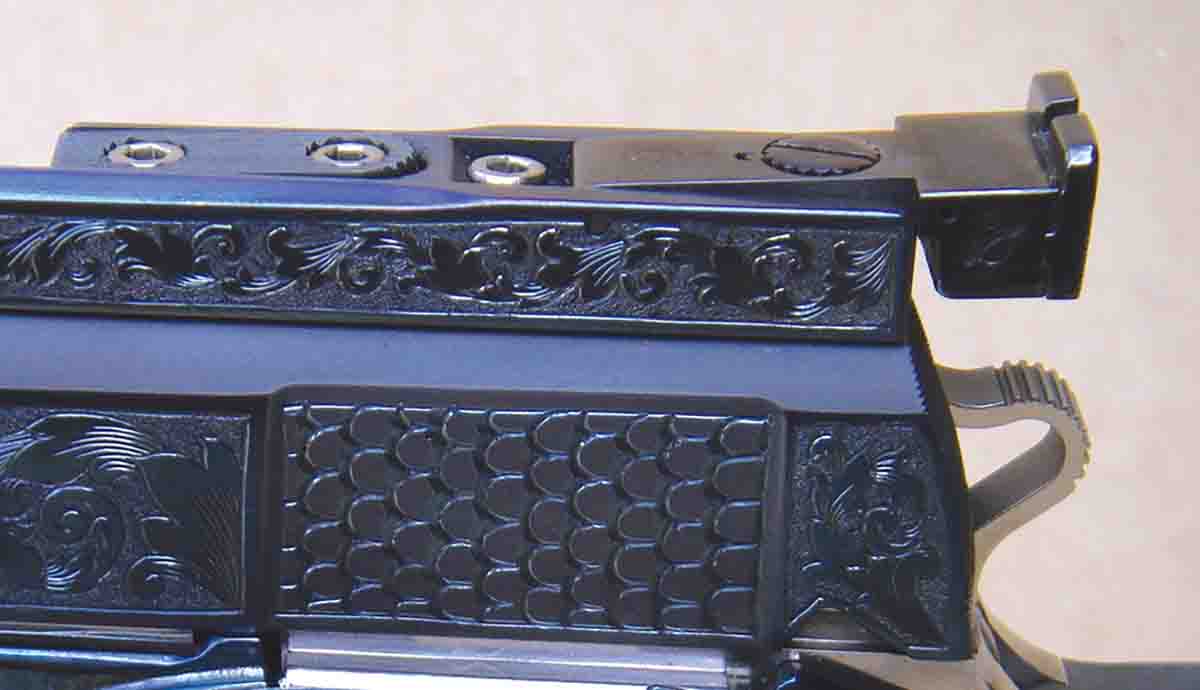 Sitek Arms is a family-owned business, with William Sitek, under the watchful eye of his father, Ted, executing the Model 1911 featured here. This project also required the specialized talents of others. The customer who commissioned the work is a highly accomplished target shooter, so it was built precisely to his specifications. The primary focus was to obtain superb accuracy while using a unique combination of sights, finish and master engraving, all housed in a handmade wood case that was constructed by Leah Sitek, John's daughter.
This project began with a Model 1911 stainless steel frame carefully matched with a 1930's era Colt slide. This was not a slap-it-together project; rather, it was carefully mated, modified and precision lapped for a tight fit – a prerequisite for precision accuracy – but still offers reliable function. The cocking serrations were removed and replaced with a reverse fish-scale pattern. A .45-caliber, match-grade Kart barrel was next installed and carefully fitted using Wilson parts. Every internal part was hand-fit and tuned for repeatable accuracy and reliability. The recoil spring is a 16- pound, polished chrome silicone example designed for light target loads. The pistol was designed to function primarily with ammunition containing ball and truncated bullet profiles. It also feeds SWC designs and bullets with any reasonable nose configuration.
A Tuner sight rib was carefully mated to the slide and features a fully adjustable rear sight with a shadow-free rear sight picture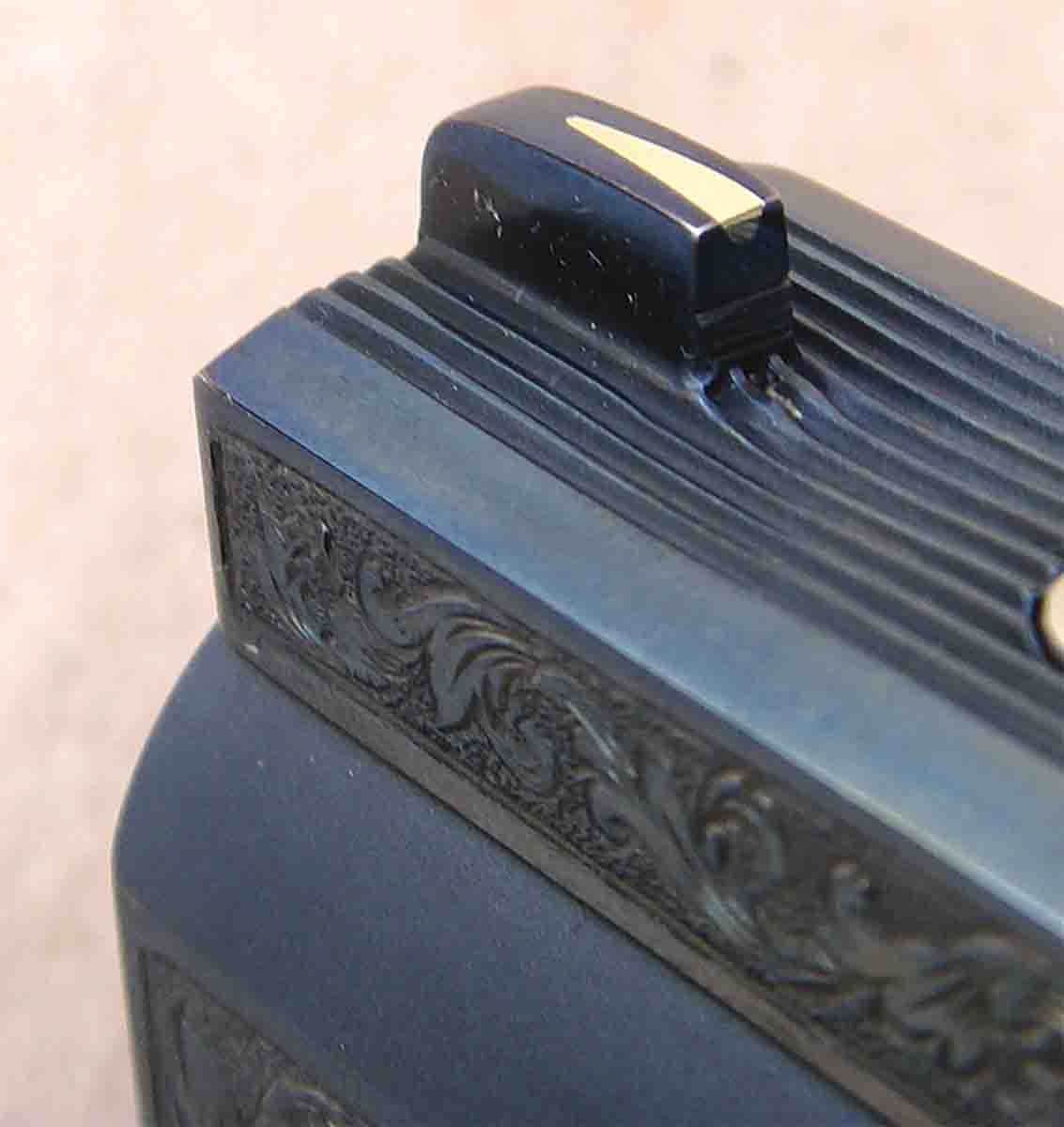 and a comparatively long sight radius. The front sight consists of a handcrafted Patridge pattern cut with a 14K gold inlay. The external Wilson parts were reshaped by hand, cleaned and polished to correspond with the customer's specifications.
The reshaping of parts and hand-polishing work took in excess of 40 hours. The pistol was then delivered to master engraver Rachael Wells for full-coverage, Master Pattern engraving. Ted Sitek finally applied his own proprietary, two-step, Du-lite process to produce a stunningly brilliant blue to the slide, rib and other carbon- steel parts, while the pre-ban ivory grips (owned by the customer prior to July 6, 2016) were hand fitted by John Sitek. The talented Sitek team – machinists, craftsmen, technicians, artists and shooters – have created a stunning pistol.
At various stages during the building process, the pistol was tested for accuracy with a 25-yard target included that measured .855 inch center-to-center with unknown ammunition.
When offered the chance to test this pistol prior to it being delivered to the customer, I could only respond, "Are you sure that it is okay for me to fire it?" "Absolutely," was Sitek's response. With a value of around $12,500, and it belonging to someone else, I still had reservations as I loaded the first magazine, sat down in the shade with my back against a solid rest with elbows snug between my knees and studied the 200-yard target.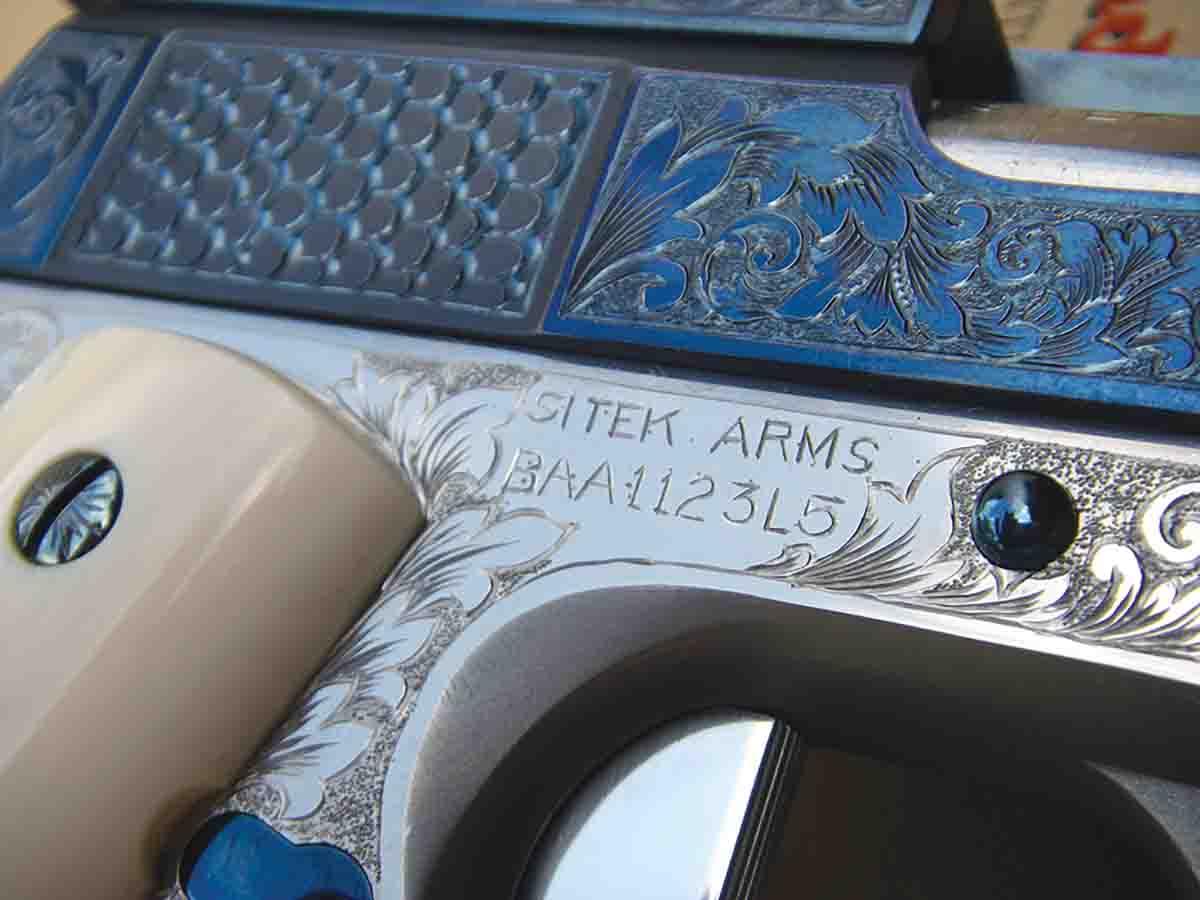 Using a handload containing Hornady 230-grain HAP (truncated cone) bullets, 4.9 grains of Hodgdon Titegroup and Federal No. 150 primers for around 770 fps, the first few bullets clustered slightly left but grouped under 6 inches. Subsequent groups were even tighter. Function was flawless, and the trigger broke at 47 ounces. This pistol clearly is capable of running a perfect score on an IHMSA silhouette range. With the cartridge loaded to target velocities, however, it may not produce enough energy to reliably topple rams at 200 meters. Additional handloads were tried that contained Sierra 200-grain FPJ Match bullets at around 790 fps using 5.0 grains of Bullseye; the Hornady 200-grain FMJ-C/T with the same powder charge; the Nosler 230-grain FMJ-FP at around 780 fps using 4.7 grains of Red Dot; and the Hornady 230-grain FMJ-RN ball bullet at around 780 fps using 5.1 grains of Accurate No. 2 powder.
The most accurate handloads, and factory loads from Black Hills, Federal and Hornady, were shot again at 25 yards from a rest, where the pistol proved capable of sub-.75-inch, five-shot groups.
With additional testing and load development, as well as giving the gun time to "settle in," it is expected to produce even better accuracy and could potentially produce .5-inch groups at 25 yards. I wanted to try some of my hand-cast bullets to extract the best possible accuracy, but if it were my gun, I would not fire cast bullets until the barrel was completely broken in.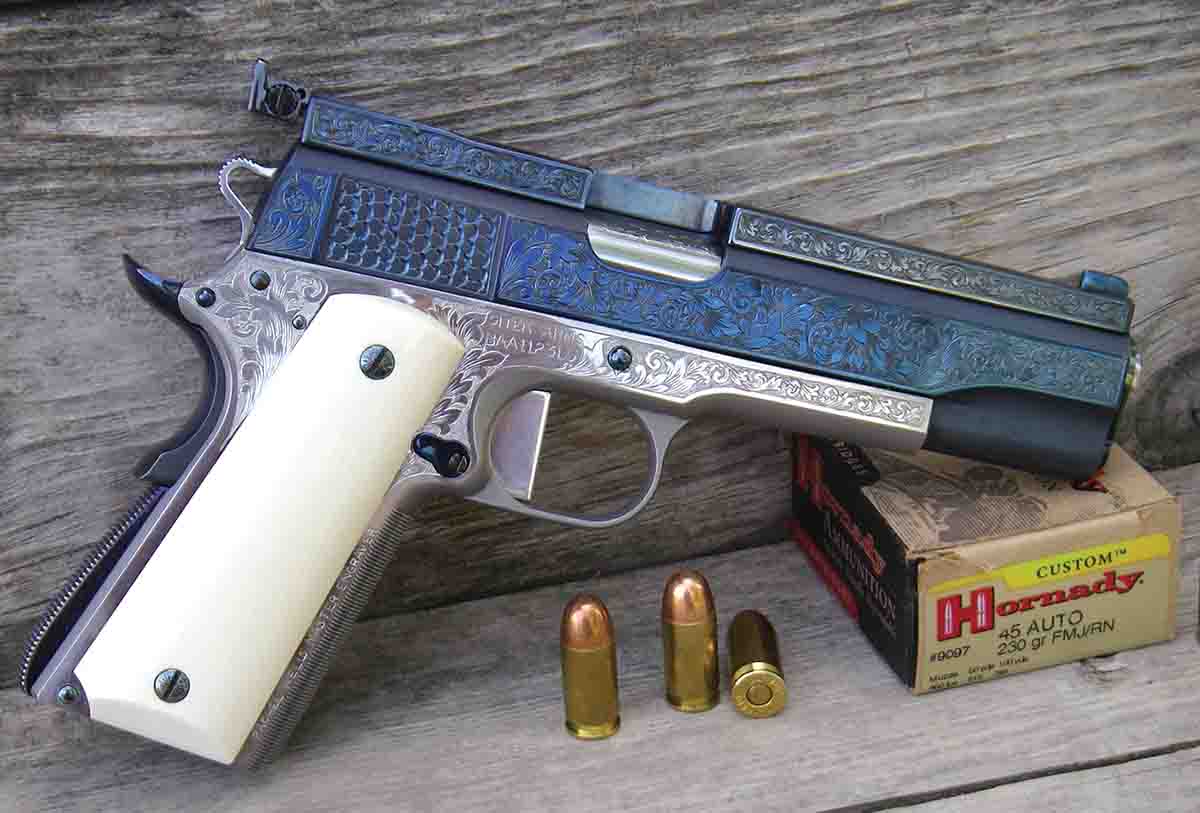 Anyone with an eye for quality workmanship will appreciate the clean, precise and flat "lines" that are the result of the patience and skilled handwork associated with the metal preparation of this pistol prior to its delivery to the master engraver Rachael Wells, who in turn further enhanced its beauty. Dedicated target shooters are likewise certain to appreciate the built-in accuracy.