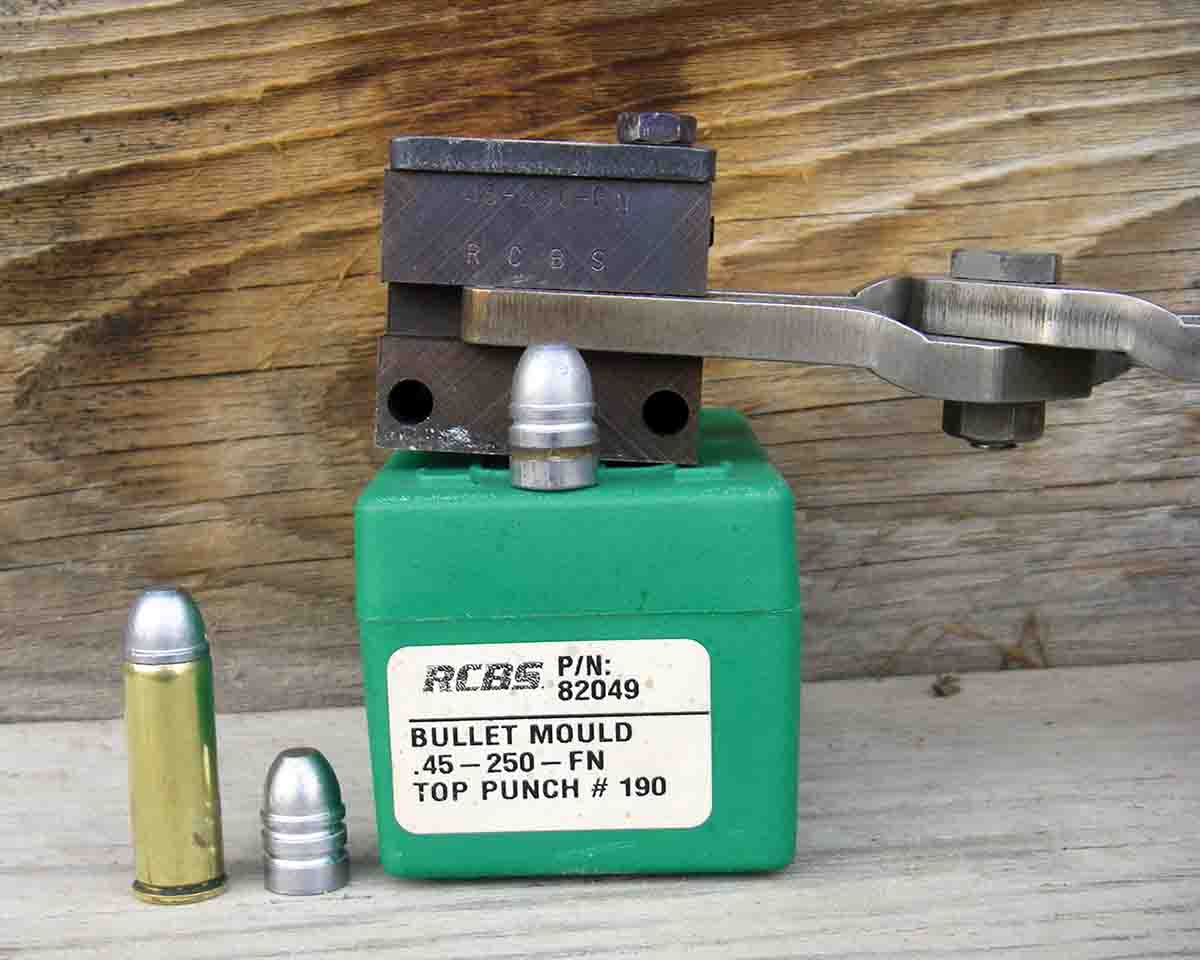 Q:
A friend recommended that I try cast bullets from RCBS mould No. 45-250-FN to obtain better accuracy in my USFA Pre-War model .45 Colt. He gave me a few handfuls of unsized bullets to try. However, when I went to load them, I noticed that their weight was actually 264 grains instead of the indicated 250 grains. Should I reduce my normal 6.0-grain charge of Alliant Red Dot powder? If so, by how much?
Also, in looking at this bullet design, I am not sure where to apply the crimp. It appears that it has two grease grooves and no crimp groove. Your thoughts would be greatly appreciated!
Incidentally, I read Handloader from cover to cover every issue. I thoroughly enjoy your articles as well as those by John Barsness and Mike Venturino. Please keep up the great work.
New Castle, PA
A: You raise a good question, as the RCBS mould No. 45-250-FN has no crimp groove. Yes, you are correct, both of the grooves are grease grooves. The designers of this mould clearly wanted it to be crimped over the front driving band in a similar fashion as Lyman's classic mould No. 454190, which results in an overall cartridge length that is within The Sporting Arms and Ammunition Manufacturer's Institute (SAAMI) specifications of 1.600 inches. However, I suggest only placing bullet lube in the lower grease groove and use the upper grease groove as a crimp groove. Although this method results in an overall cartridge length of around 1.640 inches, your USFA Pre-War revolver, as well as Colt SAAs and copies, will easily accommodate cartridges of this length. Furthermore, putting the front driving band into the chamber throats almost always results in better accuracy, and with the bullet seated out, powder capacity is increased so there is really no need to reduce your 6.0-grain charge of Red Dot powder.
7-30 Waters
Q: On a recent visit to a favorite gun shop in Tucson, Arizona, I found a Winchester Model 94AE XTR produced in the 1980s and chambered in 7-30 Waters. Not wanting to pass up a good Model 94 and wanting to remember Mr. Waters, I bought it. Would you be able to offer some 7-30 loads as well as a brief history of the cartridge? This is my first 7mm rifle.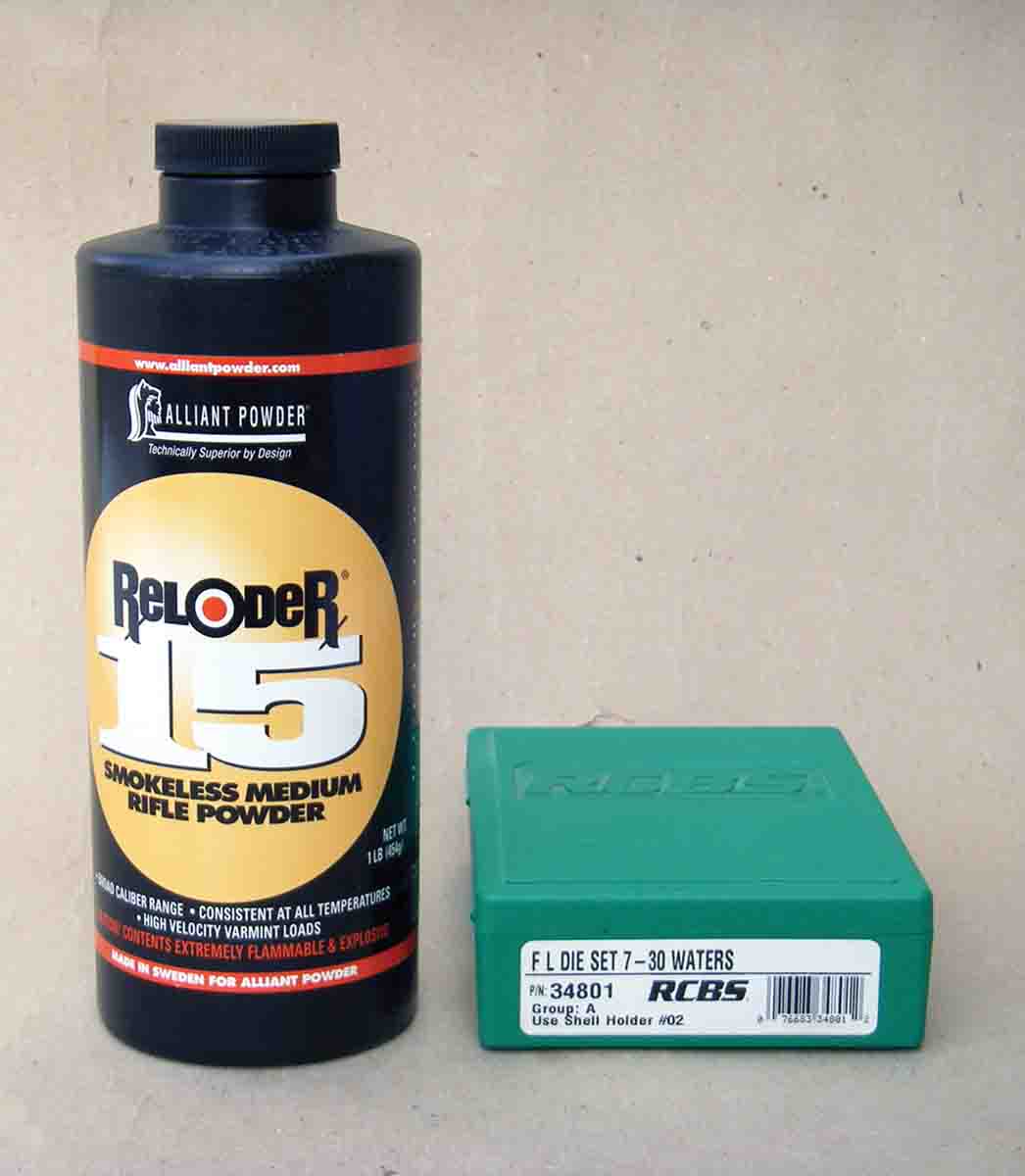 T.R.H., Willcox, AZ
A: Ken Waters began planning the development of the 7-30 Waters in 1976, but his first rifle, a Marlin Model 336-A, was not built until 1977. As its name implies, it is based on a necked down .30-30 Winchester case and accepts 7mm/.284-inch bullets. Waters wanted to achieve higher velocity, obtain a flatter trajectory and reduce recoil when compared with the standard .30-30 Winchester cartridge, but still have enough power to reliably take deer-sized game. He also wanted it to work in traditional lever-action rifles such as the Winchester Model 94 and Marlin Model 336.
By 1984, U.S. Repeating Arms Company (Winchester) teamed with Federal Cartridge to offer the 7-30 Waters commercially, with Ken being formally presented with a Winchester/USRAC Model 94AE rifle. Early ballistics listed a 120-grain Nosler Partition FP bullet at 2,700 fps, or a 139-grain FP at 2,540 fps.
Although many people found the 7-30 a great cartridge, its appeal could not supplant the hugely traditional .30-30 Winchester among deer hunters, and soon rifles were discontinued.
I am unaware of any companies still offering a 7mm flatpoint bullet designed specifically for the 7-30, although they can be found at gun shows and online traders. If you cannot find any old stock, you will need to use spitzer profile bullets of suitable weight. As a reminder, due to the sharp point of spitzer profile bullets, you should only place one cartridge in the chamber and one in the magazine to prevent causing primer set-off in the tubular magazine when the gun is fired.
If you have difficulty finding brass, Hornady is offering it as a component. Using 120-grain jacketed bullets, start with 32.0 grains of Alliant Reloder 15 powder and work up to a maximum charge of 36.5 grains. Switching to 130-grain bullets, start with 31.0 grains and work up to a maximum charge of 35.5 grains. This will duplicate or slightly exceed factory load performance. Use standard large rifle primers, such as the CCI 200 or Federal 210. I hope that you enjoy your new rifle.
Winchester 296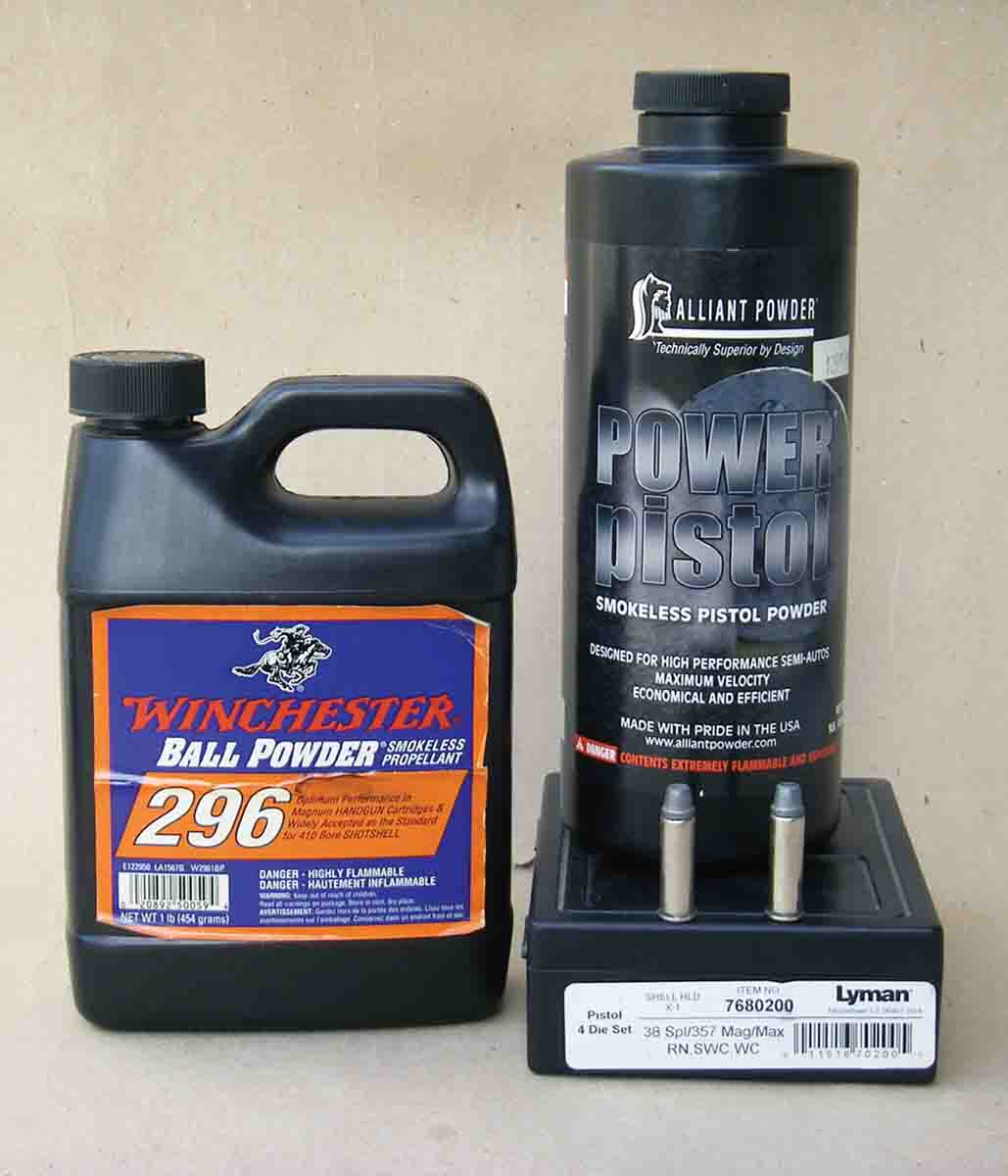 Q: I am currently loading my .357 Magnum ammunition using Winchester 296 Ball powder. I push 125-grain JHPs with 20.2 grains. Now to my question: The Hornady Handbook of Cartridge Reloading 8th Edition does not show any load for the .38 Special using this powder (also with a 125-grain bullet). Can I use 10.0 grains of Winchester 296 powder with a 125-grain bullet in the .38 Special? If you can't or won't give me an answer to this question, then please offer your opinion as to what, if any, problems I might encounter if I did? The gun that I am shooting these loads through is a Smith & Wesson Model 686 in new condition. Thanks for taking the time to consider my question.
Dick H., via email
A: You should never use Winchester 296 powder in conjunction with standard pressure or +P pressure .38 Special loads. Doing so will cause erratic ignition and pressures that are potentially dangerous. Incidentally, Winchester 296 and Hodgdon H-110 are exactly the same powder. They are spherical in configuration and designed to perform at much higher pressure than the .38 Special that generates 17,000 psi in standard pressure persuasion or 20,000 psi in +P loadings. I suggest using .38 Special data with much faster burning powders such as Accurate No. 2, No. 5, Hodgdon Titegroup, Alliant Bullseye, Unique, Power Pistol, etc.
Loading the .32 Auto
Q: I am hoping you can help me with load data for the .32 Auto. I would like to use a 100-grain cast bullet and have been checking out all available loading manuals, but cannot find any data. Any data that you can offer would be appreciated.
Dan H., via email
A: There are several problems with using a 100-grain cast bullet in the .32 Auto. First, the case is so short that the bullet would seat far too deeply into the case to permit a suitable powder charge. This cartridge is sensitive in regard to overall loaded lengths, and even a slightly longer cartridge than is outlined by SAAMI (.984 inch) will either not fit into magazines or will cause the pistol to jam.
Virtually all .32-caliber, 100- grain cast bullets are designed for the .32 H&R Magnum or .327 Federal Magnum, and their profiles are not conducive to feeding properly in an autoloading pistol. I suggest sticking with traditional .32 Auto data, as it is very difficult to improve on this cartridge's ballistics to any important degree.
Replicating Factory Loads
Q: I have a Sig P365 that I use for home defense. I really like the Sig ammunition that they market for the gun using 115-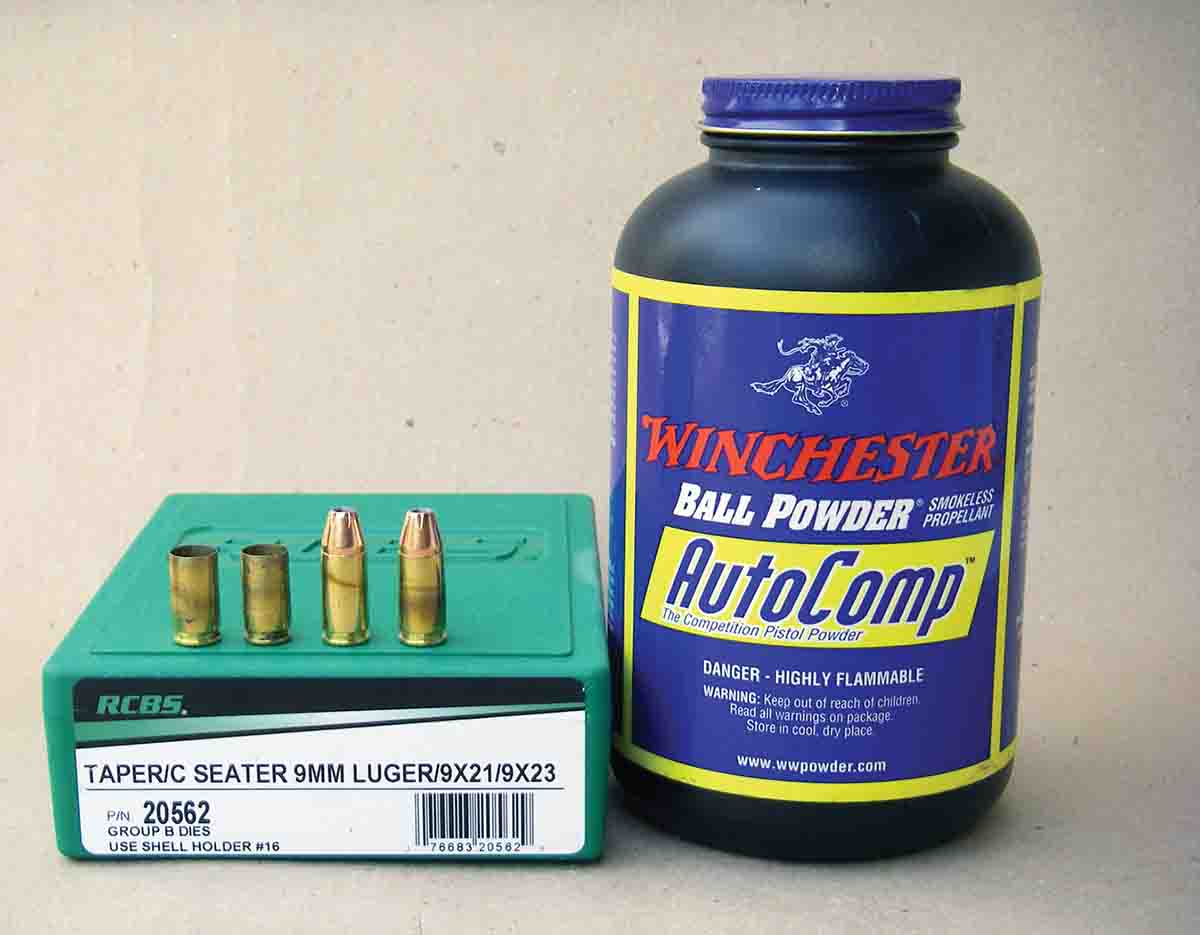 grain JHP bullets and FMJ loads for training. The recoil and blast are very nice for my small gun. I would like to know how to replicate the Sig ammunition characteristics out of a short-barreled 9mm. Thanks in advance for any help you could offer.
Brad F., Dallas, TX
A: I am hesitant to answer your question, as I have never used the Sig 9mm Luger loads that you reference. And as this is written, purchasing 9mm ammunition from local sporting goods stores is virtually impossible. In other words, it is unlikely that I will have the opportunity to evaluate the Sig load at any time in the near future.
I suggest trying Winchester AutoComp powder, which is flash suppressed and will give less muzzle report from your short-barreled pistol than many other powders. If possible, you might try checking the velocity of the factory loads from your pistol. Then use that as the targeted velocity of your handloads. For reference, the suggested starting powder charge using Auto-Comp with traditional cup-and-core 115-grain bullets is 5.0 grains, while maximum charge weights are usually around 5.6 to 5.7 grains. The overall cartridge length should be based on a given bullet manufacturers recommendation. I hope that helps.