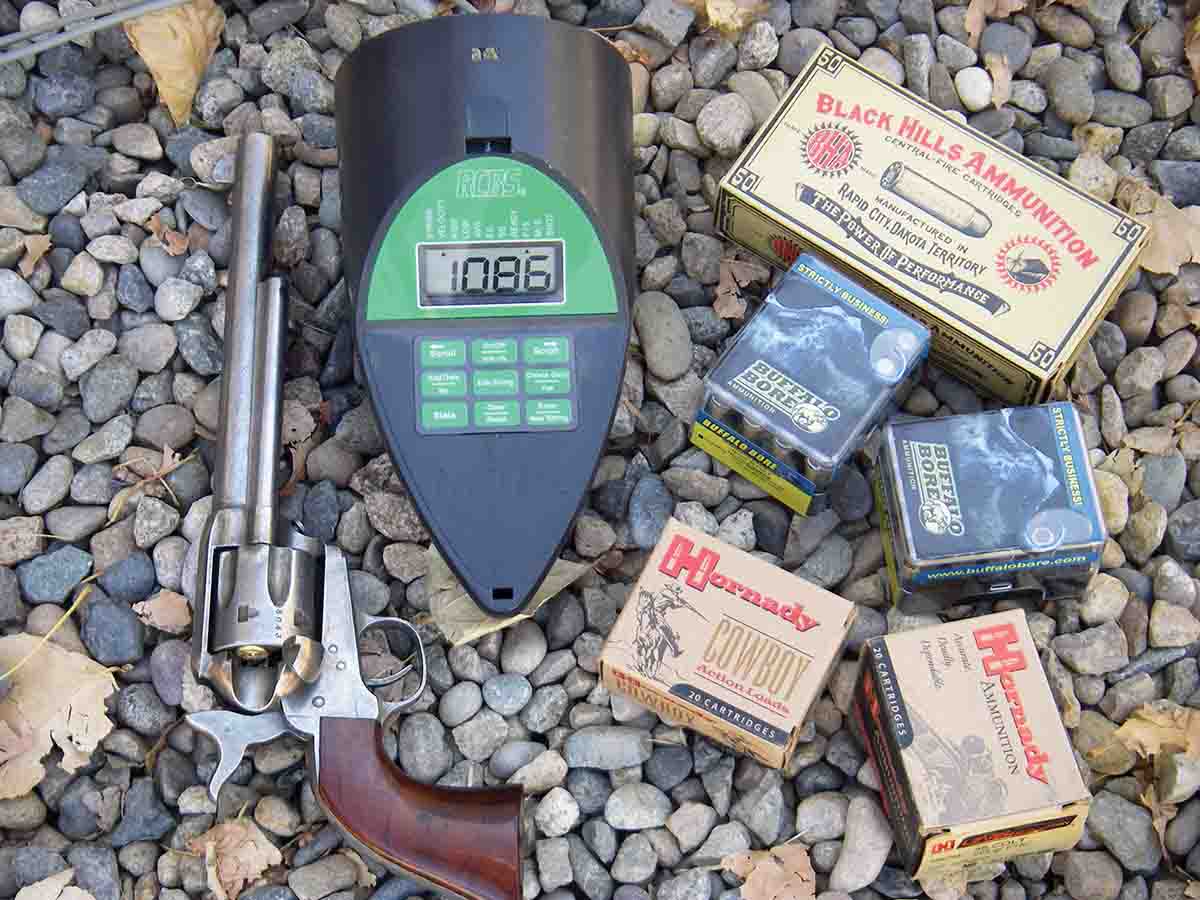 It has been said that copying is the greatest form of flattery. Italian-based A. Uberti has been producing replica firearms since 1959 and building copies of the world renowned Colt Single Action Army revolver for around 50 years, which is certainly flattering but also wise, as the demand for quality single-action revolvers remains high.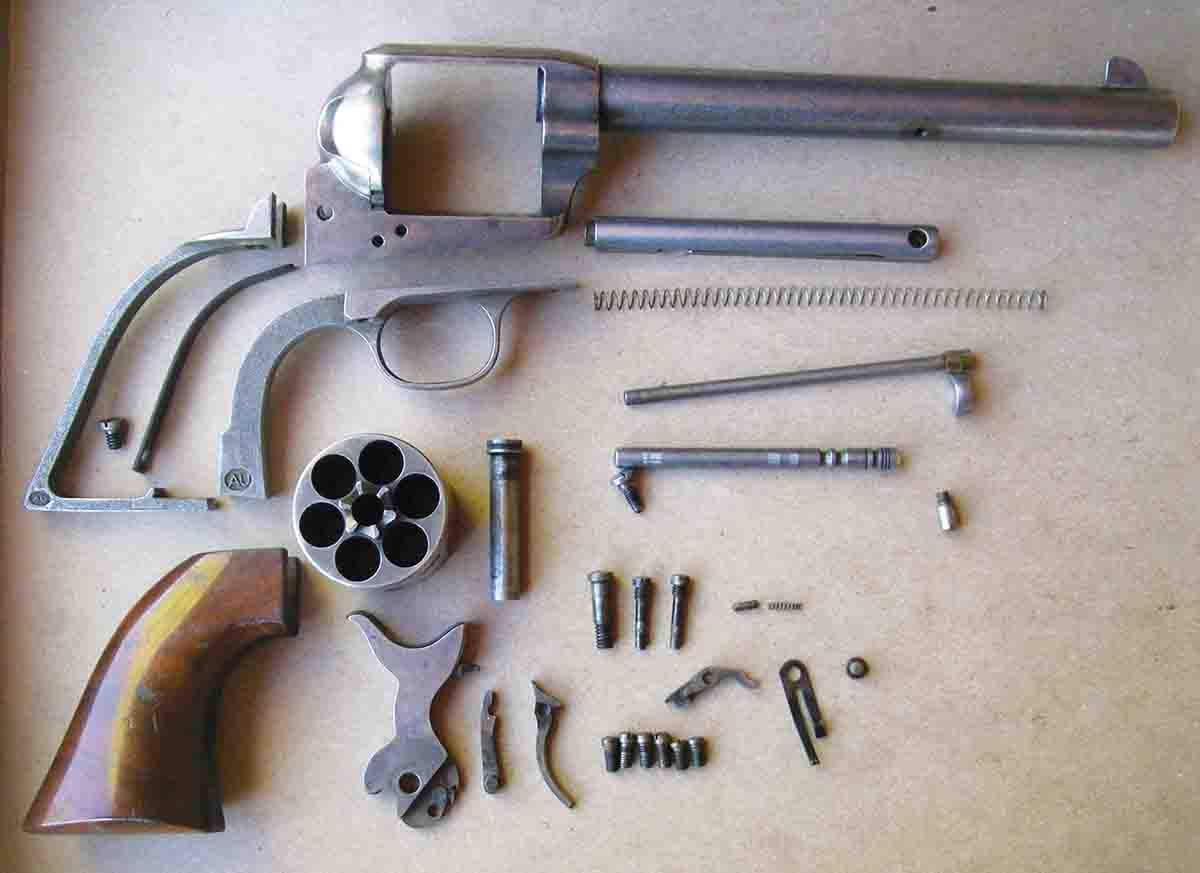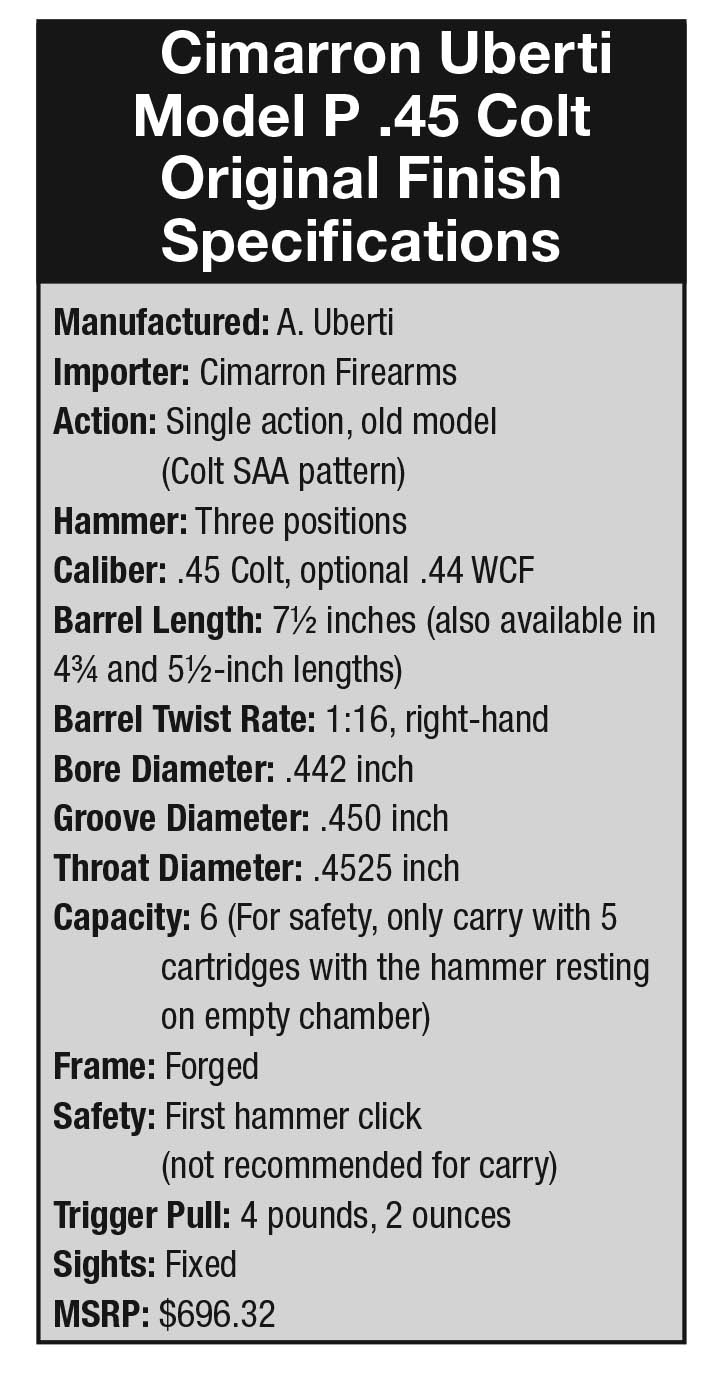 While early examples lacked in many areas, through the years Uberti has improved the quality and accuracy of its sixguns. The company has steadily expanded its product line with many variants that appeal to traditionalists, cowboy competitors, shooters and hunters. For this review a Cimarron Model P Original Finish with a 7½-inch barrel chambered in .45 Colt was selected. This is a reliable sixgun offered at a comparatively modest price.
The development of the Colt Single Action Army revolver dates back to 1871, with samples chambered in .45 Colt being completed in 1872. These were submitted to the U.S. Army and officially adopted in 1873. This gun and cartridge combination was powerful, proved reliable against man and beast and quickly became the standard big-bore sixgun cartridge that all others were compared to.
The list of famous men and women that used and endorsed the big Colt is extensive and included lawmen, outlaws, soldiers, generals, cowboys, frontiersmen, showmen, exhibition shooters, explorers, miners, hunters, presidents and kings. Its usefulness and value have proven timeless, and its influence in subsequent revolver developments has been huge.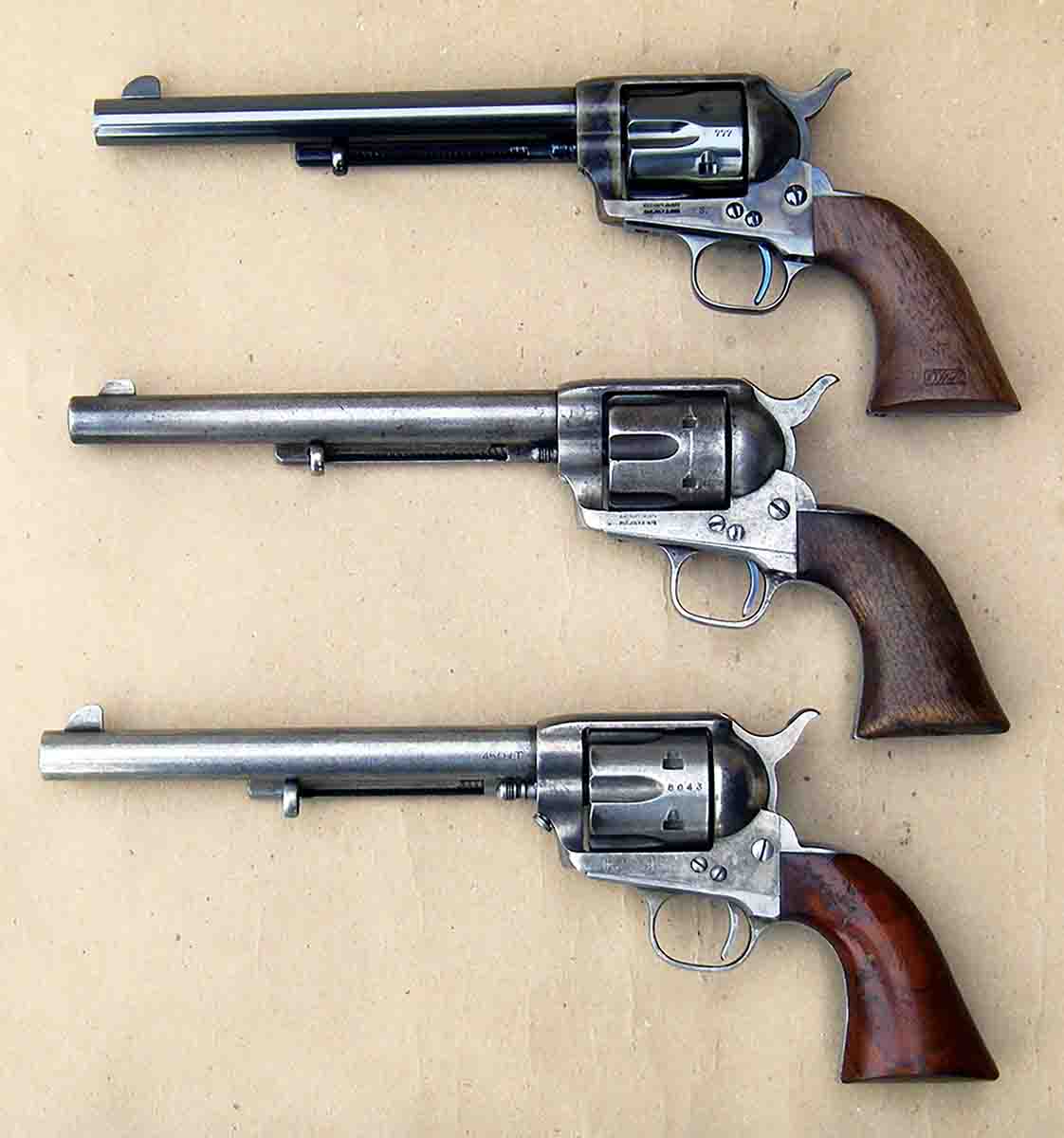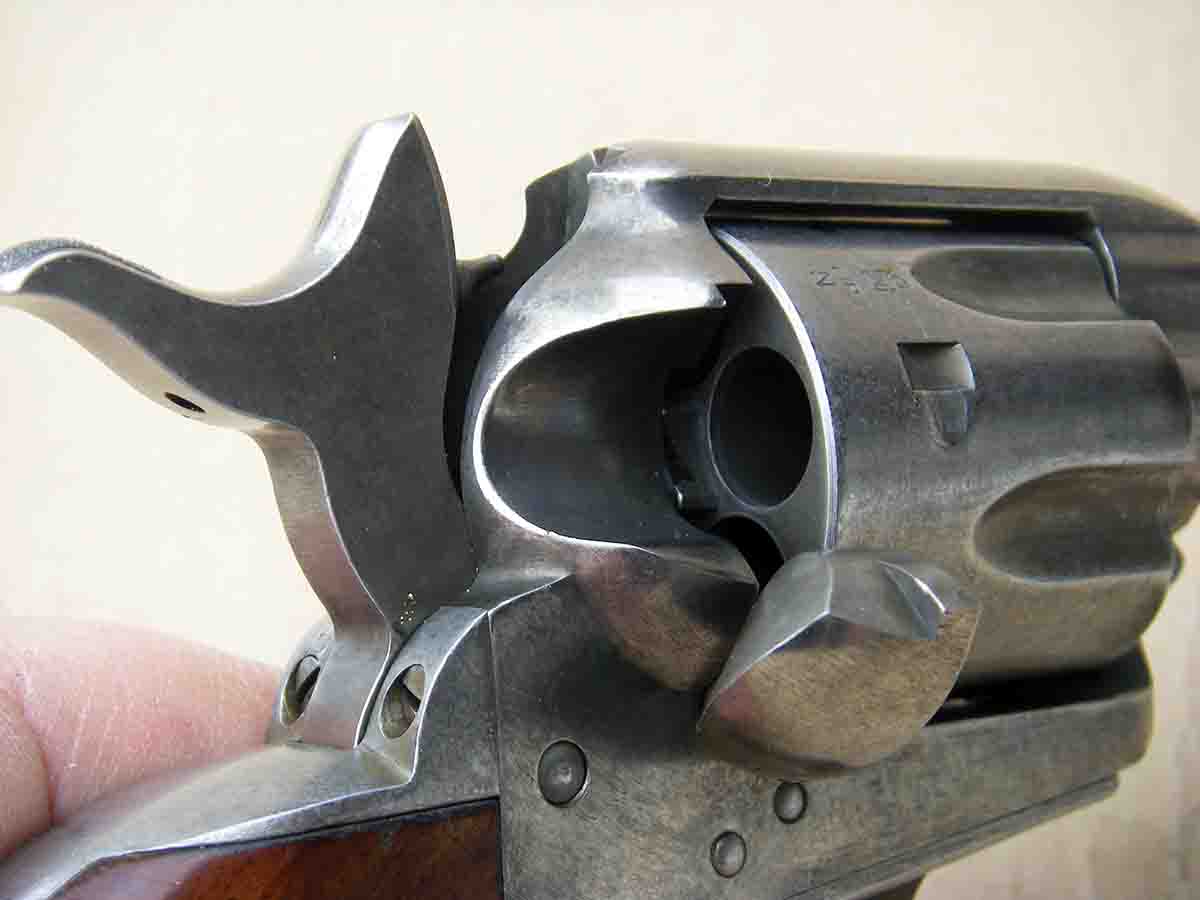 Early .45 Colt ammunition was centerfire but was housed in a copper case and featured Benet internal priming. As a result, Colt revolvers featured a very heavy mainspring to assure reliable ignition, which was present on most guns produced until the start of World War II in 1941. This created a couple of basic problems. First, the spring steel was inferior, when compared to today's steels, and combined with their stiff design were known to occasionally break, as was the trigger/bolt spring and hand spring. The power (or strength) associated with the mainspring was hard on other parts of the revolver, especially if the shooter didn't know how to operate the sixgun with basic finesse. A couple of examples include the trigger sear and hammer notches that were prone to breakage if the hammer slipped from the shooter's thumb prematurely.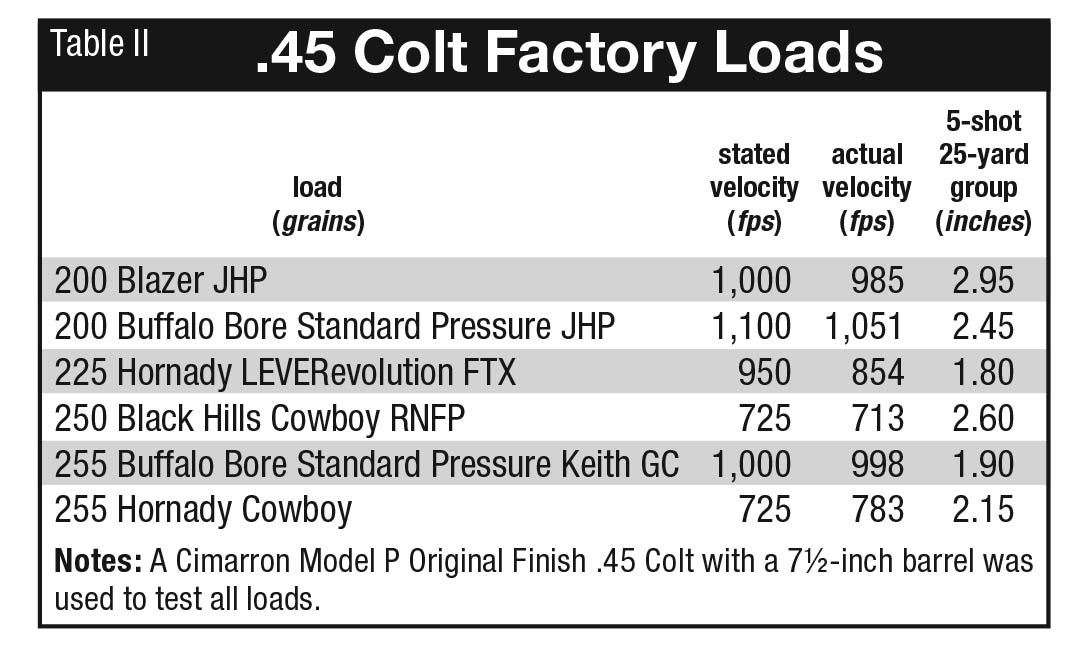 With lighter springs along with modern spring steels used on most of today's guns (offered by Wolff Gunsprings, Tolland and others), the above problems are more or less completely resolved. For example, I have Colt SAA pattern guns that have nearly 20,000 rounds fired through them that have never broken a spring or anything else and have proven ultra reliable.
As indicated, early Uberti SAA pattern revolvers were substandard. However, when Mike Harvey founded Cimarron Firearms in 1984 and began importing guns, he worked extensively with Italian engineers to improve design, quality, fit, finish, aesthetics, etc. As a direct result of Harvey and his continual work with Uberti, its revolvers are more handsome, reliable and accurate and more closely resemble period Colt revolvers than at any time previously.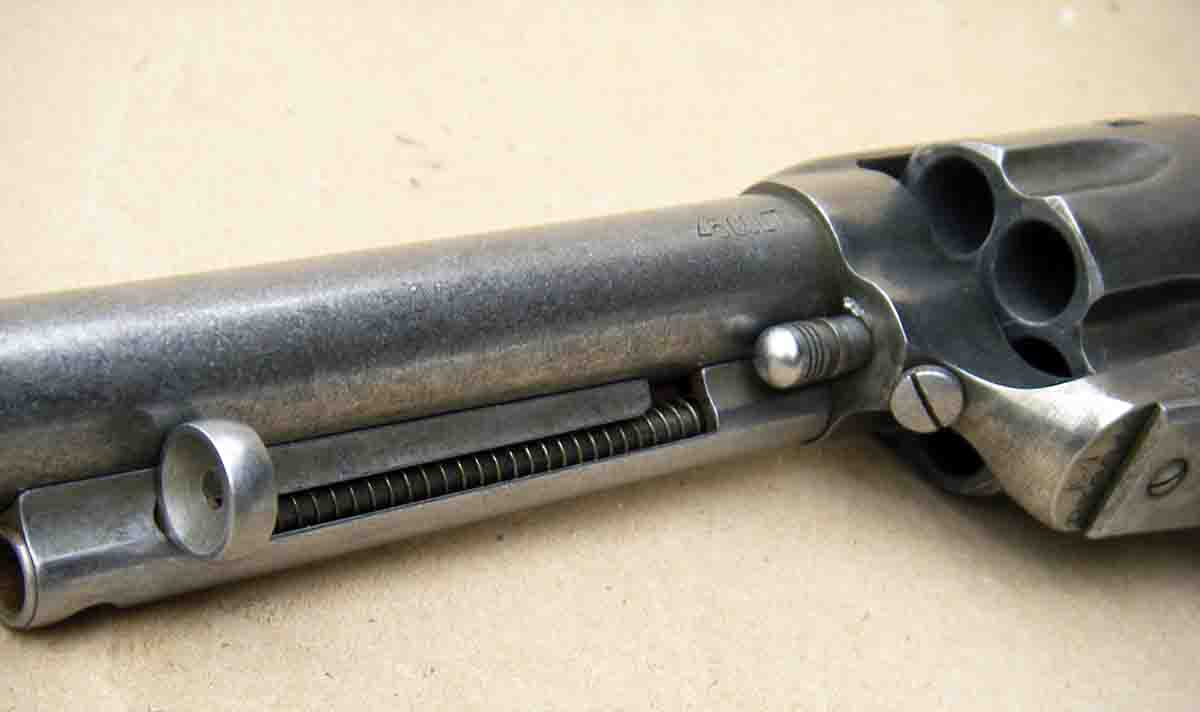 Cimarron's Original Finish is a factory applied antique finish that, at a glance, looks like a gray, black-powder-era Colt sixgun. Even the wood stocks are gouged, worn and similarly marred to a well-worn vintage gun. For someone who prefers a new looking sixgun, Cimarron also offers a variety of traditional finishes that include blue with a case-colored frame, nickel-plating, laser engraving, hand-cut factory engraving, etc. The sample Model P shows excellent machining. The trigger guard, backstrap and loading gate are all fit and hand polished as a single unit. The screws are dome shaped, the hammer fits perfectly into the frame's channel and is deeply knurled, the trigger guard is gracefully beveled and rounded, the cylinder has some beveling, all of which are features found on original Colt revolvers.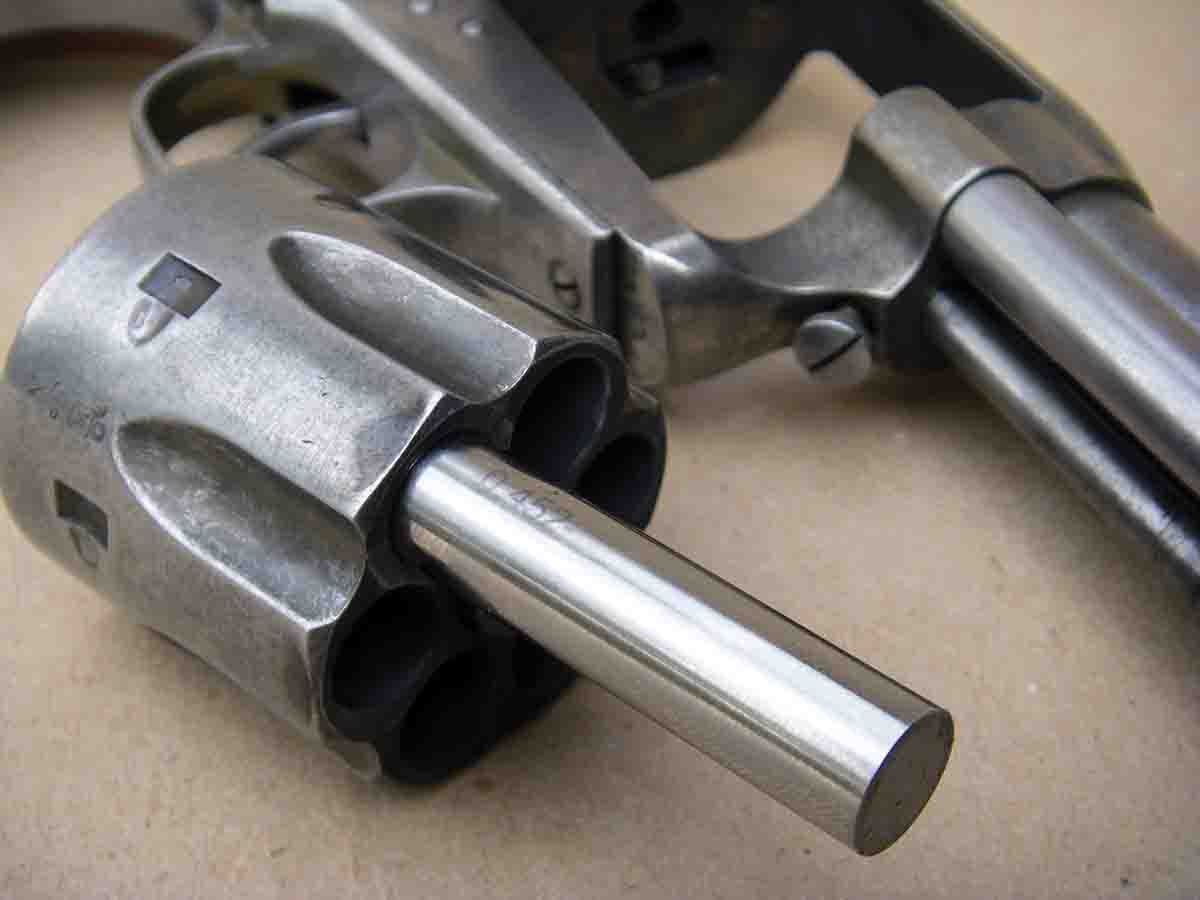 The action is the traditional Colt pattern with what is commonly referred to as a "four click" action and is void of any auto-safety system. The first click is considered a safety; however, it is strongly advised to carry the gun with the hammer fully down and resting on an empty chamber, as the safety notch or trigger sear can possibly break if the gun is dropped or the hammer is accidentally hit hard enough. The middle, or half-cock position, allows the cylinder to rotate for loading and unloading. The full-cock position is "ready to fire."
The sample gun is timed perfectly. The bolt drops correctly into the bolt notch approaches and the trigger sear engages the hammer's full-cock notch at the same moment the cylinder locks. When the hammer is in the half-cock position, each chamber aligns perfectly with the loading trough. Using a Brownells' Range Rod Kit showed that each chamber ranges perfectly.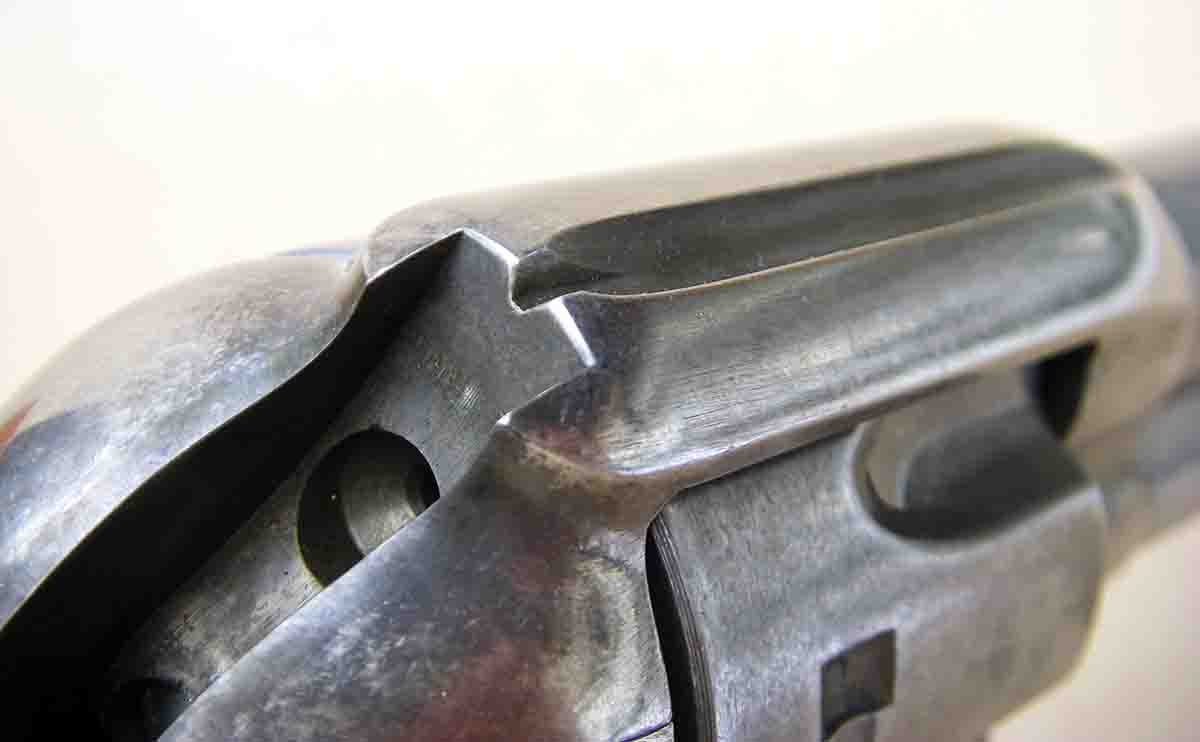 As indicated, mechanically the Cimarron Model P is a Colt SAA pattern; however, the leaf handspring has been replaced with a coil spring and plunger, which is similar to the old model Ruger Blackhawk revolver. It is also void of a recoil plate, which I would like to see added.
The barrel/cylinder gap measured .008 inch, which is slightly larger than I would like to see, but it's certainly acceptable and within the SAAMI maximum specified .012 inch. The throats measure .452 inch while the barrel groove diameter is .451 inch. This is a near perfect recipe for great accuracy with a variety of loads that include jacketed and cast bullets that measure .451 to .452 inch. The forcing cone is smooth and appears to have been cut with the proven 11-degree angle. The bore is beautifully finished and shines like a mirror, even after firing cast bullet loads. Each chamber ranges perfectly, all of which almost guarantees that this sixgun will shoot well.
One significant departure of Cimarron/Uberti Model P revolvers when compared with the Colt SAA is the cylinder and frame size. The Colt cylinder measures 1.650 inches outside diameter, while the Model P measures 1.670 inches. The distance from the axis of the bore to the center of the base pin remains the same. This increases the outside chamber walls 0.010 inch, which adds significant strength over the locking bolt notches, the weak link in SAA revolver design. Combined with high tensile chrome-moly steel, this revolver can easily digest loads that generate 21,000 psi (the same as the .45 ACP).

The Cimarron Model P functioned flawlessly throughout many shooting sessions. In addition to running like a Swiss watch, it shot right to point of aim with most 250/255-grain factory loads. As can be seen in the accompanying table, accuracy was good, with most 25-yard groups measuring between 1.80 and 2.60 inches. Hornady's 225-grain LEVERevolution FTX load grouped into 1.80 inches, while Buffalo Bore's 255-grain Keith GC Standard Pressure load grouped into 1.90 inches.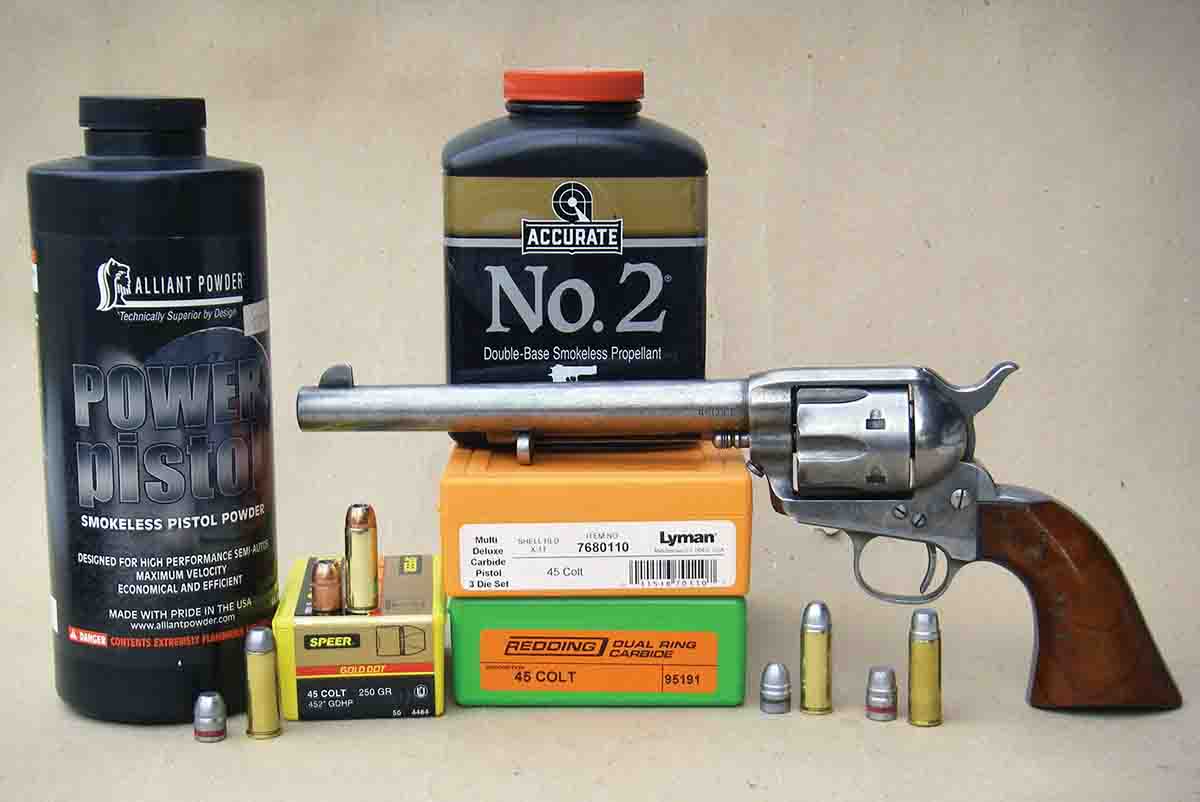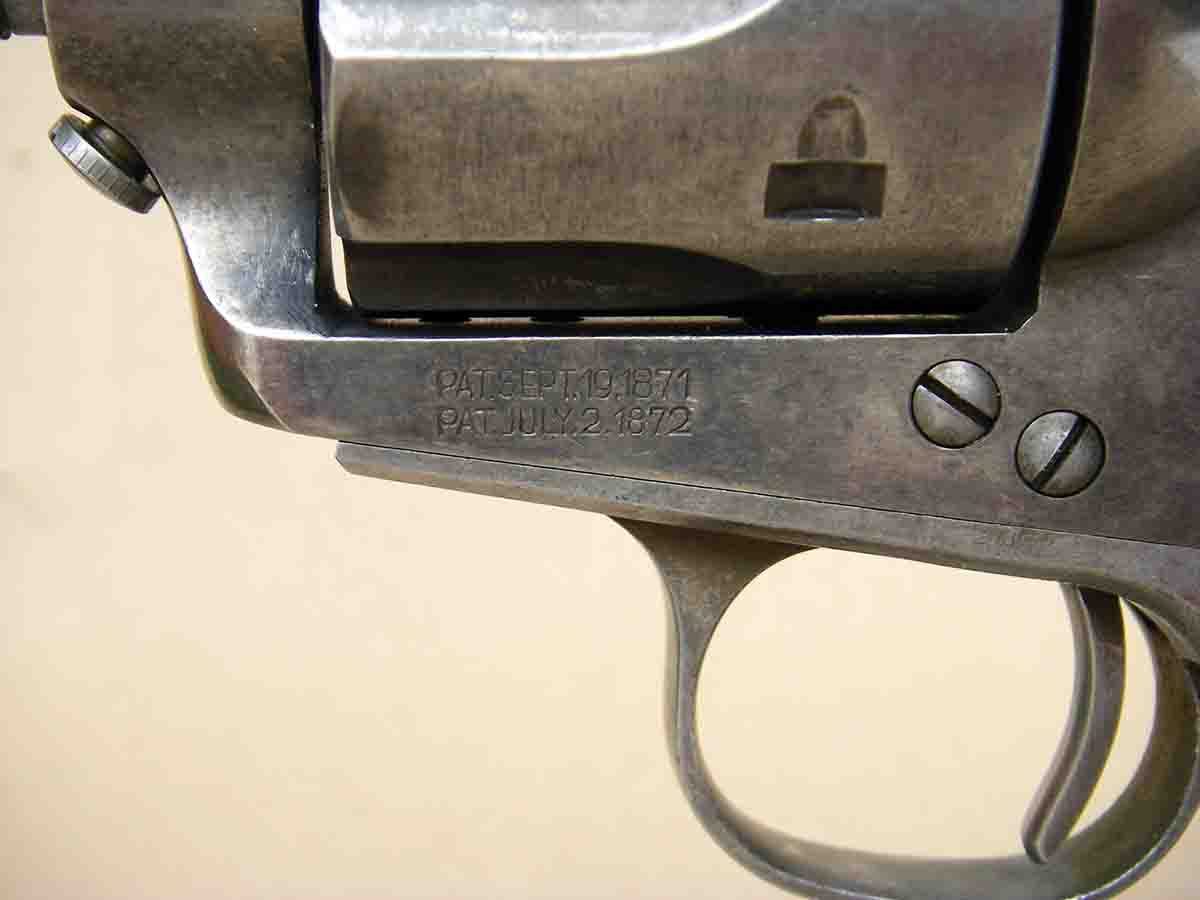 A few handloads were developed using new Starline cases (factory direct at 800-280-6660) that were full-length sized using a Redding Dual Ring carbide sizing die. All loads were ignited using CCI 300 Large Pistol primers. An appropriate roll crimp was applied using a Lyman seat/crimp die. The Speer 250-grain Gold Dot HP bullet was pushed to 923 fps using 9.2 grains of Alliant Power Pistol powder, which grouped five shots into an impressive 1.15 inches. Another very accurate handload contained 260-grain cast bullets from RCBS mould 45-250-FN sized to .452 inch and lubed with Lyman Alox lube. Using 7.15 grains of Accurate No. 2 powder, velocity was 869 fps, with the best group measuring 1.35 inches. With a bit more load development and experimentation, I am certain that groups could shrink to under an inch with the Cimarron Model P.
Building a quality SAA-pattern sixgun requires considerable machining, handfitting, filing, polishing and finally tuning and timing. It is remarkable that Uberti is able to produce such a quality replica Colt SAA at a modest cost. Regardless of price, the Model P is a good shooter.