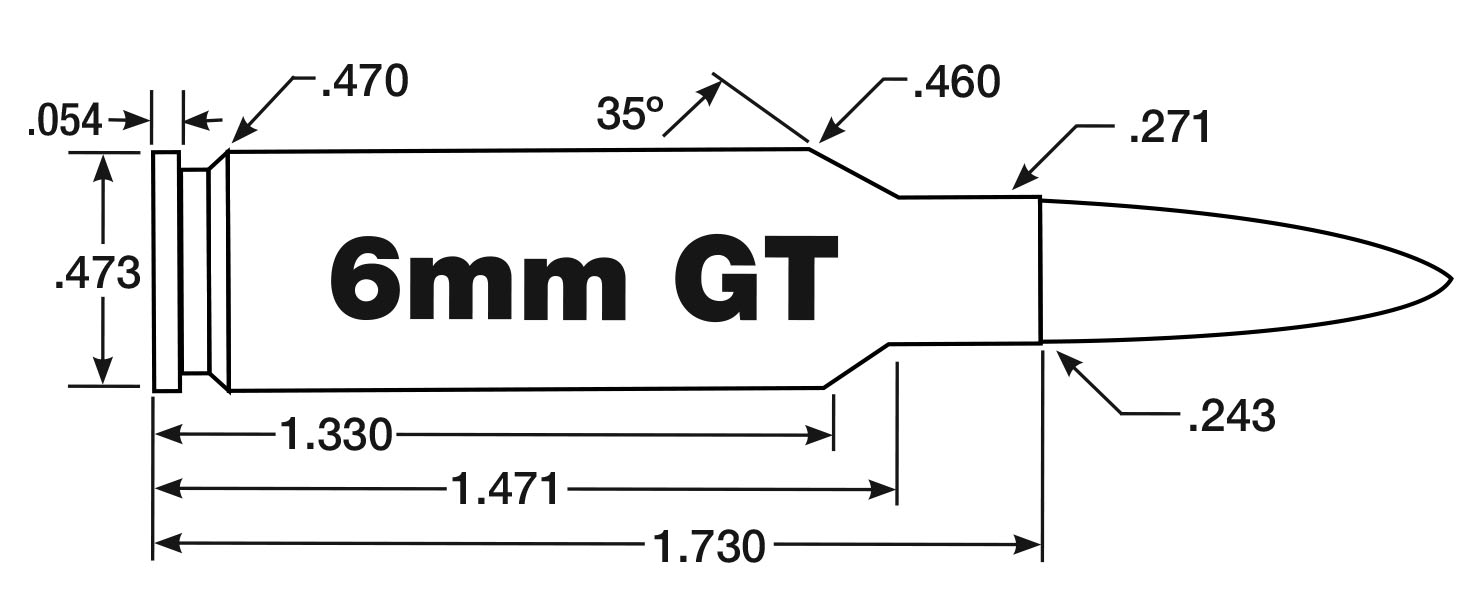 Wildcat cartridges have been developed for many different reasons. Some produced velocities higher than was possible with factory-loaded cartridges. Some were more accurate. Others were developed for use in certain firearms. The 6mm GT may be the only wildcat cartridge developed for the use of a specific combination of powder type and bullet weight range.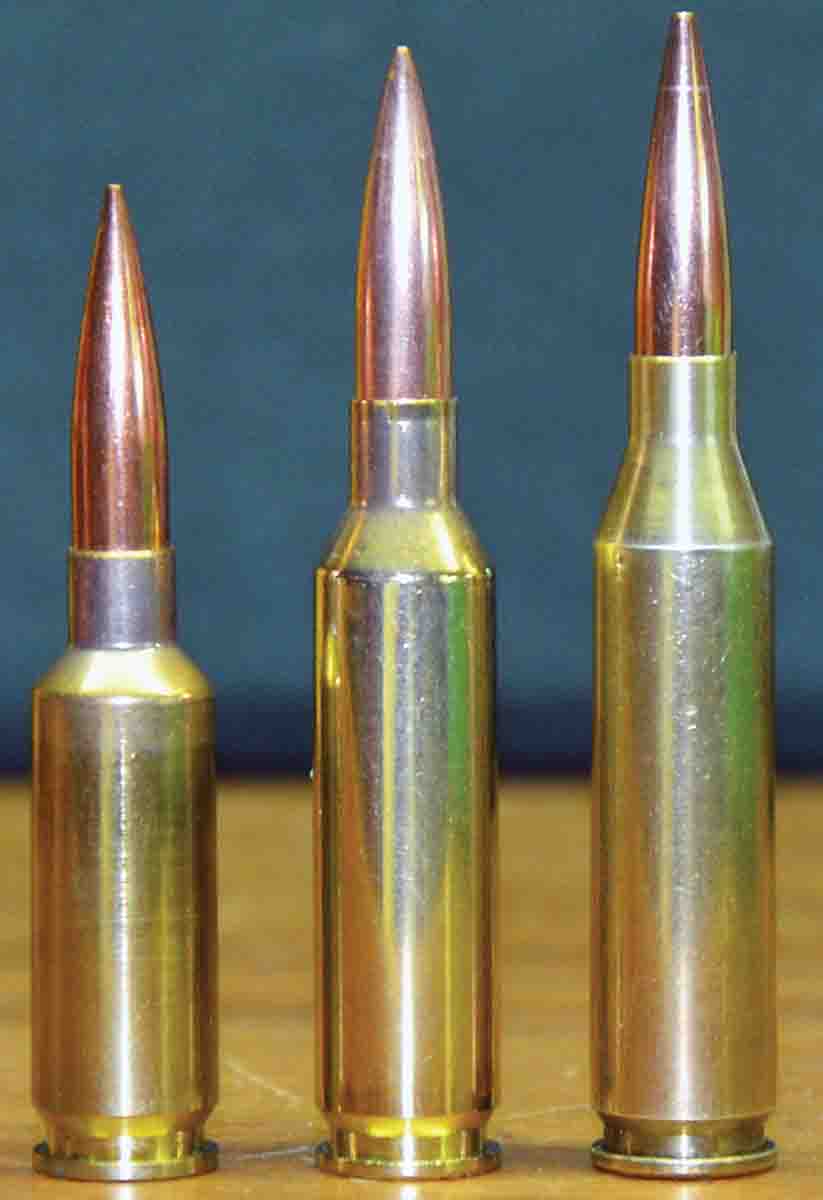 Created by George Gardner and Tom Jacobs, the 6mm GT was designed to use Varget powder for pushing match-grade bullets weighing 105 to 110 grains at velocities ranging from 3,000 fps to 3,100 fps. In addition to owning GA Precision, George is an avid participant in Precision Rifle Series (PRS) competition, where steel targets are engaged out to 1,000 yards and sometimes farther. Tom is a champion 600- and 1,000-yard benchrest competitor.
The 6mm GT is similar to the earlier 6mm Dasher designed by Dan Dowling and Al Ashton for 100- and 200-yard benchrest competition. The Dasher is basically the 6mm BR Remington case with the shoulder moved forward for additional powder capacity and shoulder angle increased to 40 degrees. It pushes the heavier match bullets about 200 feet per second faster than the 6mm PPC.
The 6mm Dasher has proven to be equal to the 6mm PPC in accuracy, and while it has won its share of matches in short-distance benchrest competition through the years, it has not proved to be a serious threat there. But due to its ability to launch heavier bullets faster while being easier on barrel accuracy life than bigger cartridges, it has become one of the more popular cartridges used by competitors in PRS, F-Class and long-distance benchrest competitions.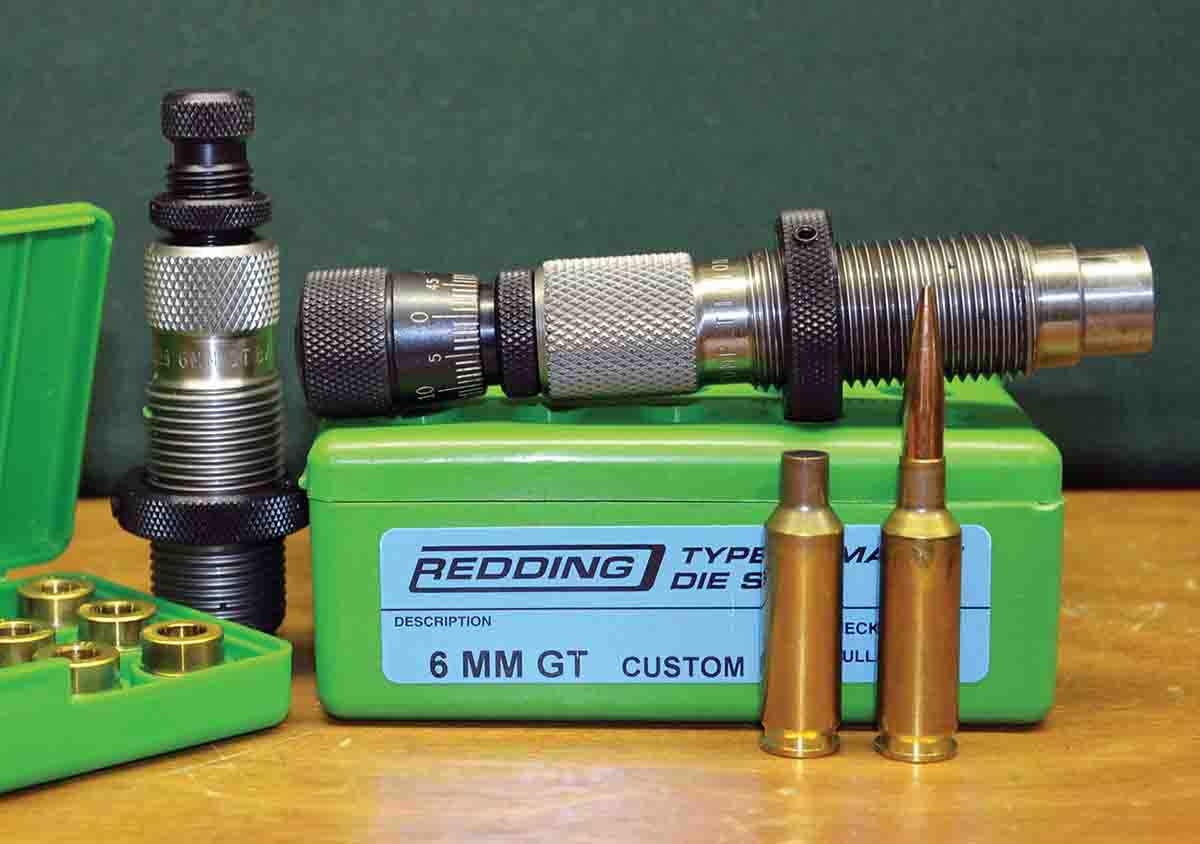 I asked George Gardner why he thinks the 6mm GT is a better choice than the 6mm Dasher for long-distance competitive shooting. For starters, he described the 6mm Dasher as too short to reliably feed from high-capacity magazines commonly available for the .308 Winchester, and when loaded to maximum chamber pressure, it struggles to reach his desired velocity range of 3,000 to 3,100 fps with bullets weighing from 105 to 110 grains. Using a case with a bit more powder capacity would solve that problem.
Gardner next tried the 6x47 Lapua, which is the 6.5 Lapua case necked down. Like the 6mm Dasher, it is extremely popular in various long-distance competitions. The larger case enabled Gardner to easily reach his velocity goal, but load density with Varget was less than 100 percent, and that put shot-to-shot velocity variation higher than is acceptable for shooting small groups at extreme distances. So the 6mm GT case was created by shortening the 6x47 Lapua case just enough for the charge of Varget producing the desired velocity level to fill the case to 100 percent load density with a bullet seated.
Measured from the head to body/shoulder junction, the 6mm GT is 0.100 inch longer than the 6mm Dasher and its neck is 0.050 inch longer. Respective shoulder angles are 35 and 40 degrees, and the slightly milder angle should make the 6mm GT feed a bit more smoothly from various types of magazines. There is one other difference. The 6x47 Lapua case is pocketed for small rifle primers and flashhole diameter is around 0.060 inch, same as the 6mm PPC, which started that trend. The 6mm GT case also uses the small rifle primer, but flashhole diameter is the more standard 0.080 inch.

While many competitors are convinced that various 6mm cartridges are more accurate with small rifle primers, another benefit is seldom mentioned. Due to more beef in the web of the case, primer pockets don't expand as quickly when the case is pounded by maximum-pressure firings.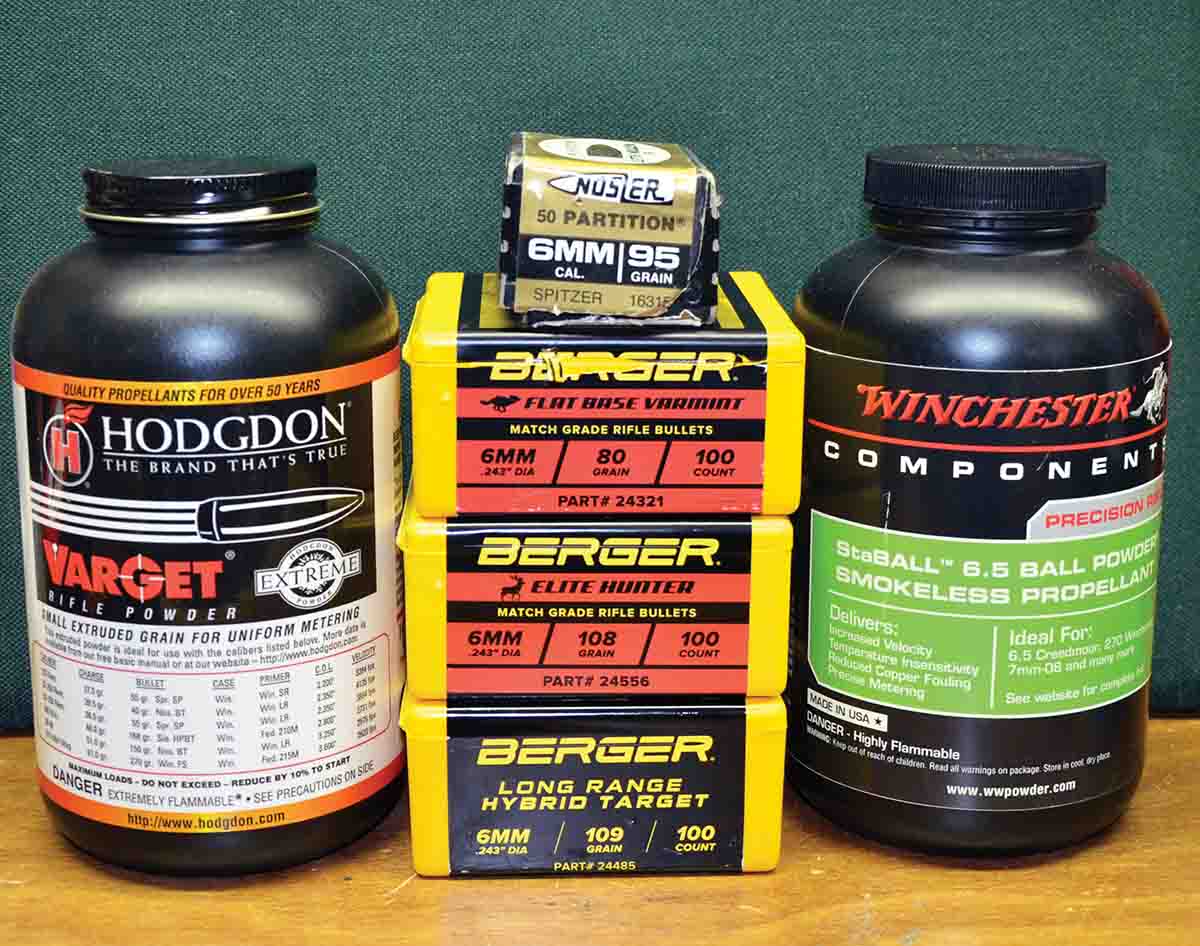 I compared capacities by weighing cases and then weighing them again after they were filled to the brim with water. The averages were 40.2 grains for the 6mm Dasher, 45.2 grains for the 6mm GT and 46.8 grains for the 6x47 Lapua. The 6mm Creedmoor and .243 Winchester, both also popular in the long-distance shooting games, have respective capacities of 52.6 and 55.2 grains. Alpha Munitions of Salt Lake City, Utah, is manufacturing 6mm GT cases head-stamped "GAP 6mm GT." In various precision shooting disciplines, cases made by Lapua are the standard by which all others are measured, and based on my experience with 6mm GT cases, I will have to say that Alpha is giving Lapua a good run for the money in dimensional uniformity and quality.
George Gardner started using the 6mm GT in PRS competition in 2017, and the rifle I am shooting is the same build as he and other Team GAP members use. Bolt travel of the Templar action feels like it is on ball bearings, and bolt lift during firing pin spring compression is about 30 percent lighter than on a Remington Model 700 action as it comes from the factory. The bolt has dual-opposed locking lugs, a Sako-style extractor and a plunger ejector. Locktime is inside 3.0 milliseconds. The heavy 27.5-inch Bartlein stainless steel barrel with 5R rifling and a 1:7.7 twist measures 0.830 inch at the muzzle. The Diamond trigger from Trigger Tech has a two-position safety and an adjustment range of 1.5 to 6 ounces. Ten pulls with a Lyman digital gauge ranged from 2.9 to 3.4 ounces, for an average of 3.1 ounces. There was no detectable creep or overtravel. The rifle has a Manners Elite Tactical stock and a dual chamber, eight-port muzzle brake from ZRODelta. Total weight with a Bushnell 4.5-30x XRS Elite Tactical scope and a Harris folding bipod is 18.25 pounds. The rifle came with a .375-inch, 100-yard group accuracy guarantee, and it has lived up to that promise.
When shooting the GA Precision rifle over a Harris bipod along with a bunny ear sandbag at the rear, all cartridges fed smoothly from the magazine. A light, shifting breeze prompted me to place Graham portable wind flags at 20 and 95 yards. After choosing one of the more prevailing conditions, I sent bullets downrange only when the flags indicated the condition had returned. A typical stage in PRS competition requires 10 to 12 rounds fired, and since time limits usually range from 90 to 120 seconds, barrels can become quite hot, especially during the heat of summer. With that in mind I fired five, five-shot groups with each load and only water-cooled the barrel after each 25-round string had been fired. Because I was sending each bullet downrange only when the wind flags told me to pull the trigger, my shooting times ranged from 8 to 10 minutes for each 25-round string. The firing, along with an ambient temperature of 94 degrees Fahrenheit, got the barrel quite hot and yet there was very little variation in group size fired from a cold to hot barrel.