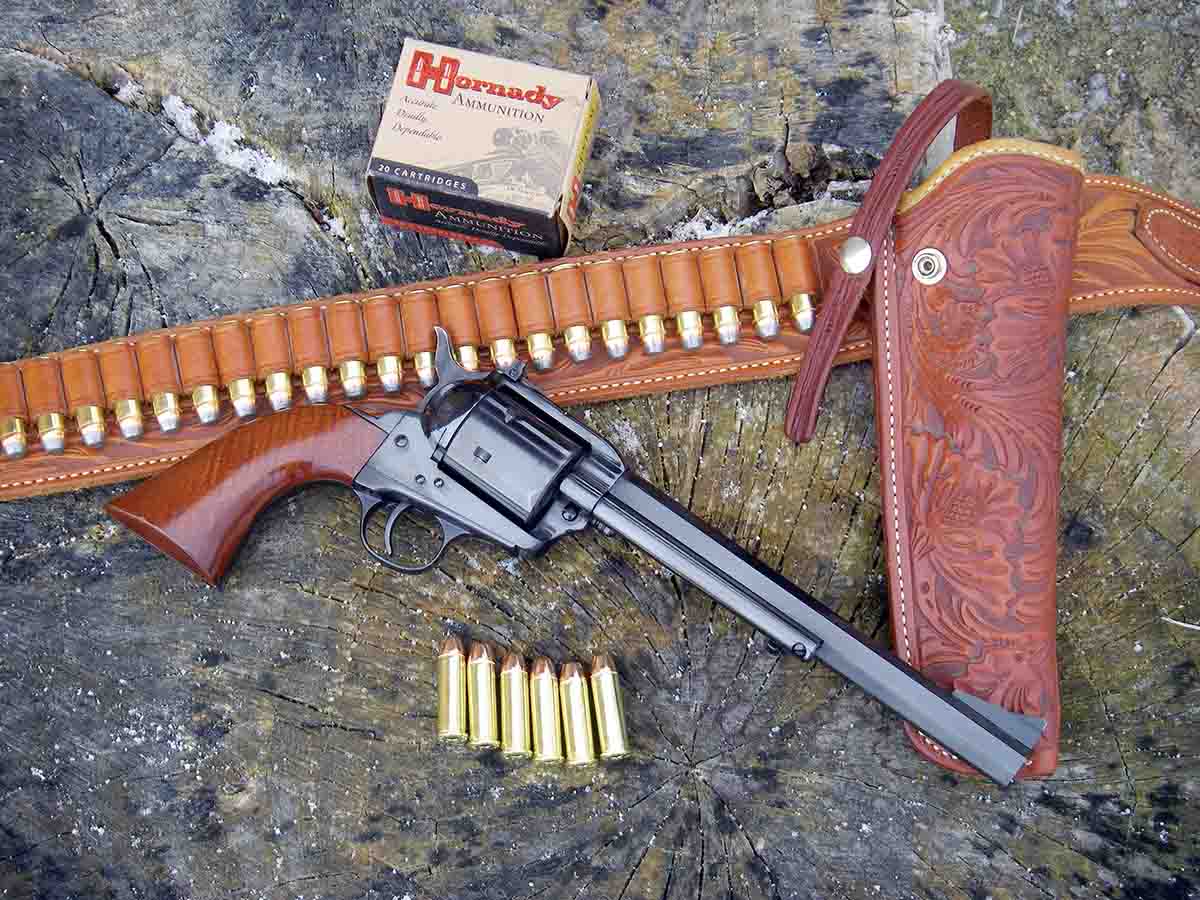 Cimarron Firearms is known for its vast selection of imported, nineteenth-century replica firearms; however, the company recently began offering a new Uberti Bad Boy .44 Magnum sixgun. This single action is equipped with select modern features, offers handsome looks, good workmanship and top-notch accuracy.
While Uberti has produced .44 Magnum revolvers for many decades, Cimarron's Mike Harvey has worked extensively with Uberti to improve quality and appearance, and he set the specifications for this new sixgun,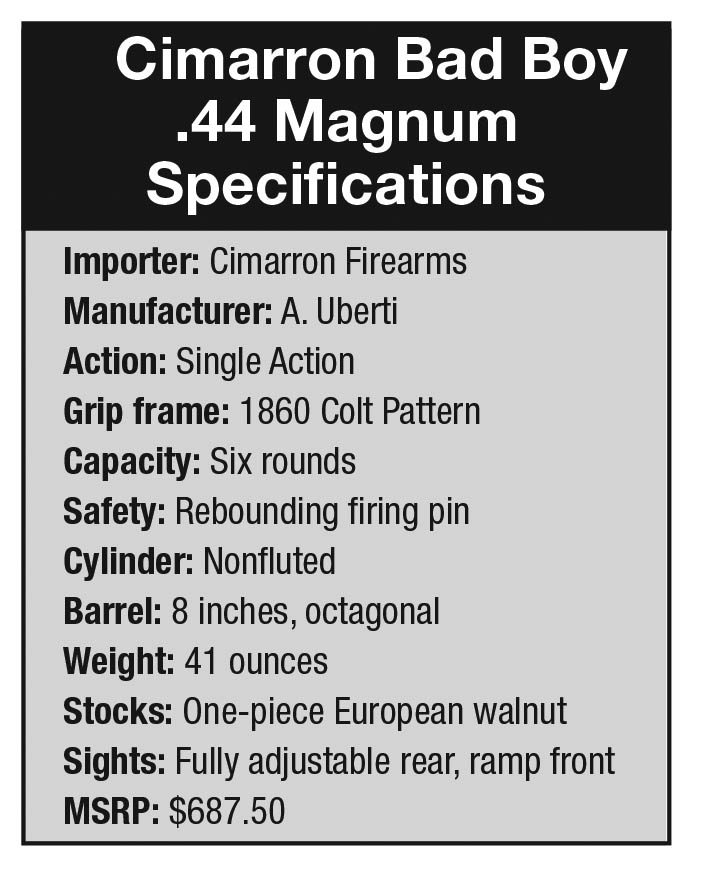 which has resulted in the finest .44 Magnum produced by that company to date.
The Bad Boy features a fully adjustable rear sight that is pinned into the flattop-style frame. The rear sight notch is .125 inch wide and .065 inch deep, offering enough "light" on each side of the front sight blade to give an excellent sight picture and allowing accurate shooting under most light conditions. Its blade is ramped and dovetailed into the barrel. The front sight blade is tapered and measures .100 inch wide at the top. The 8-inch octagonal barrel measures .665 inch across the flats at the muzzle. The rifling consists of six lands and grooves with a bore diameter of .417 inch, a groove diameter of .429 inch and a 1:20 right-hand twist. The bore has a mirror-like, bright finish, which helped prevent leading when using cast bullets, and jacketed bullet fouling was minimal. The smooth forcing cone is cut at 11 degrees.
The cylinder is nonfluted and features countersunk chambers. The outside measurement is 1.680 inches, which is only .010 inch larger than Uberti Colt SAA-pattern clones, or around .030 inch larger than the Colt SAA. The steel used is the European equivalent of 4130 Chrome-moly, which Rockwell tested HRC35 (C-scale). The cylinder is shorter than most .44 Magnum revolvers at 1.675 inches, which includes the counter-bored chambers. While the Bad Boy readily accepts all .44 Magnum ammunition manufactured within SAAMI overall length specifications of 1.610 inches, handloaders will necessarily need to limit maximum overall cartridge length to around 1.660 to 1.665 inches. The latter figure is approximately .010 inch short of being flush with the end of the cylinder. This accommodates some bullet creep that naturally occurs when cartridges are subjected to recoil without tying up cylinder rotation.
The timing is good as the bolt drops correctly in the bolt notch, while lockup is tight and end-shake minimal. Each chamber ranged perfectly with the bore (which was checked using a Brownells Range Rod). The chamber throats measure .430 inch, which is perfect for obtaining top accuracy with both cast and jacketed bullets and is notably tighter than all previous Uberti manufactured .44 Magnums.

While the lock-work is essentially the same as the proven Colt SAA, there are a couple of notable differences. First, the coil handspring is constructed of piano wire, making it nearly unbreakable. There is a built-in safety that engages automatically when the trigger is released. The engineering is rather simple and includes a cam that is machined as part of the trigger and actuates a plunger mounted into the hammer. The plunger then causes the firing pin to extend out when the trigger is pulled and the hammer is in motion falling forward. Once the trigger is released, the cam disengages and the firing pin retracts to prevent it from resting on a primer. This allows the revolver to be fully loaded and carried with the hammer down.
The Bad Boy features the Colt Model 1860 Army-style grip frame, which some shooters with larger hands report offers less felt recoil. The stocks are of one-piece European walnut and were sanded to fit the individual revolver during manufacture, resulting in a good fit to the grip frame.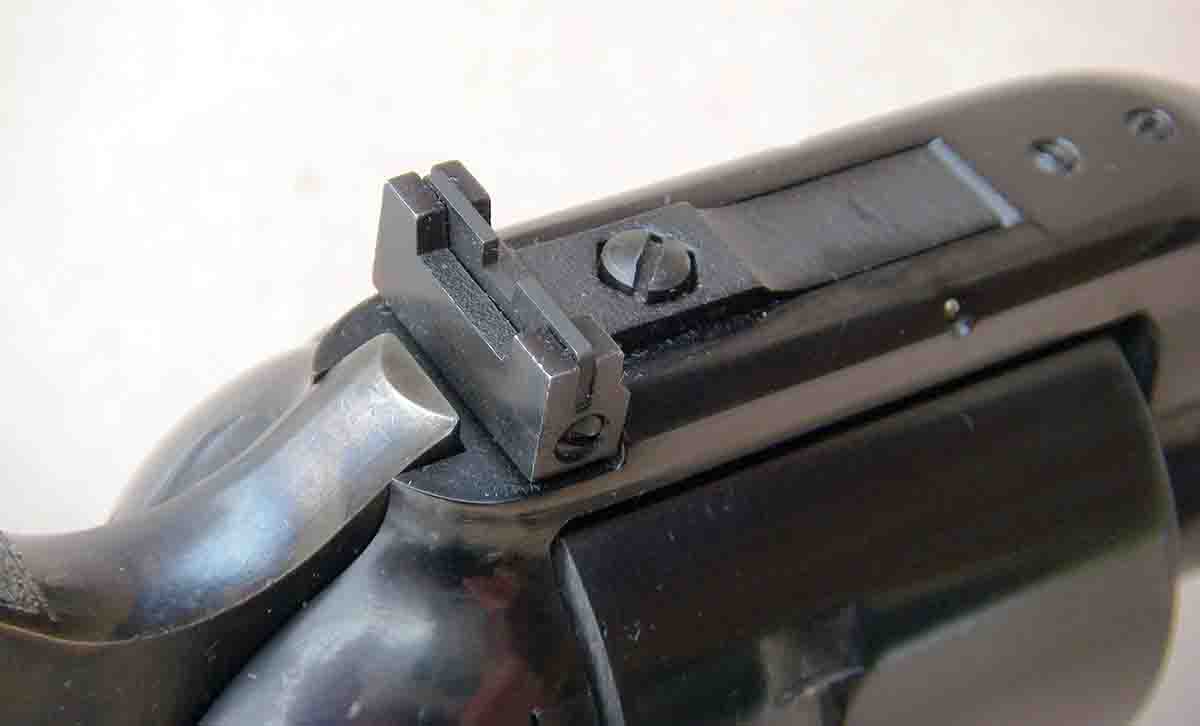 The metal work is hand polished and fully blued, is handsome and receives high marks in overall fit, finish and quality. This finish quality, combined with the attractive, tidy sights and octagonal barrel certainly makes the Bad Boy a nice sixgun.
Right out of the box, the trigger pull broke cleanly at 32 ounces, which helped facilitate accurate shooting offhand or from any field position.
It is noteworthy that Uberti is offering recoil plates on select single-action sixguns, a feature I would like to see added to the Bad Boy, and I hope to see the same revolver with a 5.5-inch barrel and perhaps a smaller (and lighter) SAA grip frame as an option.
With the aid of a sandbag rest, several factory loads containing 240-grain jacketed bullets from Hornady, CCI/Speer Blazer, Black Hills, Remington and Federal were tried at 25 yards. There was plenty of adjustment in the rear sight to allow proper zeroing. As can be seen in the accompanying table, Hornady, Black Hills and Winchester loads each produced groups that hovered around one inch.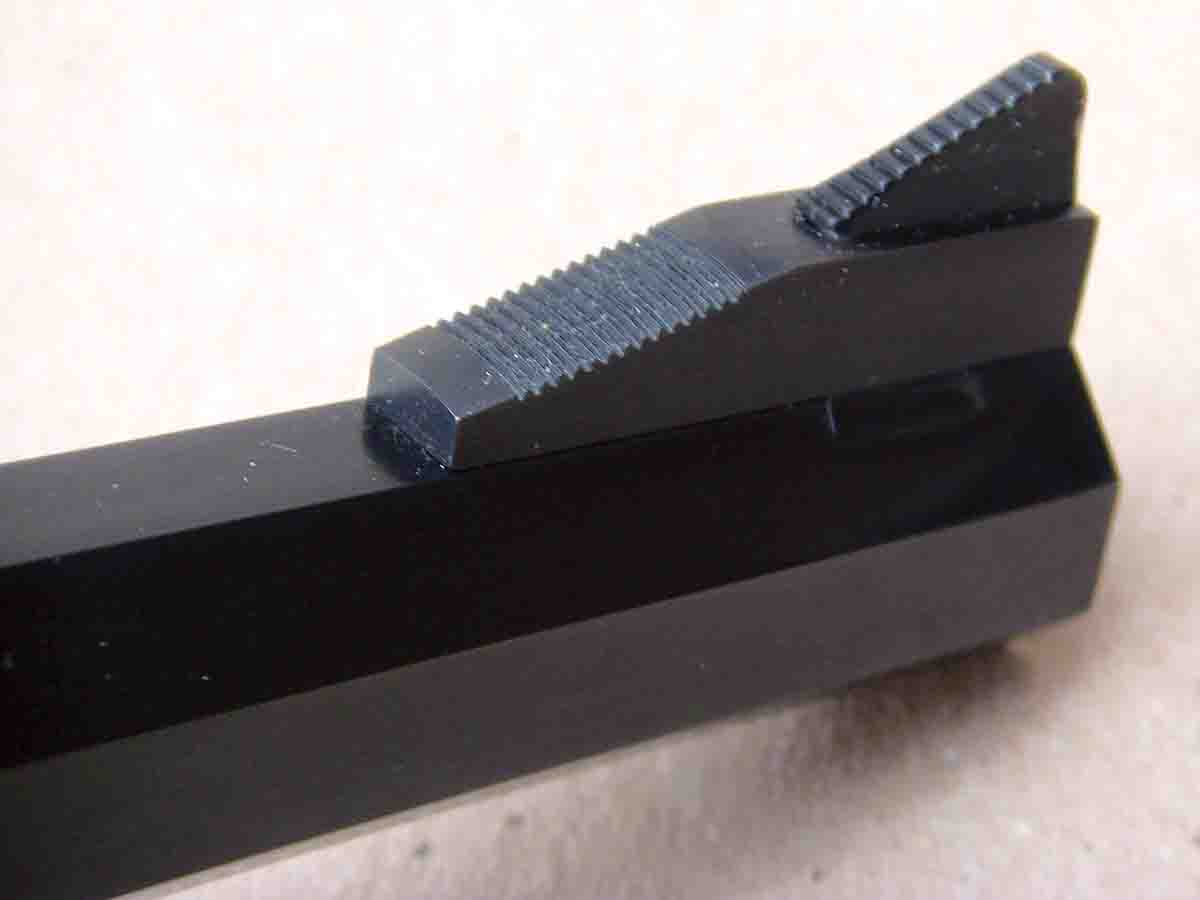 Several handloads were tried that ranged from light target loads to full-house versions containing both jacketed and cast bullets. All loads were assembled in Starline cases, capped with CCI 300 Large Pistol primers and given a heavy roll crimp using RCBS dies.
For a light target and economical load, 6.0 grains of Accurate No. 2 powder behind the 240-grain Oregon Trail cast RNFP reached 851 fps and produced groups that hovered around 2 inches.
A bullet that seems perfect for this sixgun is Lyman mould No. 429244, a SWC gas check design. Using No. 2 alloy, my mould usually drops bullets weighing around 255 grains with Hornady crimp-on gas checks and lube applied. The nose length results in an overall cartridge length of 1.660 inches – at least when loaded in cases that are 1.275 inches in length. For an accurate midrange load, 9.5 grains of Alliant Power Pistol reached 1,056 fps and cut cloverleaf-type groups when I could do my part. Moving up to a full-house load, 20.0 grains of Alliant 2400 powder reached over 1,343 fps and produced several groups that hovered just over one inch, which is an excellent general-purpose hunting load.
No .44 Magnum article would be complete without at least one load utilizing Elmer Keith's classic 250-grain cast bullet from Lyman mould No. 429421. Due to this bullet's nose length, it was necessarily deep seated to correspond with the Bad Boy's cylinder length. The case was crimped over the bullet's front driving band for an overall cartridge length of 1.618 inches. Due to the reduction in case capacity, standard powder charges with Alliant 2400 had to be decreased to 19.0 grains and provided 1,363 fps and groups hovering between one to 1.5 inches.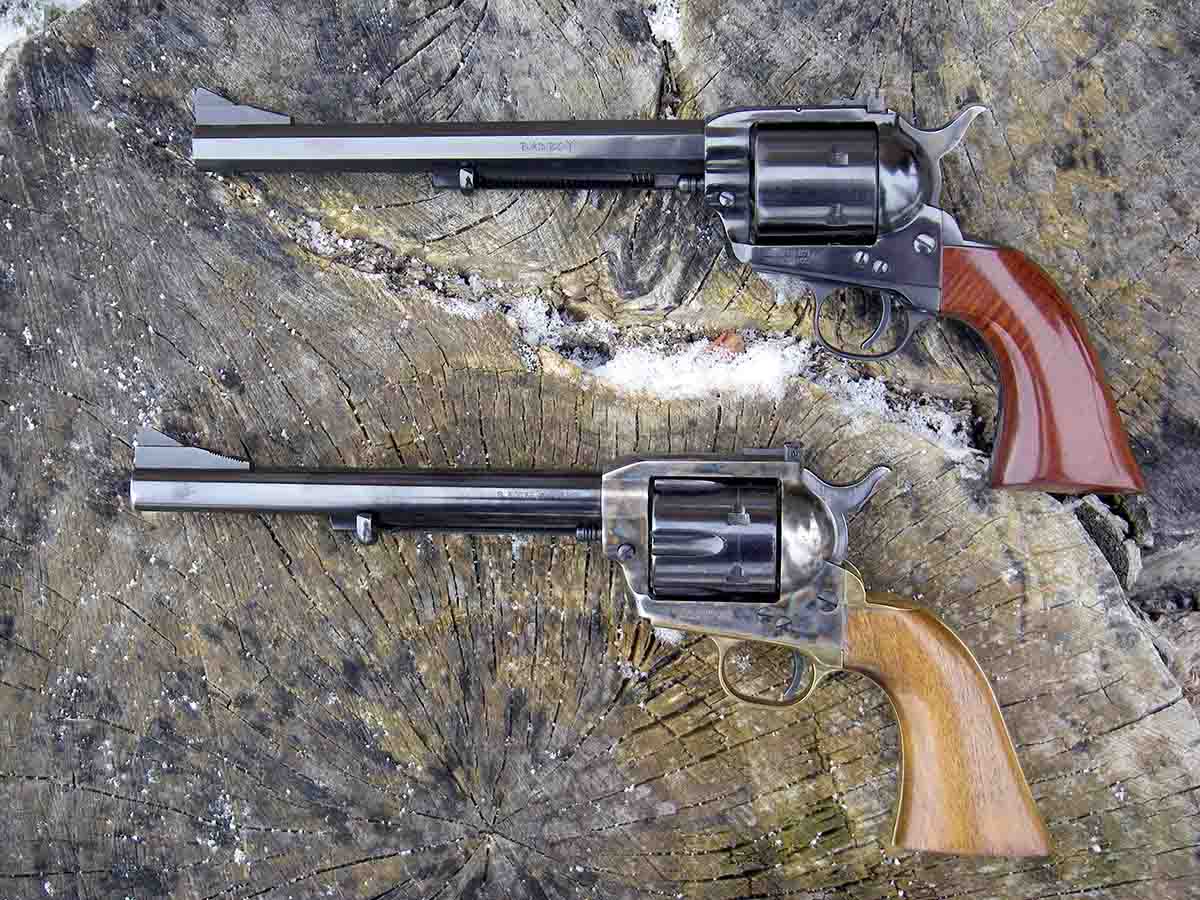 Hornady's excellent 240-grain XTP bullet was loaded over 21.0 grains of Accurate No. 9 powder, which produced 1,409 fps and essentially identical accuracy as the best factory loads.
Cimarron's Bad Boy is a sixgun that is capable of fine accuracy with a MSRP of $687.50.