They say necessity is the mother of invention. In Miha Prevec's case, a lack of bullets drove him to make a mould for himself, and that eventually turned into a job making bullet moulds for shooters around the world.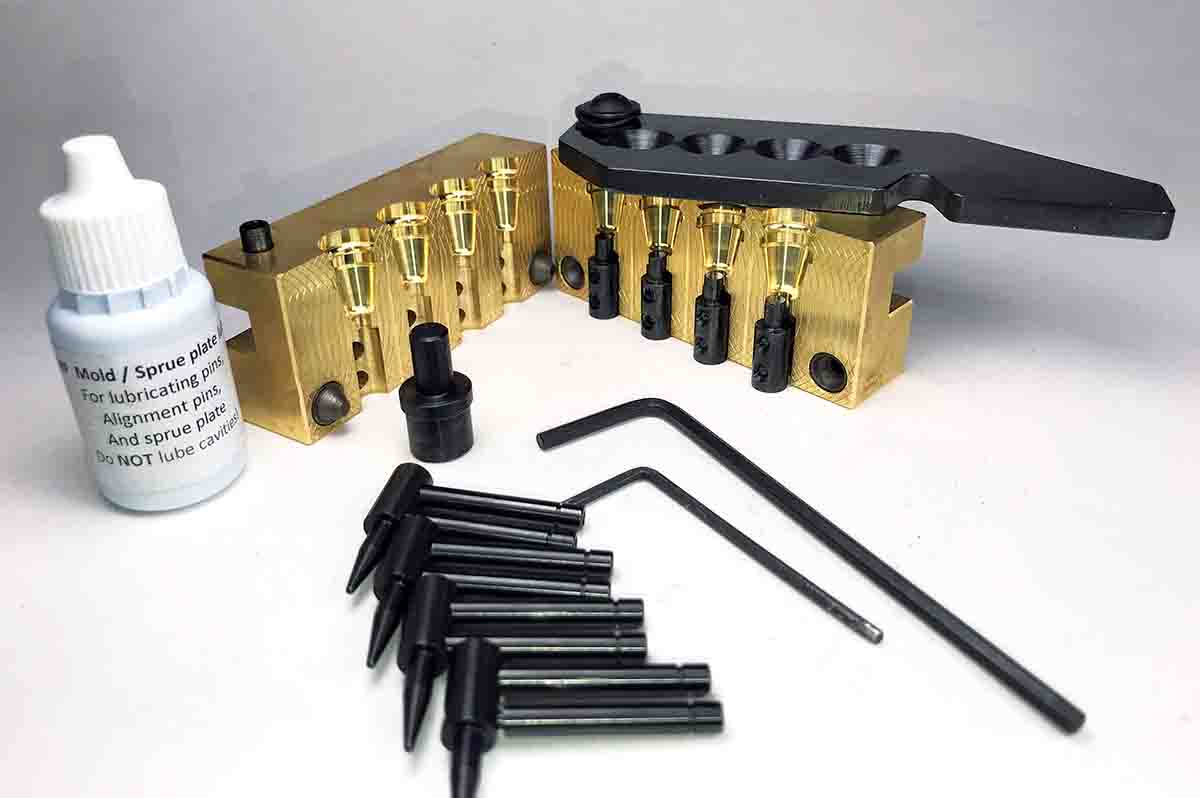 Prevec started reloading 25 years ago. He mostly shot International Practical Shooting Confederation matches with a .45 Auto. However, finding bullets for reloading was difficult in his home country of Slovenia. He was working in a tool shop at the time and had access to an EDM machine, so he made a two-cavity aluminum mould based on the Hensley & Gibbs No. 68 mould. A few years later he started working in the information technology industry and lost his access to a milling machine. He bought a six-cavity mould but was disappointed in its quality.
"I called a friend of mine who has a big tool shop and asked him if I could make some molds," Prevec said. "He agreed and I ordered a cherry cutter." In the meantime, Prevec posted on the Cast Boolits website that he would be machining moulds, and if anyone was interested in buying one, they should contact him. In two days, 40 people had signed up to buy one of his moulds. "The rest is history they say." MP Kalupi d.o.o. is the official company name. MP Kalupi in Slovenian means "MP Molds" (mp-molds.com).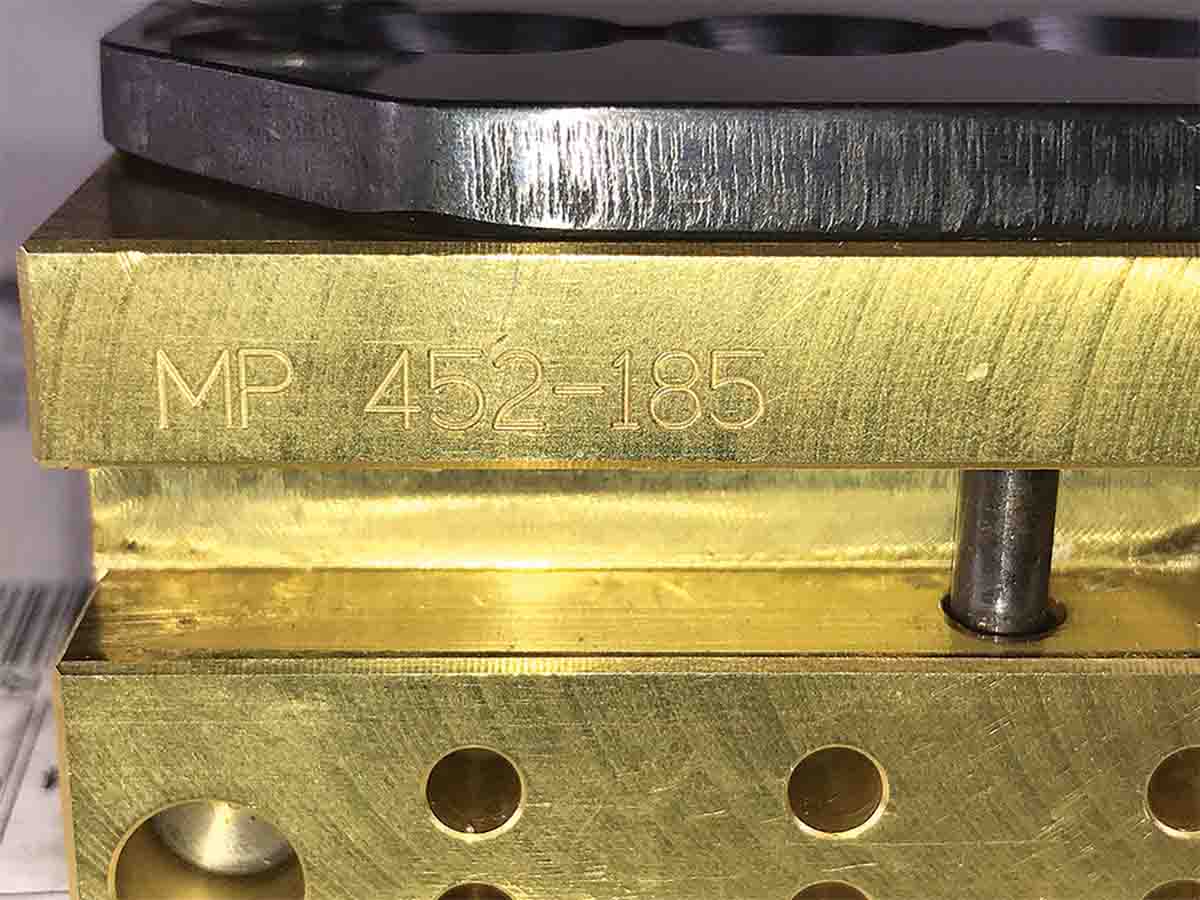 Prevec and his father, a retired machinist, are the only employees at the moment. The company recently moved to a larger shop, and Prevec is looking to hire more people. He also contracts out some work, such as laser cutting and machining various pins.
Most of Prevec's more popular moulds are always in stock. Others are made on an as-needed basis. Mostly he conducts group buys on the Cast Boolits forum. When 25 people have signed up to buy the same mould, he machines a batch, bills the customers and mails them out. The shipping price is included in the cost of a mould. He always makes a few additional moulds of a batch he has sold and posts them on his website.
MP mould options include designs for a hollowpoint or roundnose, flat, beveled or hollowbase, and bullets without lube grooves intended for coating. Calibers include .22, .24, .308 and up to .45 for rifle cartridges, and 9mm through .45 for handgun cartridges. An RCBS/Lyman-type top punch is included with each mould, and they fit on Lee six-cavity handles. Moulds are cut to drop their stated bullet weights cast of wheelweights, as most of MP Molds' customers prefer to cast bullets with that lead alloy. "Most bullet designs are made by Bobby Kell Jr. from Centralia, Illinois," Prevec said.
Prevec prefers to make brass moulds. "Brass is easier to machine [than steel], better retains heat, does not rust and there is no need for bushings for hollowpoint pins," he said. The few moulds he makes of steel are intended for Magma or Ballisti-Cast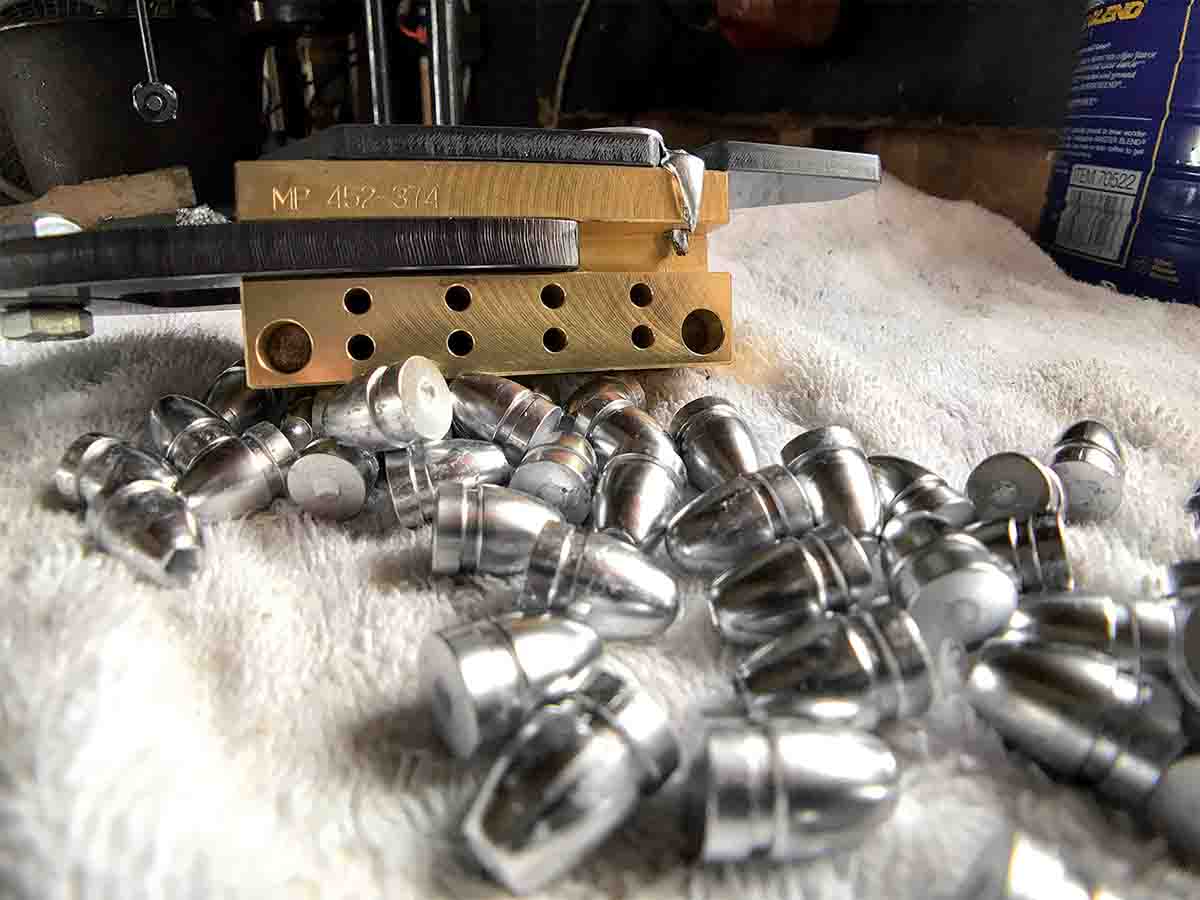 casting machines. His aluminum moulds usually have six or eight cavities and come with a steel sprue plate.
Many of the company's moulds are designed to incorporate interchangeable pins to cast roundnose or hollowpoint bullets. For example, the four-cavity MP 452-185 mould comes with pins to cast roundnose bullets, and pins with a long-tapered tip to cast hollowpoint bullets. The MP 452-374 mould includes a set of pins that are flat on one end to cast bullets with a flat tip, but the pins can be turned around so their dimpled tips cast bullets with a more rounded tip. Two sets of pins with pointed tips that cast hollowpoint bullets are also included. One set of pins forms a deep and wide hollowpoint. The other set of pins forms a shallower hollowpoint with a pentag-onal shape. The opposite ends of the hollowpoint pins are flat and can be turned around to cast bullets with flat tips.
Two screws go through holes on the side of one half of a mould and thread onto each pin. Clips attach to the base of the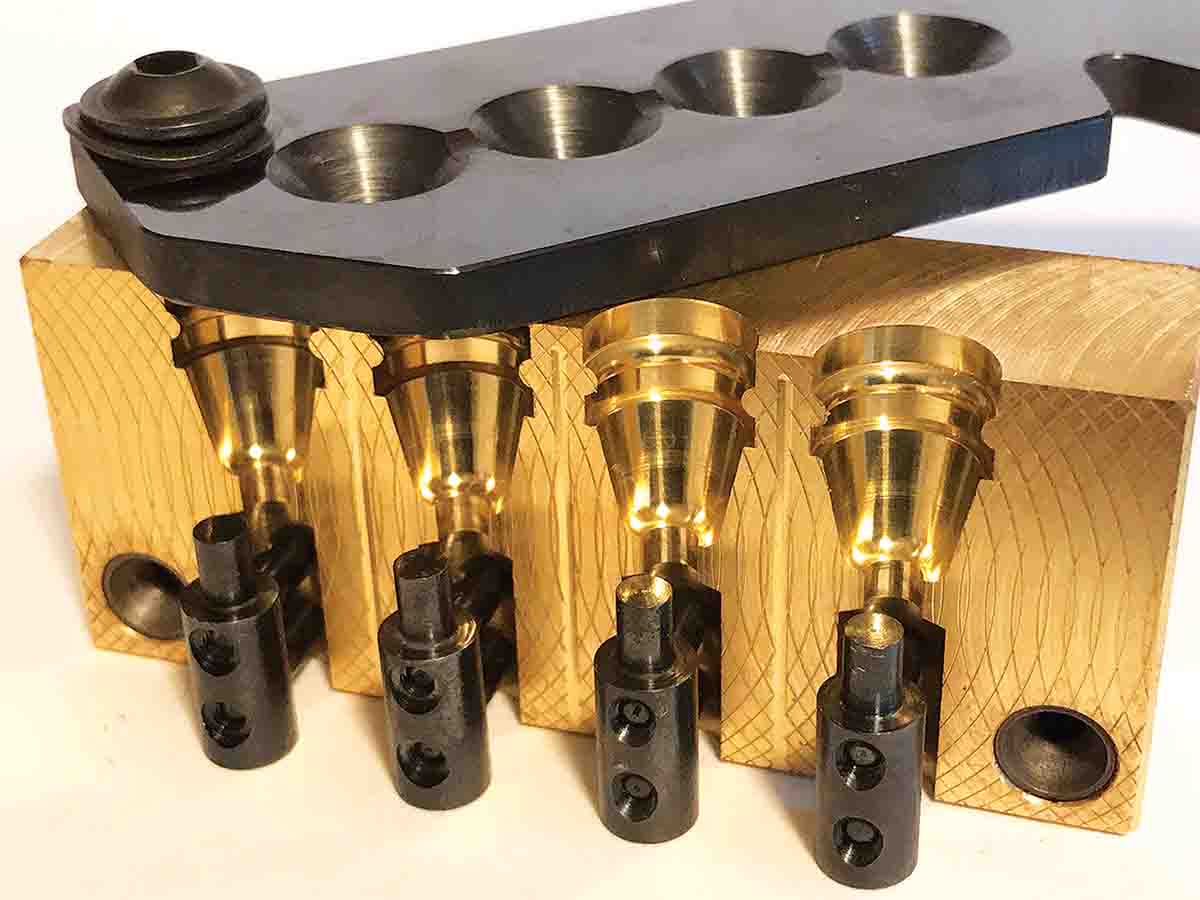 screws to keep them in place. "I always include a few extra clips," Prevec said. A small bottle of lubricant is included with each mould, and a drop of it on each screw helps it freely slide in and out. Most other brands of moulds that incorporate point or base pins are made with a slotted strap screwed to the bottom of the mould that allows the pins to slide back and forth when the mould is opened or closed.
Before casting with the MP 452-374 mould, I installed one pin with a dimpled tip, one with a flat tip, one with a long hollowpoint pin and one pentagonal hollowpoint pin. I scrubbed the brass mould with a toothbrush and dish detergent and rinsed it with hot water to remove any oil from the cavities. The four-cavity mould is big, measuring 3.15x1.3x1.50 inches, and it fits on Lee six-cavity mould handles. Placing the mould on the stovetop burner set on low for 20 minutes helped bring it up near to casting temperature.
The lead alloy in my RCBS furnace was of wheelweights. Bullets dropped from the mould wrinkled and stuck to the hollowpoint pins the first few casting cycles. Some alloy overrun spilled onto the pin screws on the left side of the mould, and removing the lead took some time. Tilting the mould slightly to the right prevented that problem.
The mould then started dropping fully formed bullets. The nose pins slid out most of the time when the mould opened and
pulled the bullets out of the cavity. When they remained in, a light tap on the pin screws with a sprue mallet pushed out the pins. Bullets stuck somewhat on the hollowpoint pins. Rapping the mould handle with the mallet knocked them off the pins but distorted the bullets. MP Molds' website suggests turning an open mould upside down to free the bullets. That worked, and the hollowpoints remained intact.
Bullets dropped from the mould were .454 inch in diameter. The roundnose bullets weighed 227 grains, the pentagonal hollowpoint bullets weighed 217 grains and the deep hollowpoint bullets weighed 210 grains. The weights of 15 bullets varied up to .5 grain.
Alternating between casting with the MP 452-374 and MP 452-185 moulds, the moulds maintained an even temperature to produce fully formed, shiny bullets.
The MP 452-185 four-cavity mould with flat-tip pins in place cast semiwadcutter bullets with narrow, flat noses. Bullets dropped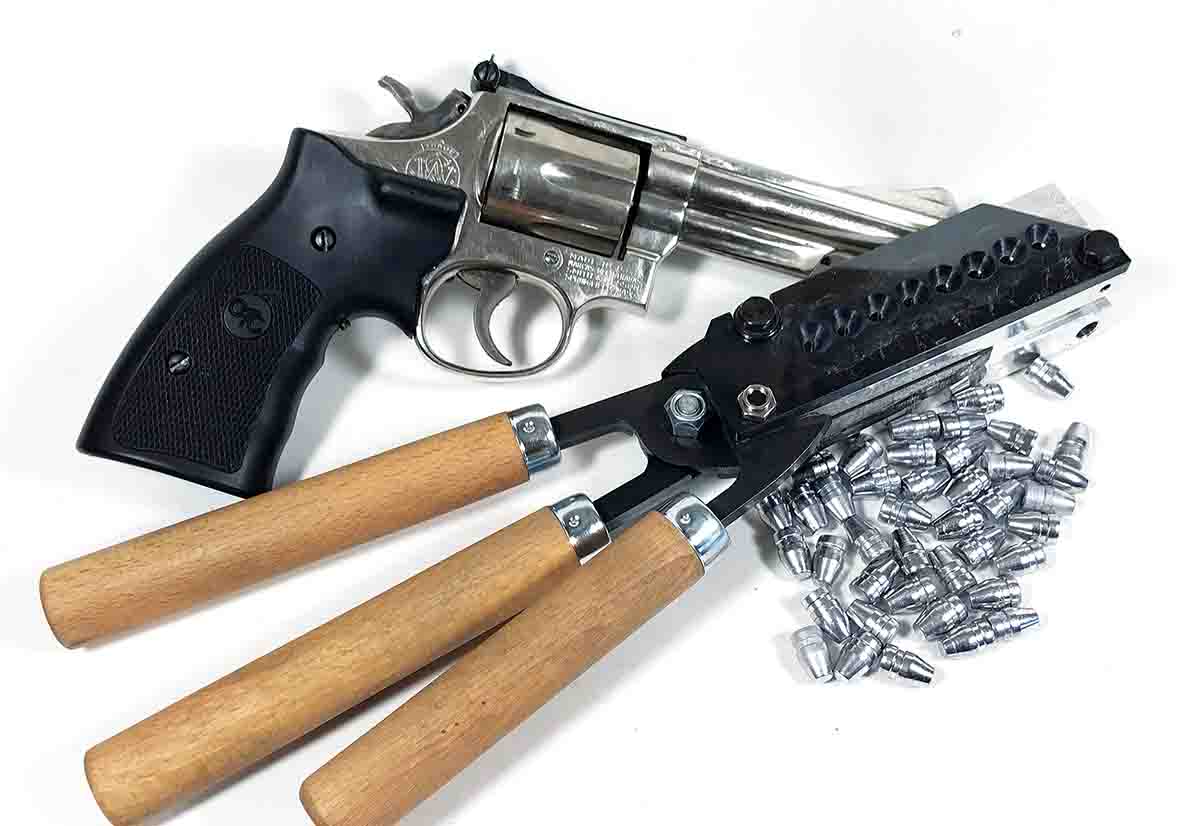 from the mould weighing 188 grains and were .454 inch in diameter. I completely cleaned a .451-inch die to make sure no lube got on the bullets and pushed some of the bullets in and out of the die. Bullets were then powder-coated and baked, which increased diameter to .453 inch.
One plus of cast bullets is they have a very uniform shape from one bullet to the next. Using a Hornady Lock-N-Load Bullet Comparator, I measured the base to near the front of the ogive of 10 bullets cast from the MP 452-185 mould. All of them measured the same. However, 10 jacketed, 185-grain semiwadcutter bullets varied up to .004 inch, so cast bullets did result in more uniform cartridge fit in a chamber. That is probably quibbling, as the overall length of an autoloading handgun cartridge is usually kept a bit short to leave some room to accommodate powder fouling. But I like to nitpick.
I dropped .45 Auto cartridges, with bullets seated obviously long, into the chamber of my Colt Gold Cup and increased seating depth until cartridges freely chambered, arriving at cartridge lengths for bullets cast from the MP 452-185 mould, plus two hollowpoints and one roundnose bullet cast from the MP 452-374 mould. With bullets seated to those cartridge lengths, two full magazines of cartridges loaded with each bullet reliably cycled through the pistol. While shooting targets, the loads never bobbled while feeding from the magazine into the chamber – all chambered fully.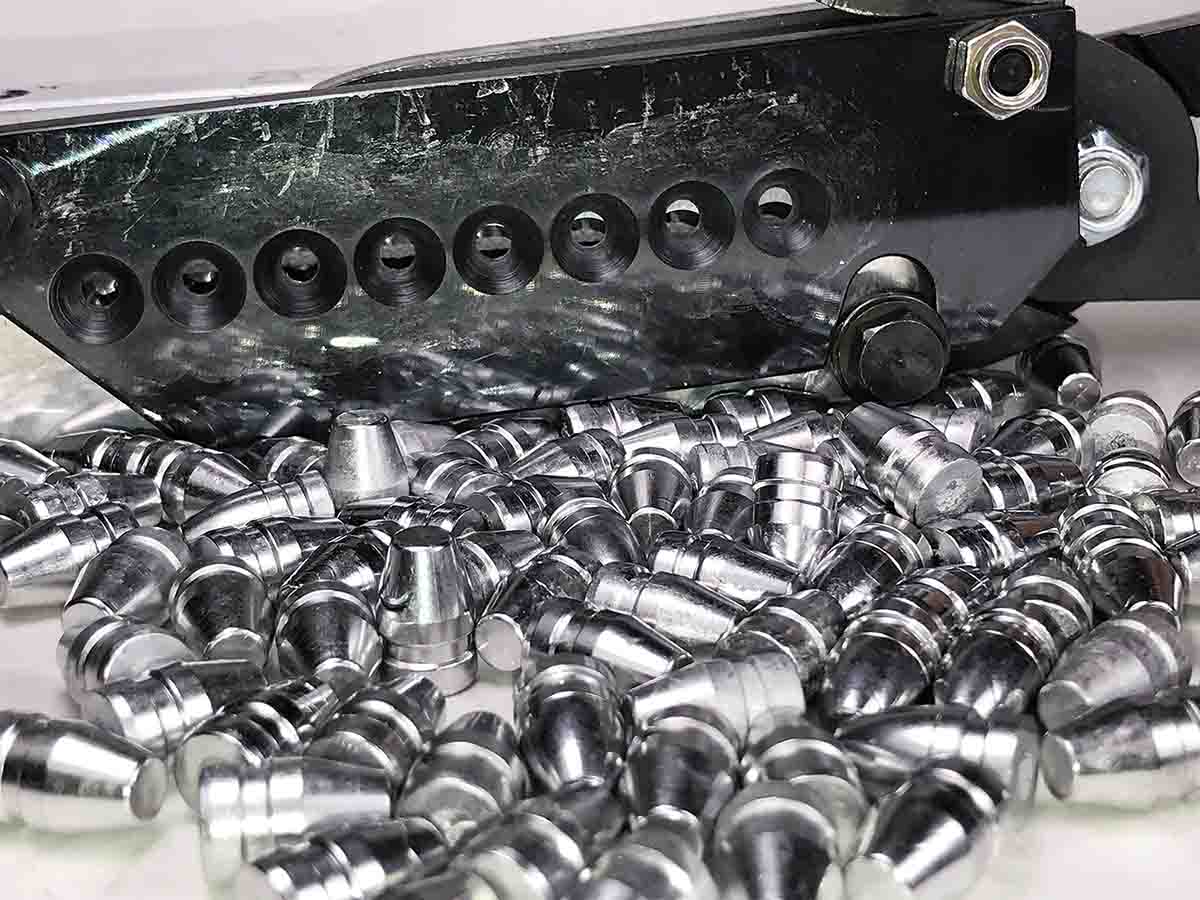 To remove human error, the Colt was clamped in a Caldwell HAMMR mechanical handgun rest. At 25 yards the MP cast bullets shot just as well from the Colt as various expensive jacketed bullets had in times past.
More .38 Special and .357 Magnum cartridges are fired than any other centerfire cartridges around my house. Casting .35-caliber bullets with two- and four-cavity moulds is a laborious chore to keep everyone shooting. So with much appreciation, I started casting bullets with MP Molds' brass, six-cavity MP 359-135 mould and aluminum, eight-cavity MP 359-125 mould.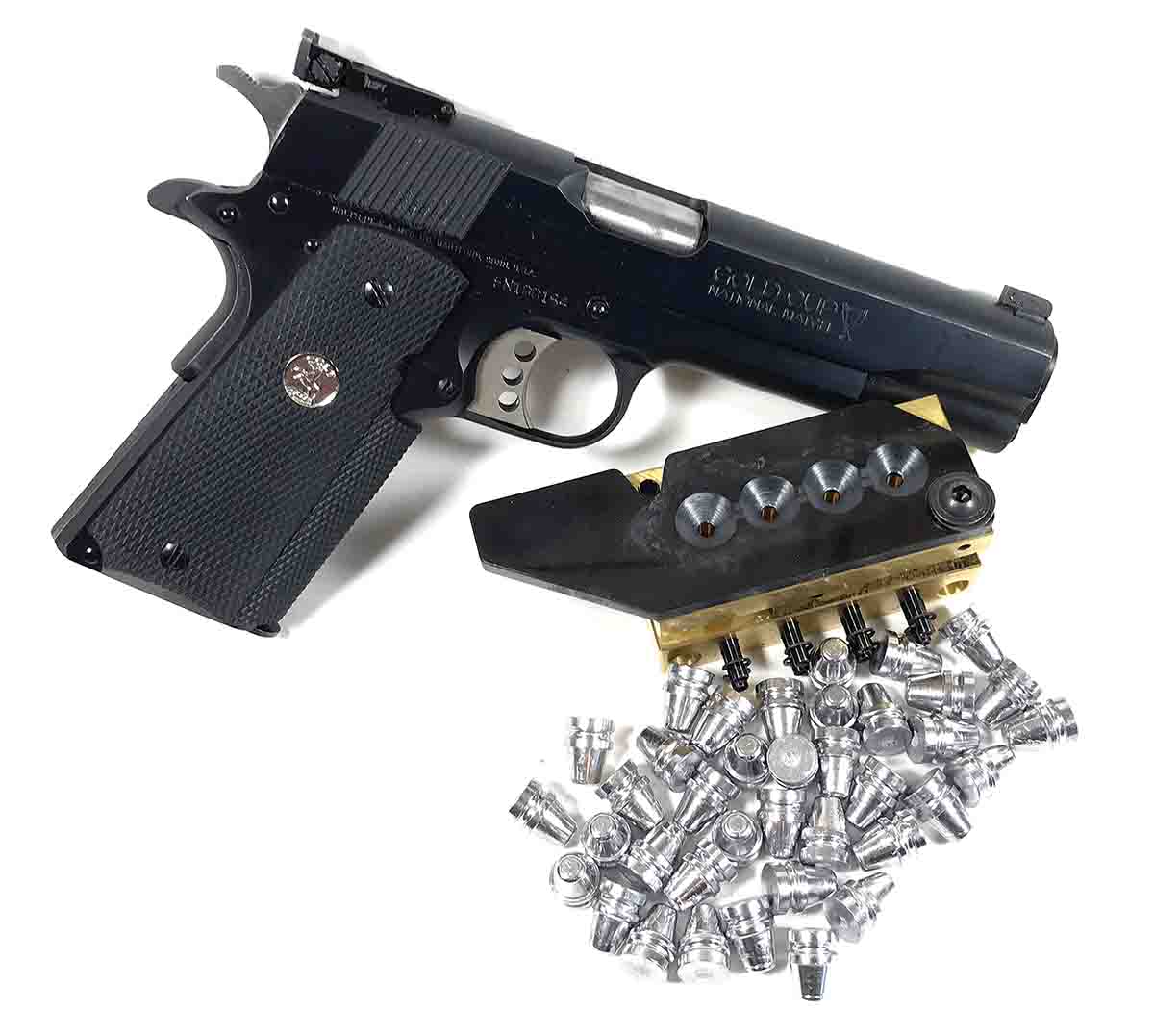 Cast from wheelweight alloy, bullets weighed 131 grains from the MP 359-135 mould. Most of the 20 bullets picked at random varied within .2 grain of each other, and the extreme weight variance was .9 grain. Bullets dropped from the mould with a diameter of .359 inch. Bullets were pushed in and out of a .359-inch sizing die only to add lubricant to the single lube groove.
The bullets do not have crimping grooves and look like bullets for the 9mm Luger. In fact, the company's website indicates the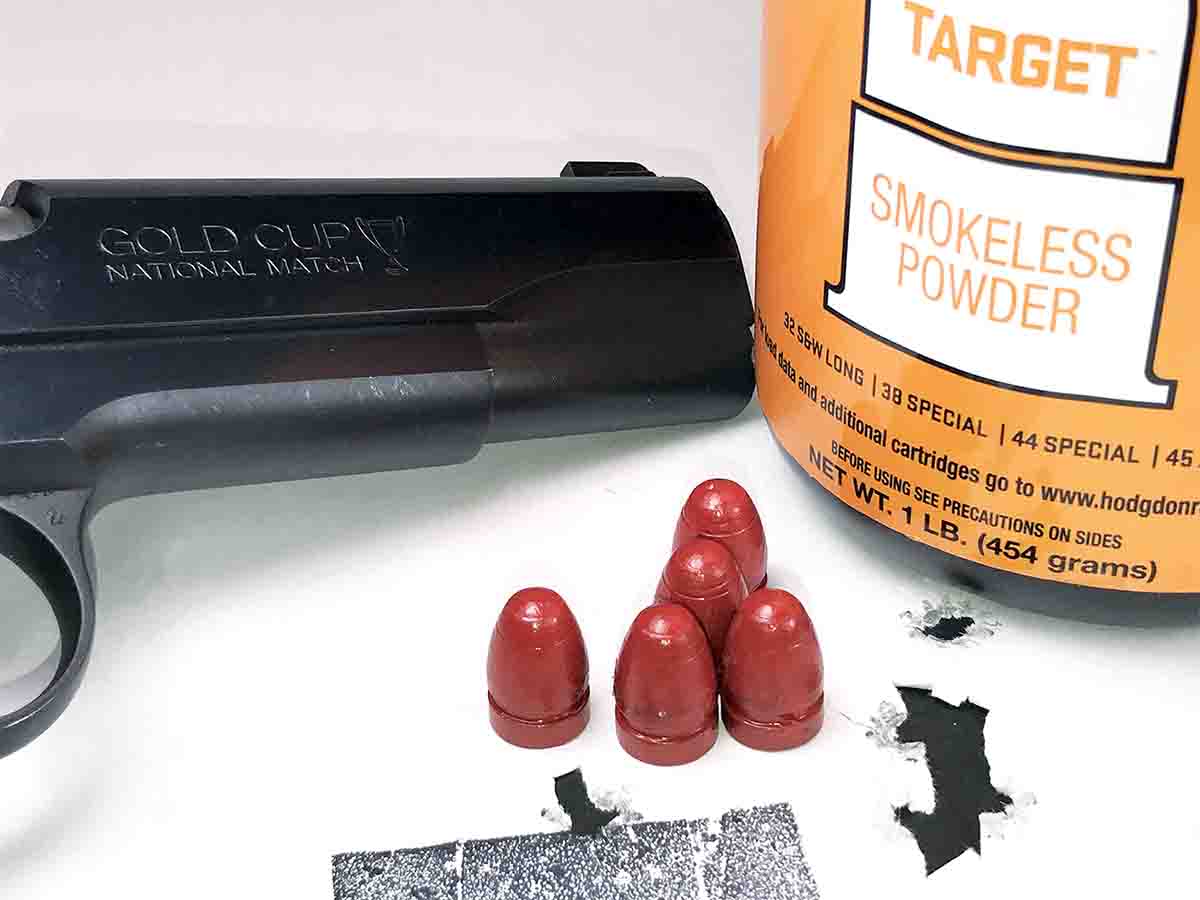 bullets can be sized to .356 inch for the 9mm Luger. I adjusted the seat die to seat the bullets in .38 Special cases with the case mouths just above the top of the lube groove, and barely crimped the mouths against the bullets. The length of one unfired cartridge left in the revolver remained unchanged after firing 10 other cartridges.
The MP 359-125 is a long, eight-cavity, aluminum mould with a steel sprue plate. It came with Lee handles attached to the mould and a leverage bar on a third handle that bears against the side of the mould to open the sprue plate. If bullets were left in the mould long enough for the sprue to sufficiently harden on the last bullet cast, the sprue plate raised slightly and left a bump of lead in the middle of the base of the first bullet cast. After some trial and error, I found the timing required before opening the sprue plate so the base of all eight bullets were cut cleanly. No smears of lead formed on the bottom of the sprue plate. Alternating pouring from one end, then the other, also helped.
Most of 20 bullets cast from the MP 359-125 mould varied within .3 grain of each other, with two bullets differing by .9 grain. Bullets dropped from the mould with a diameter of .359 inch. The bullets also do not have a crimping groove, and I seated them in .38 Special cases.
The bullets shot rather accurately from my old Smith & Wesson Model 19 that has had upward of 25,000 rounds fired through it over the years. The majority of those bullets were cast two at a time, too. However, in the future, casting with the two MP Molds moulds will free up all manner of time so that I can shoot more.