Beginning with the introduction of the .45-70 Government in 1873, most rifle cartridges adopted by the U.S. military went on to enjoy popularity among civilian hunters and shooters. The 6mm Lee Navy for the Model 1895 Lee Straight-Pull rifle was an exception. The last of about 22,000 military and sporting rifles departed the factory in 1916, but since the ammunition remained available until the 1930s, one might think wildcatters of that era would have been lured to its bullet diameter like starving yellowjackets at a watermelon festival. They were not.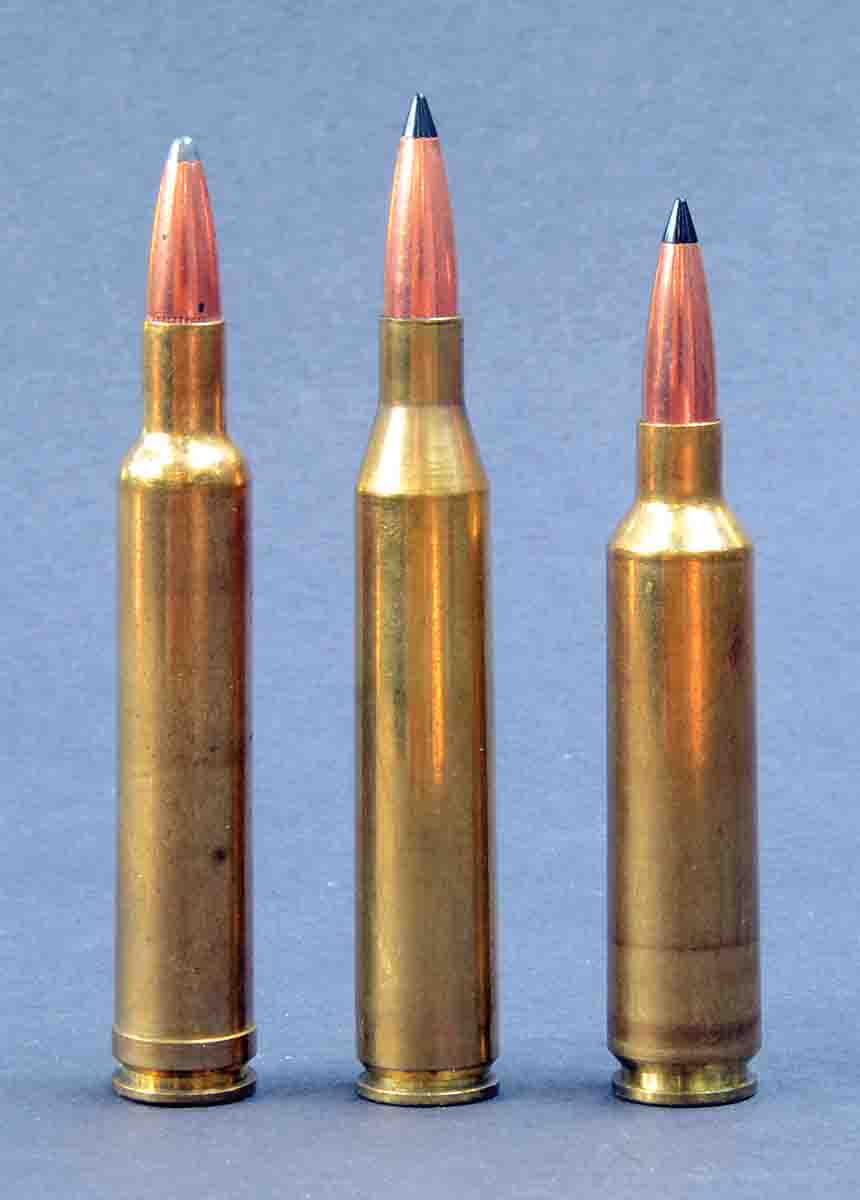 Unlike American hunters, Europeans had no need for wildcats when they could choose among factory-loaded numbers such as the 6x57mm Mauser, 6x58mm Forster and .244 Halgar Magnum. All were introduced prior to 1925. The British-designed .240 Nitro Express (.240 Apex) was the first belted cartridge of its caliber, and the later .240 Weatherby Magnum is a virtual spitting image of it. The much larger .244 Holland & Holland Magnum on the .300 H&H case may have been spooked from the bushes by the introductions of the .244 Remington and .243 Winchester.
Wildcatters in America virtually ignored the 6mm caliber until the 1940s, probably due to a lack of jacketed bullets. Once they became available from Earnest Gardiner, Ralph Sisk and a few others, new cartridges began to pop up. From around 1945 until the .243 Winchester and .244 Remington were introduced in 1955, a rather large litter of known wildcats emerged. One of the earliest was the .240 Super Varminter from Jerry Gebby, who is also credited with the introduction of the .22-250, or .22 Varminter, as he called it. His .240 Super Varminter was formed by necking down the .270 Winchester case with no other change. In Ackley's handbook it is given top velocities of 3,619 and 3,412 fps with 75- and 90-grain bullets.
One of the more capacious cartridges on the .30-06 case is the .240 Gibbs. It is a member of a family of eight wildcats created during the 1950s by gunsmith Rocky Gibbs of Viola, Idaho. Powder capacity is increased as much as possible by fireforming the case to absolute minimum body taper; and in addition to increasing shoulder angle to 35 degrees, it was moved forward, leaving an extremely short neck.
The plain-vanilla 6mm-06 featured in this article might best be described as a "country boy's .240 Weatherby Magnum." Cases for forming it are abundant and less expensive to boot. Powder capacities of the two cartridges are not too far apart. Filled to the brim with water, Weatherby cases on hand held an average of 62.9 grains while Nosler, Hornady and Remington .25-06 cases necked down to 6mm held 66.7, 66.4 and 66.9 grains, respectively. The 6mm-284 formed from Lapua 6.5-284 brass holds 64.1 grains.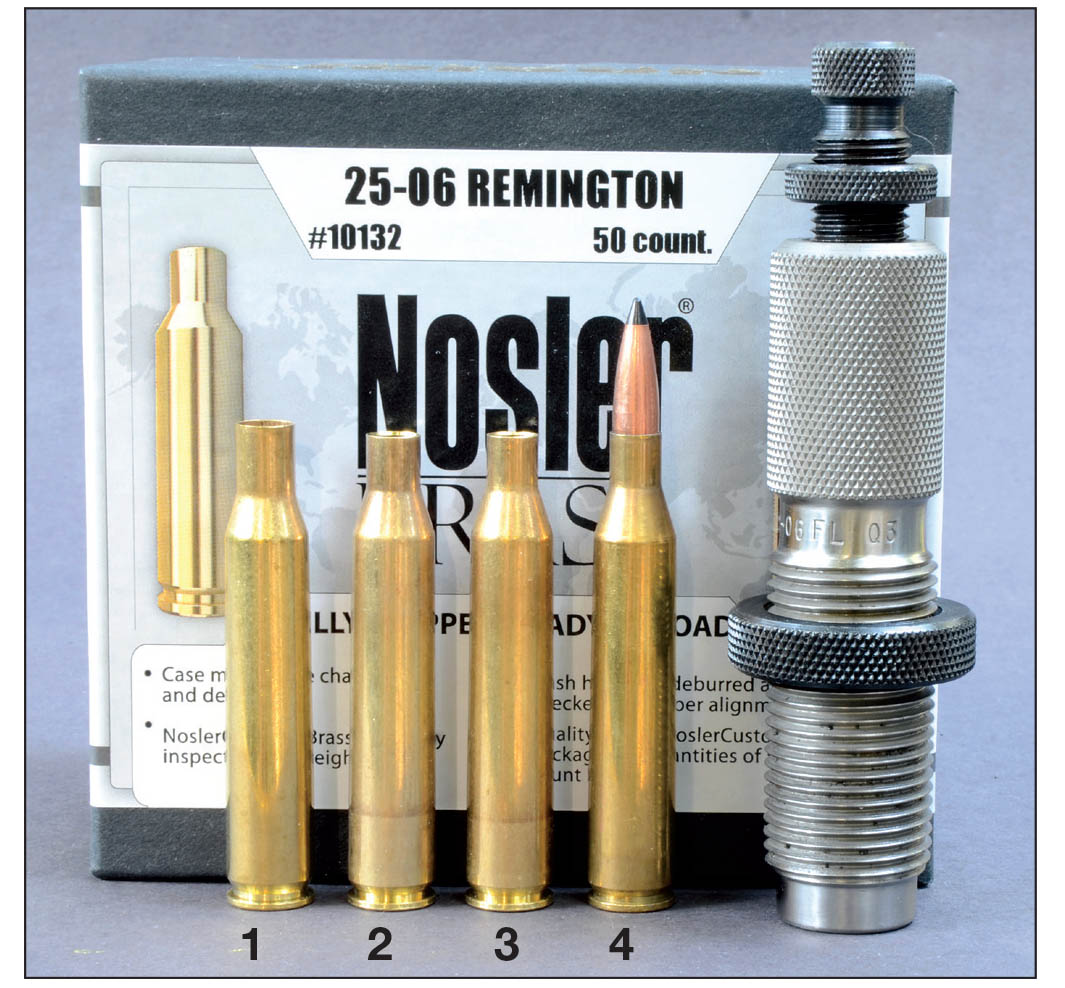 Through the decades my wife, Phyllis, and I have used several 6mm cartridges to take quite a few deer and pronghorn. All shots were at ethical distances, and all animals died quickly. One of my first modern bolt-action rifles was a Winchester Model 70 Featherweight .243 Winchester, and it was followed by a Remington 725 .244 Remington. Phyllis took possession of the Model 70 and in addition to other game, she used it to take a pronghorn buck so good it took me a very long time to catch up. The Model 725 is still one of my favorite deer rifles. A Model 700 6mm Remington (same as the .244) was also added to our collection. (It is one of very few rifles to escape the factory in 1962 with "6mm Remington Magnum" stamped on its 20-inch barrel.) Then came a couple of custom rifles in 6mm-284 Winchester; one quite heavy for windy day rockchucks, the other light for deer in the high country.
I first used a 6mm-06 to take a very good pronghorn in New Mexico. Having previously bagged them with several other cartridges, something different seemed like it would be fun, and it was. My handload pushed the original Swift 90-grain Scirocco along at just over 3,400 fps from the 26-inch Shilen barrel of a T/C Encore rifle. Zeroed 3 inches high at 100 yards, it struck dead on to point of aim at 300 yards and dropped about half the body depth of a mature buck at 400.
Maximum case length is 2.494 inches, same as for the .25-06 and .30-06 cases. My preference is to neck down the .25-06, but virgin .30-06 brass is as easily run through a 6mm-06 full-length resizing die with zero case loss. Neck wall thickness will vary among the various brands of cases, but neck diameter with a bullet seated in a necked-down .25-06 case usually runs around .270 inch. Maximum for the .243 Winchester and 6mm Remington is .276 inches. A necked-down .30-06 case will be in the neighborhood of .275 inch, so most chambers will likely require reaming or, preferably, outside neck turning of the brass.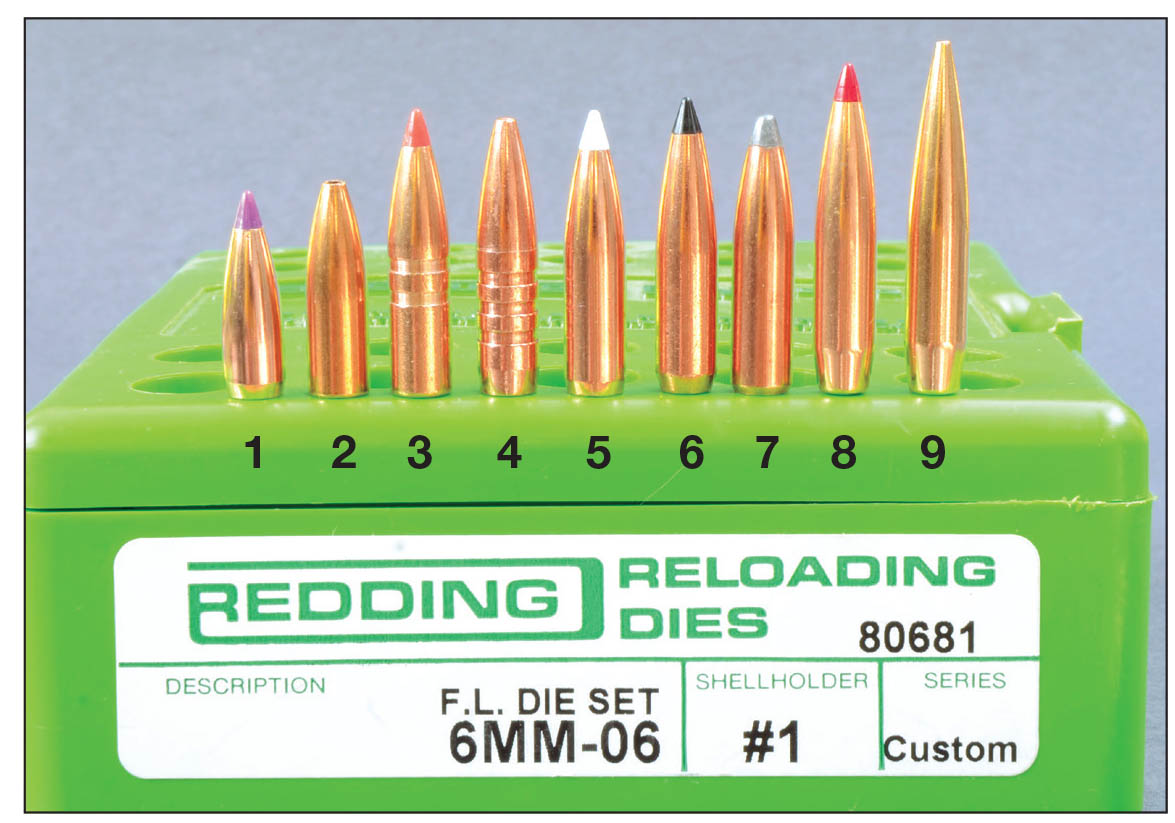 When squeezing down case necks to 6mm, the die should be adjusted in the press to leave a small secondary shoulder just forward of the original shoulder for positive headspacing. Keep turning in the die until the case fully enters the chamber, but with a bit of resistance to bolt closure. The case is then ready to load.
The 6mm-06 gradually gains chamber pressure as a powder charge is increased, and unlike some of the other low-expansion-ratio cartridges, there are no sudden pressure spikes just prior to reaching maximum. This may not hold true for all powders, but it has been my experience with those included in the data table. Hybrid 100V, IMR-4350, H-4831 and Reloder 21 have proven to be excellent choices for bullets weighing 80 to 95 grains while IMR-7828, Retumbo and Magpro are equally good with heavier bullet weights. Prior to trying the last two, I had assumed that slower-burning Retumbo would be a better choice than Magpro with the Berger VLD Hunting bullet, and while velocity was a bit higher, accuracy was not as good. Standard primers work fine with most of the powders, but velocity spread at low ambient temperatures is lower when using Federal 215 primers with H-4831 and Magpro.
The original Swift 90-grain Scirocco and the later Scirocco II have accounted for most of the game I have taken with the 6mm-06, and there have been no flies on performance. But out of curiosity more than anything else, other bullets will be used on hunts with the cartridge in the future. I am especially interested in checking out the long-distance performance of the Hornady 103-grain ELD-X and the Berger 115-grain VLD Hunter on deer-size game. The Hornady 80-grain GMX, Barnes 85-grain XBT and Nosler 85-grain Partition in the neighborhood of 3,500 fps should also be quite effective.
Most rifles built in the past will have a 1:10 or 1:12 rifling twist rate. Due to today's availability of extremely long-for-caliber bullets, a quicker twist is not a bad idea for a new rifle build. Hornady recommends a twist no slower than 1:8 for its 103-grain ELD-X. In his book Ballistic Performance of
Rifle Bullets, Bryan Litz says 1:8 will stabilize the Berger 115-grain VLD Hunting but goes on to recommend 1:7.2 as optimum. Having previously found this long projectile to shoot groups smaller than .60 inch from a Ruger Precision Rifle 6mm Creedmoor with a 1:7.7 twist, I figured the 1:8 twist of my 6mm-06 would also stabilize it in flight. It has proven accurate enough.

I have not seen any pressure-tested data for the 6mm-06, but several manuals have data for the .240 Weatherby Magnum and the 6mm-284. I have yet to experience a problem when using published starting loads for those two cartridges in the 6mm-06, but there is no law against backing off an additional grain or two. This cartridge simply begs to be used with a barrel no shorter than 26 inches.