When opening two very heavy boxes of cast bullets recently sent to me, little did I know I was about to delve into something I had never before experienced. Although I have been casting my own bullets for more than 50 years and have shot tens of thousands of commercially cast types along with my own, I wasn't prepared for what was in those two boxes from Missouri Bullet Company (MBC).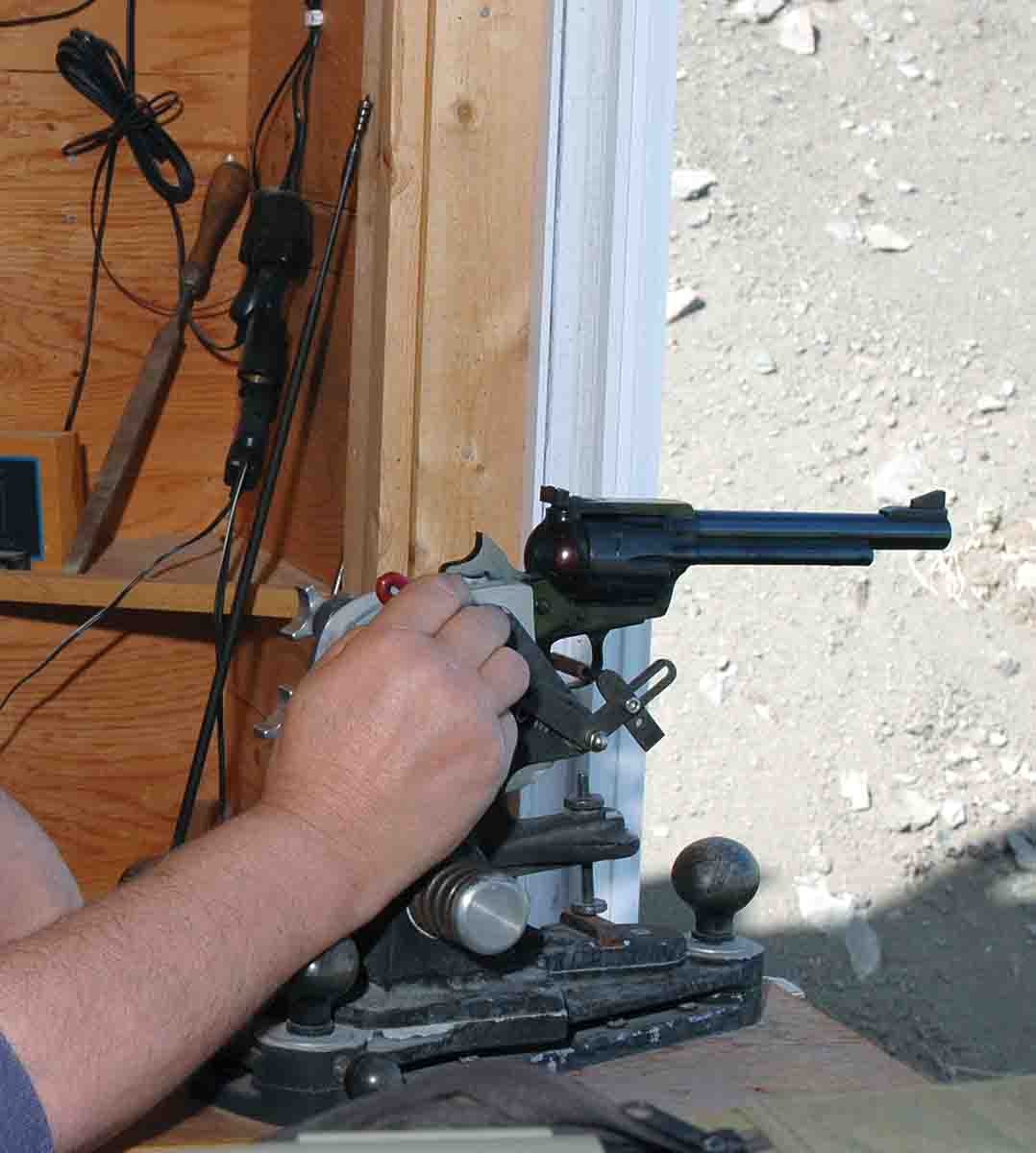 The bullets were red! A couple packages had black bullets, but most were red. Also, some of the bullets had normal grooves for carrying lubricant, but there was none. Others were straight-sided with no grooves at all. I must admit that the term "coated cast bullets" was not unfamiliar, but if I had ever seen one previously, the recollection was gone. I was looking at a couple thousand assorted, coated bullets in 100-round packages ranging from .25 to .50 caliber.
This is where the search engine Google comes in handy. Typing in "Missouri Bullet Company" got me to missouribullet.com. The first thing searched out was this red Hi-Tek coating. Here's what I found: "The coating itself consists of a catalyst which binds a polymeric colorant agent with acetone which is then applied in bulk to raw bullets and baked onto the bullets' surface at nearly 400 degrees. The coating is a polymer (bonded with metal) and forms an extremely tough new surface for the bullet. The application of the coating is repeated for an additional coat. The bullets are then sized normally but not lubricated as the coating itself acts as a bullet lube. Nominal bullet diameter is not affected."
Additionally stated was that this material is made in Australia, and its purpose is to coat bullets so no raw lead alloy is exposed as required by some indoor ranges. It also keeps alloy from touching barrels, which should reduce or eliminate lead fouling and improve precision grouping. My thoughts then were as might be expected from an old dinosaur like myself who has lubed every single personally-cast bullet since 1966. My thought was, We shall see.
The red coating was now understood, as was the reason some bullets had no grease grooves. I also had to admit that the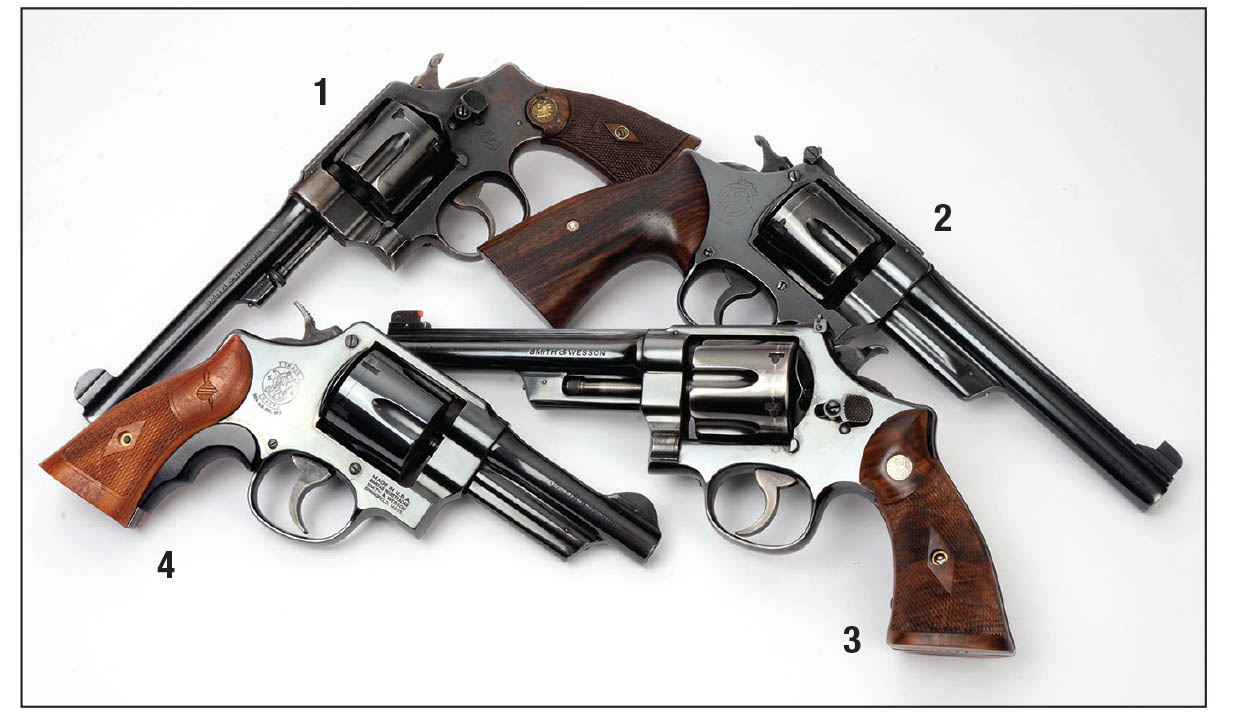 bullets did have a slick feel when handled. Also, the coating was said not to affect bullet diameter. When samples were measured they were as advertised in diameter. Interestingly, on every 100-bullet package there was a Brinell Hardness Number (BHN), and they were not all the same.
Packaged with the bullets was a pamphlet describing MBC's thoughts on bullet hardness. Contrary to the old mantra bandied about by many cast bullet shooters that "harder is better," MBC's take on the matter is that hardness is better sometimes and that bullet hardness is best dictated by cartridge pressures. As many other handloaders have learned through experience, overly hard bullets can cause worse lead fouling than softer bullets. The key is obturation, which is simply the bullet's ability to expand to the diameter of the barrel in which it is fired. Gas leaking around a bullet's base is the primary culprit causing lead fouling. And of course, that obturation/sealing will be determined by the cartridge's pressure, or how hard the bullets' bases are pushed upon powder ignition.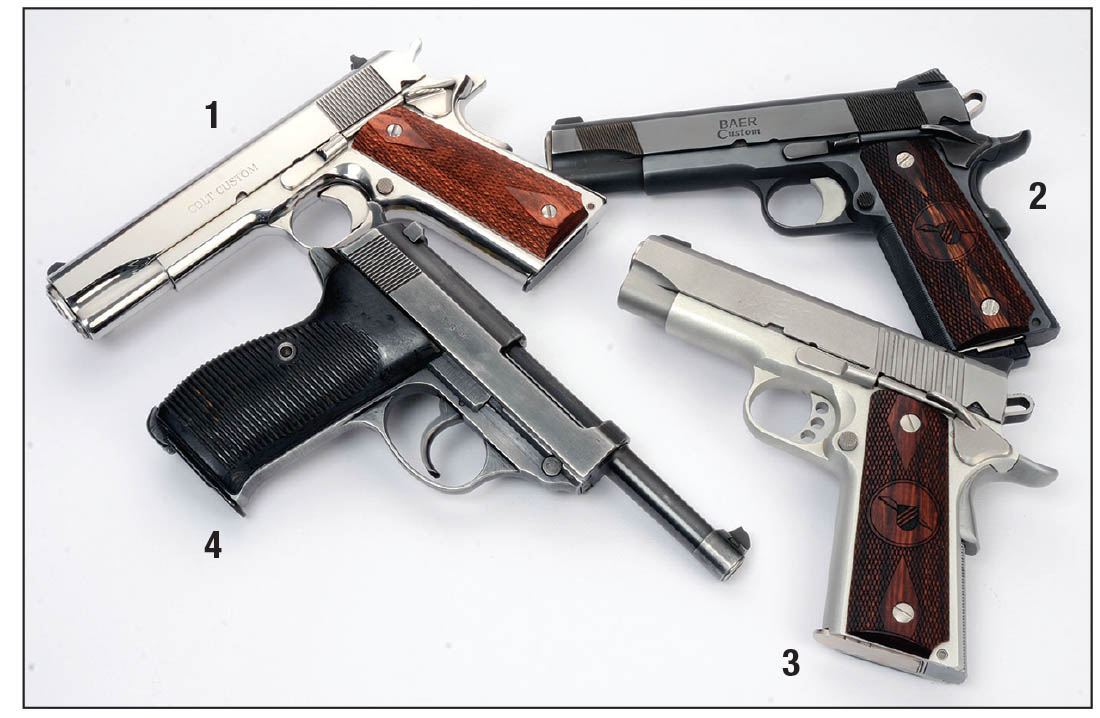 MBC's informational pamphlet says it works with two basic foundry-certified alloys. One is 2 percent tin, 6 percent antimony, with the other 92 percent lead, which gives a BHN of 18. The other is 1.3 percent tin, 4 percent antimony, and the remainder is lead. That one must have a BHN of 12, but the pamphlet does not state that precisely. However, all the company's "Cowboy" bullets and others meant for mild revolver cartridges have packages indicating "Brinell 12." Those for semiautomatic handguns or magnum revolver loads state "Brinell 18." (Some packages for high-velocity rifles, such as 7.62x54mm Russian or 8x57mm Mauser, are labeled Brinell 20, but that alloy's composition is not mentioned in the literature.)
Before ever opening one of the 100-bullet packages, there was something about them I admired. The bullets had names indicating a shooting purpose. For instance, many were "Cowboy." Others were "IDP," "Pinbusters" or "Whitetail." One that made me smile was "Buffalo" for 400-grain .45-70 FNs. Those names helped me pick some of the guns and loads with which to use specific bullets. Also needing a mention while speaking about the packaging is that MBC will sell samples of its bullets. That way a particular bullet can be experimented with before being purchased in quantity. Any of the bullets can likewise be purchased with normal hard lubricant (not the grooveless ones) or no lubricant at all. The Hi-Tek coating can be bought separately if shooters wish to try coating a favorite home-cast bullet. MBC does not offer any gas check-style bullets.

The next step was determining how to proceed with the informal test. I decided this article should consider handguns only (MBC cast rifle bullets will be covered in the near future). In regard to handgun bullets, MBC offers them ranging from a .313-inch, 78-grain bullet for various .32 revolvers to a .501 inch, 500-grain FN for the .500 S&W. Not owning handguns for either of those or for such cartridges as .480 Ruger, it was necessary to pick and choose from several dozen packages. Another limiting factor was a desire to shoot groups with handguns using a Ransom Pistol Machine Rest. Some cartridges were eliminated due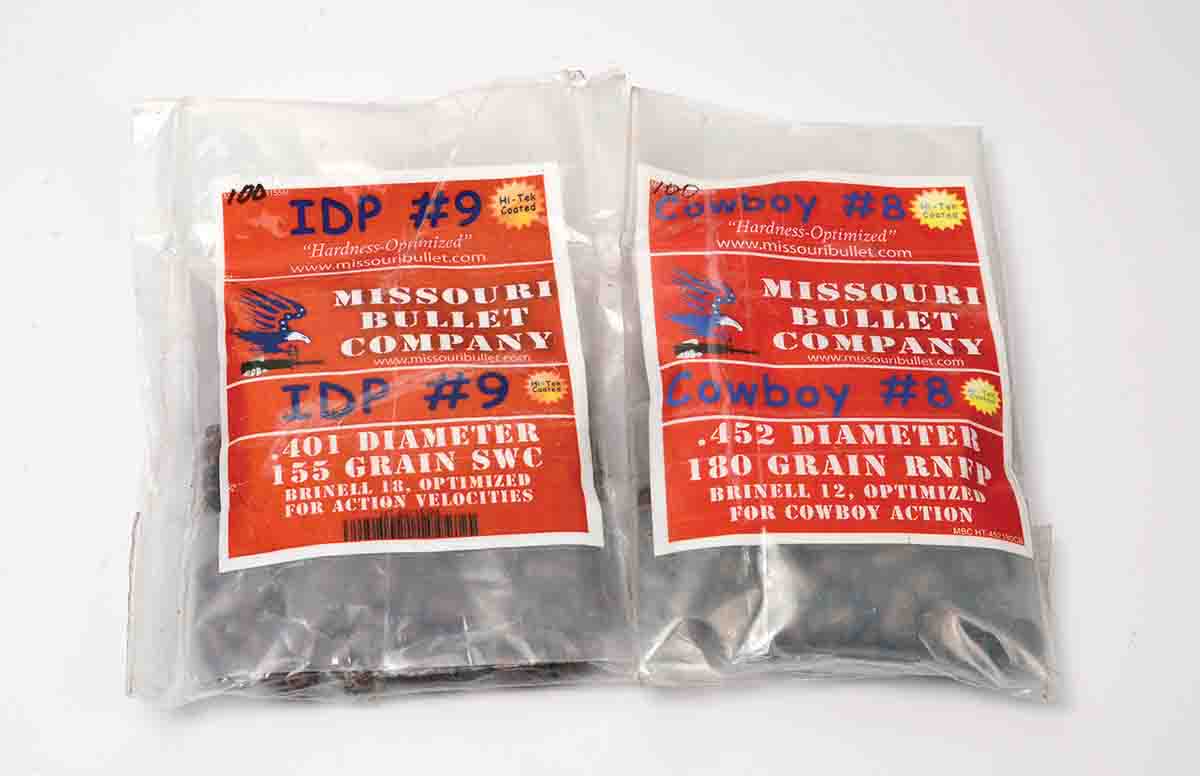 to my not having grip adaptors for some handguns such as a Colt Model 1908 .380.
Eleven handguns chosen were for the same number of cartridges. Four were semiautomatics, four were double-action revolvers and three were single-action revolvers. These handguns ranged in age from a 1929 vintage Smith & Wesson Second Model Hand Ejector .44 Special to a 2007 manufactured Colt SAA .44-40. At the small end was a Smith & Wesson Model 20 .38 Special, and on the large side was a Colt New Frontier .45. None of these handguns have had custom work in regard to accuracy. A few I have had for 20 to 30 years and have been machine-rest tested previously, and a few have been on hand for only a few months and this was their first time in the Ransom Rest.
Also ordinary was the manner by which 16 MBC bullets were loaded into those 11 cartridges. Cases were full-length sized, case mouths were belled and then bullets seated and crimped with standard off-the-shelf reloading dies by RCBS, Lyman and Redding. In other words, these bullets were loaded no differently than I load my own home-poured bullets. Revolver cartridges were roll crimped, and loads for semiautomatics were taper crimped. Wolf Small Pistol and Federal 150 Large Pistol primers were used as appropriate. Headstamps of brass used will be in the accompanying table, and all cases had been fired previously, except for those used in two cartridges, the .38 Super and .45 Colt. Brass for these two cartridges was unfired and supplied by Jagemann. It was of fine quality.
In a few instances, a current favorite powder was used such as 6.0 grains of Trail Boss in .45 Colt with 250-grain bullets or in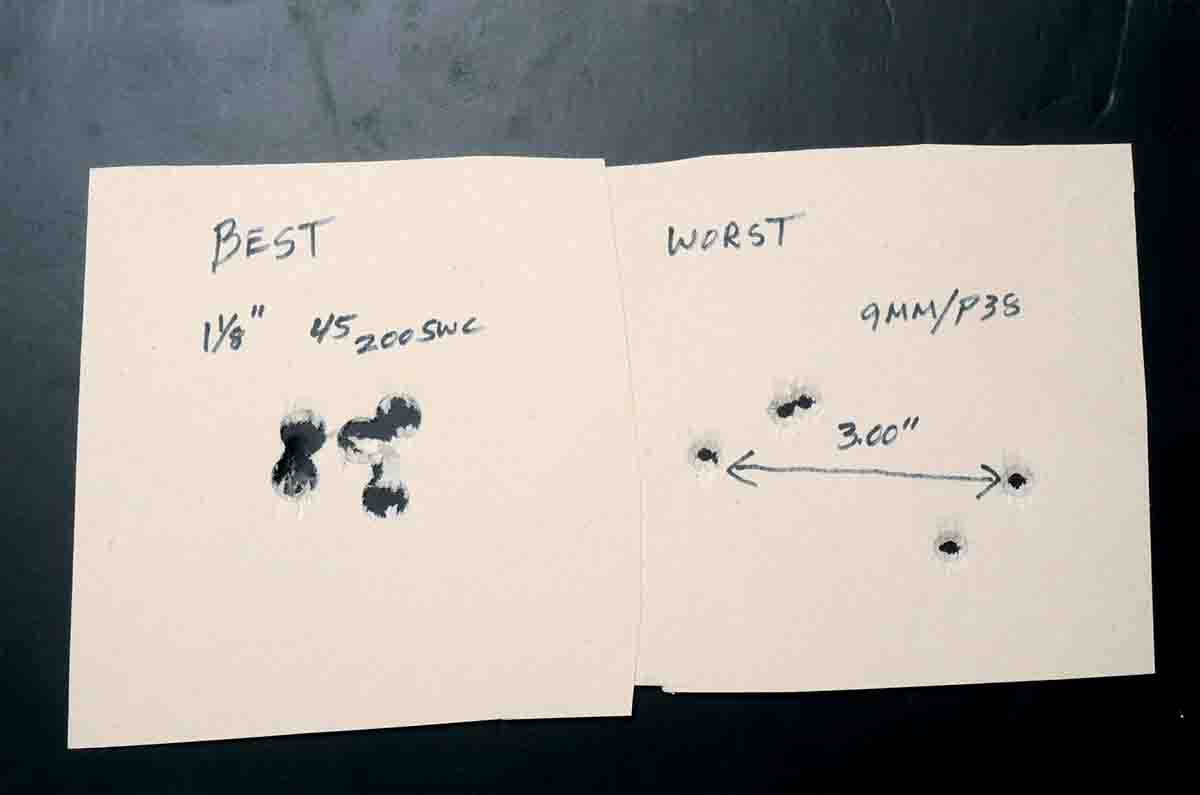 .44-40 with 200-grain bullets. Old favorites were used in both magnums: 14.0 grains of 2400 with 158-grain SWCs in the S&W .357 Magnum and 21.0 grains of the same powder with the Ruger .44 Magnum. The rest of the assortment used charges picked from one or another reloading manual for powders on hand.
All experienced cast bullet shooters know that when switching from one bullet lubricant to another, the first few shots likely will be flyers. Then the gun will settle down and group to the load's potential. Therefore, before shooting from the machine rest, each gun was fired with MBC Hi-Tek bullets for chronographing velocity and to determine if loads functioned reliably in the semiautomatics, which they did. When mounting each handgun into the Ransom Rest grip adaptors, another 10 rounds were fired, and the fixture tightened after each round. Then a five-shot group was fired at 25 yards with each bullet chosen.
To be honest, I had little confidence in lubeless bullets. So the first revolver fired was also one in which I had little confidence – a Colt New Frontier .45 that has .456-inch chamber mouths, and the MBC bullets were .452 inch in diameter. Therefore, I was surprised when the first four shots clustered in only 1.125 inches. The fifth was a flyer, making the group size 2.5 inches. Five, 250-grain bullets then made a 1.75-inch group. Becoming enthused, all seven revolvers were fired that same afternoon. The smallest group came with the Ruger (Old Model) Blackhawk .44 Magnum at 13⁄8 inches. The largest was with the nearly 90-year-old Smith & Wesson Second Model Hand Ejector .44 Special, at just under 3.00 inches.
The next afternoon there were more pleasant surprises. My 9mm experiences with cast bullets, beginning in 1977, have been just barely on the good side of dismal. Often I've seen nothing but tumbling bullets from a variety of 9mm Parabellum pistols. Conversely, a 1943 vintage German P38 shot fine with MBC 115-grain bullets. Its 2.25-inch group was pleasing. The best group of the entire series came with a Les Baer Thunder Ranch Special .45 Auto. MBC's 200-grain slick-sided SWC put five shots into 1.125 inches.
As things stand, I admit to being impressed with coated bullets. Although I still enjoy casting BPCR competition bullets, at times work constraints keep me from casting as many recreational handgun bullets as needed. MBC can help fill that void.