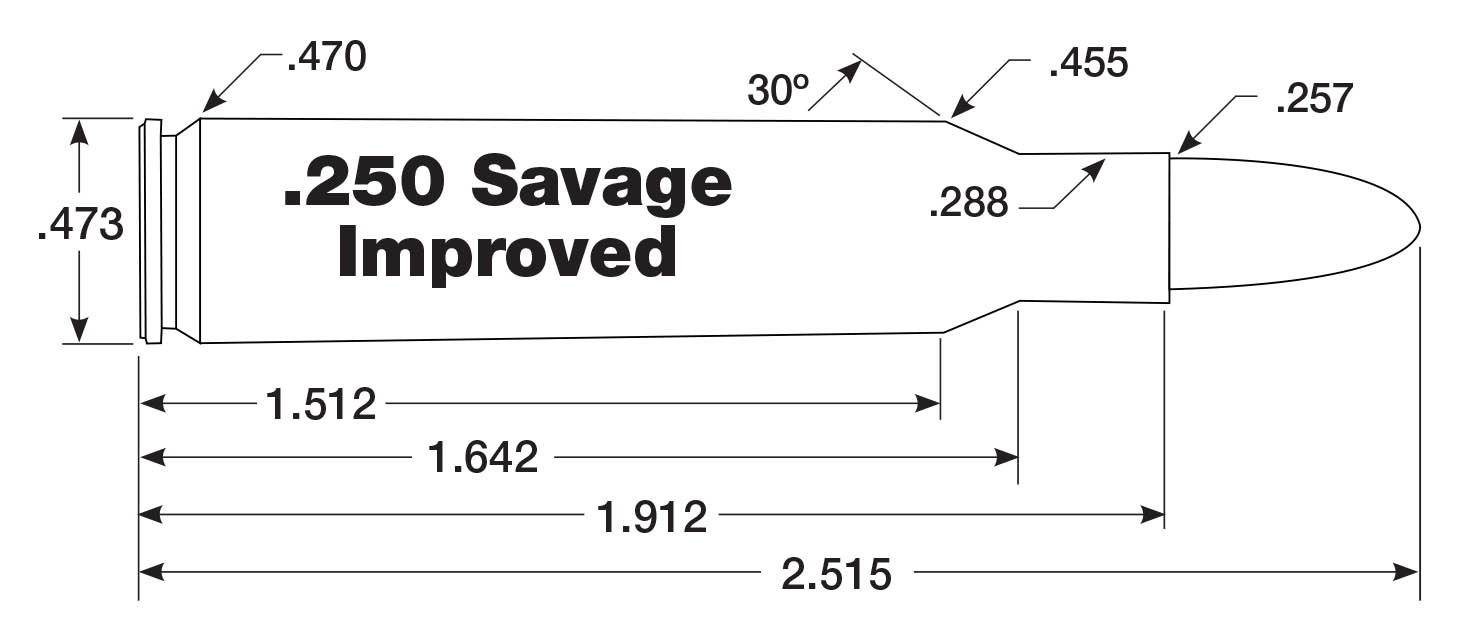 P.O. Ackley described his .250 Savage Improved as one of the best of the so-called "improved" cartridges. He went on to add that "it shows a greater percentage of increase in velocity than almost any other." I was puzzled by that statement until it finally dawned on me that he had to be comparing the velocities of his maximum-pressure handloads to 100-grain factory ammunition that at the time had the same velocity rating of 2,820 fps as today. Ackley obviously had the pedal to the metal, because his top published velocity of 3,271 fps with a bullet of that weight in the .250 Improved is considerably faster than the larger .257 Roberts is commonly handloaded to, and about as fast as maximum loads in the even larger .25-06 Remington.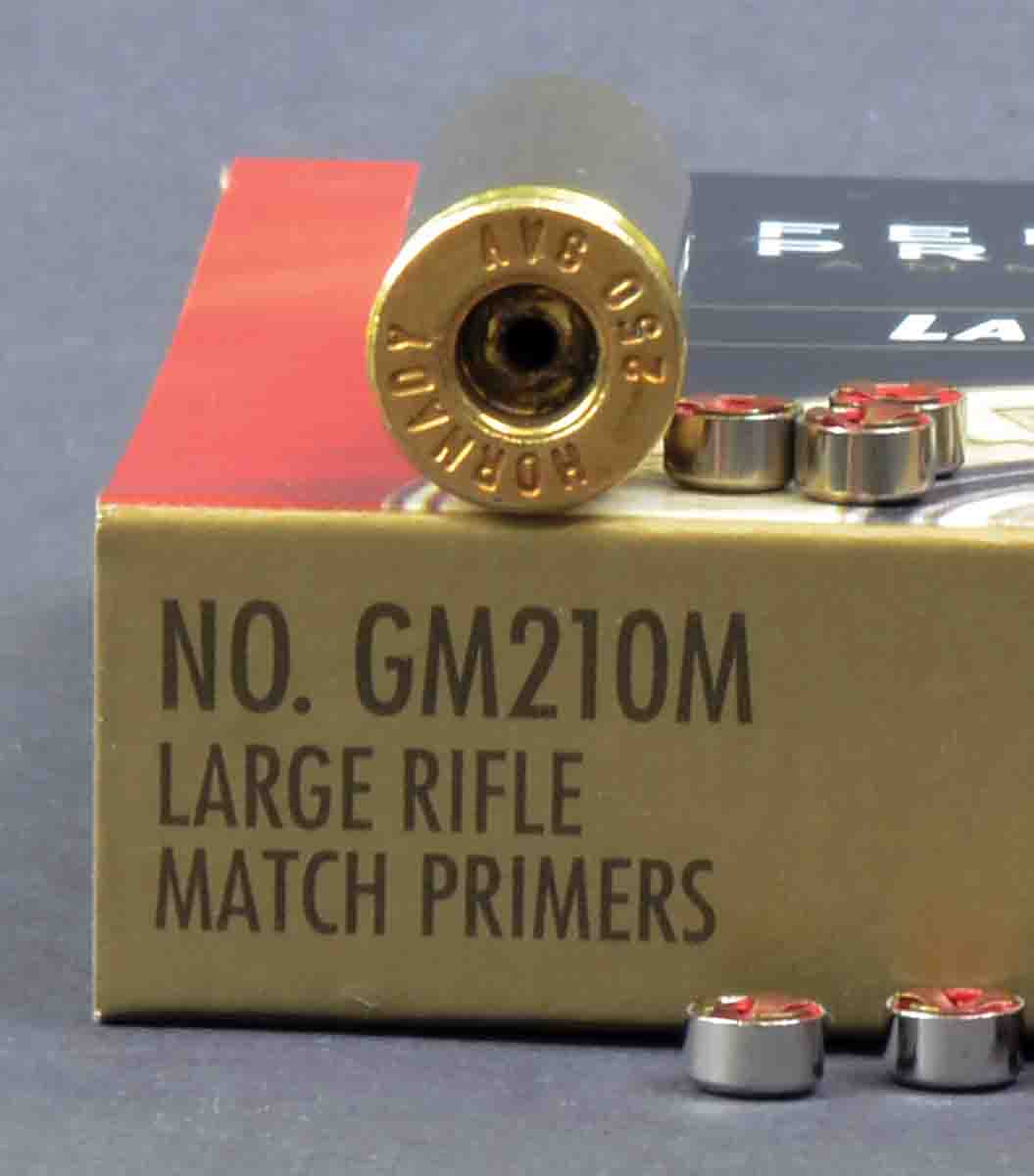 Here is a good rule to remember for any bottleneck cartridge regardless of its caliber: When both are loaded to the same chamber pressure and fired in barrels of the same length, the improved version will be about 100 fps faster than its parent. Velocity will vary slightly depending on how much or how little body taper the parent case has, but I have worked with enough different improved cartridges through the decades to become convinced beyond argument that a 100-fps gain is a darned good average. This also becomes quite evident when perusing velocity differences between improved cartridges and their parents in today's reloading manuals.
My experience with the .250 Savage Improved goes back to 1981, when I sent a 1970s vintage Weatherby Varmintmaster to Oregon gunsmith Robert West. Several years prior to that, Wally Strutz of Eagle River, Wisconsin, had lengthened the magazine of the rifle and rebarreled it to a 7mm cartridge on the .308 Winchester Improved case (its original factory barrel was in .22-250). The 24-inch barrel West installed has the same outside contour as the rifle's other two barrels, and the three are easily interchanged. Why did I go to the trouble? Lightweight deer rifles were scarce in those days, and the little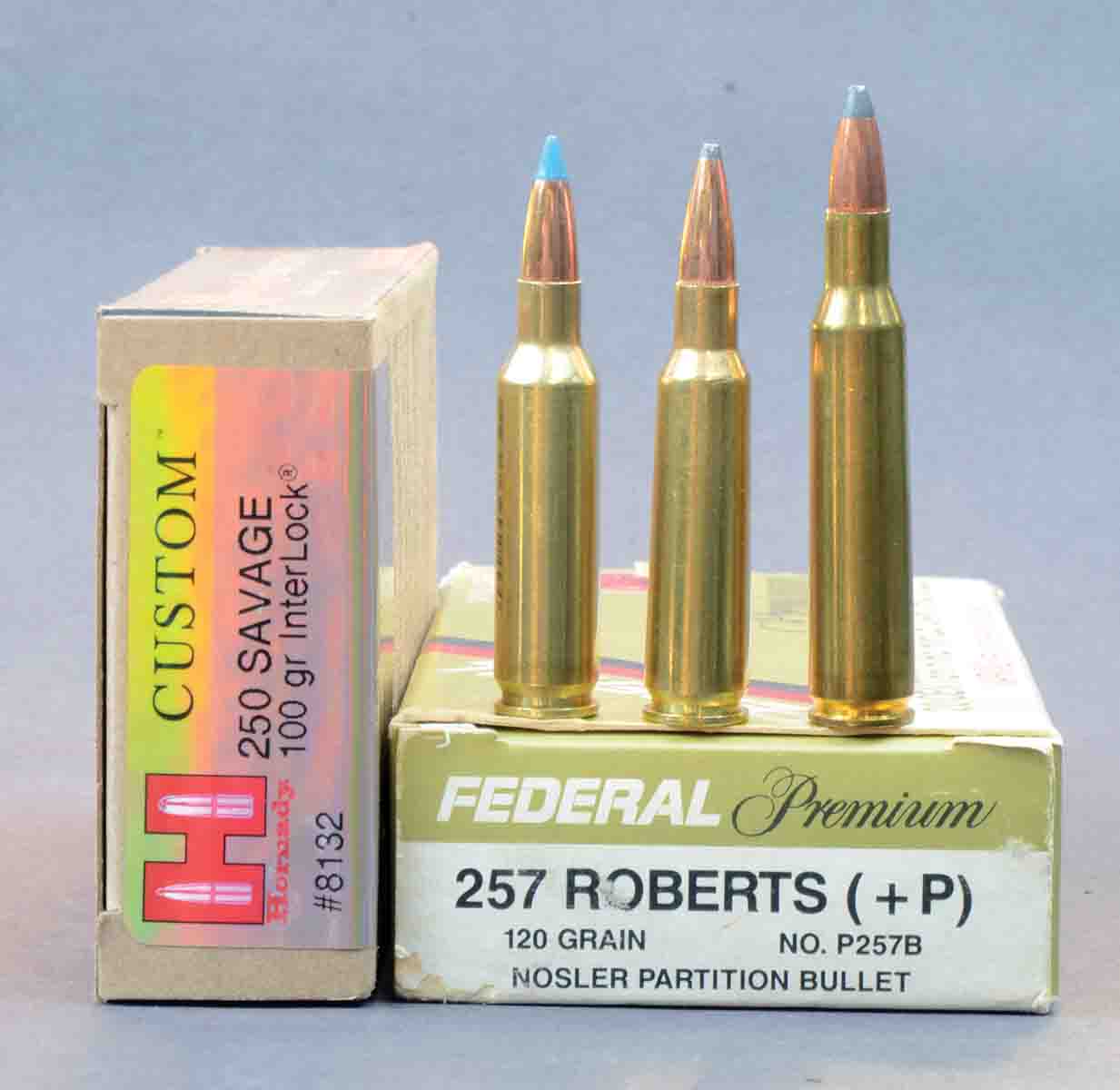 Weatherby weighs only 7.25 pounds with a light 2-7x scope and a mount from the original Kimber of Oregon.
When having the rifle rebarreled to .250 Improved, I specified a body taper of .015 inch for the case, and to make sure feeding from the modified magazine was smooth, we went with a 30-degree shoulder angle rather than the 40 degrees of Ackley's version. When designing his cartridge, Ackley headspaced the body/shoulder junction of a .250 Savage case on that same point in the chamber, just as he did with his other improved cases. That allows factory ammunition to be safely fired. The same was done with the chamber of my rifle. After firing several boxes of Winchester factory loads in the rifle, several of the formed cases were sent to RCBS to be used for making custom reloading dies.
Maximum velocities for 100-grain bullets from the .250 Savage shown in various reloading manuals vary quite a bit. Hornady shows 2,850 from a 26-inch barrel; Western Powders maxed-out at 2,781 fps from a 24-inch barrel; Barnes technicians squeezed 3,072 fps from a 24-inch barrel and Lyman's 24-inch barrel stopped at 2,985 fps. Nosler reached 2,950 fps from a 22-inch barrel; over at Speer, a 24-inch barrel was good for 3,026 fps and Hodgdon's 24-inch barrel delivered 2,936 fps. It can be safely assumed that pressure generated by the loads that produced those velocities did not exceed the SAAMI maximum of 45,000 CUP in those barrels. According to a trusty calculator, the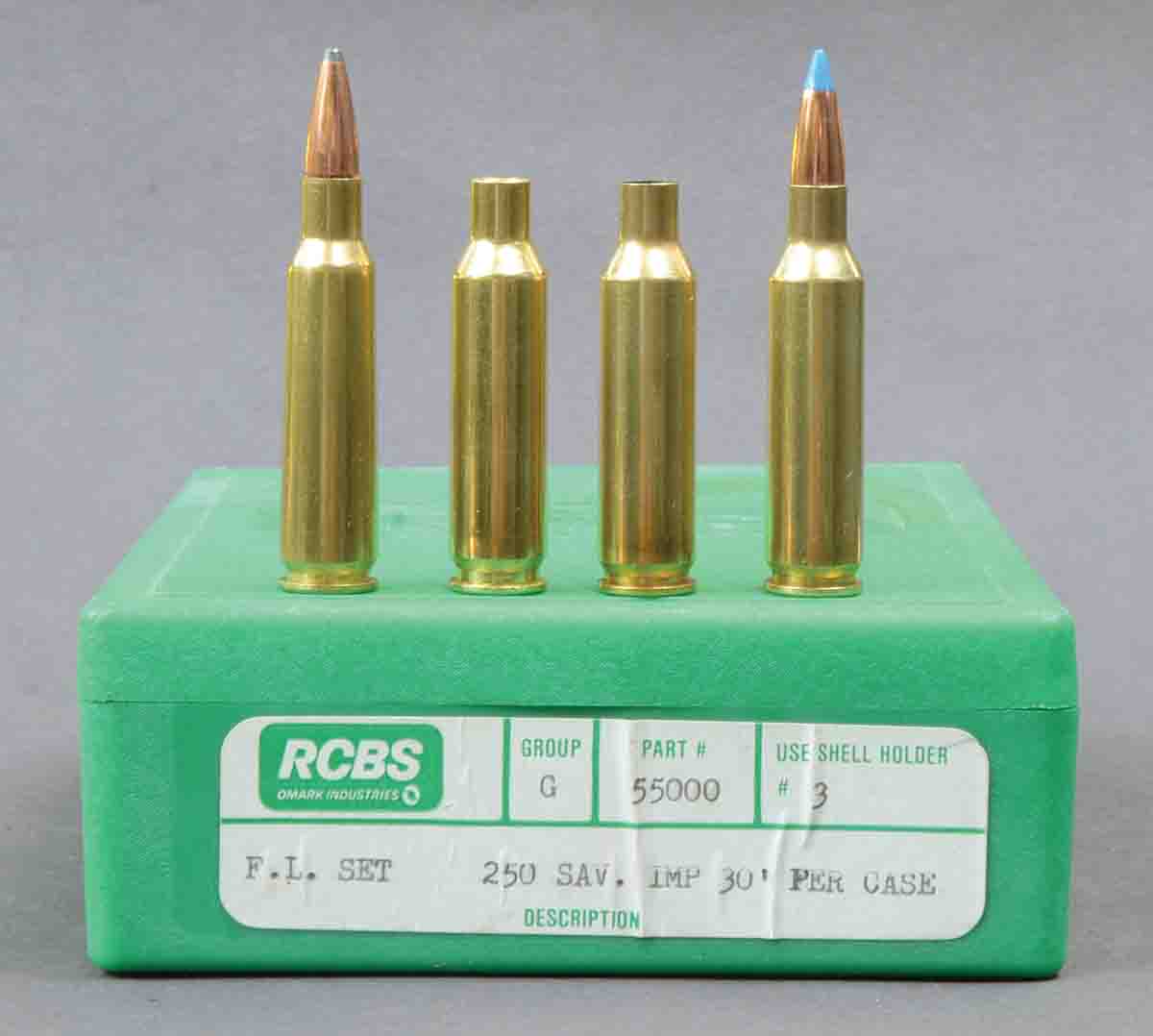 average of the velocities from those seven sources is 2,944 fps.
When loaded to maximum safe pressure for a modern bolt-action rifle, I find the standard .250 Savage to be capable of pushing a 100-grain bullet to 2,900 fps from a 22-inch barrel, and the 24-inch barrel of my Remington Model 700 Classic provides 3,000 fps without stress or strain. Since pressures probably exceed the SAAMI maximum, I would not use my loads in the rear-locking Savage 99. I most certainly would not shoot them in my 1920s vintage Savage Model 1920 bolt action, but they are deemed reasonable in modern rifles such as the Remington Model 700, Winchester 70, Ruger 77 and Savage 110.
Most of my .250 Improved loads with 100-grain bullets exit the 24-inch barrel of my rifle at around 3,100 fps. That cartridge is often compared to the .257 Roberts, so I shall not disappoint. On hand are two Remington 700 rifles in .257 Roberts. One is a Mountain Rifle with a 22-inch barrel; the other is a Classic with a 24-inch barrel. Maximum handload velocities with 100-grain bullets in the 22-inch barrel are usually around 3,100, so my .250 Improved with a 24-inch barrel is about as fast as my .257 Roberts with a 22-inch barrel. The .257 Roberts with a 24-inch barrel usually beats that by 50 fps or so.
Whether or not the velocity gained by blowing out the .250 Savage case is worthwhile is debatable, but there is one thing that is not: As velocity with a 100-grain bullet begins to exceed 2,700 fps, considerable body taper in the standard case causes it to lengthen quickly, and the higher the chamber pressure, the faster it grows. Blowing out the case to less body taper does not totally eliminate case stretch, but doing so does make neck trimming sessions less frequent.
As powders go, those with medium-slow burn rates such as H-4350, IMR-4350, Accurate 4350, W-760, IMR-4451, H-414 and RL-19 handle all bullet weights in the .250 Improved quite nicely. All of them do a great job, but if I had to pick just one it would be a toss-up between IMR-4451, RL-19 and one of the 4350s.

Regarding bullets, I think 70 or 75 grains is the way to go for varmints ranging in size from prairie dogs to coyotes. Moving on up to deer-size game, the Barnes 80-grain TTSX and Hornady 90-grain GMX should be excellent performers. When hunting deer I have mostly used the Nosler 100-grain Partition, but the Sierra Pro-Hunter of that weight might be a tad better on pronghorn antelope. The Nosler 115-grain Partition is the heaviest bullet I have used, and it has proven to be an excellent all-around choice. The 1:10 twist of my rifle does not like bullets longer than that, so a 1:9 twist would likely be the way to go.
If the .250 Savage Improved was introduced today, it would be called the ".25 Creedmoor." With the exception of their neck diameters, the 6.5 Creedmoor and .250 Improved cases are quite close to the same. Shoulder angle is the same and diameter at the junction of the body and shoulder is the same, and that makes body taper the same. One trip through my RCBS .250 Improved full-length resizing die turns a 6.5 Creedmoor case into a .250 Improved case with the big advantage being no required fireforming. The chamber of my rifle was reamed to handle a case length of 1.915 inches. After fireforming, the Hornady .250 Savage case is shortened to 1.894 inches from 1.910 inches. The necked-down Nosler 6.5 Creedmoor cases I have measure 1.910 inches. The Creedmoor cases headspace perfectly in the chamber of my rifle, but whether or not that would hold true for other rifles I cannot say, simply because the subject of this column is a wildcat cartridge with no carved-in-stone dimensional specifications.