The wind was favorable, and within a couple of minutes, the previously spotted elk appeared on the opposite side of the draw. I had already assumed a sitting position, with elbows resting between my knees, holding a Colt New Frontier SAA with a 7.5-inch barrel with both hands. As a decent bull appeared at about 100 yards, I squeezed the trigger. As the bull lunged forward and started to run, I thumbed the hammer and again aimed for the lungs and shot. Within a few feet the bull fell on its side and slid down the hillside stone dead.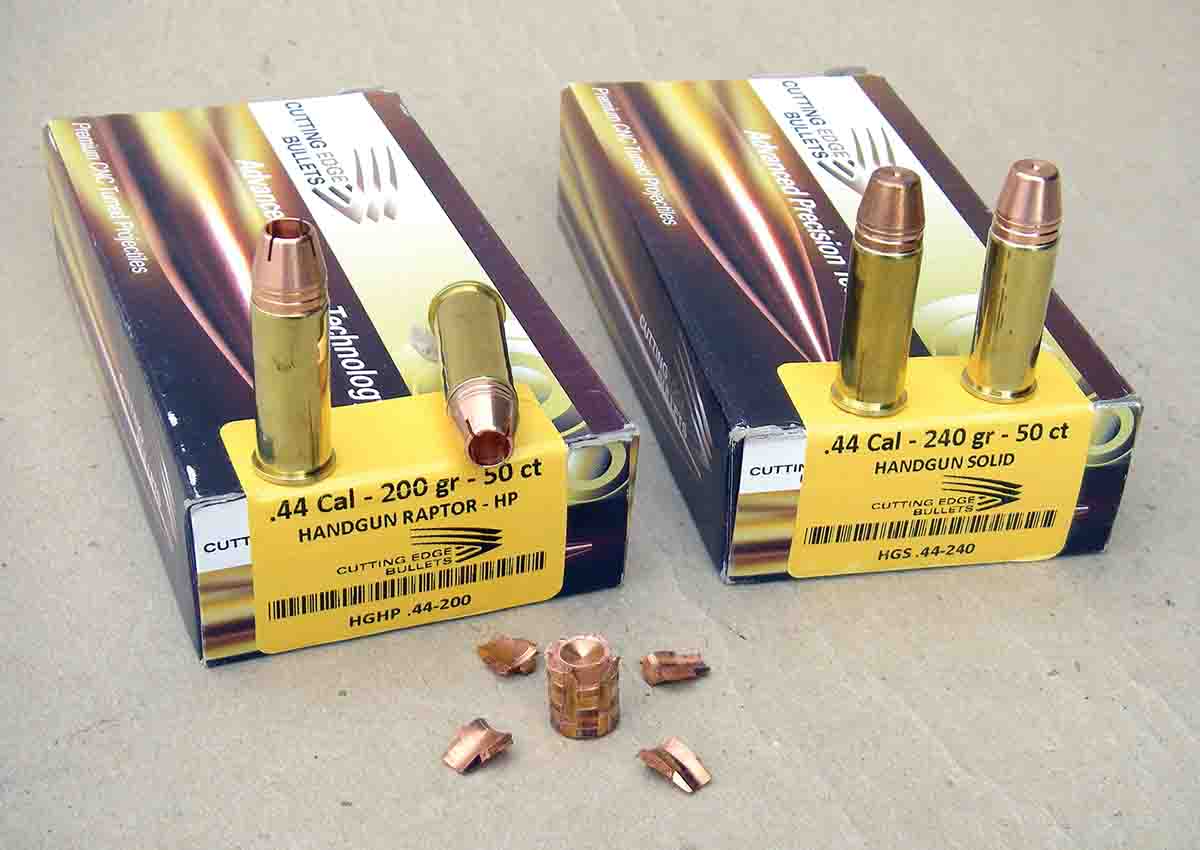 In spite of the bull weighing close to 700 pounds, and the two bullets' impact velocities being down to around 1,030 fps, both completely penetrated the vitals and exited the offside. They had entered within 6 inches of each other and cut full-caliber holes, leaving an impressive blood trail.
The cartridge was the fine, old .44 S&W Special stoked with hand-loads that pushed the 250-grain Lyman/Keith No. 429421 cast bullet to a muzzle velocity of 1,200 fps.
The .44 S&W Special was originally loaded with a 246-grain lead RN bullet over 26.0 grains of black powder for a muzzle velocity of 780 fps, which was a ballistic improvement over its parent cartridge, the .44 Russian. When smokeless powder loads appeared, velocity was standardized (with the
same bullet) at 755 fps, which is offered by Remington and Winchester (although actual velocities usually hover around 700 fps). Even with 1907/1908-era smokeless powders such as Hercules Unique, velocity could have easily been bumped up to 900 to 950 fps while staying within today's pressure guidelines of 15,500 psi. (This was prior to the organization of SAAMI in 1926, resulting in the standardization of ammunition specifications and pressures.)
By the 1920s smokeless powders had been significantly improved, which resulted in handloaders developing ammunition that enhanced the performance of the .44 Special to create +P loads. Most notable was Elmer Keith, a cowboy, hunter, big-game guide, and by the middle 1920s a gun writer. During 1927 and 1928 he designed the well-known Lyman/Ideal .44- caliber No. 429421 bullet that weighed 250 grains in solid form and 235 grains in hollowpoint form. It remains popular in both the .44 Special and .44 Remington Magnum cartridges.
In 1932 when Hercules 2400 powder first appeared, Keith loaded 18.5 grains in balloon-head cases to reach 1,200 fps. When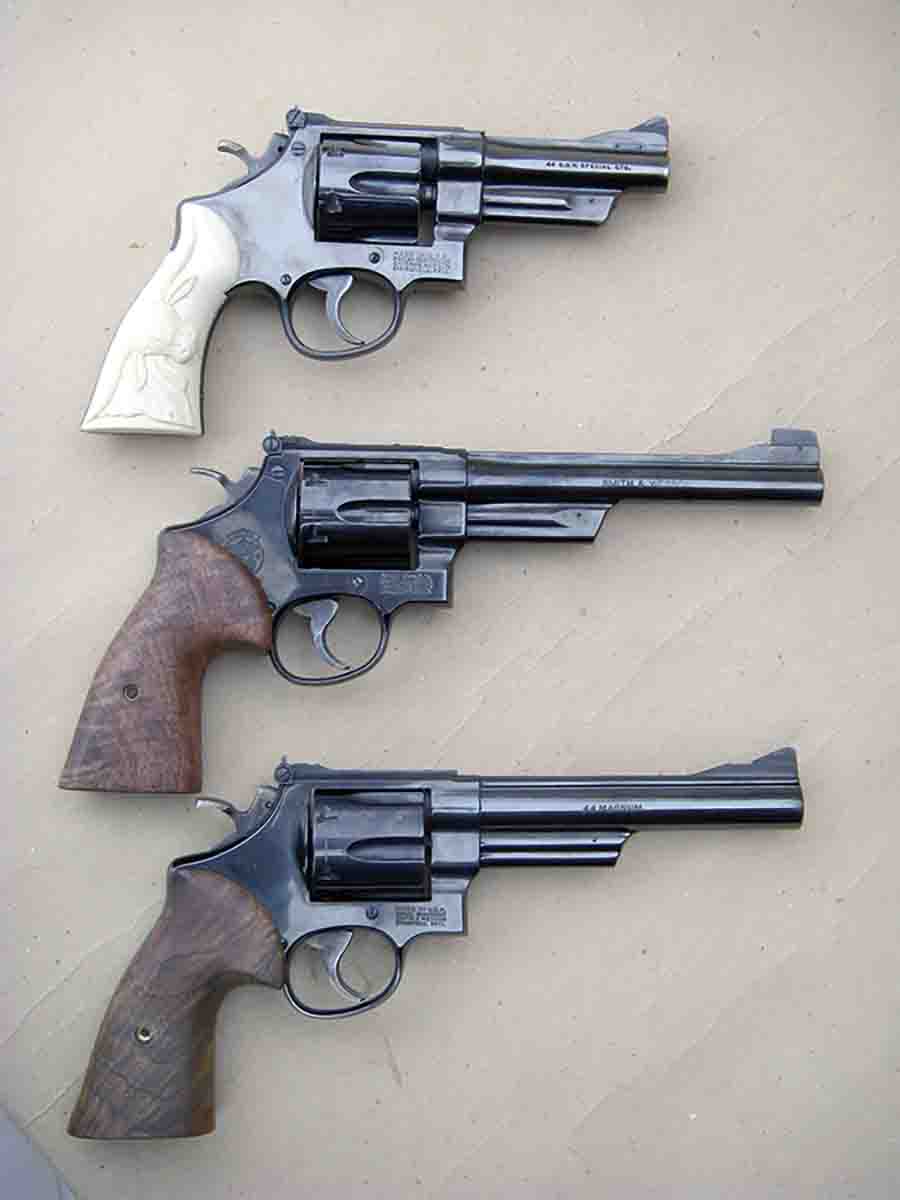 solid-head cases appeared during the 1940s, he decreased the powder charge to 17.5 grains for the same velocity, which is a widely published load. (Please note that the burn rate of today's 2400 has changed, and it is suggested to cut this load to 16.7 to not over 17.0 grains, depending on lot number performance, for the same velocity, and it should only be used in suitable heavy-frame guns. This "heavy Keith load" has been tested by multiple ballistics labs using modern piezoelectric pressure measurement methods, and generates around 25,000 psi. So loaded, the .44 Special was significantly more powerful than any other period sixgun cartridge. Big-game hunters, outdoorsmen and sixgun enthusiasts found its performance outstanding, and it quickly racked up an excellent reputation on black bear, deer, elk and moose, and was even used to take grizzly bear and African game. The .44 Special created a wave of enthusiasm that resulted in a group forming during the 1930s known as "The .44 Associates" that shared load data, bullet designs, hunting experiences, etc.
The .44 Associates and several industry notables helped influence Smith & Wesson and Remington to ultimately develop the .44 Magnum, though it was primarily Elmer Keith that was the ultimate persuader. It is important to note that Keith would likely have been completely satisfied with the power and performance of his heavy .44 Special handloads, but wanted them available as a factory offering.
The .44 Magnum was potent as it fired a 240-grain lead bullet with gas check to around 1,450 fps in production revolvers with 6.5-inch barrels; however, most current factory loads have been reduced. For example, Remington currently lists a 240-grain jacketed HP or SP at 1,180 fps; Federal has a 240-grain JHP at 1,230 fps; Winchester lists a 240-grain HSP at 1,180 fps (all tested from a 4-inch, vented test barrel); and Hornady lists a 240-grain bullet at 1,350 fps from a 7.5-inch barrel. It is important to note that the .44 Special has an industry overall cartridge length of 1.615 inches, while the .44 Magnum is actually shorter at 1.610 inches. The point being, the overall length of straight-wall, sixgun cartridges is a crucial measurement in relation to pressure and velocities. For the .44 Magnum to achieve its greater velocity potential when held to industry overall length specifications, it is necessarily loaded to a higher maximum average pressure of 36,000 psi.
The .44 Magnum is a great cartridge that exhibits versatility, especially when handloaded, and it certainly ranks as one of my favorites. However, the .44 Special offers certain advantages that should not be overlooked. Revolvers are lighter and usually more compact, which is especially appreciated by those who carry a gun daily when performing ranch work, etc., as I do. By contrast, the occasional big-game hunter who only spends a couple of weeks a year in the mountains or woods probably won't notice, or won't care, that his or her sixgun is on the heavy side. With that thought in mind, consider handloads that significantly increase the .44 Special's potency and versatility, and in some instances allow it to approach the power and performance of the .44 Magnum while staying within a comparatively low pressure limit of 25,000 psi.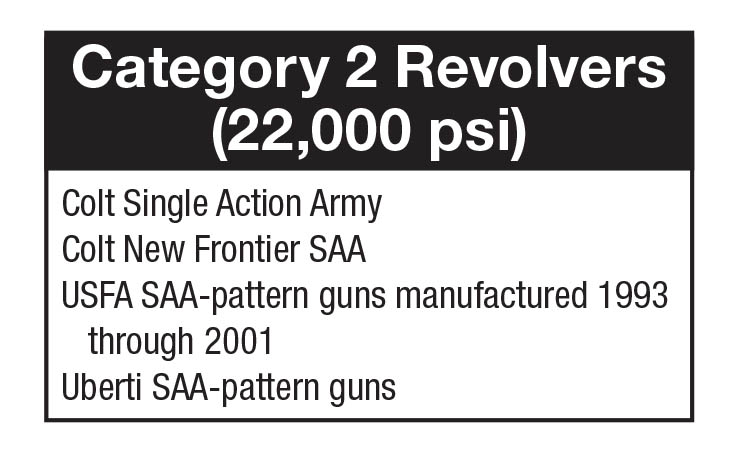 First, it is important to understand that not all .44 Special sixguns are suitable for handloads that exceed SAAMI pressure guidelines of 15,500 psi, which I will refer to as "+P." Guns that should not be used with the accompanying +P data include the Smith & Wesson New Century (Triple Lock), Smith & Wesson Models 696 and 396 Ti Mountain Lite, Charter Arms Bulldog, Taurus Models 431, 441, 44 and Rossi 720, Armi San Marco SAA-pattern guns and American Western Arms SAA-pattern guns. Some of the above guns will handle greater pressures than industry guidelines but have other durability issues and should not be used in conjunction with +P data.
The accompanying data has been listed in tables at 22,000 psi (Category 2) and 25,000 psi (Category 3) loads, with 15,500 psi standard pressure (Category 1) loads suitable for all revolvers covered in Handloader No. 308 (June/July 2017). Please note that many of the starting loads in Category 2 are within industry pressure guidelines of 15,500 psi.
I have listed the Colt Single Action Army and New Frontier revolvers in Category 2 (22,000 psi). Many of these revolvers will handle loads that generate 25,000 psi with ease, as I have multiple guns (with minimally cut chambers) that have digested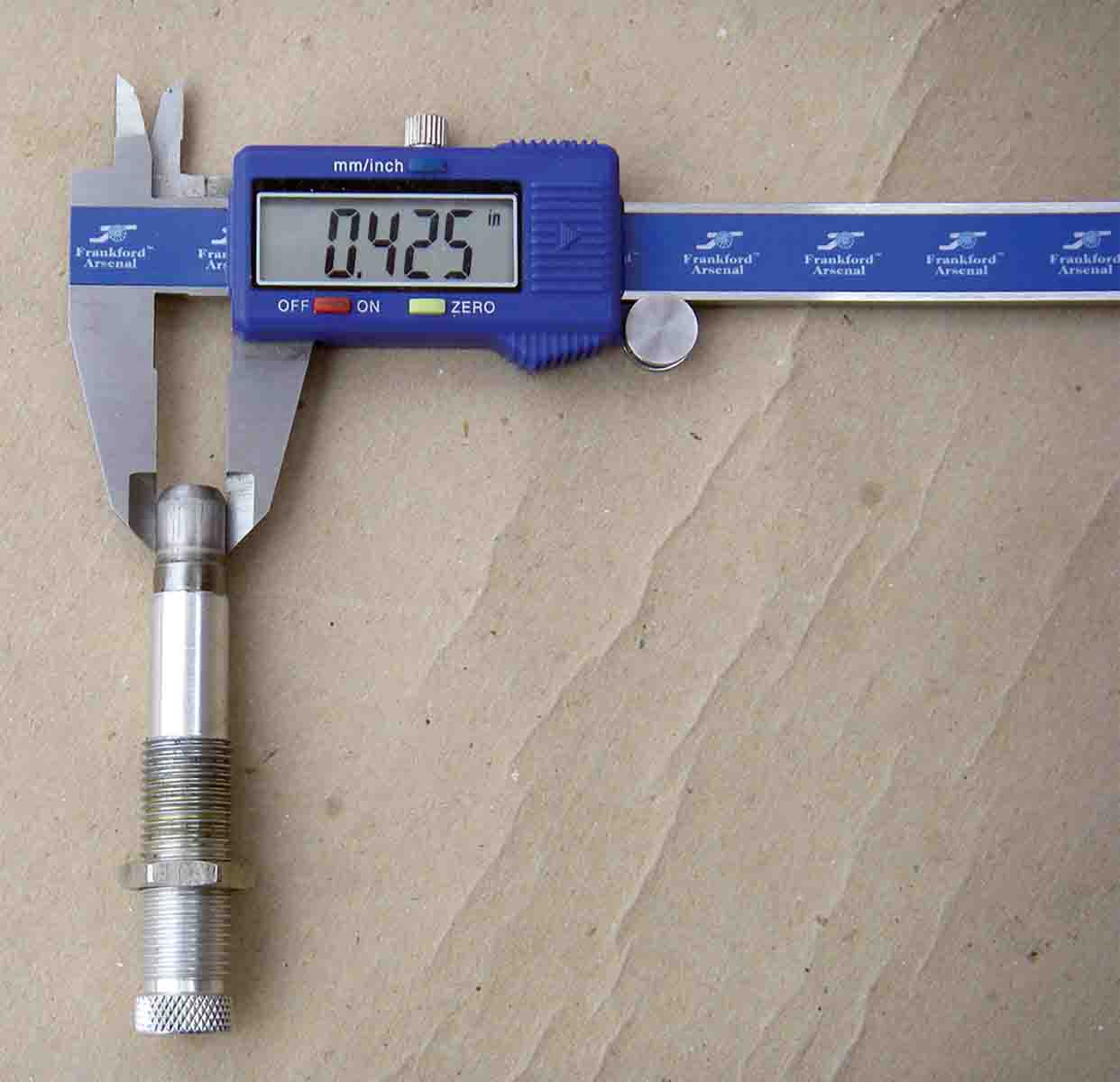 several thousand rounds of these heavy loads without ill effects. However, after examining and firing many 3rd generation SAAs, I have certain reservations recommending them for loads that exceed 22,000 psi. This is primarily due to their chambers being cut excessively large, and the burnished chamber walls clearly show a weakened depression directly under the bolt notch, which explains my conservative approach.
Modern Smith & Wesson N-frame revolvers are stout, as they share the same outside cylinder dimensions as the Model 29 .44 Magnum; however, they are slightly shorter. It is true that guns made prior to 1956 utilized a different grade steel than revolvers chambered for .44 Magnum and later production .44 Special revolvers, but they are nonetheless strong and can easily handle loads that generate 25,000 psi. I have several Smith & Wesson N-frames from different eras that have been used extensively with full-power .44 Special (Category 3) loads without issue. Other popular revolvers in Category 3 include the Ruger New Model Blackhawk, USFA SAA-pattern guns manufactured after 2001 and Freedom Arms' Model 97.
Forty-four Special cases manufactured since World War II (or very shortly thereafter) are of solid-head construction and are equally as strong as .44 Magnum brass. The old balloon-head cases are certainly weaker, and being nearly ancient often display signs of breakdown by becoming brittle or plagued with corrosion, etc.; they are best relinquished as collector's items and should not be used with the accompanying data. All handloads in the accompanying tables were assembled in modern cases from Starline (800-280-6660).
With .44 Special throat dimensions varying from .4285 inch to as large as .434 inch, I generally size cast bullets .430 to .431 inch to correspond favorably with most throat sizes. They are accurate in Smith & Wesson and other guns with a .430-inch groove diameter. Even when bullets of this diameter are used in guns that have a tighter barrel groove diameter of .4265 inch to .428 inch (typically found in the Colt Single Action Army and New Frontier SAA), accuracy is still excellent. Regardless of bullet diameter chosen, the expander ball die should measure at least .003 or (better) .004 inch smaller than bullet diameter to achieve correct bullet and case neck tension. This also helps powder to ignite properly and usually results in lower extreme velocity spreads and improved accuracy.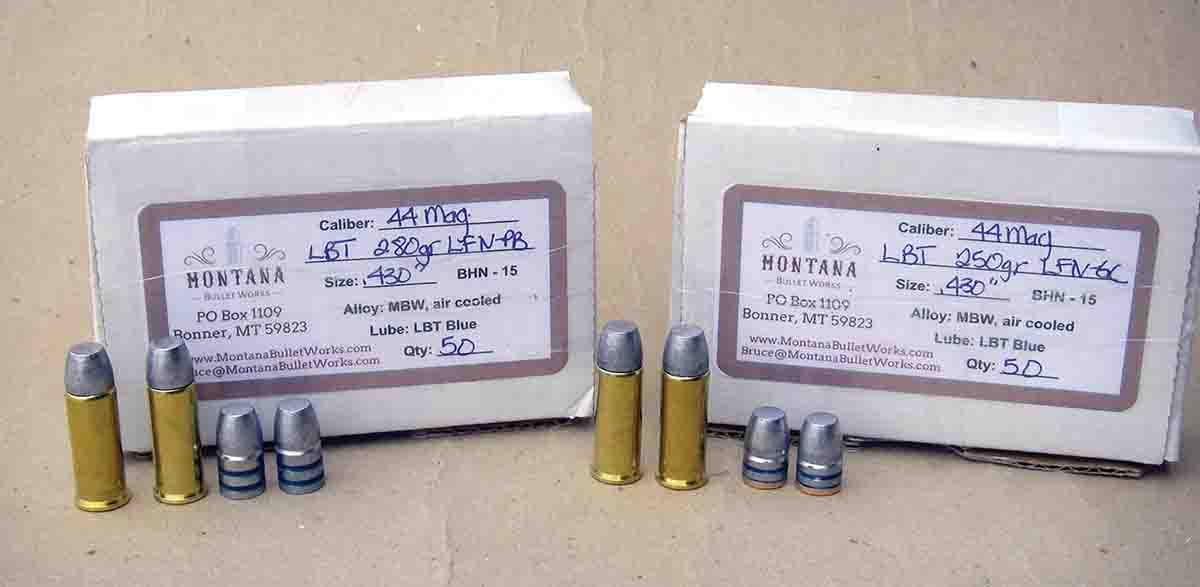 I often use both plain base and gas check cast bullets with a Brinell hardness number (BHN) of 10 to 12, which easily obdurate and provide a perfect gas seal to minimize leading and offer excellent accuracy. However, some guns require slightly harder bullets, typically 14 to 16 BHN, to prevent leading. There are many good commercial bullet lubricants available that serve to prevent leading and improve accuracy, with the old NRA formula still being a top choice.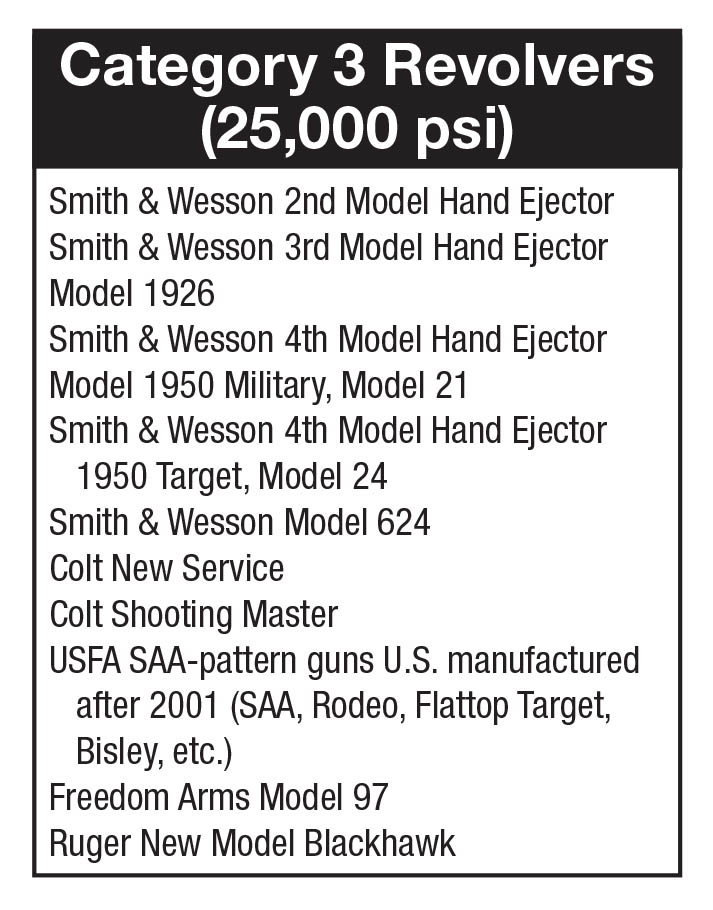 The original 250-grain Keith bullet is probably the most hand-loaded bullet in the .44 Special, and for good reason. It seats to an ideal overall length that permits a good blend of significant powder capacity while allowing seating bullets deeply enough to obtain proper bullet pull in relation to the case, and being a plain base design, it helps in achieving top velocities at the .44 Special's modest pressures. Performance on game is excellent as it penetrates straight and deeply, cuts a full-caliber hole and delivers excellent shock. Having shot this bullet since the 1970s, I have never experienced stability issues when fired at a variety of velocities and distances. For guns that are prone to barrel leading, the 255-grain bullet (designed by Ray Thompson) from Lyman mould No. 429244, a gas check design, also produces excellent terminal performance, accuracy and minimizes barrel leading.
Regardless of the loads chosen, be certain to use data exactly as listed, as changes in bullet design, bullet seating depth and overall cartridge length, primer, etc., will change the pressures and performance of the load.
It is especially important when handloading the Cutting Edge 200-grain Raptor or 240-grain Solid bullets to use the exact data and overall cartridge lengths as listed, or pressures will change rapidly. If the pressures are too low or powder energy is insufficient, bullets will stick in the bore, so do not reduce suggested starting powder charges. These bullets are long for their weight and seat deeply into the case, so only select powders are suitable based on their volume density. Both bullets were seated out to their second crimp groove for overall lengths of 1.582 and 1.588 inches,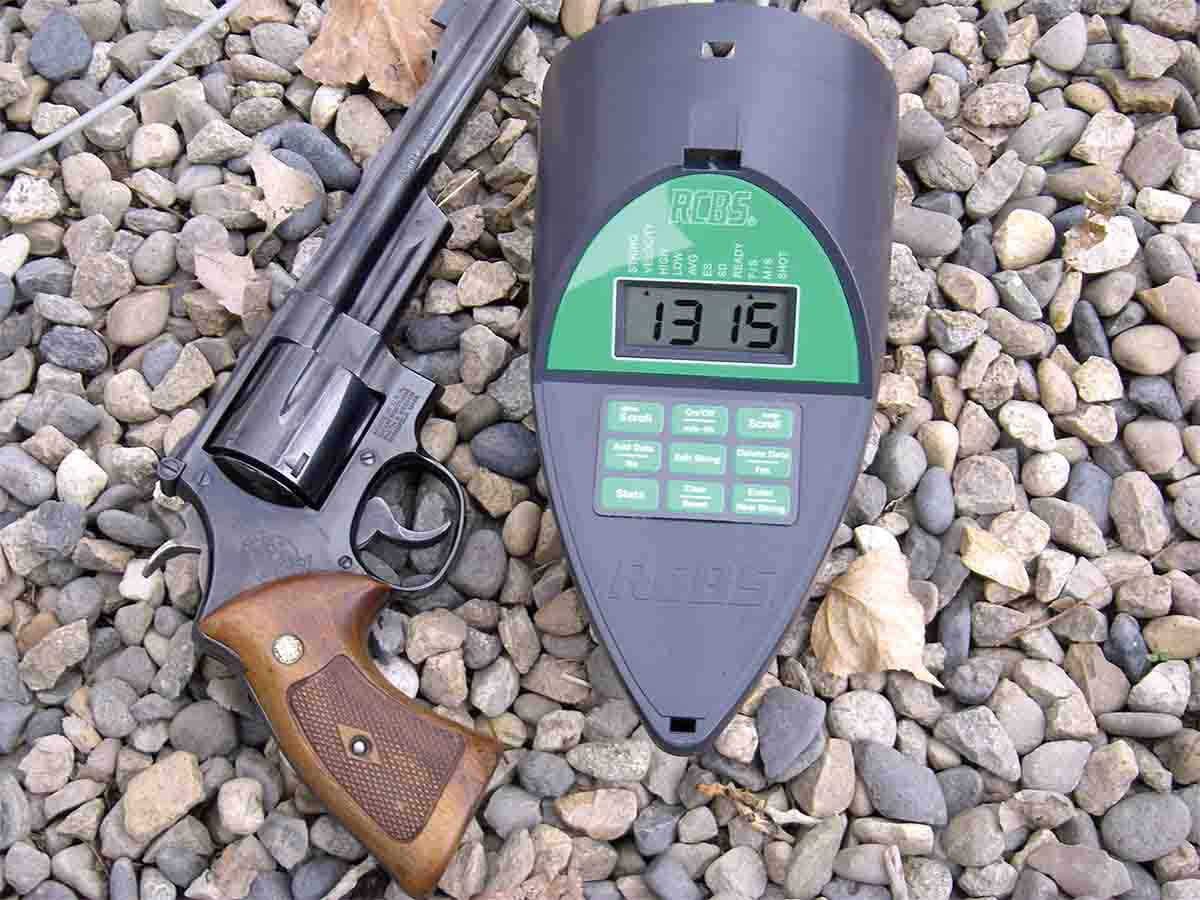 respectively. Accuracy was excellent. The 200-grain Raptor HP exhibited rapid expansion while the 240-grain Solid is designed for deep penetration on heavy game.
Select medium-burning pistol powders often gave outstanding accuracy while offering low extreme spreads and a modest muzzle report. Although they could not fully duplicate the velocities obtained with classic magnum revolver powders such as Alliant 2400, they were not far behind and are excellent choices for +P loads. Additionally, their charge weights are lighter (reducing powder costs) and also offered a notably reduced muzzle report, which makes them especially pleasant by comparison. Top performing examples include Hodgdon Longshot, Accurate No. 5 and No. 7, Ramshot True Blue, Alliant Unique and Power Pistol. For full-power loads that push 240- to 280-grain bullets to around 1,200 fps, Alliant 2400 remains a top choice, as it ignites easily while producing top velocities and accuracy. Hodgdon H-110 also performed well when mated to the heavyweight 305- and 307-grain cast bullets; however, to prevent erratic ignition and possible hang-fires, loads should not be reduced.
For everyday "working" .44 Special loads, I find 240- to 255-grain cast bullets at around 1,000 fps to 1,050 fps especially useful. They offer moderate recoil and muzzle report, low extreme spreads, and they are easy to shoot accurately while being capable of taking big game. However, when specifically handgun hunting I rely on the same bullets pushed to a velocity of 1,200 fps to help extend effective range, which in practical terms shares the same velocities and trajectory as most current .44 Magnum 240-grain JHP factory loads while offering better penetration, less pressure and the unique advantage of being fired in lighter guns that usually feature a lower bore axis for less felt recoil.
In spite of being 110 years old, the .44 Special still ranks as one of the finest, most versatile sixgun cartridges, especially when handloaded.