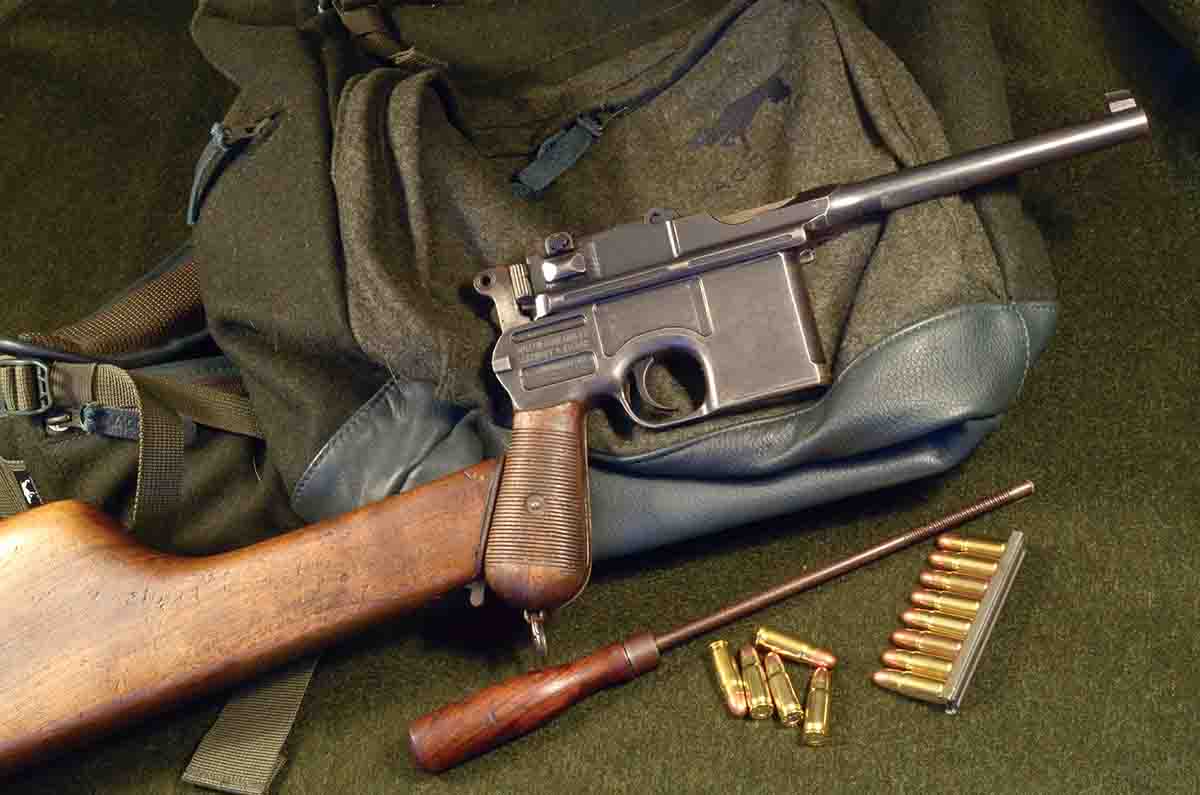 The 7.63mm Mauser has many claims to fame. Also known as the .30 Mauser, for almost 40 years it reigned as the velocity king of the handgun world. Its parent gun, the C96 "Broomhandle," was easily the most popular military handgun that was never officially adopted by any country; and in one instance it could even claim to have been the savior of western civilization.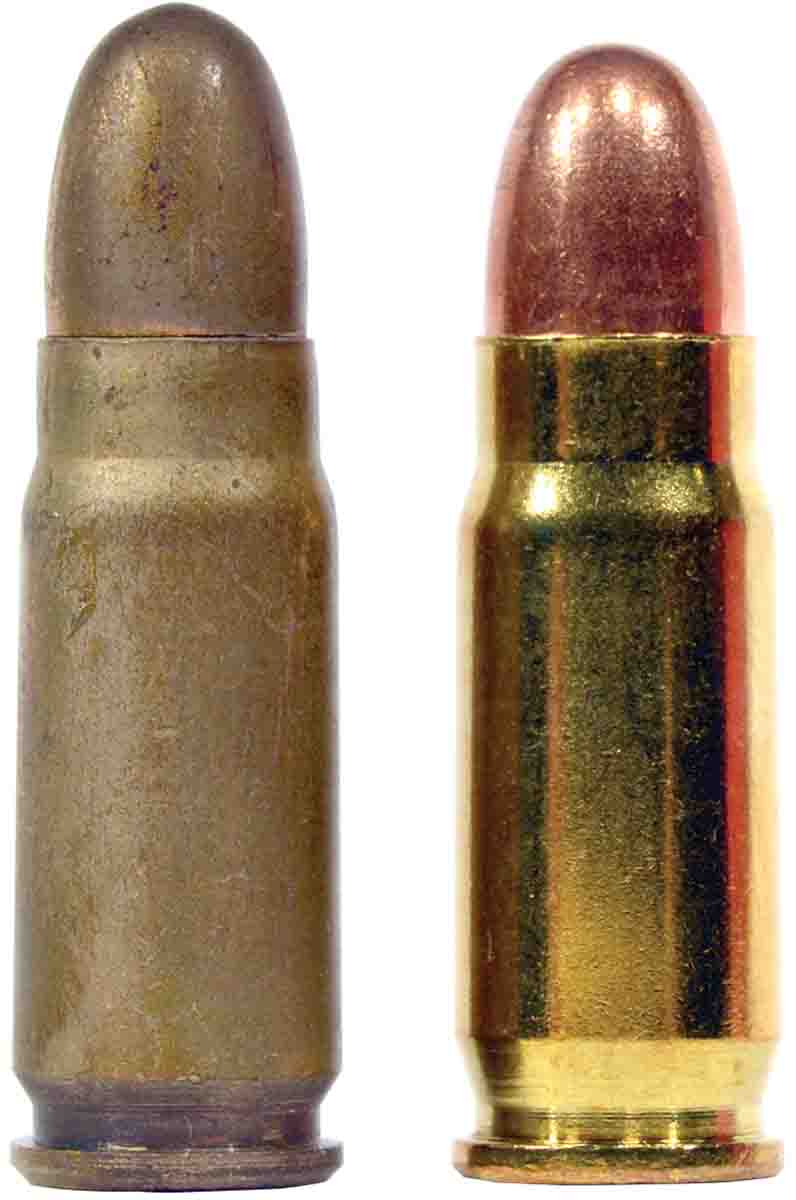 To deal with the last point first, one of the Broomhandle's earliest and most famous admirers was Winston Churchill, who carried one at the Battle of Omdurman and killed four attacking tribesmen when he was cut off during a cavalry action. Churchill dropped the fourth attacker with his last bullet. Were it not for the Mauser's effectiveness and 10-round capacity, where would the world have been in 1940 when Churchill took center stage?
During his lifetime Churchill is known to have owned at least four Broomhandles and was fond of giving them to friends. His name appears in the records of several London gunmakers where they were purchased.
At the time of the Battle of Omdurman in 1898, the revolutionary Broomhandle was only two years old, but its semiautomatic action, 10-round magazine and astonishing bullet velocity had made it a ballistic wonder of the age. In spite of its somewhat awkward appearance, it quickly established a reputation for reliability, durability and effectiveness through a succession of wars and revolutions. That awkward appearance belied its actual handling qualities, which are surprisingly good. Its distinctive profile-inspired copies, and the 7.63 Mauser cartridge gathered so many disciples that the Soviets used it in the Tokarev pistol (7.62 Tokarev), where it remained in official use until 1952.
The C96 and its famous cartridge pursued long and separate careers. The 7.63 Mauser actually began life in 1893 as the 7.65 Borchardt. When Mauser designed the C96, it simply appropriated the Borchardt cartridge, loaded it to higher pressures with higher velocities and called it its own.
It is a diminutive bottleneck cartridge, one of the first pistol rounds intended specifically for smokeless powder. From the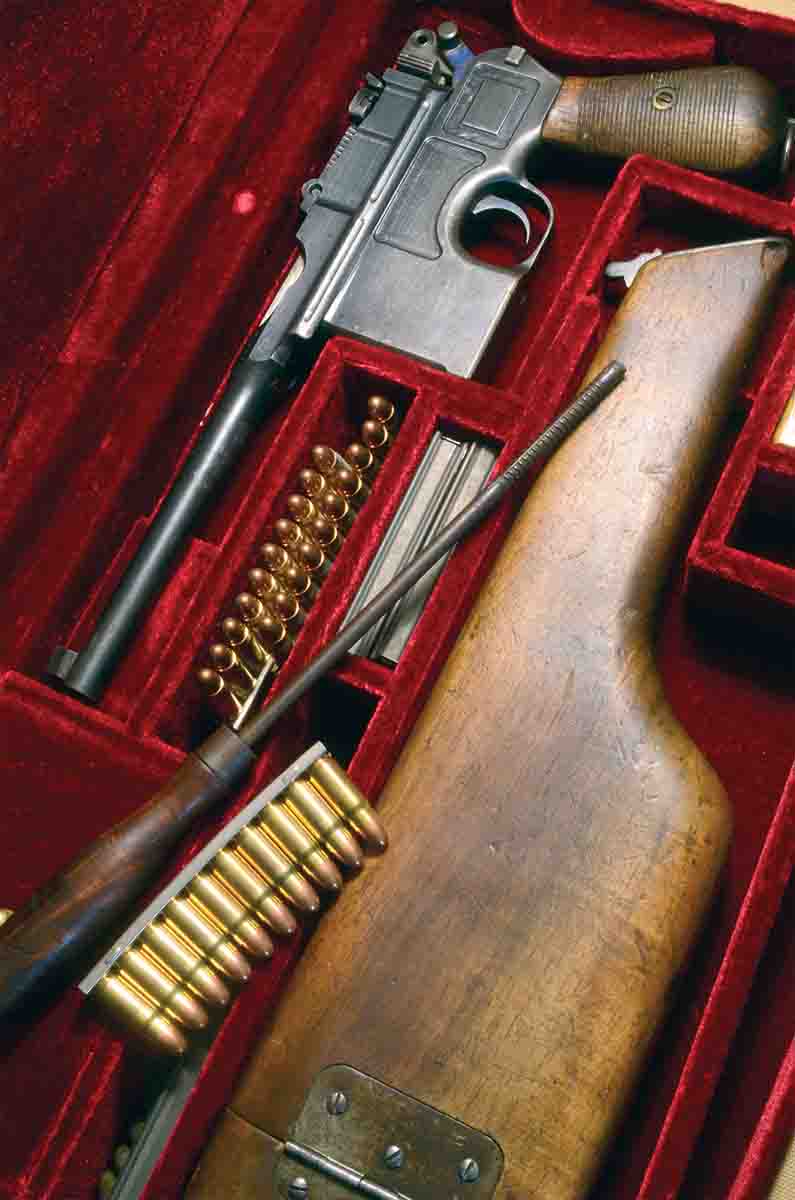 beginning it was seen as a superior design, which led to its use all over the place. The Mannlicher '96 semiauto was also chambered for it (the 7.65 Mannlicher in Germany; the 7.63 in Austria). The Mannlicher was stronger than the Borchardt, but not as strong as the Mauser C96. So while dimensionally the ammunition is interchangeable, it is unwise to use Mauser rounds in either the Borchardt or the Mannlicher.
Mauser sold large quantities of C96s all over the world, and it became a special favorite in Russia. After the 1917 revolution it saw considerable use on both sides in the ensuing civil wars that lasted into the 1920s. Mauser sold the Russians a special short-barrel model that became known as the "Bolo" Mauser, from its extensive use by the Bolsheviks.
In 1930 the cartridge underwent its final metamorphosis when the Soviet government designed its own pistol, the Tokarev, and chambered it for the 7.63 Mauser, renamed 7.62 Tokarev. This has led to a smoldering controversy as to whether the two rounds are indeed interchangeable (yes, they are) and whether Tokarev ammunition is safe to use in the older C96 (it depends).
In the 1940s the H.P. White Laboratory tested military-issue ammunition from both sources and reported that the German military round, with an 85-grain bullet from a 5.5-inch barrel, delivered 1,495 fps. A Tokarev round from a 49⁄16-inch barrel registered 1,492 fps. These are almost identical, and any pressure differences would be inconsequential. A German arms manual issued during World War II stated that Tokarev ammunition could be used in the C96s, which were still (!) in use – as apparently, many were.
However – and to me, it is a big "however" – both sides made many different variations, including one Russian version that fired a 74-grain "armor-piercing incendiary" bullet. Since a military Tokarev can rarely be differentiated from 7.63 Mauser by its case head, a high degree of caution is recommended before putting any surplus ammunition through a valuable Broomhandle.
The C96 pistol itself had an equally varied and far-flung career. It was never adopted by any military as its official sidearm (unless one counts the Italian navy), but it was used in virtually every war between 1900 and the 1960s, and often by both sides, as witness the Russian civil war. Winston Churchill had one at Omdurman in 1898 and another in South Africa during the Boer War.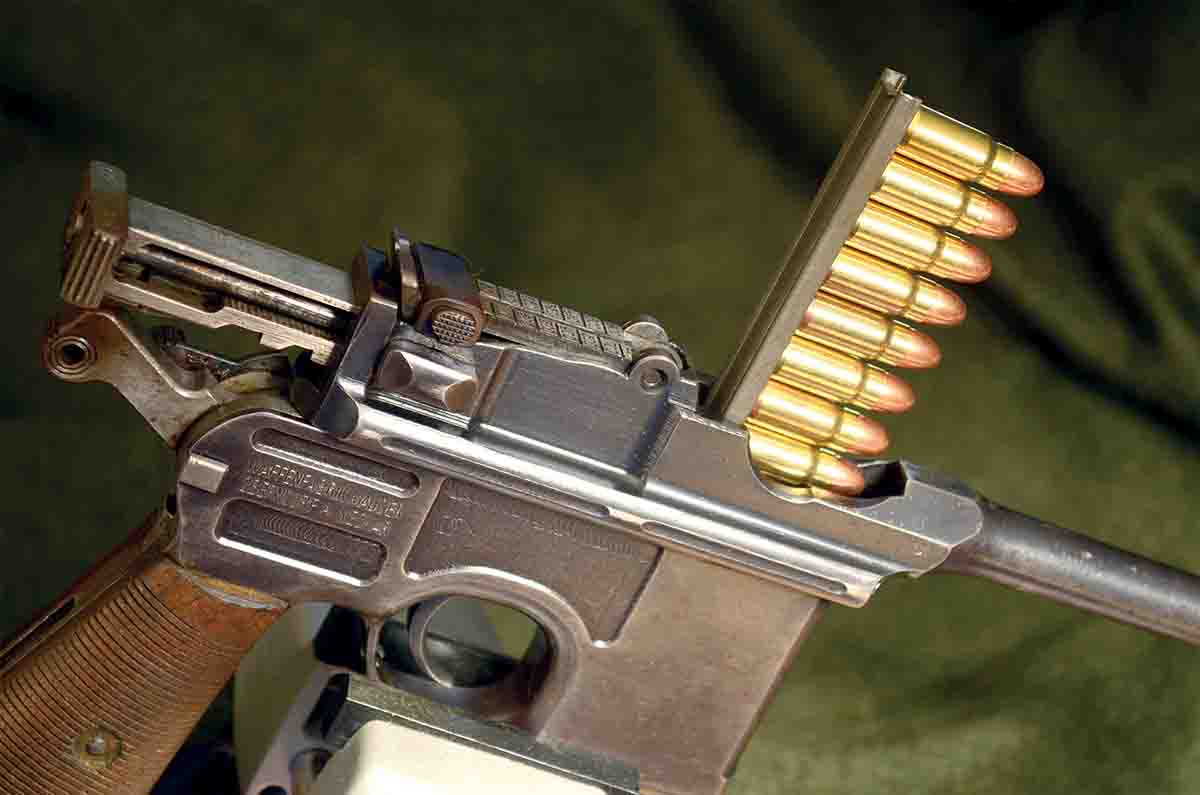 An interesting parallel occurred in 1908. When Georg Luger redesigned the Borchardt to produce the Luger, he shortened the 7.63 Mauser by .15 inch to create the 7.63 Luger. In 1904 the bottleneck was eliminated to create the 9mm Parabellum. Mauser did something similar in 1908, eliminating the bottleneck in the 7.63 Mauser and creating the 9mm Mauser, or 9mm Export, which bears an uncanny resemblance to both the later .38 Super Auto and 9x23 Winchester – both of which it shades for velocity and power.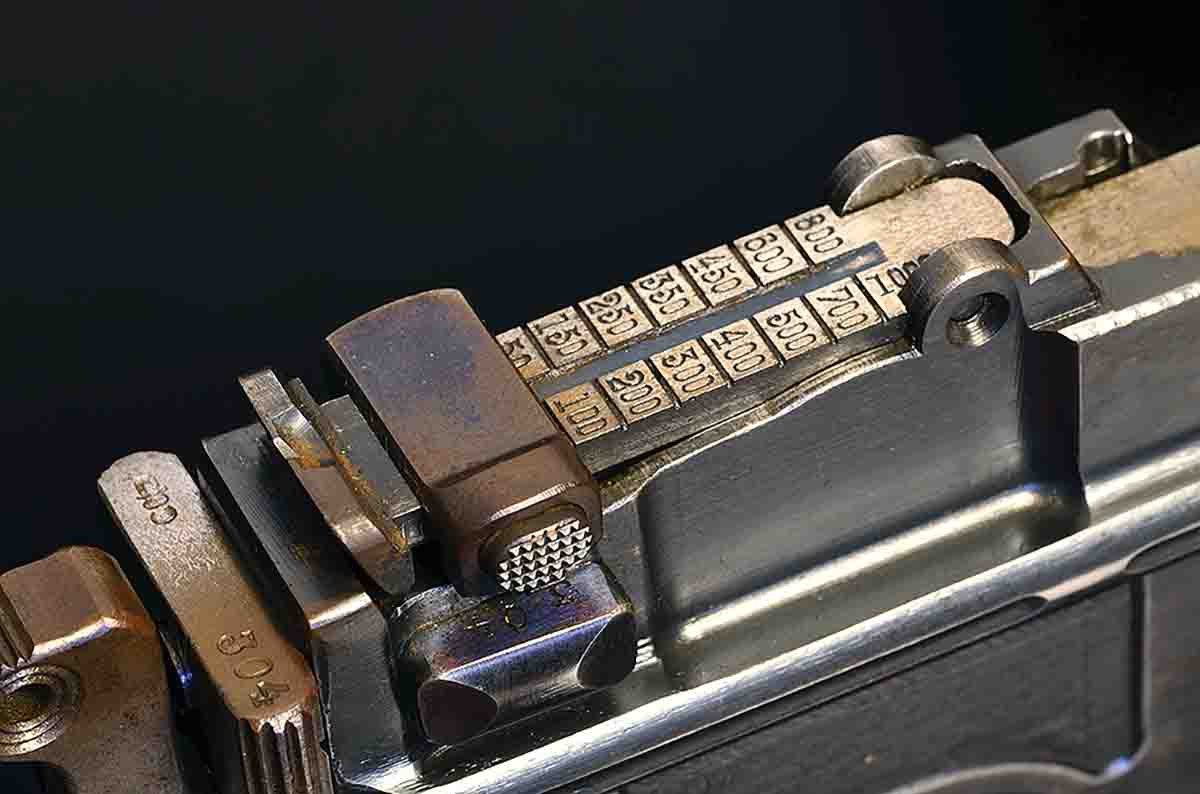 During the Great War, the C96 was adapted to the 9mm Parabellum (the famous "Red Nine" model, from the numeral burned and painted on its grip) for use by the Germany army. After the Versailles Treaty, Mauser used various methods to produce and market the pistol. The short barrel of the Bolo was one dodge to get around the restrictions. In 1930, the pistol's action was modified to allow fully automatic fire, turning the C96 into a submachine gun, with a detachable 20-round magazine replacing its fixed-box, 10-round magazine.
In the 1930s the C96 design was copied by different companies in several countries, most notably Spain and China. Some were exact duplicates while others used the basic shape but changed the internal mechanism. There were both semiautomatic and full-auto versions. Unlike many copies of famous pistols, C96 clones are often excellent in quality. The Spanish Astra Model 900 is considered a first-rate pistol, and some of those made in China are also excellent. All of these saw considerable use – in Spain during the civil war (1936-38), and in China's lengthy war that began against the Japanese in 1937 and continued through the Chinese Communist victory in 1949. Some C96s also showed up in Vietnam, used both against the French and, later, the Americans.
Its impressive ballistics were one reason for the C96's popularity, but it was also noted for being very versatile and extremely reliable. Compared with other semiautomatics, both old and modern, the C96 keeps firing under any and all conditions, digesting any ammunition you care to feed it. It doesn't jam, it doesn't fail to cycle, it has no feeding or ejection problems. As well, with its combination shoulder stock/holster, it becomes more of a takedown carbine and less a handgun, effective out to 300 yards or farther.
Ammunition has been made for it in every country in a wide variety of types, both military and civilian. Bullet weight is generally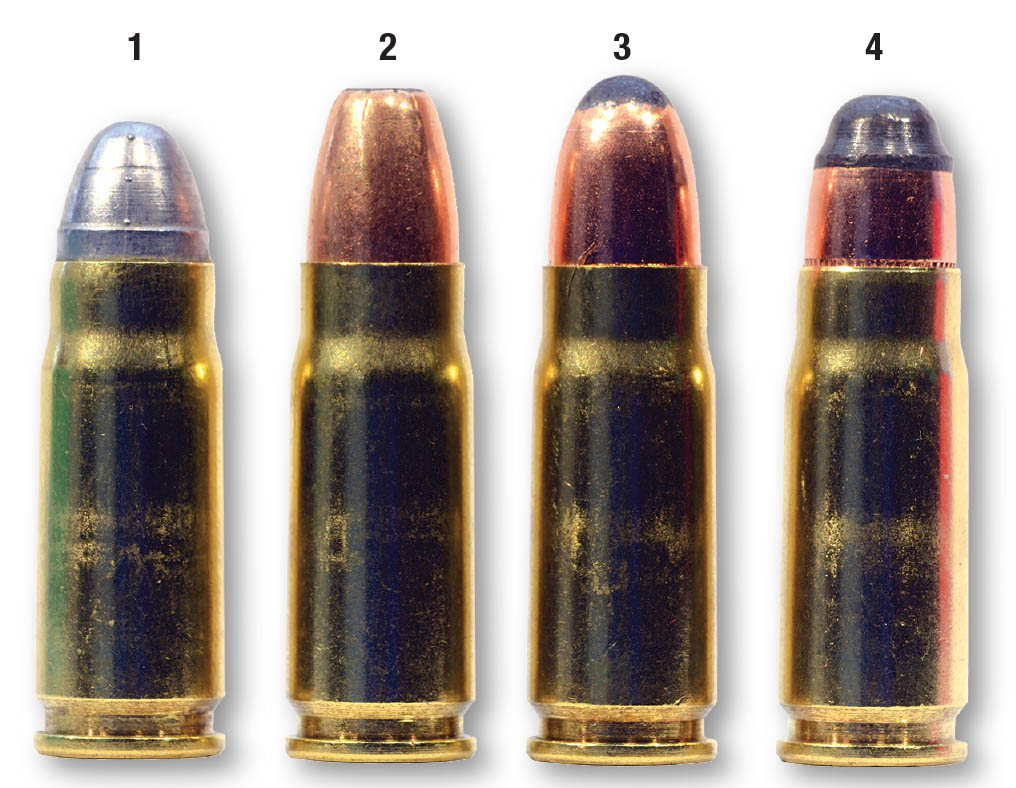 around 82 to 86 grains with some as light as 74 grains, and some as heavy as 95 or 100. Military ammunition is roundnose full metal jacket, while civilian ammunition is either softnose or hollowpoint. Today, to the best of my knowledge, the only factory ammunition available is Prvi Partizan (PPU) from Serbia, loaded with an 85-grain FMJ. However, PPU also offers 85-grain HP bullets as handloading components and the Boxer-primed, Serbian brass is high quality.
In the U.S., Starline makes top-notch brass, and bullets are available from Hornady and Sierra, among others. Since the 7.63 Mauser uses .308-diameter bullets, anything in its weight range will work.
The difficulty for handloaders lies in finding modern load data. Hodgdon, for example, has none on its website for a variety of perfectly good reasons. The difficulty of defining loads for the 7.65 Borchardt/7.65 Mannlicher/7.63 Mauser/7.62 Tokarev presents a legal as well as technical conundrum. Lyman has always offered both jacketed- and cast-bullet data in its manuals, but in later editions it combined Mauser and Tokarev data. This should be approached with more than the usual caution, starting low and working up.
The old Accurate Arms has 7.63 Mauser data in its loading manuals, using its Accurate No. 2, No. 5 and No. 7 powders. It should be noted that the company did its testing in a 9-inch Douglas test barrel, not a Broomhandle, and even then its top velocities do not approach the advertised velocity of the 7.63 Mauser. But then, neither do any others. [Editor's note: Western Powders, owner of Accurate powders, has just published a new, comprehensive handloading manual that includes the use of Accurate powders for the .30 Mauser; www.westernpowders.com.]
The heaviest load suggested by Lyman is 5.4 grains of Bullseye, which is probably the single best powder for this cartridge. Its old manual, No. 45, gives a maximum of only 5.0 grains, but that is for the Mauser only, not Mauser/Tokarev. The heavier load in manual No. 48 is for both. I chose to stop at 5.0 grains of Bullseye.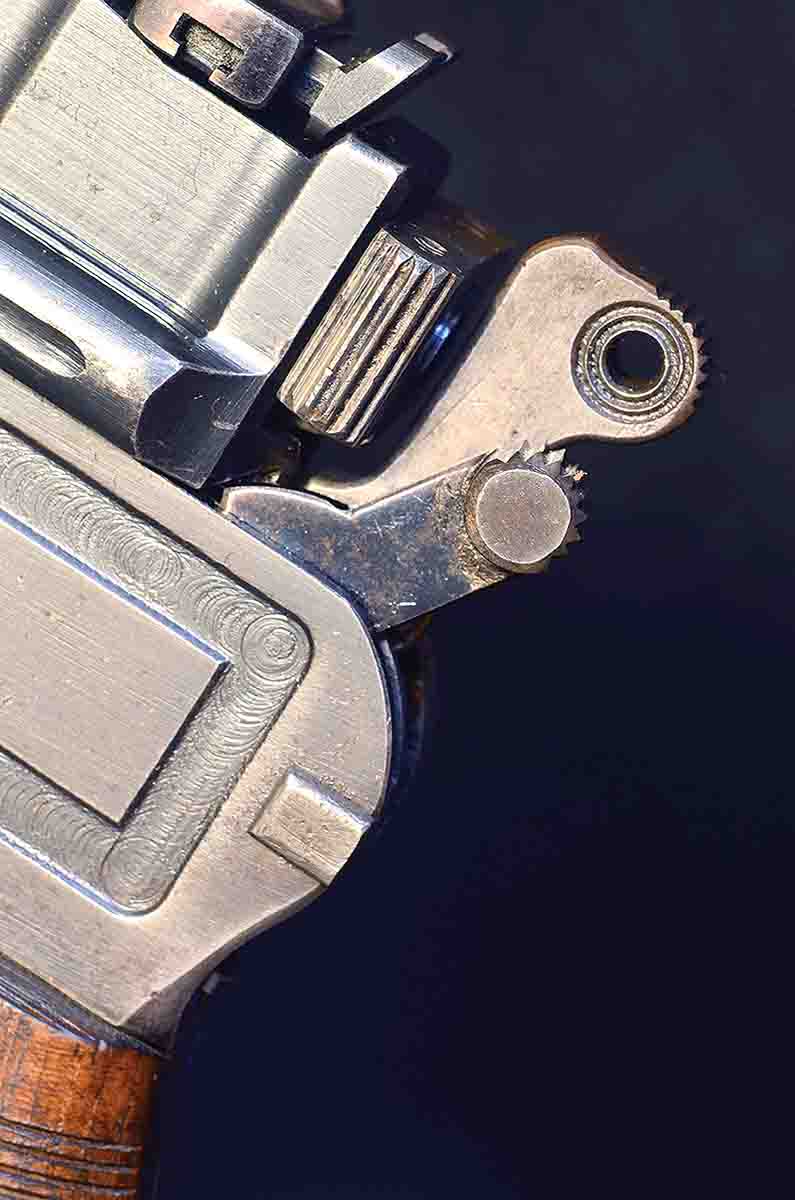 My goal in loading ammunition for the Broomhandle was not to reach the old advertised velocities, nor to find the most accurate load, but to come up with one or two that cycle the action reliably and are economical to shoot.
As it turned out, every load mentioned in the accompanying load table cycled the action perfectly. In firing close to 200 rounds ranging in velocity from 940 fps to 1,325 fps, with bullet weights ranging from 82 to 86 grains, both lead and jacketed, I did not have one single glitch – no failures to feed or eject and no jams. The old Broomhandle purred like a sewing machine and mowed down steel plates with aplomb.
Instead of shooting groups, I simply loaded a variety of ammunition and shot at a single plate roughly 18 inches diameter at 30 yards, and every bullet struck with a whang!
Because the older Accurate manual gives the highest velocity combined with the lowest pressures using No. 7 powder, I chose to work with that powder, which turned out not to be the best. I should have paid more attention to that 9-inch barrel. Velocities were lower than with Bullseye, and performance was more erratic.
My Broomhandle, with its 5.5-inch barrel, would probably be happier with either Accurate No. 5 or, better still, No. 2. When I move on to finding an accuracy load, I will stick with those.
One anomaly occurred for which I am totally at a loss to explain: Moving from a midrange load with Accurate No. 7 to a maximum load using Hornady, Sierra and PPU bullets, everything performed as expected (see load table) except for the Sierra 85-grain RN bullets. Increasing the powder charge from 7.4 grains to 7.7 grains, average velocity actually dropped by about 90 fps, and the brass gave indications of not achieving a gas seal. With both the Hornady and PPU bullets, however, results were normal. There is no possibility of a load mix-up, since all the brass for all three loads was charged at the same time, and they were all chronographed in one quick session under identical conditions. At some point I will repeat that test and see if the results are the same.
As the table shows, velocities with maximum loads fell far short of the famous 1,495 fps of original German factory ammunition in the H.P. White tests, but chasing that particular chimera does not seem like a good idea. I have no desire to exceed maximum listed loads and possibly damage a century-old Broomhandle.
For now it would appear that Bullseye remains the most effective choice with all of the bullets tested. Performance of the cast bullets – an 82-grain design from an old Ideal mould No. 311252 cast from Linotype – was a very pleasant surprise. Not only did they deliver the best velocity, they cycled the action perfectly, struck the plate reliably and are very cost-effective.