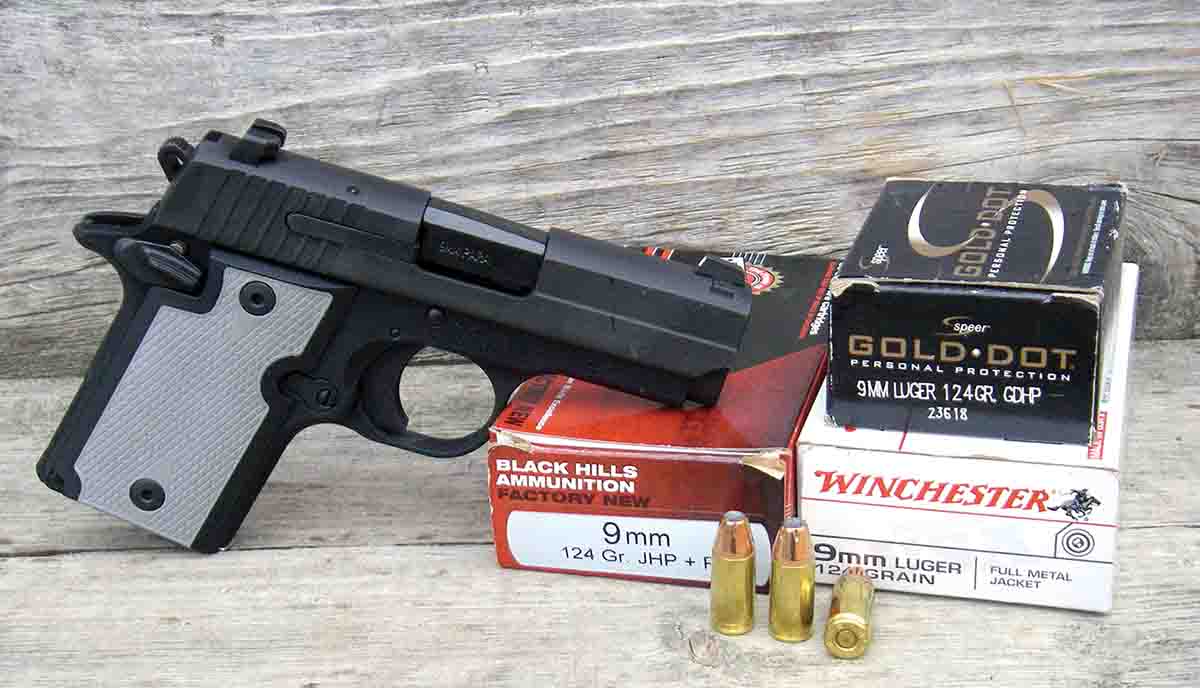 The demand for concealed-carry handguns has ballooned in the past couple of decades, with both experienced shooters and many first-time gun buyers choosing to carry for protection. One type of semiautomatic pistol that has become especially popular is the subcompact, or pocket size, 9mm Luger (aka 9mm Parabellum and 9x19mm). These guns are often comparable in size and weight to traditional pistols chambered in .380 Auto. However, the 9mm cartridge offers notably greater power and reliability for defensive purposes, and there is a huge selection of quality defensive loads. It is also a practical cartridge to handload. Recently I have been wringing out the SIG Sauer P938, a top-of-the-line, compact 9mm that has proven to be reliable and accurate.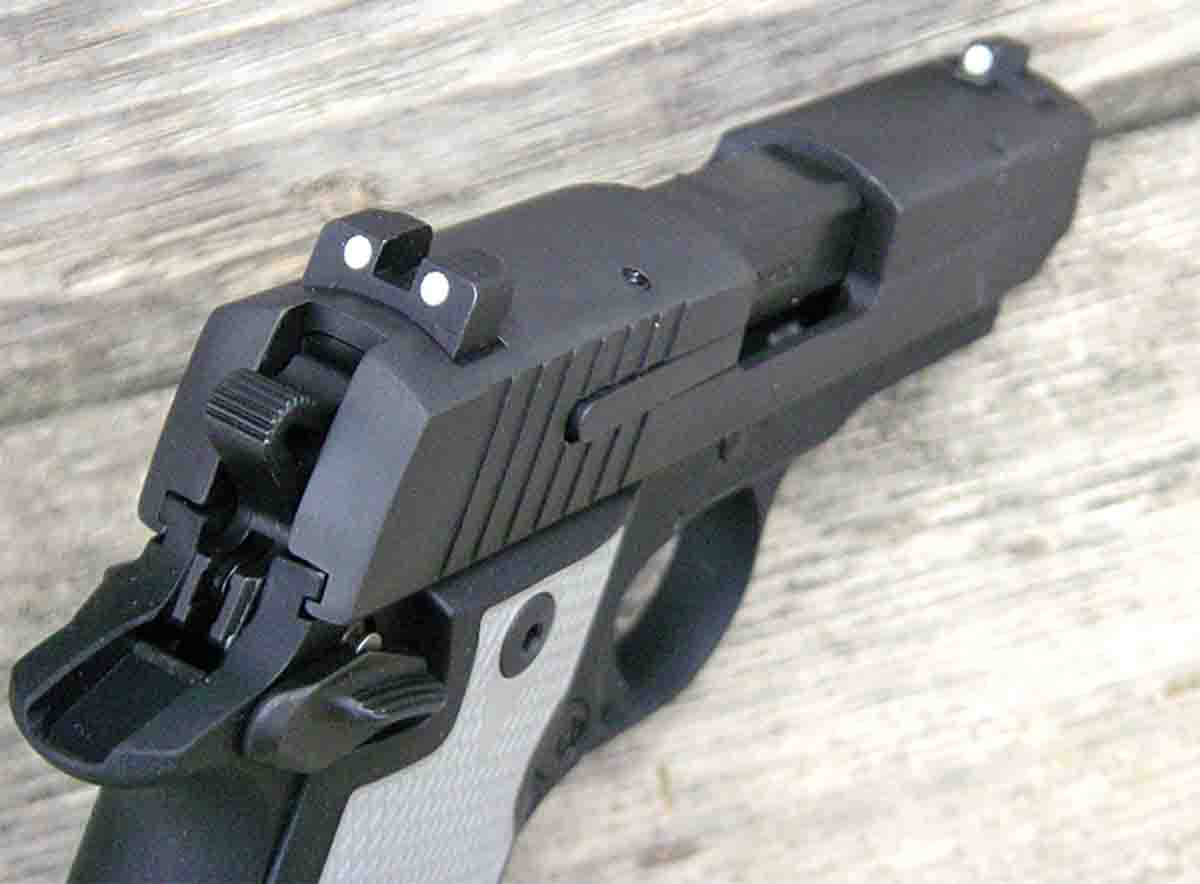 For many decades SIG Sauer has established a reputation for building top-quality pistols and is especially savvy regarding current trends and demands that are clearly reflected in the P938. First, it is built in the U.S. and is essentially a single-action, compact version of the widely popular Model 1911 pistol. It weighs a tidy 16 ounces empty, which is light enough that carrying it daily should never be an inconvenience. Or in other words, you will probably have it with you should a life-threatening situation unfold. Its overall length is just 5.9 inches and the width is 1.1 inches. The single-stack magazine has a capacity of 6+1; an optional extended magazine bumps capacity to 7+1. The frame is constructed of high-grade alloy while the stainless slide is Nitron finished. The barrel and remaining parts are constructed of high tensile steel. Disassembly is quick and simple, but there are a couple of departures from the traditional Model 1911 methods.
The P938 features an ambidextrous safety that engages positively. One functional departure (when compared to full-size Model 1911s) is that the slide can be racked open while the safety is in the "on" position. Incidentally, the firing pin is an inertia pattern, so when the hammer is fully forward and resting on the firing pin, the pin does not make contact with the primer, and neither will a strike or blow to the hammer cause the gun to fire. Some people will prefer to carry the P938 in this manner rather than in the cocked-and-locked mode. In spite of the small hammer spur, I had no difficulty in cocking the hammer with reasonable speed while drawing the gun and firing in a single motion. With that said, the cocked-and-locked position is the best method to carry this gun, making it faster to draw and get into action. It should be noted that SIG Sauer recommends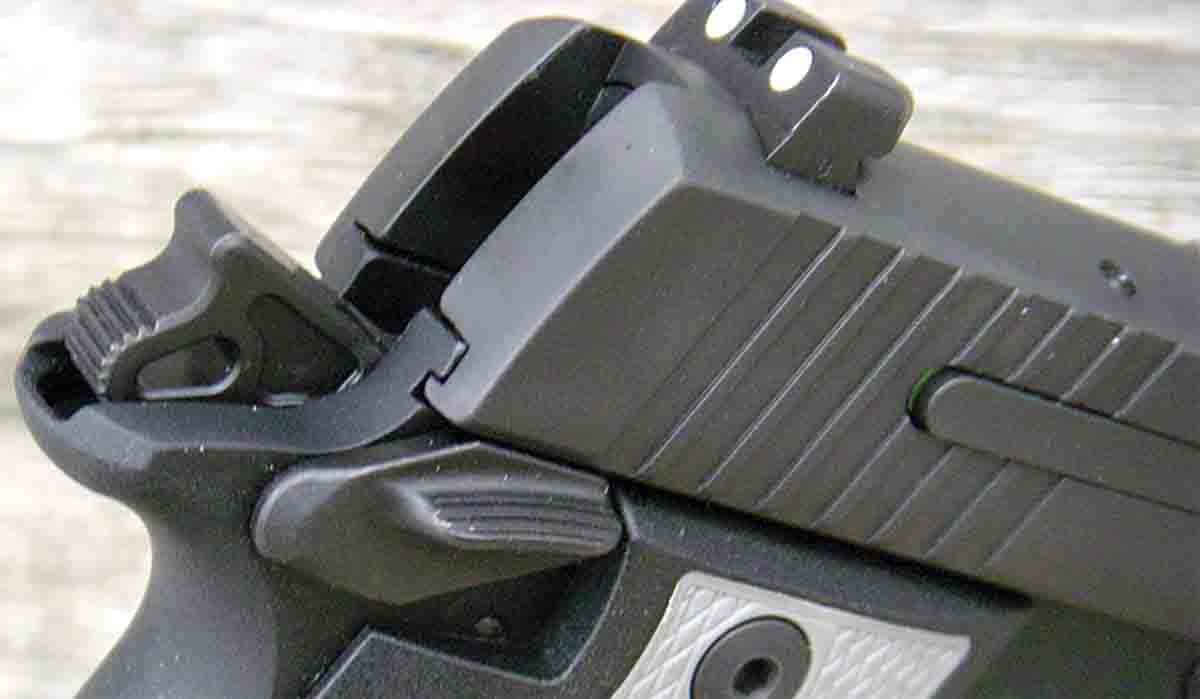 carrying the gun cocked and locked, or with the hammer down and resting on an empty chamber. Essentially, SIG does not want shooters trying to manipulate the hammer with their thumb, instead preferring shooters to cycle the slide to cock the hammer.
The ambidextrous safety is unobtrusive but is easy and natural to manipulate with speed. Incidentally, there is no grip safety, which would be an undesirable feature in a subcompact defensive gun.
Both the front and rear sights are dovetailed into the slide to help stand up to recoil, which also serves for windage adjustments. The rear sight features two large white dots while the front is likewise enhanced with a single large white dot. When viewing the sight picture, there is plenty of light on each side of the front sight for quick target acquisition and accurate shooting. The rear face of both sights are angled forward to help prevent snagging when the gun is drawn. The forward edge of the rear sight is cut at 90 degrees in relation to the slide, which is a tactical feature that serves as a "hook" to cock the slide on any number of objects in the event that the gun must be cycled with one hand. Both sights are constructed of rugged tool steel to resist damage or abuse.
Scaling down an existing gun design is not as simple as it sounds, as they cannot just be reduced in size or they become out of proportion and awkward. The slide stop, magazine catch, trigger position, etc., are ergonomically correct for a gun of this size and felt completely natural to manipulate.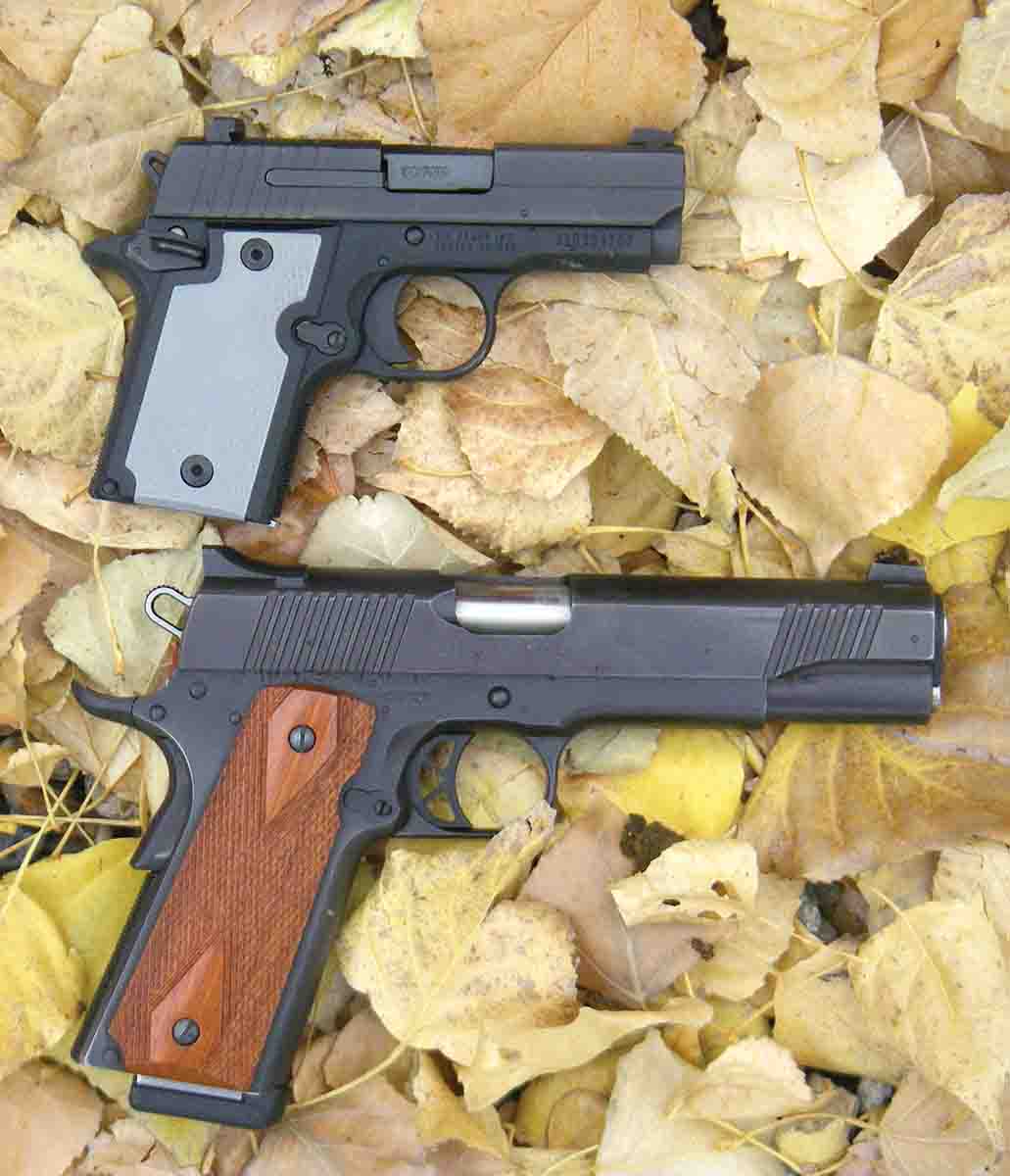 The trigger broke at just under 7 pounds. Although I would like to see SIG Sauer make efforts to lighten the pull, it broke crisply, which gave it the feel of being lighter. The trigger reset is longer than a quality full-size Model 1911 but is still notably shorter than most subcompact pistols, which helped speed up rapid-fire strings. It is noteworthy that the curved trigger is hinged and actually pivots slightly upward when pulled, rather than being a straight pull of the original 1911 design.
I have heard several shooters comment that the accuracy of the P938 was adequate but "average" (whatever that may mean). However, my test gun produced good enough accuracy to lay down 6-inch diameter steel targets offhand at 40 yards with some degree of reliability, but doing so required a fair amount of concentration to keep the sights on target while squeezing the heavy trigger pull (as well as requiring the right ammunition). My suspicion is that some shooters have not been able to get the utmost accuracy due to the pistol's rather heavy trigger pull.
At 25 feet, a more normal distance for a compact defensive pistol to be checked for accuracy, bullets regularly clustered into a quarter-size, ragged hole, which is plenty accurate for a gun of this type and purpose. Of the three factory loads tried, Black Hills 124-grain JHP +P loads produced the tightest groups while Speer 124-grain Gold Dot HP ammunition was a close second.
In spite of the relatively short 3-inch barrel, all loads exceeded 1,000 fps, while the Black Hills 124-grain +P load produced the highest velocity at 1,112 fps.
Two handloads were also tried. The first included the Hornady 115-grain XTP-HP bullet seated to an overall length of 1.070 inches over 5.8 grains of Hodgdon Autocomp powder, assembled in Starline cases and ignited with Winchester Small Pistol primers for a velocity of 1,207 fps. The second handload consisted of a Speer 124-grain Gold Dot HP bullet seated to an overall length of 1.120 inches for a velocity of 1,161 fps using 6.2 grains of Alliant Power Pistol powder. In assembling these loads, the bullets were seated to their correct depth, then as a separate step a taper crimp was applied with a case mouth measurement of .369 inch. The accuracy of both handloads was good; they regularly produced ragged groups at 25 feet.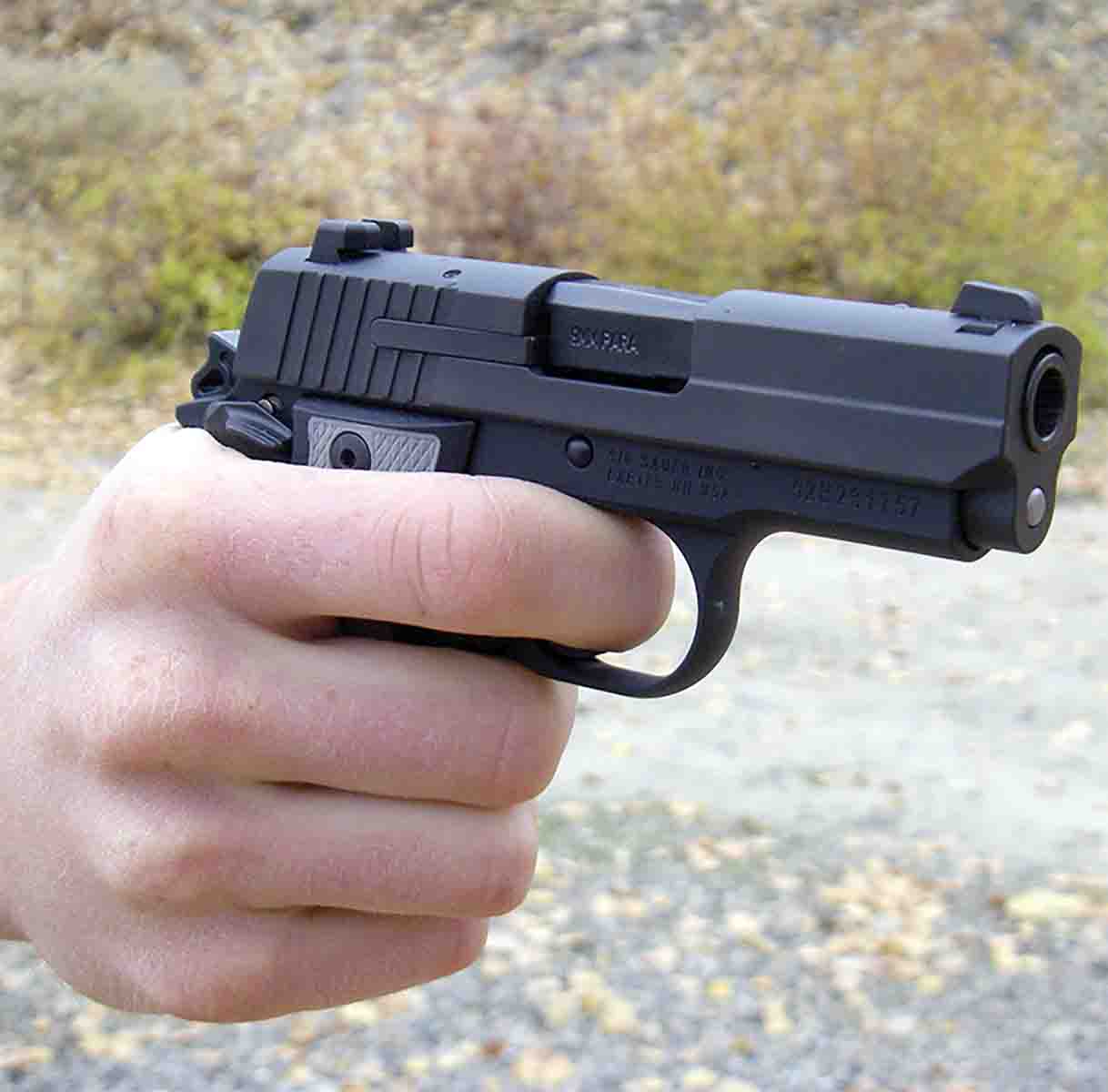 During many shooting sessions the P938 functioned flawlessly, and there were no failures to feed, fire or eject reliably. Machining and overall quality is excellent. In a field of worthy competitors, the SIG is clearly one of the top choices. There are several options, including tritium sights, different grips, etc., and there is also a .22 LR conversion kit offered. Suggested retail is generally $805 to $893 (depending on options), however street pricing is generally less than $600, which is a bargain for a quality tool that may become a lifesaving device.