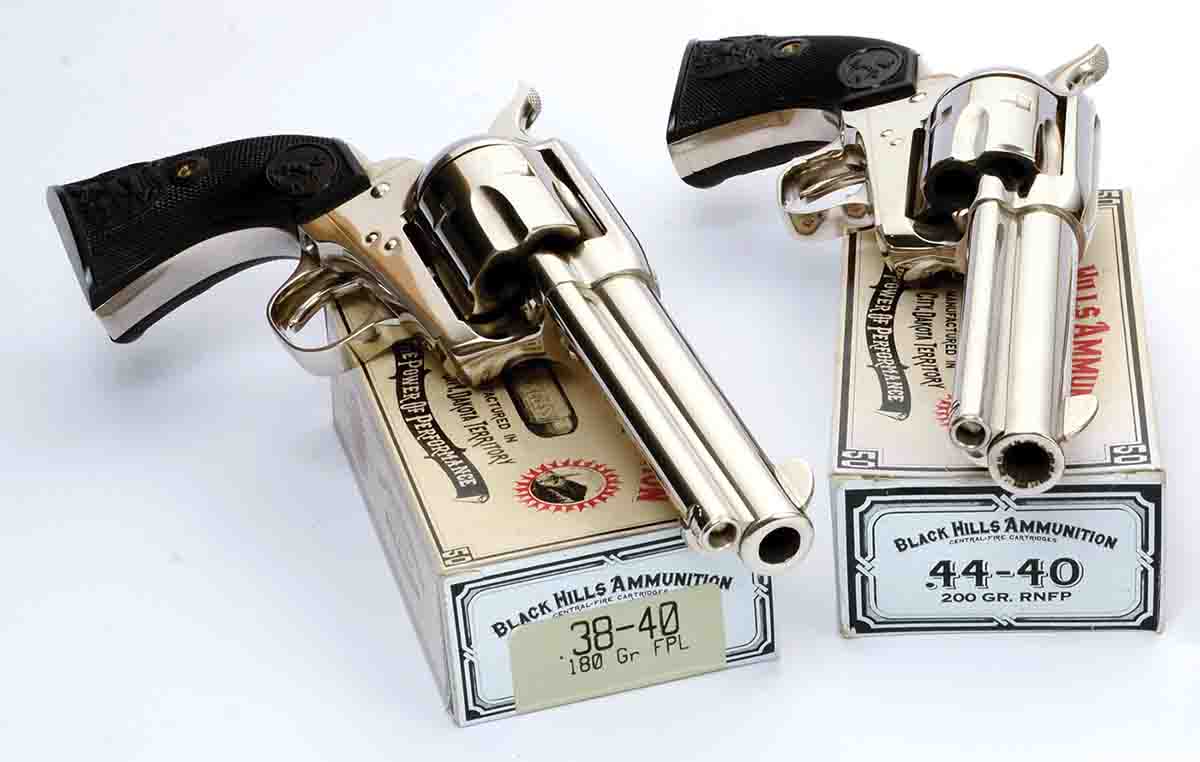 Many handloaders consider the .38 and .44 WCFs (Winchester Centerfire) as troublesome, especially in regard to revolvers. I do not; in fact, of all revolver cartridges, I currently load more .38-40s and .44-40s than anything else. At the same time, it must be admitted that reloading these two cartridges requires a bit of finesse. Furthermore, as with other cartridges originating in the 1870s, there can be some problems mating reloading die dimensions with chamber dimensions in revolvers.
In 1993 Colt added the .38-40 to its Single Action Army cartridge options after a half-century of absence. Soon after a fellow called me, spitting mad at Colt. His hand- loads would not chamber in his brand-new SAA. My question was: "Do factory rounds chamber?" They did. In fact, when he called the factory someone at Colt asked him that, and with his affirmation said, "Well, it's not our problem then."
Obviously, whatever brand of resizing die he was using did not size cases correctly – either at the case heads but more probably at the shoulder. A local fellow had a similar problem which allowed me to actually see his recalcitrant handloads. Most certainly his fired .38-40 factory loads did not have their shoulders set back far enough. He had his resizing die shortened by about 1⁄16 inch and has now loaded thousands of rounds with no problems.
There can be other reasons for rounds not chambering easily in revolvers. The most common one I've encountered was an excessive crimp, which caused the case mouth to bulge outward. Unless done with such force that the case buckles, such rounds can usually be pushed on into revolver chambers with significant thumb pressure. That's a sure sign the crimping die should be backed off a mite. The reason this happens with .38-40 and .44-40 brass is that case walls are so thin they will actually flex. Stouter-built cases, say .44 Remington Magnum and .45 Colt, do not bulge outward with a heavy crimp.
Then there is the matter of bullet diameter. Most .38 WCF factory loads run about .400 inch for jacketed bullets. Recommended cast bullet diameter is .401 to .403 inch. Factory .44 WCF jacketed bullets run about .427 inch. Recommended cast bullet sizing diameter is .427 to .428 inch. Now absorb this: My first .44-40 handloads were shot in 1977 with a 1890's vintage Colt frontier six-shooter. I bought dies, a mould and a .427-inch sizing die. Loaded rounds flat-out would not chamber. Some research revealed that in its early days, bullet diameter for .44 WCF was .425 inch. A .425-inch sizing die was ordered from Lyman, and rounds then chambered just fine.
The idea that revolver chamber mouths should measure close to barrel groove diameter for best precision has been bandied about a lot. While writing this column I took a break and sat in my gun vault measuring .38-40 and .44-40 cylinder chamber mouths with plug gauges. A 1904 Colt SAA .38-40 had .400-inch chamber mouths. A 2004 version had exactly the same measurement. A 1902 Colt .44-40 was then checked. Its six chamber mouths were all .431 inch, but another dating from 2004 had .427-inch chambers. Two .44-40 cylinders that I picked up sometime in the 1980s measured .431 inch for all 12 chambers. These similarities and variations are things of which to be aware. As a rule my .38-40s are loaded with .401-inch cast bullets and the .44-40s with .428-inch bullets.
Perhaps the most common fault aimed at .38 and .44 WCFs is that their thin cases are easily damaged when bumped into reloading die mouths. This is absolutely true. The cure is easy: Don't be in so big a hurry that you bump them, and if it happens then throw out that case and forget it. The days when we had to treasure and baby every slightly-out-of-the-mainstream cartridge case is over. Starline has seen to that.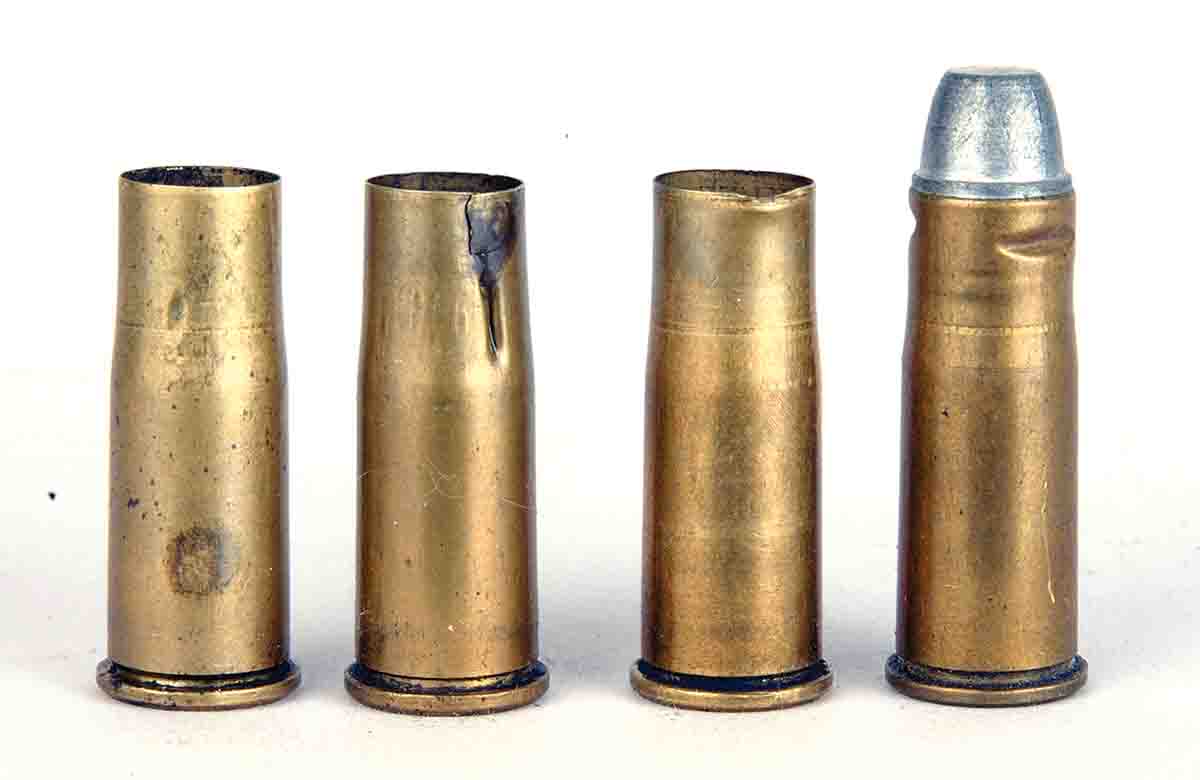 Another true charge often leveled at these two old cartridges is that by having bottlenecks, carbide or titanium sizing dies are unavailable – as with straight-wall cases. Actually, little lube is required for them, but not much is required to crease their thin case walls. I don't mind taking the blame for being ham-handed and wrecking a case, but losing them to excessive lube does bother me. After trying many types of lube, I've finally settled on Lee's brand. It is applied wet to your lube pad. Then it dries into a powder so cases don't get creased.
To end this, I will relate a couple of tips. Shooters drawn to these two cartridges are sooner or later going to try them with black powder. Their buck and roar are fun; clean up afterward is not. So to prevent inadvertently shooting black-powder loads, all mine are loaded with Winchester brass. Only smokeless-powder loads go in Starline brass. The second tip is to give Trail Boss powder a try. Being bulky, it helps prevent double charging and also eats up the case capacity originally meant to hold 40 grains of black powder.