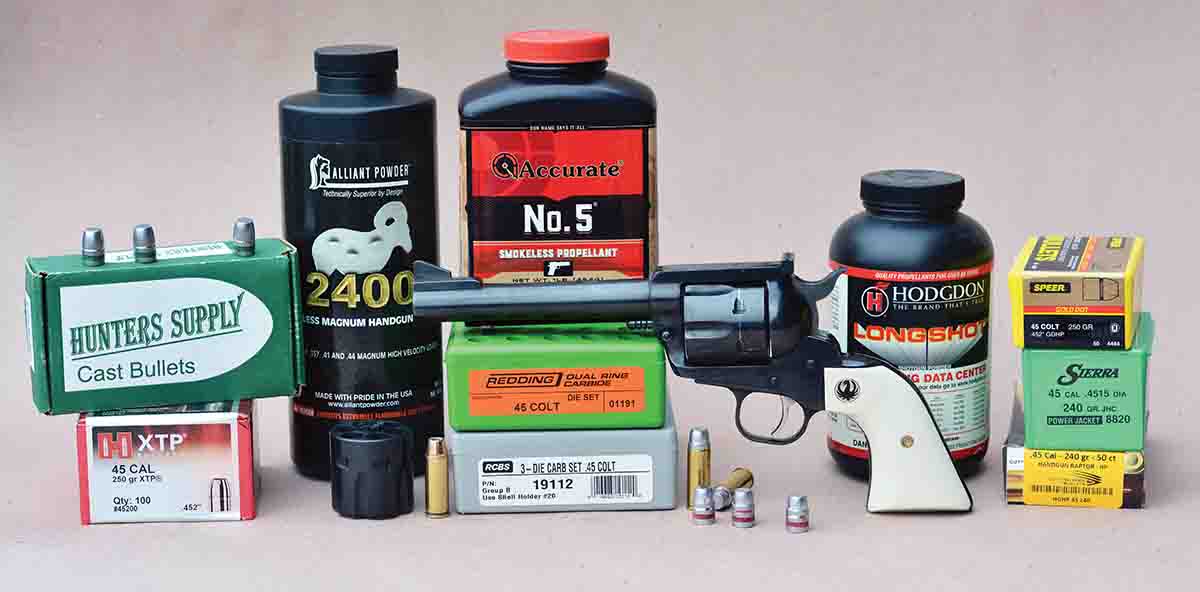 In spite of the .45 Colt dating back to 1872 and being formally adopted by the U.S. military in 1873, it is just as modern and useful today as it was 150 years ago. Although it is no longer a state-of-the-art cartridge for military applications, it remains widely popular for recreational shooting, defense, competitions, big game and is offered in a variety of excellent single- and double-action sixguns and rifles. Its effectiveness is based on its large caliber and heavyweight bullets that offer reliable penetration and bone-breaking virtues. While sources often conflict on the ballistics of the earliest ammunition, by 1880, UMC offered ammunition with 40 grains of black powder behind a 250-grain bullet. This was a potent load that produced an honest 1,000 feet per second (fps) and helped the .45 Colt (technically not .45 "Long" Colt) earn an outstanding reputation when used in gunfights, to stop a grizzly or any other situation where a powerful sixgun was needed.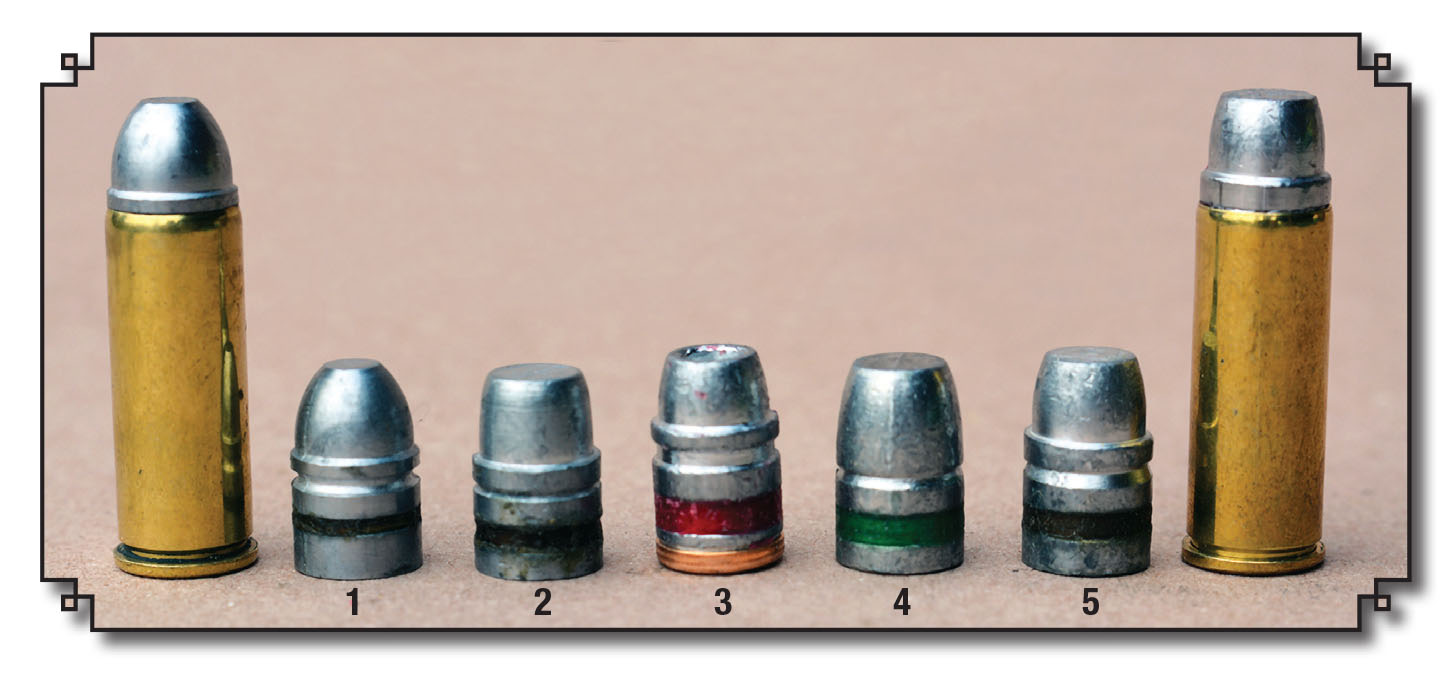 Smokeless loads first appeared around 1900 and the velocity was reduced to 870 fps (or today listed at 860 fps) with the same 250- to 255-grain lead bullets. Today, with stronger guns readily available, it has become hugely popular to load the .45 to greater pressures for improved performance on game and to flatten its trajectory at extended distances. Several factories offer +P-style loads, including Buffalo Bore, Hunting Shack/HSM and many others, while most handloading manuals list "Ruger" data for stronger guns. Sometimes this information is rather vague, and the editor of each manual has their own idea as to what this "Ruger" pressure should be. Let's take a closer look at the guns and suitable pressures for each.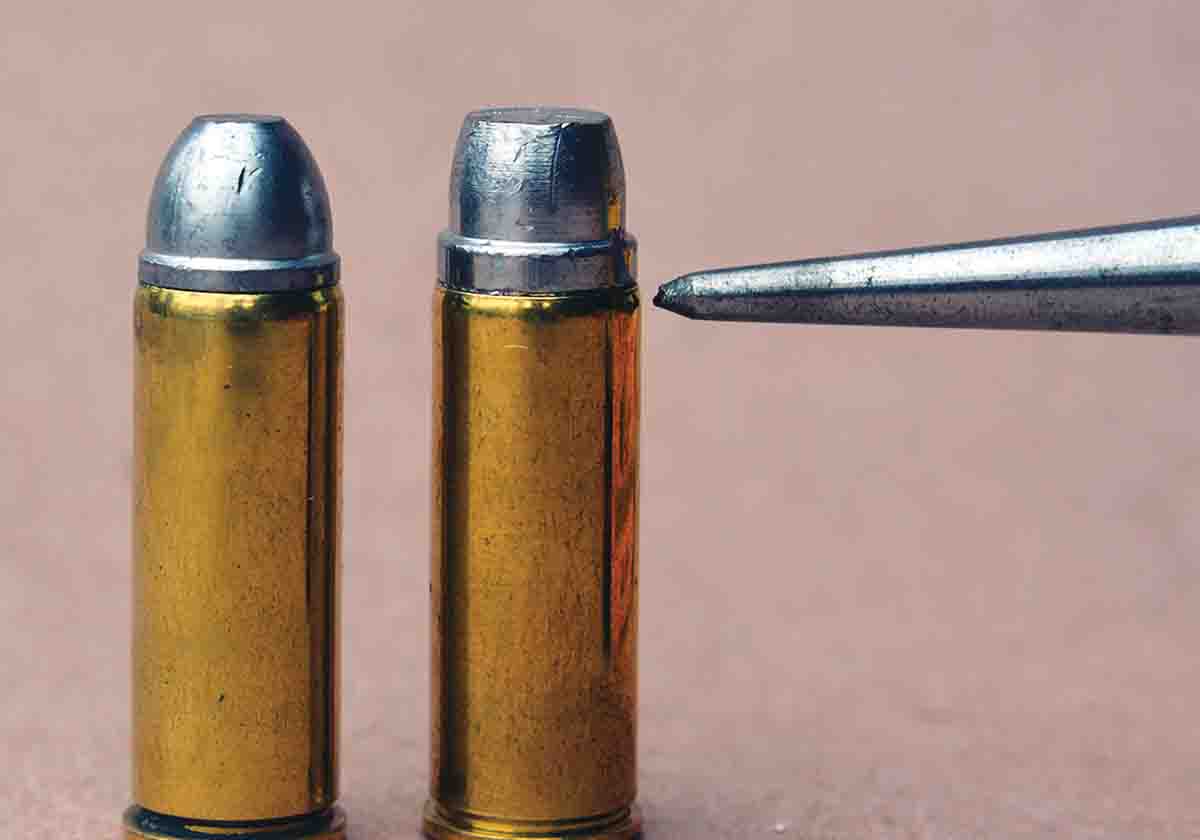 The Sporting Arms and Ammunition Manufacturers' Institute (SAAMI) has established the maximum average pressure for .45 Colt at 14,000 psi (commonly referred to as standard pressure), which should only be used in guns originally designed for smokeless powder ammunition. In other words, there are many black-powder-era Colt Single Action Army's (below serial No. 192,000), 1878 Double Action and others that should never be used with any smokeless powder loads (as that propellant produces a notably different pressure curve than black powder and can destroy guns). In spite of reloading manuals and ammunition companies offering +P-style load data or ammunition specified for use in "Ruger Revolvers" or "strong guns," SAAMI has not established any .45 Colt +P standards. In essence, handloading data and factory loads are proprietary, wherein a particular company establishes its own pressures or guidelines. Sometimes this data is good, but in some instances, it is not supported by science or proper testing and is often far too vague. I will offer information here to help handloaders select appropriate data for specific sixguns.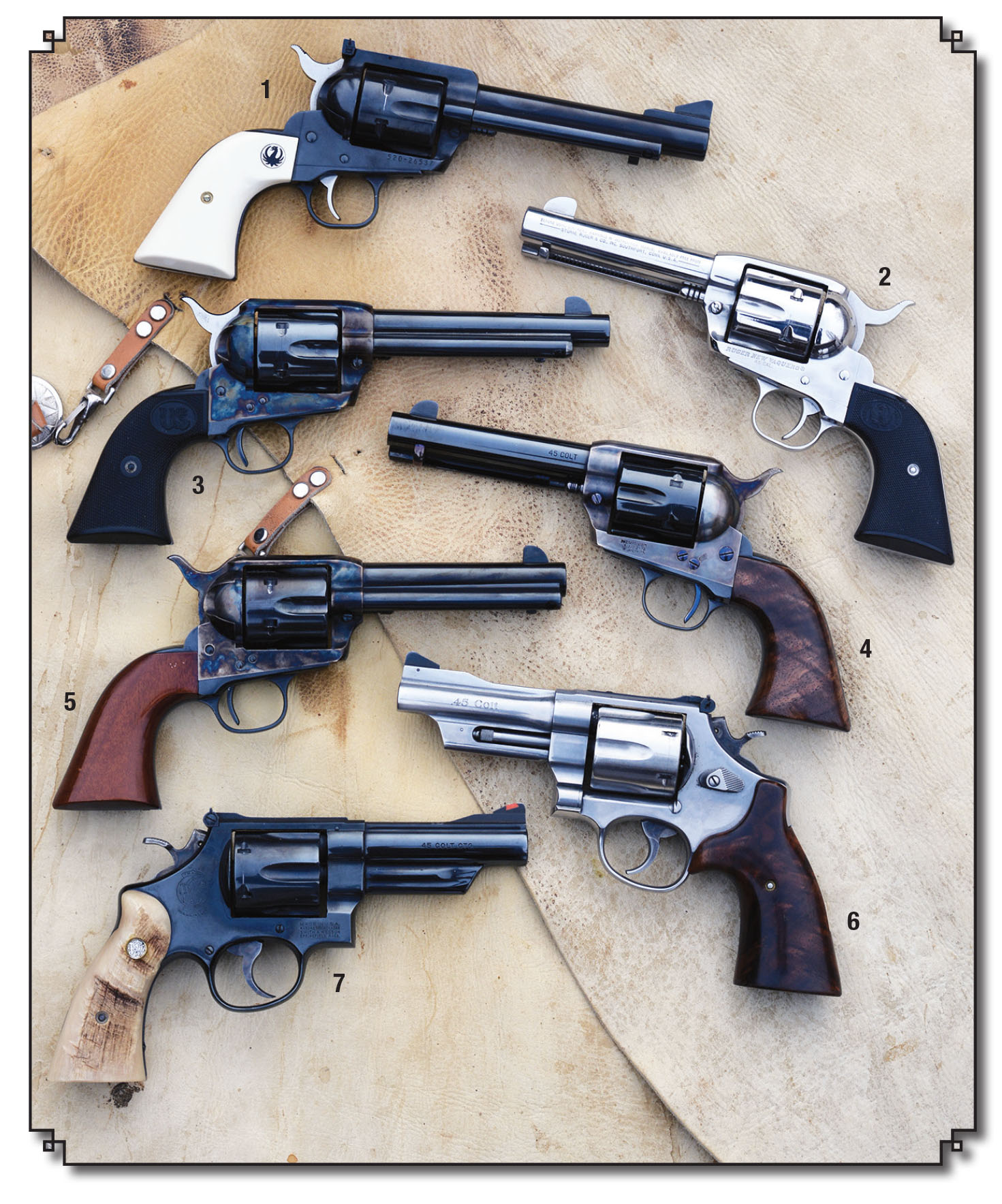 More than a decade ago, I was hired by a well-known firearms manufacturer to destruction-test sixguns, to determine the pressure level for each that would cause excess stress, damage and ultimately, their destruction (catastrophic failure). The results were truly fascinating. However, when I shared some of those results with a fellow gun writer, he asked, "What are you going to do with that information? You certainly can't share it with readers." He was right, because let's say that a given sixgun has a catastrophic failure at a given pressure, there will always be the occasional handloader that assumes his gun will "be safe" with loads that are just slightly below that figure, which is
never
correct, as there is virtually no margin of safety! Nonetheless, the above experiments and tests support the information provided herein.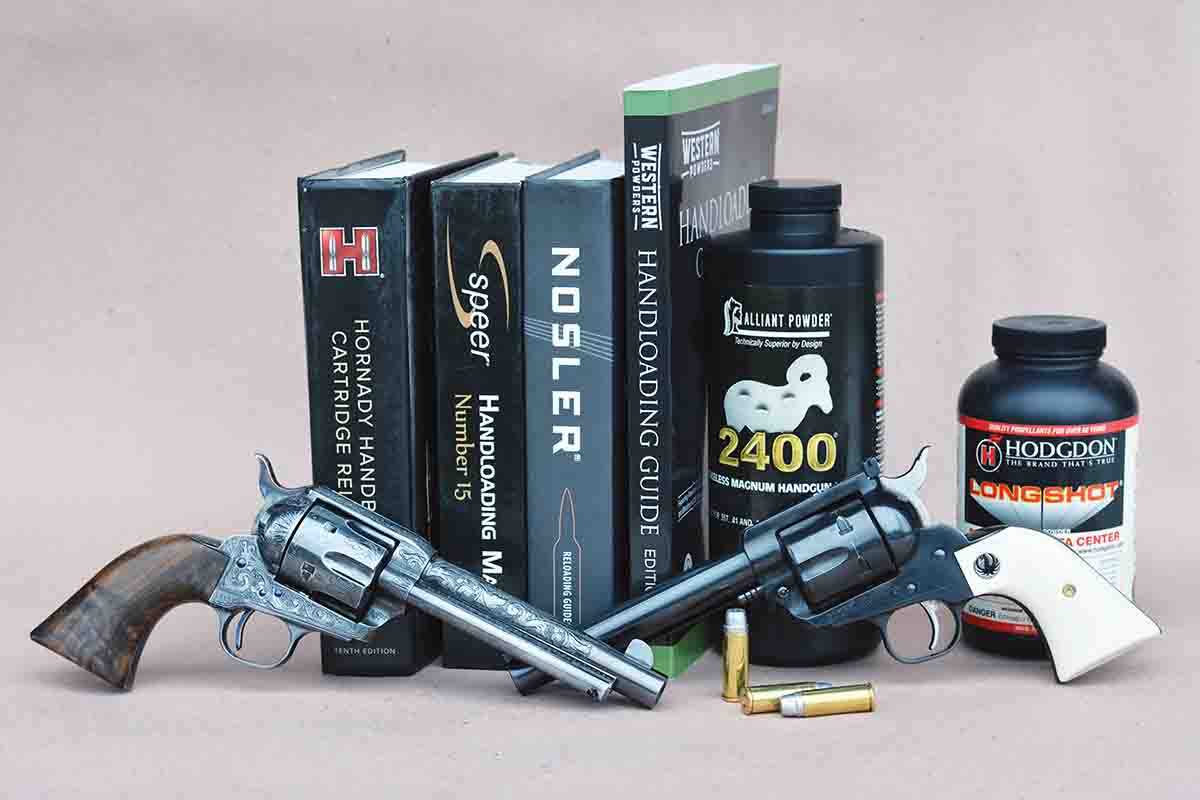 With the above thought in mind, let's consider proof loads (aka the blue pill) that are fired by factories in new guns to prove that all aspects of the gun are safe, including the design; the steels are void of serious flaws, etc. In short, when a consumer purchases a new gun, being proofed is a reasonable guarantee that it will not blow up upon firing. Manufacturers have different standards and methodologies of firing proof loads, but generally speaking, every gun is proofed remotely with special high-pressure loads. Depending on the SAAMI pressure of a given cartridge, proof loads are generally 130 to 155 percent above maximum average pressures. After proof firing, the gun is again inspected to be certain that the proof load (or loads) did not damage the gun in any respect and that all specifications remain correct. Proofing also serves to establish an important margin of safety in all guns, which should be endorsed by handloaders.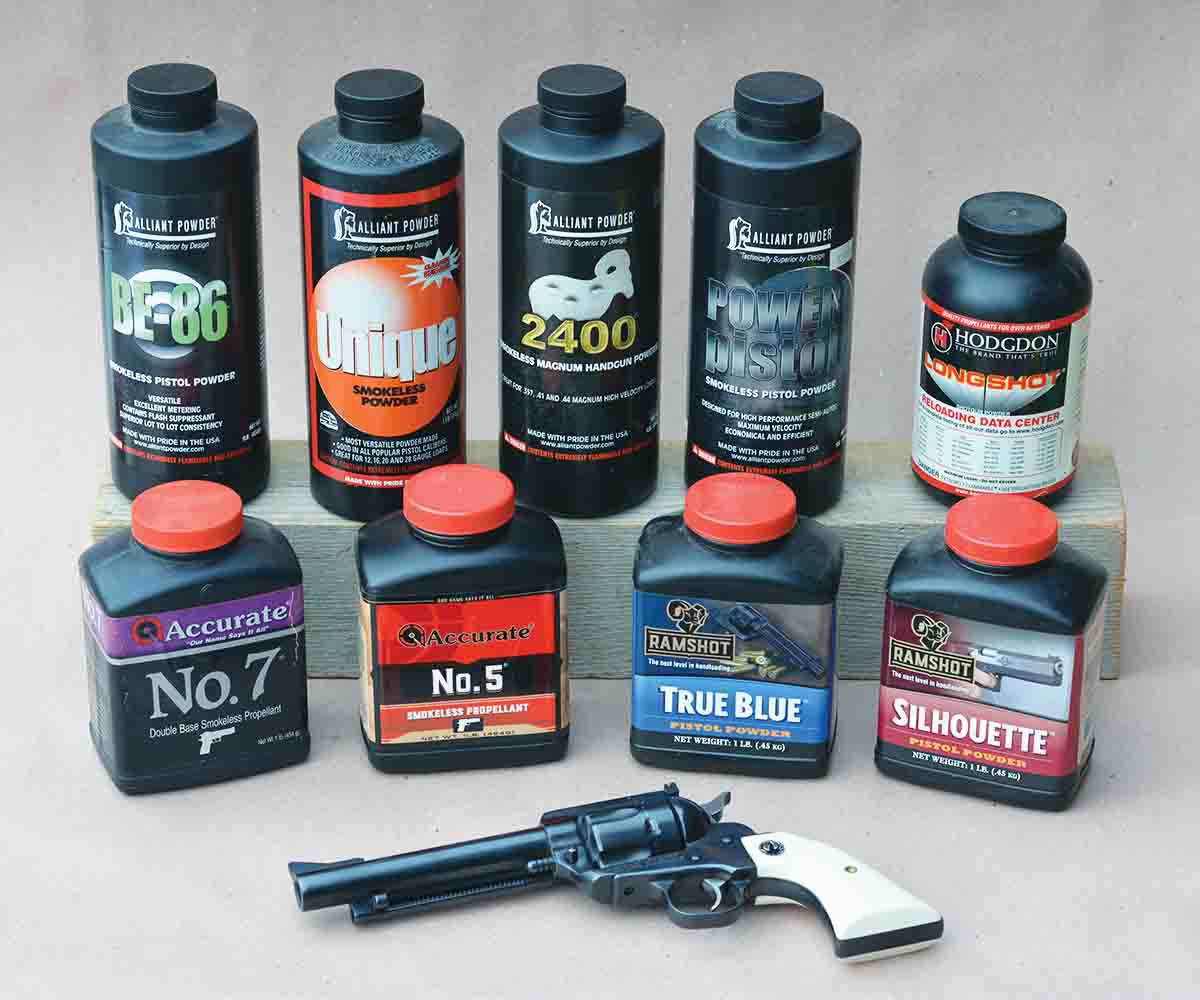 To simplify matters, I am going to categorize .45 Colt revolvers into four groups. Category I guns include the Colt Single Action Army (smokeless era), New Frontier, original Great Western Arms Frontier, Pietta, Great Western II, Taurus Gaucho and similar guns, which are not suitable for the loads here. While certain guns in that category can handle loads with greater pressure as established by SAAMI (14,000 psi), that subject becomes rather complex and will require a detailed discussion regarding steels, chamber dimensions, etc. from different eras, which space will not allow. Again,
the above guns are not suitable for any of the accompanying load data
, rather, it is suggested to reference data in "Pet Loads .45 Colt Standard Pressure" published in
Handloader No. 320 (June-July 2019)
.
For several reasons, Category II guns and loads are especially interesting and useful for me, a writer, hunter and shooter, and are the focus of this article. These include post-World War II Smith & Wesson Model 25s manufactured after 1977 (with a long cylinder), Model 625 Mountain Gun, Ruger New Vaquero, New Model Blackhawk "flattop" (built on the 50th Anniversary .357 Magnum frame), USFA SAA Pre-War, Flattop Target, Rodeo, etc., Standard Manufacturing Single Action and Uberti SAA replicas built since 1990 and others of similar strength.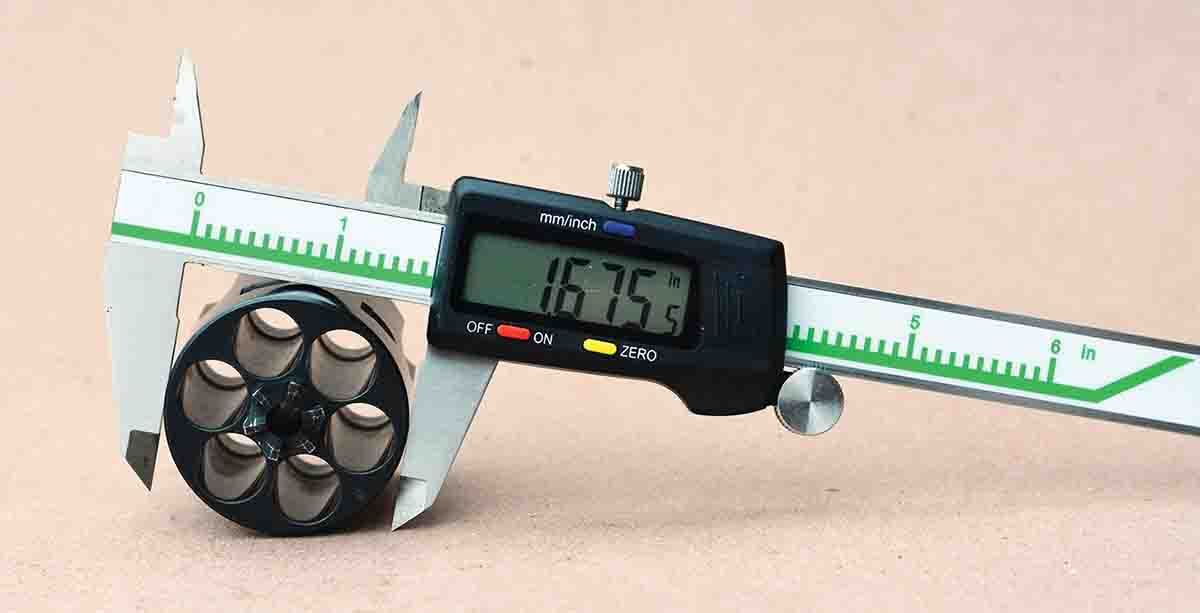 The above guns can easily handle .45 Colt +P loads that generate 23,000 psi. When loaded to this pressure level, it can usually duplicate the ballistics and terminal performance (measured with the Taylor Knock Out formula) of full-house .44 Magnum loads containing 240-grain jacketed bullets at 1,180 fps to 1,230 fps (ballistics listed by most members of SAAMI). While space will not allow a technical discussion of how this is possible, in short, the .45's larger caliber produces less pressure when the same bullet weight is pushed to the same velocity. When used on big game, 250- to 300-grain cast bullets featuring a generous flatpoint (or meplat), offer a larger caliber for larger wound channels, increased shock, deep penetration and reliable performance, but I digress.
For reference, Category III guns are suitable for pressures up to 32,000 CUP and include the Ruger Blackhawk, New Model Blackhawk, Vaquero (not to be confused with New Vaqueros built since 2005) or any Ruger single action built on the .44 Magnum frame. Additional guns include the Freedom Arms Model 97, Thompson/Center Arms Contender and Encore and select rifles. Category IV guns offer even greater strength and include the Freedom Arms Model 83, Ruger Redhawk and Ruger Blackhawks built on the .44 frame but professionally converted to five-shot .45 Colt cylinders. These guns and loads will require much discussion regarding pressures and handload details and are therefore not included here, but will be in a future "Pet Loads" article. However, these guns are mentioned, as they are suitable for loads listed in the accompanying table.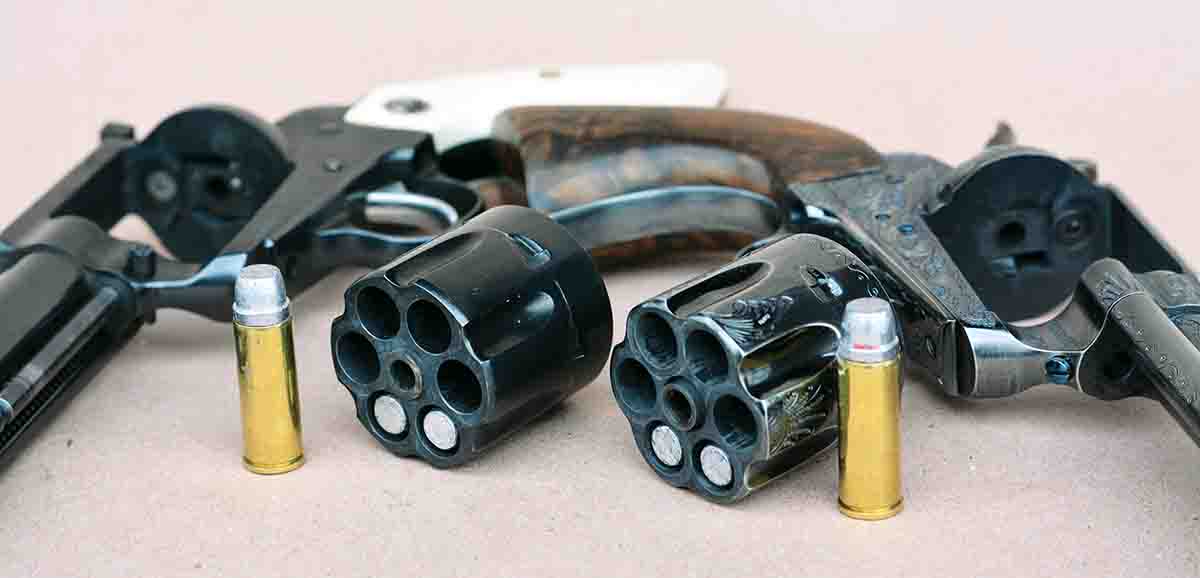 A brief explanation of the above Category II guns' strength seems appropriate and is important to understand as we proceed. First, the above single actions are often referred to as being "the same size as the Colt SAA." However, that is not correct. At a glance by the casual observer, they may appear the same, but there are notable differences. For example, each of the above guns feature cylinders that are .020 to .030 inch larger in diameter than the Colt SAA cylinder (that measures 1.650 inch). However, from the center of the base pin to the axis of the bore is more or less the same. This results in a notable increase in steel on the outer cylinder walls and especially over the bolt notch, which is a very critical area. Furthermore, each of the above companies, except Standard Manufacturing, which is dimensionally identical to the USFA, offer (or have offered) guns with extra "convertible" cylinders chambered in .45 ACP that feature a similar outside chamber wall dimension as the same gun chambered in .45 Colt. In today's legal climate, the above gun companies will not recommend any .45 Colt +P loads for their guns; however, they fully approve of their guns being fired with .45 ACP +P ammunition, which has a maximum average pressure of 23,000 psi, with proof loads running 32,200 psi. Based on these facts, the Category II .45 Colt +P handloads are held to 23,000 psi offering a more or less identical margin of safety as the same gun chambered in .45 ACP.
All of the above gun companies use modern high-carbon, high-tensile steel that usually tests with a Rockwell C-Scale hardness of at least 35, while select guns test 40, which is impressive. Incidentally, the previously mentioned destruction tests I did prove that the above comments regarding gun strength is more than just a theory.
Regarding the Smith & Wesson N-Frame Models 25 and 625, these same guns are chambered in .44 Magnum, but then become the Models 29 and 629 and share exactly the same outside dimensions. However, due to the smaller caliber, the .44 Magnum versions feature thicker chamber walls for increased strength, but that is required to handle the 36,000 psi associated with that cartridge. I will submit that loading the Smith & Wesson .45 Colt revolvers to 23,000 psi will result in a longer sixgun life than N-Frame .44 Magnums. Incidentally, the Models 25 and 625 have been chambered in .45 ACP and are likewise recommended for +P pressures by Smith & Wesson. Years ago, while enjoying dinner with a Smith & Wesson engineer, we had this very discussion, wherein he admitted that my technical measurements and recommended loads (or pressure levels) are correct.
After all of the above comments, if the reader is still uncomfortable using .45 Colt +P data in a pet sixgun and chooses to turn the page, no offense is taken! Besides, even when loaded with standard pressure loads, the grand old .45 Colt still offers formidable performance.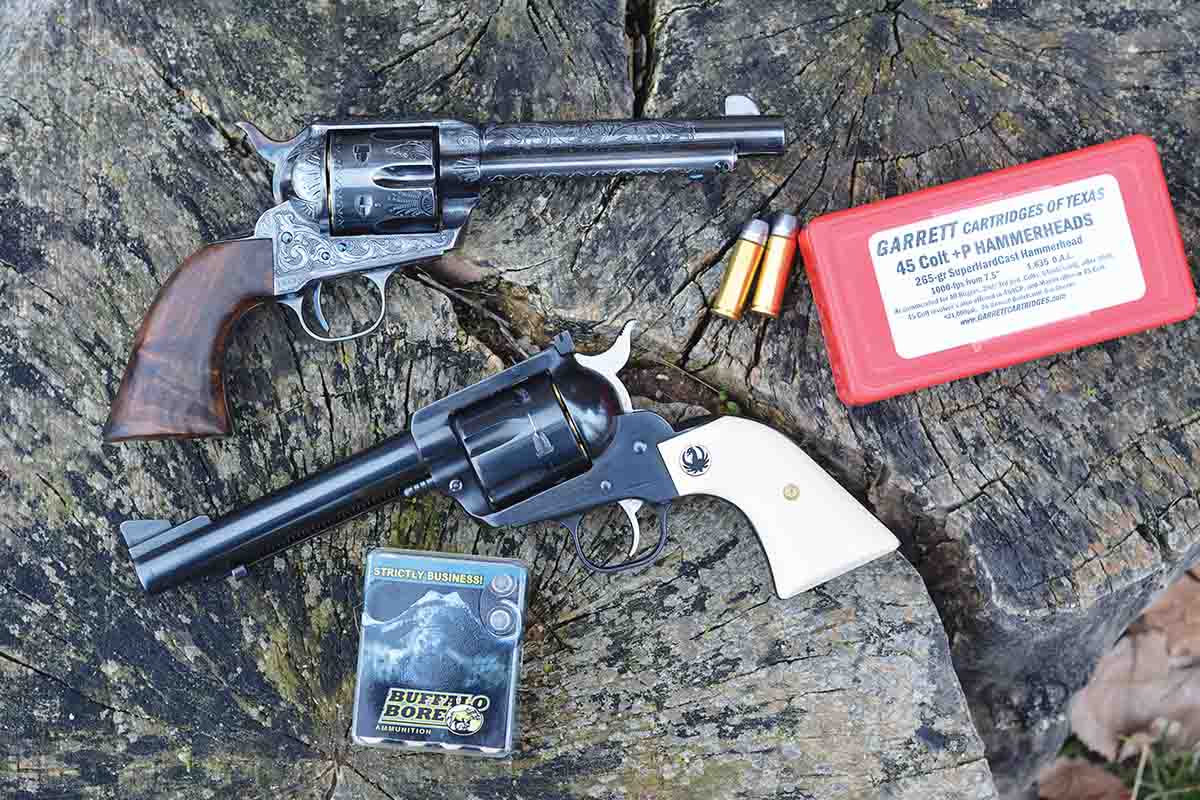 All of the accompanying +P data was developed using Starline cases, which produce less pressure than most other cases (at least in this caliber) and often offer higher velocities with exactly the same load formula. In addition to being strong, they offer long case life. Cases were sized using a Redding Dual Ring carbide die that works the brass less and further increases case life. Next, case mouths were expanded minimally, or just enough to allow bullets to start properly and seat without damage to the bullet, while the expander ball measured .447 inch. All bullets with a crimp cannelure or crimp groove were roll crimped in place using a Lyman seat/crimp die. Jacketed bullets designed for the .45 ACP are void of a crimp groove and were taper-crimped. Obtaining a heavy bullet pull is critical in preventing bullets from moving during recoil, but also aid in achieving proper powder ignition, lower extreme spreads, accuracy, etc.
To develop the Pet Loads data, CCI 300 standard Large Pistol primers were used, however, with loads containing Accurate TCM powder, CCI 350 Large Pistol Magnum primers were used to obtain proper ignition.
Jacketed bullets designed for the .45 Colt generally measure between .451 to .452 inch in diameter, while all cast bullets were sized to .452 inch. Sixguns with throats that measure .451 to .453 inch will generally produce excellent accuracy. Unfortunately, depending on the era when a gun was built, there can be significant differences in throat sizes, with some measuring as small as .448 and others as large as .458 inch. Guns with the latter measurement are difficult to obtain top accuracy with, while throats that measure .448 to .450 inch can cause pressures to increase.
Due to the minimal resistance that cast bullets have traveling down the bore, they will usually offer around a 50- to 120-fps velocity advantage over a jacketed bullet of the same weight that is pushed with an identical powder charge. These figures can vary with barrel length, bullet designs, lube and other factors, but is nonetheless essentially free horsepower. While 23,000 psi is substantial pressure, it is not magnum pressure, and jacketed bullet velocities may not be as high as some will hope. Nonetheless, respectable velocities and good accuracy were obtained with the Sierra 240-grain JHC, Cutting Edge Bullets' 240-grain Raptor HP, Hornady's 250-grain XTP and Speer's 250-grain Gold Dot/DeepCurl HP.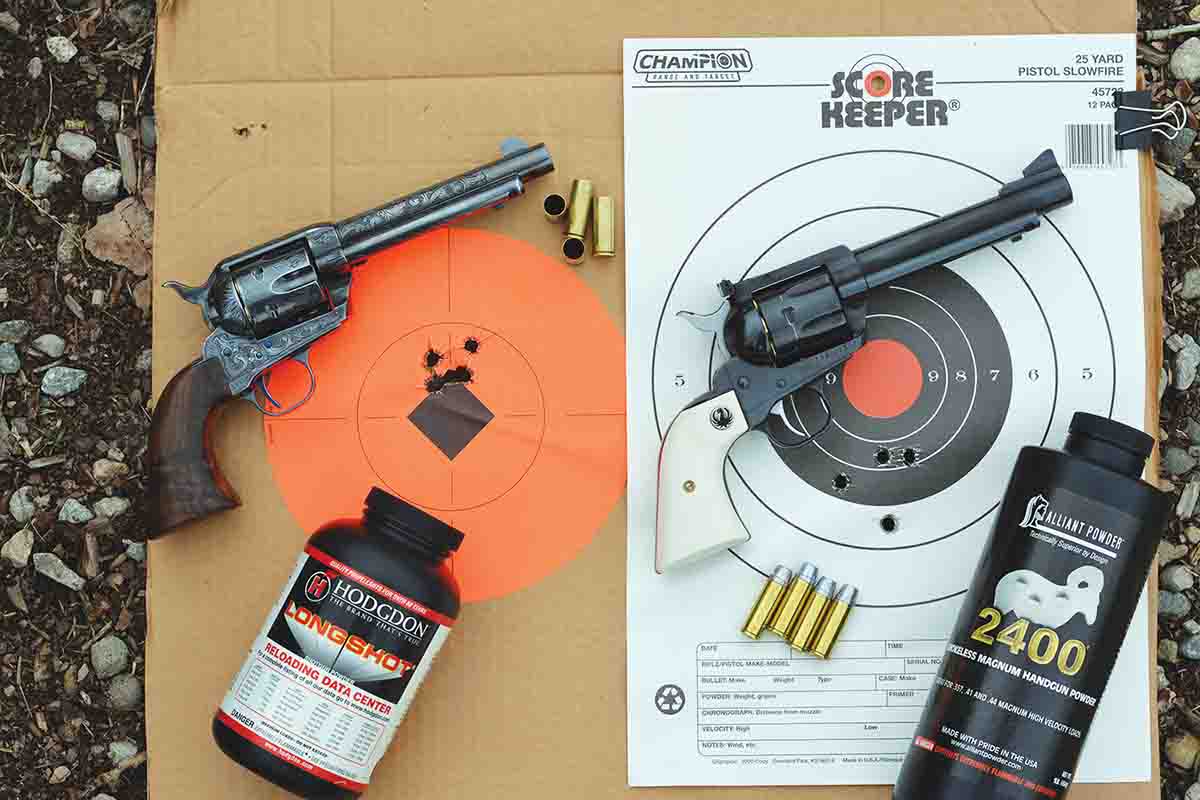 The selection of excellent cast bullets is nearly endless; however, weights between 225 and 320 grains will meet most needs, from defense to hunting. While bevel-base bullets are very popular in standard pressure .45 Colt loads, when pushed above 950 to 1,000 fps, bullets with a plain base or gas check will generally give better overall performance. If cast with a proper alloy, typically a Brinell Hardness Number (BHN) of 13 to 14, sized to fit the gun, lubed with a high-quality lube designed for magnum velocities, plain-base bullets can be pushed to 1,300 fps without barrel leading issues (as long as the bore is in proper condition). For guns that are prone to barrel leading, or when an alloy is chosen that permits expansion, bullets designed for gas checks are excellent choices.
Proven cast bullet designs include the 250-grain Lyman 452664, 260-grain Lyman/Keith 452424, 264-grain RCBS 45-250-FN, 285-grain RCBS 45-270-SAA and 320-grain RCBS 45-300-SWC w/gc.
For handloaders seeking reliable expansion, the Rim Rock 225- and 260-grain SWC-HP w/gc bullets are cast soft and expand at low velocities. Several Montana Bullet Works commercial bullets were used that included the 250-grain LBT-LFN w/gc and the 280-grain LBT-LFN-PB that both gave outstanding accuracy and are excellent choices for hunting. The 275-grain Hunters Supply FP is modestly priced, but offered excellent accuracy and deep penetration, making it a fine choice for big-game hunters. Regarding the 285-grain RCBS/Keith pattern bullet, hunters will find it interesting that at 1,050 fps, my sons and I have pushed the latter bullet completely through 1,400-pound cattle broadside and easily through Idaho black bears with excellent results. Incidentally, most adjustable-sighted sixguns will sight-in with all of the above bullet weights without modification to the sights. However, fixed-sighted guns will usually sight-in (or can be sighted-in) with bullets that weigh between 250 and 285 grains.
Overall cartridge lengths should be at least .010 shorter than the maximum allowable length of a given revolver, which serves to prevent the cylinder from being tied-up due to bullet creep during recoil.
Suitable powder selection is broad, however, those with a medium burn rate often give the best results as they readily ignite, offer low extreme spreads and produce top velocities. Examples include Hodgdon Longshot, Accurate No. 5, Alliant Unique, Power Pistol and Vihtavuori N350. It is noteworthy that traditional magnum revolver spherical powders (such as H-110, Accurate No. 9, etc.) should generally be avoided with the comparably low-pressure data used here, as there is just not enough pressure to achieve reliable ignition, with Accurate TCM being the slowest burning spherical powder used here.
When handloaded to modest +P pressures, the .45 Colt offers remarkable performance for hunting big game, defense or most any practical application.