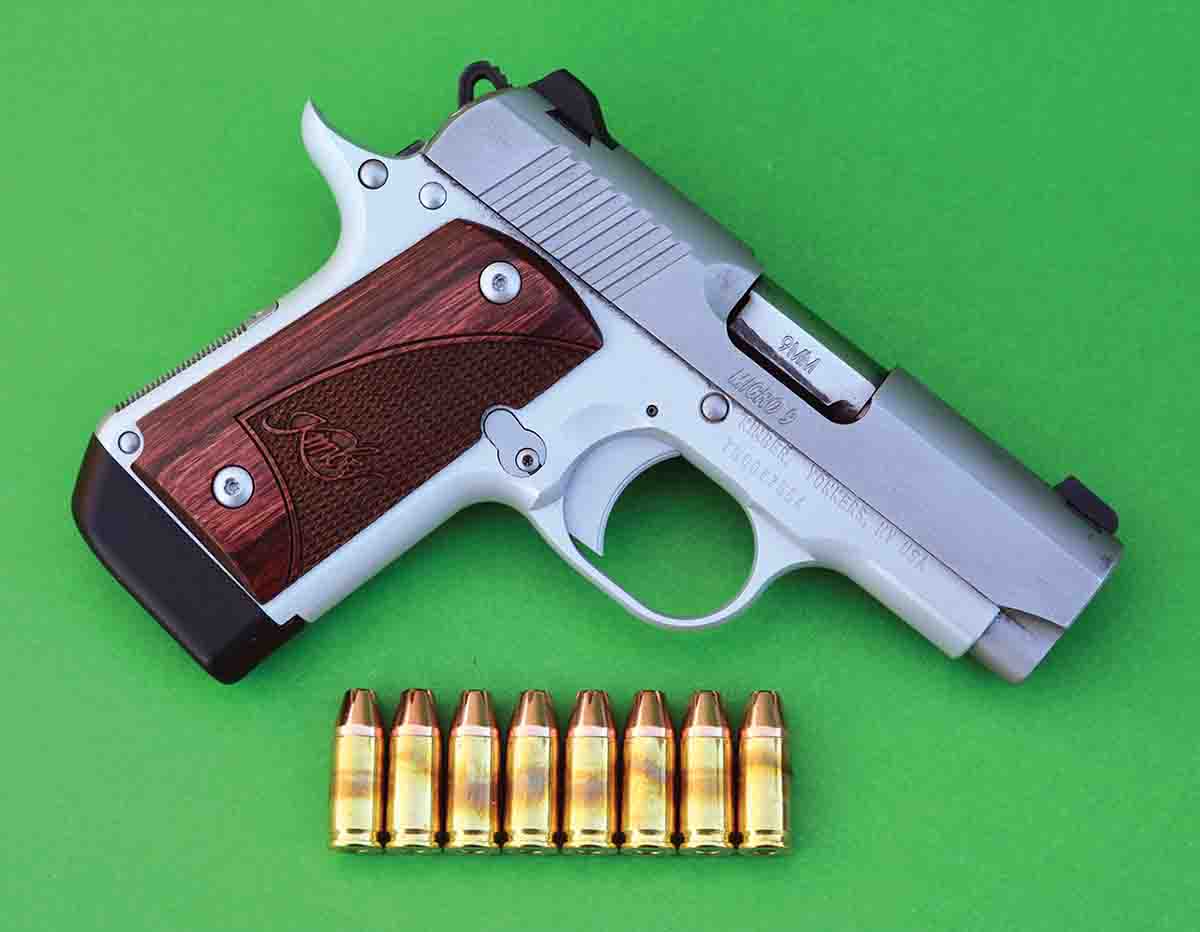 The immense popularity of the Model 1911 .45 ACP pistol is a testament of its timeless and worthy design that has proven valuable in many roles, from combat to the target range. While it may have many virtues, it is neither small nor lightweight. With the huge (and still growing) demand for lightweight and easily concealable pistols, multiple companies have been building a scaled down version of the Model 1911 that are commonly referred to as sub-compact variants. One of the most outstanding versions is the Kimber Micro 9, which as its name implies, is chambered in 9mm.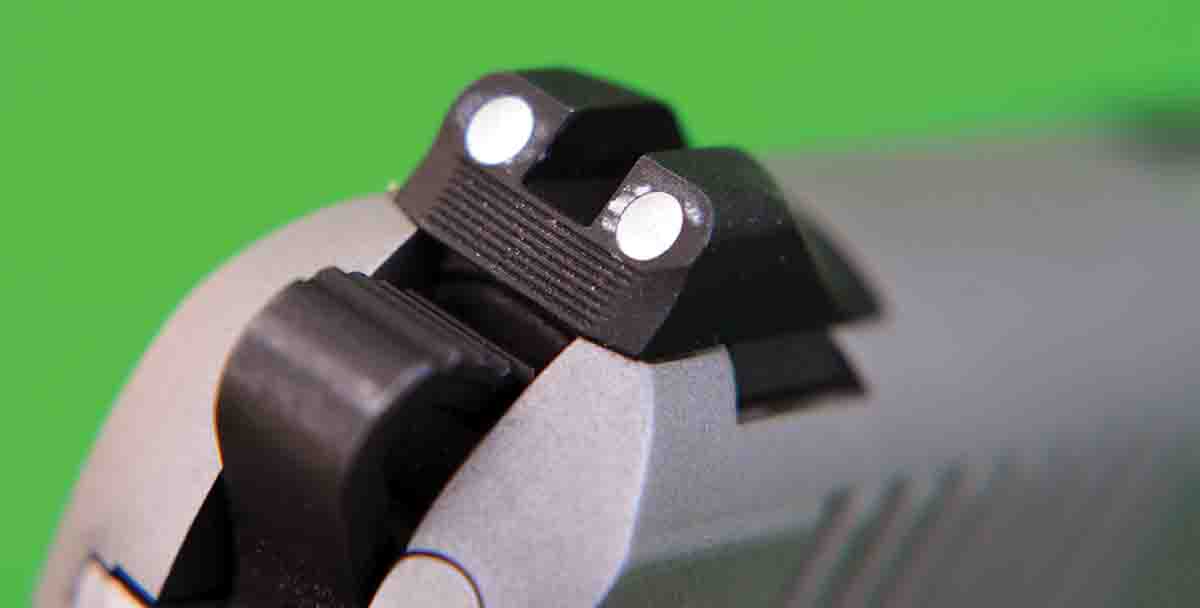 Kimber first began building full-size Model 1911s in 1995, which are 100 percent manufactured in the U.S. They became truly game-changing guns, as each variant came standard with many desirable features that were typically only available on custom-built pistols. For example, just some of its features included a Chip McCormick high-position grip safety with a corresponding slotted (high-speed) hammer for a high grip, an extended trigger with a lightweight pull, lowered and angled ejection port, dovetail-mounted sights, a match-grade barrel, etc. However, their precisely fit frame, slide and barrel relationship resulted in remarkable out of the box accuracy. Their quality machining and features put them way ahead of most competing pistols and even allowed them to compete favorably with custom-built guns that cost considerably more, but I digress. The point is that during the past 27 years, Kimber has proven that it does indeed know how to build a quality pistol at a reasonable price. The Micro 9 reflects that experience, testing, engineering, modern manufacturing techniques, along with a dose of old-fashioned know how.
The frame of the sample gun is constructed of aircraft-grade aluminum alloy, while the slide is stainless steel and is matte finished to help reduce reflection. Weight with the magazine installed is 18.6 ounces. The frame, slide, barrel and supporting parts are fit precisely, while machining is excellent, all of which is a reflection of the overall quality of this pistol. While some competing subcompact, 1911-pattern 9mm pistols are by comparison blocky, the Micro 9 is appealing to the eye and follows the lines and layout of the original 1911. It is comfortable to hold and shoot, but also points naturally and comes to target the same as full-size 1911s. The magazine catch, slide stop and safety lock are easy to reach and operate, at least for right-handed shooters. Nonetheless, many left-handed shooters readily adapt and use these controls with ease. The recoil spring is 11.5 pounds, resulting in easy slide operation, even by elderly shooters.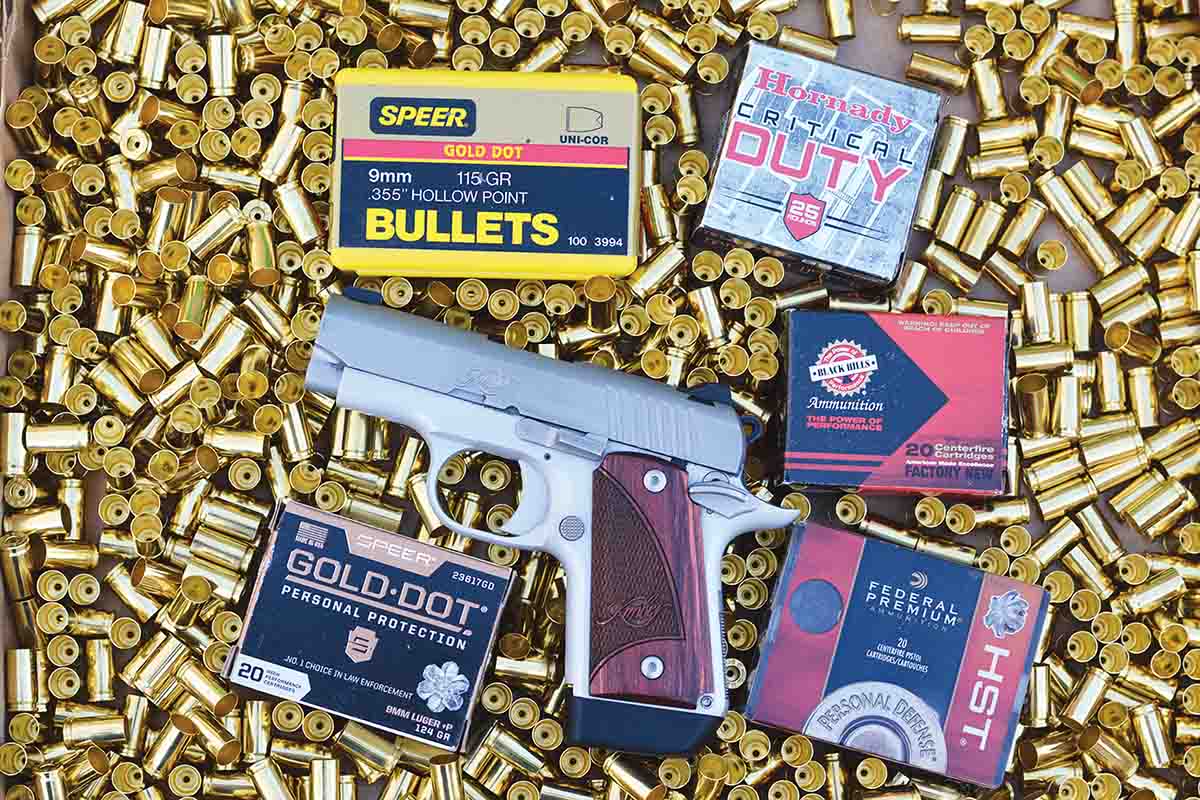 While there is no grip safety, the grip features a comfortable beavertail upper form that simulates Kimber's full-size Model 1911 and serves to protect the web of the hand from being pinched by the slotted hammer when the pistol is cycling. Being void of a grip safety is a good idea on such a small pistol, as this helps to eliminate shooter error, wherein it may not become properly activated (due to a slightly improper grip) during a stressful situation, which could result in a failure to fire.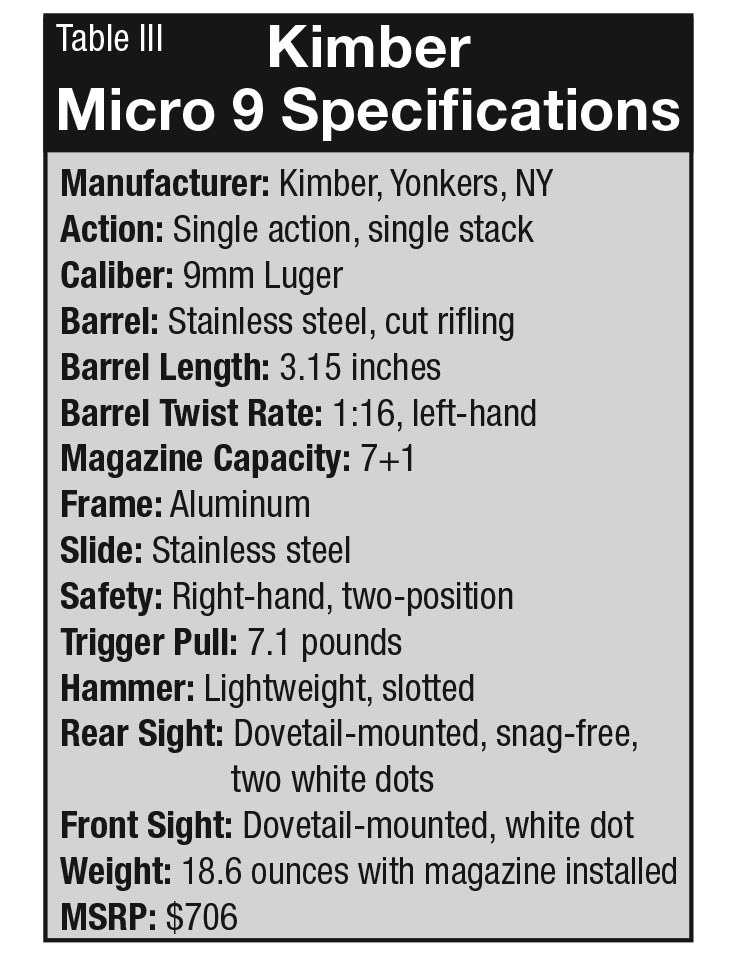 Like other Kimber pistols, the snag-free sights are dovetail mounted into the slide that serves to prevent their working loose from continuous usage, but also allows windage adjustments, or a complete change of sights if desired. The sight picture features two white dots on the rear and a single dot on the front sight.
Magazine capacity is seven rounds plus one cartridge in the chamber, which is a respectable capacity from such a compact, thin, single-stack pistol. The magazine is fitted with a bump pad that is rounded on the butt for a "meltdown" effect, making it very comfortable during long shooting sessions. However, while making a speed reload, the magazine pad pinched my lower palm between it and the flat mainspring housing. This was easily avoided during future reloads by how the gun was positioned when slamming the magazine home, but is noteworthy.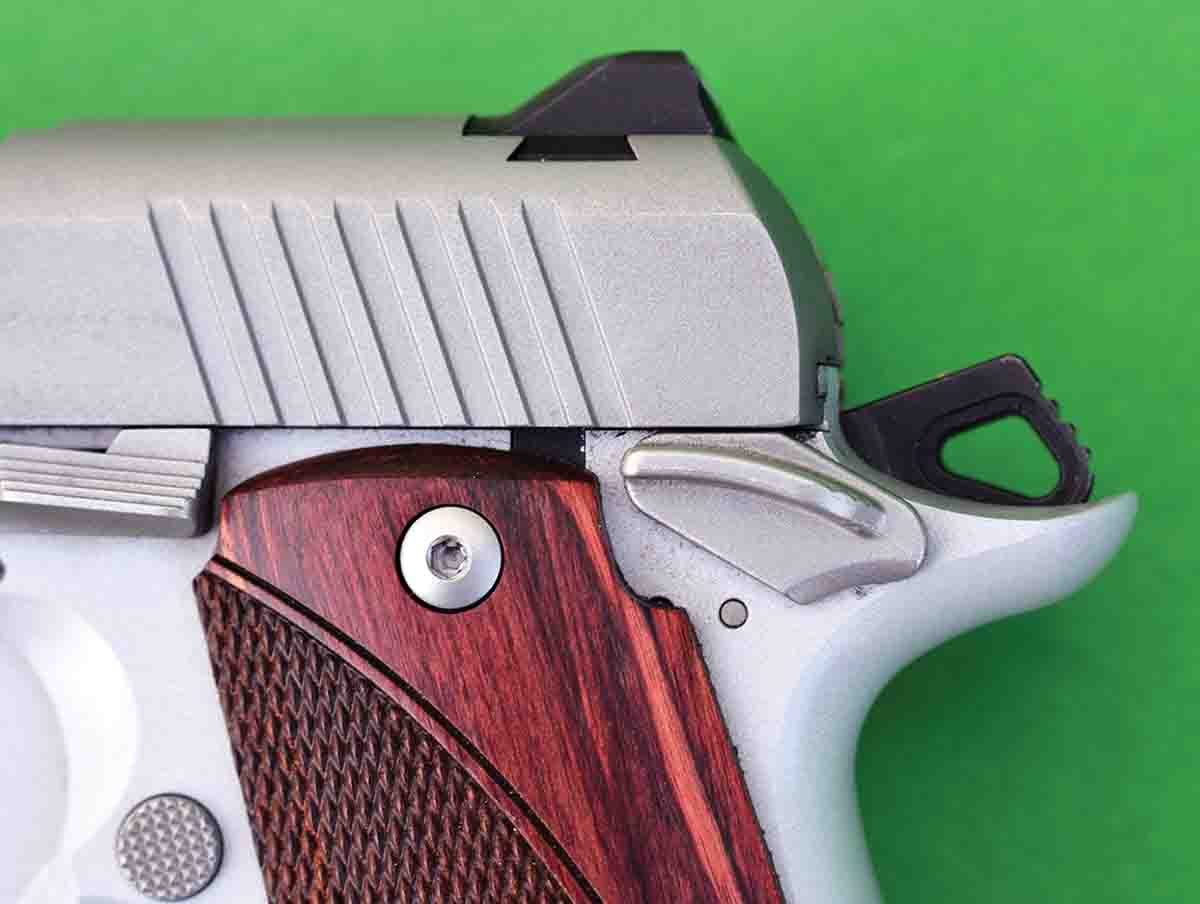 Kimber stated that the trigger pull is 7 pounds, with the sample gun breaking crisply at just over that figure. Both trigger take-up and overtravel were minimal, which helped to facilitate accurate speed shooting.
Top-quality hollowpoint and expanding factory loads were tried from Black Hills, Federal, Hornady and Speer. Function proved flawless with each load. As can be seen in the accompanying table, accuracy was good for such a light, sub-compact pistol, with groups shot at 50 feet typically running around 1½ to 2 inches. However, my son purchased a large quantity of newly manufactured FMJ RN-style 9mm ammunition that he just wanted to "use up." The problem was that it was failing to chamber about 10 to 15 percent of the time and accuracy was rather poor. We tried those loads in several other 9mm pistols. It chambered readily enough, but accuracy remained poor. A quick evaluation of these unheard of U.S.-manufactured cartridges revealed that they were outside of the Sporting Arms and Ammunition Manufacturers' Institute (SAAMI) specifications. Perhaps this is why Kimber specifies that only high-quality, premium-style ammunition should be used in the Micro 9.
It is noteworthy that other than the above mentioned out-of-specification FMJ roundnose loads, all factory loads tried in the Micro 9 featured 124-grain bullets. The point of impact was about 2 to 2½-inches high at 50 feet.
This is not technically a problem, but a slightly taller front sight would bring the point of aim to dead center.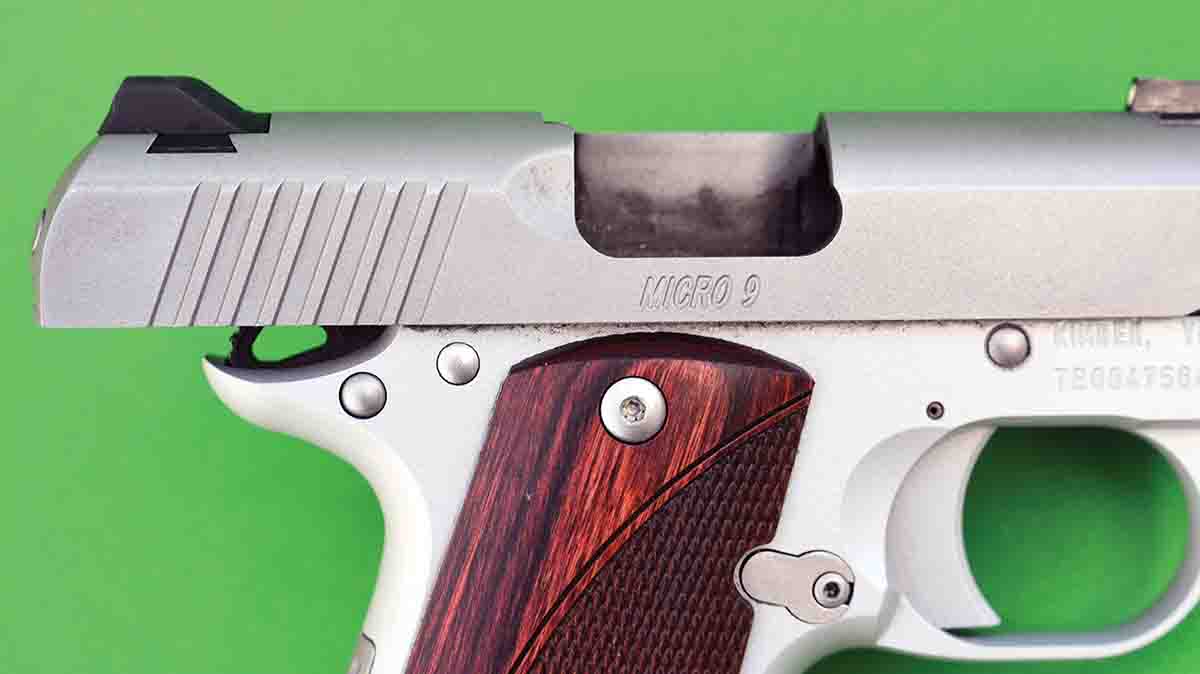 After basic cleaning of the Micro 9, it was time to assemble carefully selected handloads that were within all industry specifications. I started with new Starline cases that were full-length sized, case mouths were expanded minimally and were then capped with CCI 500 Small Pistol primers. Powders selected included Alliant Power Pistol, Hodgdon Titegroup and CFE Pistol, while bullet weights ranged from 90 to 147 grains. The taper crimp was applied using Lyman dies with the case mouth diameter measuring .372 inch. Again, Kimber's little subcompact 9mm Luger functioned without a hitch. It should be noted that the ogive positioning of some 9mm Luger bullets (not included here) will require deeper seating than listed by their respective manufacturer in order to achieve reliable chambering of loaded cartridges.
As can be seen in Table I, the most accurate handload consisted of the Hornady 147-grain XTP bullet pushed to 969 feet per second (fps) using 5 grains of Power Pistol that clustered into less than 1½ inches at 50 feet. However, the other developed handloads produced nearly equal accuracy. For example, using the 124-grain Nosler Sporting Handgun JHP bullet with 5.7 grains of CFE Pistol powder, reached 1,092 fps and clustered into 1.55 inches at the same distance. This load yielded similar velocities as the factory loads that utilize the same bullet weight.
The subcompact Kimber Micro 9 is easy to shoot well and is comfortable. I had five different shooters try it, including two daughters-in-law and three sons. This was telling, as they all liked it. Furthermore, there were no malfunctions with any of the shooters. While my two daughters-in-law are not weaklings, neither are they seasoned, big-bore sixgun shooters, as I am, that can grasp a pistol like a vise and allow it every chance to function reliably. Due to its lightweight and subcompact size, recoil might be a bit snappy for some shooters, but I found it very controllable.
Depending on how clean the ammunition burns, it is suggested to clean it every 200 rounds or so to keep it running reliably.
The Micro 9 is a good pistol that will prove familiar to those that use the Model 1911, but it is also appealing to those that just need a compact, lightweight and reliable gun.