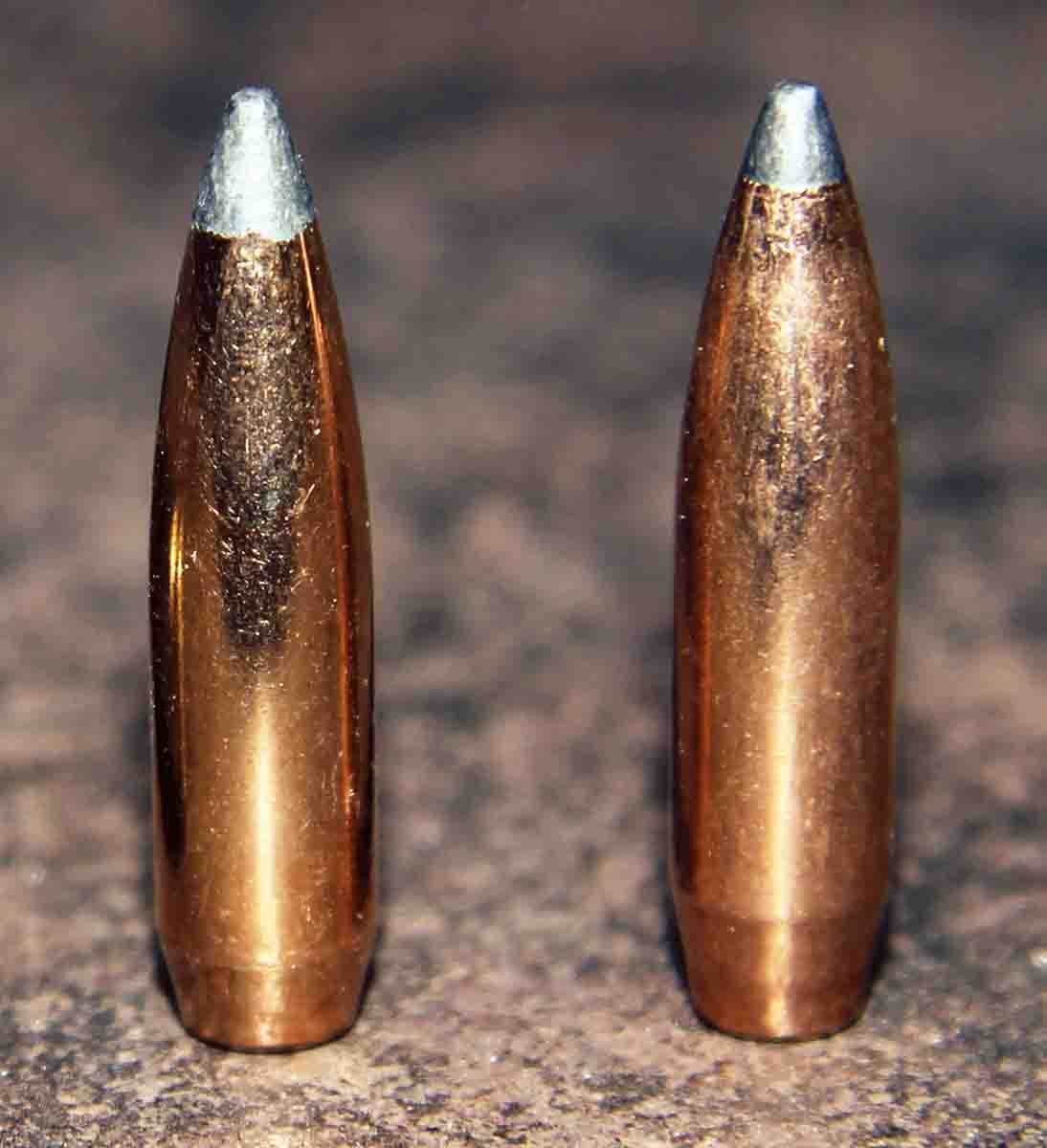 As a teen, I relentlessly pursued desert mule deer, aoudad sheep, elk and the occasional pronghorn with a decent degree of success. I used utilitarian rifles chambered for cartridges that would be deemed "highly marginal" by today's standards – especially for elk. I shot a lot of generic softpoints fished from factory boxes, though I started handloading when elk entered the equation because the only rifles I owned were decidedly marginal for the species, and the outdoor magazine gospel I consumed so greedily indicated Nosler Partitions were the solution. Partitions were not available in factory ammunition in the late 1970s and early 1980s.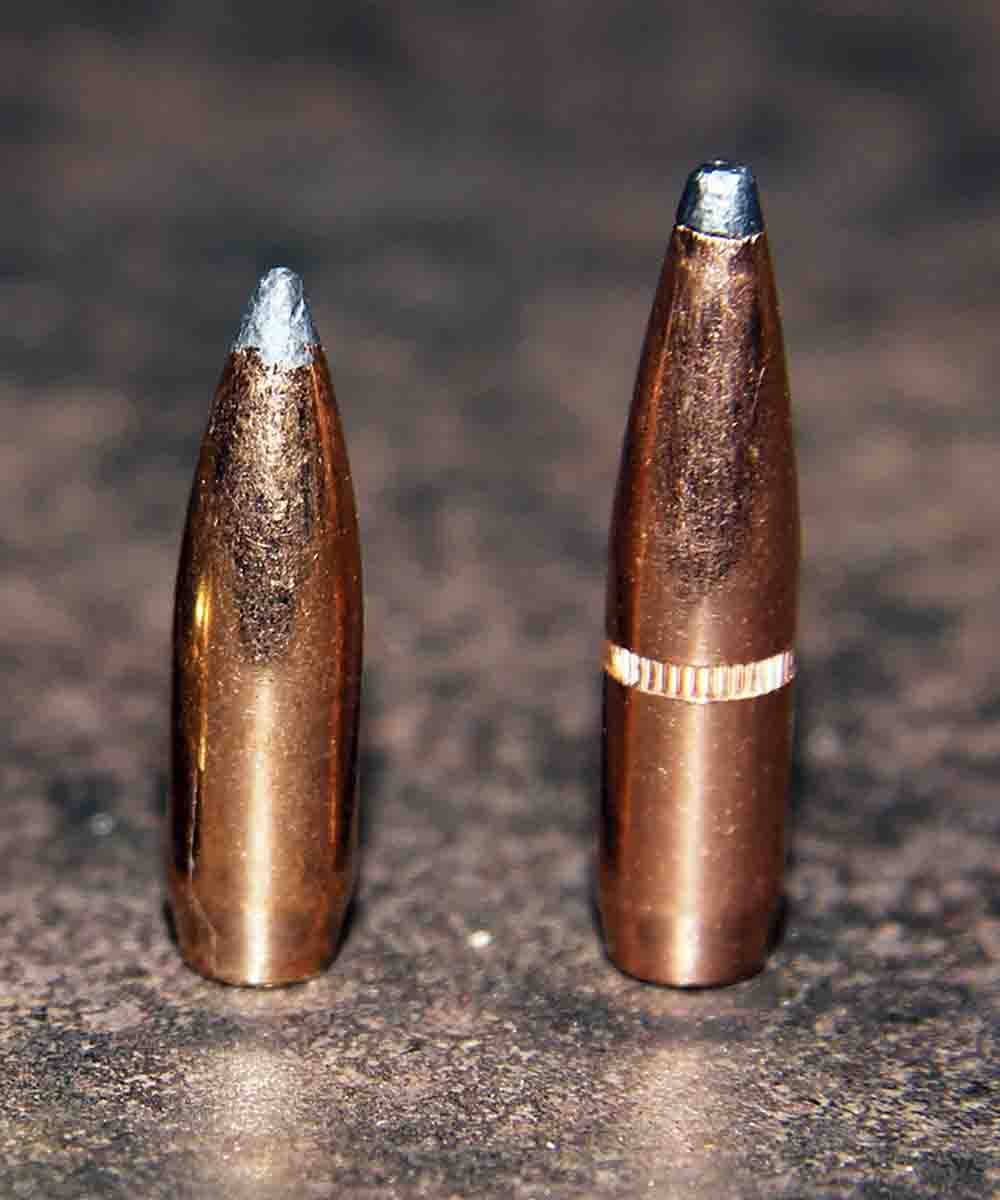 I've grown to appreciate the best examples of today's premium bullets and use them frequently, as I'm still in the habit of using marginal cartridges on big game. This is particularly true of the wild hogs I shoot annually. But it's also difficult to dismiss all the bull elk I witnessed being tagged during 23 years of guiding and outfitting, most felled by "plain-Jane" softpoints fired from standard-issue deer cartridges.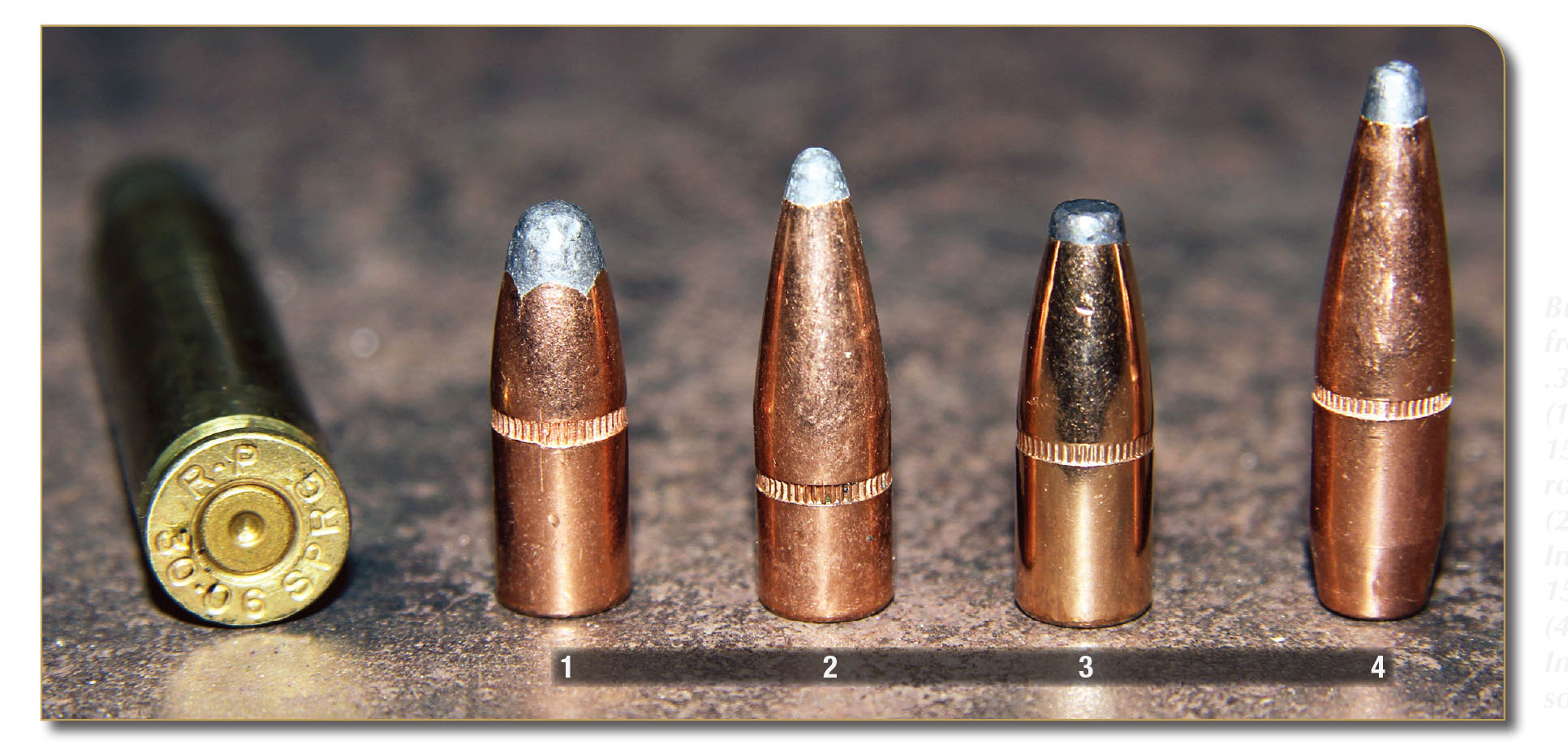 Today, premium, controlled-expansion bullets are all the rage with serious big-game hunters – whatever premium means, and controlled expansion itself is a nebulous term. We all know what these terms are
supposed
to mean, but it's difficult to quantify when discussing terminal performance on flesh and blood. Nosler's Partition is a benchmark, the front portion peeling away for maximum devastation, and a crossmember of copper checking penetration to ensure high-weight retention and deep-driving penetration. Since the Partition's introduction, hunters have seen tapered jackets combined with chemically-bonded cores and monolithic bullets milled from copper or brass alloys, and of course polymer-tipped designs, all made to produce beautiful mushrooms while maximizing penetration.
That in itself can present issues. Reports of controlled-expansion bullets acting like full metal jackets commonly originate from Africa, where unlike North America, one never really knows what's on the agenda on a given day. A hunter might load a magazine of controlled-expansion bullets while anticipating 750- to 2,000-pound plains game like wildebeest or eland, only to round a corner to discover a 100-pound springbok or impala that causes your professional hunter to hyperventilate. The "hard" bullet is placed just right but fails to expand, resulting in a frustrating, goat-rope recovery.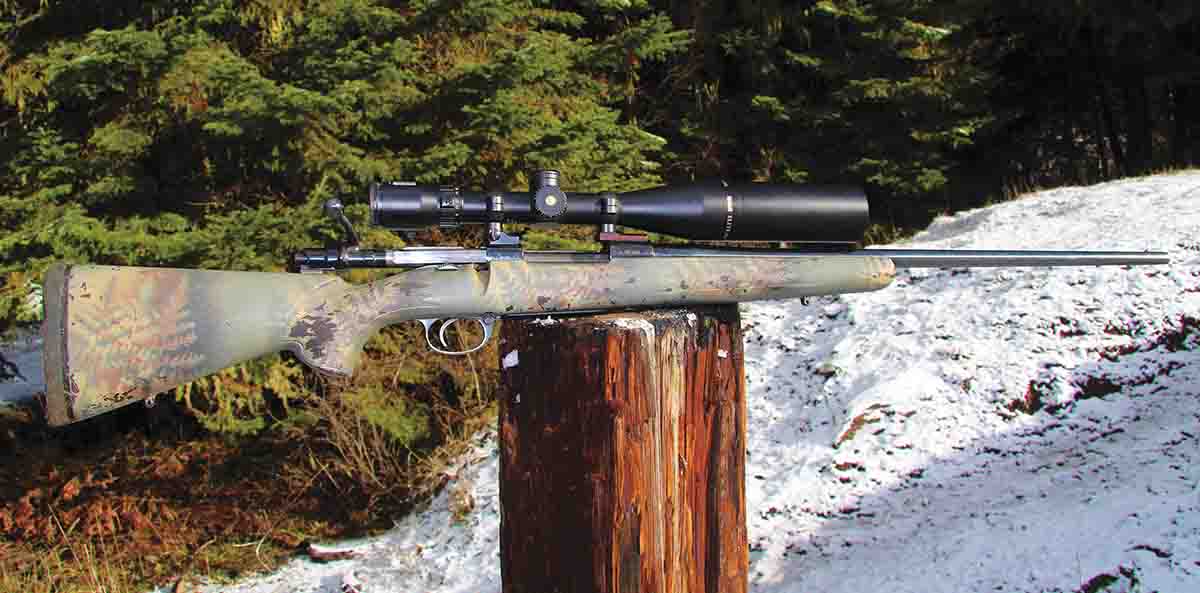 The sharp-stick truth is the majority of North American hunters pursue deer; largely white-tailed deer found east of the Rocky Mountain states. It could easily be argued that classic softpoint bullets produce quicker kills on deer-sized game – especially at tree stand ranges – due to more violent expansion that dumps maximum energy on target.
I would add that a simple softpoint also serves well on larger game, if shots are placed appropriately and at distances beyond average tree stand yardage. In other words, a 150-grain, .30-caliber bullet that might break-up at 50 to 100 yards – especially if bone is encountered – might very well produce ideal mushrooming and deep penetration at velocities of 2,200 to 2,500 feet per second (fps) realized at, say, 200 to 250 yards.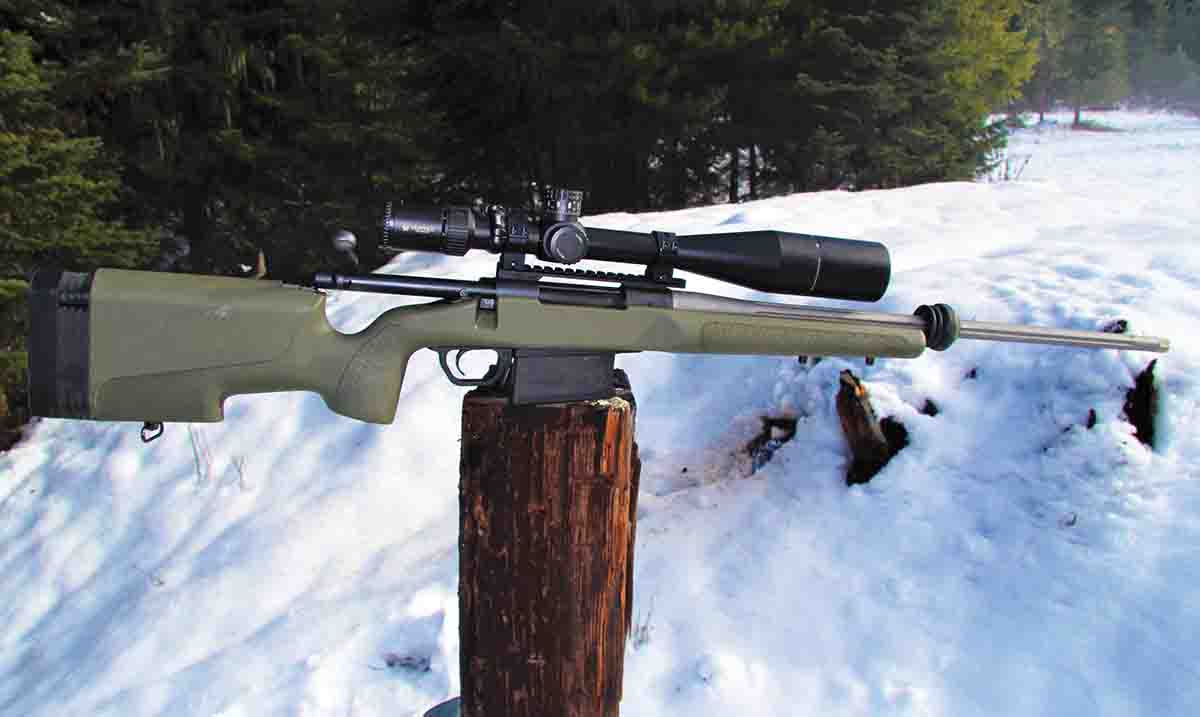 My standard reference is wild hogs, simply because I shoot many more of them in a given year than other big game. I attended a Texas university and still have friends there who view wild hogs like New Yorkers do rats. A good percentage of this culling involves nighttime shooting with thermal optics. Vegetation is thorny, so dropping hogs where they stand or rolling them like head-shot rabbits when running eliminates painful follow-ups. Shooting my 6.5 Grendel, for example, I've loaded Swift 130-grain Scirocco II and Barnes 120-grain TTSX BT bullets. These fine controlled-expansion options certainly fell hogs, but generally require some hands-and-knees tracking even after vital hits at close range. The premium bullets simply push through with minimal expansion at pokey Grendel velocities. Shooting a generic softpoint, like Sierra's 6.5mm 120-grain ProHunter, generally results in hogs dropping to the shot due to augmented on-target energy delivery resulting from more aggressive expansion. The softpoints also expand more reliably at Grendel velocities at longer daytime ranges.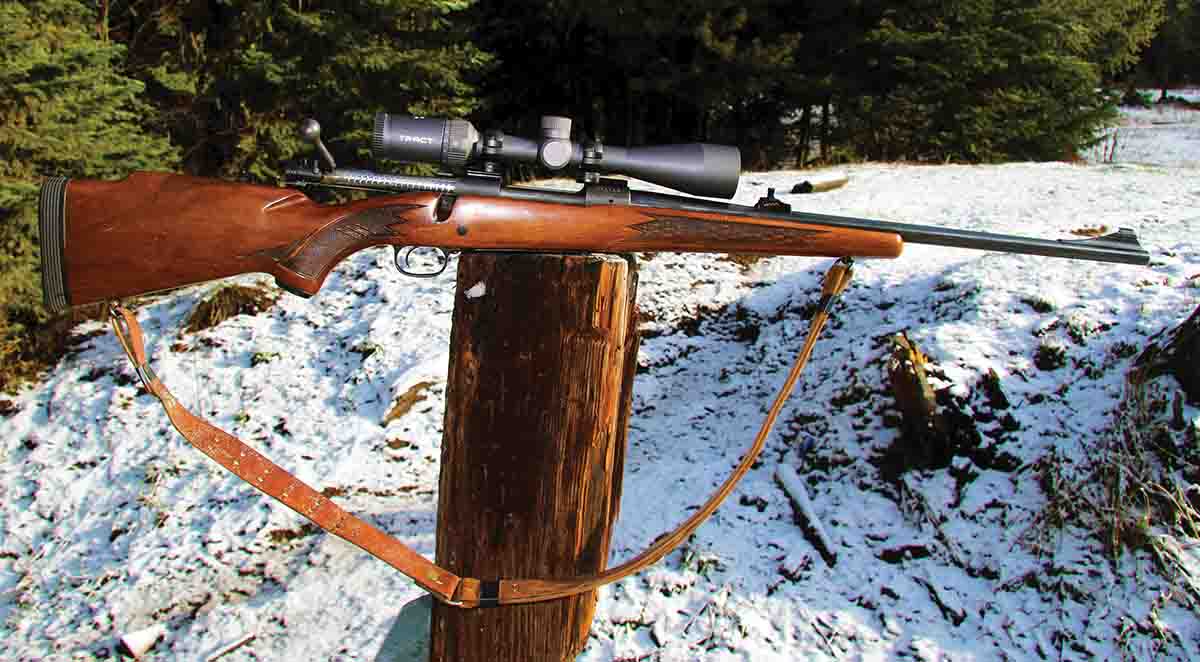 For the handloader, there is also no way around the fact that generic softpoints cost less than "premium" bullet options – sometimes three times less. The question that always remains in a world awash in fancy poly-tipped, long-range-optimized and controlled-expansion bullets is how do affordable softnose bullets hold up accuracy-wise? The answer is usually pretty well.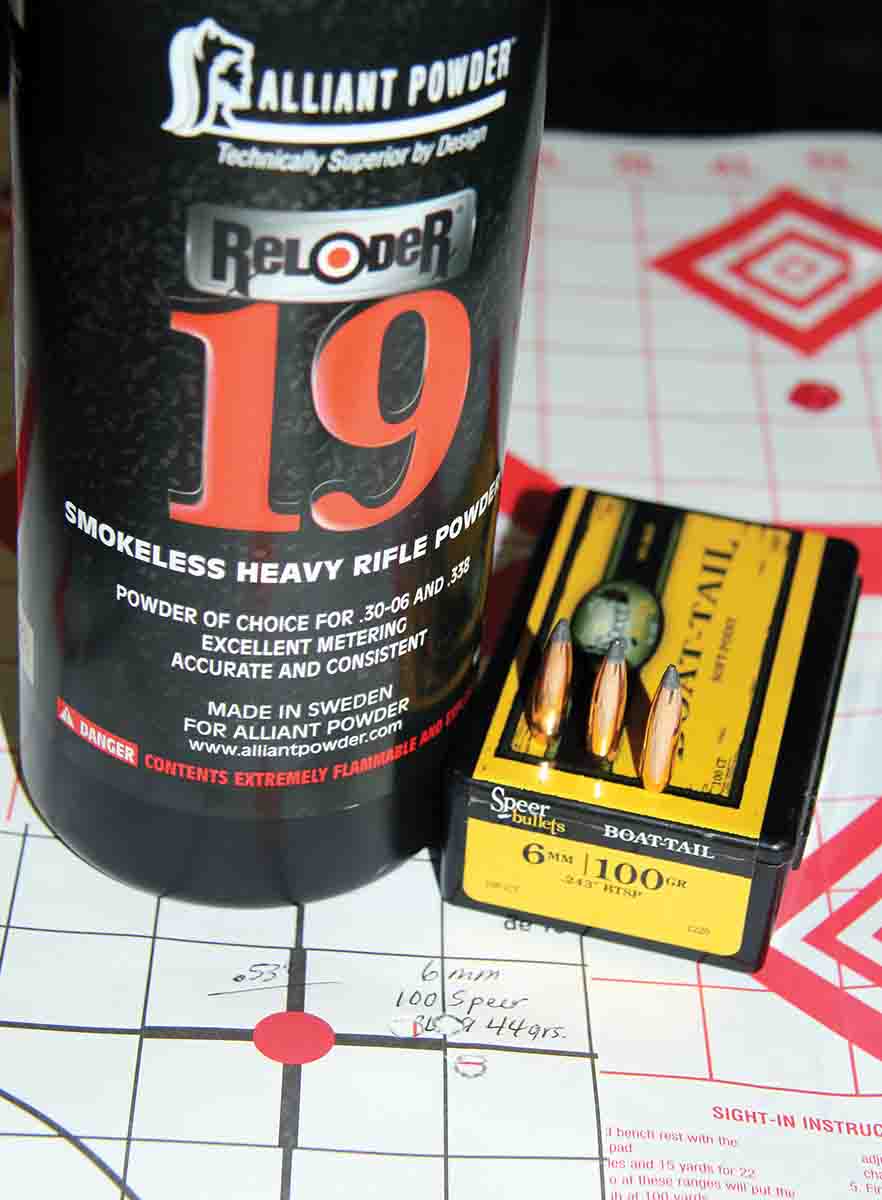 To test that theory, I chose three of my big-game rifles and loaded them with a couple softpoint bullets apiece. My 6mm Remington serves as a long-range rockchuck rifle. It is a custom rifle based on a Model 700 long action, allowing seating long-for-caliber bullets without intruding into powder space. It holds a fairly heavy, 24-inch fluted Wilson barrel with a 1:9 rifling twist and is bedded into a Mc3 stock. The Vortex Golden Eagle 15-60x 52mm scope it has is excessive for big game but serves well for extreme-range varmint shooting. The rifle has traditionally proven accurate with the right load combination. My .25-06 Remington is an Interarms Mark X manufactured in Czechoslovakia in the 1980s. It has a 24-inch sporter barrel with a 1:10 rifling twist and was long ago dropped into an aluminum block Bell & Carlson stock. The combination generally relinquished good accuracy. It also has an excessive scope, a Bushnell Elite 6500 4.5-30x 50mm. My .30-06 is a Winchester Model 70 manufactured in 1966 and sports a 22-inch barrel with a 1:10 rifling twist. This utilitarian hunting rifle is average in every way, doing well to group into 1-MOA. It holds a Tract TORIC HD 2-10x 44mm scope that is ideal for western hunting, including a BDC-style reticle and clear glass.
Bullets were chosen for various hunting applications. The 6mm 100-grain Speer boat-tail softpoint includes a .446 G1 ballistic coefficient (BC) to flatten trajectories and minimize wind drift at longer ranges. It also includes a thin copper jacket and soft lead core that makes it quite "explosive" – ideal for "drop-right-there" impacts on average-sized deer and pronghorn, or serving for varmint-shooting duties. It has proven accurate from this rifle when paired with Alliant Reloder 19 – Accurate 4350 and Vihtavuori N540 added in search of new options. Sierra's 100-grain SBT GameKing is a sturdier bullet I would trust on large mountain muleys or Midwest whitetails, with its .430 G1 BC to hold up well at longer ranges. It was paired with newer, temperature-stable Alliant Reloder 26 and 16, and IMR-4451 Enduron powder.
In .257 caliber, a Speer 100- grain boat-tail softpoint appears again, this one with a .393 G1 BC, but the same aggressive terminal performance that provides lightning-strike hits on deer and pronghorn. It was paired with Vihtavuori N560, Hodgdon H-4831sc and Alliant Reloder 23. Hornady's 117-grain InterLock boat-tail softpoint, with a .391 G1 BC includes an internal lock ring to check expansion and create beautiful mushrooming. I would trust this one on elk with well-placed shots. Alliant Reloder 25, Hodgdon H-1000 and IMR-4955 powders were auditioned with this bullet.
On hand was an MTM case of loads worked out years ago for my .30-06 Springfield, 100 of them assembled from bullets on hand at the time and used for local hunting. The first batch included Remington's 150-grain softpoint round nose W/C, a "soft" bullet meant for the .30-30 Winchester, but a sure thing on "tree stand deer." It has proven adequately accurate paired with 53 grains of Winchester W-760, 48 grains of Hodgdon H-4895 and 50 grains of IMR-4064. My other ready-made loads included Hornady's 150-grain InterLock boat-tail softpoint with a .349 G1 BC, and the same charges of those powders – loads I assembled with depredation cow elk in mind.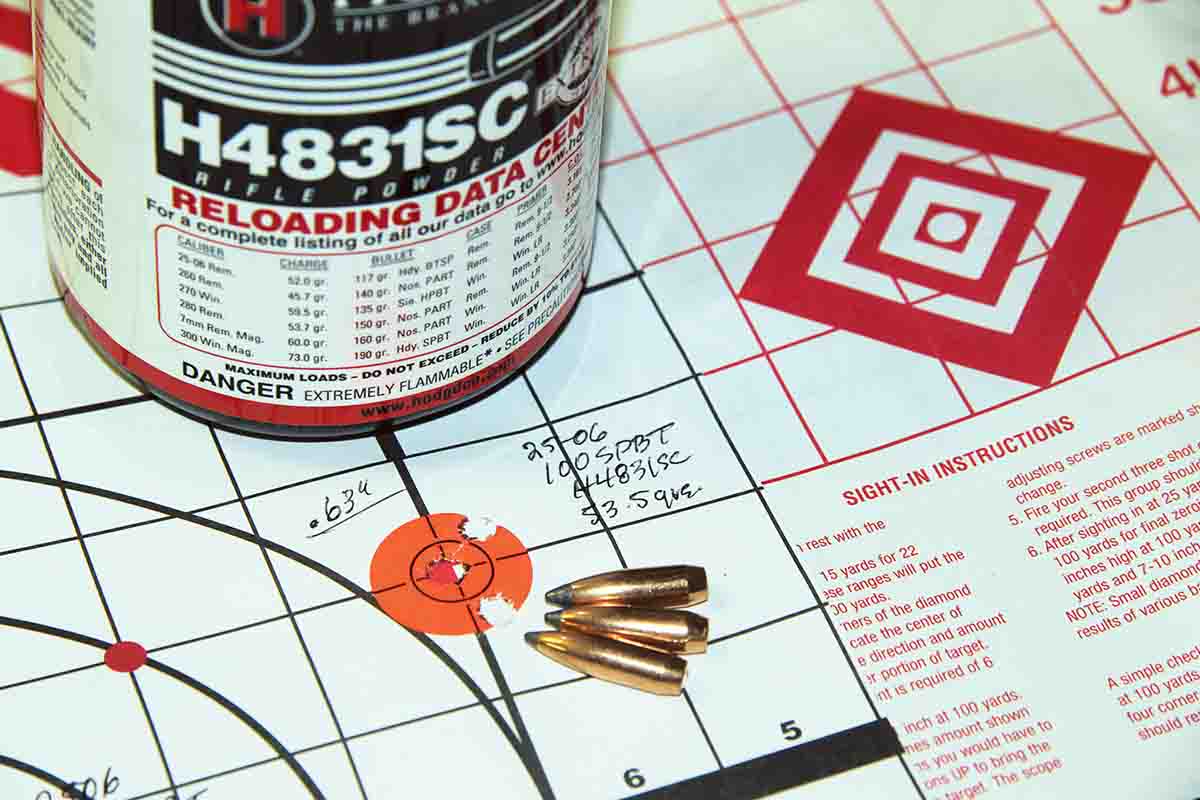 Speer's 150-grain Hot-Cor, with its .349 G1 BC, seems ready-made for hunting white-tailed deer, as the generic cup-and-core softpoint promises an instant energy dump on target at .30-06 velocities. Alliant Reloder 17, Accurate 4064 and Shooters World Match Rifle were tested. Hornady's 180-grain Interlock boat-tail softpoint is one I would confidently use to hunt any legal game found in the lower 48 states, including moose and bison. The InterLock ring ensures it will hold together and a .452 G1 BC makes it long-range ready. Hodgdon Superformance, Shooters World Precision Rifle and Norma URP provided the fuel for this one.
My 6mm Remington produced some good groups, but not quite as tight as it has shot in the past. After helping my wife babysit for friends, I was rewarded with Delta-variant COVID. With deadlines looming, I was forced to shoot while coughing convulsively enough to grow light-headed and suffered a raging headache. Alliant Reloder 19 proved itself again with this rifle and the Speer bullet, with the best group measuring .53 inch center to center while using 44 grains at 2,800 fps. It gave very low extreme velocity spreads. Accurate 4350 proved quite consistent and also provided exceptionally low extreme velocity spreads and groups hovering from .72 to .87 inch and providing velocities from 2,838 (43.5 grains) to 2,976 fps (45.5 grains). Vihtavuori did its best work with a maximum load of 38 grains while clocking 2,903 fps.
With the Sierra 100-grain bullet, Alliant Reloder 26 produced a .71-inch group at 3,063 fps with 46.5 grains of powder, a 48.5-grain maximum load printing around an inch at an impressive 3,162 fps. IMR-4451 is a proven 6mm Remington powder, and showed that again by assembling sub-MOA groups with every load, the best with a maximum load of 41 grains at 2,852 fps measuring .45 inch. The best group with the Sierra – .33 inch – resulted from 42.5 grains of Reloder 16 at a hard-hitting 3,016 fps.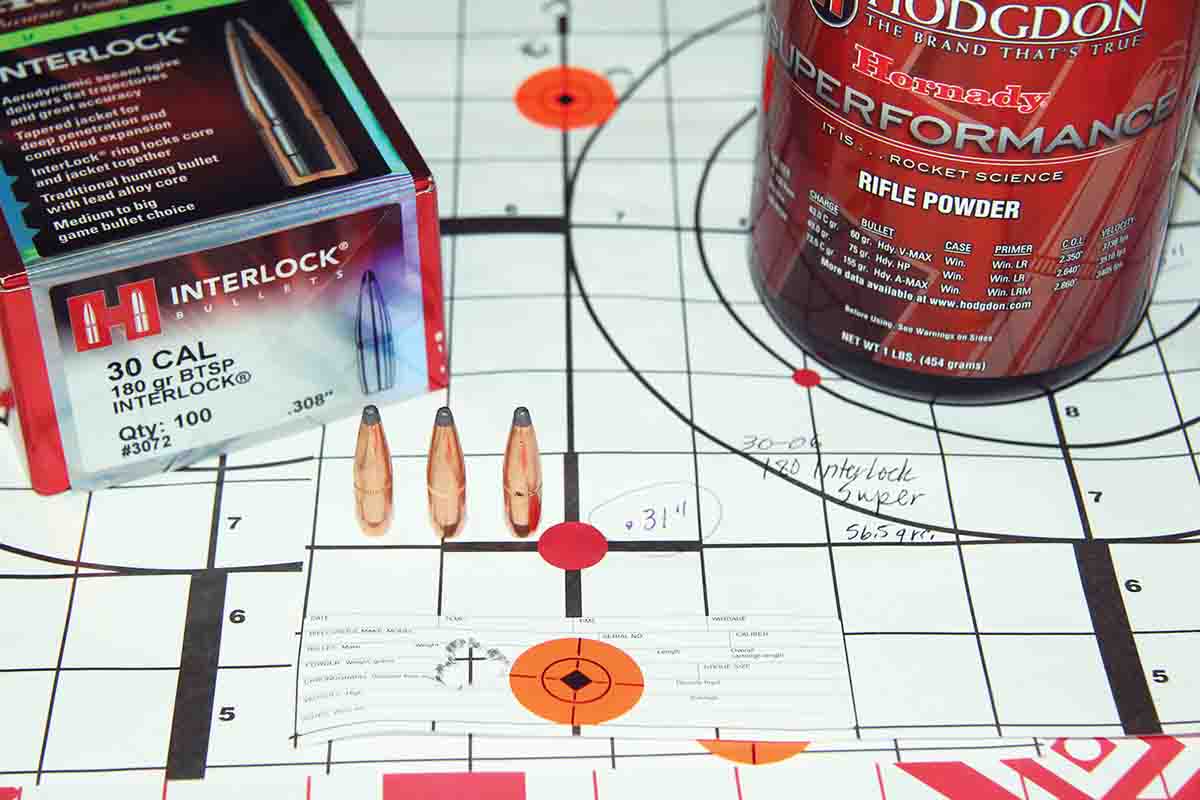 I went out on a limb with my .25-06 Remington, auditioning powders I hadn't tried before, mostly temperature-insensitive formulas. This experiment wasn't exactly profitable as most loads grouped larger than proven prescriptions using older powders like IMR-4350. The Speer 100-grain bullet printed .75 inch at 2,986 fps with a 54-grain maximum load of Vihtavuori N560, while 53.5 grains of Hodgdon H-4831sc produced the best overall group of just .63 inch at 2,986 fps. Everything else produced larger groups than this rifle usually prints. The Hornady 117-grain InterLock, especially, didn't work with this rifle, with the best groups just over an inch – though well suited for big-game hunting. Overall, Hodgdon H-1000 produced the best results with velocities from 2,859 to 2,964 fps.
My old 150-grain .30-06 Springfield loads stood up well, with the roundnose again slightly more accurate than the pointed Hornady InterLocks. Speer's 150-grain Hot-Cor and Accurate 4064 (which I just happened to have 8 pounds of!) proved to be the magic combination from this rifle. A 52.5-grain charge pushed this bullet to 2,713 fps and produced a .55-inch group. Shooters World Match Rifle also proved accurate, producing a .59-inch group at a slower 2,613 fps, though a maximum load of 52.5 grains produced a sub-MOA group at 2,818 fps.
Things really clicked in with the 180-grain InterLock – a welcome surprise. I've always considered 165-grain bullets in the .30-06 ideal, but this test made me reconsider that notion. The 180-grain bullet produced the smallest group this rifle has ever shot, .31 inch at 2,612 fps with a 56.5-grain maximum load of Hodgdon Superformance. Shooters World Precision Rifle broke .75 MOA with 45 grains of powder at just 2,342 fps, a 47-grain maximum load hitting just 2,456 fps. Norma's URP deserves more experimentation, producing sub-MOA groups with 51.5 and 52.5 grains of powder at 2,390 and 2,485 fps, respectively.
My 6mm Remington lost a wee bit of ground, softnose to long-range target bullets, but my .25-06 Remington lost more. Proven loads for these rifles have been worked out for a period of years, while these could be considered a great start. My .30-06, on the other hand, shot some of the best groups it has ever assembled, handily beating the loads I actually spent time working on years ago. Still, I occasionally have to step back slightly and recall that the varmint shooting I concentrate on most frequently is a different game than big-game hunting. There is not a single load listed here that doesn't provide perfectly acceptable accuracy for big game at reasonable ranges, while the most accurate among them is suitable for trickier long-range work.
* * *
Retraction: In my Handloader No. 335 (December-January 2021) feature entitled "Hunting Loads for the 7mm-08 Remington," I inadvertently labeled the 130-grain bullet as a Sierra product. This was incorrect, as it was a 130-grain Speer BTSP, not a Sierra bullet. I apologize for any confusion this may have caused.