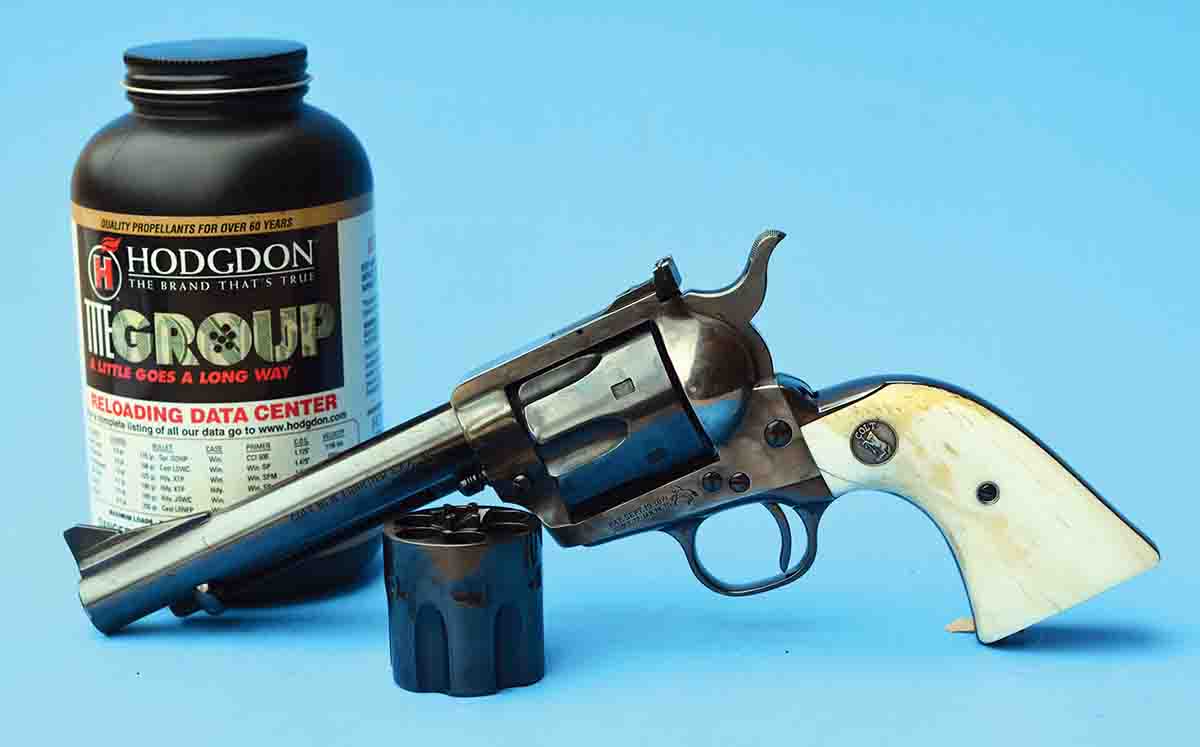 Q:
I have thoroughly enjoyed Handloader Magazine for nearly 30 years. There is no other journal that even approaches the information that you and your writers provide. And I especially appreciate the technical information and new handloading data that you provide. I have always found your insight and data to be spot on and that is why I am writing to you today.
Like so many others, I have had a difficult time finding components in the past couple of years. When loading the .45 Colt, I originally used Alliant Unique, but based on your recommendations a few years back, I switched to Accurate No. 2. I have been very pleased with the accuracy and clean-burning nature of that powder. However, since the component crunch, I have not been able to find either powder. Recently, my searching turned up a couple of pounds of Hodgdon Titegroup at a local dealer that I instantly snagged. When I sat down at my loading bench, I had misplaced your "Pet Loads" article on standard pressure .45 Colt handloading data, so I referenced another published source for loads and assembled a few hundred rounds. That load consisted of cast bullets from Lyman mould No. 452664 that weighed 262 grains from my alloy with lube installed and a specified charge of Titegroup powder. I used new Remington cases capped with Federal 150 standard Large Pistol primers with bullets being roll crimped to the bottom of the crimp groove. These loads were specified as suitable for the Colt Single Action Army, so I thought that I was on safe ground.
When I went to the range with my Colt New Frontier .45 Colt, third generation, the first shot was a bit of a surprise due to the recoil, but I cocked the gun and fired again. I then knew something was amiss and stopped shooting. The first case required a couple of hits with the ejector rod to be removed, but the next case was severely stuck. So I unloaded the remaining cartridges and returned home. I drove the stuck case out with a steel rod and was very disappointed to see that it was heavily scratched on one side. I examined that chamber and discovered that the bolt notch was pushed out or bulged from the inside. I immediately thought that I had loaded the cartridges with a wrong powder charge. I pulled several bullets and the powder charge weights were exactly correct. My loading practice is very cautious and I really don't believe that I double-charged a case. Now I have a ruined gun and would value your insight as to why this occurred.
G.S., Georgia
A: First, thank you for the kind compliments and for taking the time to read our magazine. Second, the damage to your New Frontier is unfortunate, but all is not lost, as I will discuss in a moment.
If you double-charged your load, your gun would have most certainly had a catastrophic failure, wherein the top three chambers would have been destroyed and the top strap severely bent or more likely blown upward. Regarding the handload data that you used, it is a far too heavy of a powder charge for use in a Colt Single Action Army or New Frontier. It has been tested and generates in excess of 30,000 psi and should only be used in guns designed to handle that much pressure such as the Ruger Blackhawk, New Model Blackhawk and guns of similar strength.
While it is true that post-World War II Colt Single Action Army and New Frontier revolvers can withstand greater pressure than pre-World War II revolvers, even smokeless-era guns, I generally consider 21,000 psi loads as maximum, and with a strong warning that guns will tend to loosen up prematurely if a steady diet of these loads are fired in them. For day in, day out .45 Colt loads, it is best to stick with data that runs 14,000 psi as prescribed by SAAMI. In your case, I would suggest dropping your Titegroup powder charge to 6.0 to 6.2 grains, which will keep you within that pressure limit and will usually yield 840 to 870 fps with 250- to 260-grain bullets in most sixguns.
While the handload data you used was indeed too hot for the Colt sixgun, part of the problem possibly stems from the oversized chambers of third generation SAAs that leaves very little supporting steel between the chamber and the locking bolt notches. To make matters worse, in order to get a mirror-shiny chamber, Colt's burnishing process often pushes the locking bolt notches out slightly, which can be observed in the form of a shadow in each chamber with new-in-the-box guns. The biggest problem is that practice leaves a fault in the steel that can fail if fired with an over-pressure load. But again, the credibility of your data source should be in question!
The good news is that your New Frontier is by no means ruined. New third generation cylinders are readily available at around $100 to $200, which will probably need to be fitted to your gun (including headspace, timing, end-shake, etc.), which is neither difficult nor expensive. Personally, I would not replace your cylinder with a factory original version; rather I would find a .357 Magnum cylinder and have it chambered to .45 Colt (preferably line-bored). Regardless, the reamer should be an industry minimum specification (as offered by Dave Manson Reamers) to add extra chamber strength, but this will also work your cases less, resulting in increased case life and better accuracy. If the throats are cut to around .452 inch, accuracy will be further improved and you will have a much better gun than previously.
6.5 Creedmoor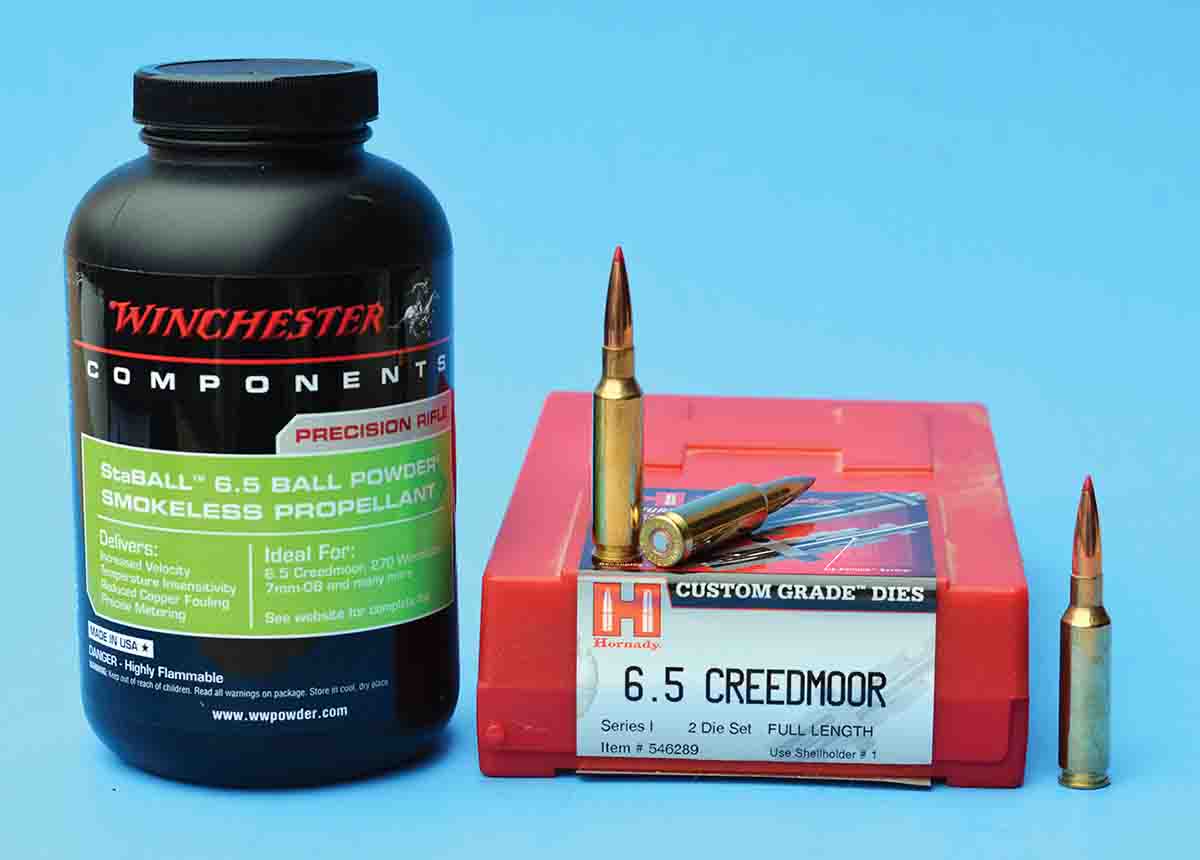 Q:
I have been shooting two 6.5 Creedmoor rifles, including a Savage Model 110 and a special order Cooper Model 54, and have been very happy with their accuracy, as groups often stay under .300 inch. My handloads consist of the 143-grain Hornady ELD-X and 147-grain ELD, with each ahead of 41.5 grains of Hodgdon H-4350 powder, respectively, but seated to slightly different overall cartridge lengths for each rifle. The problem is that I have not been able to obtain more powder as of late. I do have an 8-pound keg of Winchester StaBALL 6.5 powder that I purchased for a different application. Can you offer 6.5 Creedmoor load data with that powder for the above bullets? Thanks in advance.
T.S., Omaha, NE
A: Using either of the above bullets, try 43.3 grains of Winchester StaBALL 6.5 powder, which will give you nearly 100 fps greater velocity than your existing load. You may or may not want the added velocity. If you want to duplicate your original velocities, you will need to decrease the charge by 1.5 to 2.0 grains.
Cowboy Special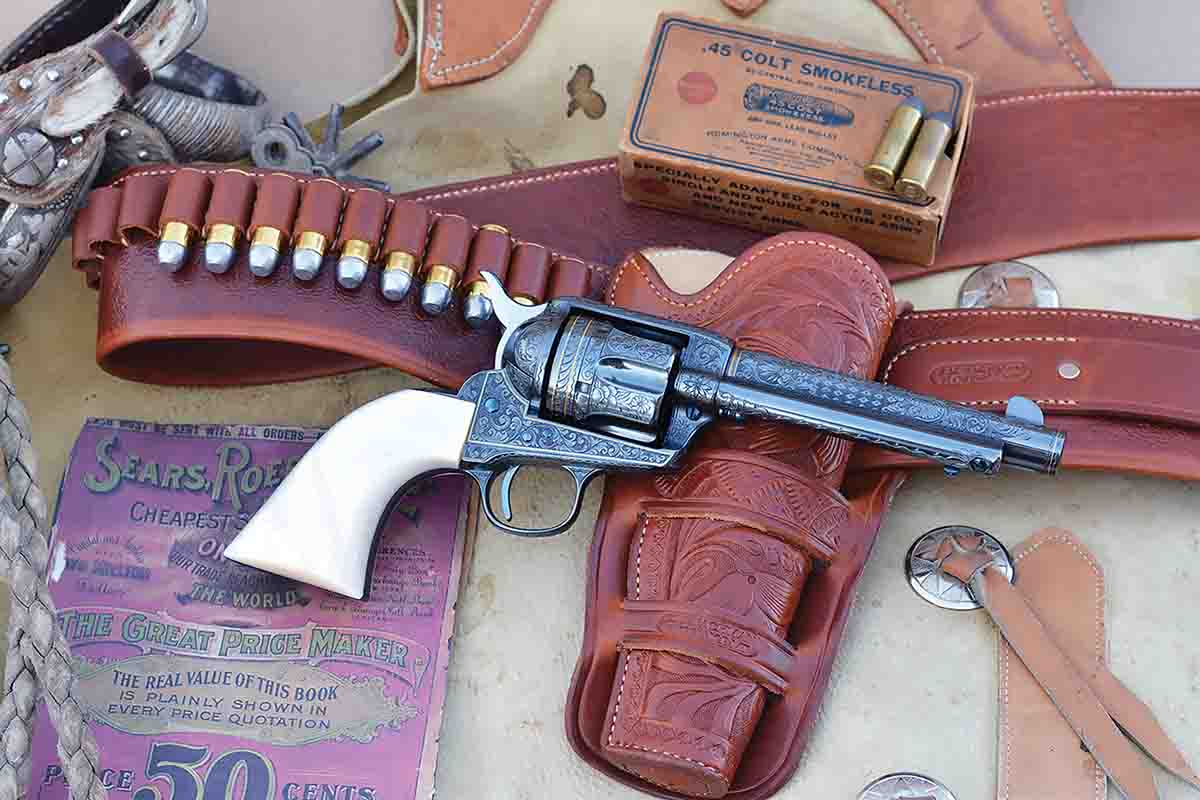 Q:
I very much enjoyed your article in Handloader No. 332, From the Hip column "Sears, Roebuck & Company Colt SAA .45 COWBOY SPECIAL." Like you, I grew up mail-ordering hunting knives and other essential items from Sears that a rural farm kid really needed! Reading about Sears brought back many fond memories. Needless to say, but your recreated Colt COWBOY SPECIAL is stunning. I am just not sure that I could have fired it as you did.
My question is: on page 16, the Sears Colt SAA is resting on a most beautiful holster and belt. I searched the photo captions and the text, but there is no reference as to the maker. Can you tell me who made that rig and perhaps how to reach them?
S.G., Portland, OR
A: Try Rick Bachman at Old West Reproductions, Inc. (406-273-2615, or visit oldwestreproductions.com). His work is second to none. The holster and belt are more or less an exact reproduction of the fabulous F.A. Menea Mexican drop loop rigs that were built in Cheyenne, Wyoming, during the 1880s and 1890s, the "golden days" of the cowboy era. Bachman's rigs are fully hand-built, stitched and carved using the finest U.S. leathers. Since every holster and belt is built to order, there will be a reasonable lead time.
While the reproduction Sears, Roebuck & Company Colt SAA Cowboy Special is a work of art, it must also perform… perfectly and therefore gets used, just carefully!
.44-40 Velocity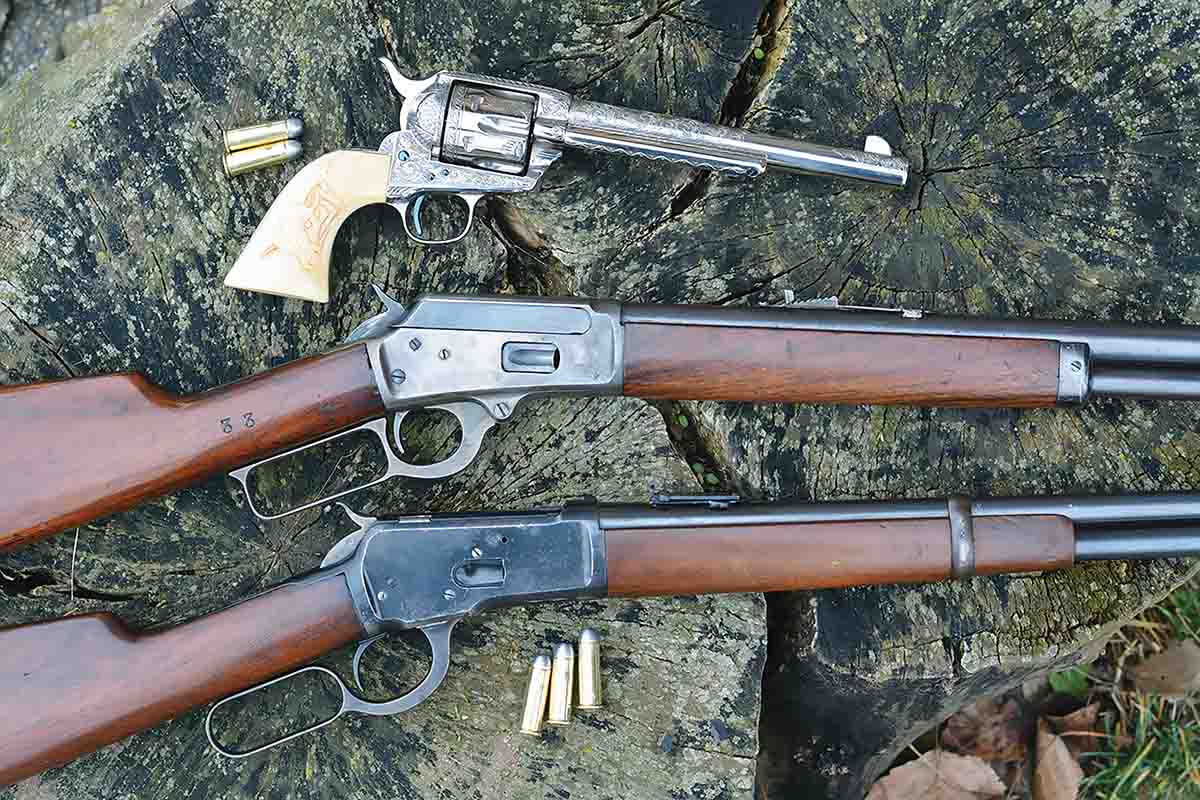 Q:
I was stoked to see your .44-40 "Pet Loads" article. Thank you. Now my question; roughly what is the range of fps gain to rifle from revolver?
R.C., via email
A: As a general rule, the faster the burn rate of powder, the less velocity will be increased from a rifle barrel. For example, Hodgdon Titegroup and Alliant Bullseye powders will usually gain at least 200 to 250 fps from a rifle barrel when compared with the same loads from a sixgun. On the other hand, slower-burning powders such as Alliant Unique, Power Pistol, etc., will easily pick up more than 300 fps from a rifle barrel. I hope that gives you a general idea of what to expect. Incidentally, in the next year or so, I will be offering a "Pet Loads" article for .44-40 rifles, so stay tuned to Handloader!