The .38 Super has traveled a rather rocky road during its 121-year history. Due to its ballistic performance, accuracy in modern guns, wide selection of components and ease with which top-notch handloads can be assembled, it has become popular for action pistol competition, defense and field use. The addition of the "Automatic +P" designation in 1974 helped differentiate it from the old .38 Automatic Colt.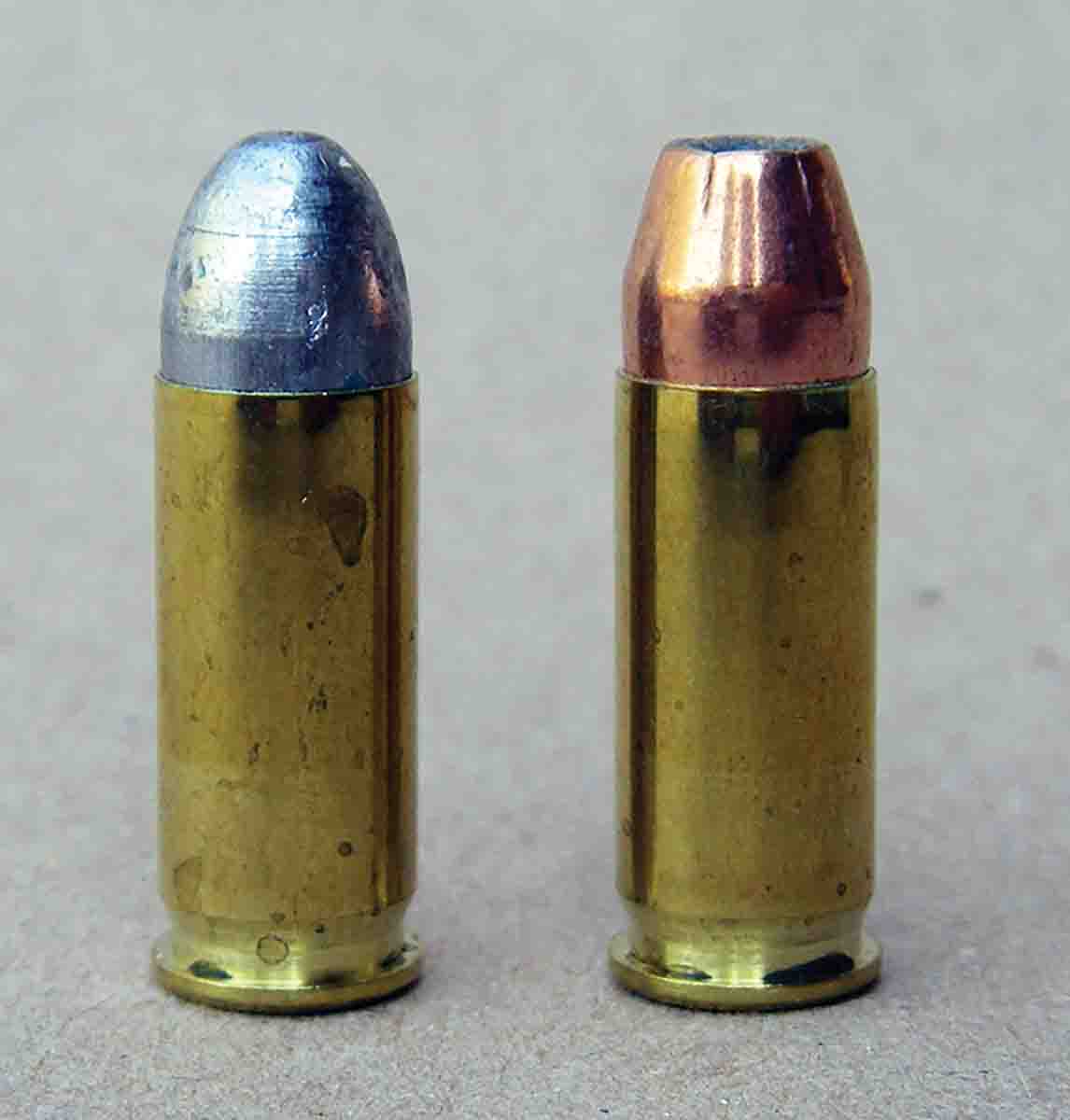 The history of the .38 Super starts around 1897 with the development of the .38 Automatic Colt cartridge (.38 Rimless Smokeless) designed for the Colt Model 1900 Automatic Pistol. Early advertising listed a 130-grain FMJ bullet at around 1,040 fps, which was later increased to 1,070 fps. This cartridge was designed at least five years prior to the 9mm Luger.
During the 1920s there was growing demand for handgun cartridges that could better penetrate car bodies, so in 1928 Colt responded with the .38 Super Automatic in its Model 1911. Essentially, the Super was dimensionally the same as the .38 Automatic Colt, including bullet weight and profile. However, being chambered in the notably stronger Model 1911 pistol, it could be loaded to much greater pressures, with velocities pushing 130-grain bullets to 1,300 fps by 1933. Pressures were increased from 23,000 CUP to 33,000 CUP. For clarification, the .38 Super should never be fired in comparatively weak Model 1900 pistols, which can be disastrous.
Although sales were respectable, sixguns remained king, so Smith & Wesson began offering 38/44 Heavy Duty and Outdoorsman revolvers around 1929, followed by the .357 Magnum in 1935; Colt likewise offered revolvers so chambered. The .357 pushed a 158-grain bullet over 1,500 fps, and it was immediately adopted by the FBI and gained widespread acceptance. The Super's FMJ roundnose bullet limited its effectiveness on game and in defensive applications, which further hindered sales.
The Super had another significant problem: It produced poor to mediocre accuracy at best. There were several contributing factors that included a bullet diameter specified at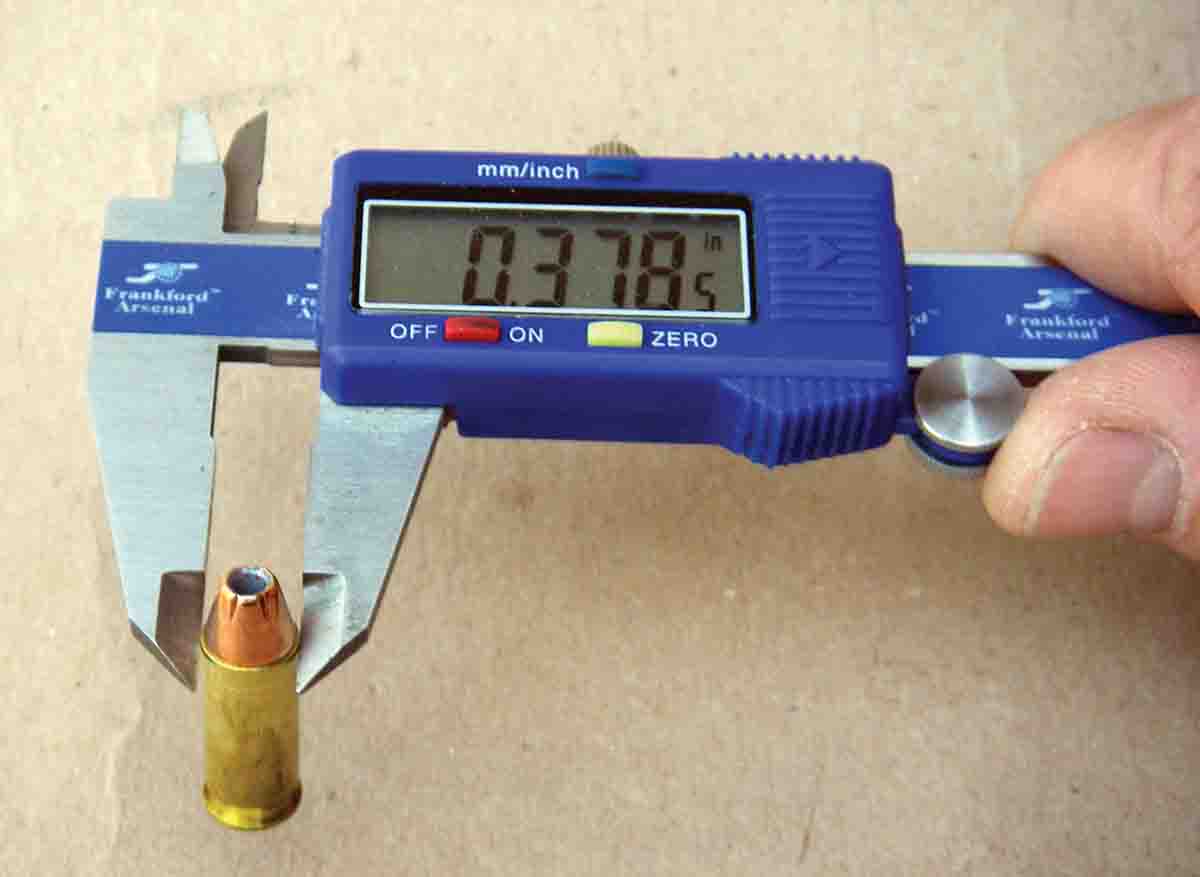 .356 inch while barrel groove diameters were known to measure .355, .356 and .357 inch. Period Colt Government Model pistols were not built with proper tolerances to achieve top accuracy. However, the largest single obstacle was Colt's chamber specifications that resulted in poor headspace control.
For example, the .38 Automatic Colt cartridge features a semi-rim that extends around .007 to .011 inch per side, depending on case manufacturer, and it provided positive headspace control when used in the Model 1900 and 1902 pistols. However, when the .38 Super appeared in the Model 1911, the semi-rim only contacted the narrow top portion of the barrel, commonly known as the barrel hood, which measures around .355-inch wide. In other words, there was no full circumference recess for the rim to headspace on. Rim diameter and thickness often varied enough that cartridges chambered excessively deep, which increased headspace and caused additional variances, all of which diminished accuracy.
The chamber was also cut with a "mouth cone," or leade, that prevented the case from headspacing on the case mouth as most modern rimless auto-loading pistol cartridges do. Upon checking the chamber dimensions on period Colt pistols, many were generously large, further inhibiting accuracy.
While U.S. sales remained modest for decades, the Super became popular in countries with restrictions regarding civilians owning military calibers, such as Mexico. However, as those laws were rescinded and the cartridge appeared to have been headed toward obsolescence, the Super's limited popularity was about to change.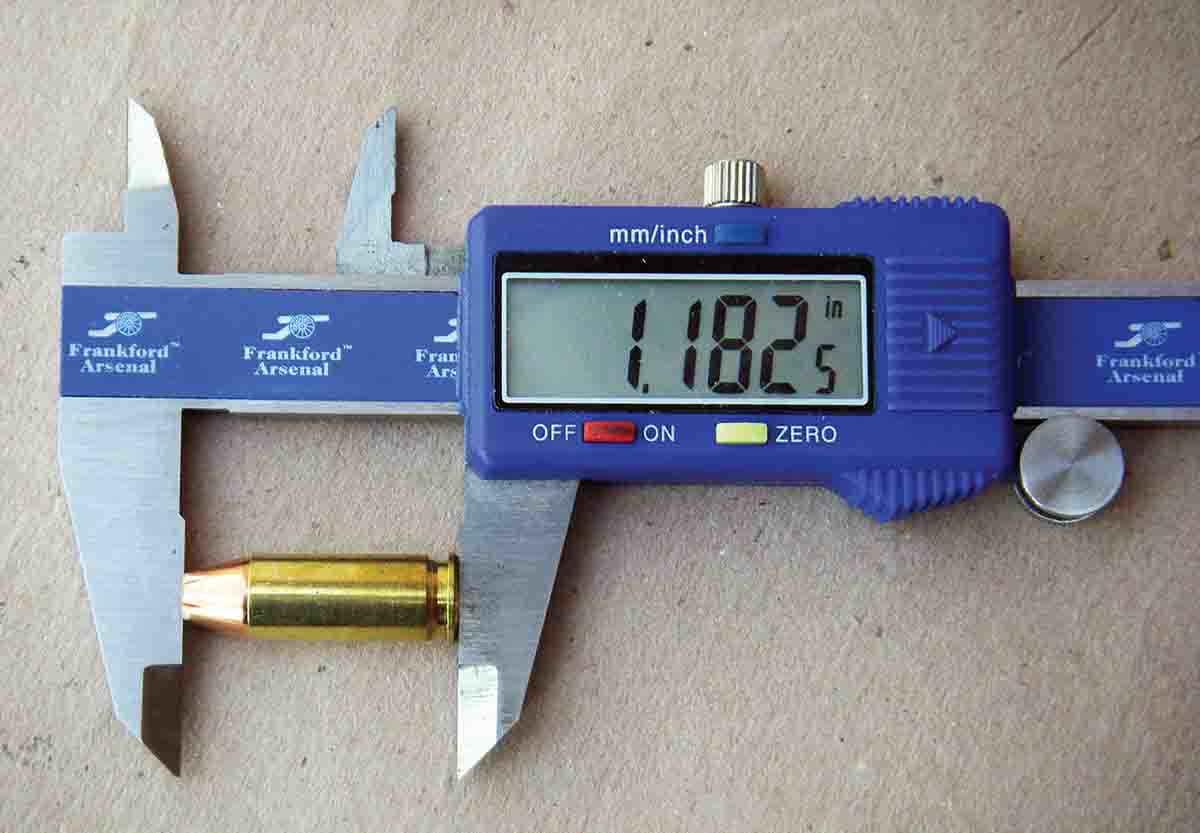 During the 1950s and '60s, several pistolsmiths began experimenting to improve its mediocre accuracy. Most notable was Irv Stone and his son Irv Stone Jr. of Bar-Sto barrel fame. As early as 1970 they designed the chamber of their .38 Super 1911 barrels to provide positive headspace on the case mouth, which completely corrected the accuracy issues that had plagued the cartridge for more than 40 years. Soon custom pistolsmiths began building guns that were capable of outstanding accuracy. However, it would be more than 15 years before Colt began offering similar chamber specifications in its pistols.
IPSC competitors began competing with .38 Super pistols in the early 1980s, launching its popularity in this and other action pistol events. In addition to improved accuracy and higher magazine capacity, the Super offered enough power to make "major power factor" with handloads while offering lower recoil than the .45 ACP. Compensators provided even greater recoil reduction, which is a significant edge in competition. Today the cartridge remains a staple among action pistol shooters.
It is also noteworthy that several modified .38 Super proprietary cartridges exist, including the .38 Super Comp, .38 Super RL Armscor and .38 Todd Jarrett. These variants, primarily designed for competition, feature a slightly reduced rim diameter with the primary intent being improved feeding from double-stack magazines used in high-capacity pistols. Some feature slight changes in extractor grooves while others feature thicker brass in an effort to increase strength for higher pressure loads and increased case life.
The .38 Super originally fired a 130-grain bullet at 1,215 fps, but by 1933 velocity was bumped to 1,300 fps before it was eventually standardized at 1,280 fps. Remington and Winchester list 130-grain FMJ loads at the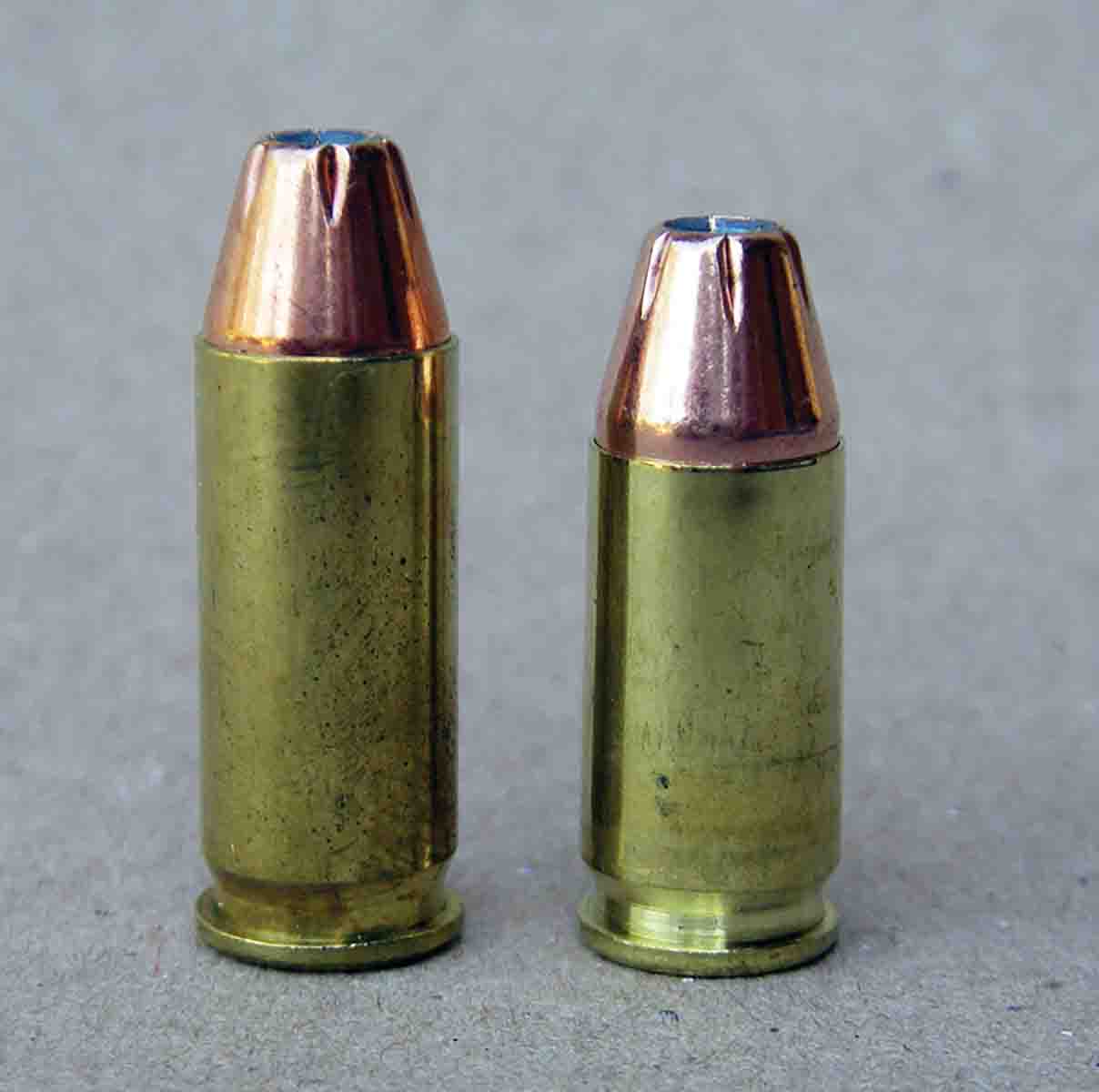 original 1,215 fps while Federal offers the same bullet weight at 1,200 fps. Several smaller companies such as Buffalo Bore offer loads containing 115-grain and 124-grain JHP bullets at 1,415 fps and 1,350 fps, respectively.
As indicated, the .38 Super has a specified bullet diameter of .356 inch. However, bullets pulled from current factory loads from Winchester and Remington measured .3555 and .355 inch, respectively. In researching current offerings from major manufacturers, there is a rather limited selection of .356-inch bullets. However, Hornady offers its 125-grain HAP while Zero Bullets offers 121-grain JHPs and 125-grain FMJ and JHP versions in that diameter.
Though .38 Super barrel groove diameter has varied from .355 to .357 inch, today it seems most manufacturers are using .355-inch barrels – the same as the 9mm Luger. For instance, the Kimber Stainless Target II used here for load development features a barrel manufactured from the same barrel stock as Kimber's pistols chambered for 9mm Luger with a .346-inch bore and .355-inch groove diameter. In checking with other 1911 manufacturers, several confirmed the use of 9mm barrel stock for
Super barrels. As a result, it is recommended to use .355-inch 9mm Luger bullets in modern .38 Super pistols. It is noteworthy that there is published handloading data for .357-inch revolver bullets. However, unless a pistol's groove diameter actually measures .357 inch, these bullets will increase pressures and are usually less accurate than comparable .355- or .356-inch bullets.
For decades the industry maximum average pressure was 33,000 CUP, but in recent years that figure has been changed to 36,500 psi, with current traditional factory loads falling below this figure. With handloads containing ideal powders and components, velocities can be improved while staying within pressure guidelines.
It should be noted that many action pistol competitors assemble .38 Super handloads that exceed industry pressure guidelines in order to achieve "major power factor." However, these loads are fired in highly modified pistols that usually feature modified frames, custom barrels with outstanding case support, appropriate locking lugs, heavy recoil springs, etc. Such loads are not appropriate for out-of-box production pistols.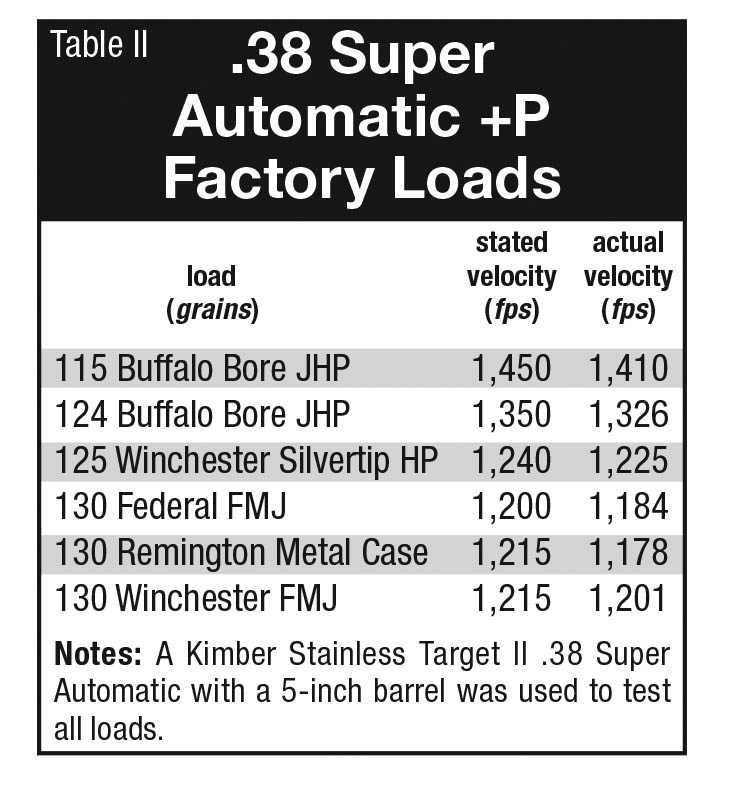 One mistake often touted as a solution to the symptoms of high pressure is the use of small rifle primers rather than small pistol primers. Many loads that exceed pressure guidelines exhibit excessive primer flow, deformation or even rupturing. The cup of small rifle primers is designed to handle notably higher pressures, and when used, only cover the symptom of excess pressure rather than correcting the problem. In my experience, various small rifle primers only increase velocity a small amount (usually 10 to 20 fps), but their greater ignition almost always increases chamber pressure and reduces impulse time, both of which compound the problem.
For these reasons all handloads in the accompanying table were developed using small pistol primers such as the CCI 500. Primers were seated at least .003 inch below flush and never more than .005 inch (per SAAMI standards) to assure the anvil was seated correctly to prevent misfires.
The Model 1911 Kimber Stainless Target II used to test loads is a quality pistol that has proven reliable and accurate. It features fully adjustable sights while offering a great sight picture to aid with accuracy testing. In addition to being manufactured in the U.S., it offers many desirable features including a lowered and angled ejection port, a crisp 4.25-pound trigger pull, flat mainspring housing, serrated slide, McCormick safety, grip safety, slotted hammer and a match grade barrel.
New Starline cases were used to develop the accompanying loads, with this particular lot measuring around .896 inch in length. Industry maximum case length is listed at .900 inch, with most reloading manuals recommending a trim-to length of .890 to .893 inch. However, I prefer to trim cases to .895 inch when needed, which seems to yield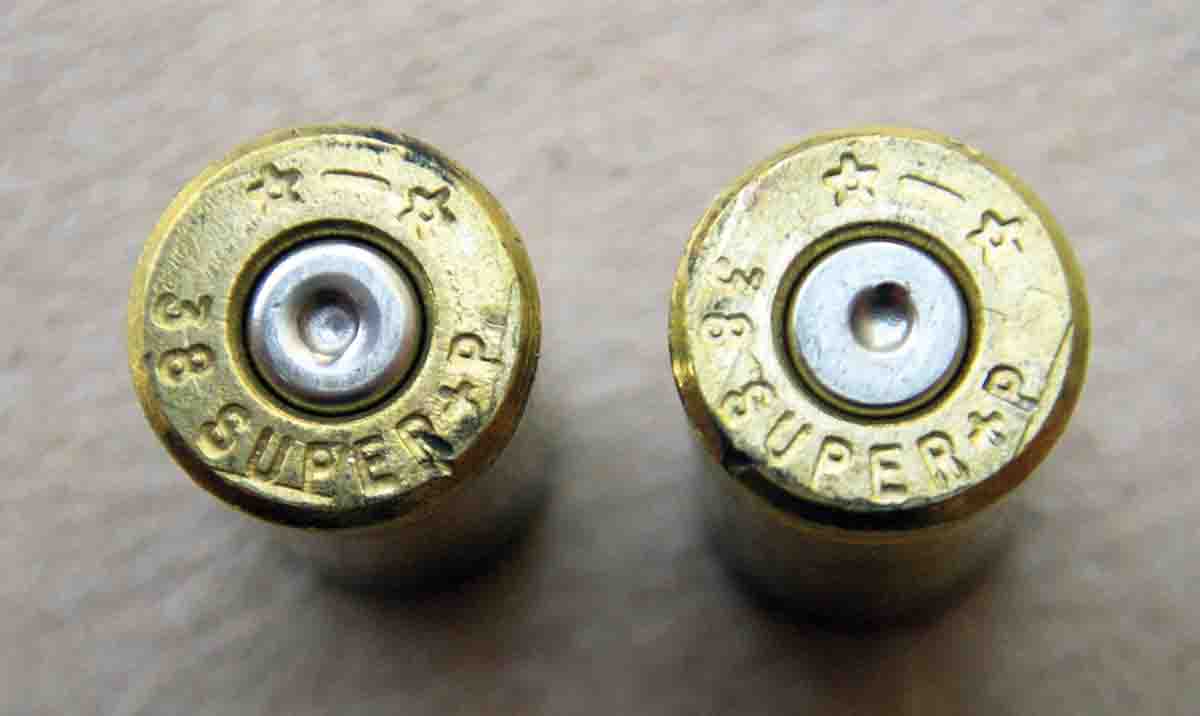 better accuracy than cases that are trimmed shorter. As long as loads are held within pressure guidelines, case life is long.
RCBS dies were used to assemble test ammunition. With the .38 Super case featuring a truly straight wall, a tungsten carbide sizer die can and should be used, which makes case sizing and preparation quick, easy and practical.
When handloading for modern .38 Super pistols that are chambered to headspace on the case mouth, such as the Kimber Stainless Target II, it is important to use a taper crimp to assure positive headspace control. When checking crimp diameter at the case mouth of current factory loads with blade calipers, there was more variance than expected. For example, the Winchester 130-grain FMJ load measured .3745 to .375 inch and almost appeared to be a roll crimp. Pulled bullets revealed a distinctive swage ring as a result of the heavy crimp. The crimp applied to Remington, Buffalo Bore and Federal loads each measured between .3785 and .380 inch, and none of the pulled bullets showed any sign of crimp damage. SAAMI lists maximum case mouth specifications at .384 inch.
All handloads developed here were crimped between .3785 to .379 inch, which resulted in enough bullet pull to prevent bullet movement as cartridges were cycled and chambered, helping facilitate proper powder ignition.
Due to the popularity of the 9mm Luger, there is a vast selection of .355-inch (9mm) bullets that work well in the .38 Super. For velocity, the Sierra 90-grain JHP and Hornady HP XTP can be pushed to 1,500 fps and even over 1,600 fps. The Barnes 95-grain TAC-XP bullet seats rather deeply due to its solid copper construction. As a result, powders that offer low volume density should be chosen, with good results being obtained with Hodgdon CFE Pistol, Longshot, Titegroup and Ramshot Silhouette.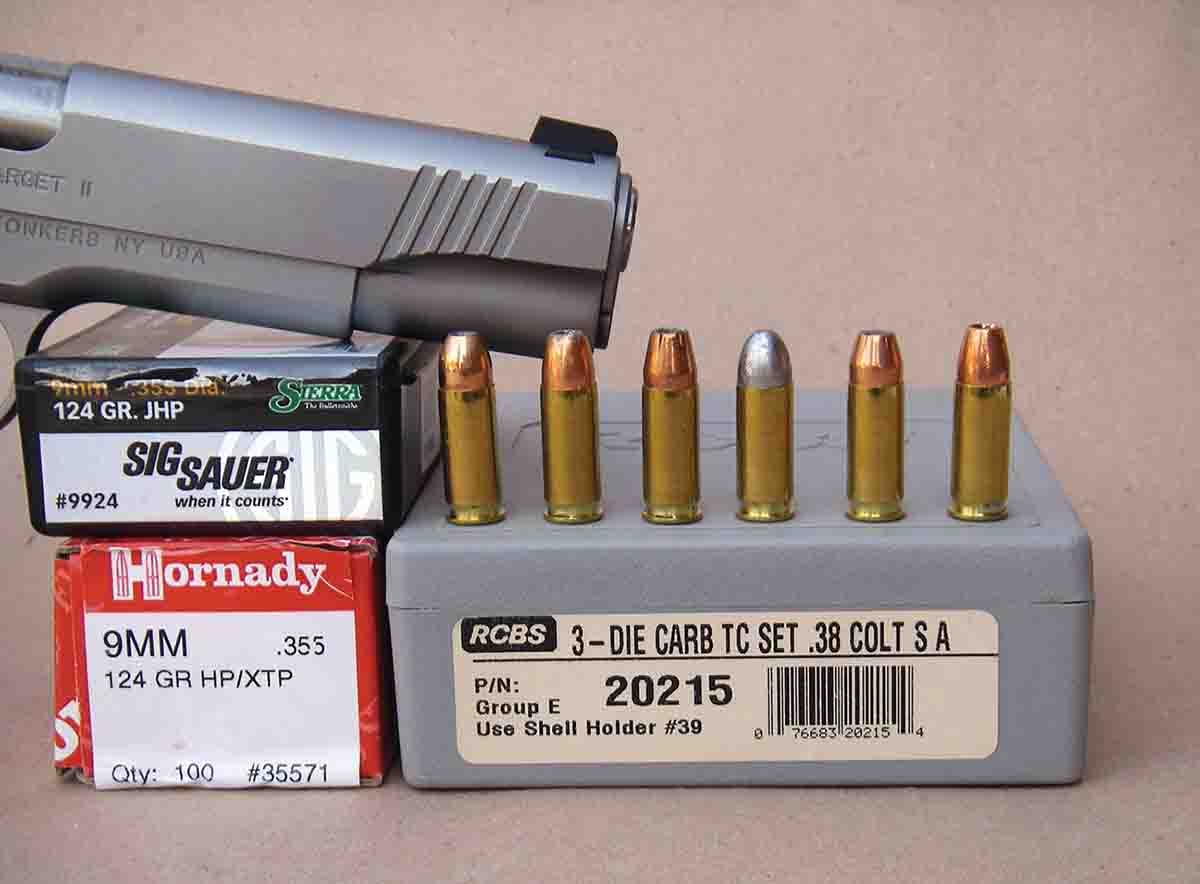 Various cup-and-core 115-grain bullets are popular, such as the Nosler JHP, Speer Gold Dot HP, Sierra JHP and Hornady XTP HP. It is noteworthy that each of these bullets has a different ogive profile and are seated to various overall cartridge lengths. Nonetheless, all of the above bullets reached over 1,400 fps with select powders, and in some instances over 1,450 fps.
Moving up to various expanding 124-grain bullets from Sierra, Nosler, Speer and Hornady; each reached over 1,300 fps, and most exceeded 1,350 fps with select powders. This is around 225 to 250 fps faster than the 9mm Luger and is crowding .357 Magnum revolver ballistics that commonly suggest a 125-grain bullet at 1,450 fps from a 4-inch barrel. This illustrates the ballistic appeal of the .38 Super, and in my mind is justification for choosing a cartridge that is slightly off the beaten path.
Vihtavuori N105 powder produced the highest velocity using 124-grain bullets, with 10.0 grains producing an impressive 1,435 fps with the Hornady XTP HP 124-grain bullet. This should be considered an absolute maximum load! However, Vihtavuori lists up to 10.9 grains for 1,594 fps using the Hornady 124-grain FMJ FP bullet, which is supposed to be within industry pressure specifications but in my tests was excessive.
Using the Sierra 130-grain FMJ bullet, vintage ballistics can be achieved by using 6.5 grains of Alliant Unique for 1,279 fps, or 8.0 grains of Ramshot True Blue for 1,288 fps.
Both Speer and Hornady offer excellent 147-grain expanding bullets, either of which can be considered for hunting deer within respectable limits. Using 10.6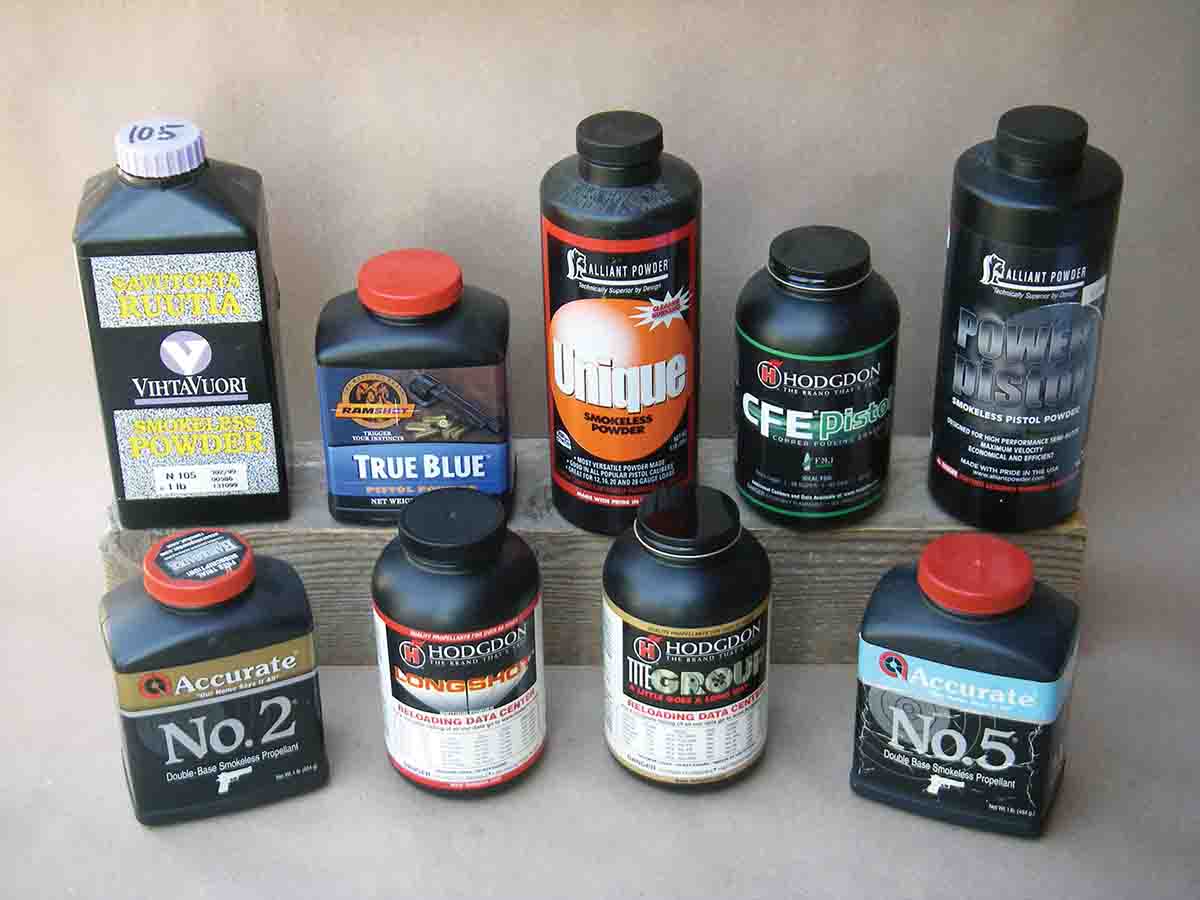 grains of Accurate No. 9 powder, the Speer bullet reached 1,240 fps, which again is not far behind .357 Magnum ballistics.
Cast bullets are an excellent choice for high-volume shooters because they cost less, produce minimal barrel wear and are pleasant to shoot when kept at low to modest velocities. Two bullets from Oregon Trail were selected, including the 124-grain RN and 147-grain FP. While cast bullets can easily reach higher velocities than jacketed bullets of comparable weight, they generally produce best overall results when velocities hover between 950 to 1,100 fps. This serves to minimize barrel leading and provide best accuracy. For handloaders willing to cast their own bullets, Lyman No. 356242 (120 grains) and No. 356637 (147 grains) are good choices and can be substituted with data developed with the above Oregon Trail cast bullets of similar weight.
There are many excellent powders for the .38 Super. For high-velocity loads using various 115- and 124- grain jacketed bullets, Ramshot True Blue, Alliant Power Pistol, Vihtavuori N340 and N105 are excellent choices. For 147-grain bullets, Power Pistol, Accurate No. 5, No. 9 and Hodgdon Longshot are top choices.
It should be noted that some of the start loads resulted in slow cycling, weak or inadequate case ejection and in some instances failed to fully cycle the action. These loads are included for shooters that want to install a light recoil spring to allow light loads to function normally. Before assembling a quantity of a given load, make certain it functions properly in your pistol.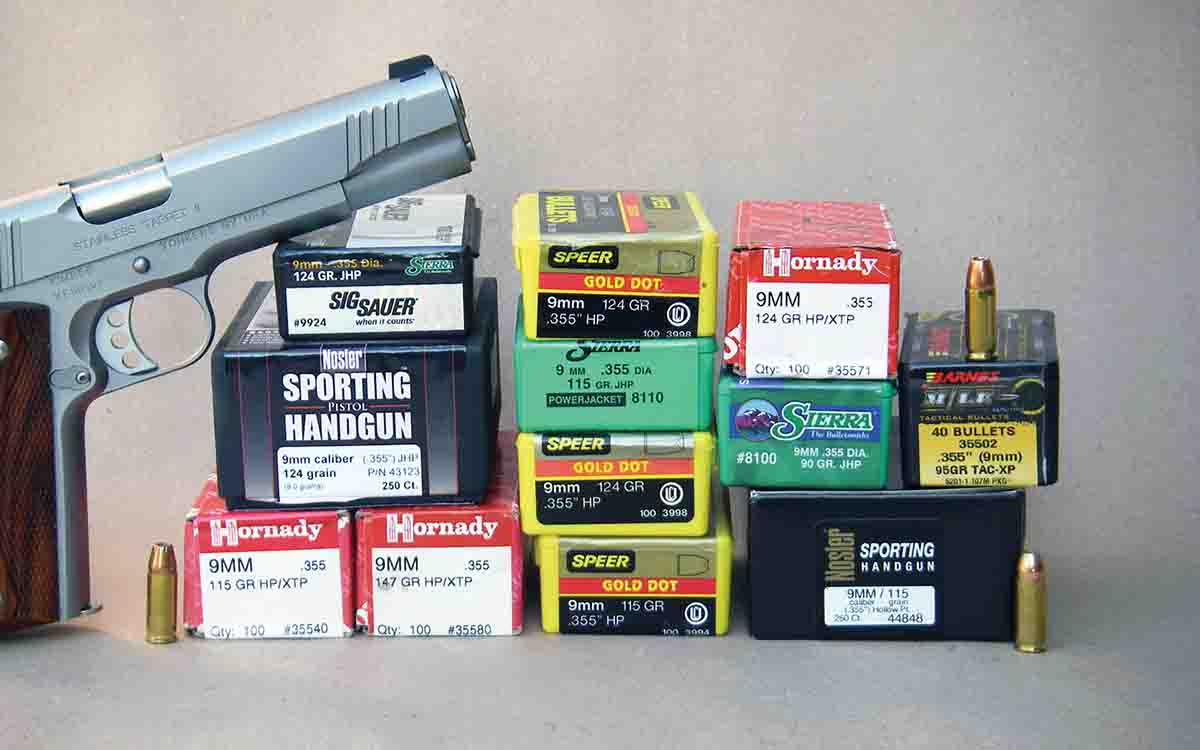 The .38 Super +P remains a popular choice among action pistol competitors while finding favor with performance-minded shooters and hunters. Its straight-wall case is easy to handload, component selection is broad, and when chambered in a modern pistol it offers good accuracy.