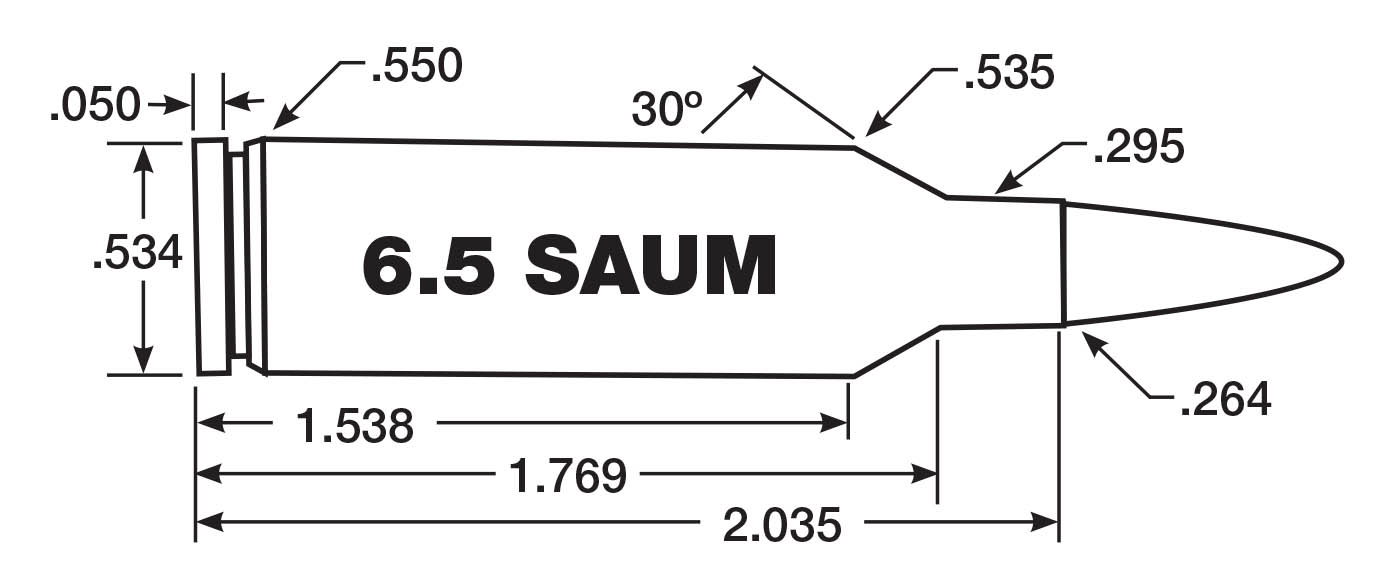 We will never know for certain who was first to neck down the 7mm Remington Short Action Ultra Mag case for .264-inch bullets, but George Gardner of GA Precision is the person who put the wildcat on the map. In addition to being a serious participant in Precision Rifle Series competition, he is one of its strongest supporters as well.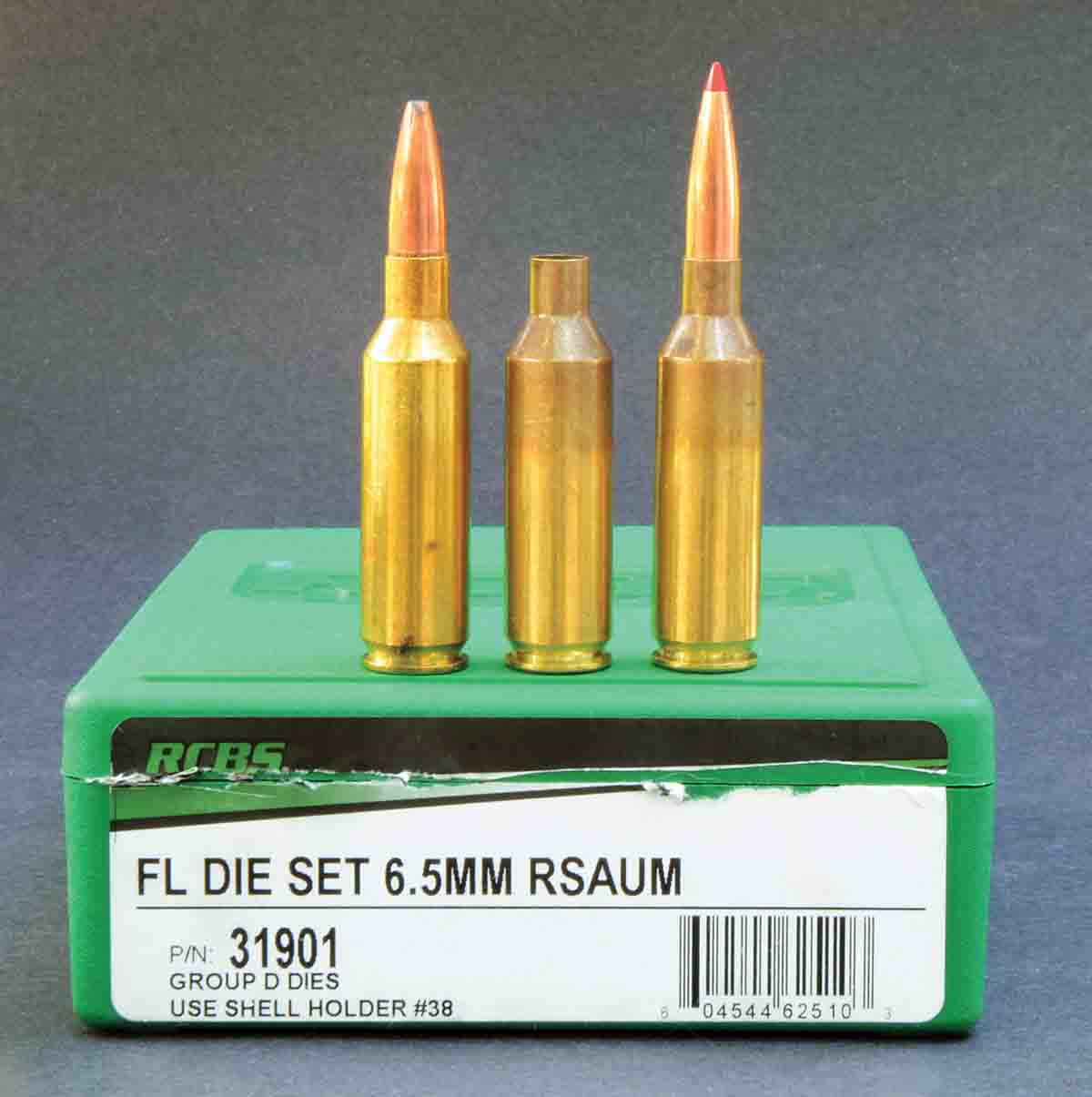 George started using the cartridge in competition in 2012, and while it became only mildly popular there, it quickly caught on with hunters across the country. Many custom rifles have been built around the cartridge, with no small number of them put together at GA Precision. When Remington 7mm SAUM brass became difficult to come by, Gardner turned to Hornady, and that company has since turned out thousands of 6.5 SAUM cases, all sold through GA Precision.
As is often the case with wildcat cartridges, there is more than one version, and the "6.5 GAP 4S" head stamp on Hornady cases differentiates it from the rest. The RCBS dies I have are marked 6.5 RSAUM. Despite the different names, the cartridge originated as the 7mm SAUM case necked down with no other change, and it is more commonly referred to as 6.5 SAUM. Gross water capacity of the GA Precision case is 72.3 grains, or about 4.0 grains more than Hornady's 6.5 PRC. Cases formed from Remington and Norma 7mm SAUM brass hold a bit less water. As other comparisons go, Hornady 6.5-284 cases hold 64.3 grains while 6.5 Remington Magnum cases made by Remington hold 70.2 grains. The old 6.5-06 case formed by necking down Federal .270 Winchester brass tops out at 66.9 grains, and .264 Winchester Magnum cases on my shelf hold 82.4 grains.
Several different chamber neck diameters are out there. With a .264-inch bullet seated in the 6.5 GAP 4S headstamped case, outside neck diameter is .292 inch. Outside-turning to .291 inch uniforms neck wall thickness. Necked down Norma and Remington 7mm SAUM cases are reduced to the same diameter. When installing a heavy, 26-inch 6.5 SAUM Shilen Select Match barrel on one of my switch-barrel target rifles, I went with a .295-inch chamber neck.
The 6.5 SAUM was intended as a short-action cartridge, but using it in some short actions requires seating long match bullets weighing 140 grains and heavier quite deeply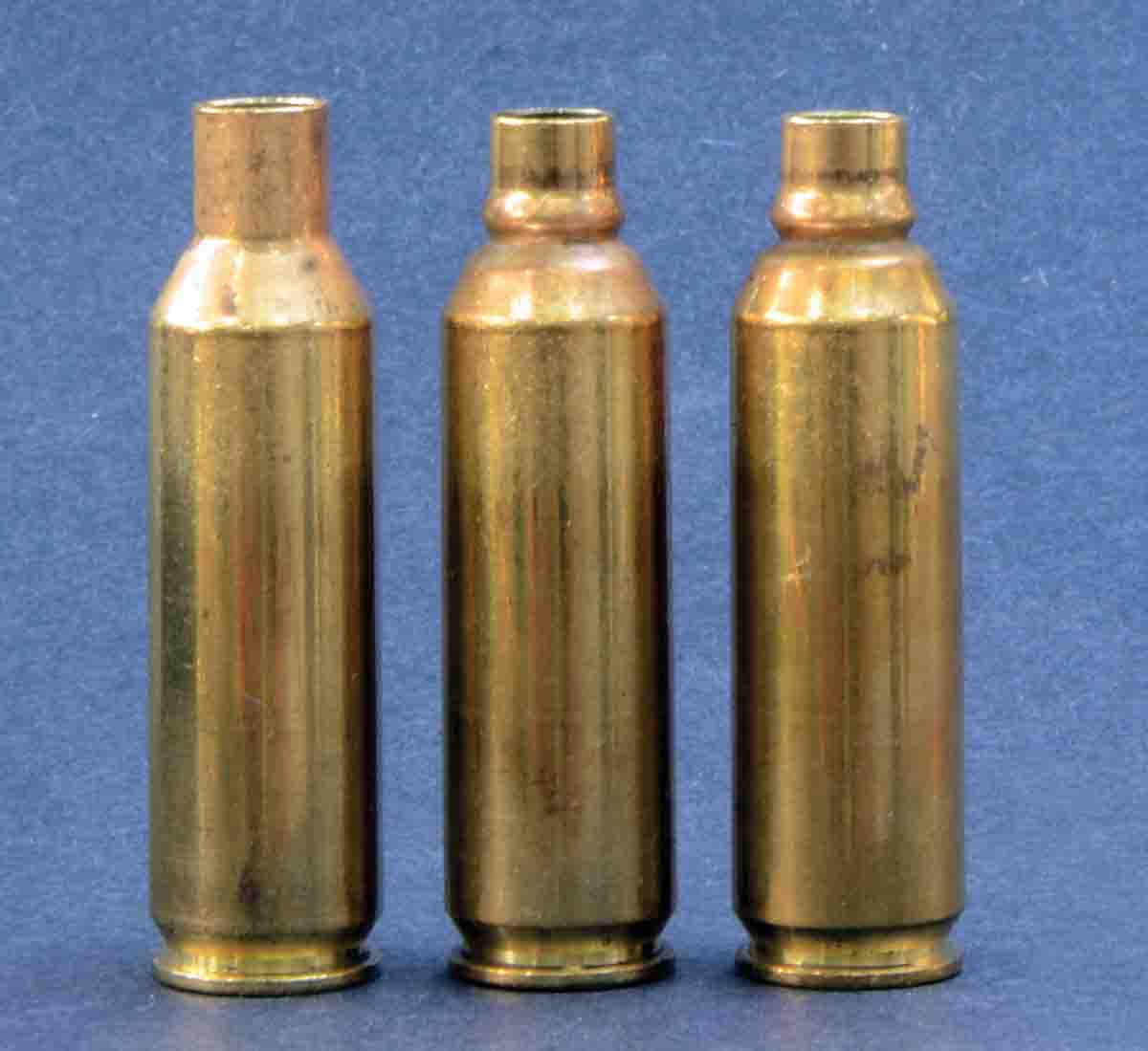 into the powder cavity of the case. With the Hornady 142-grain ELD-X seated with only its boat-tail behind the shoulder/neck junction of the case, overall cartridge length is 2.940 inches. My rifle is on a blue-printed Remington 700 short action, and its magazine restricts maximum overall cartridge length to 2.820 inches. Squeezing a 6.5 SAUM cartridge into it requires seating the Hornady bullet almost .300 inch into the powder cavity.
Installing a Wyatt's Outdoor extended magazine from Brownells would have increased maximum cartridge length to 3.040 inches, but since punching paper is the intended use of the rifle with its 6.5 SAUM barrel, manually loading cartridges directly into its chamber has proven to be all that was needed.
Chamber throat length also varies. It was originally .120 inch, and GA Precision switched to .081 inch in mid-2013. I settled on .100 inch because it is long enough to allow seating bullets out for minimum intrusion on the powder cavity while also being short enough to allow various bullets to be seated for the amount of free-travel that delivers the best accuracy. It also leaves a bit of room for chasing the rifling as erosion increases throat length.
Hodgdon-1000 has long been the most popular powder among those who handload the 6.5 SAUM, and while it continues to be an excellent choice, it does have competition. The maximum extreme velocity spread to shoot for in a cartridge used for long-distance competition is 10 fps, and H-1000 is certainly capable of that. A member of Hodgdon's Extreme family of powders, velocity is not affected as much by shifts in ambient temperature as compared to some other propellants. IMR-7977 has a similar burn rate, and it, too, does a good job of ignoring extreme changes in temperature. It is also supposed to reduce copper fouling, and while it should do just that in some barrels, fouling is seldom a problem with any powder in a top-quality barrel. When first shooting the 6.5 SAUM, I along with other shooters was on my own in the load-data department. I now use starting loads listed for the 6.5 PRC on the Hornady and Hodgdon websites.
The 7mm SAUM case can be a pain in the posterior to neck down. Early attempts at running Remington cases through a standard 6.5 SAUM full-length resizing die resulted in collapsed shoulders. An RCBS Gold Medal Match bushing-style, full-length resizer for the 7mm SAUM was already on my shelf, and after a bit of experimenting I found that first squeezing necks down with a .300-inch bushing followed by a .295-inch bushing works fine if the necks first receive a light coat of Imperial Sizing Die Wax. I have not tried necking down .300 SAUM brass, but doing so would likely require additional bushings.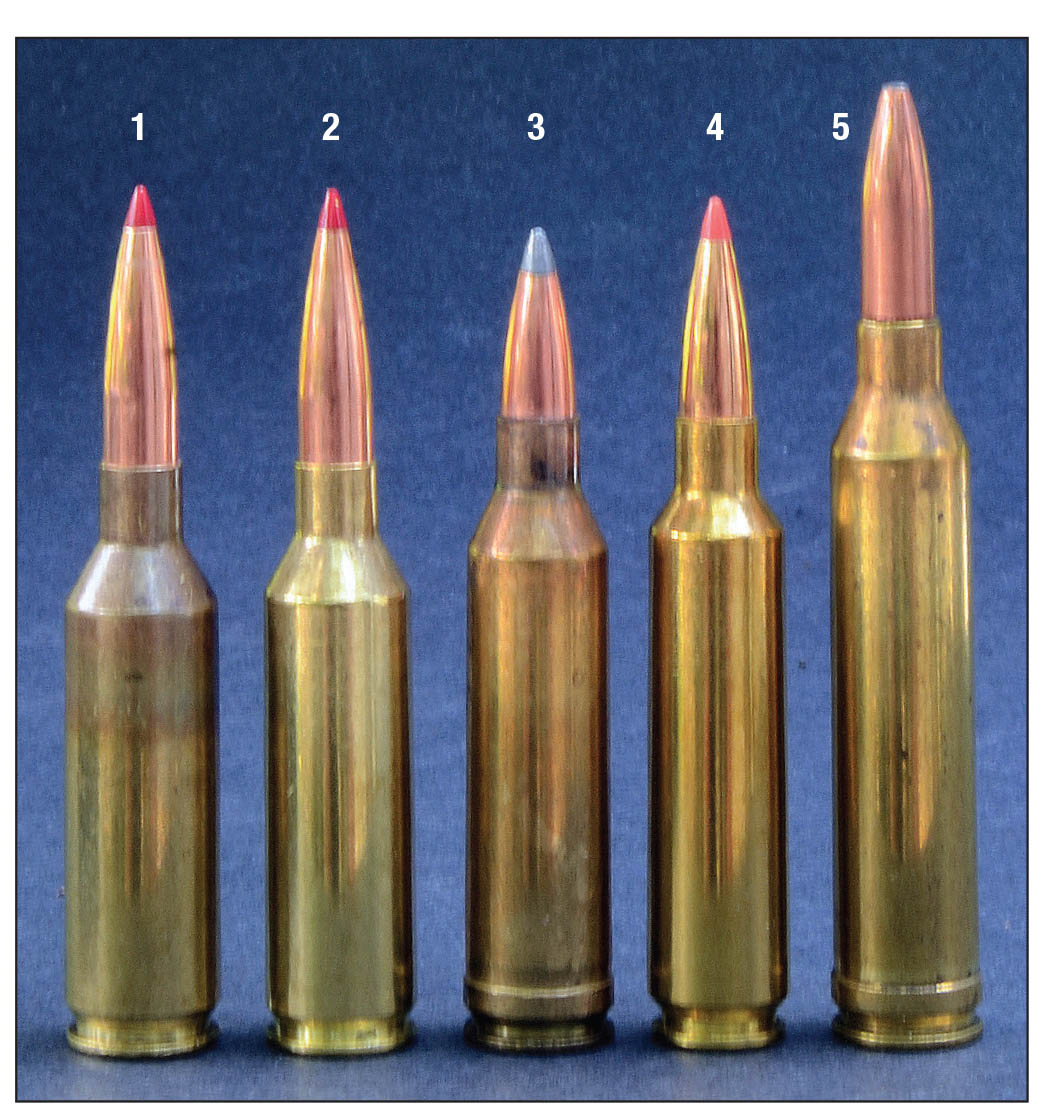 The 6.5 SAUM was originally designed for competitive shooting, but like other cartridges with similar velocity capabilities, many hunters have proven it to be an excellent choice for use on big game. Extremely long, high-ballistic coefficient bullets such as the Hornady 140-grain ELD-X and the Nosler 142-grain AccuBond LR are all the rage among many of today's hunters, but older bullets should not be counted out. I have never hunted with a 6.5 SAUM rifle, but should I someday decide to head west for pronghorn or north for caribou, my cartridges would likely be loaded with the Swift 130-grain Scirocco II. The Nosler 140-grain Partition has also worked so well in other cartridges when used on larger game including Rocky Mountain elk, I'd just as soon have it for that as anything else.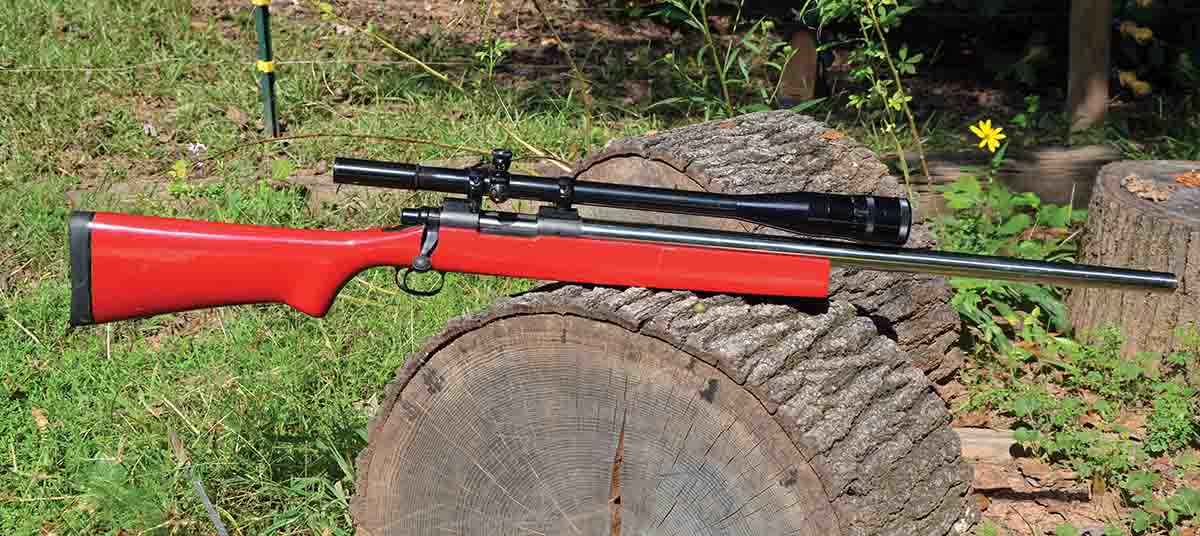 The 6.5 SAUM delivers exceptional accuracy in an accurate rifle, but as it goes with any other cartridge, careful handloading is required in order to approach quarter-minute groups. While it is a good performer, it is not a better big-game cartridge than the 6.5 Remington Magnum. I still have two rifles chambered for that cartridge, and one is a Ruger No. 1 with a 26-inch barrel. As was once typical for those rifles, its chamber throat is long enough to allow seating 140-grain bullets out of the powder cavity, and it pushes a 140-grain bullet to 3,100 fps with no sign of excessive pressure. But since I am probably the only person remaining on the entire planet who is fond of the 6.5 Remington Magnum, the odds of it making a comeback and putting the 6.5 SAUM out of business are quite slim. If any cartridge is a serious threat, it is the 6.5 PRC.