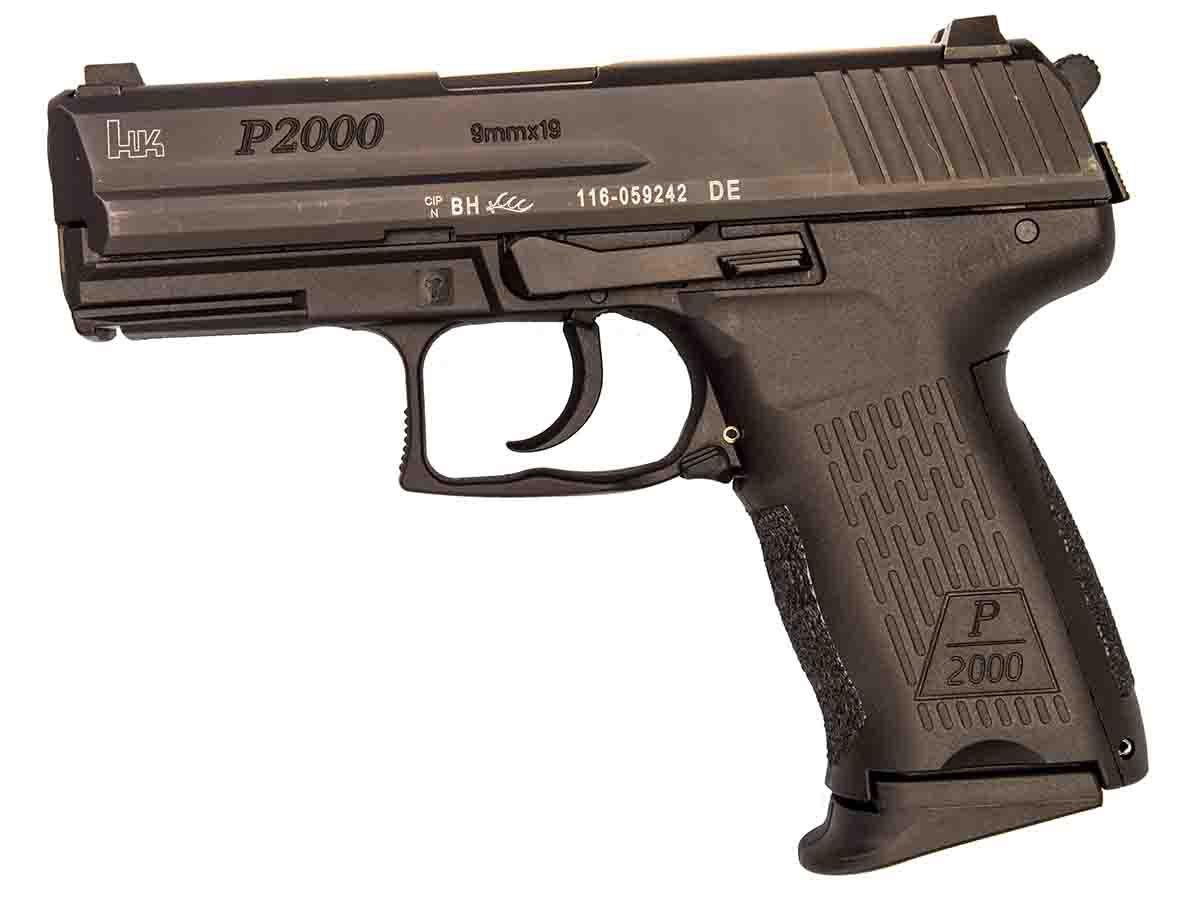 After Heckler & Koch's (HK) unusually good success with the compact USP autoloading pistol, engineers set out to make improvements and create new models that would become known as the P2000 and P2000SK. These versions (9mm, .357 SIG and .40 S&W) were subjected to extensive durability tests conducted by the U.S. Department of Homeland Security, which ultimately lead to their beating out five highly respected competitors and earning a "superior" technical rating. On August 20, 2004, HK was awarded the largest pistol contract in U.S. law enforcement history with the P2000 and P2000SK .40 S&W pistols.

The P2000 Variant 3 (V3) was introduced for consumers and German police who wanted a more precise trigger pull in a double- and single-action trigger arrangement with additional features. This pistol cannot be retrofitted with the Law Enforcement Modification (LEM) trigger system found on previous models, which provides a "constant level of trigger pull from the first to the last round." The double-action pull of the test pistol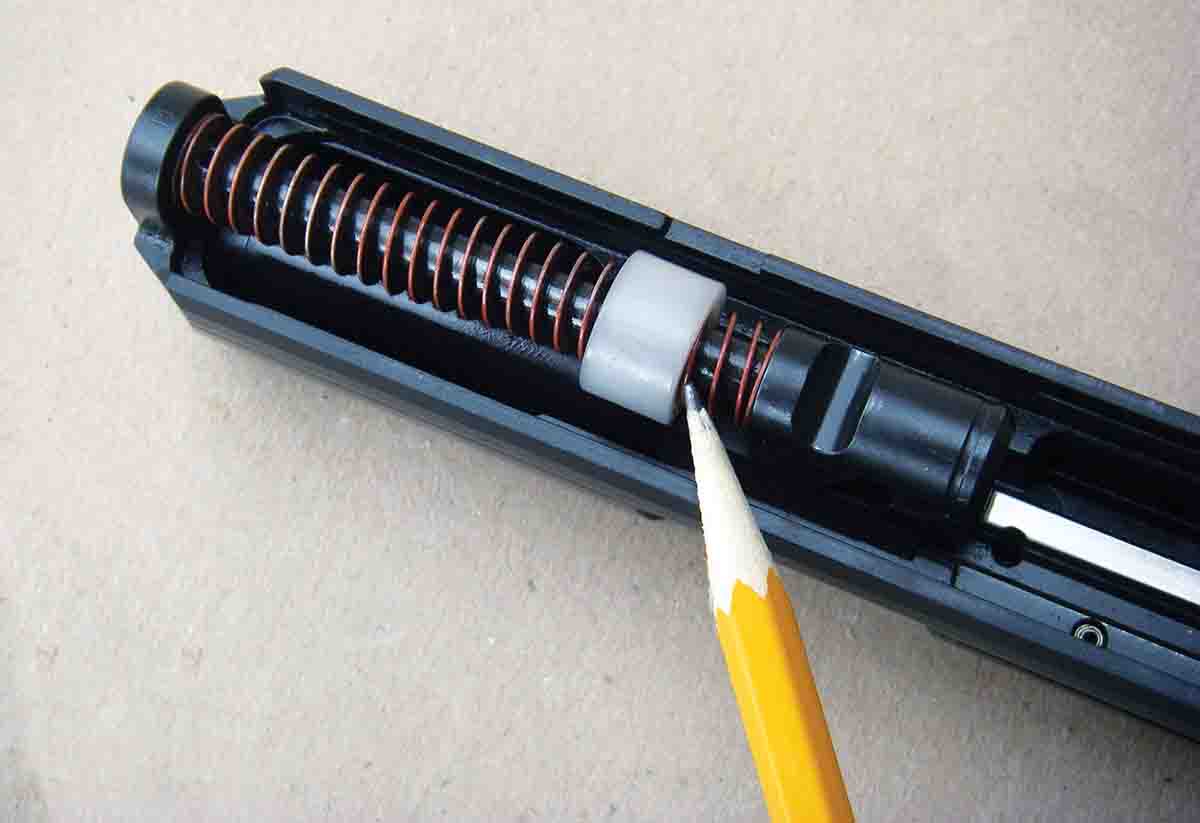 used here was around 9.5 pounds while the single-action pull broke cleanly at a respectable 4.5 pounds.
The P2000 V3 features an exposed hammer with a small decocking push button located to the left of the hammer. This unusual arrangement results in a snag-free slide that is easy to operate with either hand. The hammer spur is easily reached and manipulated with either thumb as needed.
The test pistol came in 9mm with two 13-round steel magazines – pistols chambered in .40 S&W and .357 SIG have a 12-round magazine. The ambidextrous magazine release is unusual, as it is located on the lower rearmost part of the trigger guard. In this location it is snag free. It was operated easily using only my right thumb without repositioning my hand. However, in observing several shooters operating it, some found it easier to pull the magazine release downward using the thumb and forefinger. Either way it works well and with minor practice can be operated quickly.
The frame is constructed of fiberglass-reinforced polymer and has texturing on the front, back and sides of the grip. Included are four interchangeable backstraps that are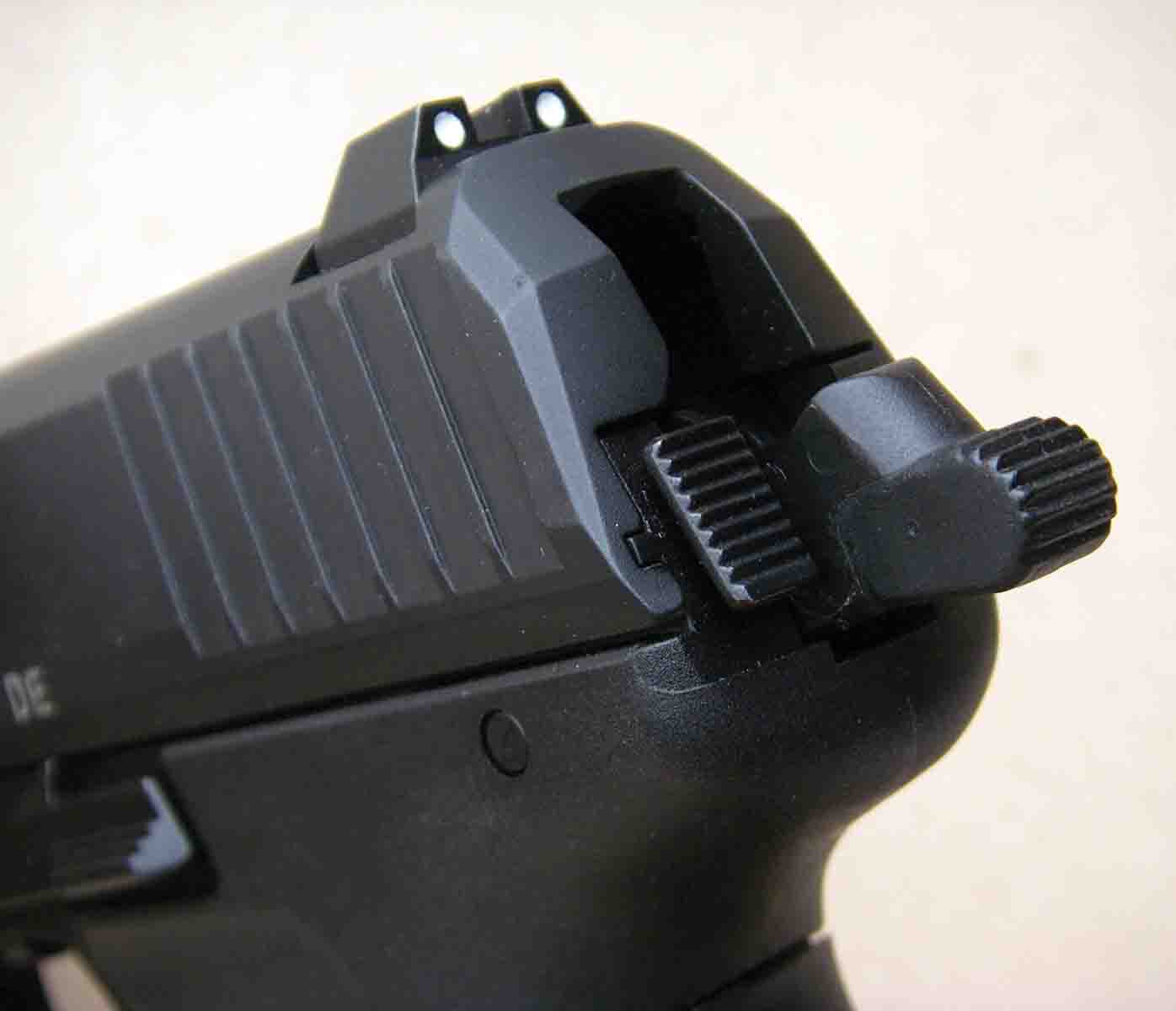 pinned in place, including small, medium, large and extra-large versions, allowing the shooter to choose the most comfortable size. The grip is long enough to allow shooters, even those with large hands, to easily obtain a firm grip with all fingers.
The frame's under lug located just forward of the trigger guard (some shooters call this a dust cover) features a Picatinny rail grooved to accept lasers, lights, etc. The front of the trigger guard is squared and grooved. The pistol's overall length is 7 inches long and just over 5 inches tall while the slide measures 1.135 inches at its widest point, resulting in a comparatively compact package. And at 23 ounces, it is lightweight and can serve handily for concealed carry, but its size makes it easy to shoot well.
The slide, barrel and other components are constructed of high tensile steel and are coated with a matte-black, nitro-carburized finish (HK refers to it as "Hostile Environment") that has proven to be rust resistant, tough and durable. The left and right slide releases assist with complete ambidextrous operation and are only slightly wider than the slide, further resulting in in a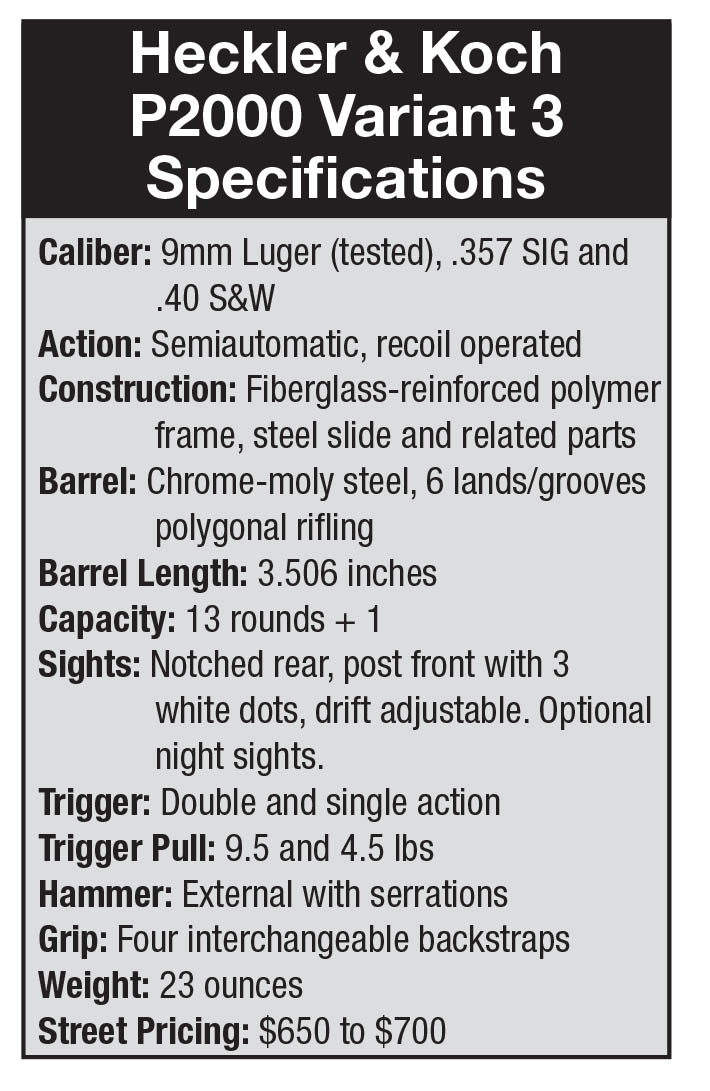 snag-free slide profile.
The chrome-moly steel barrel is 3.506 inches long (actual measured length that does not include the barrel hood) and features six-sided polygonal rifling with a 1:16 twist.
The action is based on the Browning linkless recoil-operated design but features a polymer recoil bushing that operates in conjunction with the steel guide rod and is said to reduce felt recoil.
Notable safety features include a firing pin block, disconnector, hammer intercept notch, drop safety and lock-out device. There is an optional magazine disconnect that I personally would never select.
The sights are true combat style, with both being installed via a dovetail and are only drift adjustable. The front features a white dot while the rear comes standard with two white dots. Night sights are optional.
After running a few full magazines through the P2000 V3, my initial impressions were very positive. Felt recoil was low, trigger pull was acceptable, sights were of proper specification for quick and easy alignment, the grip was comfortable and accuracy was well above average for this type of pistol. When firing the first round in double-action mode, the pistol did not need to be repositioned in the hand to fire subsequent shots in single-action mode, which is an important feature for any double/single-action pistol.
One item that took a little conscious effort to get used to was the trigger reset. The travel is a bit more than I would prefer but is not really excessive. However, I would like to see the reset click more pronounced, which would help most shooters instantly begin the trigger pull for the next shot, rather than allowing the trigger to travel fully forward, which can slow down the time between repeat shots.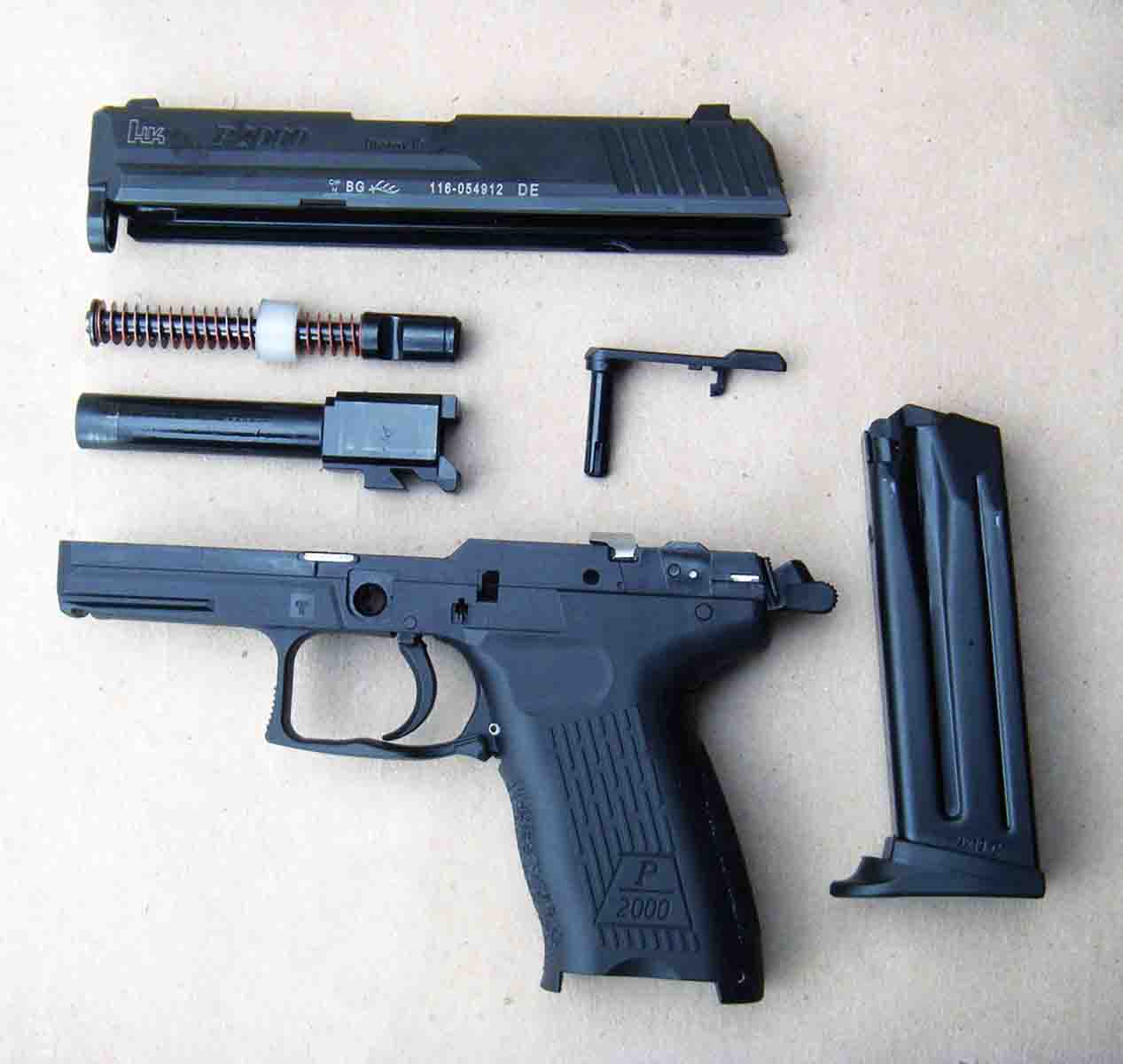 Using premium factory loads, including Hornady 124-grain JHP/XTP (standard pressure), Hornady American Gunner 124-grain XTP +P, Speer 124-grain Gold Dot HP and Black Hills 124-grain JHP +P, five-shot groups consistently hovered between 1.70 and 2.5 inches at 25 yards. Clearly, the HK offers plenty of accuracy for any practical self- or home-defense application, but it is also good enough to roll tin cans or pot small game.
Two handloads were also tried. The first included a Speer 124-grain Gold Dot HP bullet loaded in Starline brass with a CCI 500 primer and 6.5 grains of Ramshot True Blue powder for 1,181 fps. This load functioned flawlessly and produced notably high velocities while staying within industry pressure guidelines. Switching to the Hornady 115-grain XTP bullet loaded with 5.5 grains of Winchester AutoComp powder, velocity averaged just over 1,200 fps. Both loads grouped similarly to the above factory loads, with typical groups measuring 2 to 2.5 inches.
While the HK P2000 V3 test pistol was fired enough times to determine its accuracy and reliability with several loads, it was neither torture tested, nor was it fired extensively enough to determine its longevity. However, it is noteworthy that the U.S. Department of Homeland Security subjected P2000 pistols to a series of severe punishment tests that included firing 3 million rounds. In spite of stiff competition it earned top marks, and it has a proven record that few pistols can match.