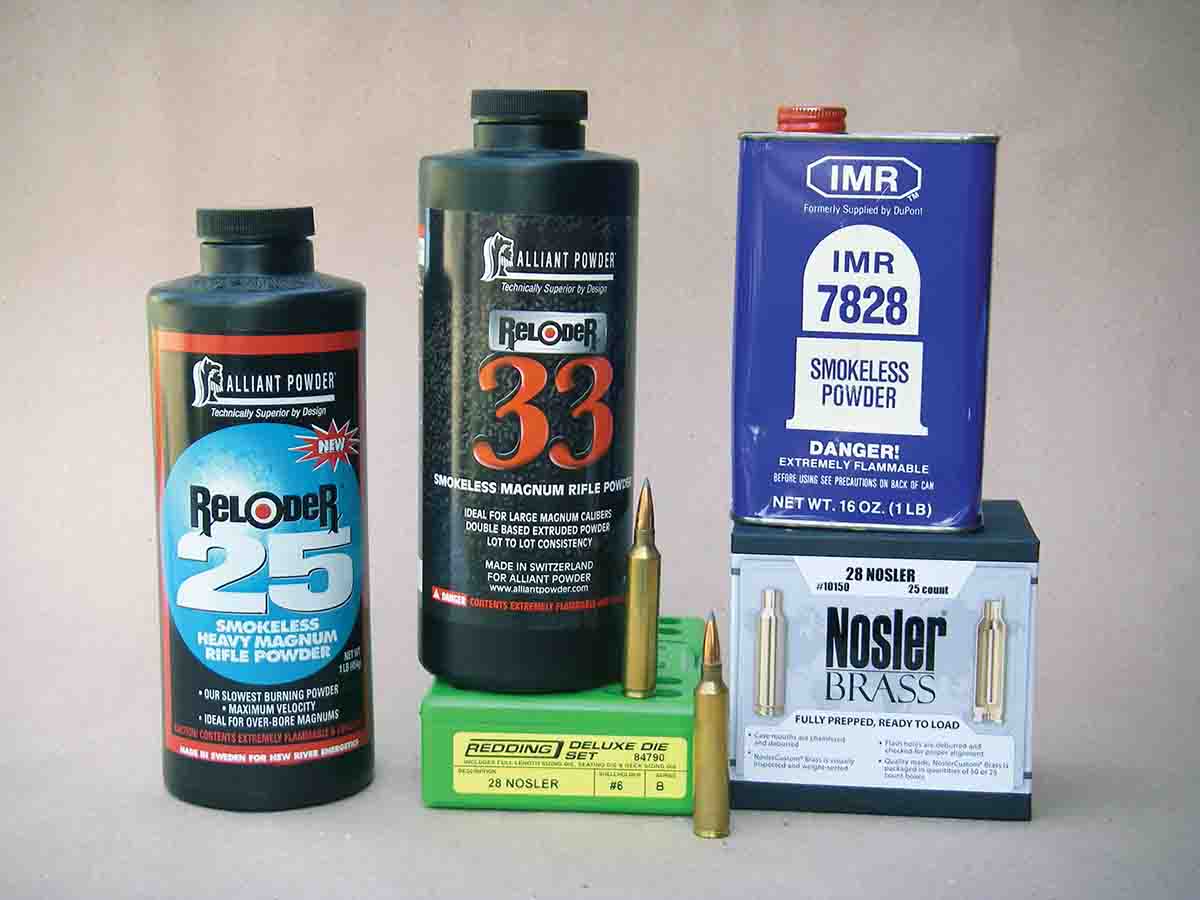 Q:
I finally acquired a Nosler Model 48 chambered in .28 Nosler and have purchased brass and components, but would like your advice for powder selection. I am primarily going to use 140- and 150-grain Ballistic Tip and AccuBond bullets. My rifle is fitted with the 26-inch barrel and I would like to reach as much muzzle velocity as possible with each bullet, and would like to draw upon your experience. What powder or powders are going to give the highest velocities? And any suggested charge weights that you can offer with each bullet will be much appreciated. – J.J., Huntsville AL
A: There are many excellent slow-burning powders that will produce very similar velocities in the .28 Nosler with the bullet weights you mention; however, some will show a distinct accuracy edge. Before committing to a given powder that can produce an insignificant 50- or 100-fps velocity edge, I suggest that you also consider propellants that are known for providing accuracy.
In my load development using Nosler 140-grain Ballistic Tip bullets, 98.0 grains of Alliant RL-33 powder and 85.5 grains of IMR-7828 (or IMR-7828ssc) both reached almost 3,650 fps. Switching to the 150-grain AccuBond bullet, 84.0 grains of Alliant RL-25 powder reached 3,450 fps. The above loads were assembled in Nosler cases and were capped with Federal GM215 Match primers.
.32 Smith & Wesson Long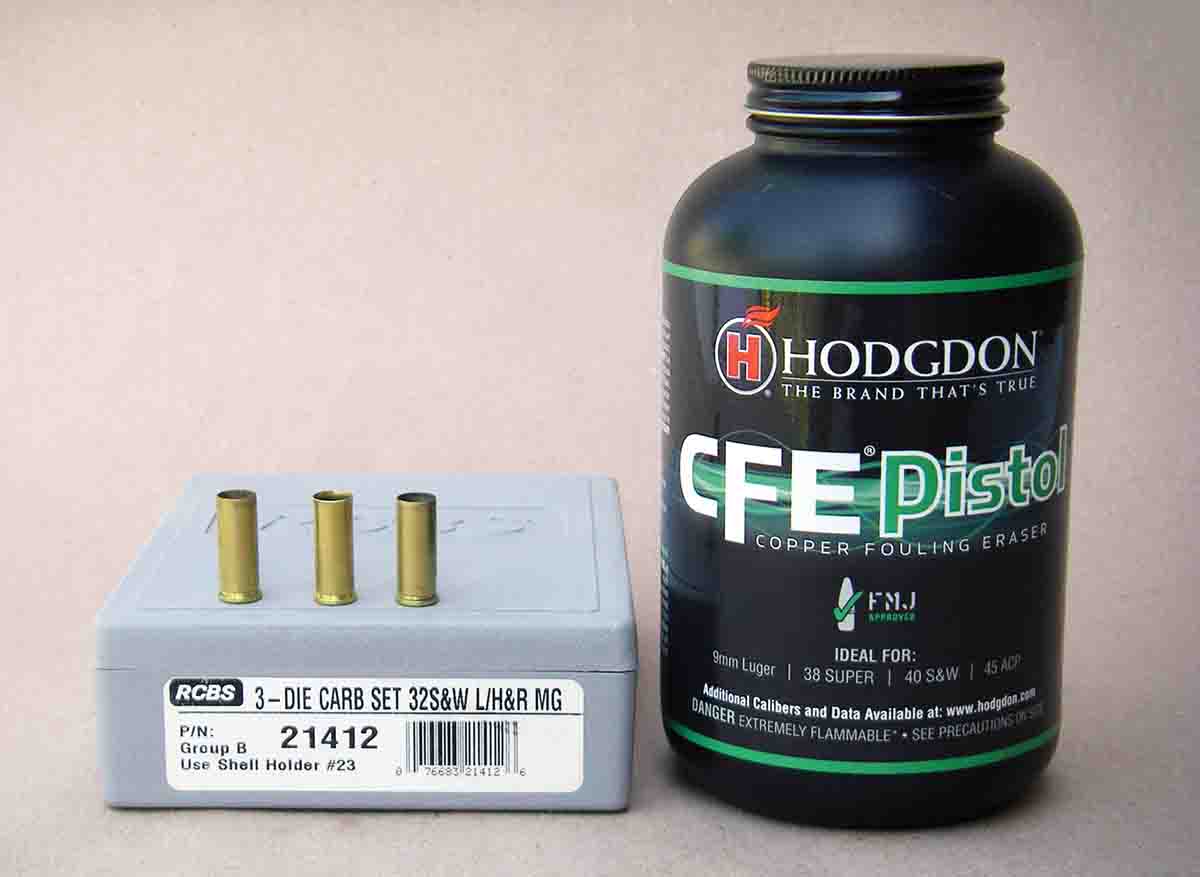 Q:
I have a quantity of .32 S&W Long Fiocchi cases that I would like to reload with 100-grain Meister DEWC cast bullets. I have on hand Hodgdon H-110 and CFE Pistol powders, but cannot find any data for this cartridge. I will use CCI 500 primers. These reloaded cartridges will be used in my Ruger SP101 chambered in .327 Federal Magnum, which has a 3-inch barrel. Does this sound reasonable? Can you offer any data? – B.W., Tucson AZ
A: The Meister .312-inch 100-grain DEWC bullet seats rather deeply in the comparatively short .32 S&W Long case, which limits powder capacity. As a result, using Hodgdon H-110 is not really suitable. I took time to test and develop data using CFE Pistol powder, which produced respectable results.
With bullets seated for an overall cartridge length of 1.005 inches, start with 2.8 grains of CFE Pistol for 854 fps, which was obtained from a Ruger New Model Single-Six .32 H&R Magnum with 6.5-inch barrel. Bumping the powder charge to 3.0 grains yielded 897 fps, 3.2 grains produced 965 fps and 3.5 grains provided 1,033 fps. The lowest extreme velocity spreads were observed with the 2.8-grain powder charge, with the second-lowest observed with 3.5 grains. Depending on your revolver's bore surface (how smooth it is), forcing cone condition, throat size and other factors, when using cast bullets featuring a bevel base you will probably see the best results with loads between 800 and 950 fps.
High-Pressure .454 Casull Loads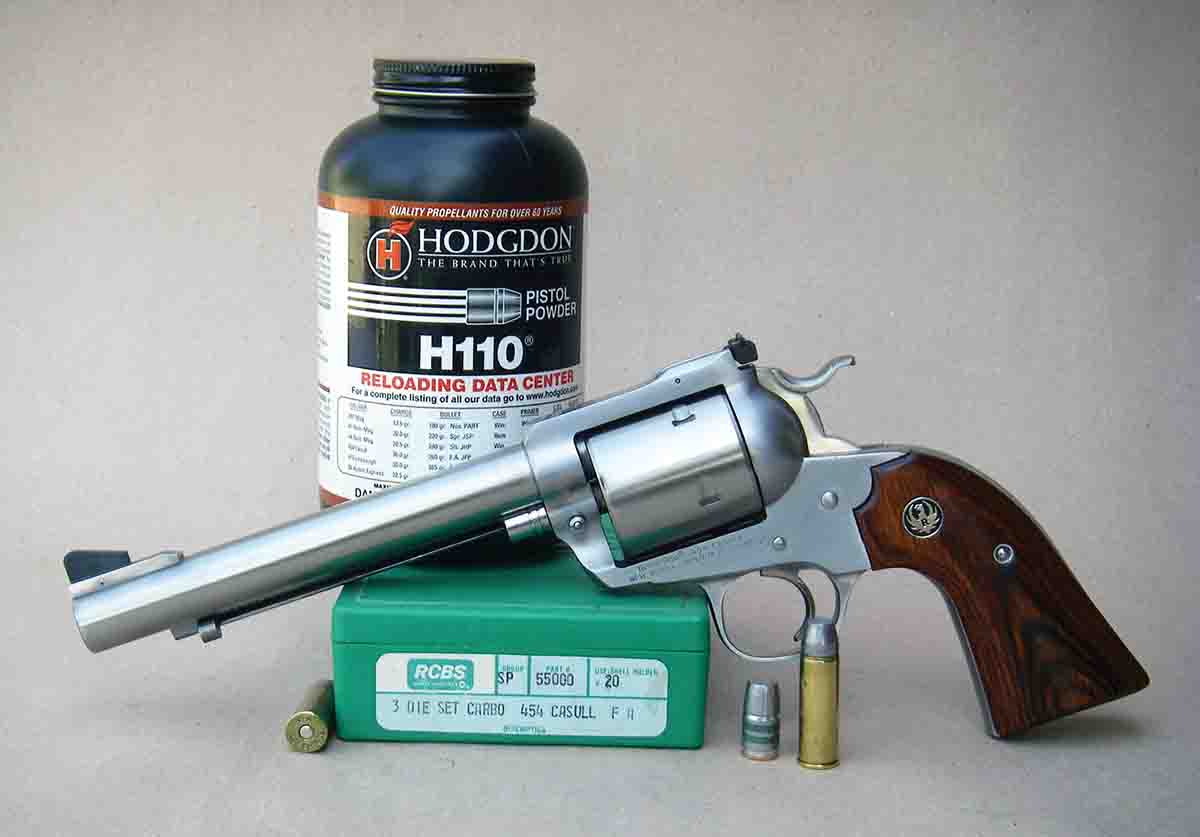 Q:
I recently purchased a new Ruger New Model Super Blackhawk Bisley chambered in .454 Casull. I have been shooting the 300-grain Hornady XTP Mag bullet with excellent results but would like to begin using cast bullets from my LBT 340-grain mould and Lee 300-grain mould. Both are LFN gas check designs.
I have plenty of Hodgdon Lil'Gun, H-110, Alliant 2400 and Unique powders on hand. I would like to reach 1,600 fps from the 340-grain bullet for hunting purposes and approximately 1,200 fps for general use, and approximately the same velocities with the 300-grain bullet. Any suggested loads and guidance would be greatly appreciated. I have seen data that says, "Freedom Arms only." Can I use this data in my Ruger? Thanks in advance for your help. I really enjoy your writing, especially on big-bore sixguns. And thanks for publishing such a great magazine. – J.K., Denton MT
A: I am unsure what data source you are referencing that states "Freedom Arms only," but it was probably developed prior to the .454 Casull becoming an industry standardized cartridge in 1998. Due to the strength of the Freedom Arms Model 83 revolver (a result of both design and metallurgy), there has been considerable data from various sources that exceeds SAAMI maximum pressure guidelines of 65,000 psi. Some of this data originated with cartridge designer Dick Casull and was intended specifically for Freedom Arms guns. Your Ruger is strong enough to easily handle loads that stay within industry pressure limits, but it does not approach the strength of the Freedom Arms revolver. Unless the data that you reference specifies that it is within SAAMI pressure guidelines, it should not be used in your revolver.
I am unaware of any powder that can push a 340-grain cast bullet to 1,600 fps without exceeding pressure limits. Veral Smith of LBT offered several Long Flat Nose (LFN) mould designs for heavy loads in the .45 Colt and .454 Casull. Not knowing which design you have, and how deeply it seats, affecting powder capacity and pressures, I am hesitant to offer data. However, I suggest beginning with 25.0 grains of Hodgdon H-110 powder, which should give you around 1,200 fps. Working up to a maximum charge of 28.0 grains should provide around 1,350 fps. If it makes you feel any better, the performance (shock and penetration) of a 340-grain hard cast flatnose bullet traveling 1,350 fps versus the 1,600 fps that you desire is negligible when used on big game. Regarding the 300-grain cast bullet, 30.5 grains of H-110 powder should reach your desired 1,600 fps. All loads should be used in conjunction with Remington 7½ or Federal 205 Small Rifle Magnum primers. Thanks for taking the time to read our magazines, and good luck hunting.
.25-06 Primer Problems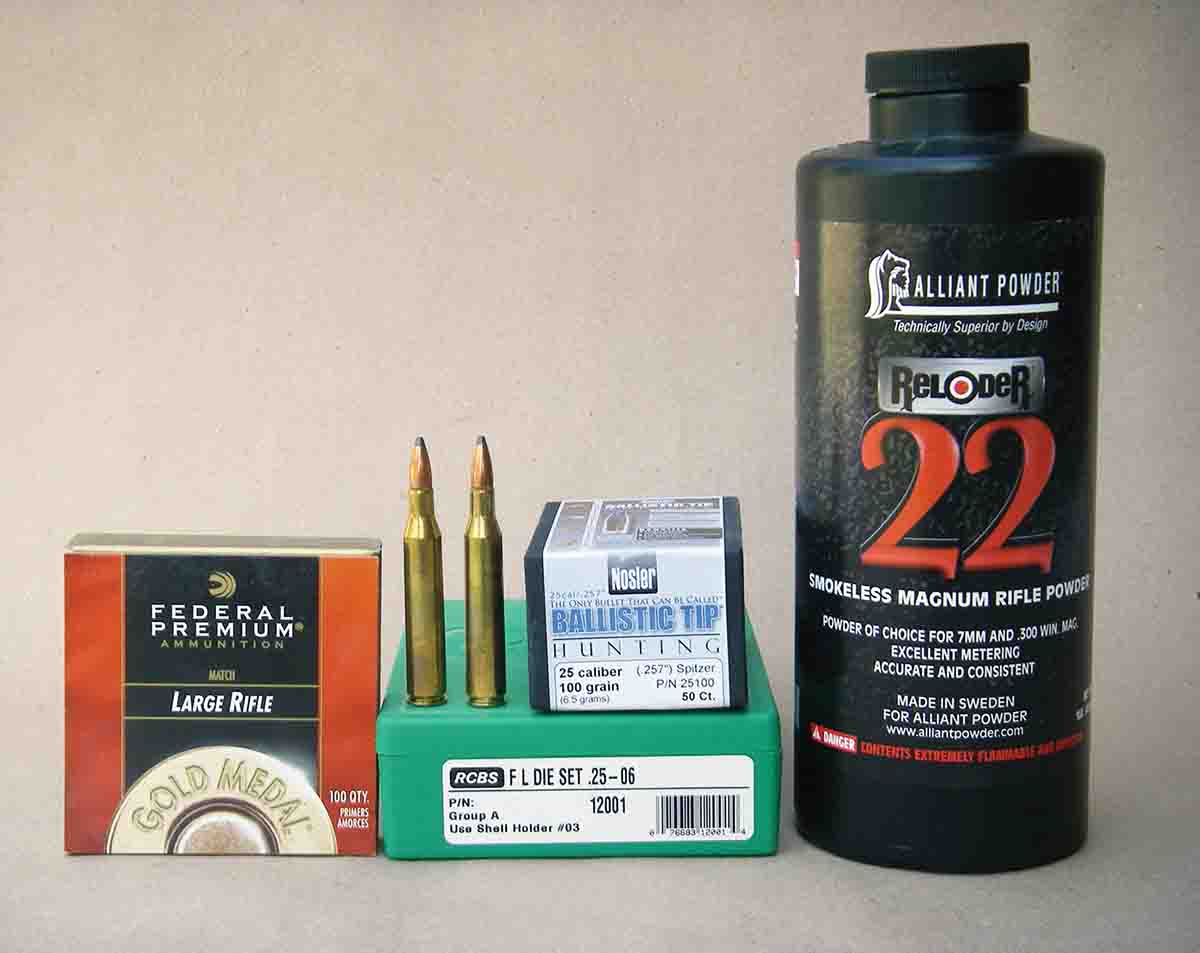 Q:
I have an Interarms Mark X Mauser rifle chambered in .25-06 Remington that I purchased new in 1977. It has a 24-inch barrel and usually shoots under one inch with most of my loads that have included bullet weights ranging from 75 to 120 grains. I recently acquired a Remington Model 700 BDL in the same caliber and would like to use the same handloads in each rifle. I am experiencing an unusual problem.
I full-length size cases so that loaded cartridges will chamber in both guns, then trim them to 2.490 inches. I keep the overall cartridge length within the specified 3.250 inch, actually 3.230 inch for the load in question. The load that I am currently using consists of the 100-grain Nosler Partition, Remington cases, PMC Large Rifle primers and 53.0 grains of Alliant Reloder 17 powder.
As indicated, my handloads easily chamber in each rifle, and there is no indication that the bullet is contacting the leade. When fired in the Remington 700, there are no signs of pressure. The primers appear normal, and bolt lift is comparable to factory loads. The loads are accurate and are functioning without problems. But when the same loads are fired in the Mark X, primers are severely flattened and sometimes the firing pin indent area falls out. I reduced the powder charge to 51.0 grains and the same problems exist. So I cut the load down to 49.0 grains and the problem is lessened, but I still don't like the appearance of the primers, as they are nearly flat. This last charge weight is the suggested start load in my manual. Incidentally, this is the first time that I have tried Reloder 22 powder in the .25-06. I like the results (accuracy and high velocity) in my Model 700, but am unsure how to make it work in the Mark X. Incidentally, I have used maximum suggested charges of Hodgdon H-4831 powder in the past, and those loads have worked fine in both rifles. Any troubleshooting thoughts would be greatly appreciated. – S.J., Portland OR
A: It is always difficult to identify technical handloading problems from a letter; however, there are three possible areas that immediately come to mind. My experience with foreign-manufactured PMC primers is comparatively limited, but I have seen some odd occurrences. Since you do not mention difficult bolt lift, it is possible the primer deformation is not being caused by excess pressure, but it might be a combination of the firing pin and firing pin hole relationship and/or bolt face. I suggest trying the same loads with the Federal 210 or CCI 200 Large Rifle primers.
Another possibility includes powder lot-number variances. While your Remington Model 700 is handling loads without issue, they may still be of higher pressure than the manuals indicate. And for clarification, most sources list 51.0 to 53.5 grains as maximum in the .25-06 Remington with 100- grain, cup-and-core bullets. If your lot of powder happens to be on the higher side of energy, this can result in higher pressures. You do not mention any velocities, so I can only speculate that you have not chronographed your loads from each rifle. This is an important tool in identifying what is happening with your loads in two different rifles.
My third-best guess is the Mark X barrel. They were good rifles, but their barrel and bore dimensions were known to vary – sometimes significantly. If you happen to have a minimum specification bore, or even one below specification, it can produce excess pressures.
There are other factors, including throat length and dimensions, leade angle, etc., that could be contributing to your problem, but I would address the above issues first. I hope these suggestions help.