Sierra is a company long known for making bullets that produce a high level of accuracy. With its MatchKing and tipped MatchKing target offerings, the company produces bullets with some of the highest ballistic coefficients (BC) around. Until now, such a high-BC bullet has not been available in the Sierra hunting bullet lineup. Now Sierra is a contender in this arena with the
Tipped GameKing (TGK) "GameChanger" bullet, available in five calibers. A handloader can tell just by looking that this long, sleek boat-tail bullet has a very high BC. It features a green translucent plastic tip that may help initiate expansion at the reduced velocity of long-range shots.
As always for Sierra, the company lists different ballistic coefficients depending on bullet velocity. Here is a list of BCs based on velocity: .243 diameter 90-grain TGK, (.490 BC) at 2,700 fps and above; .264 130-grain TGK, (.510) at 2,350 fps and above; .277 140-grain TGK, (.508) at 2,600 fps and above; .284 165-grain TGK, (.610) at 2,600 fps and faster; .308 165-grain TGK, (.530 BC) at more than 2,680 fps.
This new Sierra bullet, particularly the 140-grain .27 caliber, piqued my interest. It looks so good that I was eager to try it in my favorite mule deer cartridge, the .270 WSM. A body of test results on former bullets with high ballistic coefficients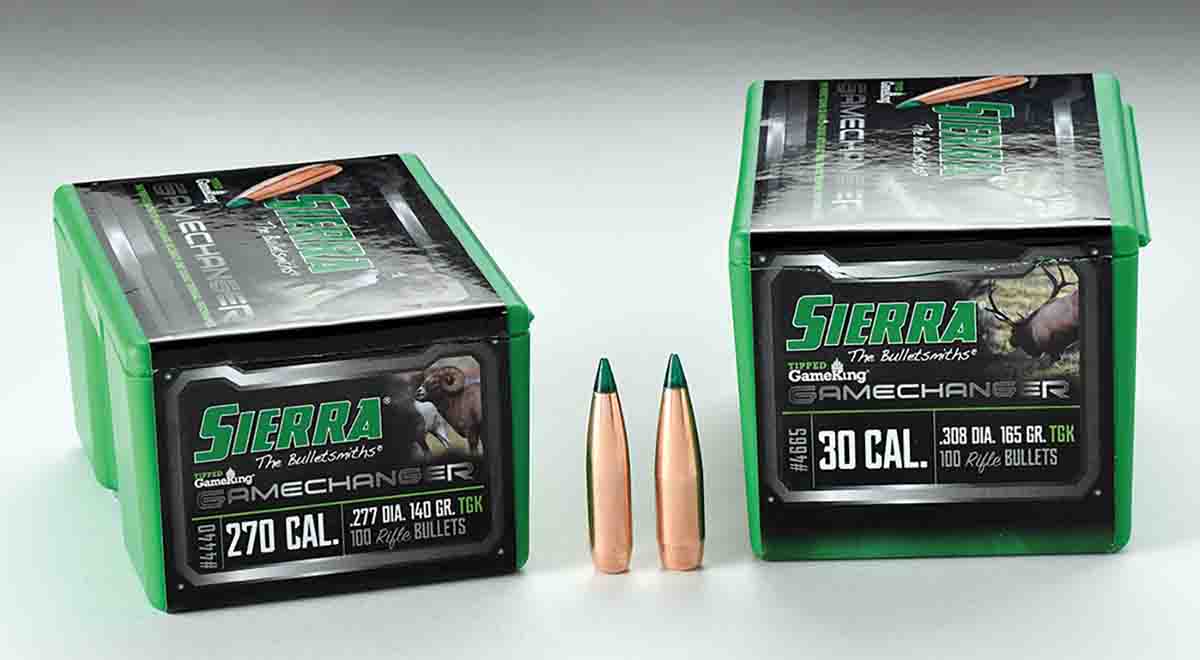 that I have in this caliber provide a good basis for comparison.
First, loads were worked up for the test rifle with a 24-inch barrel using Alliant's Reloder 26. Loading 67.5 grains in a Winchester case with a Federal 215 primer produced an average velocity of 3,311 fps with an average chamber pressure of 61,800 psi. The load turned in a .7-inch group with the first three shots fired at 100 yards. The BC came up higher than expected at .569. Sierra indicates a BC of .508 for this bullet at 2,600 fps and faster, so the screen spacing of the Model 43 chronograph was checked and it was okay. Screen spacing is critical in measuring ballistic coefficient. I then checked the measurements entered into the computer and found an error. The muzzle-to-target distance had been entered incorrectly by 12 inches too long. This would not affect velocity or chamber pressure, but it would account for the higher-than-expected ballistic coefficient.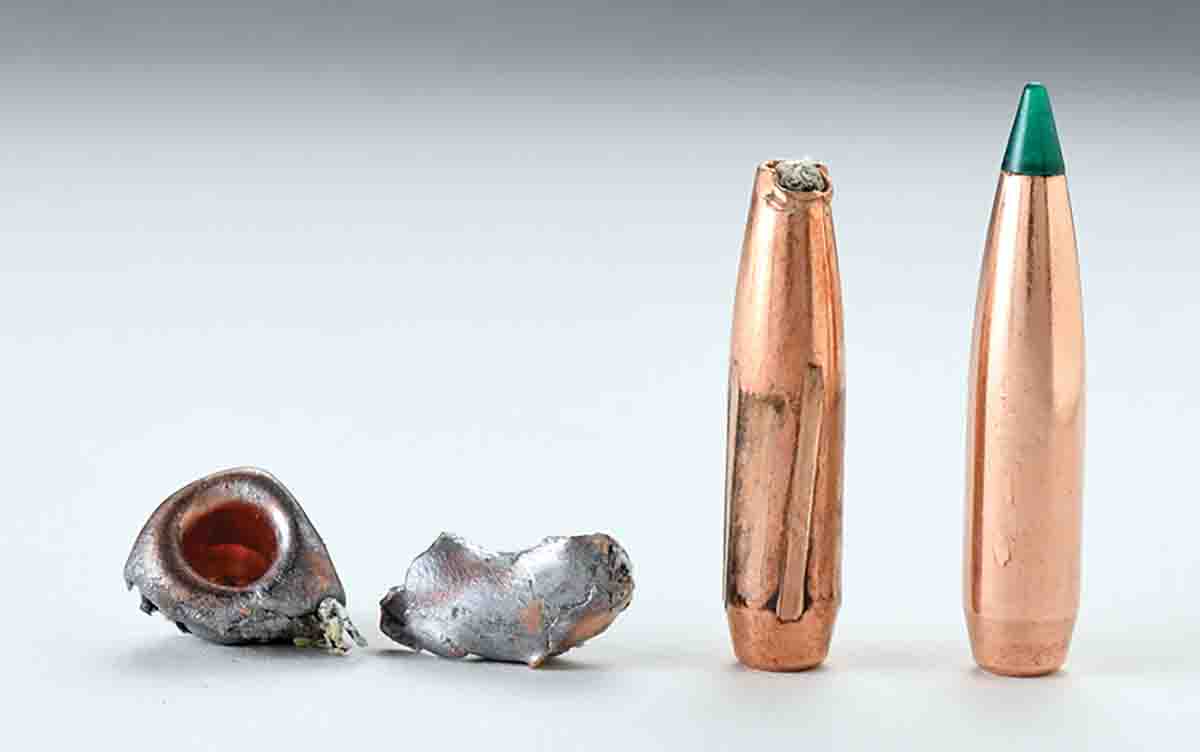 It was at that point when I thought of all the former data fired for ballistic coefficient using IMR-4831. I decided to switch to this propellant so that data for the new Sierra bullet would mesh with the former data for a more valid comparison. I wanted to keep the testing that had been done for all the other bullets as nearly the same as possible for the new Sierra.
After working up loads, a charge of 61.5 grains of IMR-4831 was selected for use with the Sierra bullet. A Winchester case held the components, and a Federal 215 primer sparked the powder. The average velocity for five shots was 3,164 fps at 62,900 psi. The BC recorded on that string was .488, higher than any other 140-grain bullet I had fired during the tests, including a Berger 140-grain VLD Hunting bullet at .475, a Nosler
AccuBond at .448, a Nosler Ballistic Tip at .438 and a Hornady SST at .475. All the 140-grain loads were fired at velocities ranging from 3,164 to 3,246 fps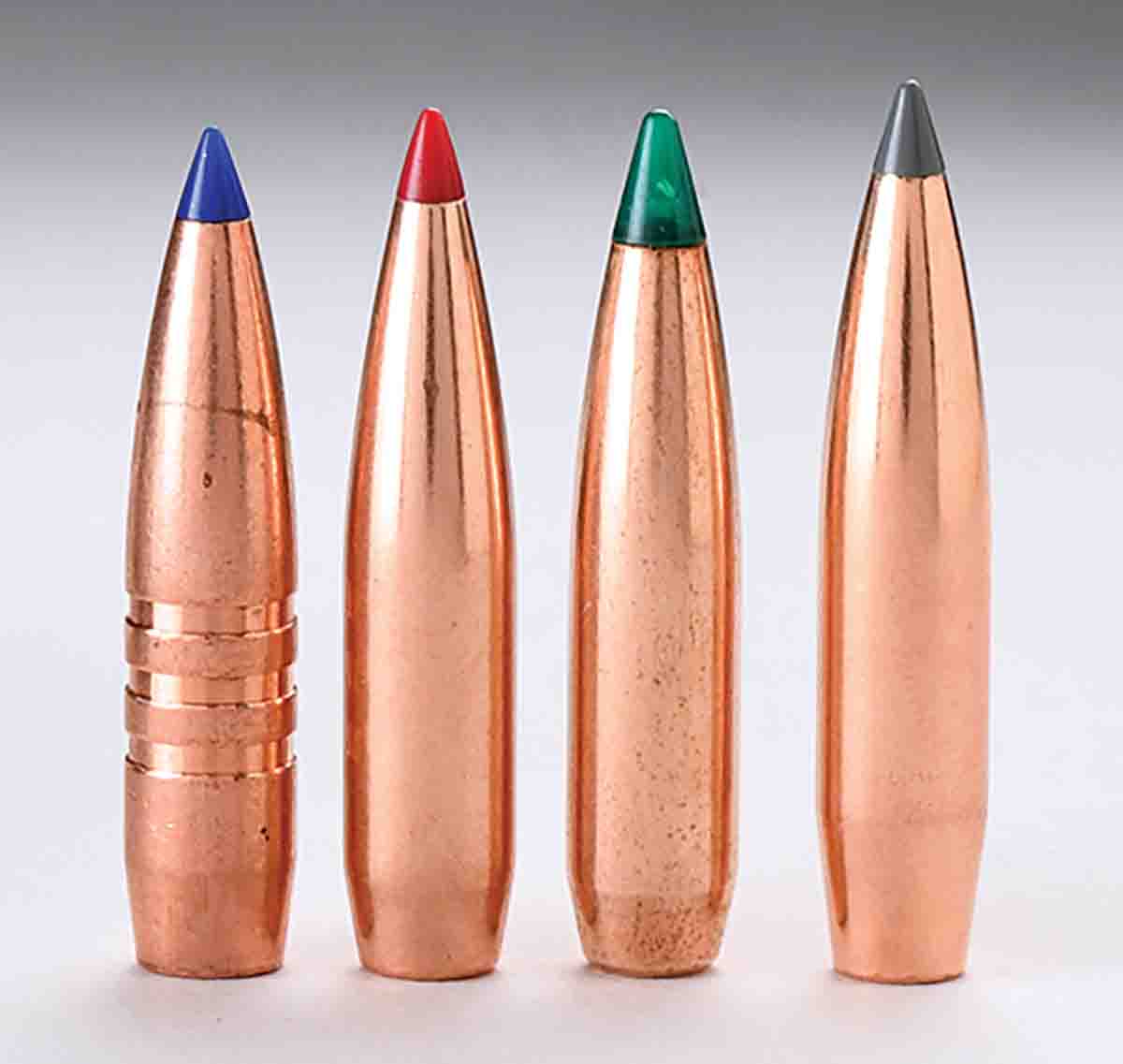 with the same lot of IMR-4831 powder.
This is not to say that my numbers are the end-all for ballistic coefficient. Just like published velocity figures, BC can vary with an individual rifle and load. Different sources arrive at ballistic coefficients in different ways, and there are variables. The drag function used is one variable, and some bullets fit one drag function better than another. I generally use the G1 drag function in testing because I have used it for so many years and am familiar with it. In recent years it has become more popular to use the G7 function. It is said that this more closely fits the trajectory of today's long, pointed bullets.
Bullet stability is also a factor when testing for ballistic coefficient by actually firing projectiles. An unstable bullet turns in a lower ballistic coefficient. What I do know is that the bullets were tested with the same test equipment and methods; it is a standard of sorts. It is not necessarily perfect, but the loads were fired over a level playing field and results should be comparable. Ballistic coefficients recorded with 26 different .27-caliber bullets came up higher than some manufacturer-listed figures and lower for others. Overall, my numbers averaged about .024 lower than manufacturer-indicated figures.
I also put the new Sierra TGK through a brutal terminal-performance test – where bullets often fail – that had been conducted with the other bullets, both up close at high velocity and at extreme range when velocity is low.
A low-velocity impact of 1,500 fps into wet newspapers is about 500 fps slower than most manufacturer recommendations for minimum velocity. However, the test is not impractical because 1,500 fps is not lower than some long-range impact velocities. At this low-impact velocity most bullets do not expand. They are apparently unstable and tumble on impact. The new Sierra did this while penetrating 9 inches.
The second test phase involved a very high impact velocity into wet newsprint at 20 yards. At the high-velocity end, nonbonded cup-and-core bullets tend to spew cores. This was exhibited by the new Sierra as it penetrated 10 inches. Bullets from both tests would have produced lethal results on game, but they did not produce the classic mushrooming that hunters often see at normal distances. The new TGK bullet would no doubt produce a classic mushroom at normal bullet impact distances.