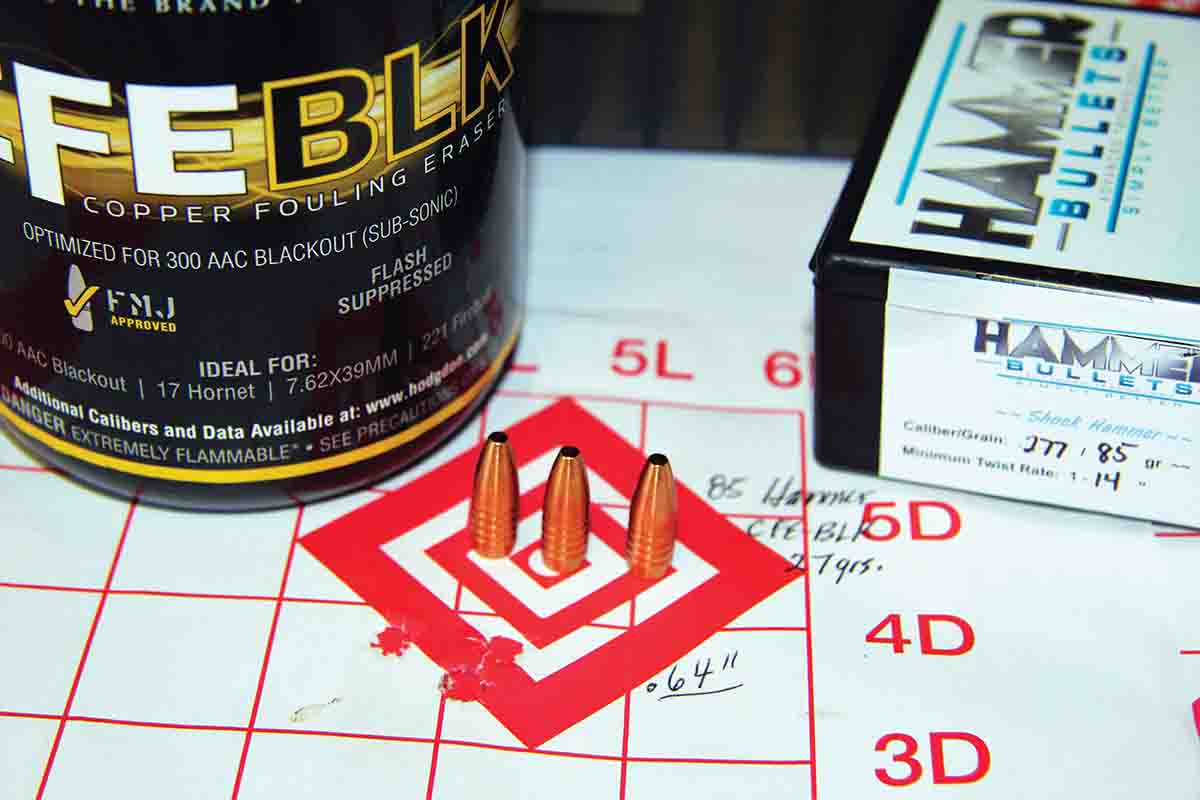 When the U.S. Army Special Operations Command teamed with Remington to design the 6.8 Remington SPC (Special Purpose Cartridge), a.k.a. 6.8x43mm, there were specific goals. The first was to improve on the exterior ballistics of the 5.56mm NATO in a cartridge that would operate in an AR-style rifle. The secondary goal was a round that performed well from the 16-inch barrel of today's military M4 carbine. The SPC was devised to answer reoccurring reports from military troops that the 5.56mm NATO was doing a poor job of incapacitating enemy combatants. The SPC maximized knockdown energy without sacrificing undue magazine capacity or conspicuously increasing felt recoil.
A 6.8mm (.277 caliber) bullet diameter was chosen to split the difference between the 6.5mm (.264) and 7mm (.284). Originally, the SPC was loaded with 115-grain bullets sent at 2,800 feet per second (fps) and produced about 2,000 foot-pounds of energy. There is an improved version – the SPC II – that will meet those specifications, but the version the Sporting Arms and Ammunition Manufacturers' Institute (SAAMI) gave the thumbs-up to in 2004 came out looking more like 2,625 fps and 1,759 foot-pounds of energy while shooting 115-grain bullets. This still gives the SPC a 44 percent increase in energy delivery over the 5.56mm NATO at 100 to 300 meters.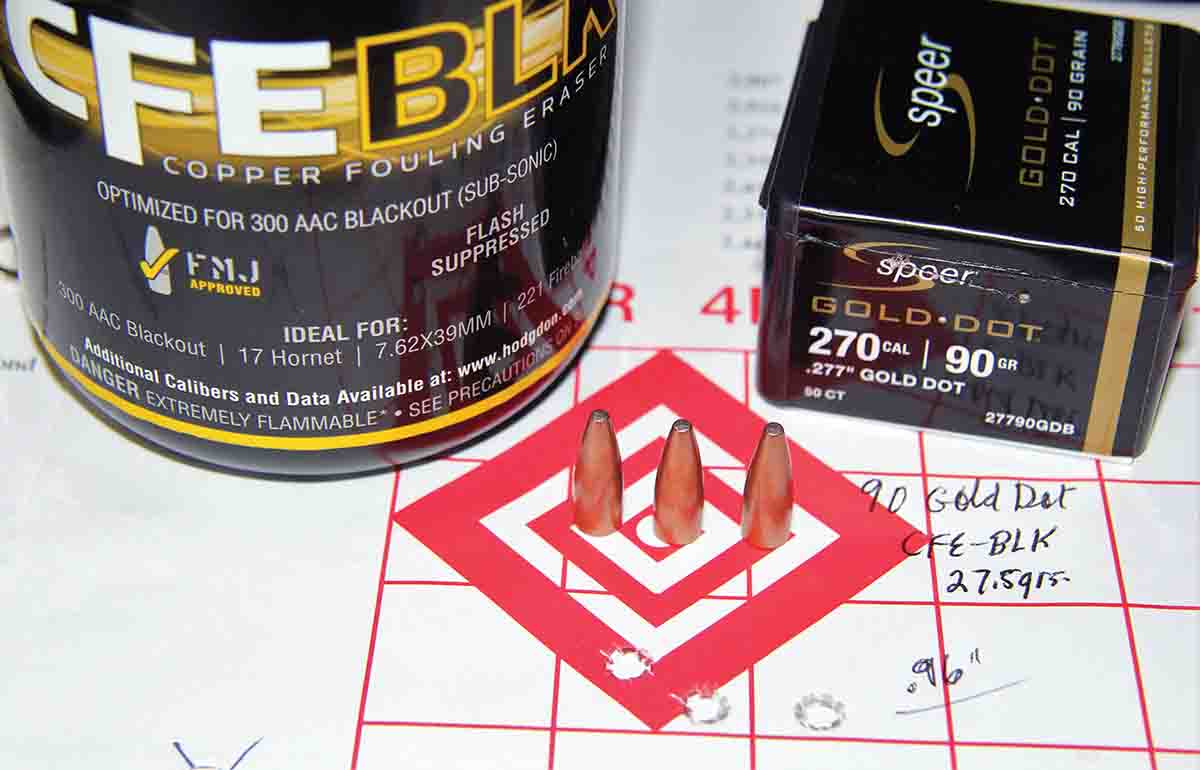 By the time SAAMI gave the 6.8 SPS its seal of approval, it was being carried by special operation forces in foreign wars. By 2007, U.S. SOCOM and the Marine Corps summarily abandoned the cartridge, due largely to war efforts shifting from the close-quarters urban combat of Iraq to mountainous Afghanistan where longer target engagements begin to tax the SPC's capabilities. The Department of Defense also broached logistical and cost concerns. Still, the Jordanian Army officially adopted the round in 2010, and the Saudi Royal Guard soon after.
As a sporting cartridge, the 6.8 SPC remains particularly popular among hog hunters operating with thermal-imaging optics under the cover of darkness. Its closest competitor is the 6.5 Grendel, developed by Alexander Arms around the same period the SPC appeared. The two rounds provide mirror performance inside 250 yards, though the SPC produces conspicuously less recoil. The 6.8 SPC easily outperforms the 7.62x39mm Soviet cartridge. As 99 percent of hogs, especially when using nighttime thermal optics, are taken well inside 250 yards, arguing Grendel verses SPC performance becomes moot in that context. The 6.8 SPC is faster and hits harder out of the gate, while superior ballistic coefficients give the Grendel a cumulative advantage as distances exceed 250 yards.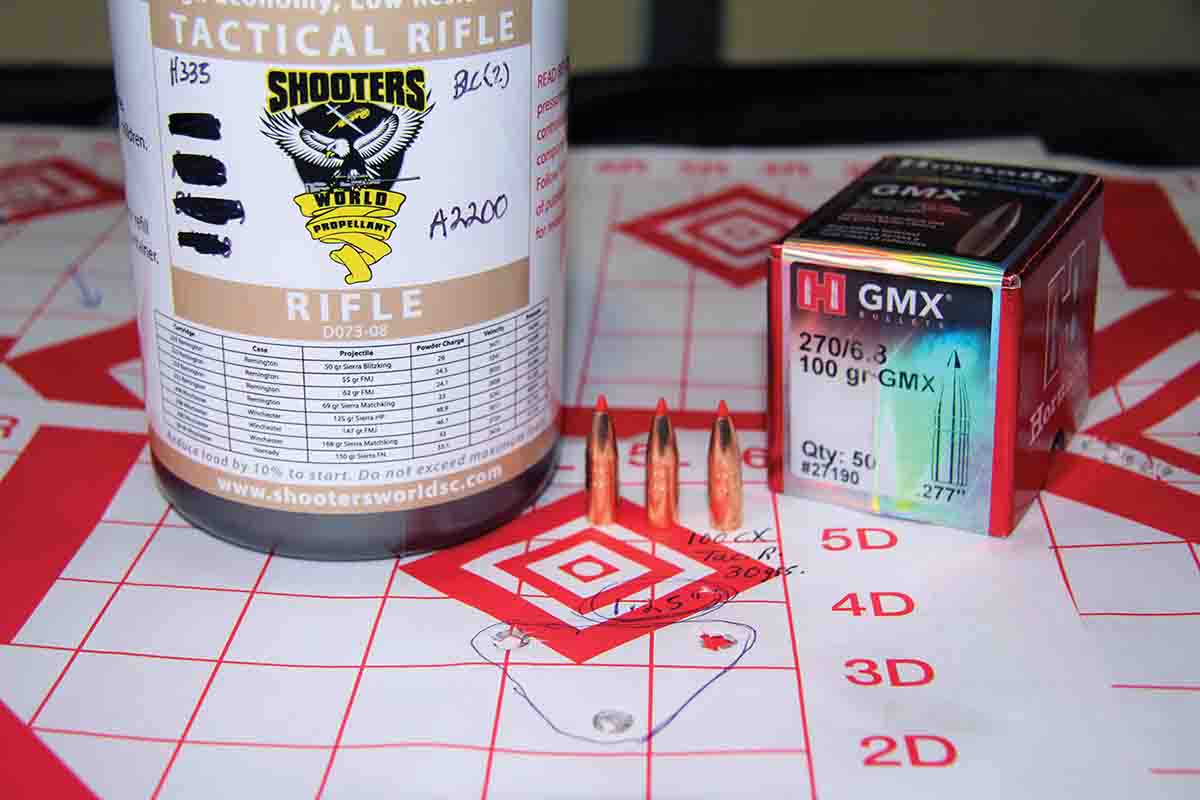 Creating a 6.8 SPC rifle from an existing rifle is no more involved than a barrel, bolt and magazine swap, or simply pinning a completed upper into place. My 6.8 Remington SPC AR-15, used for load testing here is a ground-up parts build. When it came to the upper, lower and barrel, affordability was more the focus than accuracy. The forged upper was made by Surplus Ammo & Arms (SAA) and the lower by Anderson Manufacturing. The 16-inch Black Hole Weaponry (BHW) barrel includes a diameter of .72 inch and includes a fairly standard 1:11 twist. Rifling twists between 1:9.5 and 1:12 are offered, with 1:11 most common. A 9-inch handguard with rails on four sides to accept nighttime accessories such as lights, was added, along with Hogue's rubberized pistol grip. I chose a solid Luth-AR buttstock with adjustable length of pull and comb height. The rifle emerged as a compact and fast-handling 10-by-371⁄4-inch (without suppressor), 9.4-pound rifle. This rifle usually has a thermal unit, but was paired with Trijicon's Huron 2.5-10x 40mm scope for this test.
I've not found the SPC particularly challenging to load. I own standard and small-base RCBS die sets, but the small-base dies remain unsealed. Reliability has remained 100 percent. My SPC chamber seems a touch tight, so it does better with a maximum overall loaded length (OAL) around 2.25 instead of 2.26 inches. The SPC can be described as relatively short and fat, with 16-inch barrels doing best with relatively fast to medium-fast powders. I've conducted fairly extensive load development in the past, and powders chosen here are mostly those I felt deserved further exploration. Suitable Hodgdon and IMR powders include CFE BLK, H-322, Benchmark, H-4198 and IMR-8280 XBR. Vihtavuori's contribution is N130, plus Shooters World's Tactical Rifle. Alliant's Reloder 10X and Power Pro Varmint were added. Western Powders' Accurate LT-30, A-1680, A-2230 (interchangeable with Ramshot X-Terminator) and Ramshot TAC and X-Terminator round out the list.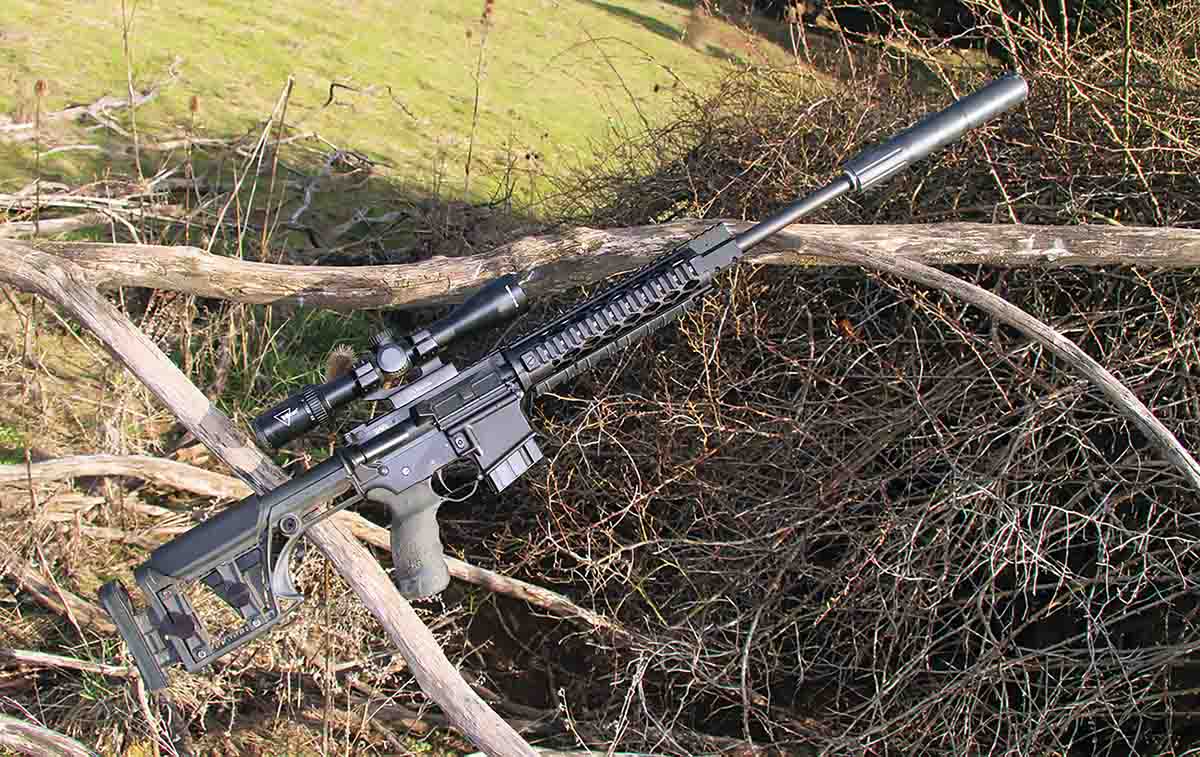 Bullets tested ranged from 85 to 120 grains. Heavier bullets are feasible, but those weighing more than 120 grains introduce a point of diminishing returns, unduly intruding into powder space due to magazine limitations, and relinquishing such pokey velocities that running shots become tricky. Even bullets like the Hornady 1.12-inch, 100-grain CX and the 1.125-inch 120-grain Hornady SST used here can result in heavily compressed loads with stick powders. Compressed loads normally don't concern me, but in an AR, severe compression can lead to creeping spring-back that results in OALs longer than 2.26 inches. The first time a handloader has to unload a round jammed tightly into the lands with only a small charging handle to grasp, he will understand my aversion.
SPC cases come with large or small rifle primer pockets. Hornady, Federal Fusion, American Eagle and Silver State Armory (by Nosler) cases use small rifle primers, for instance. The Remington cases used for testing here had large rifle primers. The 6.8 Remington SPC was formed from a .30 Remington parent case, but due to massive Middle Eastern ammunition contracts, SPC cases have now become most common. Trim-to length is 1.676 inches.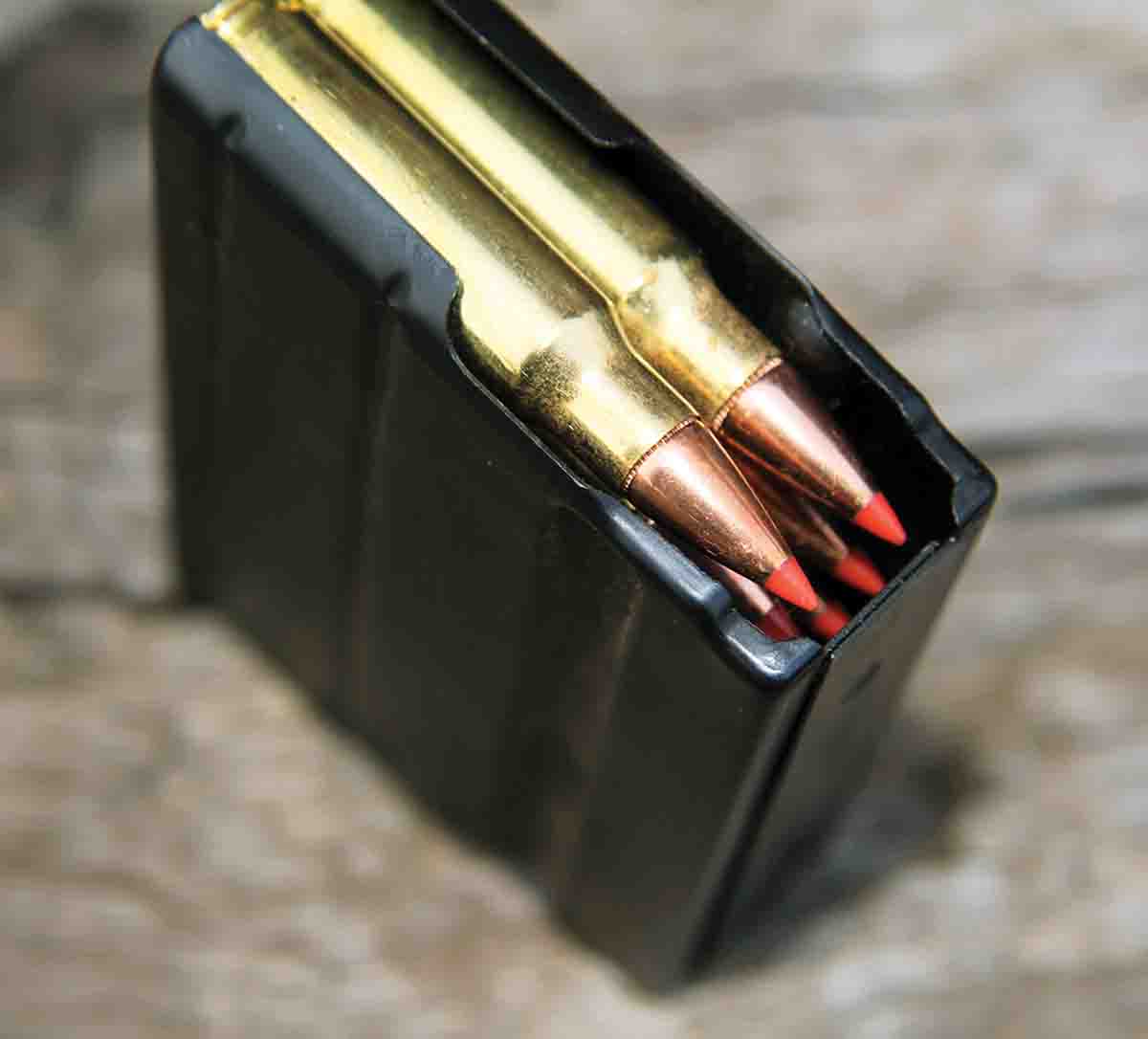 On the light end, the Hammer Bullets 85-grain Shock Hammer provides the hunter added velocity in a monolithic copper hollowpoint bullet designed for big-game use. The Shock Hammer is .85 inch long – ideal for SPC applications – and includes an estimated G1 ballistic coefficient (BC) of .211. I find this bullet particularly intriguing and I am anxious to conduct field testing with them during my next Texas hog hunt. Speer's 90-grain Gold Dot is the company's proven copper-electroplated/lead-core personal-defense bullet, but it would certainly make suitable wild boar medicine. This softpoint, concave-base bullet will hold together after encountering bone. It includes a squatty, .80-inch length and a reported .253 G1 BC. These bullets require aggressive chamfering, as I ruined two cases while seating this load batch, the sharp concave edges aggressively snagging neck edges.
In the midweight range, Hornady's 100-grain CX is another mono-copper design that is nontoxic and long for weight, measuring 1.12 inches. It is led by a red polymer tip, includes a flatbase and features two pressure-relief grooves. A .262 G1 BC is the result. For serious California hog hunters, this and the Hammer Bullets offering, keep hunters legal. Nosler's 110-grain AccuBond is made for "hard" targets, including a bonded core and tapered jacket, while its poly tip encourages beautiful mushrooming at velocities as low as 1,800 fps. The boat-tail/poly-tip design produces a .370 G1 BC with a SPC-compatible 1.105-inch overall length. Seating to the top of the cannelure created a compatible 2.25-inch overall length.
On the heavy end, Speer's 115- grain Gold Dot includes the same construction as the 90-grain version, but with an added boat-tail that boosts G1 BC to a purported .401 for improved long-range ballistics. It measures .97 inch, nose to base.
Hornady's Super Shock Tip and InterLock-equipped 120-grain SST is the 6.8mm bullet I've the most hog hunting experience with. The poly-tipped/boat-tail bullet never fails to impress and has accounted for countless drop-right-there shots, some of those were 300-plus pound boars. I've also taken several hogs out to 250 yards with the SST. Seating to the top of cannelure created a compatible 2.25-inch OAL. The 1.125-inch bullet was the longest tested, providing a .400 G1 BC, but also compressed maximum loads with some stick powders.
Shooting started on a blustery day with gusts between 7 and 15 mph. This rifle had certainly provided tighter groups in the past, and the bore had been thoroughly cleaned before testing began. So, I attribute some of the larger groups to the weather and frozen fingers. With the Hammer 85-grain bullet, Hodgdon's CFE BLK proved superb, producing the tightest groups and fastest velocities. Velocities of 2,600 and 2,749 fps using 26 and 27 grains of powder produced .85- and .64-inch groups. Pushing this bullet to 2,807 fps with a maximum load of 28 grains opened group size to 1.57 inches. Western Powders' Ramshot X-Terminator – often touted as a "most accurate powder" in the SPC – did best with a maximum load of 30.5 grains sent at 2,561 fps. That group measured 1.11 inches. Hodgdon H-322 did a bit better, producing a 1.02-inch group at 2,687 fps using 29 grains of powder without load compression.
I never expect benchrest accuracy with Gold Dot rifle bullets, but the 90-grain 6.8mm version impressed me. Twenty-eight grains of Alliant Reloder 10X produced a .97-inch group at 2,620 fps, and Hodgdon CFE BLK a .96-inch group at 2,734 fps with 27.5 grains. A 29.5-grain charge of CFE BLK nearly broke an inch at a hard-hitting 2,916 fps, a combination I would be inclined to hunt with. Unfortunately, Vihtavuori N130 failed to impress with this bullet, as velocities were less than the other powders tried, with accuracy hovering between 1½ and 2¼ inches.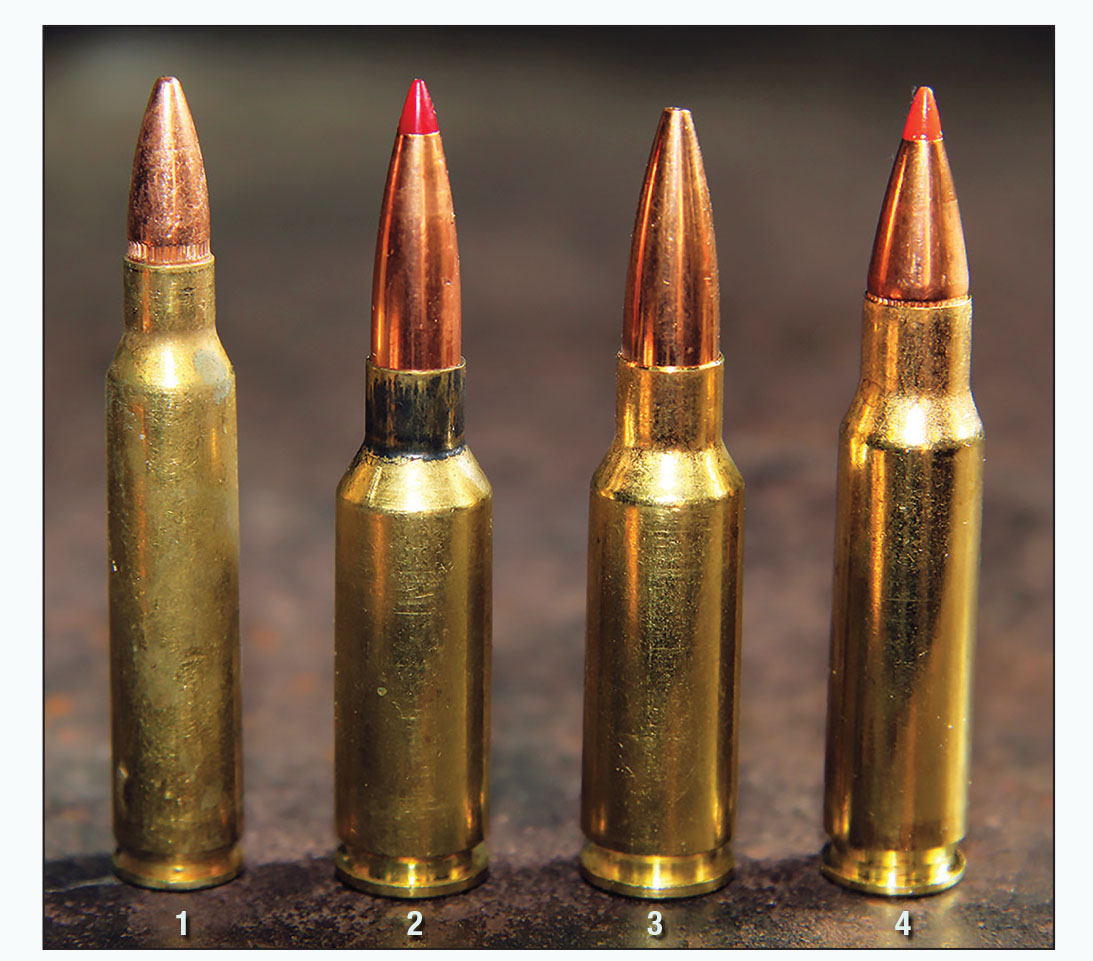 The wind worsened and snow began to swirl as I began shooting Hornady's 100-grain CX bullet, so much so that I threw in the towel after firing two of the three powders. As such, Vihtavuori's N130 – usually an SPC favorite – produced a group measuring 1.43 inches at 2,271 fps with 24 grains of powder, and Accurate LT-30 a 1.47-inch group at 2,371 fps with 26 grains. The worst groups broke 2 inches. I waited a week for fairer skies, but wind continued and temperatures plummeted. Shooters World Tactical Rifle supplied the tightest group with this bullet on the very last string, 1.25 inches at a respectable 2,511 fps with a maximum load of 30 grains of powder.
A limited supply of Nosler 110-grain AccuBond bullets, and no way to replace them in these strange times, resulted in truncated load ladders with Ramshot X-Terminator and Shooters World Tactical Rifle. I used Accurate A-1680 to test all remaining bullets. A 28-grain charge of X-Terminator produced this test's tightest group, .45 inch, using 28 grains of powder and at 2,336 fps. Tactical Rifle managed .81 inch with a 30.5-grain maximum load and roaring 2,566 fps average velocity. Accurate A-1680's best group measured .96 inch with 23.5 grains of powder at 2,271 fps.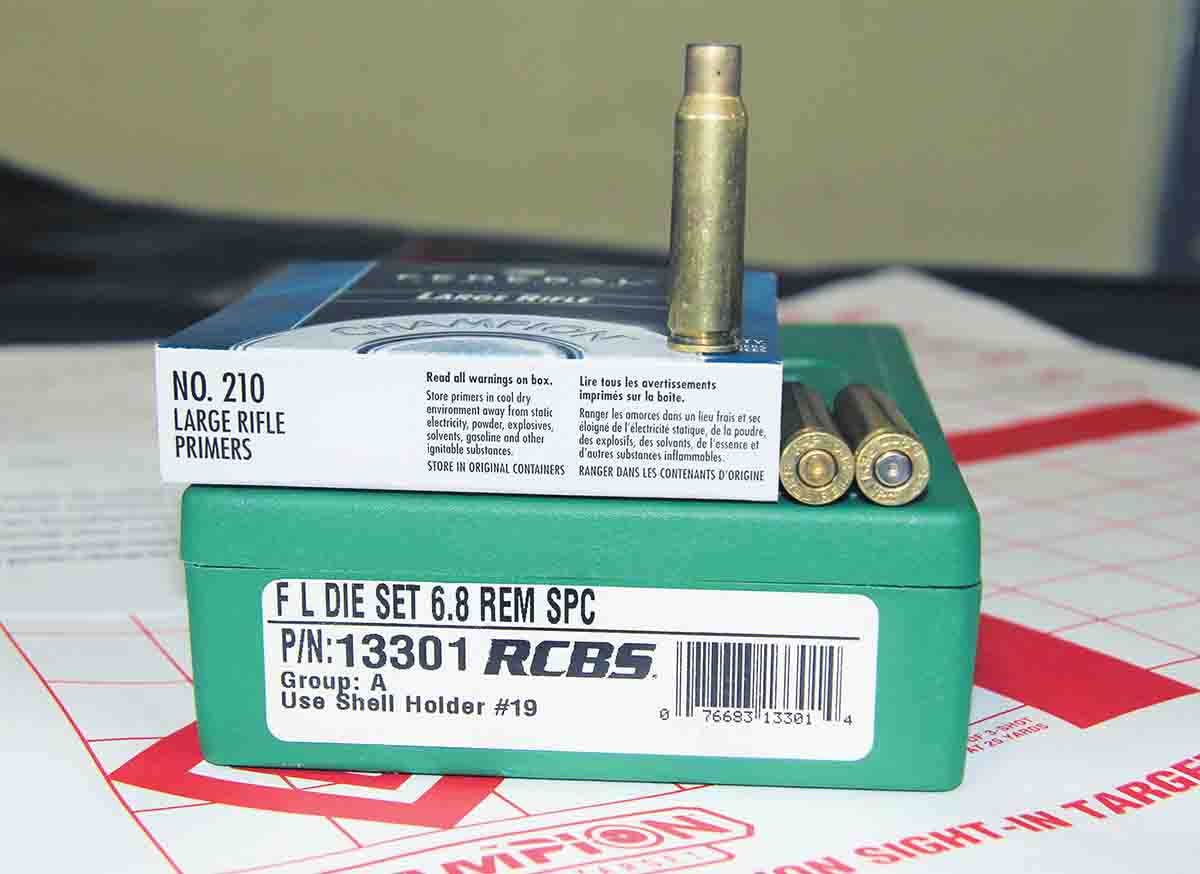 I really went out on a limb while assembling loads for Speer's 115-grain Gold Dot and Hornady's 120-grain SST, trying powders I'd yet to audition from the SPC. Using the Speer 115-grain Gold Dot bullet, Accurate A-2230, IMR-8208 XBR and Alliant Power Pro Varmint were tried. The 120-grain SST was paired with Hodgdon H-4198 and Benchmark and Ramshot TAC. Accurate A-2230 paired well with the Gold Dot, producing a .68-inch group at a decent 2,471 fps using a maximum load of 30 grains. This one I'll hunt hogs with in the future. IMR-8208 XBR did well accuracy-wise, but at a pokey 2,271 to 2,376 fps velocities. Alliant Power Pro Varmint provided 1.14- to 1.63-inch groups but also lacked velocity.
The Hodgdon H-4198/Hornady 120-grain SST combination was assembled because I own 16 pounds of that powder. The most accurate combination – 22.5 grains producing a .95-inch group – left the muzzle at just 2,222 fps, reaching 2,402 fps with a maximum load of 24.5 grains. That last load shot less than 1.5 inches, making it hunt ready. Ramshot TAC produced the best group with this bullet – .77 inch – at a respectable 2,437 fps, so that would be my preferred load. Hodgdon Benchmark didn't break an inch until hitting the maximum 29-grain compressed load, but as mentioned, I'm wary of heavily compressed loads from AR rifles.
In the big picture, considering the ranges in which I engage the vast majority of hogs while visiting Texas, any of the loads listed sending bullets into groups of 1.75 inches or less groups are completely viable. In the real world, I'm not convinced tight groups are even necessary at nighttime ranges. Delivering energy via higher velocities is likely more germane to putting hogs down quickly and requiring minimal nighttime tracking. The 6.8 Remington SPC is certainly up to that task.