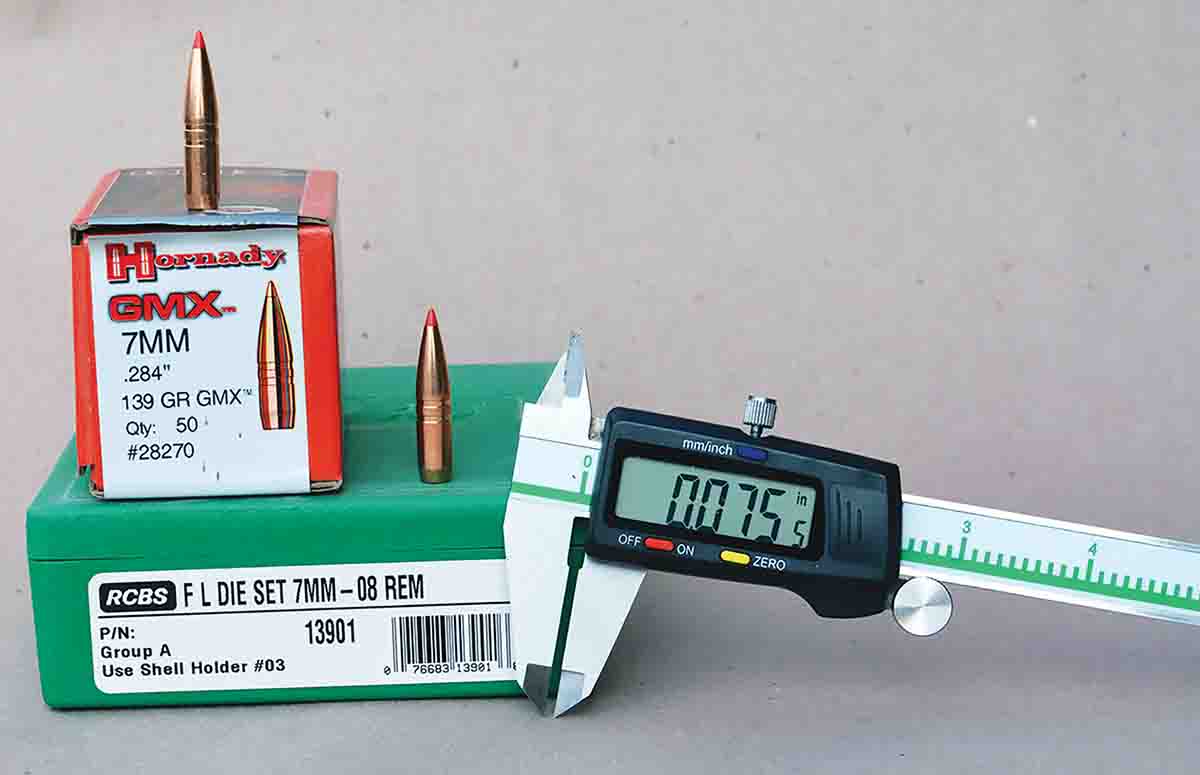 Q:
I am a big fan of your "Pet Loads" feature in each issue. Just prior to the current powder and primer shortage, I started working up a new big-game load for my wife's rifle chambered in 7mm-08 Remington using the Hornady 139-grain GMX. In your "Pet Loads" articles you generally include a load with a GMX bullet. I am curious how far off the lands you normally start when developing a new load with GMX bullets? And is there a sweet spot where you find the best accuracy? With powder and primers in short supply, I'm loath to do much in the way of experimentation. I appreciate your help!
A.M., email
A: First, thank you for the compliment. I am glad that you enjoy my "Pet Loads" features. Regarding loads for your wife's 7mm-08, I wish that I could offer a magical formula that will produce super tight groups right from the start, but it is probably going to require some experimenting to achieve that level of accuracy. Monolithic expanding hunting bullets are a different animal in terms of pressure and accuracy when compared to traditional cup-and-core bullets. There is always the occasional rifle that just will not shoot them well; however, with load development, most rifles will produce very good accuracy.
Some rifles shoot GMX bullets very well when they are seated .010 to .020 inch off the leade, but those guns are the exception rather than the rule. I would suggest beginning by seating the bullets .050 inch off the leade, but you might also load experimental quantities seated .030, .070, .090 and even .110 inch. Generally speaking, I believe that you will find the sweet spot between .050 to .090 inch.
As this is written (January 2022), Hornady has just announced its new "Copper alloy eXpanding" or, "CX" line of monolithic expanding hunting bullets that will replace the GMX. They boast of the same basic design and terminal performance with scientifically positioned grooves to help aerodynamic performance, reduce fouling, etc., but they also feature the Heat Shield Tip that resists melting in flight that can cause in-flight changes to a bullets ballistic coefficient. The Heat Shield also improves bullet-to-bullet and lot-to-lot consistency.
Heeled or Hollowbase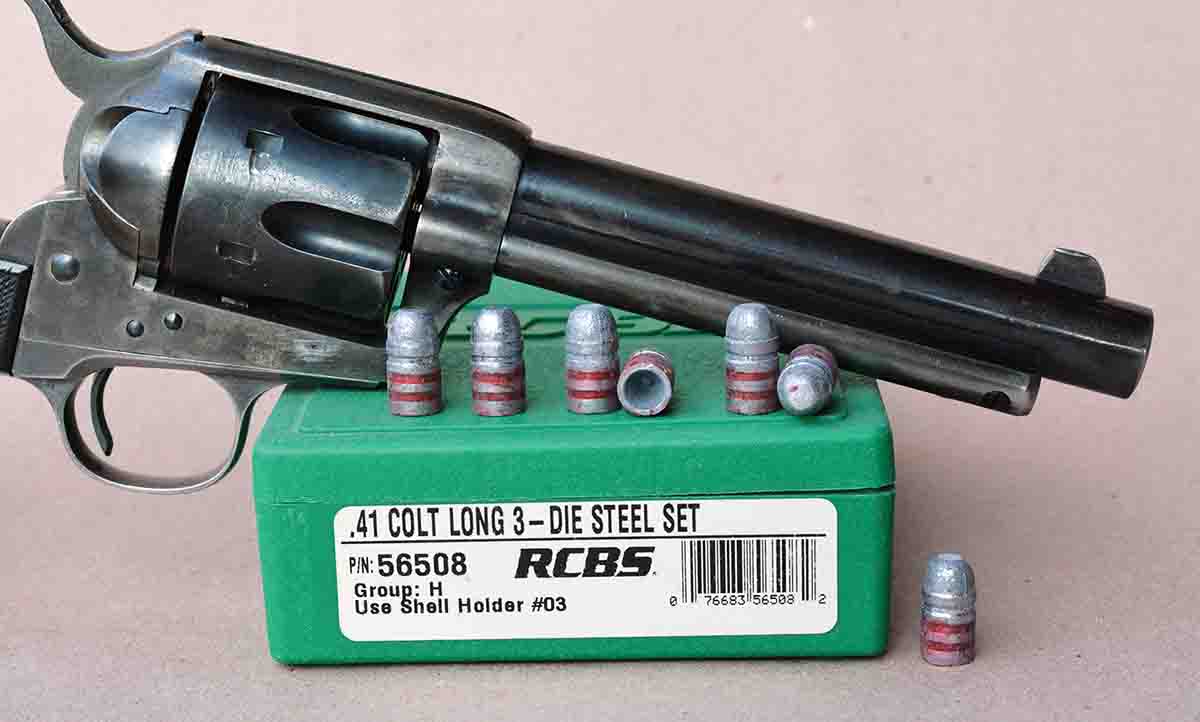 Q:
A few years back you provided a source for .41 Colt bullets, but I cannot seem to find that reference. I recently acquired a nice pre-World War II Single Action Army and have brass from Starline, but cannot locate bullets. Now the million dollar question; do you recommend the heel design or hollowbase? I am anxious to shoot it, so any help you can offer will be appreciated.
C.S., Fort Worth, TX
A: The only source that I am currently aware of for .41 Colt bullets (short of casting them yourself) is Western Bullet Company (westernbullet.com). It offers both heel and hollowbase bullets cast appropriately soft. I would strongly suggest using the hollowbase bullet, Lyman No. 386178, which casts at 200 grains and will give notably better accuracy. I suggest using a fast-burning powder, such as Hodgdon Titegroup, and keep pressures high enough to reliably cause the hollowbase to expand which is critical to good accuracy.
.17 Remington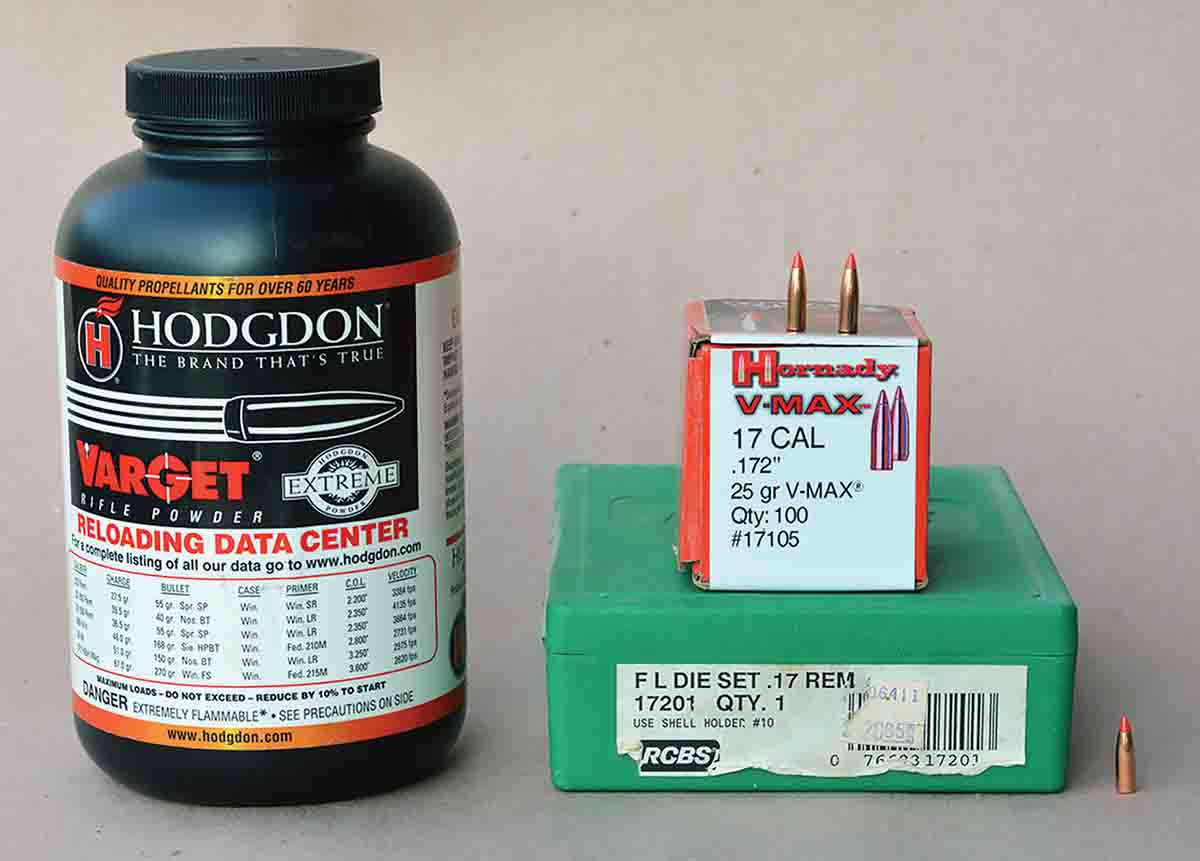 Q:
I have a Remington Model 700 chambered in .17 Remington that I purchased new-in-the-box nearly 30 years ago. It is pure dynamite on our Arizona coyotes. Factory loads shoot okay, certainly under 1 inch at 100 yards. I am able to duplicate their accuracy with my handloads that contain the 25-grain Hornady V-MAX bullet behind 24 grains of Winchester W-748 powder. While accuracy is okay, it is not as good as I would hope.
Can you suggest a load that will give better accuracy and at least duplicate the velocities of factory loads?
B.G., Phoenix, AZ
A: The .17 Remington is a marvelous cartridge, but the high velocity and tiny caliber can make it a bit finicky. Several tips might help you improve accuracy. First, try different charge weights (both lighter and heavier) of Winchester W-748 powder to see if velocity changes will improve accuracy. Work up to 25 grains, for 4,000 to 4,050 fps in most rifles. If that doesn't produce the results that you desire, you might need to change powders. Start with 23 grains of Hodgdon Varget and work up a half grain at a time to 24.5 grains, which will yield around 3,975 fps. This load will be slightly short of factory load stated velocities that list a 25-grain bullet at 4,040 fps, but it will give outstanding accuracy. However, due to the tiny caliber, this extruded powder will require each charge to be trickled into the case. If you prefer to stick with a spherical powder so that charges can be thrown, start with 26 grains of Winchester W-760 powder and work up to a maximum charge of 28 grains for around 4,250 fps, which easily exceeds the velocities of factory loads.
It will help the accuracy of the .17 Remington to carefully prepare cases, uniform primer pockets, sort by weight. Naturally, you will want to experiment with bullet seating depth and be certain to clean the bore regularly.
.25-20 WCF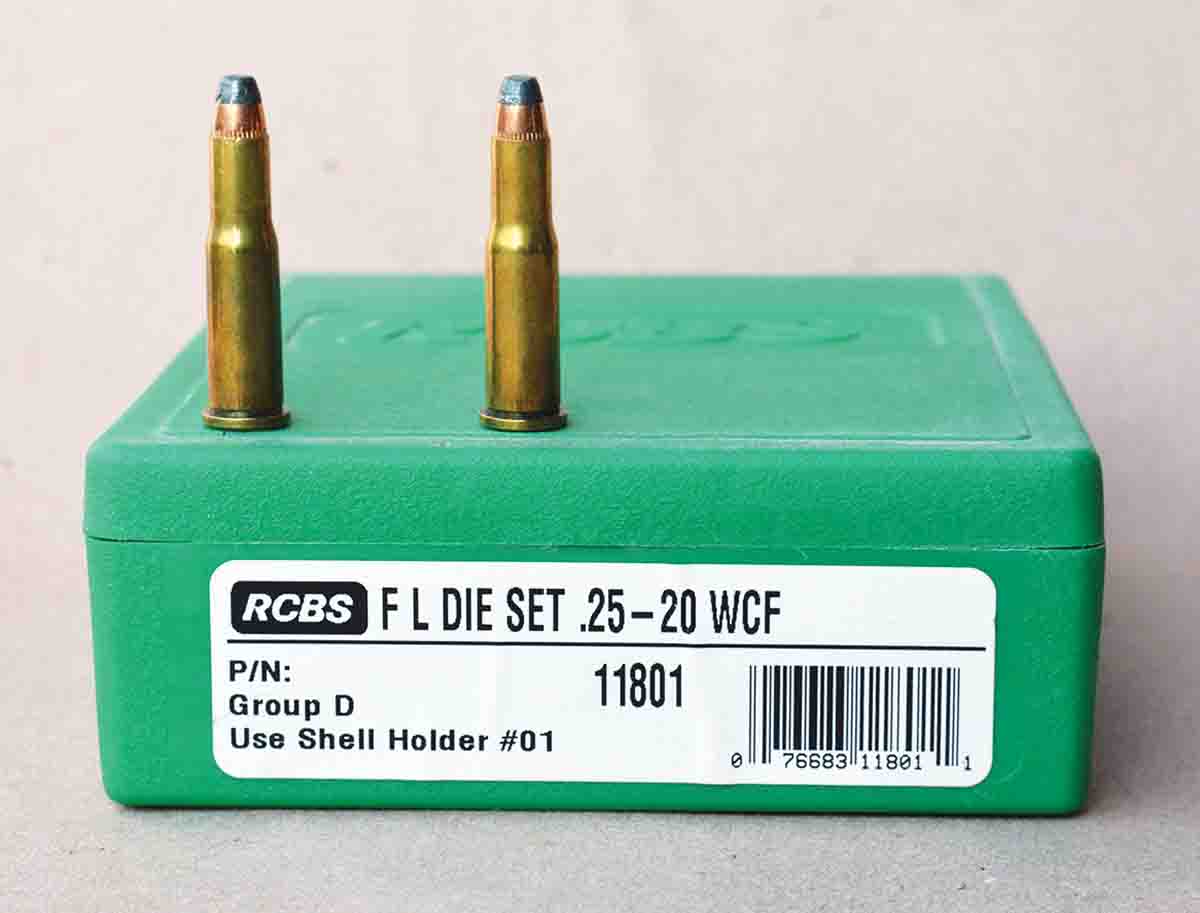 Q:
I recently inherited my grandfathers old Marlin Model 1889 chambered in .25-20 Marlin. Needless to say, I am ecstatic! It is a deluxe rifle with factory engraving, fancy wood, an octagonal barrel and is an overall high-quality condition with a shiny bore. I recall shooting it with grandpa when I was in my early teens. His mom (my great grandmother) purchased it new as a special order item. I could swear that the ammunition we used was headstamped "25-20 WIN," so I thought that that was the correct chambering, but it is clearly marked with a Marlin chambering. My first question is; is it the same cartridge and chamber as the .25-20 Winchester? If not, where can I obtain .25-20 Marlin brass and dies? I already have a Marlin 1894CL rifle chambered in .25-20 Winchester, so I already have those dies and a quantity of 75-grain Speer JSP bullets. And last, can you offer load data for this rifle? I very much enjoy your articles and technical insight.
G.G., email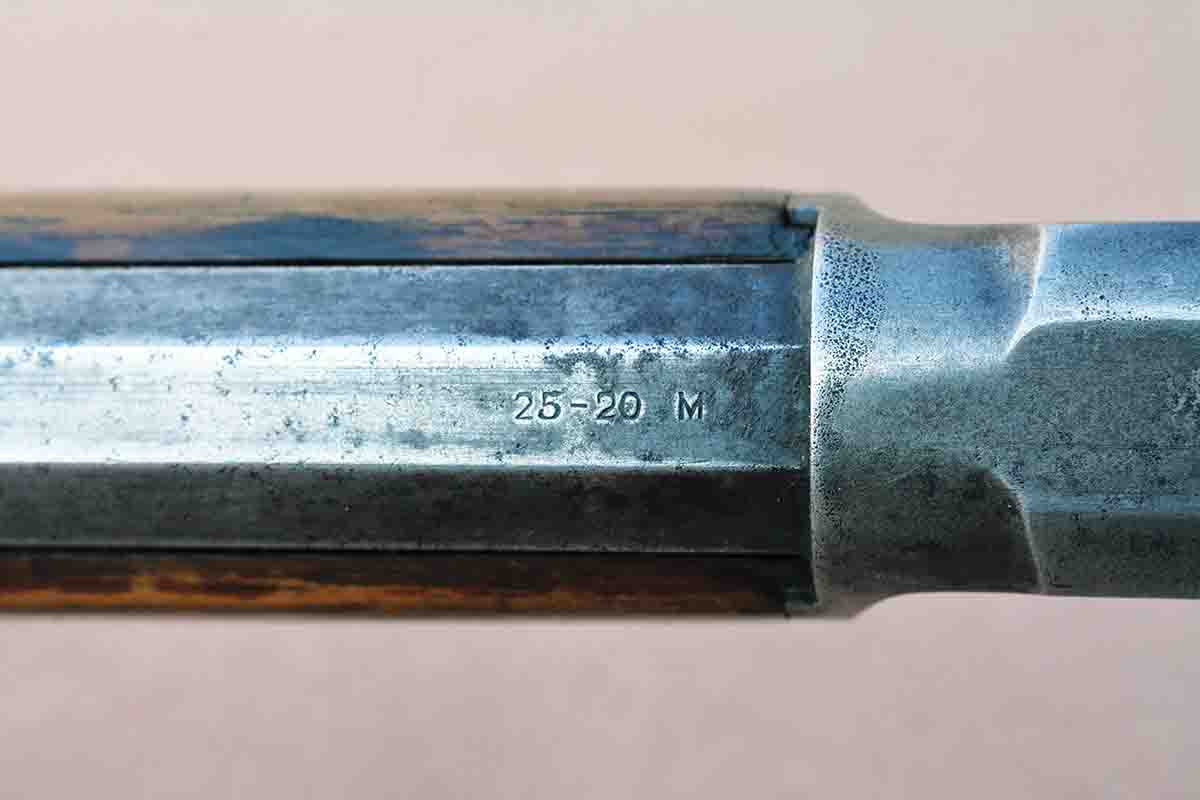 A:
The .25-20 Marlin was originally developed around 1892/1893 and chambered in the Model 1889 rifle, which was a very significant levergun for Marlin, as it had the modern features of future rifles and was the forerunner of the Model 1894 that is still in production. Furthermore, this was probably the first real U.S. "varmint" cartridge. Winchester picked up on what a great little round it was and formally introduced it as the ".25-20 Winchester" in 1895 in its Model 1892 rifle. While there may be small technical differences, the two cartridges are fully interchangeable and you can fire .25-20 Winchester cartridges in your Marlin rifle.
Your rifle is a real jewel, and being a special order with factory engraving, it will have substantial value. While the 75-grain Speer bullet is an excellent choice in more modern guns, such as the Marlin 1894CL, it is strongly suggested that you only use cast bullets in your rifle. The barrel will last much longer, and the accuracy should be outstanding. Furthermore, your rifle is around 130 years old, and while the Model 1889 was a rifle that was ahead of its time in regard to strength (forged receiver) and design, it is still constructed with mild steels. For this reason, it is suggested to keep the pressure of your smokeless handloads modest. Select a properly designed cast bullet that weighs around 86 grains, such as the Lyman No. 257312, and push it with 5.2 grains of Alliant Unique powder, which will closely duplicate period factory load ballistics that pushed the same weight bullet to 1,460 fps. Furthermore, this load should regulate with your rifle's sights. That mould is discontinued; however, several custom cast bullet companies still offer it. Another option is to use Lyman mould No. 257420, which casts bullets around 65 grains, but increase the powder charge to 5.5 grains for around 1,675 fps.