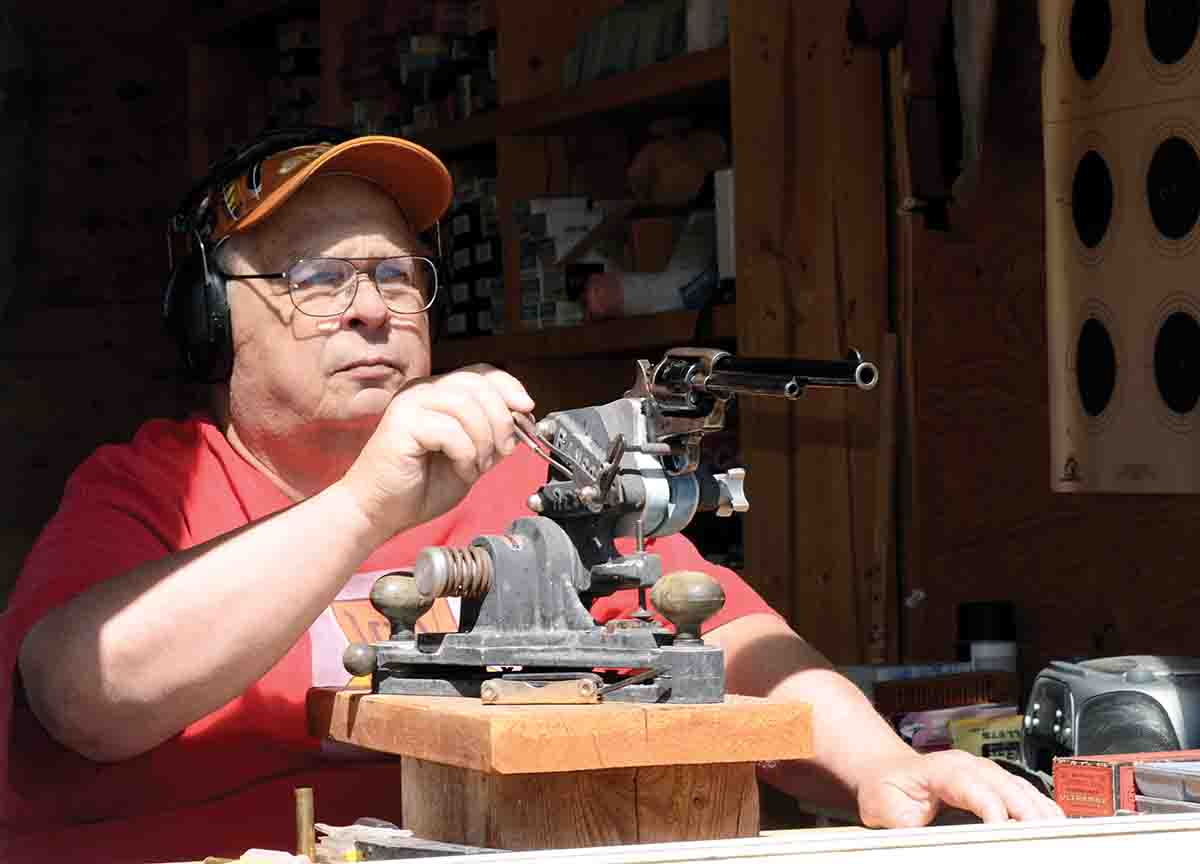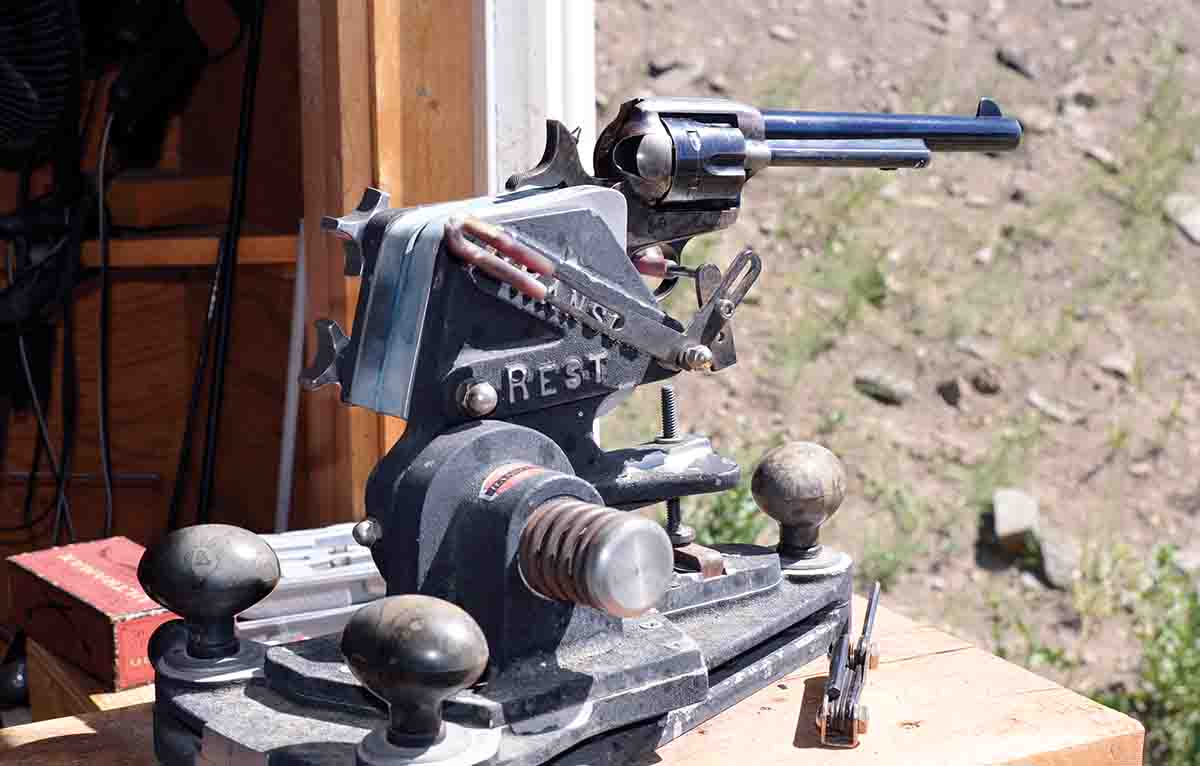 Early in 2021, a longtime quest of mine was fulfilled. That was a search for a fine condition, smokeless era, 1st Generation Colt Frontier Six Shooter with a 7½-inch barrel. For the unknowing, Colt Frontier Six Shooter in one version or another is how the manufacturer stamped "most" of its .44-40 Single Action Army revolvers between 1877 to 1941 when production ceased the first time. Early on, Colt acid etched "Colt Frontier Six Shooter" in small panels on the barrels' left sides. Later, the marking was roll-stamped in several versions, with my new one dating from 1913 being marked "Colt Frontier Six Shooter."
Also, it should be recognized that in 1877, the cartridge commonly known today as the .44-40 was then the .44 Winchester Centerfire (WCF) because it had been introduced in Winchester's levergun Model of 1873. The double-digit designation of .44 for caliber and 40 for factory loaded grains of black powder probably first occurred with Marlin's leverguns in the late 1880s and eventually became the round's official name.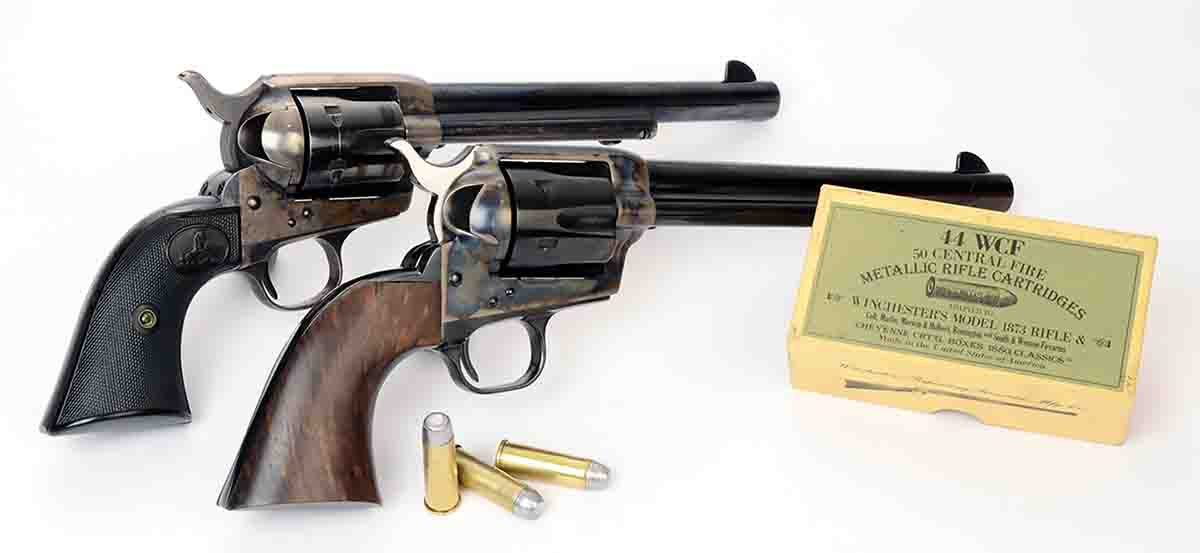 Aside from the understandable exuberance of finding a 108-year-old revolver with plenty of original finish and still in top mechanical shooting condition, some other joy was recently realized. A few months prior to landing the 1913 CFSS, I also purchased another Colt CFSS with a 7½-inch barrel made in 2008 during the still ongoing 3rd Generation production. Its CFSS panel was acid-etched, and its frame is the so-called "black-powder frame," because cylinder base pin retaining screw angles in from the lower frame front. Colt doesn't currently offer that frame style or any caliber option but .45 Colt and .357 Magnum. Now I had a duo of .44-40s to test fire side by side.
With Colt's SAA reintroduction in 1976 after a two-year hiatus for retooling, the first 3rd Generation calibers offered were .45 Colt and .357 Magnum. Popular demand caused the .44 Special's addition in 1978. In 1982, at the NRA Convention in Philadelphia, Colt's news was that .44-40s were again available. I ordered one right there. A dozen more 3rd Generation .44-40s have passed through my hands in the nearly 40 years since that first one. Only three have stuck; two with 4¾-inch barrels and one with a 3-inch barrel. All have auxiliary .44 Special cylinders, and the shorter one gets used most with its special cylinder and shot loads for dispatching rattlesnakes around my property.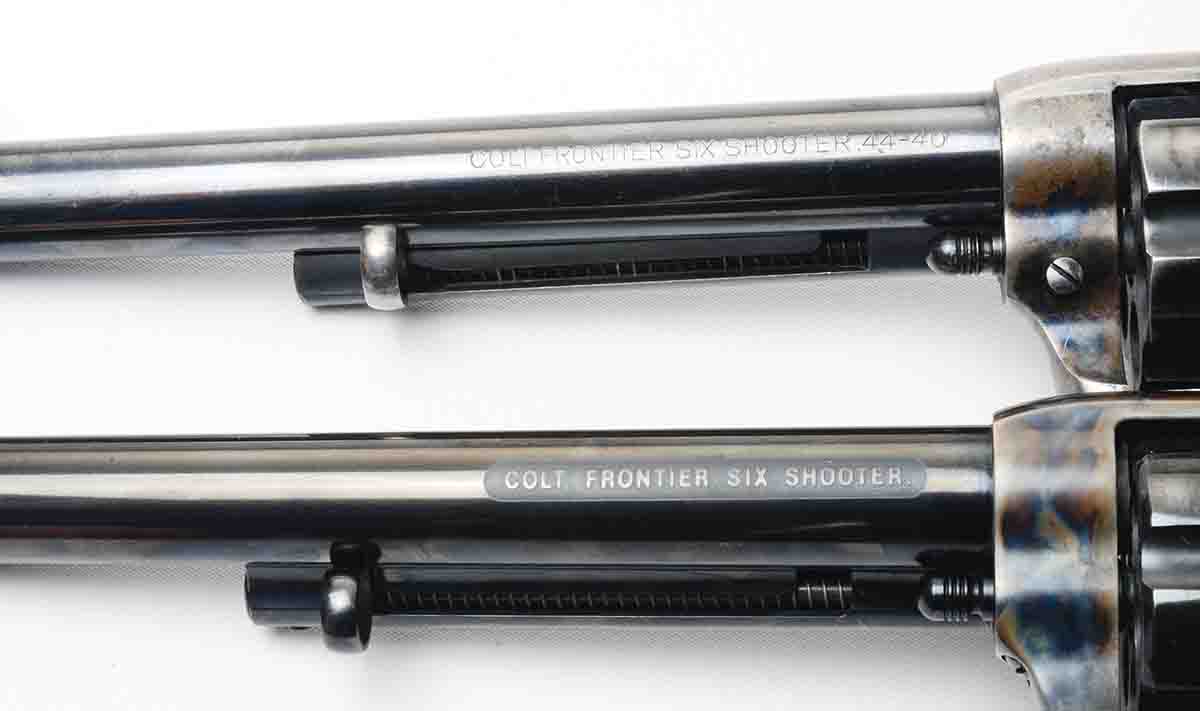 Although the .44-40 has been one of my favorite revolver cartridges for many years, my initial experiences with it would never have indicated such affection could develop. Long before becoming a .44-40s handloader, I did acquire a Lyman mould 42798 (now 427098) dropping nominal 205-grain bullets for use in .44 Magnum handloads. Also, on one of my many trips around the West, I encountered a Herter's store in South Dakota. It had on sale a set of .44-40 dies with no maker's name. The price was $5. I bought them "just in case."
One day in the mid-1970s, a Montana friend approached with his father's Colt SAA, asking if I had a few rounds of .44-40. His revolver's serial number dated it as an 1882 production, but strangely, it had no caliber mark at all, nor the CFSS panel. I said, "How do you know it's a .44-40?" His reply was, "Because Dad said it was, because .45 Colt's wouldn't go in and because I shot a few factory .44-40s in it." So I loaded him a handful of .44-40s or at least tried to. In my inexperience, they carried a mild charge of smokeless powder, which I would never do now for such an old SAA. Bullet sizing diameter was .427 inch as was listed as nominal from several sources. Not one of those rounds would chamber. However, full-length sized cases fell into all chambers. Some research revealed that early .44-40 lead bullet factory loads contained .425-inch bullets, and modern jacketed bullet factory loads still use .426-inch bullets. A Lyman .425-inch lube/sizing die was ordered and the subsequent handloads chambered and fired perfectly. (Or at least they didn't damage that old black-powder era Colt.)
At that point, I considered myself an old hand at .44-40 reloading, so at the very first Montana gun show attended in 1977, I hunted up a CFSS for myself. It was truly nice; fully nickel-plated, 4¾ inch barrel, black checkered, hard rubber grips and the magic "Colt Frontier Six Shooter" roll marked on the barrel. Made in 1892, it was a black-powder era Colt and still in my ignorance handloads for it again carried smokeless powders. This time, from the beginning, rounds loaded with .425-inch bullets fell right in the chambers, but to my puzzlement, accuracy was pathetic. Groups ran 4 to 6 inches at 25 yards. Slugging of barrel and chambers revealed the problem. By this time, Colt's .44-40 barrels were nominally .426/.427 inch, but my cylinder's chambers wouldn't accept rounds loaded with bullets larger than .425 inch. Since those bullets were hard cast and powder charges (hence pressures) mild, bullets did not obturate to grip rifling. In other words, they were just wobbling through the barrel and landing hither and yon. Selling that handsome CFSS to a non-shooting collector wasn't a problem.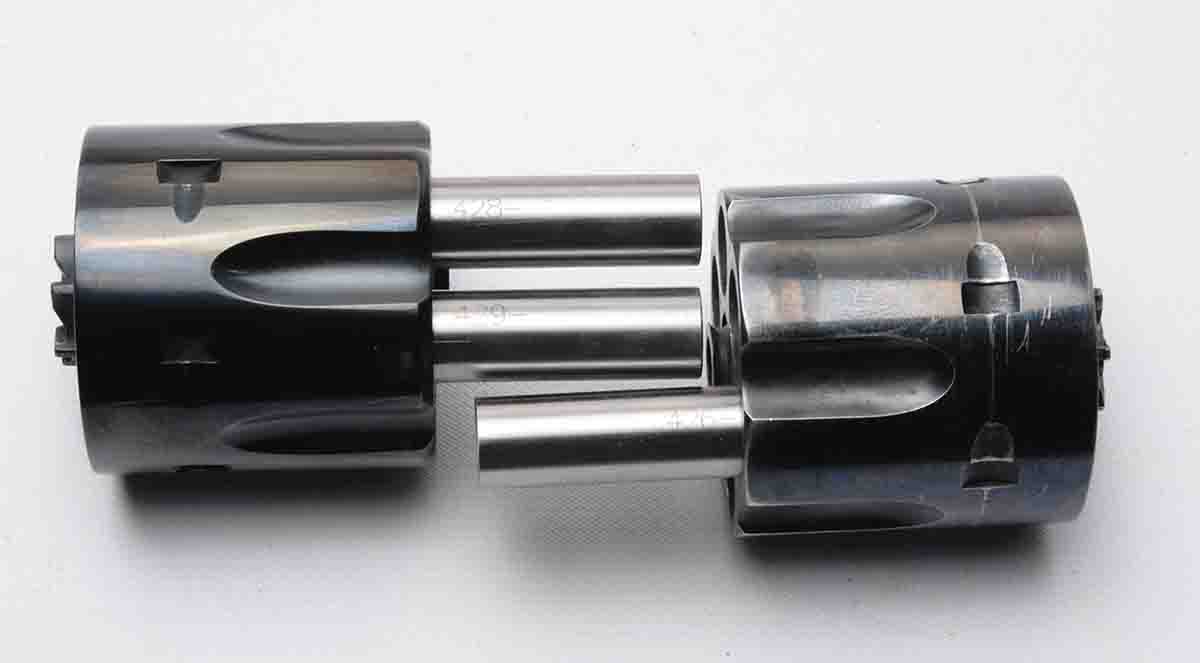 Upon returning to .44-40 shooting again in 1982, considerable attention was paid to barrel/chamber dimensions. Their barrel groove dimensions have been fairly uniform; from .426 inch to slightly over .427 inch. Chamber mouth measurements have varied. The tightest has been .428 inch for all six chambers to .431 for all. All 13 of the 3rd Generation .44-40s I've owned, including the ones here now, have all ranged from good to excellent shooters.
Here follows the barrel/chamber dimensions of my CFSS duo with 7½-inch barrels. The 1913 one has all six chambers at .426 inch and barrel groove diameter also at .426 inch. To be perfectly honest, the .426 plug gauge is the tiniest bit loose in the chambers but a .427-inch gauge refuses to enter them at all. The CFSS from 2008 has four of its six chambers at .429 inch and two at .428 inch. Barrel groove measurement is .427 inch. Also checked were barrel-cylinder gaps. The 1913 gun is .006 inch. The 2008 gun is .005 inch.
Let's first consider the array of .44-40 handloads chronographed through my CFSSs over a period of months. In this component shortage situation we are now experiencing, I did have suitable primers and powders on hand but nary a commercial cast bullet or any factory loads. Therefore, all bullets used herein were cast by me of 1:20 tin-to-lead alloy. Three designs were RN/FPs designed specifically for .44-40. Those were Lyman's 427666, and two from RCBS: 44-200-CM and 44-200-FN. All three of those .44-40 designs are rated at 200 grains. Their actual weights from my moulds and alloy are listed in the load table. The fourth bullet is intended for .44 Special and is a copy of the Lyman 429478 mould, a 200-grain RN. They were cast in a four-cavity custom mould made for me by Dave Farmer at Hoch Moulds of Roswell, New Mexico. This latter bullet wouldn't be suitable for use in magazine tube-fed repeating rifles but serves well in revolvers. All bullets were sized to .428 inch and lubed with DGL.
A word here about DGL is worthwhile. It was developed specifically for black-powder cartridge shooting and I have been aware of it for years. However, a young Idaho couple who are active in BPCR Silhouette bought the business in 2020, so I gave it a try. It works very well as a lube for both smokeless and black-powder cartridge bullets. In firing several hundred rounds of cast bullets from my Colt CFSS duo, I removed not a speck of lead from either barrel.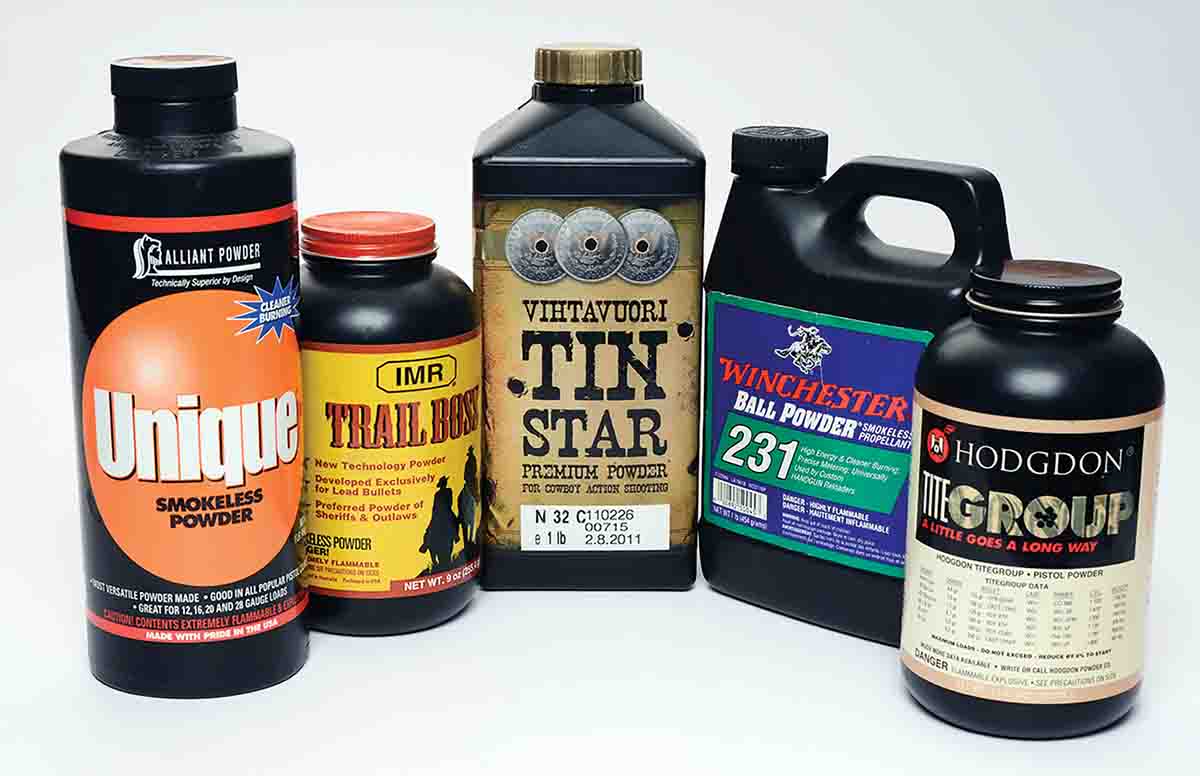 Powders for this project included: Hodgdon Trail Boss and Titegroup, Winchester W-231, Vihtavuori Tin Star (N32C) and Alliant Unique. With one exception, all of the charge weights listed are at or near maximum as listed by various current manuals. The exception is Tin Star. Vihtavuori's website does not list loads for .44-40, but it does for .45 Colt. As much as I dislike doing so, I interpolated a load for .44-40 in smokeless powder rated revolvers. I'm glad I did, for it shot some of the best groups with both revolvers.
My primary goal was to compare two Colt .44-40 revolvers made 95 years apart. Both revolvers were new to me and had never been test-fired for accuracy while in my care. In the time of component plentitude, ideally, I'd test-fire 12-shot groups from the Ransom Pistol Machine Rest. That meant two rounds fired from each chamber. With shortages, I reduced groups to five shots. Since 20 groups were fired from each CFSS, I could still gain some insight on bullet and powder performance in each revolver.
Group measurements were rounded off to the nearest eighth of an inch of the two widest shots, and when fractions were converted to decimals, they were again rounded to the nearest hundredth of an inch. Also, every shot fired was counted. Once with the 1913 CFSS, an errant flyer caused a nice, 1½-inch or so cluster to expand to a 3½-inch five-shot group.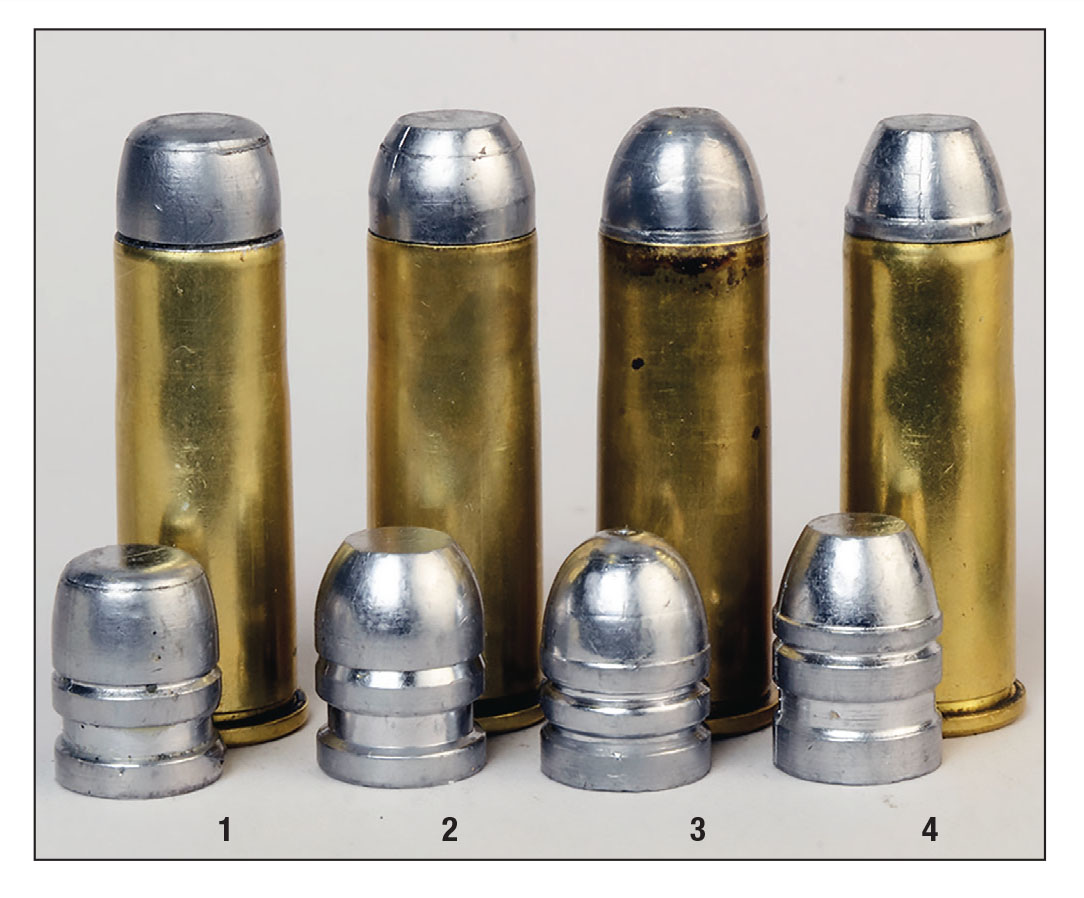 Counting 10 groups per each bullet, the best average came with the RCBS .44-200-CM bullet at 1.65 inches. The other three bullets tried averaged about 2 inches, give or take a bit. I was disappointed that my all-time favorite .44-40 bullet – RCBS 44-200-FN – came in last. But it must be noted that it was with it that the wide flyer caused the 3.50-inch group. Regardless, in my next casting session I'll be pouring more RCBS 44-200-CM bullets. (It would be nice if RCBS offered four-cavity bullet moulds!)
In regard to powders, Vihtavuori's Tin Star won top honors. Eight groups were fired with each powder and its average was only 1.68 inches. Again, that single flyer made trouble. It caused Trail Boss's eight-group average to hit 1.99 inches. Actually, looking over the averages per powder and per bullet, none performed badly. By my standards, they were all acceptable, with some downright fine. The same goes for those two .44-40 revolvers crafted by Colt 95 years apart. The 1913 gun averaged 1.99 inch for 20 groups fired and the 2008 gun was only a bit better at 1.79 inches.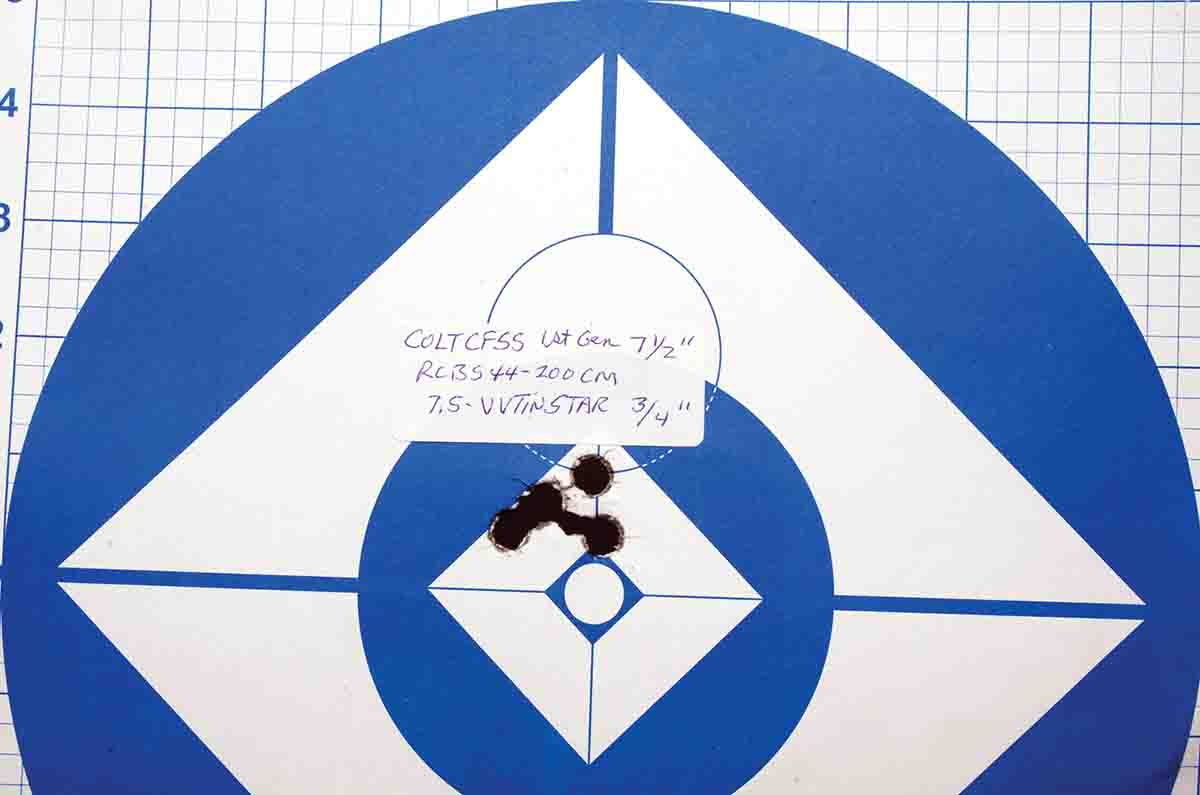 So with all the smoke cleared, here's my conclusion: For just funning around, plinking steel and chunks of firewood as I am known to do, I'll stick to 6 grains of Hodgdon Trail Boss powder and one or another of the RN/FP .44-40 bullets. If more power is needed, then 8 grains of Unique, again with the RN/FP bullets will suffice. Its 900+fps velocities are equal to black-powder loads from the .44-40 CFSS's original days.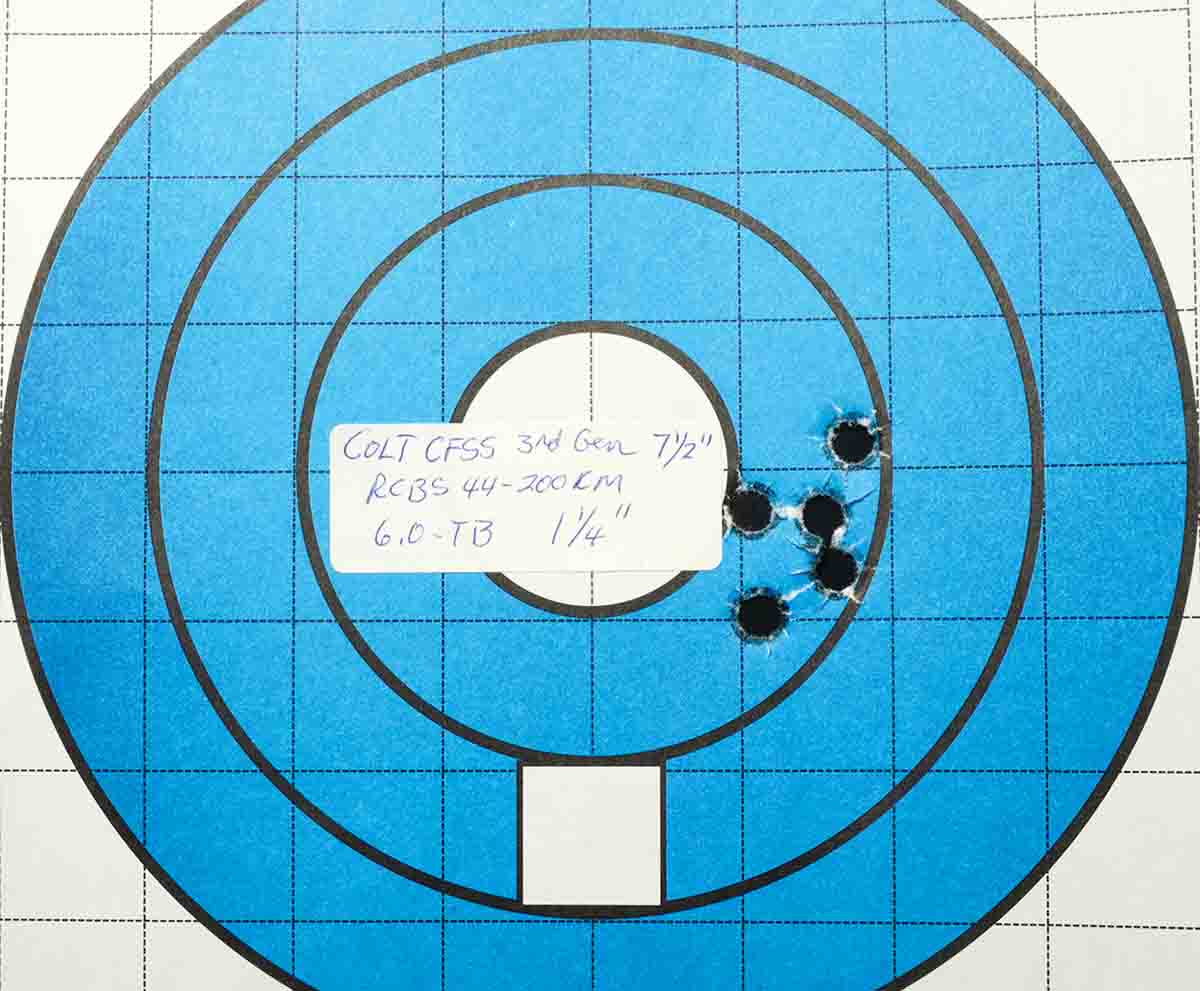 Occasionally, someone writes that the .44-40 is a difficult cartridge to handload, mainly because its cases are thin and it is very slightly bottlenecked in shape. Both charges are true, but that doesn't make it a difficult cartridge to assemble. Its cartridge case configuration does preclude carbide-type resizing dies, so cases do require lubricant prior to resizing. Thin case walls will crumple easily if bashed into resizing dies carelessly. Excessively crimping cases can cause case mouths to bulge or case walls to crumple. Still, reasonable attention to detail at the loading bench will prevent problems.
Many years ago, the late Col. Charles Askins wrote that he saw no need for the .44 S&W Special to have been developed because the .44-40 already existed. Although there is some logic there, I don't go so far as agreeing with that assessment. That said, I do handload and shoot many more .44-40s than .44 Specials.