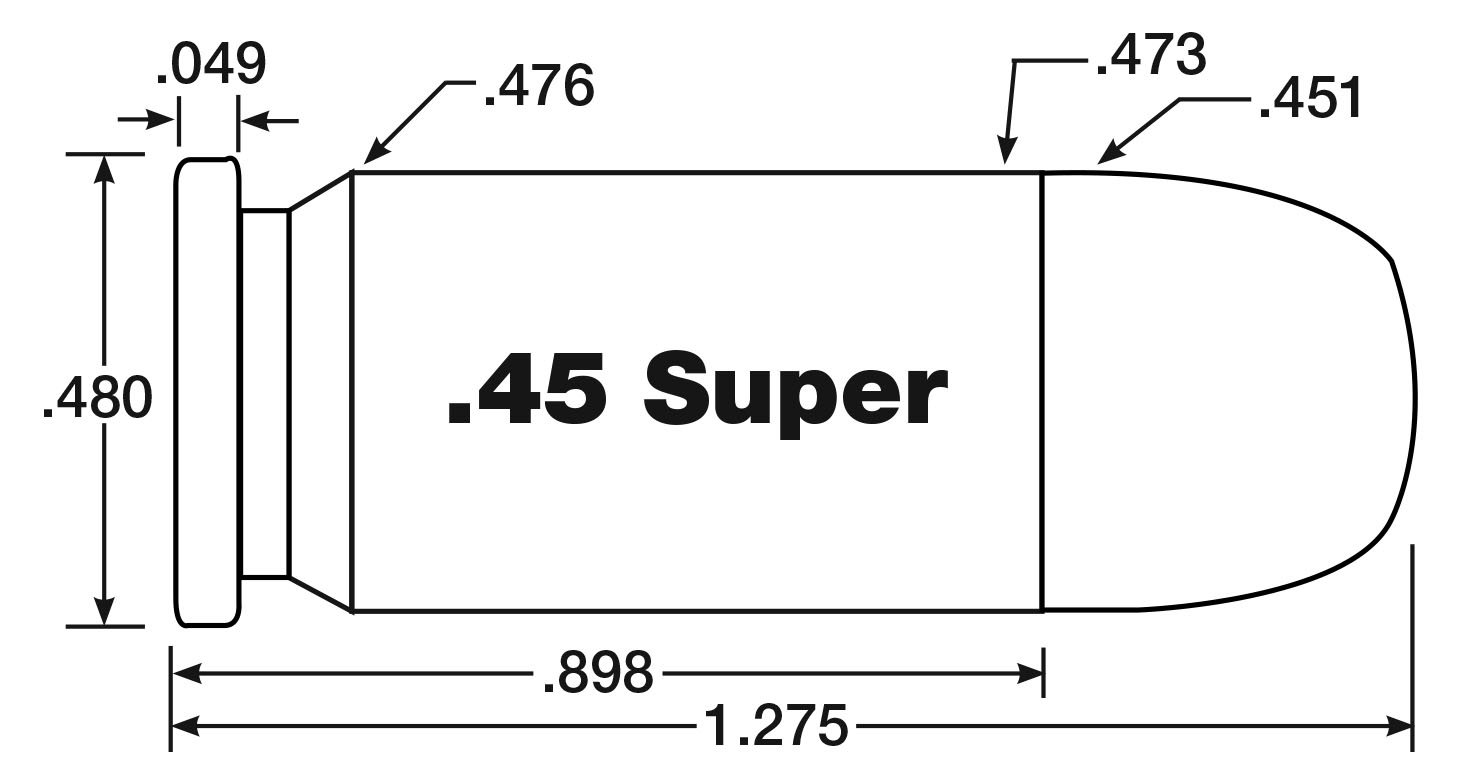 The .45 Super was created during the 1980s by Dean Grennell, good friend and longtime reloading columnist for Gun World magazine. The idea was new, but the concept goes back to the 1920s, when law enforcement needed a handgun cartridge capable of punching through the sheet metal of an automobile and delivering a fatal dose of lead poisoning to gangsters riding inside. Revolvers in .38 Special carried by lawmen at the time were capable of little more than chipping the paint of those four-wheel behemoths.
Back then, the .38 ACP (also known as the .38 Auto) was the fastest cartridge in the stable at Colt's Manufacturing. So, engineers at Colt strengthened its case a bit and kept adding powder until a 130-grain, full metal-jacket bullet produced the required velocity. Introduced in 1929 in the 1911 pistol, and soon thereafter in the Thompson submachine gun, the souped-up version of the .38 ACP was given the name, .38 Super. In addition to Swiss-cheesing an automobile, bullets zipped though protective vests worn by "baddies."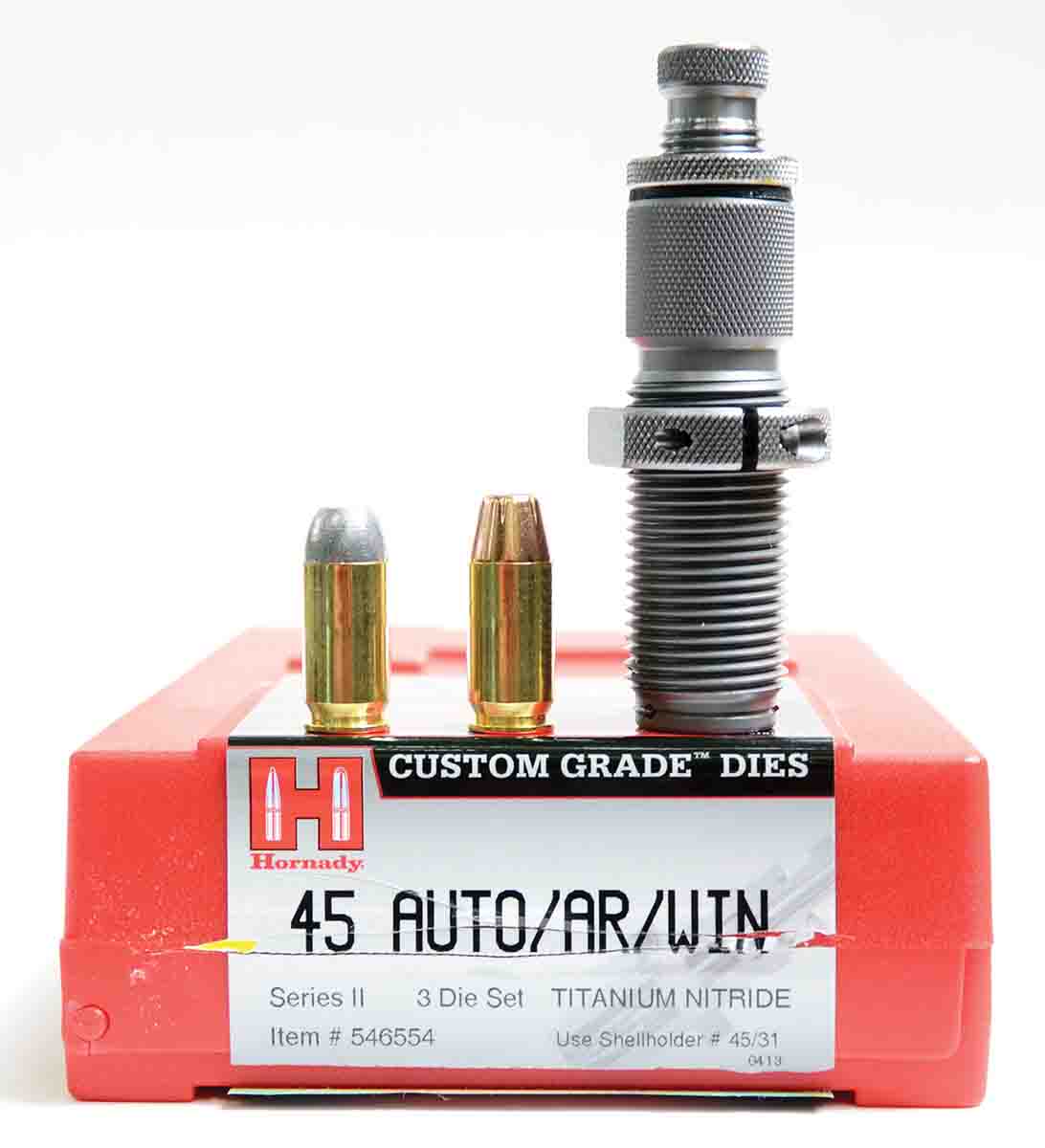 Moving forward a half century or so, Dean Grennell's goal was to come up with a cartridge more powerful than the .45 ACP, one that could be safely fired in specially prepared 1911 pistols chambered for that cartridge. The .45 ACP case was originally designed to handle chamber pressures up to 21,000 psi, and with an increase in hardness, it later proved capable of containing +P loads in the 23,000 psi range. Increase pressure a bit more and the case begins to bulge at its unsupported area in the chamber of the 1911 pistol. Pushing the throttle even harder can result in a ruptured case, a release of propellant gas, and damage to the gun and the hand holding it.
In search of his "Super" version of the .45 ACP, Grennell began with the .45 Winchester Magnum case. Externally, it is a longer version of the .45 ACP case, but a combination of thicker web and wall along with greater hardness allows it to safely handle considerably higher chamber pressures. Grennell shortened it to .45 ACP length and used an inside reamer to thin its wall. He eventually switched to the .451 Detonics Magnum case, because in addition to also being stronger than the .45 ACP case, it was only slightly longer and required less trimming and reaming than the .45 Winchester Magnum case.
While the .45 Super proved to be considerably faster than standard .45 ACP loadings, making the cases was a laborious process, and if not for the eventual availability of .45 Super brass from Starline, it would now be a forgotten cartridge. According to my friend at Starline, the .45 Super case is harder, more dense and stronger than the .45 ACP +P case and is of the same construction as the .460 S&W Magnum case. The many thousands of .45 Super cases sold each year are proof of the lasting popularity of Grennell's cartridge.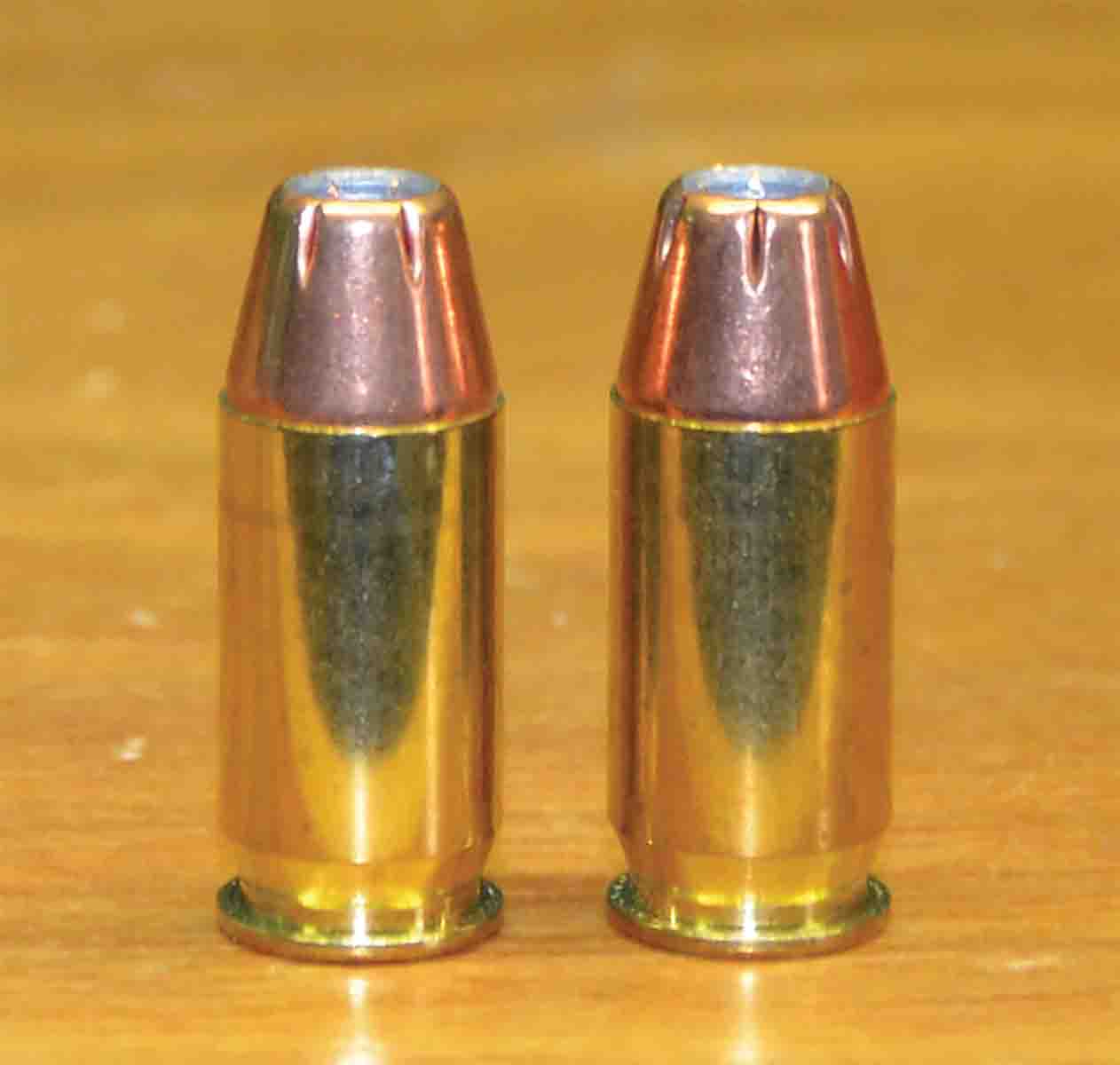 Triton Cartridge Co. was first to offer .45 Super ammunition. Maximum chamber pressure was set at 28,000 psi. When the company switched from a large pistol primer to a small rifle primer, the name was changed to .45 SMC. Bullet options range from a 165-grain JHP at 1,450 feet per second (fps), to a 230-grain JHP at 1,150 fps. Buffalo Bore offers five loadings ranging from a 185- grain JHP at 1,330 fps to a 255-grain hard cast, flatnose bullet at 1,080 fps, the latter intended for bone-crushing penetration on bears. Depending on bullet weight and velocity, muzzle energy for the .45 Super from a 5-inch barrel ranges from 600 to 700 foot-pounds, about the same as for the 10mm Auto.
I don't have enough space to discuss various 1911 pistols that should or should not be subjected to .45 Super chamber pressures, but only all-steel guns should be used. Those with barrel ramps excessively "throated" by amateurs, support even less of a chambered cartridge than a standard barrel and that makes them totally unsuitable for use with this cartridge. While the original intent behind the .45 Super was to use it in 1911 pistol barrels of original design, I believe it is best to use a full-support barrel with extended feed ramp. I highly recommend the Nowlin "ramped pre-fit" barrel as listed on its website. It comes with a bushing and any good pistol smith who specializes in working on and modifying the 1911 pistol can handle the job.
For readers who do not understand a full-support barrel and its purpose, I will explain. While designing the 1911 pistol, John Browning gave it a two-piece feed ramp with the lower section of the ramp on the frame and the upper section on the barrel. A shortcoming to that arrangement is quite a bit of the rear of a chambered cartridge hangs in midair with no support. When a cartridge fires, the only thing separating the shooter from propellant gas under high pressure is a thin wall of brass. It is a satisfactory design as long as good factory ammunition and factory-equivalent handloads in cases that are in good shape are used. For many years, the 1911 was my favorite handgun for competition and for personal defense, so I am not picking on it.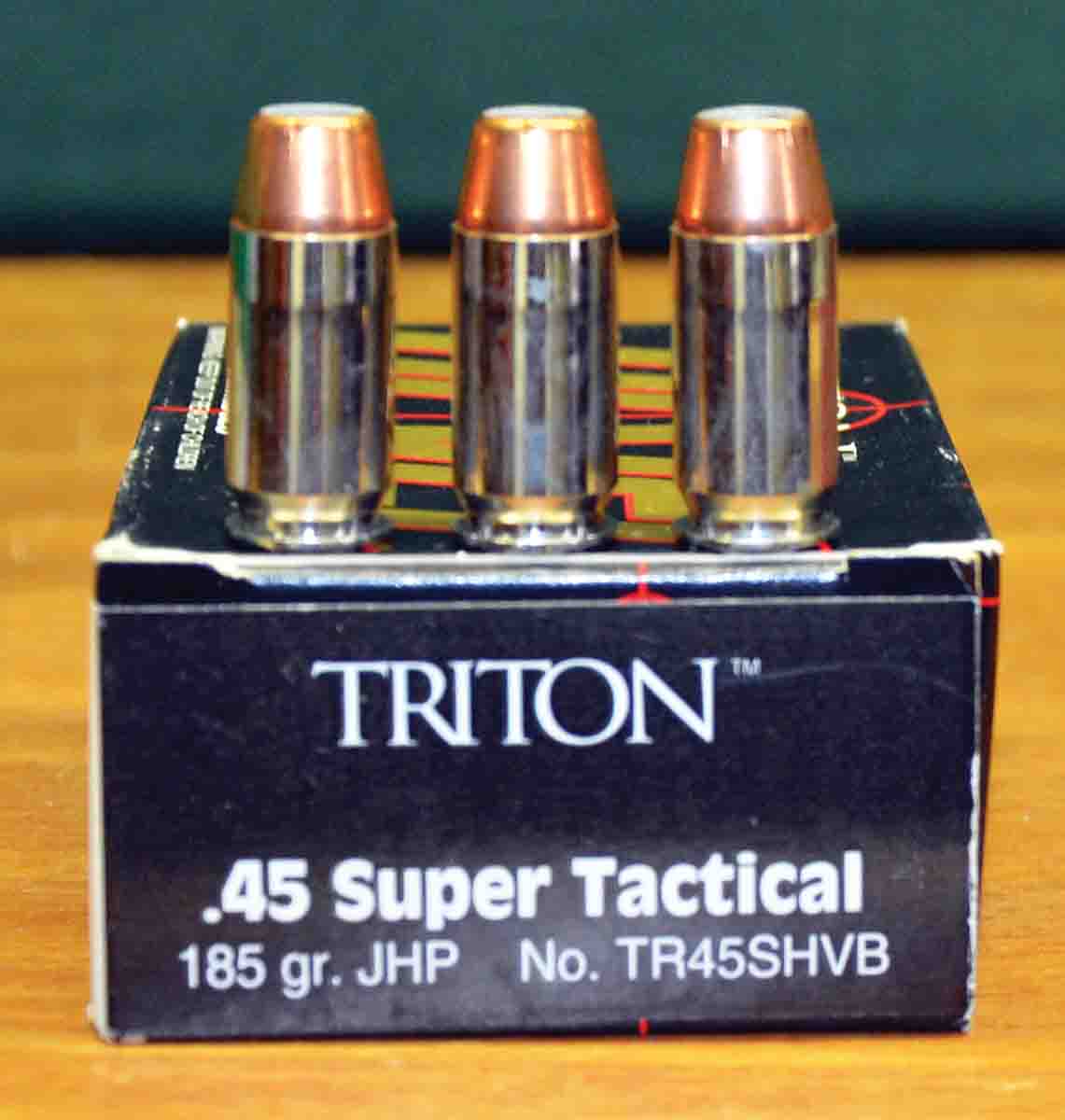 Browning's final semiautomatic design was what would eventually be commonly called the Browning Hi-Power. Browning died before completing the design and it was finished by Dieudonne Saive, an engineer who worked for Fabrique Nationale (FN) of Herstal, Belgium. Whether Browning or Saive made the entire feed ramp of the pistol a part of the barrel is uncertain, but it proved to be an improvement over the 1911 pistol. The design was finalized in 1934, and in 1935 the Belgium military adopted it as the P-35.
I am not sure who introduced full-support barrels for the 1911 pistol during the 1980s, but it may have been John Nowlin. Springfield Armory, Kimber, STI and Wilson Combat were among the first to offer factory-built 1911s with that feature. By making the entire feed ramp a part of the barrel, a chambered cartridge is supported all the way back to the front edge of its extraction groove. Nowlin, Bar-Sto, Wilson, Caspian and others sell that type of barrel, and since installing one in a 1911 pistol requires machining a mortise in the frame for the feed ramp, it is a job best left for a qualified pistol smith who specializes in 1911 pistols.
The correct recoil spring weight for the .45 Super will vary from gun to gun, but 26 pounds is a good start for a 5-inch barrel. If fired cases land more than 6 feet away, try a 28-pound spring. If a gun refuses to eject cases normally, go lighter in 2-pound decrements until it does. The Wolff recoil-calibrating kit from Brownells contains several springs varying in weights, and is less expensive than buying the springs individually. Due to the increase in slide velocity, some guns function more reliably with Wolff extra-power springs installed in their magazines. Switching back to .45 ACP ammunition is as easy as changing to a lighter spring, usually 17 to 18 pounds for standard loads and 19 to 20 pounds for +P ammunition.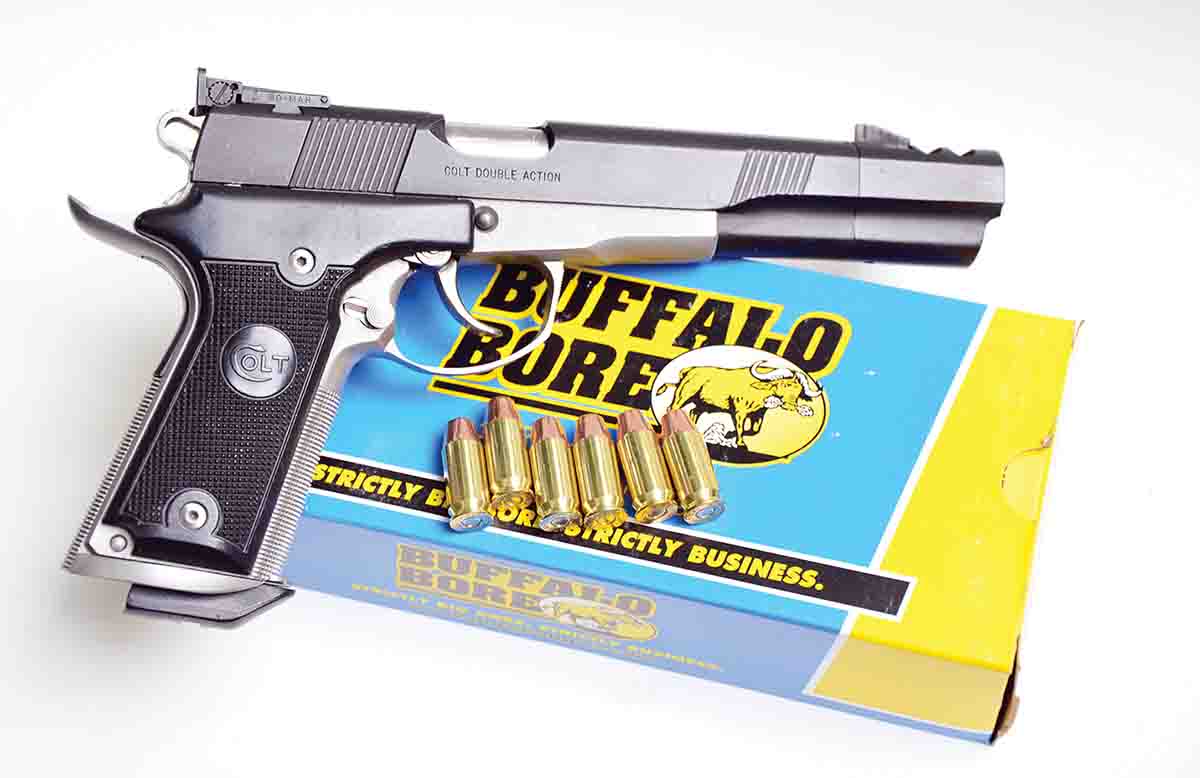 Using a heavier recoil spring alone for the .45 Super works fine, but if the gun will be shot a lot with full-power loads, increasing the mass (weight) of reciprocating parts reduces wear and tear. Using a 6-inch barrel and longer slide was a solution used by Springfield Armory back when that company was building 1911-A1 Long Slide pistols in .45 Super. Adding a heavy, no-bushing barrel further modifies the recoil impulse.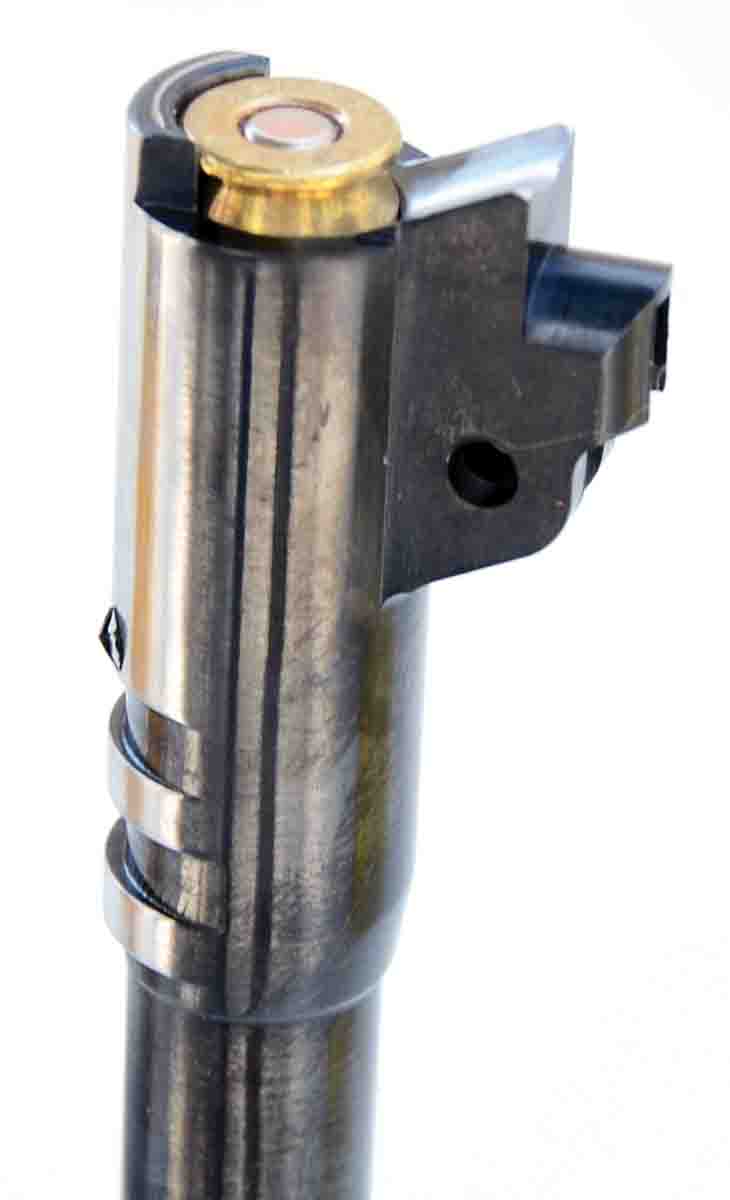 Attaching a full-profile compensator to the muzzle of a 5-inch barrel is another option. Years ago, I tried my hand at bowling pin competition and the custom gun I used was built by a local pistol smith on a Colt Double Eagle frame and slide. By my request, he installed a Nowlin 5-inch, full-support barrel fitted with a full-profile compensator. A 20-pound recoil spring proved to be perfect. After growing weary of assassinating those poor defenseless bowling pins, I hung up the gun and seldom used it until a friend and I bought three Plott hounds and attempted to chase down and bump off every feral pig in our entire county. We both carried handguns, and I found the Double Eagle in .45 Super to be as effective as my short-barrel Ruger Blackhawk in .45 Colt.
Tony Rumore developed .45 Super load data and Triton Cartridge Company was first to offer the ammunition. The data was for Vihtavuori N-350, Hodgdon HS-7, Accurate No. 7 and Power Pistol, with the latter recommended as the single best for use with all bullet weights. Reloading dies for the .45 ACP are used. For obvious reasons, keeping .45 ACP and .45 Super cases separated is extremely important. When picking up brass after shooting the .45 Super at a public range, it would be easy to mix in a .45 ACP case left by another shooter. Plus, who knows how many times it has already been loaded and fired. Unknowingly filling it with a .45 Super load and pulling the trigger could spoil an otherwise happy day.