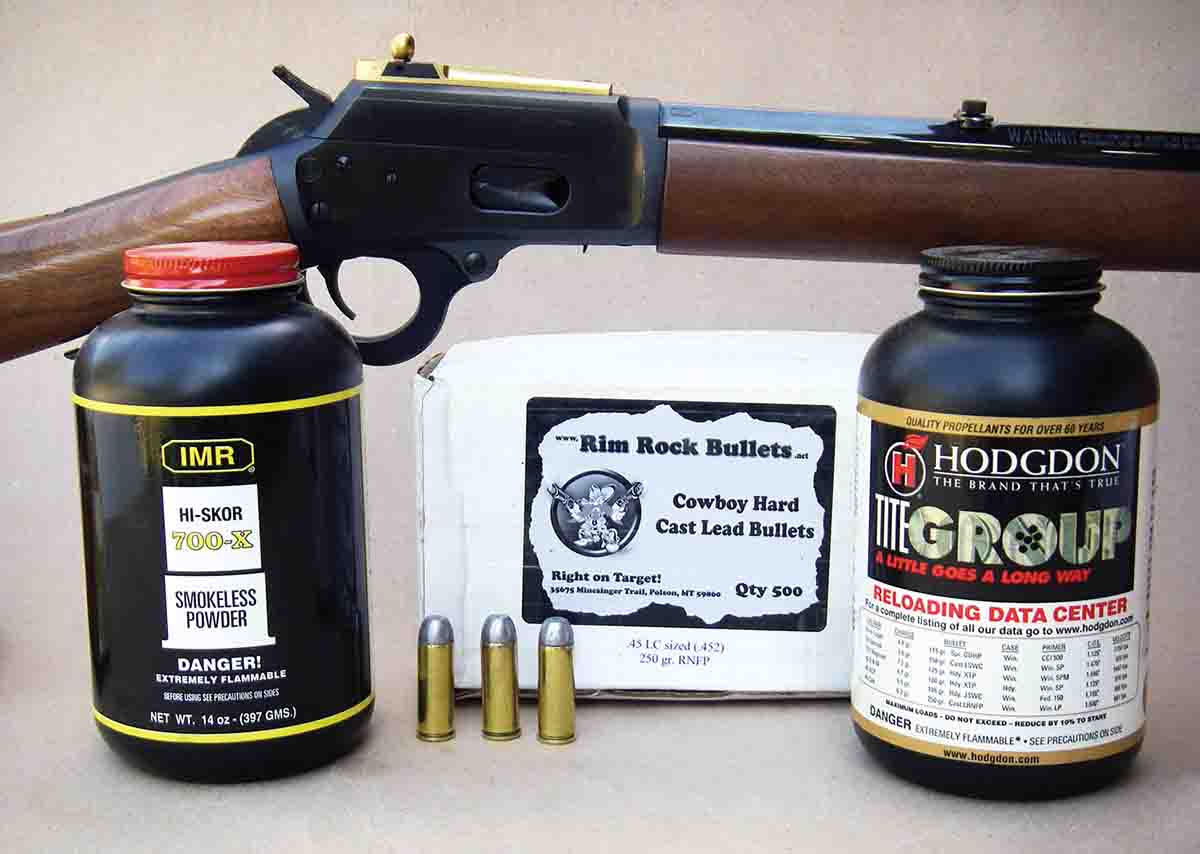 Q:
I have two rifles that are used for cowboy action shooting and include a Marlin Model 1894 Cowboy and Uberti Colt Lightning reproduction, which is a pump action rifle with external hammer. Both guns are chambered for .45 Colt.
When shooting cowboy loads using 200-grain bullets with 5.6 to 5.8 grains of Hi-Skor 700-X powder, I get a lot of blowback around the bolts of each rifle that hits me in the eyes and face. These loads leave a black smudge mark on the cases. It begins at the case mouth and extends all the way to the bottom of the case. It is the same in both rifles. I don't have the same problem when using 250-grain bullets, but there is a smudge that begins at the case mouth and goes about halfway down the case. I would shoot only 250-grain bullets, but my local caster now only offers 200-grain bullets. Any suggestions? More powder? Different powder? Heavier crimp? Less crimp? Please help! Thanks in advance. – B.K., e-mail
A: You are not the only one that has experienced this problem. In fact it often occurs with factory-loaded .45 Colt "cowboy" loads in rifles. The problem is that pressures are so low that it fails to make the case expand in the chamber to provide the necessary gas seal, which is compounded when fired in rifles that feature generously cut chambers. As a result the powder blows back around the case, through the action and into your face.
I don't know what kind of cases you are using; however, Starline brass is stiffer than most other brands, making it more difficult to obtain the correct seal when using light loads. To be clear, Starline offers excellent cases that are strong and provide long case life and can be made to expand with any reasonable load. Softer cases, such as Remington, will expand more easily at lower pressures, but not always.
If you are determined to stay with Hodgdon Hi-Skor 700-X (formerly IMR 700-X) powder, I suggest increasing your powder charge to at least 6.5 grains. I would rather see you switch powders to Hodgdon Titegroup, an excellent choice for light loads in the .45 Colt. I suggest using 7.7 to 8.0 grains with your 200-grain RNFP-style bullet. This powder contains a very high content of nitro, which results in a very short impulse time that helps cases to seal correctly. Furthermore, it is not position sensitive, is very clean burning and produces excellent accuracy. I believe making this change will correct your problem and should even allow you to use Starline cases, if desired. As always, I do recommend a heavy crimp, which aids in achieving correct powder ignition and prevents bullets from moving in tubular magazines and from jumping crimp in sixguns.
You may not be aware, but most commercial casters, such as Rim Rock Bullets, can ship customer direct, bulk-packed 250-grain RNFP bullets through the U.S. Postal Service in a flat-rate box for a modest $12 per 1,000. I encourage you to change to the heavier bullets, which simply work better in the .45 Colt.
I hope the above information helps.
Cutting Edge Raptor Hollowpoints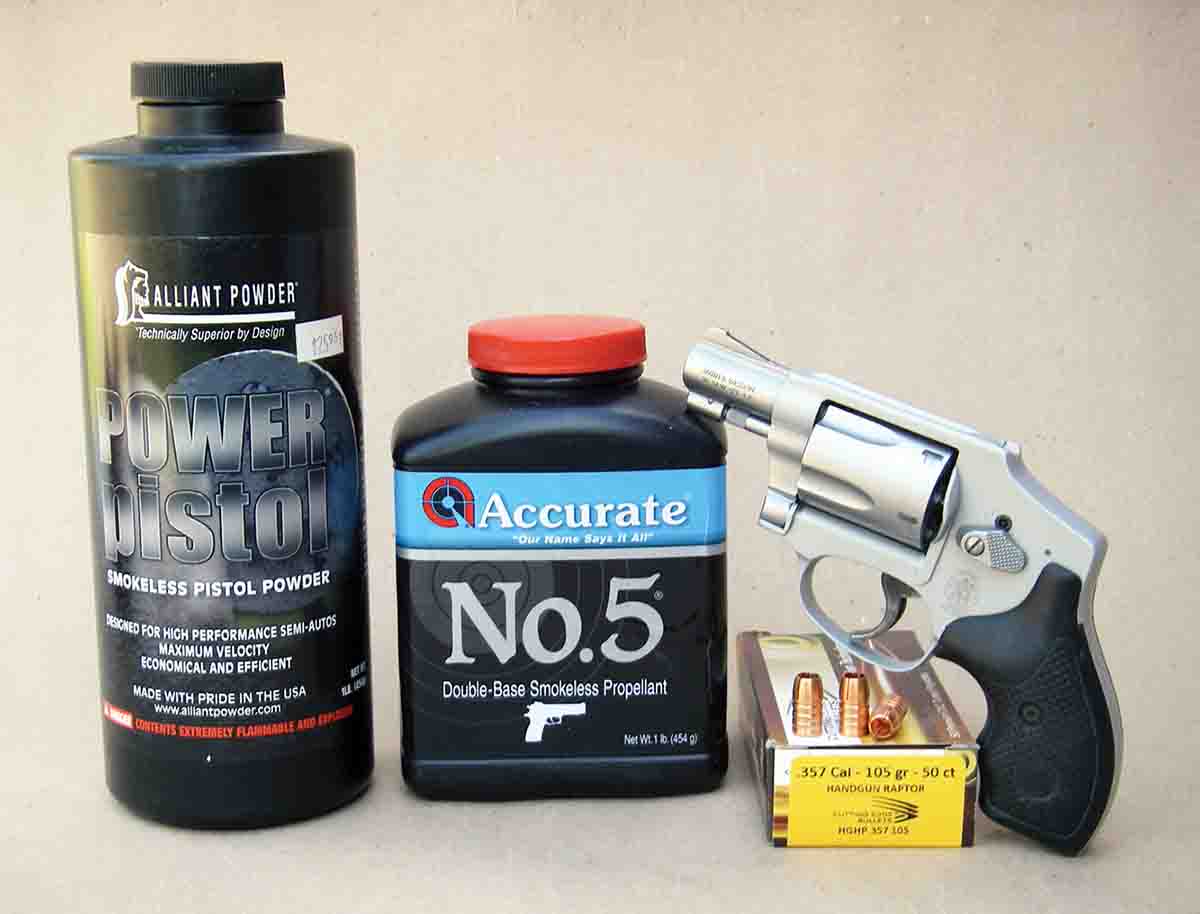 Q:
I am handloading for a Smith & Wesson Model 642-2 .38 Special with 1.85 inch barrel. In selecting load data, I have been torn between using expanding bullets, or hard cast for deep penetration. After reading your article, I have decided that perhaps the 105-grain Cutting Edge Raptor Hollow-Point may offer the best of both worlds. I have bullets and am ready to begin loading ammo, but can't seem to find the back issue wherein you provided data. Can you suggest a couple of powders that will give top velocities? I always turn to your articles first and have learned extensively from your writings. Thanks in advance for your help. – R.B., Tacoma WA
A: Start with 7.0 grains of Alliant Power Pistol for 1,046 fps and work up to a maximum +P load of 7.5 grains for 1,126 fps. You can also use 8.0 grains of Accurate No. 5 powder for 1,010 fps, while a maximum +P load is 8.5 grains for 1,084 fps. A heavy roll crimp is suggested.
The above loads were assembled in Starline cases with CCI 500 primers. Velocities were recorded from a Smith & Wesson Model 36 with a 1.85-inch barrel.
.30-30 Velocities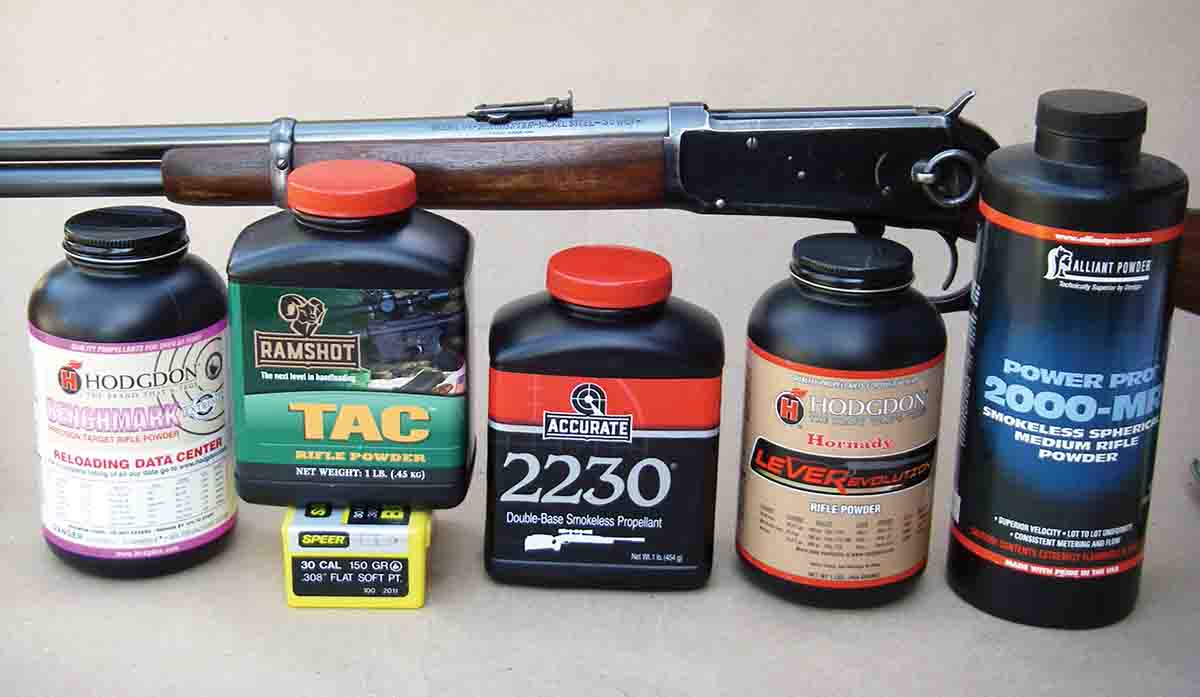 Q:
I have been handloading for more than 50-years, but I still learn something every time I read one of your articles, even if it is in regards to a cartridge that I don't use.
Based on your encouragement to purchase a chronograph, I have really had my eyes opened! My old 30-30 Winchester loads are rather weak, but so are some lot numbers of factory loads. As it stands, traditional 150-grain factory loads from both Remington and Winchester are advertised at 2,390 fps, but neither will exceed 2,100 fps from my 1955 era Winchester Model 94 carbine that I purchased brand new while I was still in high school and has been used to take many blacktail deer. Newly purchased Hornady loads are definitely faster and closer to advertised figures. I was disappointed that my handloads are only recording 2,066 fps, but the manual lists them at 2,300 fps.
I need your help. I would really like to reach at least 2,200 fps using the Speer 150-grain flat point bullet. Can you suggest a powder and charge weight that will reach this velocity from the 20-inch barrel of my carbine? Is it possible for me to reach 2,300 fps? If so, please offer that load too. I am willing to purchase whatever powder that you recommend. Thanks for your help. Handloader Magazine has no peers. – J.J., Springfield OR
A: First, thank you for the compliments and for reading Handloader magazine.
Published velocities for the .30-30 Winchester are almost always obtained from a 24-inch test barrel. Given the added length, combined with the fact that most test barrels are of especially high quality, actual velocities are usually notably less when loads are fired from the widely popular 20-inch carbine barrel.
There are many powders that will let you reach 2,200 fps using the 150-grain Speer flatpoint bullet. I have had especially good results with 32.3 grains of Hodgdon Benchmark, 32.0 grains of IMR 8208-XBR, 32.0 grains of Accurate 2230 or 32.5 grains of Ramshot TAC. Fewer powders will reach 2,300 fps while staying within current SAAMI maximum pressure guidelines, 42,000 psi. I suggest using 33.5 grains
of IMR 8208-XBR, 34.5 grains of Accurate 2520, 38.0 grains of Winchester 748, 38.0 grains Hodgdon LEVERevolution or 41.0 grains of Alliant Power Pro 2000-MR. Each of these loads is within SAAMI pressure guidelines and will give the performance you seek.
.30-30 Bullets in the Krag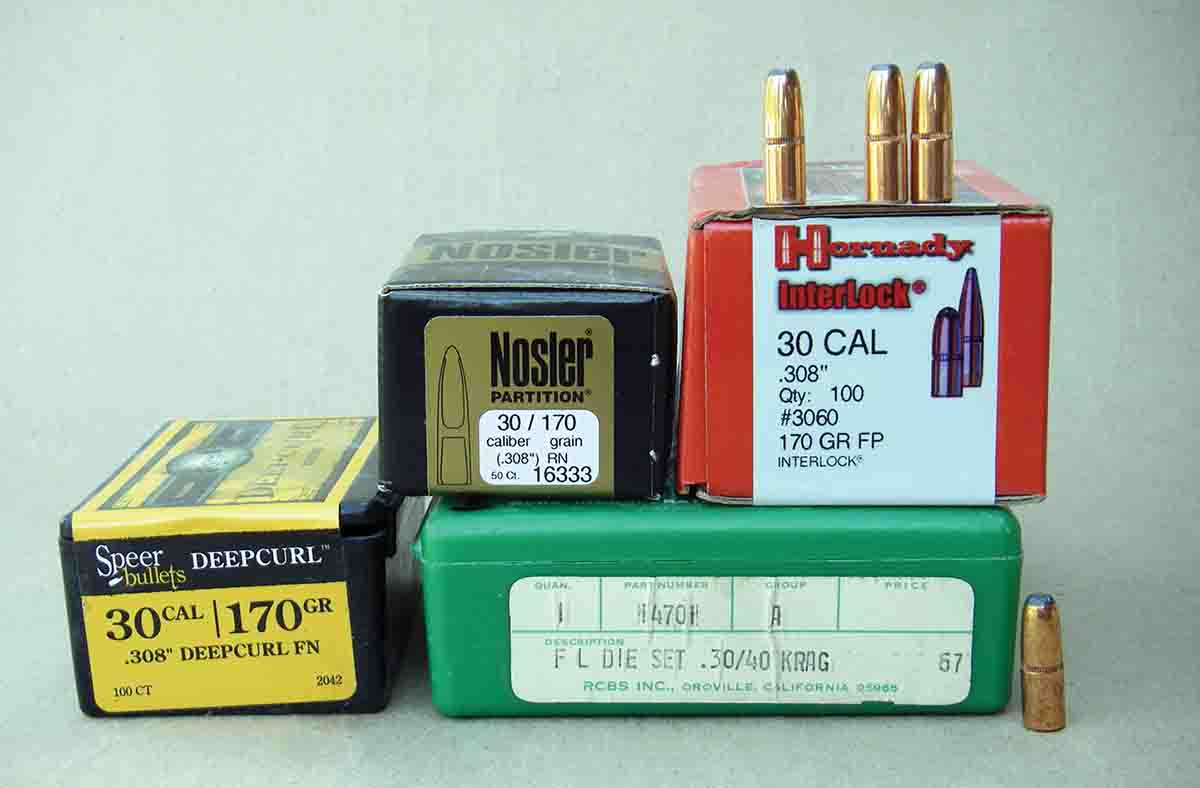 Q:
I am handloading for the .30-40 Krag rifle. I still have an old NRA Handloading book that was published many years ago. In their introduction they mention a load using .30-30 170-grain bullets with full charge loads. It states "The long throat in Krag rifles, designed for the 220-grain round nose bullet, does not usually allow the best accuracy with spitzer bullets. The 150-grain and 170-grain round nose bullets intended for use in the .30-30, seated in .30-40 cases to give and overall cartridge length of 3.089 inches, usually give excellent accuracy in good Krag rifles. The 170-grain .30-30 bullet, with full-charge loads in the .30-40 Krag, is a very effective cartridge on whitetail deer."
My question is; are the loads they are referencing full charge .30-30 or full charge .30-40 Krag? Is there any chance of causing harm? What are your thoughts on using this combination? Or should I use something more conventional? – K.S., Goose Creek SC
A: The NRA was without question referencing full-power .30-40 Krag loads with the 150- and 170-grain .30-30 bullets. Due to their ogive profile, they give notably better accuracy in Krag rifles when compared to spitzer profile bullets. When pushed to their full velocity potential they perform (and expand) reliably on game.
During the era that surplus Krag rifles were commonly used in the field, the practice of handloading .30-30 bullets was rather common, as it permitted velocity increases while producing good accuracy. As long as loads are within current industry pressure limits, a maximum average pressure of 40,000 CUP, you should not experience any problems.