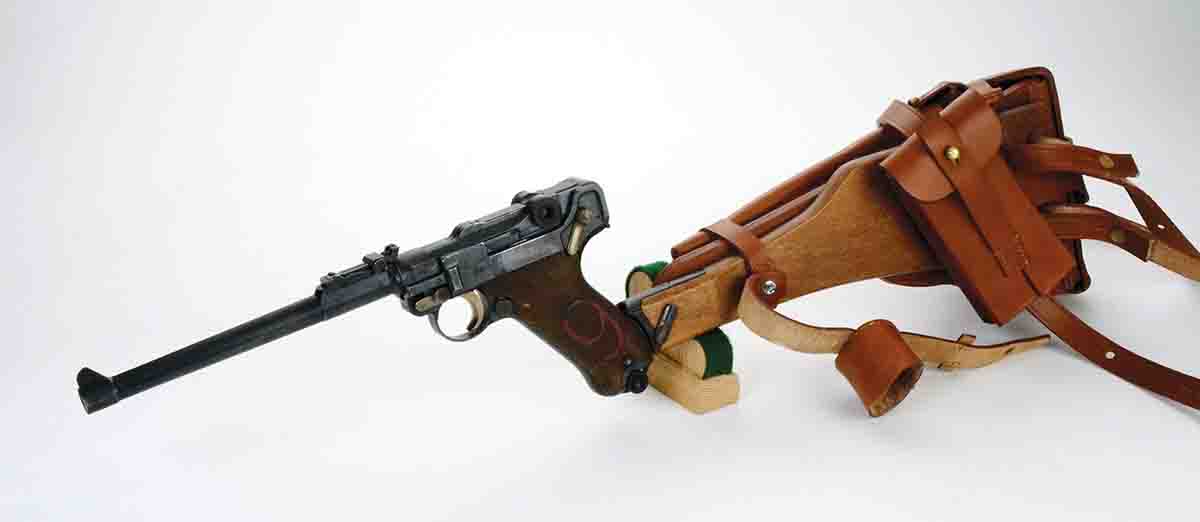 What does a gun writer do when confined to the couch while recovering from major surgery? Watch television or peruse firearms auction sites on the internet? For me it was the latter, and in doing so I ended up purchasing a firearm that had intrigued me for years. Specifically, it was a German "Artillery" Luger or, more correctly, a
Lange
[Long]
Pistole
'08
.
Germany developed this variety of the Pistole '08 in 9mm Parabellum in 1913 specifically for protecting crew-served weapons teams, i.e. artillery and machine gun crews. The idea was that fast firing semiautos were better than five-shot bolt-action rifles when such crews were in danger of being overrun. To this end, Artillery Lugers were equipped with 8-inch barrels, tangent-style rear sights optimistically graduated to 800 meters and quick detachable shoulder boards. Today the latter item is usually referred to as a shoulder stock.
For transporting these long Lugers, a rather intricate holster was designed. It was lashed to the shoulder board with leather straps held by brass screws. In use it had a long shoulder strap that passed over the wearer's head on the left side so the holstered Luger hung on the right side with its grip to the rear. On the holster were pockets for a cleaning rod and dismantling tool. Also usually carried on the strap was at least one leather pouch holding two standard eight-round Luger magazines.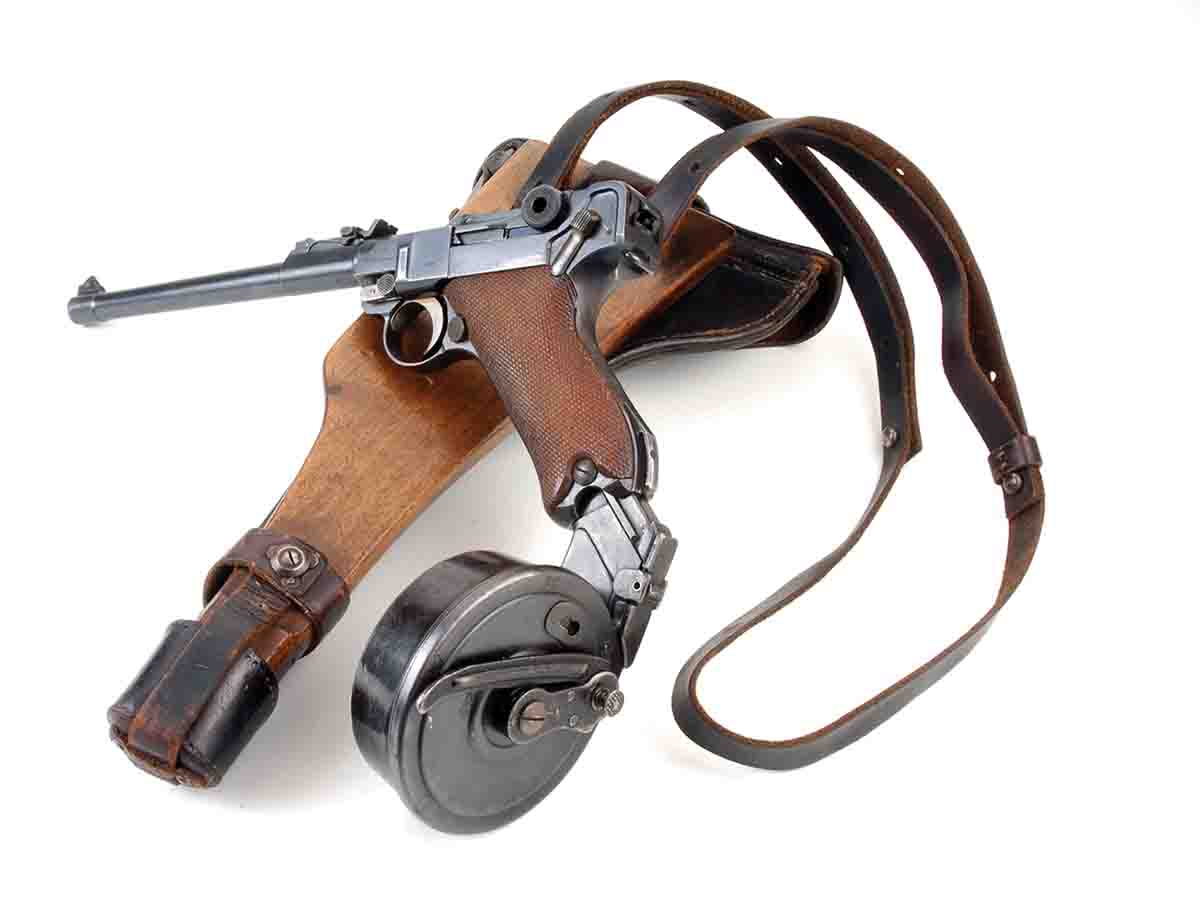 Several years ago a friend allowed me to shoot the Artillery Luger his grandfather had brought home from World War I. In my ignorance, I stripped the leather from the shoulder board before mounting it on the Luger's grip. My thought was:
How in the world did German soldiers get these things rapidly into action when messing with all those leather straps? Duh!
I learned that the shoulder board was meant to be used with the holster still in place. Knowing that, I was able to transform the Artillery Luger from handgun to light carbine in seconds.
Soldiers of any army are apt to find more uses for specialized equipment than their original designers envisioned. So it was with Artillery Lugers. As World War I devolved into static trench combat, German raiding parties began taking Artillery Lugers with them, for they were certainly easier to fight with in confined spaces than a 4-foot long Gewehr 98 Mauser 8mm bolt-action rifle. By 1917 Germany had adopted a special magazine for its Artillery Lugers, although it is functional in all Pistole '08s. Collectors call it the "snail drum." It is a steel, circular, spring-loaded device holding 32 rounds. A special tool was required for loading it fully.
In the first half of the twentieth century Germany's ordnance designers had a reputation for innovation far exceeding other industrialized nations' armies. In effect, Artillery Lugers with shoulder boards attached were lightweight, semiauto carbines. They predated the United States development of M1 .30 Carbines by a quarter-century, and both were intended to arm the same kind of weapons crews and ended up serving in larger combat capacities.
LR Pistole '08s must have been considered a fearsome weapon by the Allied nations. By treaty, they were proscribed from German armaments after World War I along with fighter airplanes, submarines and other German developments. Although records for exact production do not exist, they were manufactured in prodigious numbers but are relatively scarce today because so many were destroyed post-war.
During the 1914-1918 period, Artillery Lugers were only manufactured in two factories: Erfurt and DWM. Those from the former maker are said to have poorer fit and finish than those from DWM. Also, each one is dated atop its chamber with the year of production. (Interestingly, there has never been an actual "Luger factory.") In his book CENTRAL POWERS PISTOLS (2007) Jon C. Still states that in 1917 almost all DWM Pistole '08 production was the Lange version.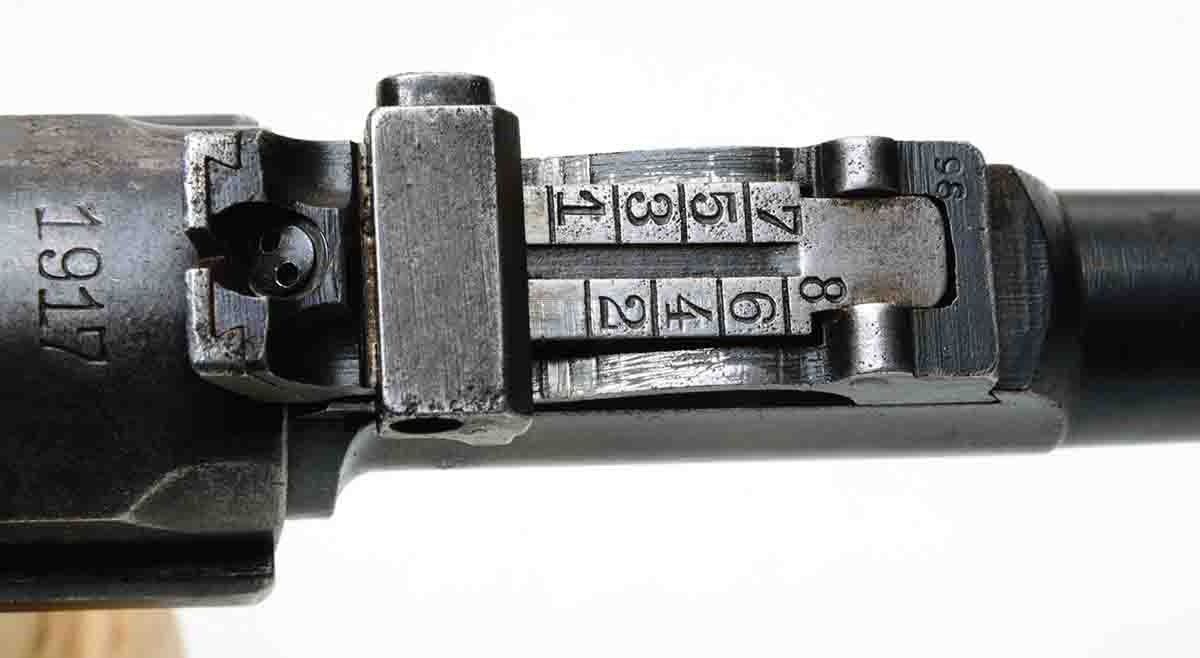 The
LP Pistole '08
I found on gunbroker.com was one of those made in 1917 by DWM. It is certainly not pristine in its finish as there are some small spots of light exterior pitting, likely from being in a damp leather holster. The bore has no pitting. Mechanically it functions perfectly. I was surprised to see that the left grip panel had a large red "9" carved in it. This is how Mauser C96s (Broomhandles) were marked if chambered for 9mm Parabellum instead of the more common 7.63mm Mauser. However, in Still's book is the statement that "a very few" 1917 DWM LP Pistole '08s had grips with red or black "9s." Unfortunately the right grip panel on mine does not have one.
As I quickly discovered, when one buys a Long Luger, the spending does not stop there if the buyer becomes fully enmeshed in their history. It was nigh on distressing to discover that original accouterments, such as holsters, snail drum magazines and even loading tools for the latter, cost almost as much as the pistol itself. Replica items were not cheap either.
A replica shoulder board was $150. A replica snail drum magazine was several hundred dollars. When it arrived, there was a note from the seller saying if the magazine didn't fit, send it back. Money would be returned (less shipping) but replacement magazines would not be sent as they wouldn't likely fit either. Mine did not fit.
Fortune smiled on me. An elderly friend in the black-powder cartridge rifle game handed me a burlap sack at one match and said, "You need these more than me." In it were a snail drum magazine and an original shoulder board. The magazine fit my Long Luger perfectly. Also, on gunboker.com I found a beautifully-crafted holster complete with shoulder straps and a double magazine pouch at a ridiculously low price. Just recently, I also spotted a drum loading tool on that website but balked at paying $1,500 for it. Adjusting the beautifully-crafted rear sight for perfect windage zero requires a special small spanner wrench, and that accessory still hasn't been located. Windage is zeroed by drifting the dovetailed front sight, like all Lugers.
So the bottom line is how well does this outfit shoot? My favorite load is a charge of 4.4 grains of Bullseye under Montana Bullet Company 115-grain FMJs. (This is a hot load but necessary to give 100 percent functioning with my LP'08.) Average velocity is 1,300 fps.
Now here is a conundrum: At 25 yards about the best my LP '08 groups is 3 inches, give or take a fraction. But attach the shoulder stock and it's easy to ring 18-inch wide by 24-inch tall steel plates at 100 yards and farther. How about 800 meters? Forget it!