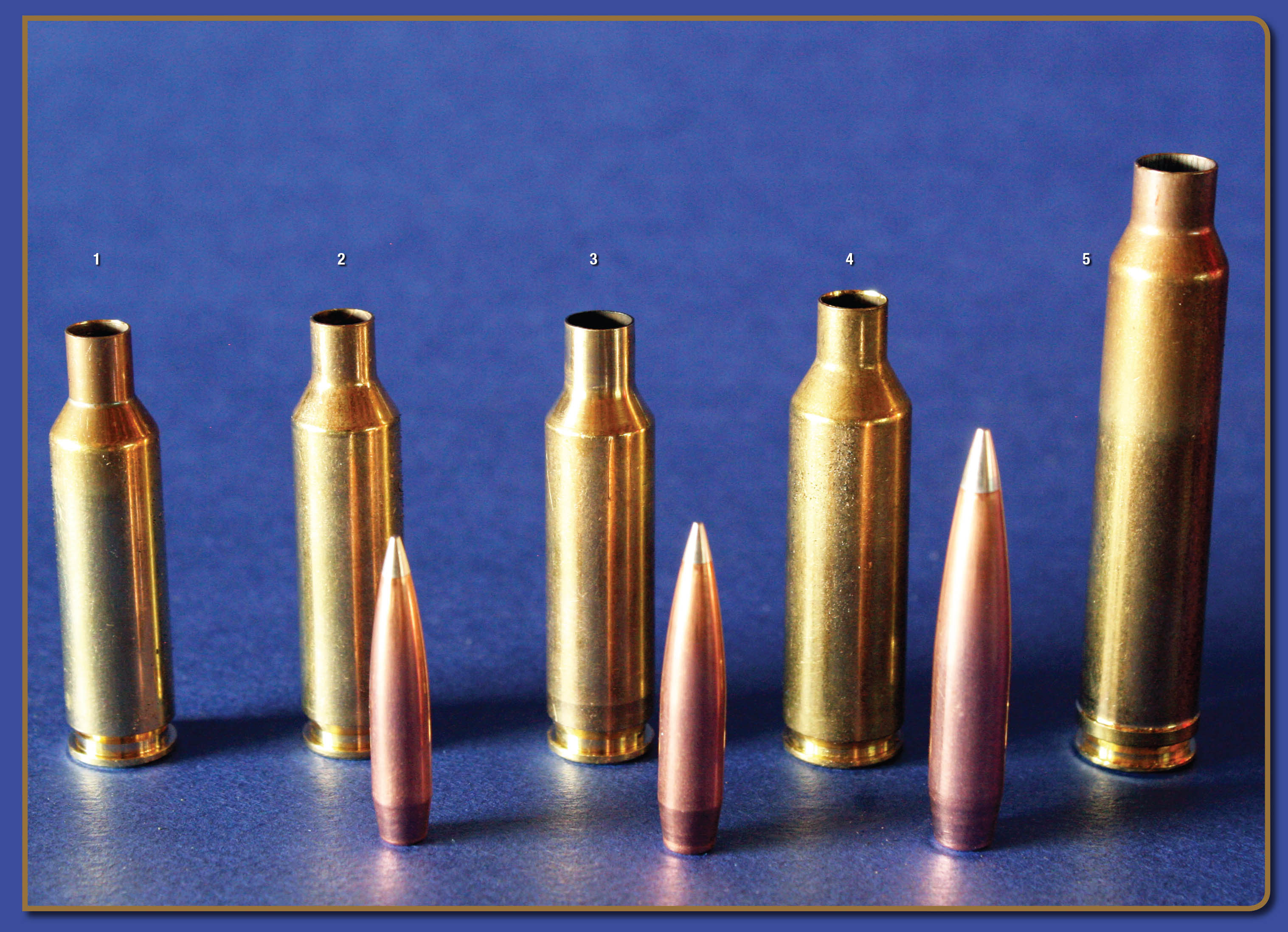 It is always nice when the first 100-yard group with a new rifle bullet is one ragged hole. Handloading, however, is usually more complicated than a single group, especially when testing 6mm, 6.5mm and .30-caliber bullets in multiple rifles.
Hornady's new A-TIP match bullet has an aluminum tip rather than the polymer tips shooters have grown accustomed to over the past few decades. This may seem revolutionary, but Handloader No. 198 (April 1999) includes an article mentioning Hornady's 1994 introduction of its aluminum-tipped A-MAX 750-grain bullet for the .50 BMG. In the article Dave Emary, Hornady's Chief Ballistician then, states: "We tried the aluminum tip 162-grain 7mm bullets as well. They worked but proved too costly."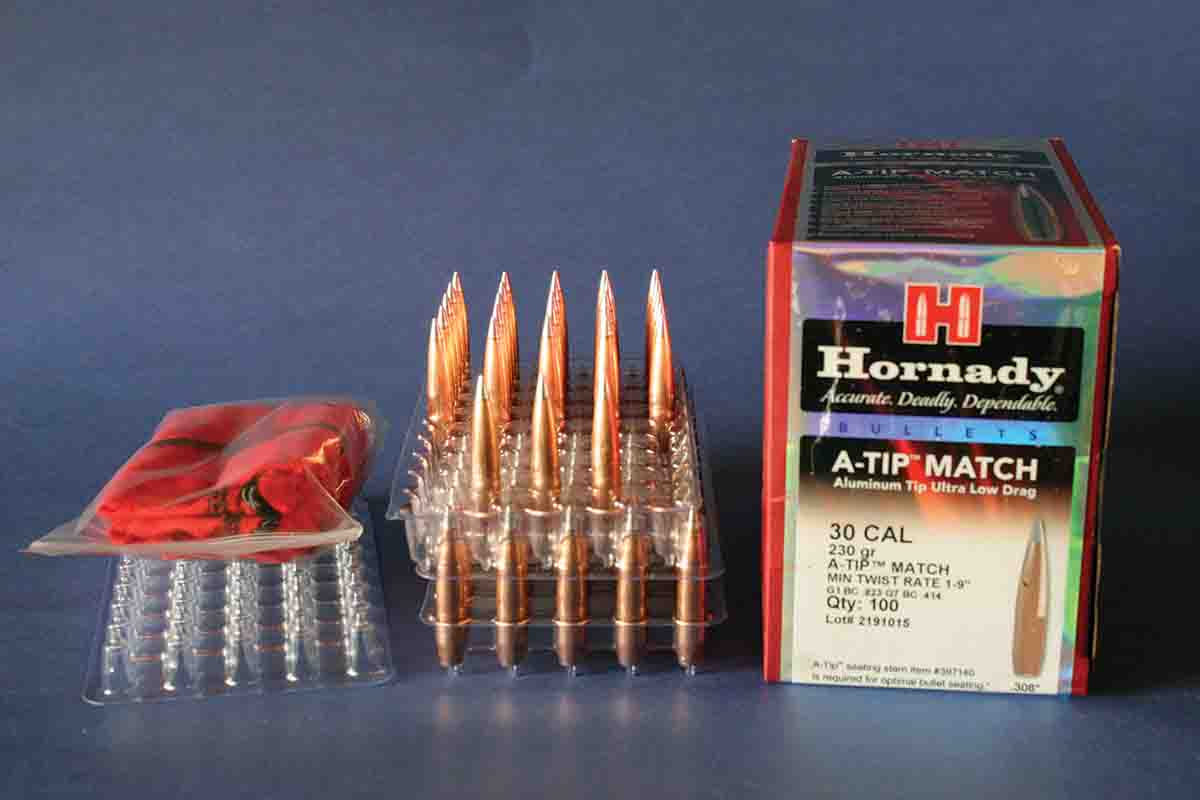 Today long-range shooting is so popular shooters are evidently willing to pay more for accurate bullets with very high ballistic coefficients (BC). While Hornady sent along 6.5mm and .30-bullets, it did not have any 6mms on hand, and neither did any websites, apparently due to already high demand – despite A-TIPs costing considerably more than most other match bullets.
However, I really wanted to try some of the 6mms due to owning a pair of accurate fast-twist 6mm rifles. Luckily a local Montana store had one 100-bullet box of 110-grain 6mm A-TIPs priced at $74.99 – the going rate for the "out of stock" bullets on the Internet.
Some of the price involves the packaging, the most expensive encountered in my half-century of handloading. Once upon a time, jacketed bullets were simply dumped in thin cardboard boxes, but eventually it was discovered that bullets rattling around against each other did not enhance accuracy, both to slightly dented jackets and sometimes the core actually loosening inside the jacket. Most bullet companies have now added extra protection inside the box, and some even switched to sturdier plastic boxes.
Hornady went several steps further. First, it does not polish A-TIPs before packaging, as most companies do with mechanical tumbling, because tumbling can also affect accuracy. Instead it places the unpolished bullets inside individual pockets in plastic containers. These go inside a sturdy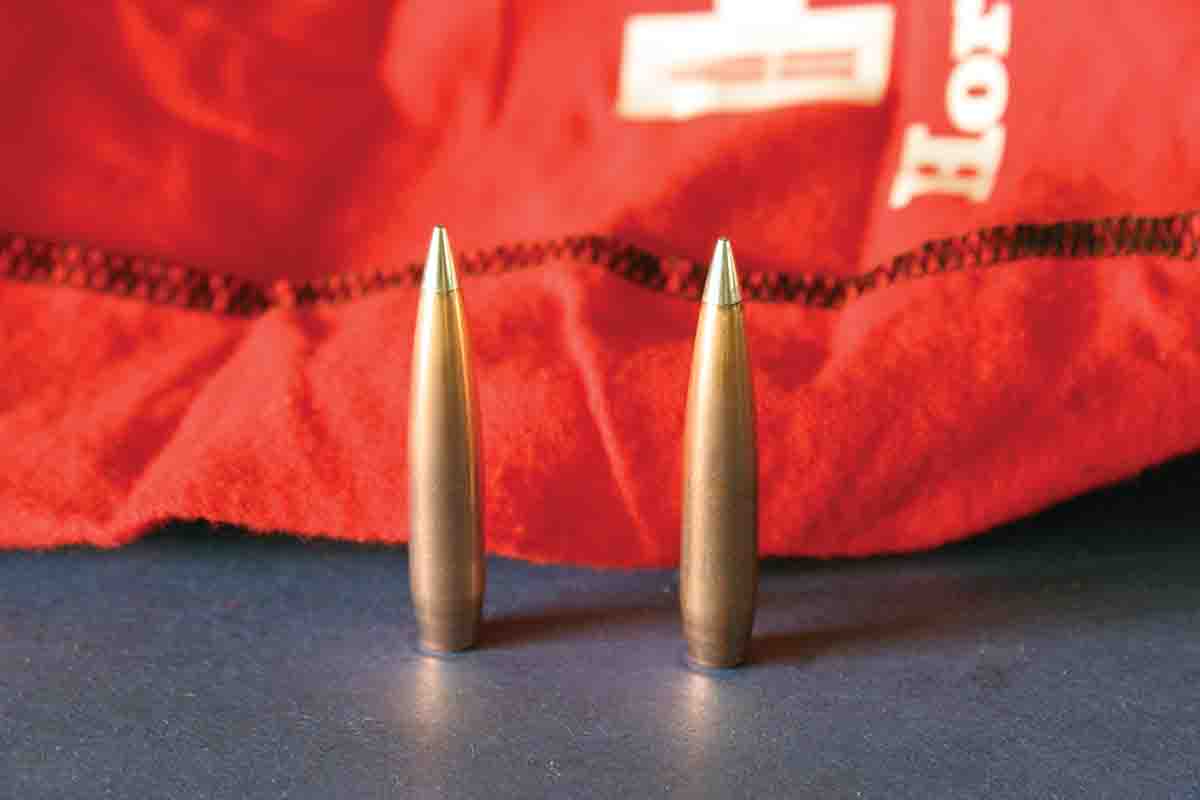 cardboard box, which also contains a red-flannel drawstring bag for use as a mitt to hand-polish each bullet.
A-TIPs are designed to be more tolerant of seating depths and rifling twists than many match bullets, some of which can require considerable experimentation before finding "the load." I started with the 110-grain 6mms and they proved easy to work with, partly because of plenty of handloading experience with both rifles.
Previous experimentation for a 6mm Creedmoor article in Handloader No. 317 (December 2018) indicated H-4350 as the most accurate powder for heavier bullets. My "starting load" of 41.0 grains shot the initial, tiny three-shot cluster measuring .370 inch center-to-center. While 41.5 grains resulted in a similar cloverleaf, 42.0 grains did not group as tightly.
Since most long-range shooters prefer accuracy combined with all the velocity possible, I then loaded more rounds with the 41.5-grain charge and fired five-shot groups. These averaged .570 inch at 2,835 fps, very good for a rifle weighing only 8.25 pounds, 1.25 pounds of which was the 4-16x 44mm Zeiss Conquest scope.
Shooters used to three-shot groups should probably be reminded that five-shot groups average about 50 percent larger in diameter. Contrary to popular belief, this is not normally due to the barrel heating up, but statistical chance, because three-shot groups do not represent the total possible spread of a particular load. Instead, group diameter tends to level off at around five or six shots – unless, of course, the wind picks up or the shooter screws up.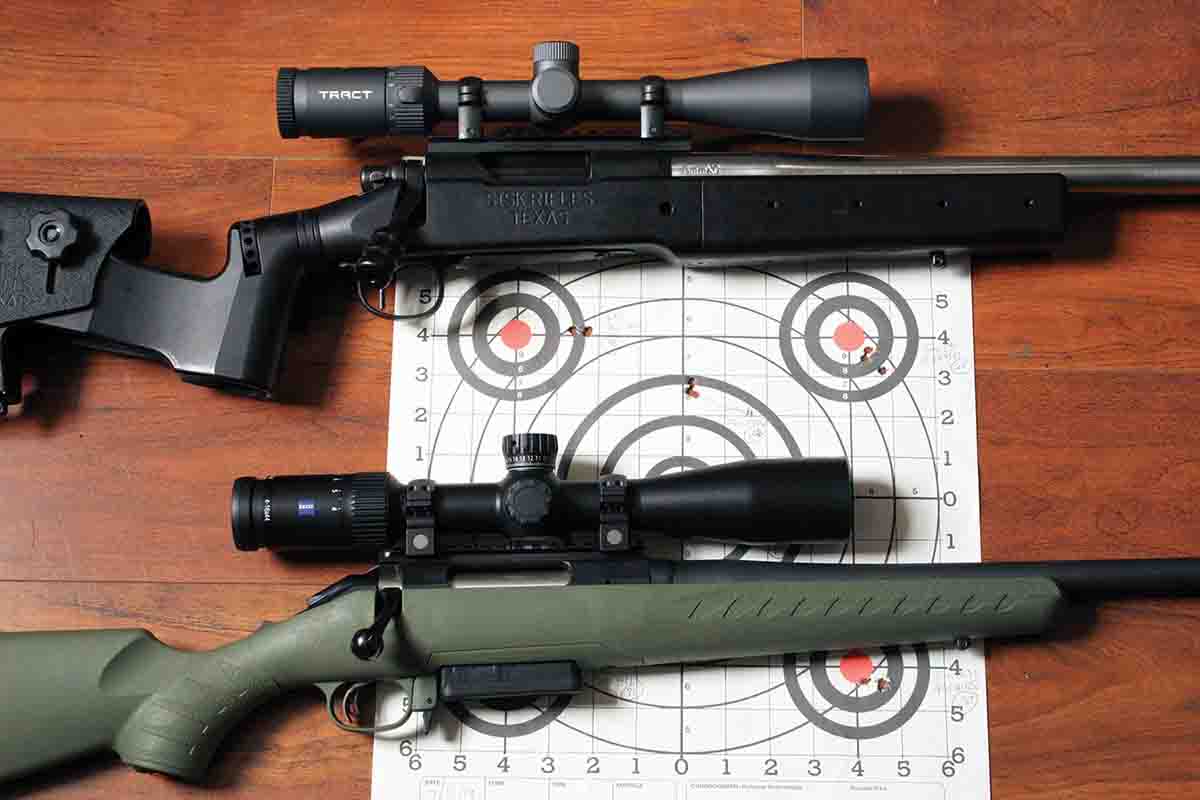 The 6XC was put together by Kentucky gunsmith Charlie Sisk on one of a handful "700 footprint" bolt actions he produced several years ago with a No. 7 contour, 26.5-inch Lilja stainless barrel measuring .830 inch in diameter at the muzzle. The barreled action was then bolted into one of Charlie's aluminum Sisk Tactical Adaptive Rifle (STAR) stocks. With a 3-15x 40mm Tract Toric scope the rifle weighs a couple ounces under 13 pounds so was expected to shoot somewhat better than a Ruger American – and did. Thanks to research for an article on the 6XC for Handloader No. 312 (February 2018), I already knew this rifle slightly preferred IMR-4451 over H-4350 with heavier bullets.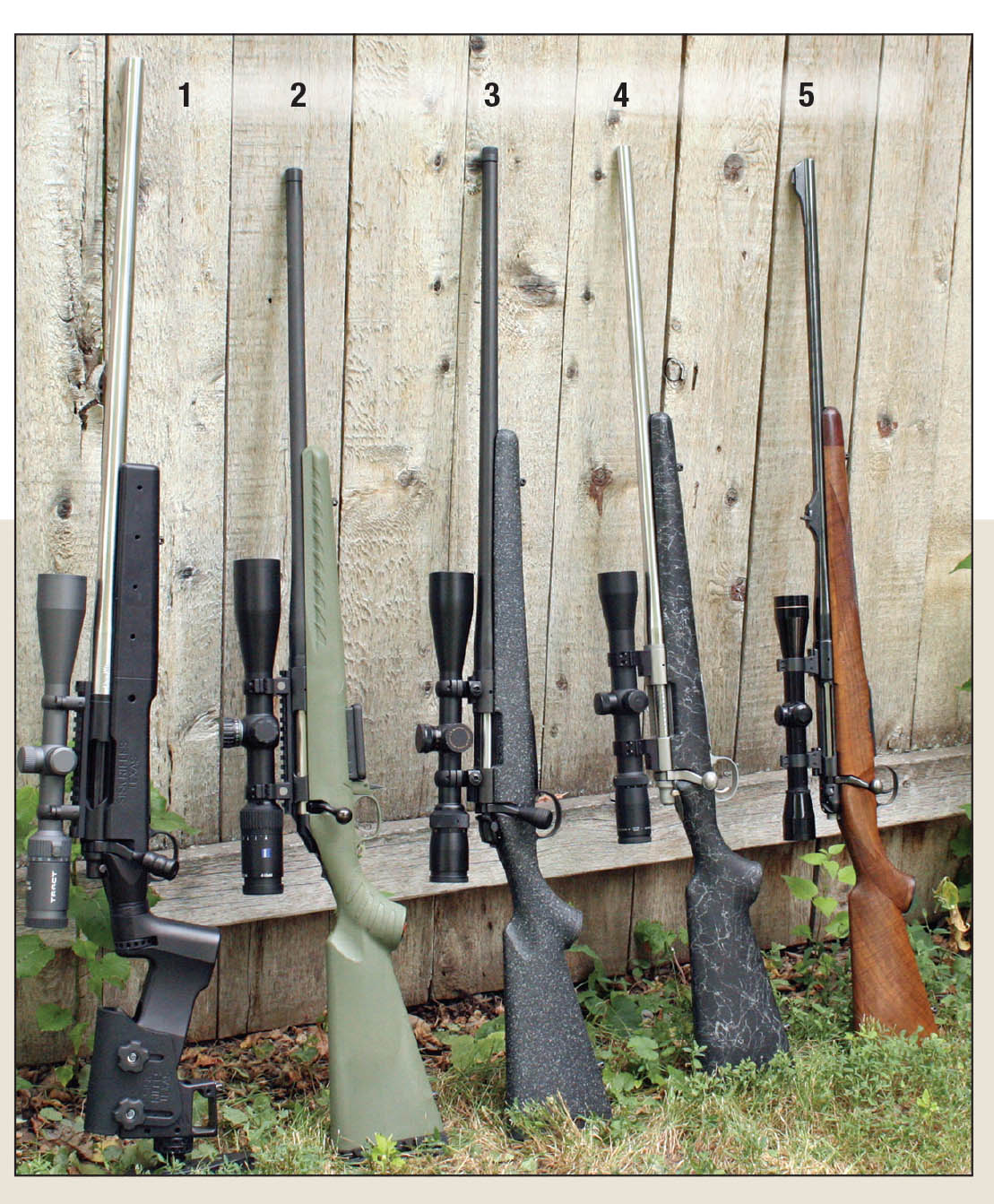 The Bergara B-14 Ridge was a recent purchase, and before trying the A-TIP handloads had only been shot with Hornady factory ammunition with the 143-grain ELD-X hunting bullet. It grouped very well, but I had no idea about its powder preferences so tried H-4350, which has been pretty much standard for the 6.5 Creedmoor since the cartridge appeared in 2007.
The resulting three-shot groups averaged over an inch, so mediocre I suspected the scope might have gone bad, so switched it out for a well-proven 3-15x 42mm Weaver Super Slam. Nope, it wasn't the scope: This particular rifle does not like H-4350, which seemed almost un-American – until I remembered Bergaras are made in Spain and H-4350 in Australia. Maybe the dislike for H-4350 was due to a cultural conflict.
As a result, I tried newer powders that had worked well in other 6.5 Creedmoors, IMR-4451 and Reloder 16. Both grouped considerably better, with RL-16 the winner by .014 inch.
The 6.5 PRC is another custom Sisk rifle, but designed for Montana mountain hunting, weighing 7 pounds, 10 ounces with one of the 30mm-tubed 3-9x 40mm Fullfield IIs offered by Burris back when long-range shooting started becoming popular. This particular scope proved to be very rugged, and the click adjustments reliable enough for "dialing" if a hunter prefers not to use the Ballistic Plex multi-point reticle.
The rifle had already been shot considerably with several different powders, showing a decided preference for Hodgdon Retumbo with bullets in the 130-grain class and IMR-8133 with 140-class bullets. The 135-grain A-TIP weighed exactly halfway between 130 and 140 grains, so I tried both powders, with Retumbo the clear winner.
However, with other high-BC bullets the rifle had frequently shown a preference for seating them up to .1 inch shorter than the 6.5 PRC's maximum 2.95-inch SAAMI overall length. However, when seated deeper the A-TIPs did not shoot quite as well. In fact, throughout the range tests all the A-TIPs showed a tendency to shoot more accurately when seated closer to the lands, perhaps due to their ogive shape.
This became particularly apparent with the last A-TIP tested, the 230-grain .30 caliber. The test platform was a Heym SR-21 .300 Winchester Magnum, a traditional hunting rifle with a walnut stock and a sporter-weight barrel with very good open sights. However, it is also the most accurate .300 Magnum of several owned over the decades, including two custom rifles.
In fact it often functions as my scope-test rifle, both because of its fine accuracy and recoil: Rifle-scopes start to malfunction far more frequently when recoil reaches the .300 Magnum level. Its superb accuracy reveals any such faults. The 6x36 Leupold used in the tests is the rifle's everyday scope, mounted in Talley detachable steel rings so the 6x can be easily removed and a test-scope substituted. The Talley bases are also attached to the action with Brownells Acra-Glas epoxy, eliminating another possible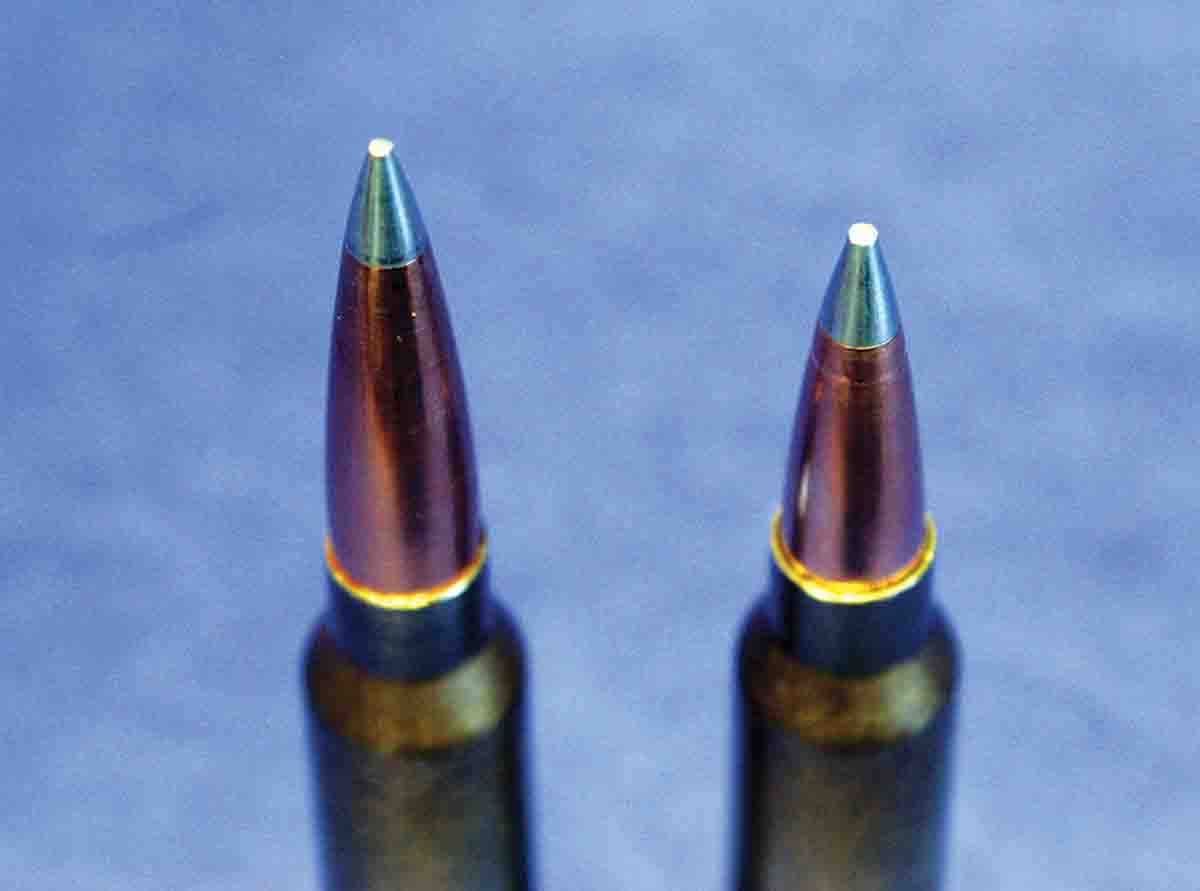 variable.
The only possible disadvantage to using the Heym was the barrel's 1:10 twist, since Hornady recommends 1:9 for stabilizing the 230-grain A-TIP under all conditions. However, running the bullet's numbers through a couple of computer programs indicated it would stabilize more than adequately in my Montana neighborhood during the average range conditions encountered during the August tests conducted a little over 4,000 feet in elevation in 80-degree temperatures.
The rifle's standard scope-test load is the Berger 210-grain VLD Target bullet with a maximum charge of Retumbo for around 2,950 fps. I discovered this combination shot very well in 2014, during an extensive range-test of a bunch of powders and bullets where three-shot groups with the VLDs averaged .46 inch at 100 yards
Retumbo was the logical powder choice, but the maximum load for 230-grain bullets listed by Hodgdon, 77.0 grains, did not leave enough room for the very long A-TIPs, which averaged 1.769 inches in length when measured with a Mitutoyo digital caliper. They could be seated to fit in the Heym's 3.47-inch magazine but only with an audible crunch, which compressed the powder so much the bullets soon started creeping forward in the neck. (This was also when I discovered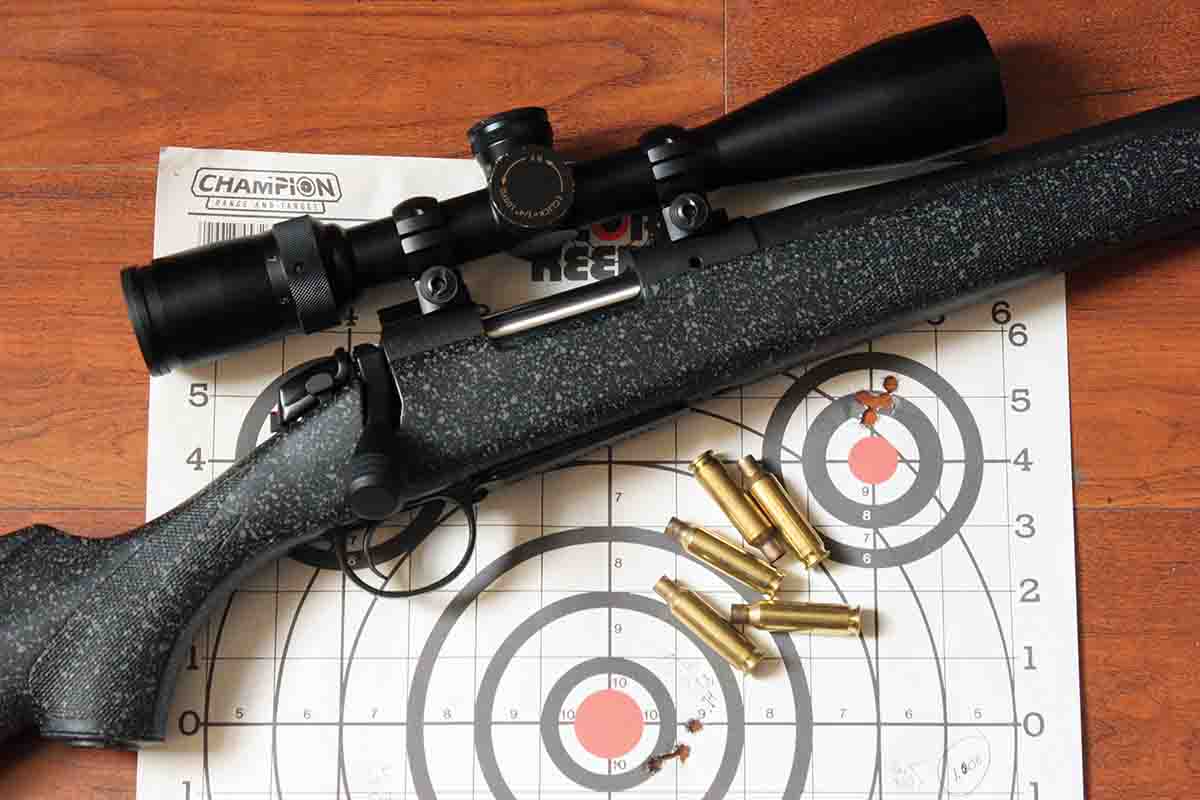 one reason for Hornady recommending its new, caliber-specific A-TIP seating stem. The seating die I used slightly "mushroomed" the point of the aluminum tip, but luckily another brand of seating stem designed for long, high BC bullets solved the problem.)
As a result, I tried three other powders that did not require compression, Reloder 26, H-4831SC and Magnum. The resulting accuracy would have made the average elk hunter happy but was not match-grade, the best three-shot groups averaging around .75 inch. After some thinking and measuring, I realized that when the A-TIP was seated to magazine length, like the Berger its ogive was over .20 inch from the lands.
Seating it within .020 inch of the lands resulted in a 3.720 overall length and enough room to quit crunching Retumbo. The first three-shot group at 100 yards measured .31 inch, even smaller than the initial A-TIP group with the 6mm Creedmoor. The average group was not quite that small, but still under half an inch.
Three-shot groups were used with the .300 for two reasons: The warm weather heated up the slim barrel quickly and I could not guarantee results for longer strings, since the 230-grain load recoiled similarly to 270-grain ammunition in my .375 H&H. However, at the end I did shoot a final 5-shot group to see what would happen, which measured .70 inch, correlating well with the size of the three-shot groups.
This seating-depth problem occurred because the 230-grain A-TIP was not primarily designed for the .300 Winchester Magnum, but long-range accuracy cartridges such as the .300 PRC. The maximum SAAMI case-length of the .300 PRC is 2.580 inches, a little shorter than the .300 Winchester Magnum's 2.620 inches, and the overall loaded length of 3.700 inches is far longer than the Winchester's 3.340 inches.
The last test involved the very high BCs. Hornady's BC's were developed by measuring long-range velocities with Doppler radar, but the only Doppler radar I had on hand was one of the new Labradar chronographs, which only measures velocities out to about 100 yards.
Instead I decided to test actual drop out to around 500 yards and the 6XC got the job for three reasons: It shot A-TIPs as well as any of the other rifles and the Tract scope's adjustments had been proven dead-on, including extensive testing out to 1,000 yards when mounted on the Heym .300. (Perhaps it should also be confessed that the light recoil of the heavy rifle was sincerely appreciated after the .300 Winchester tests.)
After sighting-in the rifle dead-on at 100 yards, I used an accurate ballistic program to calculate the clicks required out to 550 yards, sufficient for the test. If the G7 BC was only .275 rather .304, the difference in drop at 500 yards would be about 3 inches.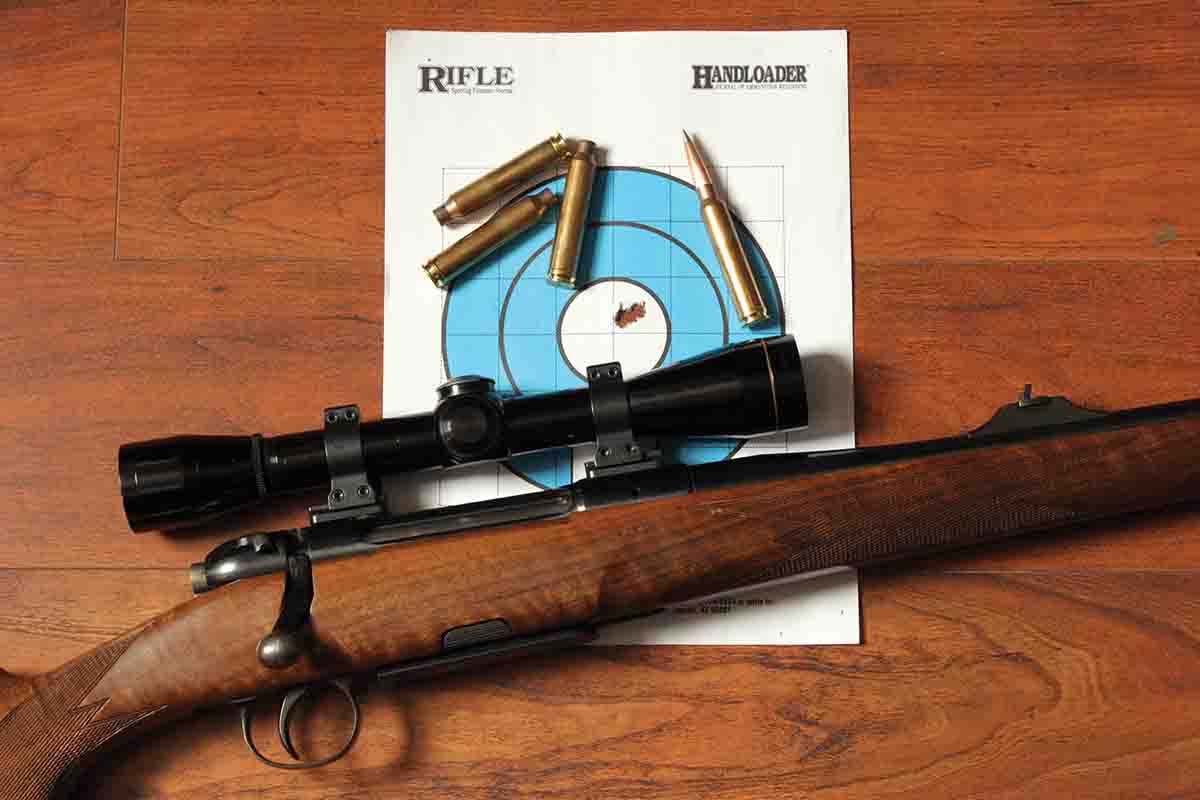 The right conditions for the test occurred the day after loading the test ammunition, right after a mid-afternoon thunderstorm when, as often happens, the wind almost totally died. It took minutes to drive out to the 1,000-yard range and get set up.
While the range has 6- to 8-inch gongs hung all over the place, the test required more precision, and putting up paper at various distances would require a lot of time. Luckily, the range's earthen berms also contain quite a few small chunks of the local limestone, which show up very well.
I started dialing and shooting at small rocks no more than 2 inches in diameter. Every time the rifle went off, the target rock either disappeared or a small crater appeared right alongside. The last shot, taken 520 yards, was a direct hit.
Of course, some hunters will use A-TIPs in the field, as they do with just about any new match bullet these days. An Internet search failed to find any reports, but no doubt somebody will try them soon.