Handloaders have been winning long-range matches and setting records for many years with short, fat Winchester Short Magnum (WSM) and Remington Short Action Ultra Magnum (SAUM) cartridges using heavy Berger and Sierra bullets seated out in rifles chambered to match. Hornady has recently introduced short, fat 6.5 PRC and .300 PRC cartridges that look similar.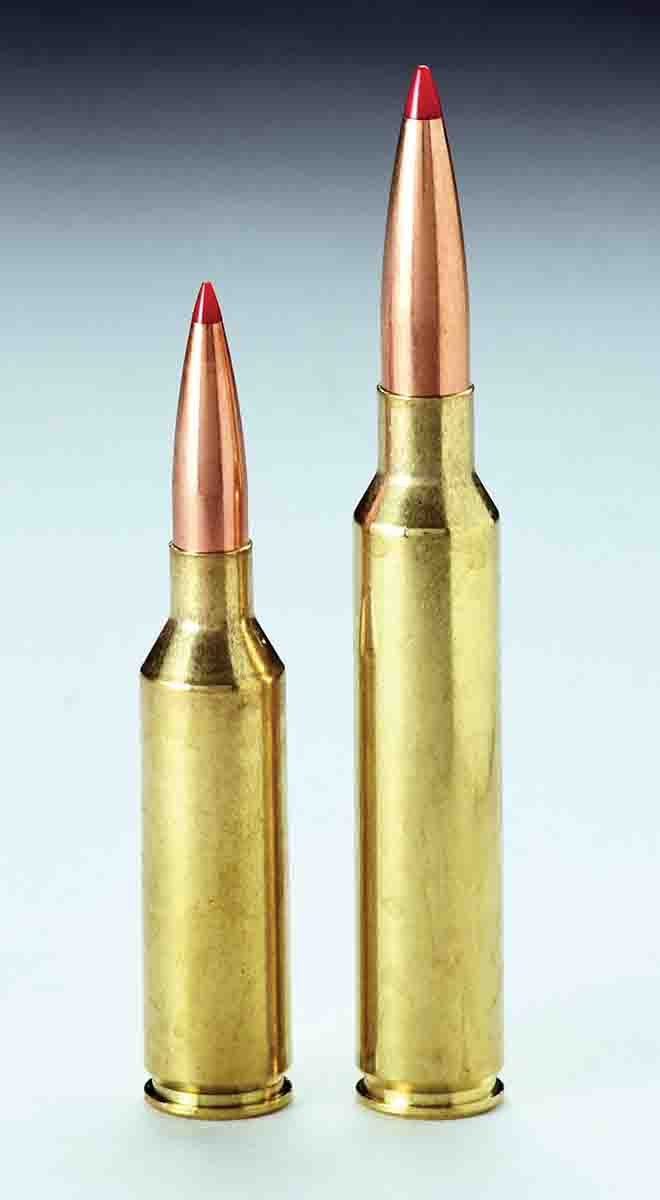 Bullets are seated far out of the case necks, and with the name "Precision Rifle Cartridge" I was eager to see what other features might set the rounds apart.
Cartridge and chamber drawings are available on the SAAMI website in the section on new cartridges. One of the first things noticed was the tight dimension on the chamber throat. The long straight section that accommodates long bullet seating is a snug .2645 inch on the 6.5 PRC (same as the Creedmoor) and .3088 inch on the .300 PRC. I believe only the .300 Weatherby Magnum is tighter at .3084 inch. Another interesting thing is that the .300 PRC is listed with 1:8.5 twist. A 1:10 twist is pretty much standard in .30 calibers with the exception of the .308 Winchester, which calls for a 1:12 twist. The 6.5 PRC has a standard (for a .264-inch bullet) 1:8 twist.
With this quick twist, long throating and long overall cartridge length, the PRC cartridges obviously cater to long, heavy bullets, something competitive long-range shooters seek for their resistance to wind deflection. If the bullet itself helps to compensate for an error in judgement or change of wind, it can help win a match.
Aside from the long, tight throating and quicker rifling twist, overall cartridge length of the 6.5 PRC is 2.955 inch maximum. As such, the cartridge is a bit too long to function through a short action, one that accepts rounds up to 2.860 inches or so. The .300 PRC, at 3.700, inches is too long to function through a long action such as the .300 Winchester Magnum (3.340 inches) or Weatherby Magnum (3.560 inches). In fact, the .300 PRC is longer than even the .300 Remington Ultra Magnum (3.600 inches)!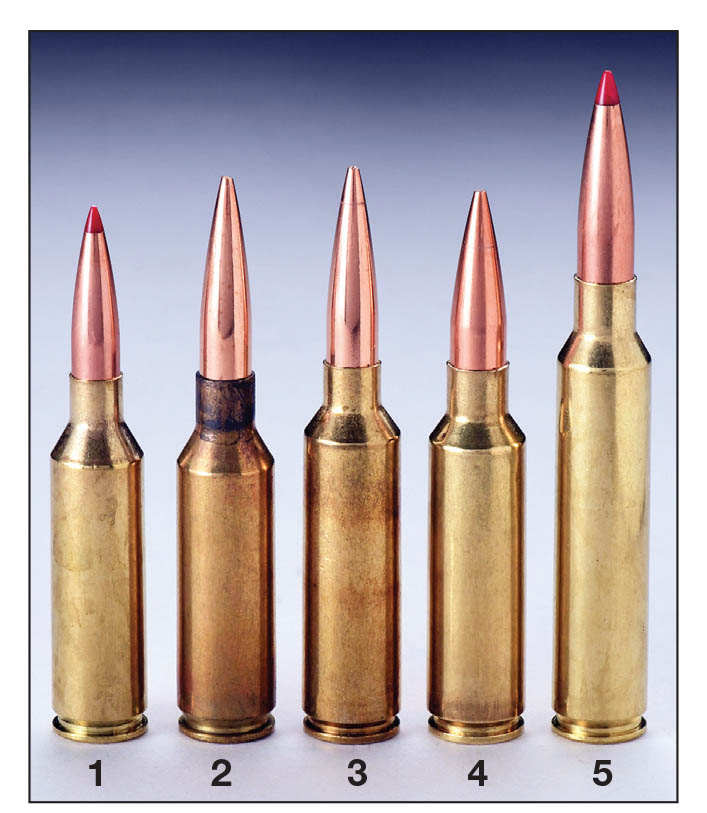 The .300 PRC requires a super-long action and magazine box.
A longer action takes away rifle handiness, compactness, action stiffness and quickness of bolt throw, and the long loaded length reduces effective bore travel for a bullet. This, in effect, results in a shorter travel in a given barrel length. The bullet's base is also closer to the case mouth, meaning powder burn is less efficient with more unburned powder blasted into the rifle throat.
A longer barrel to partially compensate is no issue for F-Class open competition. With commercial ammunition available, field rifles are being used by casual rifleman for both target shooting and hunting.
While the standard SAAMI test barrel length is 24 inches, Hornady used 26-inch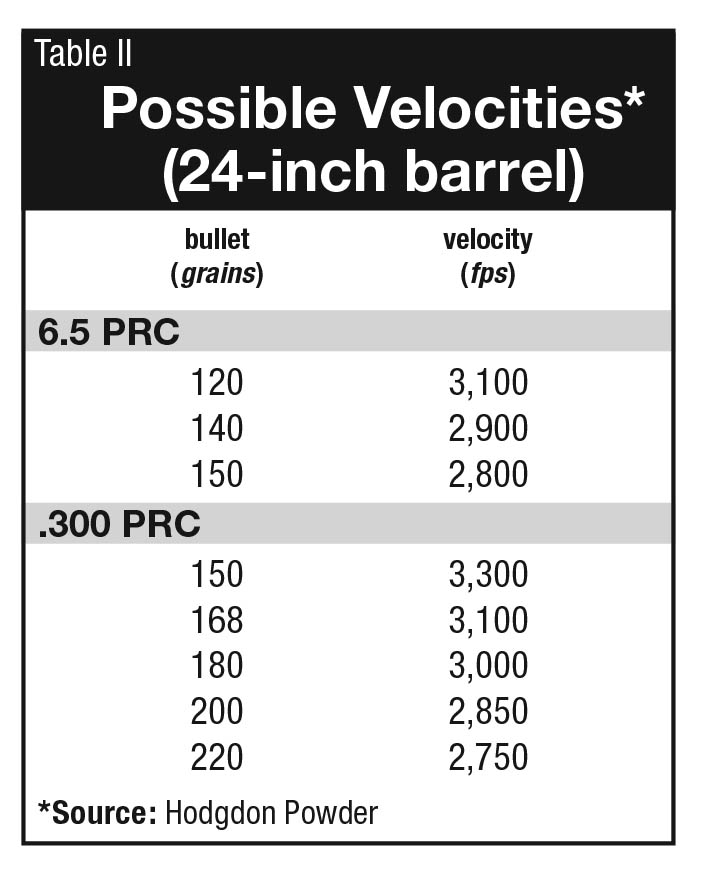 barrels for its data. This is not unusual. Weatherby and H&H Magnum data is usually shot with 26-inch barrels as well. However, to keep velocity in perspective and comparable, Hodgdon data for a 24-inch barrel is available on its website. I have listed powders in a suitable burning rate range for both cartridges, along with velocities attainable with published load data.
Case capacity for the 6.5 PRC is 67.5 grains of water filled to the case mouth, fitting between the 6.5-284 Norma (66.0 grains, Norma case) and the defunct 6.5mm Remington Magnum (68.0 grains, Remington case). The Hornady .300 PRC case I checked held 95.0 grains of water, putting it between the .300 Winchester Magnum (93.8 grains, Winchester case) and the .300 Weatherby Magnum (98.9 grains, Weatherby case.)
Accuracy shooters have long known that a close-tolerance presentation of the bullet to the bore is a plus. Traditionally, these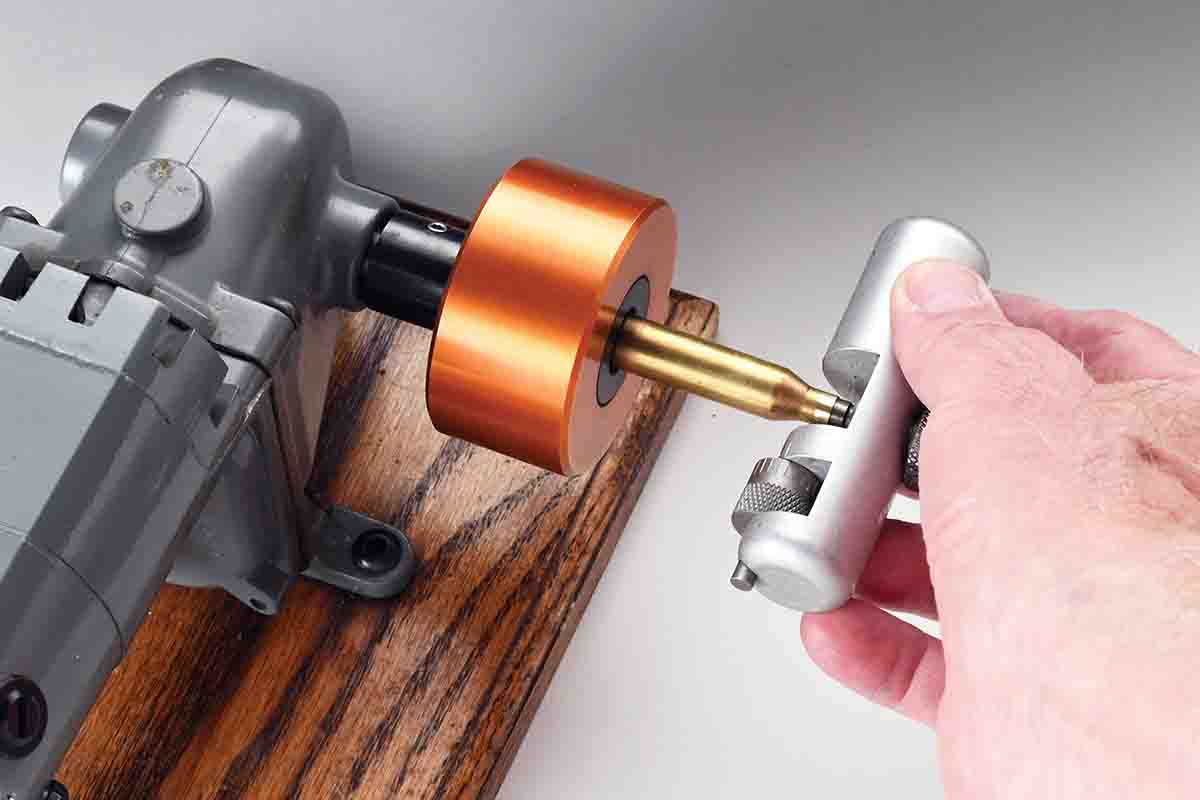 shooters have special chambers cut into barrels with tight chamber necks and throats. Case necks are then turned for both uniformity and a close-tolerance fit of a bullet in a chamber possibly with only .0005 inch to .0010 inch clearance for bullet release. A bullet then has not much room to move out of bore alignment when fired.
This is not done with factory ammunition because there needs to be more clearance built into the case neck for use in various rifles. SAAMI tolerances generally indicate a cartridge case specification to minus .0030 inch on
the cartridge case neck with a bullet seated, and plus .002 inch on the chamber. While Hornady case neck dimensions are snug, there is a combined .005-inch leeway built in. This allows for variations in chamber machining and drawn brass. A true fitted-neck setup cannot be applied to a commercial cartridge, one used in a great variety of rifles from different manufacturers. A too-tight neck can produce abnormally high pressure.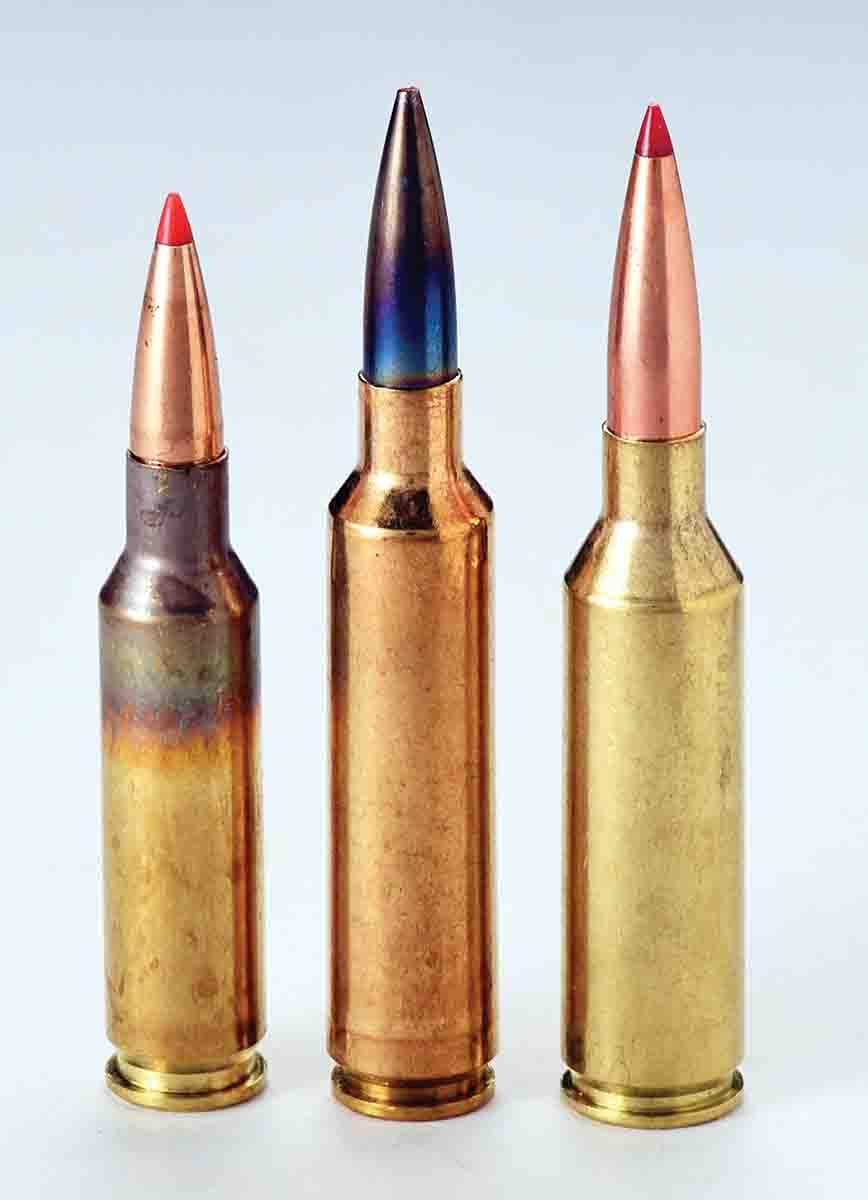 With these new cartridges, Hornady is partially avoiding the clearance issue by seating more of a bullet out of a case neck so that it is supported by the tightest practical chamber rather than a fitted case neck. Since today's bullets are generally precise in diameter, there would likely be only a .0028-inch possible variation built into the chamber throat rather than the .005-inch variation on the case neck. Logic says it is better to have a bullet in the chamber throat than in the case neck. A steel chamber throat is not variable like a brass case neck can be. It is still not as precise as a turned and fitted neck in a custom tight-necked chamber, but it is about as good as can be done within SAAMI specs. Don't knock the SAAMI tolerances. These specifications are what keep us all safe and our firearms and ammunition working.
Also, today's excellent machining processes can result in dimensions closer than those indicated above, which are the maximums allowable under SAAMI suggestions. I measured the necks on factory loaded PRC rounds. The 6.5 is about .293 inch (outside diameter) while the .300 PRC is .338 inch. With a .264-inch bullet for the 6.5, and if the chamber neck is cut exactly on spec, this means there is a possible .005 inch of bullet clearance in the case neck/chamber fit. For the .300 PRC and a .308-inch bullet, clearance measures .004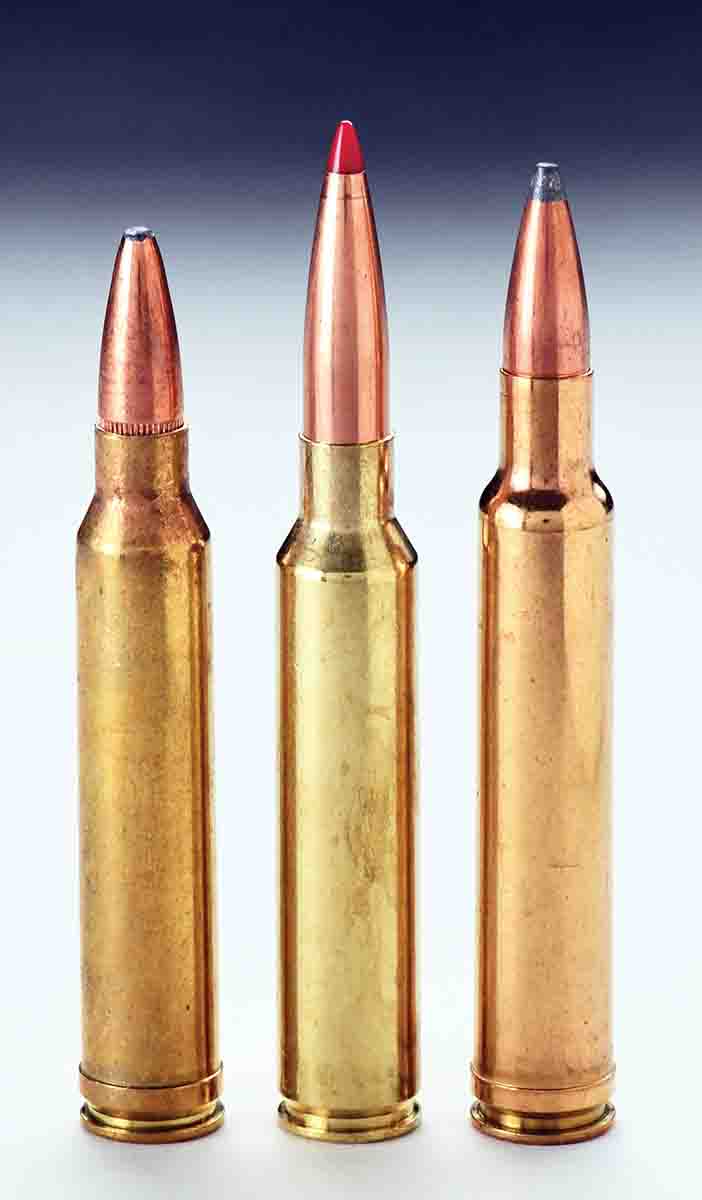 inch.
Hornady is doing its best to produce more accurate ammunition (with rifle chamber specs to match). In reality, chamber neck fitting is one area where only handloading (case neck turning) for a custom tight-neck chamber can produce the ultimate in close tolerance. However, most shooters do not want or need to turn case necks. Ammunition can be plenty accurate without it for nearly all purposes.
The whole setup with a long-tight straight section and bullet seated out sounds logical to improve commercially made cartridge accuracy as outlined above. However, the .300 PRC cartridge and chamber are in contrast to the .300 Winchester Magnum, a similar class of cartridge but with an opposite overall length/chamber throat setup. The .300 Magnum has a chamber diameter specified at a large .315 inch at the case mouth with an immediate taper. There is no parallel-sided straight section. That is .007 inch over bullet diameter just ahead of the case mouth for the Winchester while the PRC is only .0008 inch over!
The standard .300 Winchester Magnum with a very short distance from case mouth to bore and matching short magazine box does not permit seating bullets well out of a case. The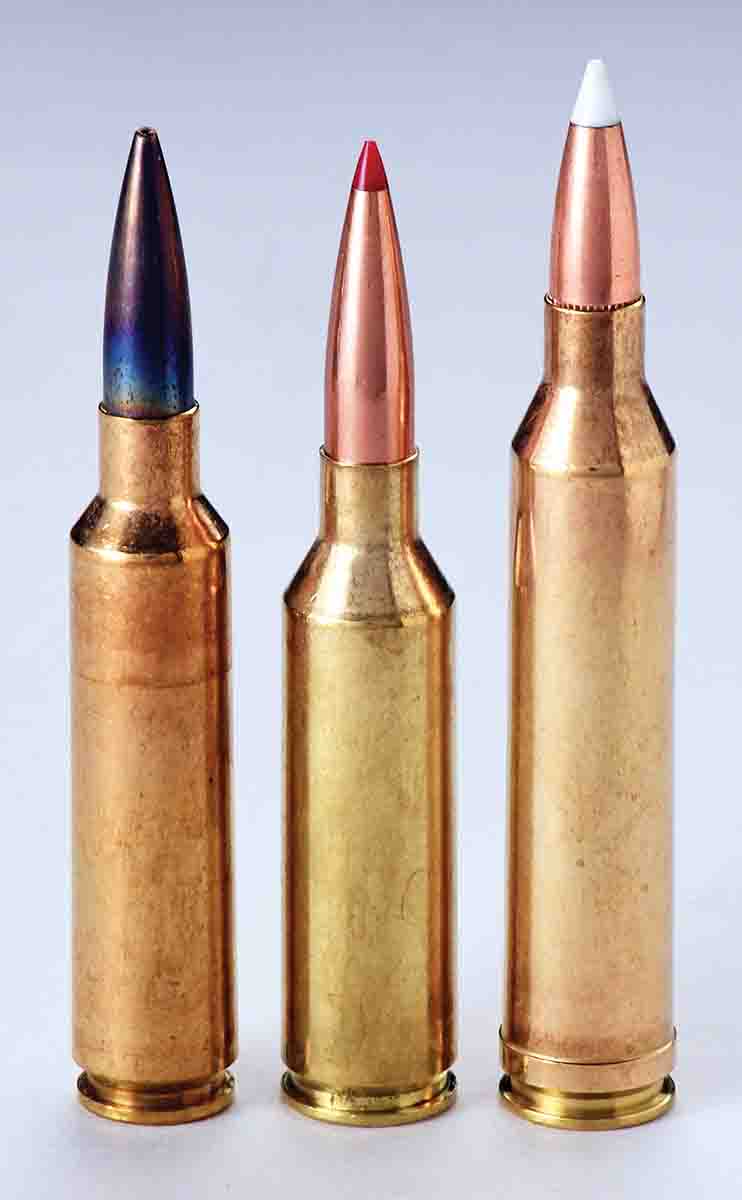 distance or difference from the case length to overall cartridge length is referred to as "head height." The .300 PRC has a very long head height with a long tight throat while the .300 Winchester Magnum has a very short head height with a short, large throat. Yet the .300 Winchester Magnum has been one of the most accurate hunting rounds ever developed. I have tested probably 20 different .300 Magnum hunting rifles of all makes and all shot inside an inch at 100 yards with select loads. What the standard .300 Magnum does not accommodate well are super long bullets, and today's long-range shooters need accuracy measured in tenths of an inch, not inches. The .264 Winchester Magnum throat provides a similar comparison to the 6.5 PRC.
The .300 Weatherby – also in this .300 PRC cartridge class – with a long, tight throat was not mated with long-bullet seating per specifications. Rather, the long throat was intended to provide freebore – a longer bullet-to-lands jump in an attempt to produce lower pressure and greater velocity. A standard 1:10 twist barrel is specified for the .300 Weatherby Magnum, not the quick 1:8.5 twist of the PRC.
New cartridges, chambers, powders and bullets are continually evolving to produce enhanced performance. Most of this evolution began with handloaded ammunition, and it is fitting that this recent introduction comes from a company steeped in handloading history.