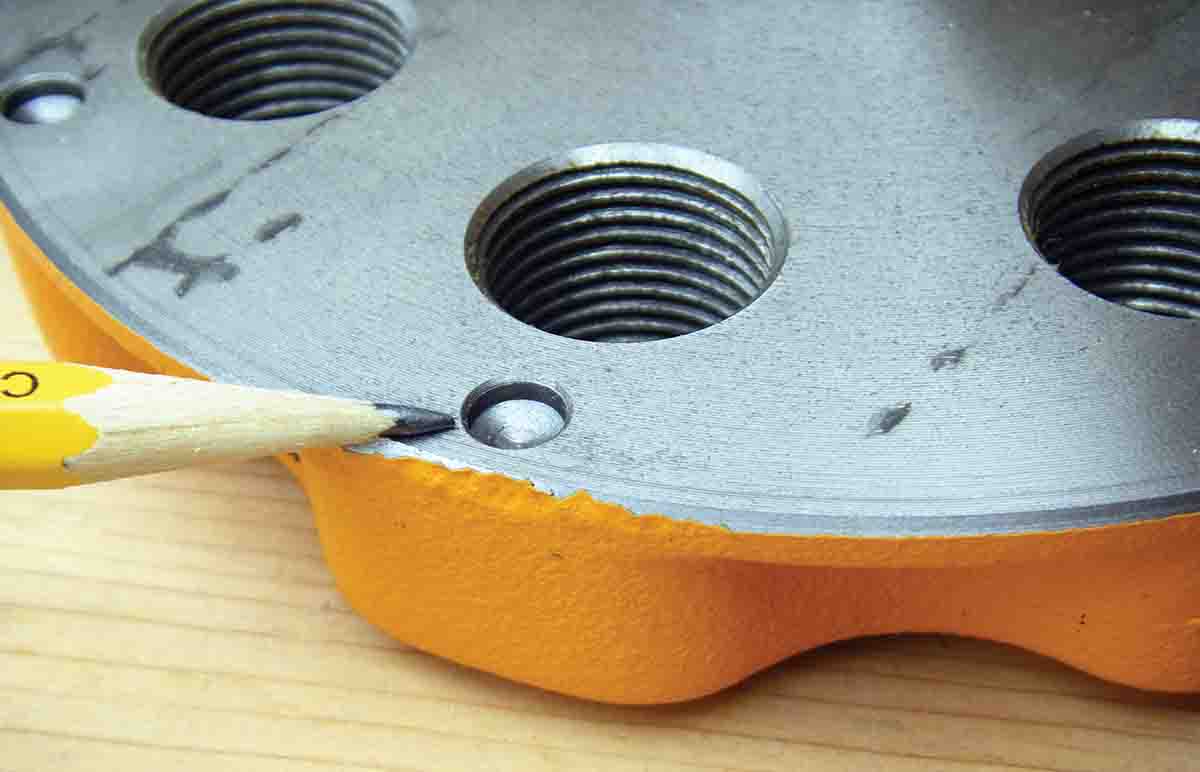 Lyman's history dates back to around 1878, when it began offering bullet moulds, tong tools, gun sights and other shooting-related products. While the company has acquired several other firearms accessory companies in the past couple of decades, its core business remains reloading presses, dies, bullet moulds, scales, reloading manuals and sights. New for 2019, Lyman is offering an impressive eight-station reloading press known as the Brass-Smith All-American 8 Turret Press that replaces the T-Mag II press. Upon examining a prototype, I was impressed and immediately placed an order.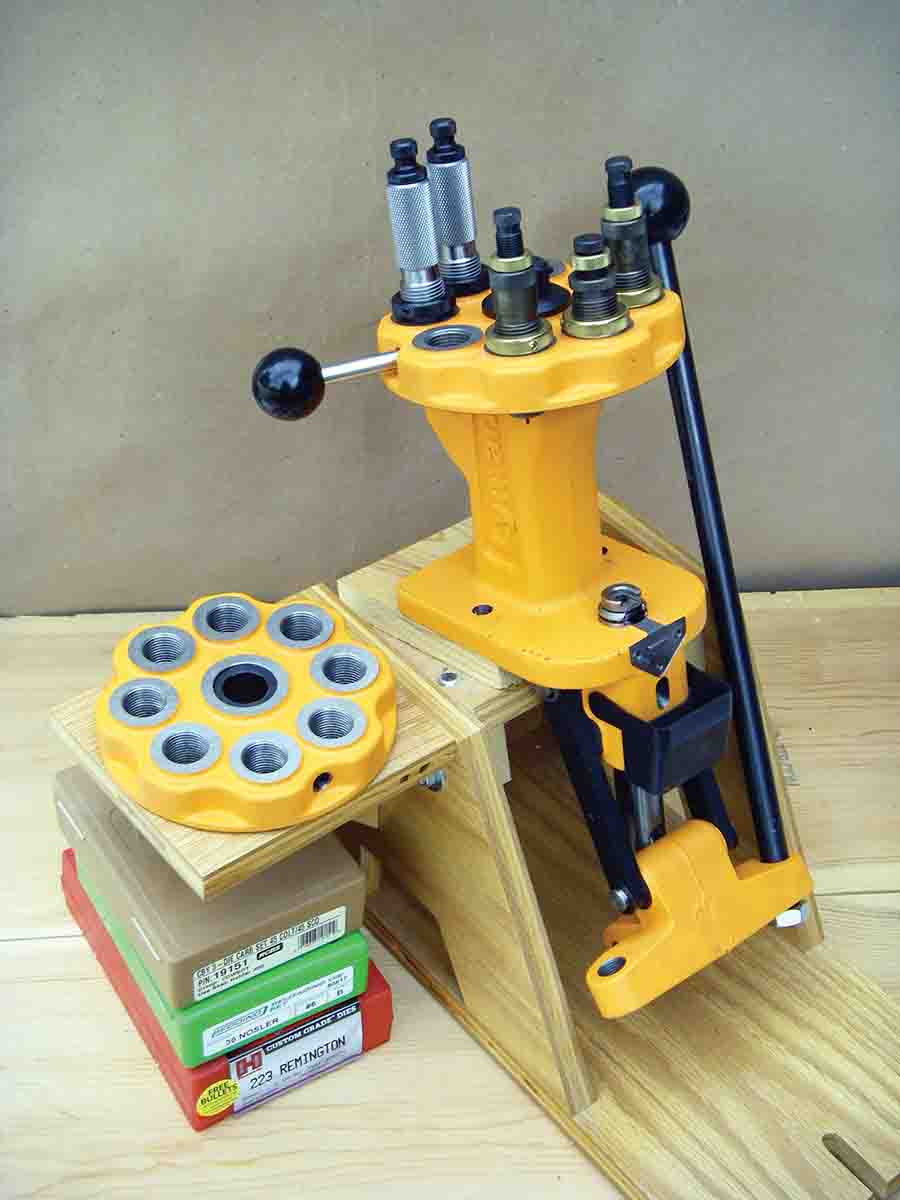 In evaluating an All-American 8 production version, I have been especially pleased with its features and overall quality. For example, the heavy duty frame is constructed of cast iron, as are the turrets. The ram is one-inch steel and is hollow to allow spent primers to travel through the center of the ram, then through an ejection port and into a primer catcher. Naturally, the leverage system is a double-compound design, which makes sizing cases, even large cases, easy. The handle measures approximately 15 inches long and features a round handle for comfort. The handle is also easily changed to either right or left hand operation, which along with the open front design results in a true ambidextrous press.
The ram fits very snuggly into the presses' body, which results in virtually no movement, and ram alignment with each of the eight "stations" is excellent. The press opening is large and easily accommodates large (or long) cartridges such as .500 Nitro and .375 H&H. The press opening from the top of the ram to the bottom of the turret is just a tad under 5 inches, making it the largest press of its kind currently available in the U.S. It is finished in Lyman orange powder coat, resulting in a tough, durable, oil resistant finish that cleans up easily.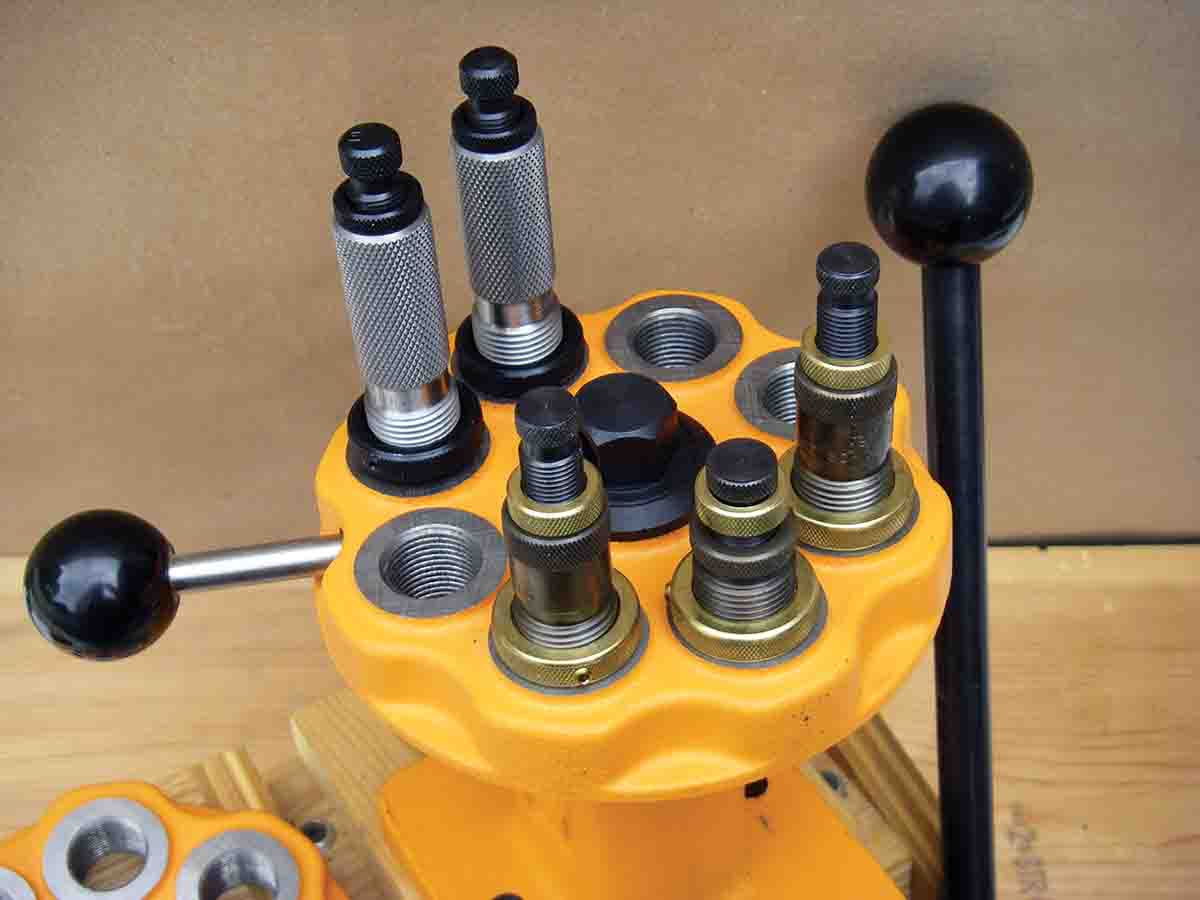 The eight station turret features a handle to help facilitate turning. Many handloaders that use a turret press for handgun cartridges (and select straight-wall rifle cartridges) will place a case in the shell holder, size it, then turn the turret to the next station to immediately neck-expand that same case. While that sized and expanded case is being removed from the shell holder and replaced with the next case to be worked, the other hand is used to reposition the turret back to the first station. This one-two case preparation method reduces case handling time, but it also speeds up the reloading process. With just a little practice, this method can produce a sized and expanded handgun case in very short order.
The die combination options on an eight-station press are many and can include four sets of rifle dies, or two sets of handgun dies and one set of rifle dies, etc. It can also include a powder measure (at least those with 7⁄8 x 14-inch shank threads). Lyman also offers additional turrets that can be quickly changed using a 7⁄8-inch wrench. My son suggested dedicating one turret for eight crimping dies of our most handloaded cartridges, which is a good idea.
As regular readers of this magazine know, I develop a large quantity of Pet Loads data for many different cartridges as well as data developed for Wolfe Publishing's website LoadData.com. This work requires constant handloading and I find a quality turret press invaluable. For example a large quantity of cases are prepared (sized, trimmed, de-burred, flash holes uniformed, primed, etc.) Next, cases are charged with estimated starting powder charges, then charges are incrementally increased until near maximum weights are reached. Then a variety of bullets are seated, crimped, etc. Upon testing loads for velocity, pressure and so on, powder charges often must be adjusted and loads tested again. During this process, dies are installed in a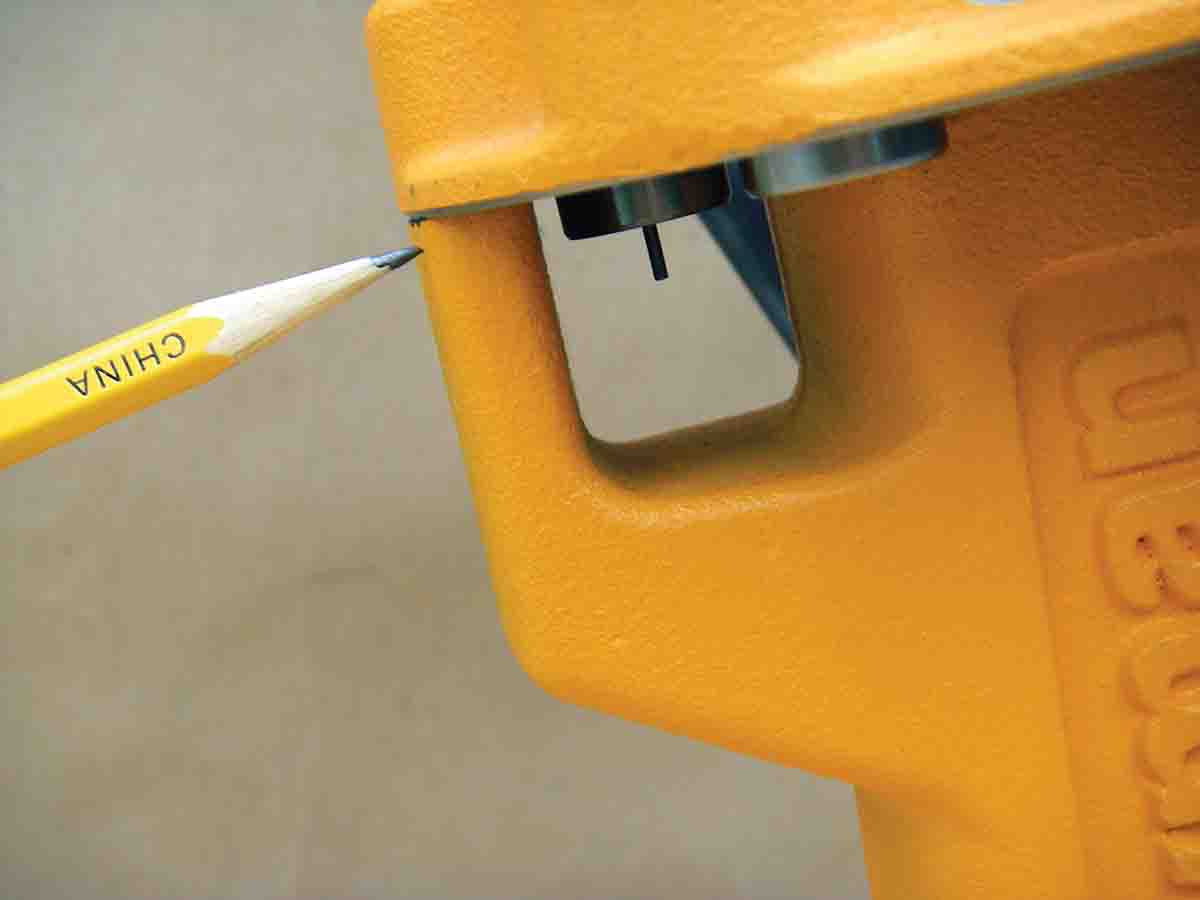 turret press, which is constantly changed from one die to the next as needed, which with a turret press takes only a split second to "change" dies. The convenience alone makes a quality turret press worthwhile, but they also save substantial time!
In spite of the turret readily turning as needed, it is secure and locks positively in place at each station with the help of a spring-loaded ball detent that is located inside the support arm. Incidentally, each station showed near perfect alignment with the ram.
In addition to the massive body of the press, the support arm on the backside of the press prevents the turret from canting when subjected to the force associated with full-length case sizing, etc. My impression is that the Brass-Smith All-American 8 Turret press will offer outstanding durability and strength. In "working" this press during the past two months, it has only improved through natural wear as it has become smoother. However, the ram remains tight and there has been no loosening of the turret head.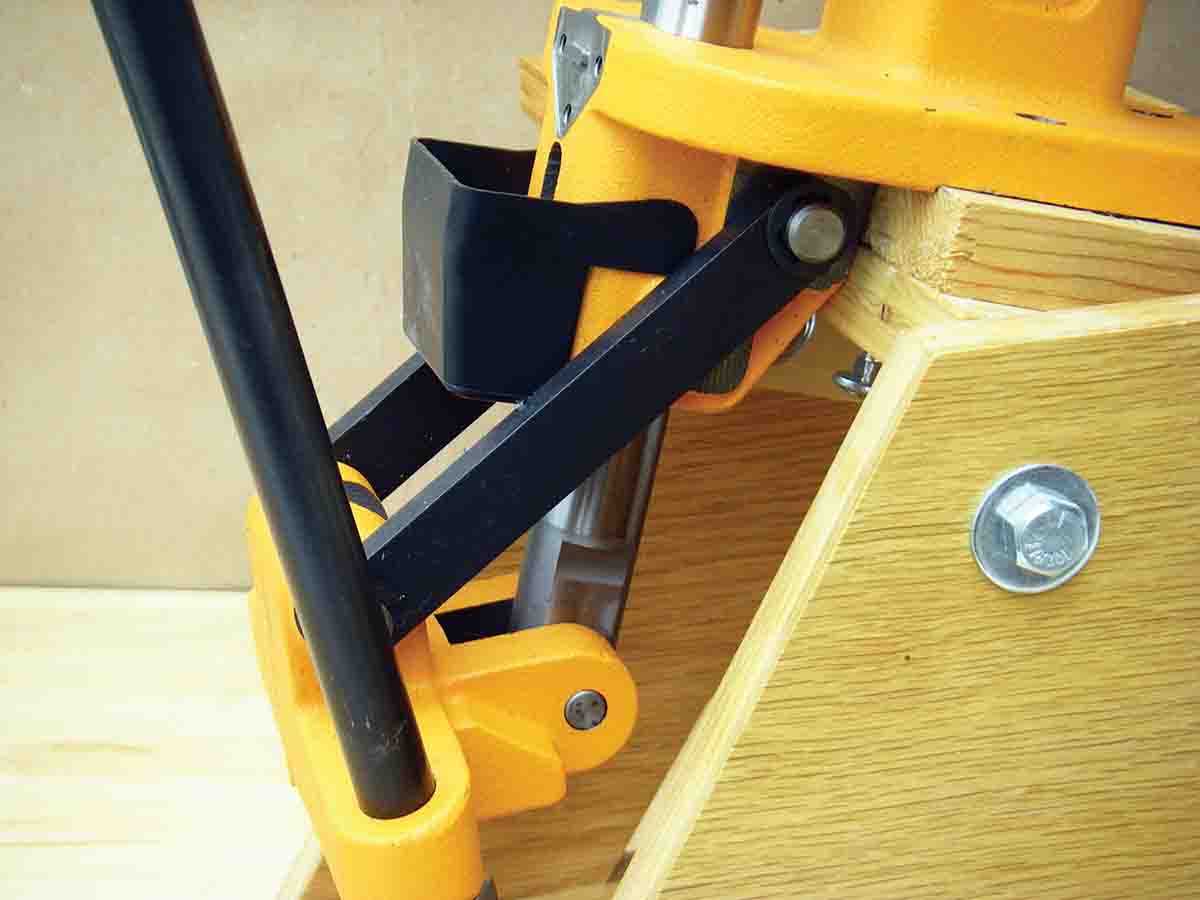 For handloaders who choose to prime cases using the press, a straight line primer-feed system is provided. The assembly mounts directly to the front of the press and functions traditionally with large and small primer tubes, a priming arm, etc.
I much prefer to leave the unit off of the press, which allows direct access to the ram and shell holder and is more accommodating to large hands such as mine. A hand-held priming tool, such as those offered by Lyman, RCBS, Hornady, Lee Precision and others, is much, much faster and more sensitive when seating primers.
I really can't find any flaws or dislikes with the new Lyman Brass-Smith All-American 8 Turret press; it offers high quality, an excellent design and is comfortable to use during long loading sessions. It is the only currently available press with eight stations.
While distributors and dealers have the Brass-Smith in stock, it can also be purchased factory direct for $289.95, which in my opinion is a real bargain.